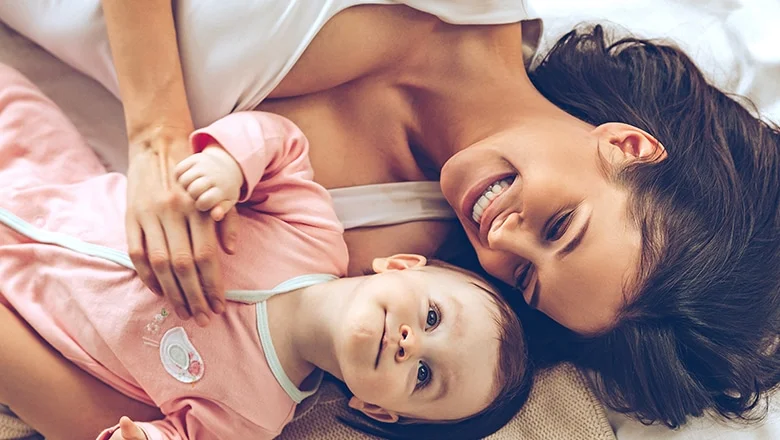 Mummy makeover is an increasingly popular procedure at Centre for Surgery in London. A recent survey carried out by the European society of plastic surgeons revealed over 65% of new mothers would consider the procedure to restore their pre-pregnancy body. This data supports the increasing number of patient enquiries received about mummy makeover surgery in London each month.
RELATED: Is a mummy makeover worth it?
Many women who have recently had children often express dissatisfaction with how they look after the heavy toll on their bodies exerted by pregnancy, childbirth and breastfeeding. Increasingly, women are not accepting their new body shape after childbirth, given the treatment options available. Women want to feel confident in their appearance and no longer want to have sagging or droopy breasts and hanging abdominal skin. Many women may develop a significant loss of self-confidence after childbirth and no longer feel desirable.
RELATED: How soon can I have a mummy makeover after pregnancy?
As cosmetic surgery for the breast and body has evolved over the last few years, many women are increasingly aware of the mummy makeover procedure and its many benefits. The popularity of mummy makeover surgery is often down to the many different surgical options available. The procedure can be customised to the individual patient. It is important to bear in mind that a mummy makeover is major surgery and can involve a lengthy recovery period. This is because mummy makeover surgery in London is, in most cases, a combination of different surgical procedures combined into one operation. Getting the best results after a mummy makeover depends on having a smooth mummy makeover recovery.
Here we give our top tips to ensure you get the best possible healing after your procedure. Although the mummy makeover recovery period can be demanding on your body, the impressive results achievable with the procedure makes it well worth it. Here we have described what to expect week by week during your mummy makeover recovery to give you an idea of what to expect after a mummy makeover. We also answer some of your most frequently asked questions about the procedure.
Mummy makeover recovery: week by week
On average, the recovery time for mommy makeover surgery is approximately six weeks. This will vary between women as each mummy makeover procedure is customised to the needs of the individual patient.
Week 1
Once you are medically fit for discharge, you'll be allowed to go home with a responsible adult escort. You will have sterile dressings and compression garments supplied, and if you have had an abdominoplasty, you may have surgical drains inserted. Your tummy tuck trains will be removed after 2 to 3 days. Most patients who have a mummy makeover often tell us the first 3 to 4 days after surgery are the most challenging. Any pain and discomfort can be easily controlled with prescription painkillers given to you by your surgeon. Bruising and swelling will be most noticeable during the first week after surgery. We advise you not to have a bath to avoid excessive moisture getting into your wounds which could impair healing. You should avoid lifting heavy objects or excessive activity around the home that may cause you to feel tired.
Week 2
You should start to feel more comfortable by week two. Tightness in the chest will improve if you have had a breast augmentation. Swelling will start to reduce, and your mobility will improve. You should find it more comfortable to adjust to any new sleeping position depending on which procedures you had as part of your mummy makeover. If you have had breast implant surgery, you will be required to sleep on your back for several weeks. Your sleeping position is not as restrictive if you have had liposuction.
Week 3
Many patients will be able to return to work by week three, but some patients may require a longer period of time off work, especially if their work is more physically demanding. You may still feel tired, and it is important not to overdo it. Bruising and swelling will continue to go down.
Week 4
Many patients noticed an increase in energy levels by week four, and swelling will reduce significantly. Many women may feel more comfortable going out in public and going for walks. We would continue to advise against strenuous exercise or physical activities. It is important to keep mobile to reduce the risk of blood clots but avoid overdoing it to minimise the risk of complications occurring.
Week 6
By week six, most patients will be back to their normal daily routine. You will have a post-operative review with your surgeon, and you will be advised when you can return to certain physical activities depending on your lifestyle and overall state of health. Swelling may take up to 3 months to disappear completely. In some cases, patients may experience a small amount of residual swelling for six months or longer.
Mummy makeover recovery top tips
Here we offer practical tips to help you get the best recovery after a mummy makeover:
Start preparing your recovery area at home before the procedure. Have your favourite reading material close by, along with laptops or tablet computers.
Arrange for a responsible adult to come over and check you over at least once a day during your recovery after mummy makeover Surgery.
Arranged for childcare if you have small children as you will be unable to manage their needs adequately during your early recovery period.
Collect your prescription medication prior to the date of your surgery if possible.
Keep mobile after your procedure, and avoid being in bed for prolonged periods of time.
Maintain a healthy diet with plenty of lean protein sources and green vegetables.
Keep well hydrated by drinking plenty of water. Aim for at least 2 L of water a day to help your healing and recovery.
What does a mummy makeover involve?
There is a significant choice in which procedures are included in a mummy makeover. Most mummy makeover procedures often involve a combination of liposuction and tummy tuck combined with a breast procedure such as breast augmentation or a breast lift.
RELATED: How much does a mummy makeover cost?
Will I be in pain after mummy makeover?
Pain after a mummy makeover is most commonly experienced during the first few days after surgery. Any significant pain and discomfort will have been resolved by the two-week stage. You may still have mild discomfort up to 4 weeks later, which depends on the combination of procedures you had as well as your overall state of health.
Is mummy makeover recovery painful?
It is normal to experience a mild to moderate degree of pain or discomfort after your mummy makeover. Any type of surgical procedure involves a certain amount of post-operative discomfort. Your surgeon will institute effective pain management strategies, including prescription painkillers, to ensure you are as comfortable as possible during the recovery period.
How long does it take to heal from a mummy makeover?
Most women will have completed their healing and recovery process by six weeks after mummy makeover. You may still continue to have certain symptoms, such as residual swelling, for up to 6 months after surgery. Full results of mummy makeover surgery may take at least three months to appear and, in some cases, up to 12 months, depending on the combination of procedures you had.
Mummy makeover at Centre for Surgery
Centre for Surgery is the leading cosmetic surgery clinic in the UK, and we are renowned for our expertise in mummy makeover surgery. If you would like to learn more about the mummy makeover recovery process in greater detail, please give us a call today at 020 7993 4849 to book a mummy makeover consultation at our London Baker Street clinic. Our extensive experience and excellent patient care make us the ideal choice for patients in London and across the UK.