What is liposuction?
Liposuction is one of the top five most popular cosmetic surgery procedures in the UK, with over 10,000 procedures being undertaken in 2019 alone. Liposuction is designed to remove areas of excess fat from certain areas of the body that have failed to respond to a healthy diet or physical exercise. Fat deposits can develop anywhere on the body and can be frustrating for those who are otherwise at their ideal body weight.
RELATED: Liposuction FAQs – Q&As about Liposuction Surgery
Liposuction is highly effective for improving body contours resulting in a more sculpted and defined shape. Common liposuction areas include the abdomen, thighs, knees, calves and ankles, back, upper arms, breasts and chin. Centre for Surgery are experts in body shaping liposuction for both women and men.
View our Liposuction educational videos
There can be a host of negative impacts from excess fat deposits:
Negative body image
Ill-fitting clothing
Lack of body confidence
Diminished social confidence.
What are the benefits of liposuction?
Liposuction has evolved to become a very effective and minimally invasive procedure to restore desirable contours. With the reduction or even elimination of fatty tissue in targeted areas, the body takes on a more sculpted and leaner appearance. Liposuction is often performed alone but also can be combined with other body contouring procedures including tummy tuck, arm lift, thigh lift and gynaecomastia correction.
Amazing from start to finish, the communication was the main thing was fully informed and looked after, on the day of my breast augmentation, the staff were fab and made me feel at ease through out the whole process. Thank you so much.
Mohammed Farid
18/11/2021
I've had such a great experience with excellent advice, care and attention and surgical treatment (gynaecomastia) - I can fully endorse the treatment I have received from Centre for Surgery with absolutely no qualms at all. Brilliant in every way - thank you all so much.
Caroline Thorpe
14/11/2021
Very pleased with my whole experience of having a procedure. Was so nervous about getting treatment and i was reassured and felt so comfortable throughout thanks to the amazing nurses. I definitely made the right decision to have breast augmentation at centre for surgery with dr erel.
Melissa Briggs
08/11/2021
So glad I went with centre for surgery, the whole process went very smoothly from the consultations down to the actual day of the procedure. I was so nervous on the day but the whole team put me at ease and I'm happy with my results as I feel a lot more comfortable wearing certain clothes now. My surgeon was Alberto Di Giuseppe who performed a breast Augmentation on me, and I would definitely recommend as he was very clear on what the outcome of the surgery would be and which size would look the best for my frame.
Couldn't be happier with Dr Tillo work,i had my breast surgery one week ago and so happy with the results so far,all the staff are extremely nice and very supportive,i would definitely recommend their services,thank so much
From start to the finish everything was perfect for tummy tuck surgery. All staff is very friendly and the aftercare has been good. The Doctor and the nurse team was fantastic. I'm so happy...result is amazing. Thank you!!!
This was overall a great experience, all the staff at Centre for Surgery were friendly and put me at ease. It is a nerve wracking thing to go through an op but the staff were so nice. Mr Ertan has got a great team around him. On the day of the operation everything went smoothly to plan, there was no delay or holdups, I had another consultation with Mr Ertan who confirmed what was going to be done and that I was still happy to proceed. I was prepped for the procedure, I met with the anaesthetist who again was really nice and put me at ease explaining his role. After the procedure I woke up with the nurse by my side making sure I was OK and checking on me, I was able to stay in the clinic until I was ready to leave and was not rushed at all. I was well looked after from the start to the point when I was discharged. Post operation I was staying at a local hotel it was so close there was no point in even getting a taxi and I was able to walk back where my partner was waiting for me. I was expecting a lot of bruising to both my eyes but there was very little if any by the time the cast came off after 7 days, I am now at the two week post operation point and it is healing well with no outwardly visible bruising or scaring. The next milestone is a checkup at the 6 week point with my surgeon. If you're thinking of having something like this done I would highly recommend getting in touch with Centre for Surgery.
The staff at Centre for Surgery were very kind and accommodating. They answered any questions I had about the procedure and were constantly checking up on me. A special thank you to Christina for all her support throughout.
I would just like to state the quality of care received from the nurses at Centre for Surgery was beyond the highest level. Sophie takes her patient care to another level beyond words. She always puts me at ease. She is there for me even at awkward hours just when I mostly needed reassurance and she is one of the most compassionate nurses I have come across and demonstrates her passion naturally for caring for others. She totally deserves recognition at its finest and thank you for always being there for me. 😍
Centre for Surgery uses the SAFElipo technique, which is an advanced method of fat reduction employing a multi-step process and uses power-assisted liposuction (PAL) to efficiently remove stubborn body fat. This means you will have less scarring and side effects that can occur with traditional liposuction methods. SAFElipo is considered a less invasive method and has a faster recovery time.
The power-assisted technique adds gentle vibration to the process to break up fat cells. The process is very selective so the connective tissue framework is preserved. A similar analogy is akin to plucking grapes off a vine whilst preserving the delicate structure of the vine.
2 weeks post-op liposuction (minimal bruising and swelling with use of gentle technique)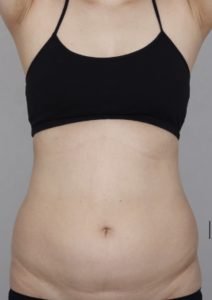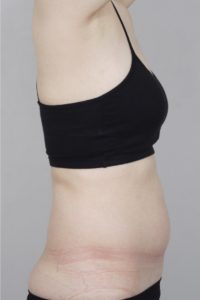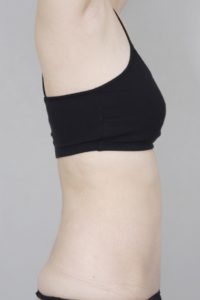 Ultrasound and laser-assisted lipo involve the application of heat or thermal energy to the tissues. PAL lipo is a heat-free method meaning the risk of burns is eliminated, making it a much safer method of fat extraction. An easier extraction means a quicker procedure and less bruising and swelling, leading to a faster recovery. Liposuction allows you to not only remove stubborn fatty tissue but it will help to improve your body proportions and contours, leaving you with an increased self-image and body confidence.
Common areas for liposuction:
Abdomen
Flanks
Thighs
Hips and buttocks
Upper arms
Neck
Calves and ankles
Centre for Surgery also offers liposculpture for men, abdominal etching, mons pubis liposuction, saddlebags, bra roll, neck, bingo wings and buffalo hump removal.
Always check that your surgeon is on the GMC specialist register for plastic surgery before proceeding with a consultation. All our surgeons are fully accredited plastic surgeons and only perform procedures in CQC regulated facilities. Our clinic at 106 Crawford Street was recently inspected and rated as good across all five domains.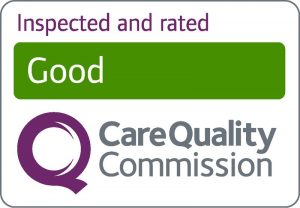 Learn more about the PAL lipo technique, which all our surgeons use as a standard for all liposuction procedures.
If you also have loose skin but are not keen on invasive surgery like a tummy tuck, arm lift or thigh lift, Centre for Surgery performs the BodyTite skin tightening procedure which can contract skin without the scars of more invasive surgery. All our surgeons are on the GMC specialist register for plastic surgery. The Royal College of Surgeons of England has an excellent information resource on cosmetic surgery.
Our surgeons continue to provide gold standard power-assisted liposuction for many patients who choose to have a procedure with us. The surgeon will always customise every liposuction procedure to your unique needs and preferences. Your surgeon will formulate an individualised treatment plan and carry out the most effective technique for you. The knowledge and skill we have developed in liposuction over many years make Centre for Surgery the pre-eminent choice for Liposuction in London.
Liposuction Surgery at Centre for Surgery Baker Street with Dr. Samet Sendur
| Liposuction | Fast facts |
| --- | --- |
| Procedure time ⏳ | 1-3 hours |
| Anaesthetic type 💉 | Local anaesthetic or general anaesthetic |
| Length of stay 🛏 | Day case |
| Up and mobile 🚶🏻‍♂️ | 1 day |
| Washing 🛁 | 3 days |
| Travel ✈️ | 4 weeks |
| Sexual activity ❤️ | 4 weeks |
| Driving 🚗 | 2 weeks |
| Postoperative garment 👕 | 6 weeks |
| Sleeping 😴 | No restriction |
| Exercise 🏃🏽‍♀️ | 6 weeks |
| Full recovery 🕺🏻 | 6 weeks |
| Final results 😃 | 3-6 months |
Female liposuction before and after
Browse our liposuction photo gallery to see results achieved by our surgeons at Centre for Surgery. The before and afters below offer a sampling of the patient photos we have on file. When you come in to see us for a free consultation, a wide variety will be made available to you. At Centre for Surgery, we only show photos of our patients that have given written consent allowing use of their images on our website.
SEE ALSO: Liposuction Before And After Photos
Case 1: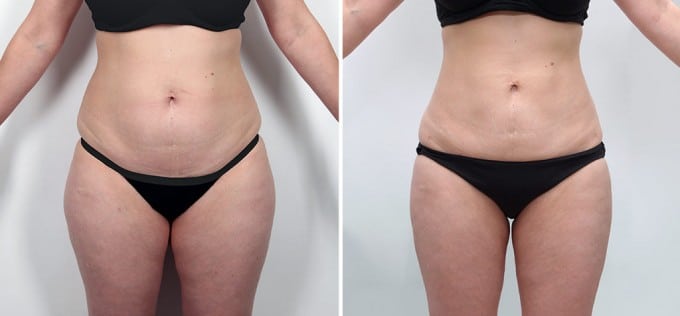 Case 2: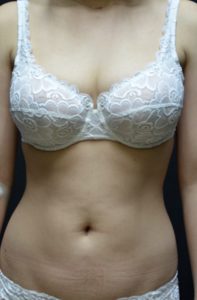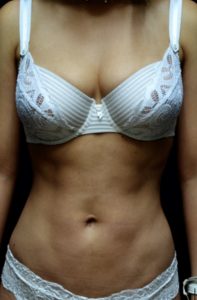 Case 3: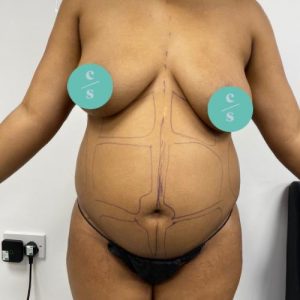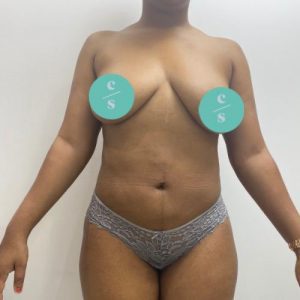 Case 4: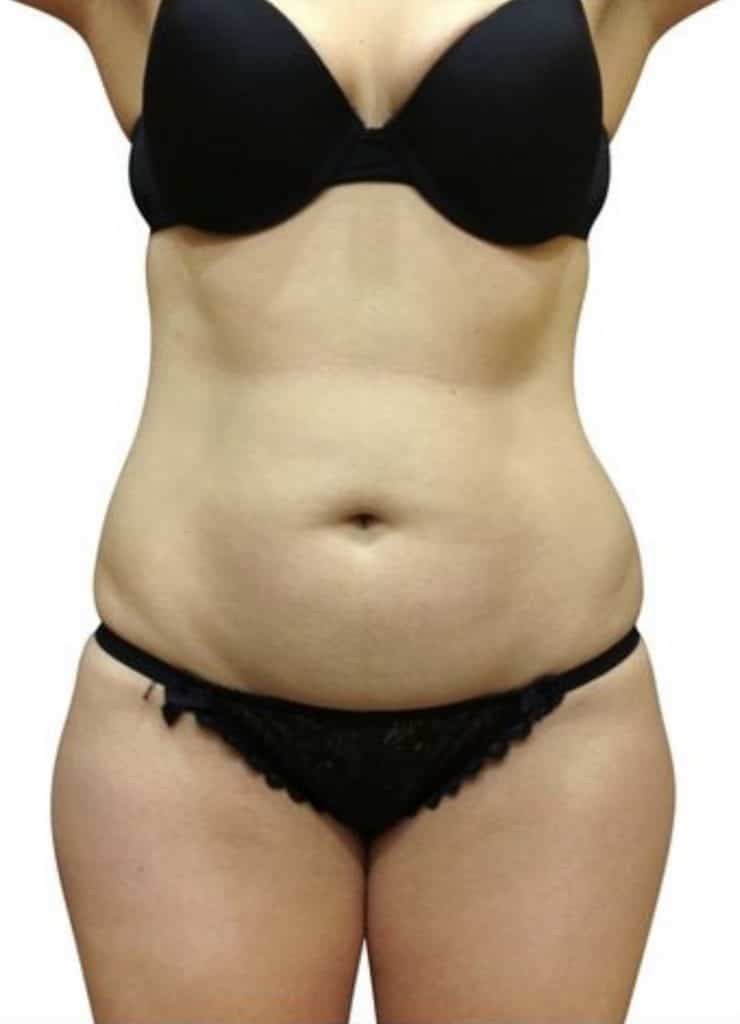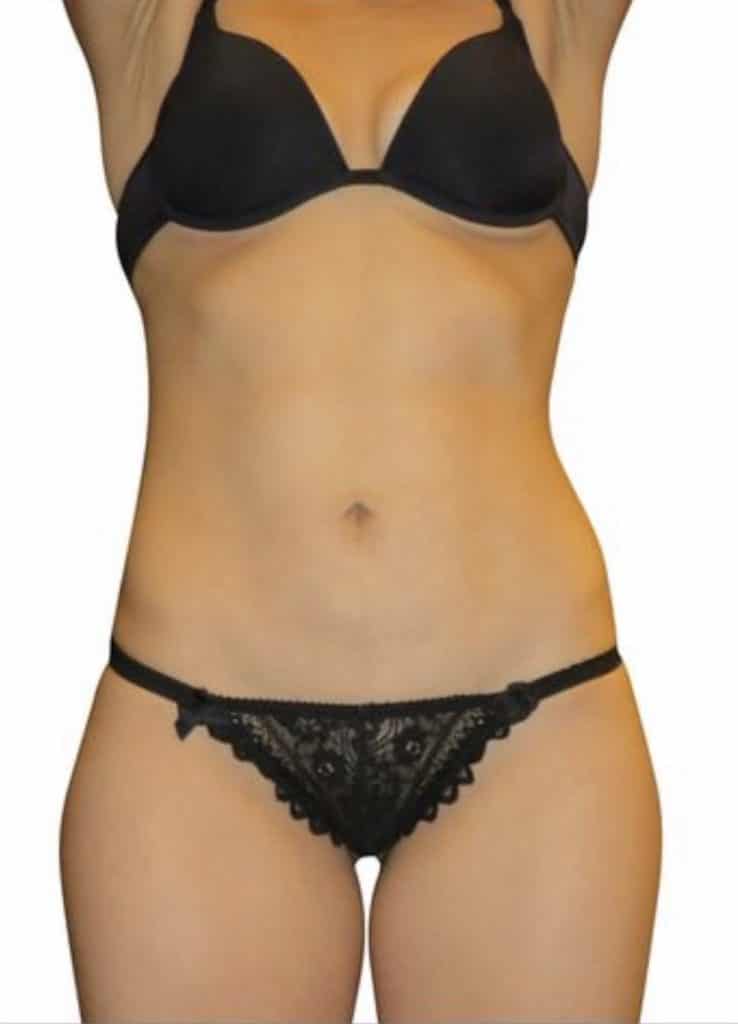 Case 5: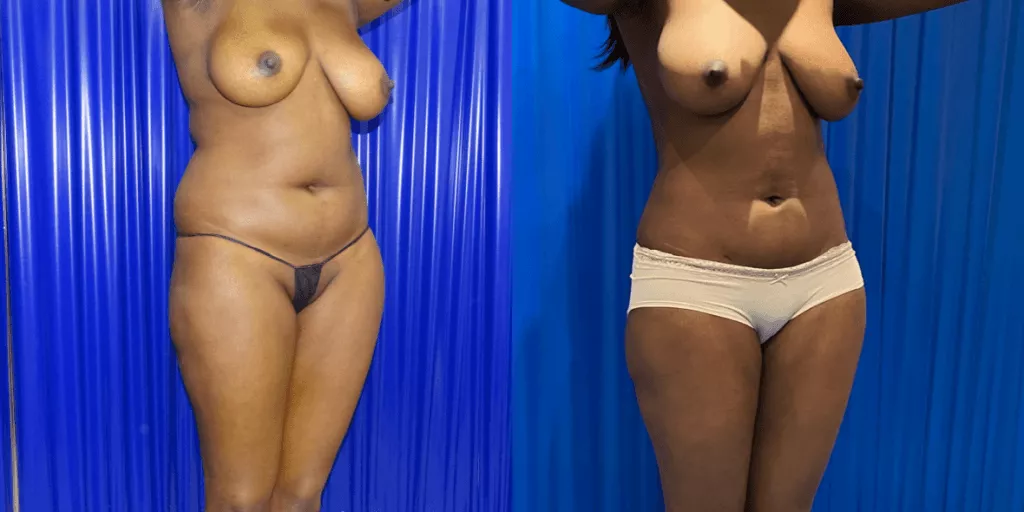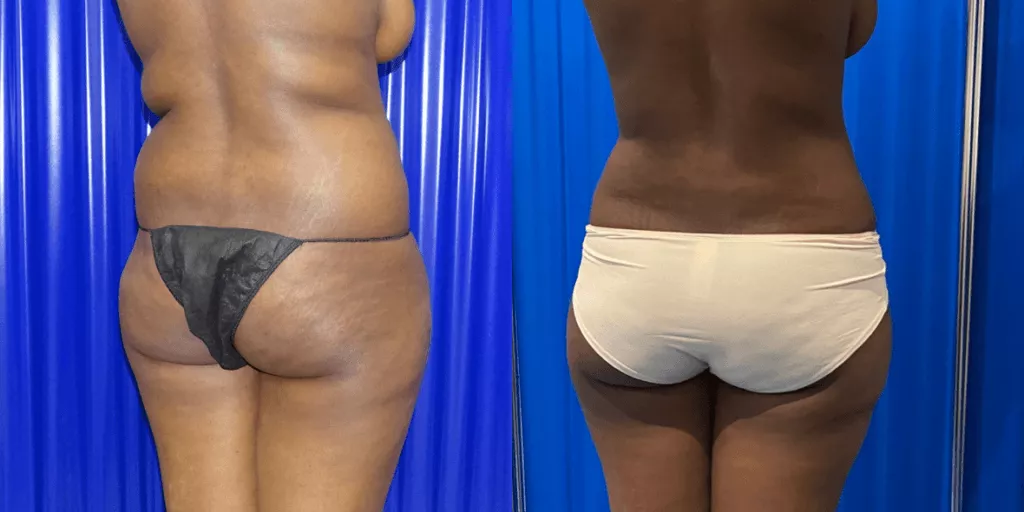 Case 6: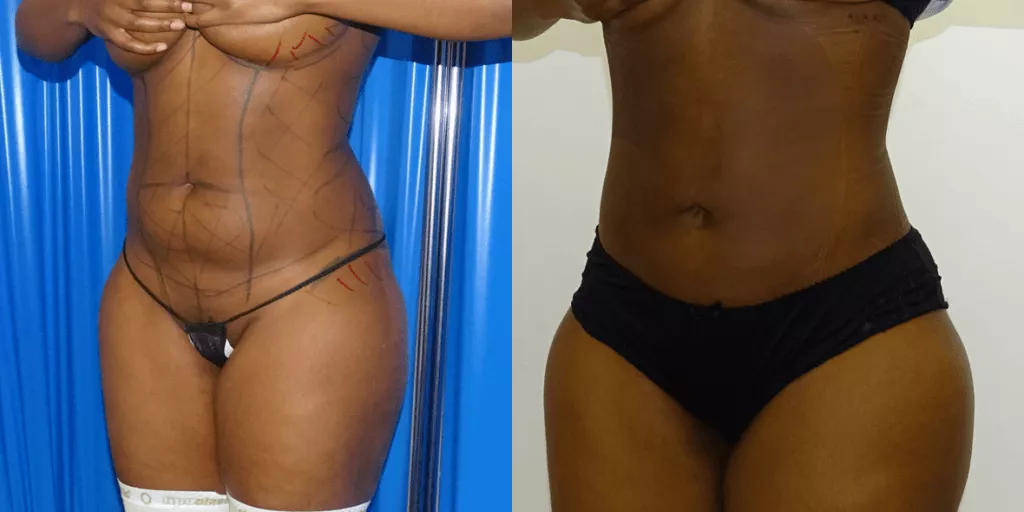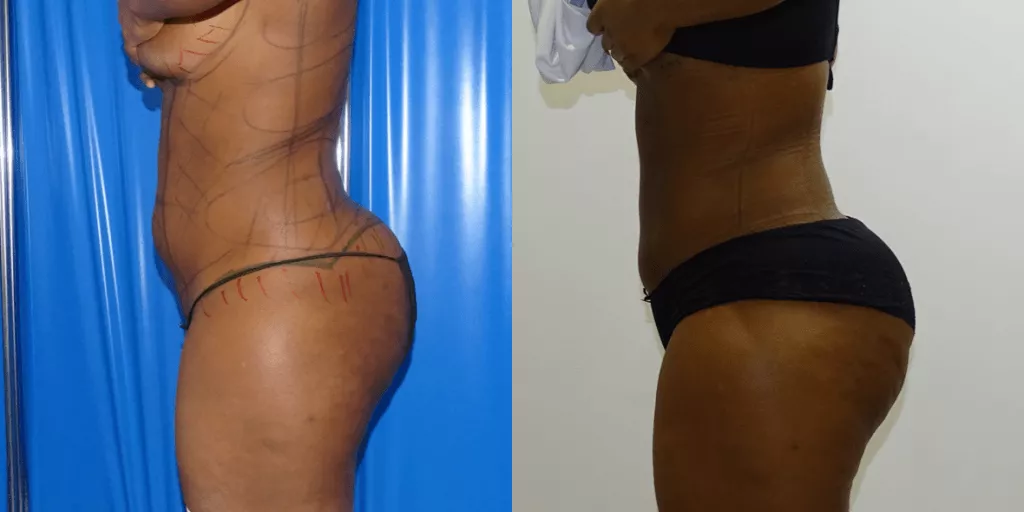 Case 7: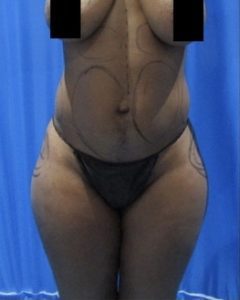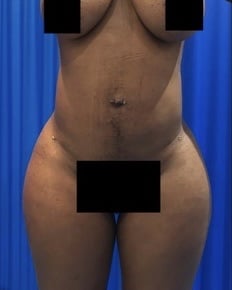 Case 8: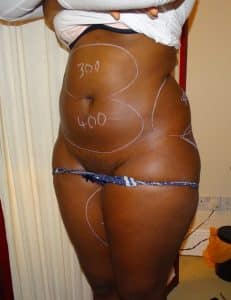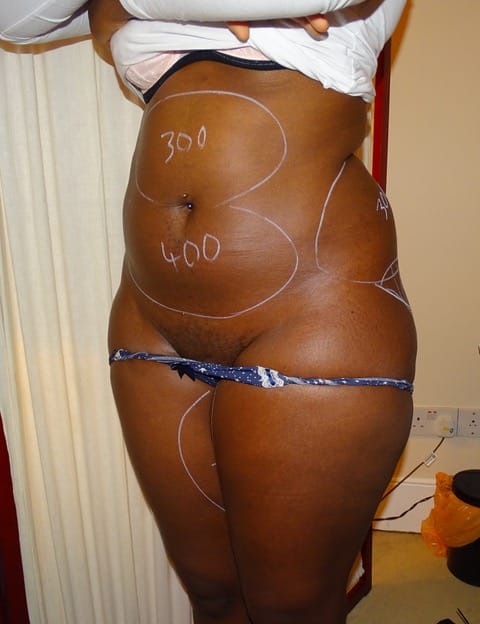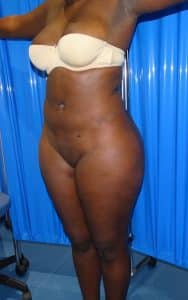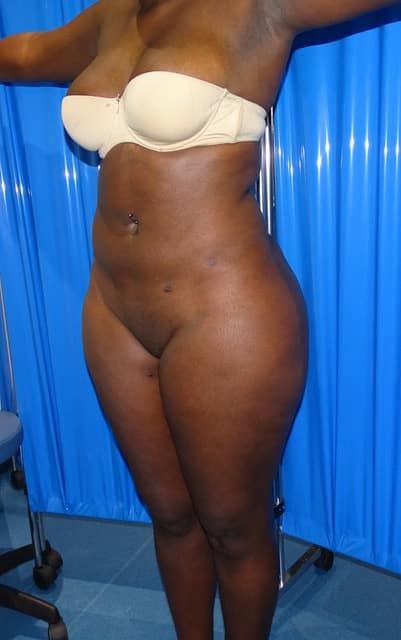 Am I suitable?
You will be a suitable candidate for liposuction if you have fatty deposits that you have been unable to reduce even with physical exercise and diets. Liposculpture is able to be performed in areas of the body such as chin, saddlebags, bra roll, mons pubis, thighs, arms, buttocks, abdomen and calves.
The skin should ideally be firm and elastic. This will minimise the occurrence of sagging, loose tissue after the procedure. Instead, an abdominoplasty is recommended for those with skin laxity.
Candidates will need to:
Be physically and mentally healthy

Not be considered obese

Be at a stable weight for a minimum three months before the liposuction treatment. It is best to try and lose as much weight possible before the liposuction

Have elasticity in the skin, as the skin will need to shrink after the procedure
Who is not a good patient for liposuction?
Patients who are:
Obese

Have a lot of loose skin – no liposuction causes skin tightening 

Have cellulite – liposuction can often worsen the appearance of cellulite. If you are interested in cellulite reduction, our surgeons perform the CelluTite procedure.
RELATED: Liposuction risks and how to avoid them
Liposuction is not a suitable treatment for obesity. There is no substitute for diet and exercise, but once the weight loss is complete, liposuction can be of significant benefit. If you are considered to be a suitable candidate, you may wish to look at what finance options we have available for this procedure.
How much does liposuction cost?
There are several factors that will determine the overall cost of your liposuction procedure, and the final quotation will be given after your face-to-face consultation with your specialist plastic surgeon.
Number of areas to be treated.
Local or general anaesthesia
Liposuction combined with fat transfer or abdominoplasty
Primary or revision liposuction
Why not call 0207 993 4849 and speak to one of our expert patient coordinators, who may be able to give you a rough costing before your liposuction consultation?
Always remember that price should never be the determining factor when choosing a plastic surgeon for liposuction. We feel that safety and quality of service should be your number one priority and instil in you the confidence that our team will look after you before, during and after your procedure to the best of their ability.

Centre for Surgery is fully approved to offer finance for liposuction via our specialist finance partner, Chrysalis Finance. You no longer need to use your savings to pay for your liposuction treatment – you can apply to spread the cost of your procedure with Chrysalis Finance using their simple 1,2,3 application to pay for it. Don't wait until you have enough money for your treatment. Apply today and (subject to status) pay for your procedure easily in monthly instalments using one of their payment options. Chrysalis Finance is the only ethical provider that focuses solely on the provision of specialist financing for medical procedures.
What is included in my treatment package?
As many preoperative consultations with your surgeon as you like to make sure the liposuction procedure is right for you
Treatment at a specialist day surgery facility recently rated 'Good' by the Care Quality Commission
Enhanced same-day discharge with the added benefits of recovering in your own home thanks to advanced TIVA anaesthesia
24/7 clinical support from your surgeon for the first 48 hours and our expert postoperative support team
Your very own dedicated patient coordinator as your point of contact throughout all stages of the patient journey
In-depth preoperative medical assessment to make sure you are fully fit for your procedure
Exceptionally high standards of postoperative care described as 'outstanding' by the CQC with regular telephone and face-to-face checks
What are the different types of liposuction?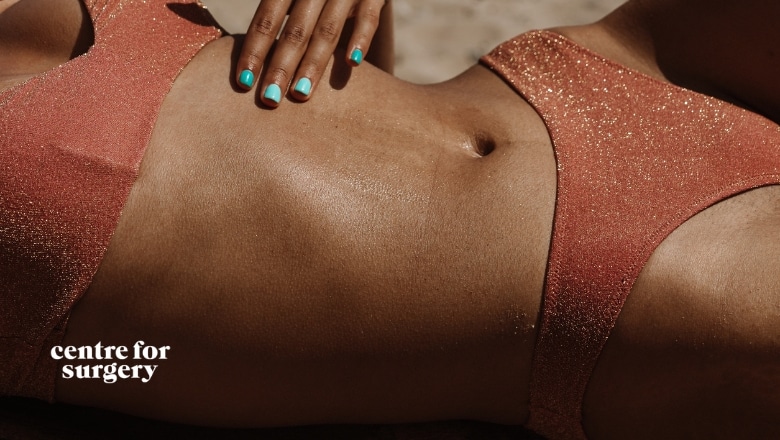 Liposuction for body contouring has undergone many refinements over the course of the last 30 years. Patients now have access to a wide variety of different liposuction techniques and technologies to achieve aesthetically pleasing results. Your surgeon will determine the most appropriate method for you based on a full clinical assessment. Having said that, Centre for Surgery has developed a rigorous set of protocols utilising only the most effective techniques as explained below:
Tumescent liposuction
The basic foundation of liposuction whether performed under local anaesthetic or general anaesthetic is the injection of a solution of sterile saline containing local anaesthetic and adrenaline prior to the actual liposuction procedure. This solution is referred to as tumescent local anaesthesia or TLA and causes the fat tissue to become swollen or firm in character. The fat cells become enlarged with this solution and blood loss is minimised thanks to the added adrenaline. The subsequent use of specialised suction cannulas to gently remove the fat is greatly facilitated and made easier by the use of tumescent anaesthesia. Tumescent anaesthesia is common to all forms of liposuction:
Ultrasound-assisted
Laser-assisted
Power-assisted
Ultrasound-assisted liposuction (UAL)
Ultrasound-assisted liposuction or VASER lipo uses a cannula which emits ultrasonic waves at a very high frequency which permits disruption of the fat cells. With fat cell disruption, the fat takes on a more liquified character which facilitates an easier extraction.
Laser-assisted liposuction (LAL)
Laser-assisted liposuction or laser lipolysis uses a very fine optical fibre that emits laser energy of a specific wavelength – most commonly 1064nm, 1320nm or 1470nm. Like Vaser, the laser energy disrupts fat cells leading to their breakdown which enables an easier extraction of fat.
The disadvantages of ultrasound-assisted lipo also known as Vaser
While Vaser techniques have gained in popularity over the last 10 years, this is mostly down to the effective marketing methods employed by the manufacturers of these devices in targeting doctors. Both methods involve the generation of a significant amount of thermal energy and therefore there is a substantial risk of burns to the skin or soft tissue. Both methods also claim to simultaneously tighten the skin while also removing fat. The scientific evidence built up over the last 10 years does not support this claim. By causing liquefaction of the fat cells, the fat becomes useless for fat grafting applications whether to the breasts or buttocks because the fat cells have burst to leave an oily residue behind.
Power-assisted liposuction (PAL)
Power-assisted liposuction or PAL involves the use of a vibrating cannula to separate the fat cells which enables a more efficient extraction. PAL also better respects the soft tissue framework compared with UAL or Vaser leading to smoother results.
A useful analogy is like plucking intact whole grapes off the grapevine whilst preserving the structural integrity of the grapevine itself – PAL is inherently a much more gentle process.
With UAL and Vaser, the grapes have burst and the grapevine would be damaged, both effects are due to the thermal effects of UAL and Vaser technologies.
In power-assisted liposuction, a vibrating cannula handpiece moves at 5000rpm to separate and aspirate fat cells as the cannula is gently moved back and forth. PAL is a quicker technique compared with UAL and Vaser, and unlike ultrasound and laser can be used for all 3 applications below:
Large volume liposuction
Revision liposuction
Fat grafting applications – breast and buttock contouring
The more gentle action of PAL means less force is used by the surgeon which means less bruising and swelling leading to a quicker and more comfortable recovery.
At Centre for Surgery, power-assisted liposuction is a minimally invasive procedure for body contouring that is undoubtedly the current gold standard for performing liposuction in the view of all our surgeons.
The results of PAL Lipo are evident even on the operating table. Both images below are actual on-table results. The result will continue to improve even more over time with skin contraction.
PAL lipo before and after: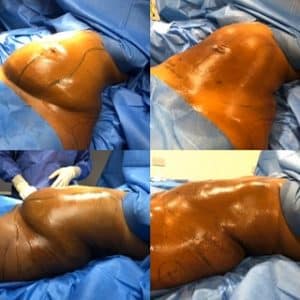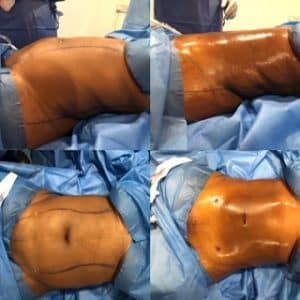 Instant improvement in abdominal and flank contour is visible in both cases. Home the same day and back to work in 2 days – such results not achievable with 'fat freezing', 'non-surgical lipo', 'fat busting' injections or any other non-invasive option.
Properly performed liposuction is a one-time and done procedure that allows for higher volumes of fat cells to be removed as well as simultaneous contouring of the body.
SAFElipo™ is performed as outpatient surgery, so you will be able to return home the same day as your liposuction procedure, once the effects of the anaesthetic have worn off.
SEE ALSO: What is the most effective type of liposuction?
PAL improves upon traditional liposuction in every respect:
Improved surgeon precision for body sculpting and contouring

PAL is not heat-based, so patient burns are not a concern

Shorter recovery time

Less bruising, swelling and trauma

Increased patient comfort and improved safety

Greater cell viability for autologous fat grafting and reinjection
Using the power-assisted liposculpture (or PAL) method, which involves using specially designed precision cannulas, body proportions and contours are improved. PAL Liposuction is a minimally invasive procedure that leaves small scars and has a shorter operating time compared to traditional liposuction with minimal bruising and swelling.
RELATED: What is Power-Assisted Liposuction (PAL)?
The SAFElipo method of liposuction used at Centre for Surgery is used for one of our most commonly performed procedures, the Brazilian Butt Lift or BBL. The BBL procedure utilises the two highly effective techniques of SAFElipo and EVL (expansion vibration lipofilling) in combination. Read more about BBL.
RELATED: Brazilian Butt Lift London
Liposuction surgeons
Centre for Surgery work with some of the most renowned plastic surgeons in the United Kingdom. All our surgeons have years of experience in all types of liposuction.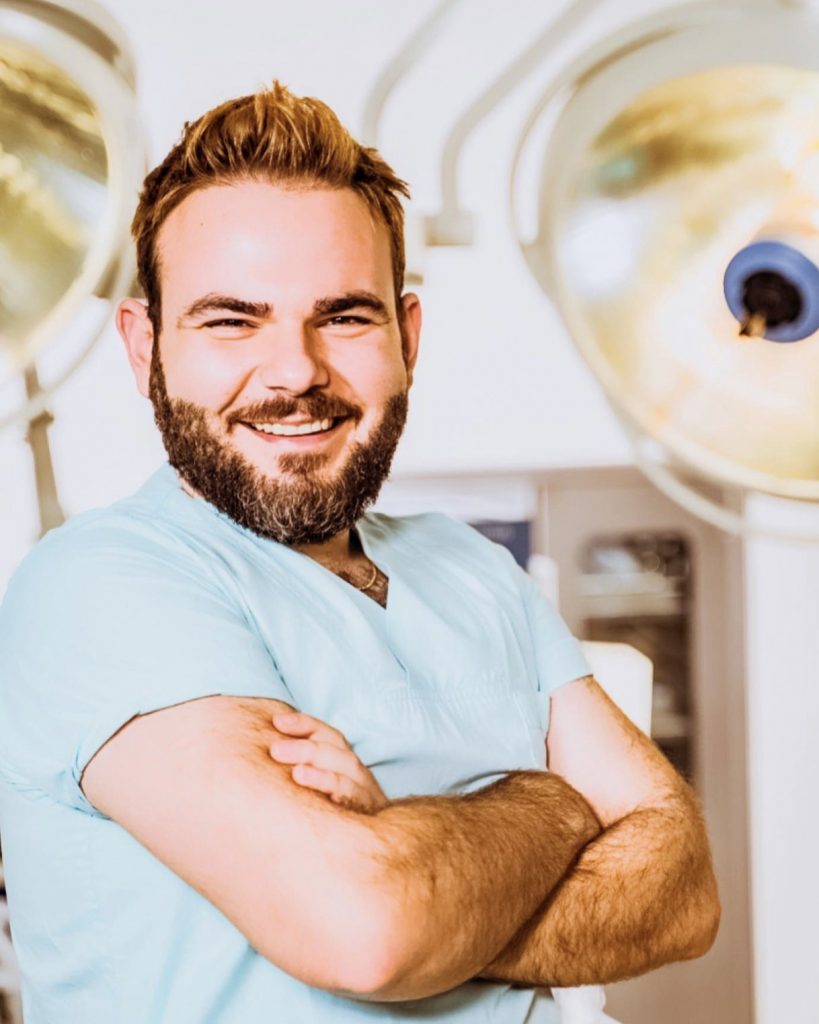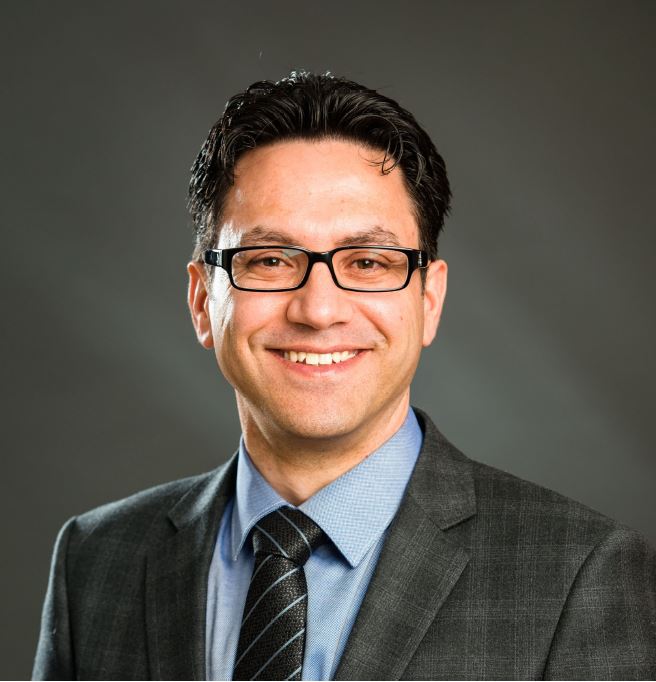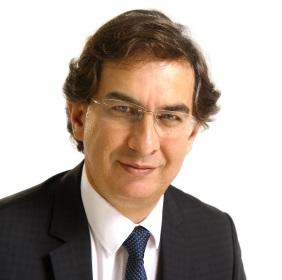 Our surgeons are full members of: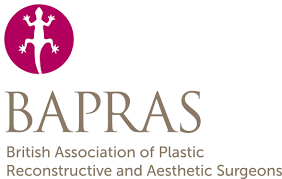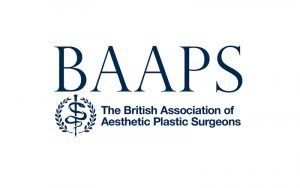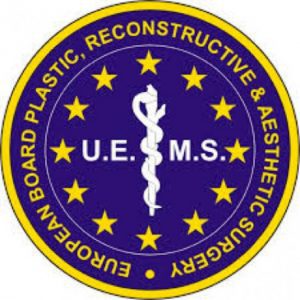 RealSelf Top Doctors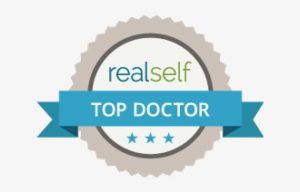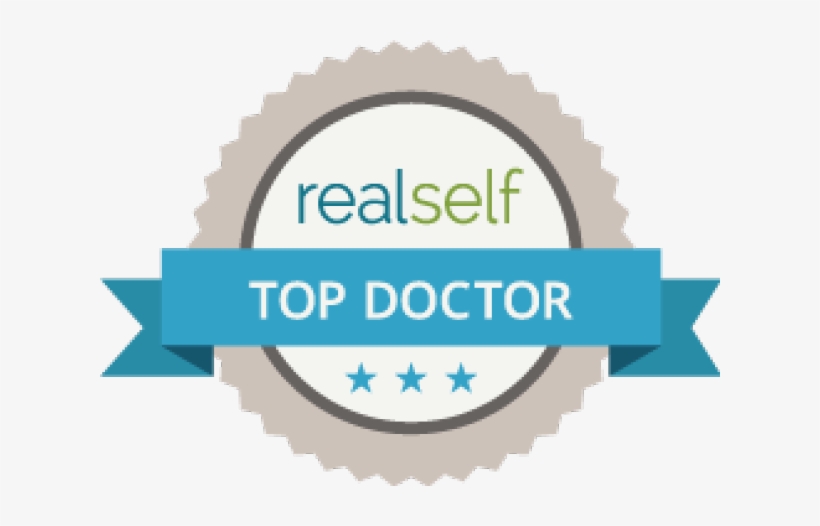 RealSelf top doctor status is awarded to less than 10% of the RealSelf doctor community.  This status is earned by achieving consistently high patient satisfaction (from RealSelf reviews), getting excellent feedback on expert answers to patient questions, and investing significant time in Q&A and other doctor activities.
My overall experience has been nothing less than beyond exceptional! Centre for Surgery made me feel confident and comfortable from start to finish
Liposuction of back / bra rolls
RELATED: Back liposuction to get rid of back fat
Case 1: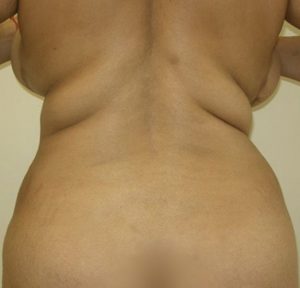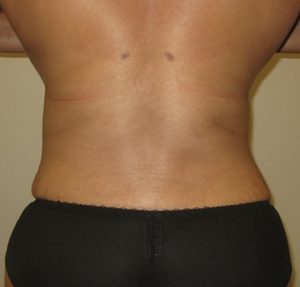 Case 2:
360 liposuction + fat transfer to buttocks with EVL technique.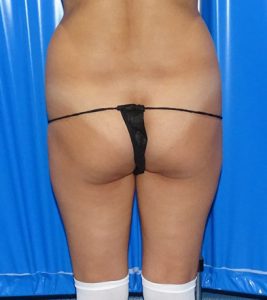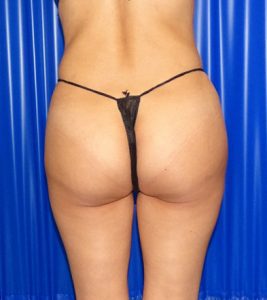 Case 3:
Liposuction of flanks and bra rolls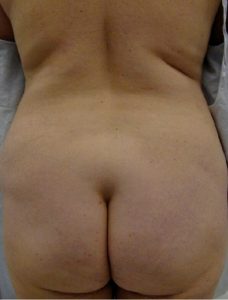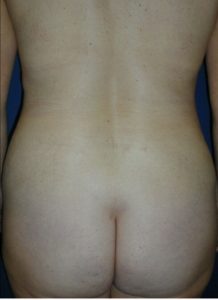 Case 4:
Liposuction of flanks and bra rolls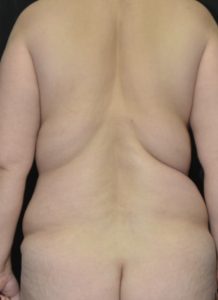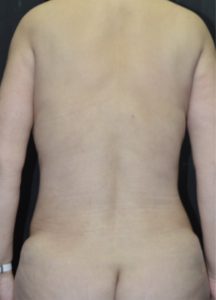 Liposuction of outer thighs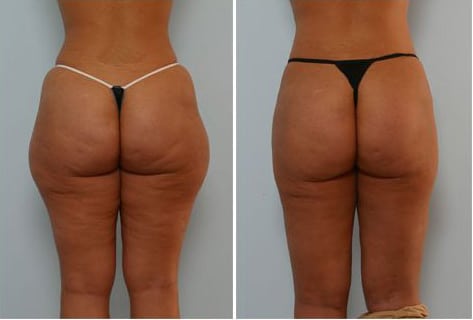 How to prepare for the liposuction procedure
As soon as you are booked in for your liposuction procedure, it is important that you commence preparation for your procedure. This ensures you will experience a smooth recovery and also makes sure you achieve the best possible results. If you have any questions about optimum preparation, you should call our patient advisor team at Centre for Surgery who will be happy to answer any questions you may have.
SEE ALSO: How to prepare for liposuction
Patients should generally be in good health and should commit to long-term lifestyle changes including both eating a healthy diet and regular exercise. The surgeon will explore with you whether your goals and expectations are appropriate and realistic. Patients who are obese or who have certain chronic medical conditions that place them at risk of complications may not be ideal candidates for liposuction.
At Centre for Surgery, liposuction is performed as a day case procedure. You need a responsible adult to escort you home because of the effects of the anaesthesia. You will need to collect your prescription for antibiotics and pain medications before the day of the procedure. The follow-up appointments will be scheduled with the nursing team and your surgeon on the day of your procedure. It is crucial to attend all your postoperative appointments to ensure you are healing correctly. It is useful to have someone on hand for the first few days after your procedure to help you with everyday small tasks.
Liposuction patient marking
At Centre for Surgery, preoperative marking is absolutely crucial for procedure success and great patient outcomes The marking process is performed in front of a mirror with your surgeon, which allows you to remain an active participant in the process to discuss your needs and preferences. Treatment areas that will require treatment are labelled with circles using a marker pen, and hash marks are used to label the areas to be avoided during liposuction. The surgeon will then mark carefully planned sites for the small incisions so that the incisions are well concealed once you have fully healed. Incisions are often placed in or near old scars or stretch marks to make them look less visible. The surgeon places incision sites in a position that allows for complete treatment of all affected zones during lipo-aspiration. The surgeon will make note of significant abnormalities such as pre-existing scars, hernias, or contour irregularities.
What does liposuction involve?
Our surgeons perform liposuction as a day-case procedure at our state-of-the-art Baker Street clinic. This means you will be admitted and discharged on the same day thus allowing you to recover in the comfort of your own home. Liposuction is usually performed with TIVA general anaesthesia to ensure patient comfort. In some cases and for small well-localised areas, a local anaesthetic may be used. Liposuction takes about an hour per area on average, so liposuction of 4 areas will take about 4 hours to do. Once the surgeon is happy with the amount of fat removed and happy with the on-table result, dissolvable sutures will be applied to the tiny incisions which were made for cannula access. Finally, a well-fitting compression garment is applied to reduce bruising and swelling and ensure proper healing takes place.
What is SAFElipo?
SAFElipo is an innovative method of performing liposuction which has become the preferred method of liposuction at Centre for Surgery. SAFElipo is gentler on the body and preserves the delicate connective tissue framework permitting smoother results. Research has proven that SAFElipo is superior to traditional manual liposuction in a number of ways:
Efficient fat extraction
Improved skin contraction
Preservation of vascular integrity
Lipocontouring of many regions of the body
Less risk of complications
SAFELipo (Separation, Aspiration and Fat Equalization) is a 3-step process
Centre for Surgery uses the SAFElipo™ procedure, which involves three precise steps:
Step 1 – Separation
Our surgeons will use power-assisted liposuction (PAL) which will separate the fat globules and cause a degree of emulsification. Local anaesthesia is simultaneously infiltrated during the separation stage. Unlike traditional liposuction methods, SAFElipo™ preserves the delicate connective tissue network and blood vessels. This step helps to loosen the fat cells, making them easier to be removed.
Step 2 – Aspiration
With step 1, the fat cells have been primed for efficient extraction. This step involves the suctioning of the fat cells using smaller and thinner specialised cannulas. This means the recovery process is much smoother with less bruising and swelling.
Step 3 – Fat Equalisation
The final fat equalisation step is crucial to achieving robust long-term results. Fat equalisation minimises the occurrence of contour irregularities at the skin surface. Without suction being applied, the vibrating cannula precisely distributes an even layer of internal fat grafts immediately beneath the skin. This internal fat grafting acts to prevent the undersurface of the skin called the dermis from adhering to the underlying fascia. This undesired adherence of the dermis of the skin to the deeper connective tissue fascia is what results in contour irregularities. Step 3 is the best possible prevention strategy to make sure patients do not get a wavy or bumpy appearance on their skin. The concept of internal fat grafting during all liposuction procedures is something our surgeons do routinely. It is like the polish part of a "car shampoo, wax and polish".
Common areas of liposuction for men
Chin liposuction and neck liposuction
The accumulation of fat deposits in the chin and neck region is mainly genetic but with age, there tends to be an increased accumulation of fat in the region. It is very important that chin liposuction and neck liposuction is performed meticulously and gently to avoid the risk of injury to a branch of the facial nerve at the lower jaw region. Smaller cannulas are preferred as they create a smoother result. The skin of the neck and chin is thinner compared with other areas and in men, the skin is not as elastic compared with women.
Because of the skin thickness which is thinner in the neck, the possibility for skin retraction is less although the formation of internal scar tissue following neck liposuction will cause some skin retraction leading to a better-defined jawline. Chin liposuction can be combined with FaceTite and Morpheus8 for significant skin retraction with results approaching that of a mini facelift. In patients over the age of 55, liposuction may need to be combined with skin excision in the form of neck lift surgery. There are a number of non-surgical treatments for this region including Ultherapy, also known as high intensity focussed ultrasound or HIFU, but their claims of treatment efficacy are not borne out by actual results and the results are very modest at best.
Arm liposuction and thigh liposuction
Similar to female patients, these are common areas for liposuction in men. In those who have significant skin laxity from significant weight loss, arm liposuction may be combined with an arm lift or thigh lift.
SEE ALSO: Can liposuction get rid of bingo wings?
Male breast liposuction
Liposuction of the male breast is a highly effective treatment for the removal of localised fat deposits in the male chest area. This is also known as pseudo-gynecomastia. In true gynecomastia, where glandular tissue is prominent, in many cases, male breast liposuction needs to be combined with surgical removal of the glandular tissue for effective contouring of the area.
Stomach liposuction (liposuction of the abdomen)
Men commonly develop bulging of the abdominal area and this can be due to fat beneath the skin (subcutaneous fat) or fat surrounding the internal organs (visceral fat). Only subcutaneous fat can be effectively treated by stomach liposuction. Many men will have a combination of both types of fat deposits. Visceral fat is better treated by a good diet and regular exercise. A male tummy tuck can be used in combination with abdominal liposuction for patients with both types of fat distribution.
RELATED: How to get rid of belly fat
Men who have lower levels of body fat and are looking for the definition of the abdominal muscles (also known as a 6 pack) will not achieve definition with stomach liposuction although thinning of the fat layer is possible. For these patients, HD lipo and abdominal etching are ideal treatments for precision contouring. A programme of regular exercise is required to maintain and enhance the results.
Male flank liposuction is also commonly performed for the reduction of male 'love handles'. Liposuction of the abdomen can also be used for the flanks for the creation of a V-shaped appearance in many men.
Flank liposuction
The flank region can be a very problematic area for many men with bulges of fat that can protrude beyond the trouser line. Liposuction is a highly effective procedure for contouring male flanks. The procedure may be less effective in older men where skin laxity may lead to worsening of the appearance if only Liposuction is carried out.
Hip liposuction, inner knee liposuction, calf liposuction
Lipocontouring of these areas is much less commonly performed compared with the areas above. Treatment of these areas requires a surgeon very experienced in precision contouring using very small cannulas, especially in the calf and ankle region. There is a small but significant risk of nerve injury if liposuction is improperly carried out in the calf and ankle area.
RELATED: Knee liposuction to get rid of knee fat
RELATED: Calf and ankle liposuction to get rid of calf and ankle fat
Male liposuction before and after
Case 1:
Liposuction of male abdomen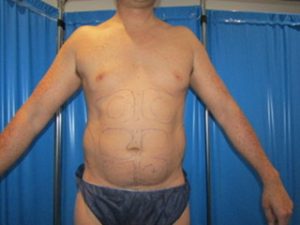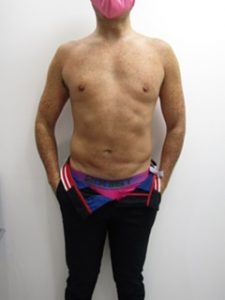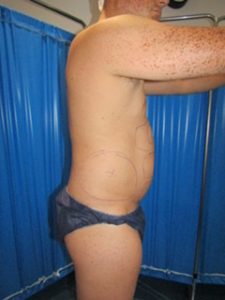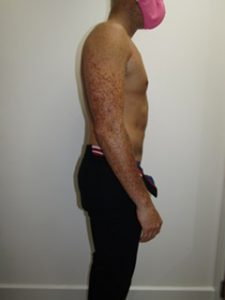 Case 2:
Liposuction and male breast reduction.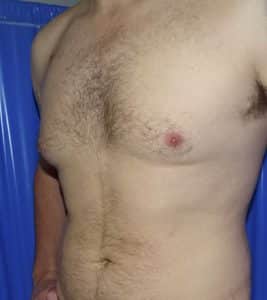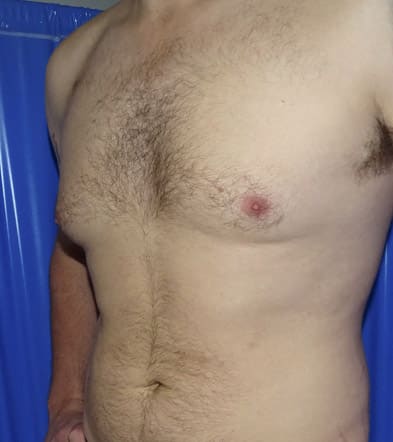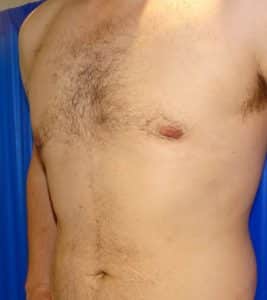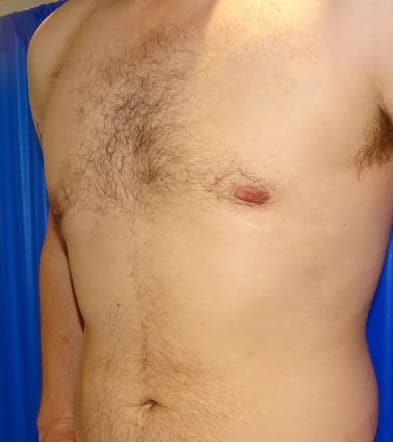 PAL lipo to chest + excision of gynecomastia tissue.
Case 3: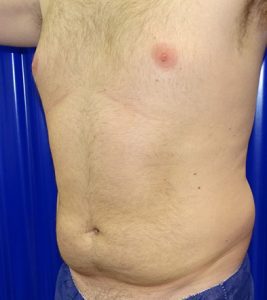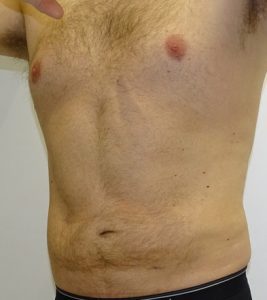 Debulking liposuction of abdomen (2500cc removed).
Revision PAL lipo to abdomen – 1500cc removed. First procedure performed in Turkey. Home the same day and back to work 2 days later.
Case 4: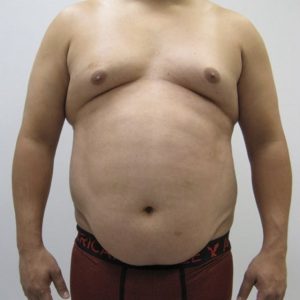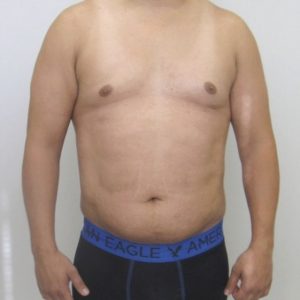 Case 5: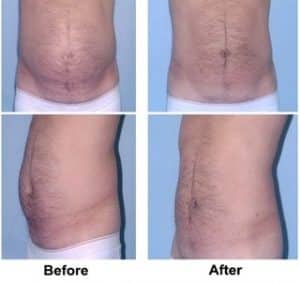 PAL lipo to abdomen. 1600cc removed.
Case 6:
Liposuction of the male chest with BodyTite is commonly performed in combination with glandular excision for gynecomastia correction.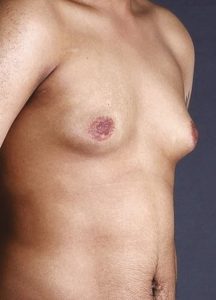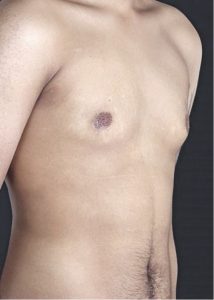 SEE ALSO: Liposuction for men
Liposuction recovery
As liposuction is a surgical procedure, you may have to take two to three days off work. Recovery after liposuction is generally quick due to the minimally invasive nature of the procedure. However, if you have had liposuction in multiple areas, you may require additional time off work.
RELATED: Liposuction recovery top tips
The recovery after liposuction commences as soon as the anaesthesia begins to wear off. Our anaesthetists use TIVA anaesthesia which is considered a more advanced form of general anaesthesia compared with traditional techniques carried out in hospitals. With TIVA there is a faster wake-up time and a reduced risk of postoperative nausea and vomiting. This means you can start your liposuction recovery much quicker. Your surgeon may recommend one week off work which will help to speed up the resolution of bruising and swelling which is commonly encountered after liposuction. Pain and discomfort are often minimal and can be effectively controlled with over-the-counter painkillers. A compression garment will help to reduce discomfort and swelling and should be worn for 6 weeks.
After the liposuction, you will be able to notice swelling, however, this will begin to reduce in 7-10 days. While swelling will eventually settle, it can often be present for three to five months. You can commence physical exercise after a few weeks, building up to more intensive levels of exercise after 6 weeks. Strenuous exercise should be avoided during the first 4 weeks after liposuction. It is important to keep mobile after the procedure to minimise the risk of prolonged swelling and DVT / PE. Liposuction recovery is generally complete by 6 weeks and results should begin to be apparent. The final results should be visible between 3-6 months after the procedure.
Regular and light massage to the areas where liposuction was performed is generally thought to optimise healing and recovery. In a small number of cases, especially after revision liposuction, manual lymphatic drainage (MLD) may be advised by a specialist MLD therapist over a number of sessions.
Everyone will have different treatment outcomes depending on the amount of fat extraction and the specific areas of treatment.
SEE ALSO: How to maintain your liposuction results
Risks and complications of liposuction
Liposuction has been performed with an impressive safety record for over 30 years and is considered by plastic surgeons to be a very safe procedure when performed correctly. All procedures at Centre for Surgery are performed by fully qualified and experienced plastic surgeons to get the best possible results. Although complications with liposuction are generally rare, they can still occur. Your surgeon will discuss with you in detail at your face-to-face consultation, all the potential risks and complications associated with the liposuction procedure.
RELATED: Liposuction risks and how to avoid them
Potential risks of liposuction
Anaesthesia risks
Seroma or haematoma
Numbness can temporary or permanent
Bruising and swelling
Poor wound healing
Stretch mark development
Exacerbation of cellulite
Surgical site infection
Visceral perforation
Asymmetry
Contour irregularities
Skin laxity
Kidney or liver problems
Fat embolism
Skin laxity – In some patients, liposuction may exacerbate pre-existing skin laxity which may then require skin removal in a second procedure.
How to minimise scars after liposuction
The incisions with liposuction are very small in size – often just a few mm. It is still important to take care of your incision areas to optimise scar appearance. A key point is to avoid traumatising the incision sites and leave them well alone as well as keeping the dressings on for the recommended duration of time. Steristrips may have been used to cover the incisions. Steristrips should be allowed to fall off on their own. The nursing team may remove them at your follow-up appointment. Avoid wearing tight-fitting clothing which may catch on the incisions. The vast majority of incisions will heal well in about 2 weeks with compliance with the postoperative instructions. Once the incisions have healed, your surgeon may be able to advise you on optimum scar appearance methods. Silicone gels and medical-grade brown tape are often used to improve scar cosmesis. It is also important to avoid or minimise sun exposure to improve scar healing.
Choosing the right compression garment for liposuction
Wearing a liposuction compression garment is crucial to getting the best outcomes after liposuction. The purpose of a compression garment is to provide extrinsic and balanced pressure over the liposuction treatment areas. The compression garments come in a variety of designs and styles.
Benefits of liposuction compression garments
Reduce bruising over the treated areas
Reduce swelling
Improve blood flow and vascularity which aids healing
Facilitating proper skin retraction and reducing the risk of skin laxity
Contouring of the treated areas
Compression garments must be worn continuously for a period of time after any liposuction procedure. The recommended duration of application depends on the areas that are treated as well as the volume of liposuction performed. Bigger volumes extracted require longer periods of wear to achieve optimal results.
RELATED: How to choose the best compression garment for liposuction
For patients to get the best results, the compression garment should have a firm fit but not too tight as an overly tight-fitting can restrict body movement or even cause localised pressure sores or breathing difficulty in some cases. The post-liposuction swelling is due to excess tissue water collecting in the cavities created by liposuction. Swelling does gradually resolve and in some cases, the patient may need to switch to a smaller garment for the best fit.
Improperly fitting garments can prolong swelling and lengthen the recovery process. Excessive pressure can also disrupt the normal lymphatic drainage pathways in the body leading to prolonged inflammatory changes in the liposuction treatment areas. Be sure to notify your plastic surgeon if you feel your liposuction compression garment does not feel like it fits correctly.
Liposuction before and after
Case 1:
Extensive 360 liposuction of abdomen, flanks and back + bilateral breast reduction. Home the same day and the patient made an excellent recovery.

Power assisted liposuction + BodyTite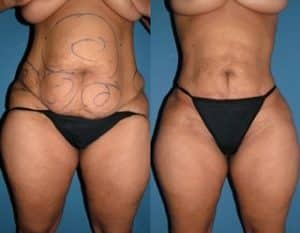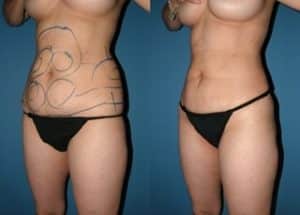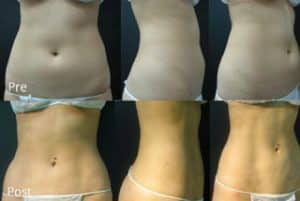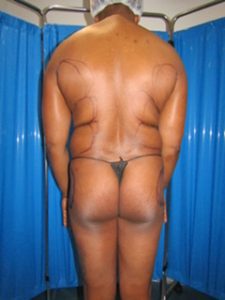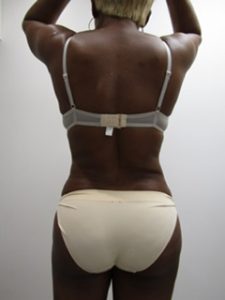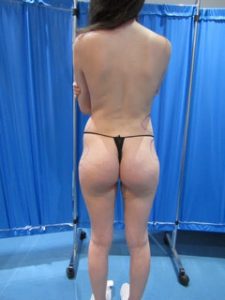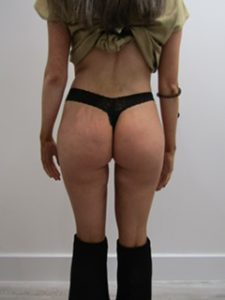 PAL Lipo before and after – 1 week later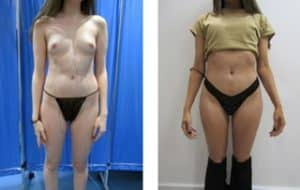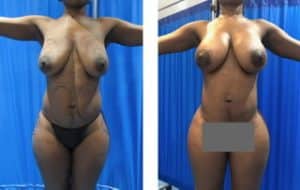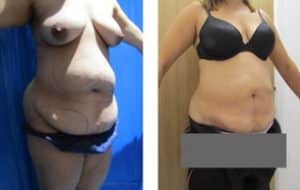 The cases above illustrate early results only one week after the procedure. Patients vary in the amount of bruising and swelling but you'll get a good idea of what to expect early in the recovery process.
SEE ALSO: Liposuction Before And After Photos
Can liposuction be combined with other body contouring procedures?
Liposuction is very commonly combined with other procedures:
With many excisional procedures, doing the liposuction component first helps to contour the area before the skin is surgically removed – combining the 2 techniques of liposuction and skin excision can produce very impressive results compared with either technique performed in isolation.
RELATED: Does liposuction cause loose and flabby skin?
Centre for Surgery also specialises in the BodyTite procedure which is a minimally invasive approach to skin tightening without the traditional long scars from a tummy tuck, arm lift or thigh lift.
RELATED: BodyTite for non-surgical skin tightening
Can fat be used from liposuction to add volume to other areas of my body?
For patients who are considering volume enhancement such as breast fat transfer or buttock fat transfer then your surgeon will often recommend combining liposuction with fat transfer for optimum results. Liposuction would then be used to harvest the appropriate quantity of fat that would then be processed before re-injecting into the breasts or buttocks to enhance volume.
RELATED: What are the different types of fat transfer surgery?
Further reading on liposuction
What To Expect
The liposuction consultation
When you have a consultation with your surgeon, a number of measurements are taken of the body areas where fat is to be removed and an assessment will be made of the soft tissue quality. Those who have good skin elasticity then you will be a good candidate for liposuction. Your surgeon has is skilled in all types of liposuction including power-assisted liposuction and the most appropriate choice will be made based on your physical examination. The surgeon will also give information on the location of the small incisions for the liposuction and also whether the liposuction is to be combined with another procedure such as a tummy tuck.

High-resolution photos will be taken and your surgeon may also use computer digital imaging. Your surgeon will take time to discuss the important risks and potential complications of liposuction surgery and what you can expect in the postoperative period.

The surgeon will also take a full medical history which includes previous operations, the current list of medicines taken and any potential allergies. This information will be used to decide on your fitness for the liposuction procedure. If you are deemed to be a suitable candidate for lipo surgery then we would recommend spending a period of time to reflect on all the information given. We always recommend a minimum of a '2 weeks cool off period' to weigh up your options.

All our prospective patients are more than welcome to have as many follow-up consultations after their initial consultation to make sure you are fully empowered with all the information to make an informed decision for proceeding with liposuction surgery at Centre for Surgery.
Before your procedure
Once you have decided that liposuction is right for you, our preoperative assessment team will be in contact to prepare you for surgery.

The following are recommended actions to take:

- For 6 weeks beforehand, it is highly recommended to stop smoking as active smoking is associated with a number of risks including delayed wound healing which could result in wound infection.

- You should also avoid aspirin and all medicines containing aspirin for at least one week prior to the liposuction procedure.

- For 6 hours before the liposuction procedure, you should refrain from eating any food or any type of drink apart from sips of clear fluid (water and tea/coffee without added milk) which is allowed for up to 2 hours before the procedure.
On the day of your procedure
Please aim to arrive for your liposuction procedure at the confirmed time. One of our nursing team will admit you for the procedure and will carry out a number of tasks including checking your blood pressure and other vital signs including pulse and temperature and then getting you changed into single-use clinic wear. The anaesthetist will then come in to assess you to make sure you are fit for TIVA anaesthetic and will also prescribe a number of pre-medications which are given by your nurse to help the recovery after the liposuction procedure. You will then be seen by your surgeon who will confirm the procedure to be undertaken and you will sign the informed consent form. Skin marking and photos may be taken at this point.

Liposuction is a very commonly performed procedure at Centre for Surgery and is carried out under TIVA general anaesthesia as a day case. Liposuction of smaller areas can be carried out under local anaesthetic. The procedure takes approximately 1-3 hours to carry out. During liposuction surgery, your surgeon will make small incisions in the marked body areas The fat tissue is surgically removed using the MicroAire device and specialised cannulas to contour the marked body areas before closing the skin with dissolvable sutures. A compression garment is applied after the procedure.

Once you have woken up from the TIVA anaesthetic, our nurses will closely monitor you for 1-3 hours afterwards to make sure you make a full recovery. You will be given a fruit juice drink or a hot drink as you prefer to build up your energy levels. Once you are assessed as fit for discharge, you will require a responsible adult escort to take you home in a car or taxi and to look after you for at least the first 24 hours after surgery.
Liposuction healing and recovery
After your procedure, our dedicated postoperative support team are available round the clock to answer any questions or concerns you may have. Our team will call you regularly for the first 2 weeks after your procedure to make sure your pain levels are well controlled and your healing is progressing as normal.

The recovery after liposuction is usually very straightforward with minimal discomfort that can be effectively controlled with tablet painkillers and the majority of our patients are very comfortable by the end of week 1. Your doctor may recommend a period of approximately one week off work. You should minimise any excessive physical activity for the first 2 weeks after surgery to help with the healing of the incisions and reduce swelling.

You will be required to wear a supportive compression garment for a full 6 weeks to make sure healing is optimal, and also so that scars heal with the best results.

You will attend a postoperative check-up with one of our nursing team at 7-10 days to review your surgical wound sites and ensure proper healing is taking place. Recommendations on treatments for scar healing may be given for optimal cosmesis. At 6 weeks you should begin to see your final results and you will see your surgeon for a comprehensive review and make sure your results are in line with your expectations.