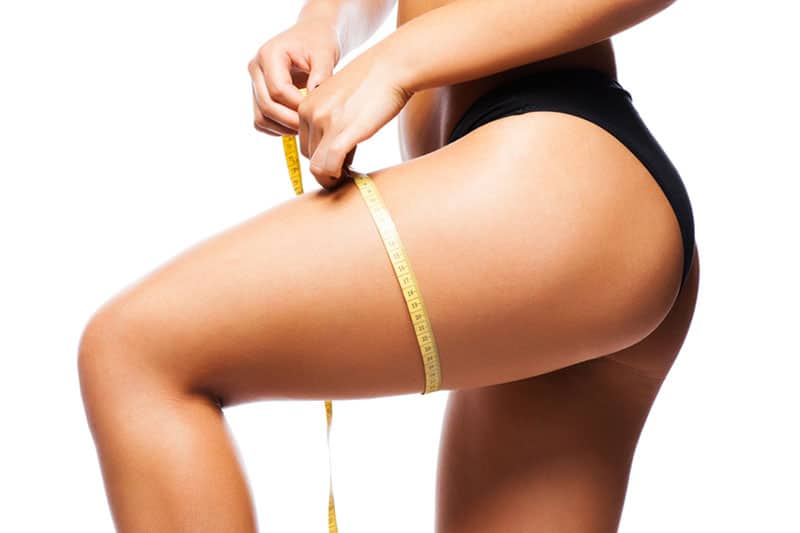 Thigh liposuction is one of our most popularly requested procedures for removing excess fat from the thighs. Many patients consult with us for getting rid of inner thigh fat to the improvement of cosmetic appearance and to eliminate chafing between the thighs. Thigh liposuction may also be combined with liposuction of the hips to remove unsightly bulges of prominent fat referred to as 'saddlebags'.
Thigh liposuction involves mechanically detaching fat cells from surrounding connective tissue with specialised vibrating can you leave before being gently extracted with vacuum suction. Patients can look forward to having slimmer and more sculpted thighs, which often appear more toned. Some patients may be able to achieve an inner thigh gap with inner thigh liposuction.
Stretchmarks and cellulite commonly coexist with excess thigh fat. Liposuction is not a recognised treatment for either of these conditions. However, at Centre for Surgery, we have two highly effective treatments: CelluTite for cellulite removal and Morpheus8 for stretchmarks.
What does liposuction of the thighs involve?
Thigh liposuction is most commonly used to get rid of inner thigh fat and can also be performed on the outer thighs to get rid of saddle bags which are the localised prominences of fat located over the hip bones. There is also the option of 360 liposuction of the thighs, which involves circumferential liposuction of both the inner, outer, front, and back of the thighs and is commonly combined with liposuction of the knees.
Once you have decided to learn more about thigh liposuction, we would recommend a face-to-face consultation with one of our expert body contouring surgeons to assess your suitability for thigh liposuction. As with all procedures at Centre for Surgery, liposuction is performed as a day case procedure which means you can recover in the comfort of your own home later the same day.
Although thigh liposuction can be carried out under both general anaesthetic and local anaesthetic, local anaesthetic is ideally suited to small localised areas only. In all other cases, we would recommend a general anaesthetic for your complete comfort both during and after the procedure. Unlike traditional general anaesthetics used in hospitals, our anaesthetists are experts in total intravenous anaesthesia or TIVA, using short-acting medicines to ensure your recovery is rapid and without any feelings of dizziness or sickness.
Once your anaesthetist has put you to sleep, the areas of excess thigh fat will be accessed via very small incisions, which permit access to specialised liposuction cannulas to you efficiently break up fat cells and detach them from their surrounding connective tissue. Tiny incisions mean any potential scars are barely visible six weeks later. We most commonly use power-assisted liposuction to remove fat cells gently. This gentle removal process also means fat cells can easily be used for a fat transfer procedure. Many patients commonly choose to combine thigh liposuction with fat transfer. The most common areas for fat transfer include fat transfer to the buttocks, also known as a Brazilian butt lift or a BBL and fat transfer to the breasts. Fat transfer to the breasts is known as a natural method of breast augmentation as it uses your own body fat and does not involve silicone implants.
Once the thigh lipo procedure is complete, your surgeon will remove any residual anaesthetic fluid before applying sterile dressings to the treatment areas. You will recover in our specially designated recovery area, where one of our highly trained recovery nurses will monitor you closely. Once you are fit for discharge, you can go home with a responsible adult who will need to look after you for the first 24 hours after your thigh liposuction procedure.
One of the most common questions we get asked is, "Do fat cells grow back once they are removed?". In all cases of liposuction, and as long as you maintain a healthy lifestyle by eating sensibly and exercising regularly, your thighs will keep their new sculpted look. Fat does not grow back after liposuction.
Once the thigh liposuction procedure is complete, our theatre nurses will apply a specialised lipo compression garment which will need to be worn for a minimum of 4 to 6 weeks. The surgical garment is designed to speed up the resolution of post-surgical swelling and help the thighs optimise their contour by keeping the skin firmly pressed down. Patients with a healthy body mass index below 25 are more likely to achieve aesthetically pleasing results than those with a BMI over 30. We would recommend losing weight if your body mass index is over 30, as you may not be able to see significant results.
Achieving the best thigh liposuction results depends on following all of your surgeon's post-operative instructions to optimise healing and recovery. In most cases, patients can expect to recover fully from thigh liposuction between 6 to 8 weeks after the procedure. Your surgeon will review you at six weeks, and the inital results will become evident by this stage, but final results are expected between 3 to 6 months after surgery. Thigh liposuction is a type of body contouring procedure and should not be viewed as a specific treatment for weight loss. Patients seeking obesity treatment would be better advised to consider weight loss surgery if dieting and exercise have failed.
What are the benefits of thigh lipo?
Thigh lipo is considered a minimally invasive procedure with a short recovery period and can transform a patient's self-confidence. The many benefits of thigh lipo include:
More sculpted thighs
Thinner thighs
Ability to create a thigh gap
Eliminate chafing of inner thigh skin
Clothes fit better
Patients have the freedom to wear fitted clothing without feeling self-conscious.
An improvement in emotional well-being
Reduced anxiety and stress
Ability to combine the procedure with fat transfer
Who are the most appropriate candidates?
Your surgeon will assess you at a one-on-one consultation to determine your suitability and will take the following factors into account:
You have a body mass index below 30
You are in good physical health with no chronic medical conditions such as heart disease.
You are concerned about the appearance of fat thighs
You suffer from skin irritation from inner thighs rubbing together and are keen to get rid of inner thigh fat
You have realistic expectations of what thigh liposuction can achieve and are aware of the risks and complications of the procedure
Can thigh liposuction be combined with other types of body contouring surgery?
Thigh liposuction is commonly carried out on its own, whether for treatment of the inner or outer thighs. Inner thigh liposuction is often combined with knee liposuction to get rid of fat knees. Thigh lipo can also be combined with liposuction to other body areas, such as stomach liposuction or back liposuction. 360 liposuction is one of our most popular types of liposuction treatment carried out at Centre for Surgery for dramatic treatment results.
What are the common liposuction areas?
Many patients develop loose skin on the thighs and are understandably concerned about the appearance of sagging skin. Many patients choose to combine thigh liposuction with a thigh lift procedure for the removal of both excessive fat and loose skin from the inner thighs.
Due to the highly sophisticated techniques of removing fat, the fat cells are well preserved once removed and can be used for a fat transfer procedure for volume enhancement in another part of the body. Fat transfer involves liposuction as the first step to remove the fat before being injected into another area. The most common body fat transfer procedures include gluteal fat transfer and breast fat transfer. Facial fat transfer may also involve thigh liposuction to remove thigh fat.
Although fat transfer to the buttocks can also improve the firmness of the buttocks. In moderate to severe cases of saggy buttocks, patients may wish to consider having a surgical buttock lift procedure which involves the removal of skin and fat from the area joining the lower back with the upper part of the buttocks. This procedure results in the buttocks appearing more lifted and can be combined with a Brazilian butt lift or BBL to increase projection and volume in the buttocks.
Mummy makeover surgery is an all-in-one procedure and most commonly involves a combination of procedures, including breast augmentation and breast lift combined with liposuction of the abdomen or thighs. Abdominoplasty or tummy tuck surgery may be combined with stomach liposuction for women with loose skin after pregnancy. The purpose of a mummy makeover is to return a woman's body shape to its prepregnancy state.
Cellulite most commonly affects the outer thighs and buttocks and is easily treatable with an innovative procedure we offer at Centre for Surgery called CelluTite. CelluTite is a radiofrequency treatment combined with cellulite subcision to effectively break up the vertical bands, which pull the skin inwards, giving rise to a dimpled or pitted skin appearance. CelluTite can be combined with thigh liposuction in the same procedure to get rid of fat thighs and cellulite in the same procedure.
Please get in touch with us to arrange a consultation with an expert surgeon who will be able to advise you on the optimal combination of treatments to achieve slimmer-looking and toned thighs.
Why choose Centre for Surgery?
Patients choose Centre for Surgery for their thigh liposuction procedure for several reasons, including:
Centre for Surgery is one of the top cosmetic clinics in London and has an excellent reputation as shown by hundreds of verified five-star Google and Trustpilot reviews
We only work with fully GMC-registered liposuction specialists with experience in carrying out all types of thigh liposuction.
Our patient satisfaction levels after liposuction exceed 95%, with many patients recommending their friends and family to us.
We pride ourselves on using only the most effective and medically proven liposuction techniques to achieve the best liposuction results.
We are a specialised case facility, with our state-of-the-art Baker Street clinic in Marylebone being one of London's leading cosmetic surgery clinics.
Our preoperative and post-operative nursing team keeps in regular contact with you to ensure you are fully prepared for your procedure and your healing after the procedure proceeds as smoothly as possible.
We have a full range of techniques to improve the appearance of scars at our dedicated Crawford Street clinic.
Our surgeons are experts with all types of liposuction, including SmartLipo, Vaser liposuction, Tickle lipo, Body-Jet, Microaire and PAL lipo.
We are one of the few cosmetic surgery providers specialising in total intravenous anaesthesia to enable rapid recovery after your procedure, enabling you to go home later the same day.
How much does thigh liposuction cost?
Thigh liposuction starts from £3500 at Centre for Surgery. If you plan to have extra areas of liposuction included, then the liposuction procedure cost will increase. Many patients choose to have 360 liposuction of the thighs, and this cost approximately £6000. Inner liposuction cost in the UK depends on whether inner and outer thighs are treated together and if liposuction is carried out elsewhere, such as the stomach or chest.
Thigh lipo cost includes all preoperative and post-operative care, unlimited surgeon follow-ups after your procedure, anaesthetist fees, facility fees and your allocated patient coordinator to answer your questions and concerns during your patient journey with Centre for Surgery. Our post-operative nursing care has been described as 'outstanding' by the Care Quality Commission.
Online prices should be viewed as a rough guide only, and accurate thigh liposuction costs will be given once you have consulted the surgeon. Our patient coordinator will be able to provide you with your treatment cost after the consultation.
VAT is charged on all cosmetic procedures, including thigh liposuction, as the procedure is for enhancing cosmetic appearance and not for a medical reason.
Thigh liposuction is not available on the NHS, and the treatment is only available at private clinics where you will have to fund the cost of the procedure yourself or in conjunction with a finance plan. Centre for Surgery has partnered with Chrysalis Finance to offer our patients a range of affordable finance for liposuction.
What are the causes of fat thighs?
The development of fat thighs is linked to a number of potential lifestyle factors. Many people increasingly have a more sedentary lifestyle with little or no exercise in the course of a typical day and this is combined with the consumption of a highly calorific diet. People who consume high quantities of sugary foods and fatty foods with little or no vegetables and fruit are more likely to develop an increase in overall body fat levels and the risk of developing fat thighs. Many people who drink alcohol are often unaware that certain alcoholic beverages contain a significant amount of sugar which results in a high-calorie count.
The size and shape of the thighs can also be determined by hereditary factors with certain people more likely to have fat thighs if it runs in the family even if they eat a healthy diet and exercise regularly. The appearance of inner thigh fat and outer thigh fat can also be determined by one's gender. Women are more likely to have prominent areas of fat on the outer part of the hips which are known as 'saddlebags'. These prominent areas of fat appear most obvious when viewed face-on and typically develop during the puberty phase when levels of circulating oestrogen rise. Saddlebags rarely appear in isolation and are often found with areas of fatty prominence elsewhere, such as large buttocks and fat knees.
In women, excessive fat tends to collect in certain areas of the body, such as the inner thighs and it's more likely to occur with the natural ageing process. Significant weight gain and ageing contribute most to the development of fat thighs; however some women may be genetically predisposed to developing large thighs. Many patients come to see us when they are bothered by the development of thigh chafing due to the inner thighs rubbing together when walking or running.
As many women approach menopause, the levels of oestrogen in the body begin to decline significantly. Although many women may be looking forward to losing thigh fat, sadly this does not occur. This is because your basal metabolism begins to decrease during menopause which means it becomes easier to gain weight despite eating a normal diet and exercising regularly.
Pregnancy is often the time when women may begin to develop larger thighs as a result of weight gain. Many women have significant difficulty getting rid of their pregnancy-related weight gain and so come to Centre for Surgery to consider thigh liposuction. Our surgeons commonly combine thigh lipo as part of a mummy makeover procedure to return a woman's body contours to their prepregnancy shape.
How can I reduce thigh fat without surgery?
The majority of people who have excess thigh fat often have difficulty achieving slim-looking thighs. The best way to get rid of fat thighs is to adopt healthy lifestyle habits, including eating a healthy diet and undertaking regular physical exercise.
There are many self-help guides detailing a variety of healthy diets you could follow. The key similarities are that they include lots of fruit and vegetables, plenty of whole-grain foods, and lean protein sources. You should avoid certain foods containing a lot of refined sugar, such as cakes and biscuits. It would help if you also minimised your intake of sweetened fizzy drinks as these are a recognised cause of developing fat thighs. Excessive alcohol consumption can result in people developing large thighs, and you should try to adhere to drinking no more than 14 units a week as the NHS recommends.
It is a good idea to carry out regular physical exercise. We recommend 30-minute sessions approximately five times weekly to reduce thigh fat and achieve slimmer and more contoured thighs. This means you will meet the recommended exercise duration of 150 minutes a week.
Several specific exercises target the thighs to tone and contour them, including squats. Several exercises focus on particular areas of the thighs, such as lateral thigh raises, which involve lying down on your side whilst lifting your hips and engaging your core simultaneously. These exercises should be continued for 10 to 15 repetitions, and then you should repeat the movement on the other side. Other types of exercise will target generalised body fat, such as cardiovascular exercise, including running, cycling and swimming. Patients unable to commit to 150 minutes a week due to a busy job may be interested in considering high-intensity interval training, which involves intense bouts of exercise followed by a brief rest in between. Overall workout durations can be between 15 to 20 minutes. Regular walking can have a beneficial effect on the thighs with an improvement in thigh tone.
It is easy to find various weight loss supplements online or available over the counter at many High Street health food stores. We would generally advise against taking weight loss supplements as many are very expensive and have no proven effectiveness. In some cases, they may even be dangerous, and you should always consult with your GP before considering taking weight loss supplements. Your GP can recommend appropriate supplements to take in conjunction with a healthy diet and regular physical exercise. Any weight loss supplement should not be viewed as a replacement for maintaining a healthy lifestyle.
In many cases, the development of thigh fat is related to genetics, and there is not much that can be done to get rid of thigh fat caused by hereditary factors. Although diet and exercise are excellent ways to keep overall body fat levels low, they may not be able to reduce thigh fat. In these cases, we would recommend considering thigh liposuction. Liposuction of the inner or outer thighs can effectively get rid of stubborn thigh fat in one treatment.
Patients looking to get the best results should ensure they have realistic expectations of what thigh liposuction can achieve. This means carrying out thorough research and asking your surgeon as many questions as you need to build up a clear picture of what the procedure involves. Many patients would like to achieve a thigh gap after inner thigh liposuction. In many cases, whether this is achievable or not depends on the structure of your thigh bone and muscles and is not related to the presence of excessive thigh fat.
Amazing from start to finish, the communication was the main thing was fully informed and looked after, on the day of my breast augmentation, the staff were fab and made me feel at ease through out the whole process. Thank you so much.
Mohammed Farid
18/11/2021
I've had such a great experience with excellent advice, care and attention and surgical treatment (gynaecomastia) - I can fully endorse the treatment I have received from Centre for Surgery with absolutely no qualms at all. Brilliant in every way - thank you all so much.
Caroline Thorpe
14/11/2021
Very pleased with my whole experience of having a procedure. Was so nervous about getting treatment and i was reassured and felt so comfortable throughout thanks to the amazing nurses. I definitely made the right decision to have breast augmentation at centre for surgery with dr erel.
Melissa Briggs
08/11/2021
So glad I went with centre for surgery, the whole process went very smoothly from the consultations down to the actual day of the procedure. I was so nervous on the day but the whole team put me at ease and I'm happy with my results as I feel a lot more comfortable wearing certain clothes now. My surgeon was Alberto Di Giuseppe who performed a breast Augmentation on me, and I would definitely recommend as he was very clear on what the outcome of the surgery would be and which size would look the best for my frame.
Couldn't be happier with Dr Tillo work,i had my breast surgery one week ago and so happy with the results so far,all the staff are extremely nice and very supportive,i would definitely recommend their services,thank so much
From start to the finish everything was perfect for tummy tuck surgery. All staff is very friendly and the aftercare has been good. The Doctor and the nurse team was fantastic. I'm so happy...result is amazing. Thank you!!!
This was overall a great experience, all the staff at Centre for Surgery were friendly and put me at ease. It is a nerve wracking thing to go through an op but the staff were so nice. Mr Ertan has got a great team around him. On the day of the operation everything went smoothly to plan, there was no delay or holdups, I had another consultation with Mr Ertan who confirmed what was going to be done and that I was still happy to proceed. I was prepped for the procedure, I met with the anaesthetist who again was really nice and put me at ease explaining his role. After the procedure I woke up with the nurse by my side making sure I was OK and checking on me, I was able to stay in the clinic until I was ready to leave and was not rushed at all. I was well looked after from the start to the point when I was discharged. Post operation I was staying at a local hotel it was so close there was no point in even getting a taxi and I was able to walk back where my partner was waiting for me. I was expecting a lot of bruising to both my eyes but there was very little if any by the time the cast came off after 7 days, I am now at the two week post operation point and it is healing well with no outwardly visible bruising or scaring. The next milestone is a checkup at the 6 week point with my surgeon. If you're thinking of having something like this done I would highly recommend getting in touch with Centre for Surgery.
The staff at Centre for Surgery were very kind and accommodating. They answered any questions I had about the procedure and were constantly checking up on me. A special thank you to Christina for all her support throughout.
I would just like to state the quality of care received from the nurses at Centre for Surgery was beyond the highest level. Sophie takes her patient care to another level beyond words. She always puts me at ease. She is there for me even at awkward hours just when I mostly needed reassurance and she is one of the most compassionate nurses I have come across and demonstrates her passion naturally for caring for others. She totally deserves recognition at its finest and thank you for always being there for me. 😍