Although the popularity of cosmetic surgery has continued to increase, especially during the pandemic, there is now a wide range of effective non-surgical treatments for facial rejuvenation. Centre for Surgery is one of the leading clinics in London for Morpheus8 treatment also known as fractional radio-frequency microneedling for the reduction of fine lines and wrinkles, treatment of textural concerns and treatment of acne scarring. Morpheus8 is less invasive compared with cosmetic surgery and in this article, we will explore the treatment further.
What is Morpheus8?
Morpheus8 is similar to traditional microneedling in that it involves tiny micro needles being inserted into the skin to stimulate the regeneration of collagen and elastin. Collagen is what gives the skin its firmness and youthful look. Fractional RF microneedling such as Morpheus8 involves the combination of microneedling with the application of radio-frequency energy. Radio-frequency energy is delivered deep into the skin at the level of the dermis via specialised insulated microneedles. Thermal energy induces a coagulation effect in the dermis which stimulates fibroblasts to produce collagen. Coupled with the micro-needling effect of controlled micro trauma to the skin, patients can benefit from a dual approach to collagen production. The appearance of skin after Morpheus8 treatment looks visibly younger and with better overall skin quality without the risks of traditional laser resurfacing. In many cases, Morpheus8 is combined with FaceTite or BodyTite for even more effective skin tightening. FaceTite and BodyTite are both carried out under local anaesthetic as an outpatient at our specialist clinic at 95-97 Baker Street in London. The use of FaceTite or BodyTite is ideal for patients who are not keen on more invasive surgery such as a facelift or abdominoplasty.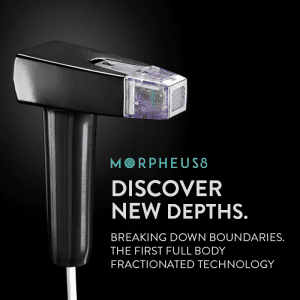 What can Morpheus8 be used for?
The underlying mechanism for Morpheus8 UK is the stimulation of new collagen formation and these can have benefits for many aesthetic and dermatological concerns. The treatment has gained wider popularity as a result of its non-invasive nature without any need for surgery. The treatment does not involve any incisions or visible scars and no tissue is removed as part of the procedure, this means the recovery time is very swift.
Areas that can be treated with Morpheus8:
Skin laxity
Acne scars
Fine lines and wrinkles
Stretch marks or striae
The clinical effectiveness of Morpheus8 has been supported by many medical studies, especially in the treatment of acne scars, which has traditionally been a very difficult condition to treat effectively, leading to a significant improvement in quality of life for many acne scar sufferers. At Centre for Surgery, our acne scar experts use a combined treatment approach combining Morpheus8 with laser resurfacing for treatment of even the most stubborn types of acne scar. Treatment of stretch marks or striae has also been revolutionised with Morpheus8 treatment, leading to improvement in the appearance of the skin in areas affected by weight loss or weight gain.
What parts of the body can be treated with Morpheus8?
Patients who are considering RF microneedling may not be aware that the treatment is applicable to both the face and body, unlike laser resurfacing, which is only suitable for treatment of the face in lighter skin types. Areas of the face or body that have started to develop areas of skin laxity or signs of lines and wrinkles formation can be efficiently treated with Morpheus8. Even abdominal laxity can be addressed with RF microneedling without the need for more invasive surgery.
Skin laxity along the jawline
Skin laxity or loose skin affecting the face
Fine lines and wrinkles affecting the face
Wrinkled or sagging skin in the under-eye area
Facial acne scarring
Stretch marks affecting the abdomen, thighs or buttocks
How many Morpheus8 treatments will I need?
The minimally invasive nature of Morpheus8 means that it is applicable to a wider range of potential conditions with fewer treatment sessions required for proper clinical effect. To determine the exact number of sessions required for Morpheus8 treatment, your practitioner will first need to clinically assess you to assess the severity of ageing or skin concern. Acne scarring may need a number of treatments over the course of 3 to 4 months for effective clinical outcomes. Having said that, most patients will derive great benefit from treatments that may be one or two to achieve the optimal clinical effect.
When can I expect to see results from Morpheus8 treatment?
Increasingly, many patients wish to achieve results in a shorter time span and in a more minimally invasive manner. Morpheus8 is one of the most effective treatments that fit both these requirements but it must be kept in mind that everyone is different, and treatment outcomes will differ based on the severity of the underlying clinical condition. Some patients may notice results appearing within a few days, while others may take a number of months, especially in the case of acne scarring, to see clinical improvement.
When patients decide if Morpheus8 is worth it, it is crucial to bear in mind how long treatment results last and how much improvement can be achieved. Aesthetic results with Morpheus8 are permanent, but all of us will continue to age, which can lead to a reduction in the treatment outcome over time. Fortunately, the treatment can be repeated to improve skin tightening when skin laxity starts to develop again. Typically, results after Morpheus8 can last for 12 months or more, with some patients having improvements that can last well over three years.
How much does Morpheus8 cost?
Morpheus8 price is an important factor for many patients considering effective non-surgical facial rejuvenation treatments in London. Centre for Surgery has CQC-regulated premises at 95-97 Baker Street where our practitioners carry out all our Morpheus8 treatments. Morpheus8 costs differ across the UK depending on the practitioner carrying out the treatment but the treatment typically starts from around £800 for smaller body areas. To get an accurate price for Morpheus8 treatment in London at Centre for Surgery, give our patient coordinator team a call today to book a consultation with a Morpheus8 specialist.