What is Gynecomastia?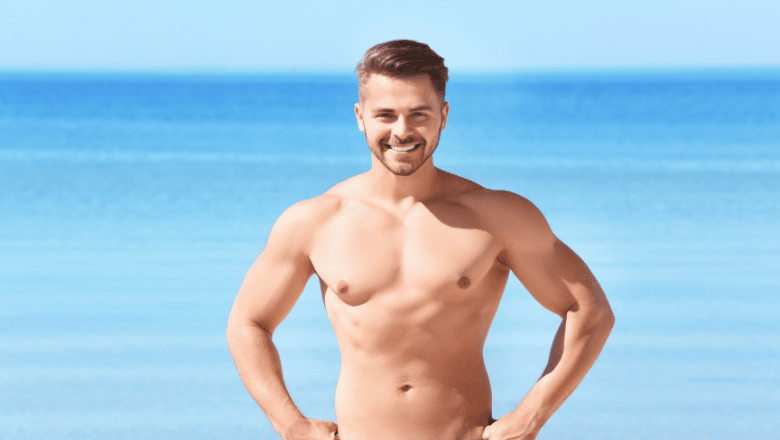 Gynecomastia or Gyno involves the development of excess breast tissue, also known as "man boobs" or "moobs: which can result in significant embarrassment and loss of self-confidence. Gynecomastia surgery or male breast reduction is designed to treat this condition. Several different techniques can be used to contour, sculpt and flatten the chest depending on the severity of the condition. Combination treatment using liposuction and/or surgical excision is commonly recommended to eliminate glandular tissue and excess fat that may have accumulated in the chest area.
RELATED: Gynecomastia Surgery FAQs – Q&As about Male Breast Reduction
Why do men have gynecomastia surgery?
It has been estimated that as many as 60% of all men in the UK suffer from the condition. Whilst man boobs are commonly associated with overweight older men, the condition is equally prevalent in younger men and adolescents who may develop prominent male breasts. Male breast reduction should not be seen as a method of weight loss. Men who are significantly overweight or obese may wish to try modifying their lifestyle or consider weight loss surgery if they are significantly obese. Some men often notice they have more than two nipples, and third nipple removal can be easily carried out in the same procedure if required.
RELATED: Which celebrities have had gynecomastia?
Centre for Surgery in London is the leading UK gynecomastia clinic for treating all grades of gynecomastia using the most advanced surgical techniques at our state-of-the-art clinic in Marylebone.
Gynecomastia surgery before and after photo gallery
Before and after Gynecomastia
Case 1: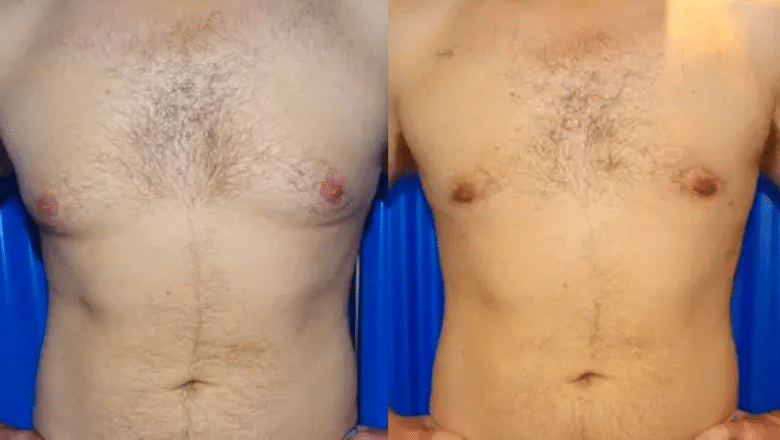 Case 2: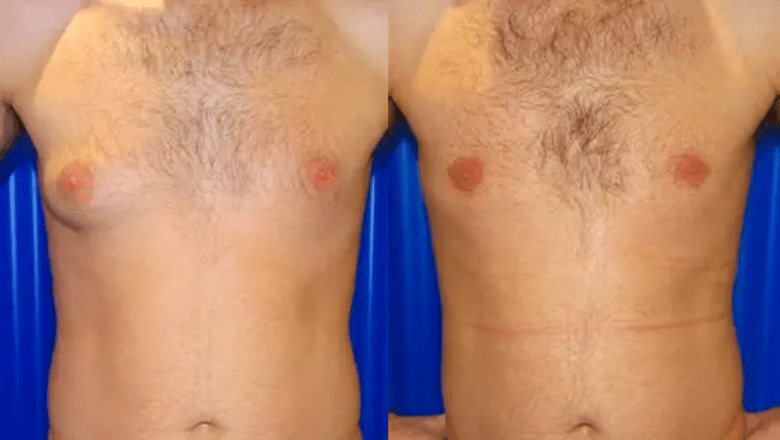 Case 3: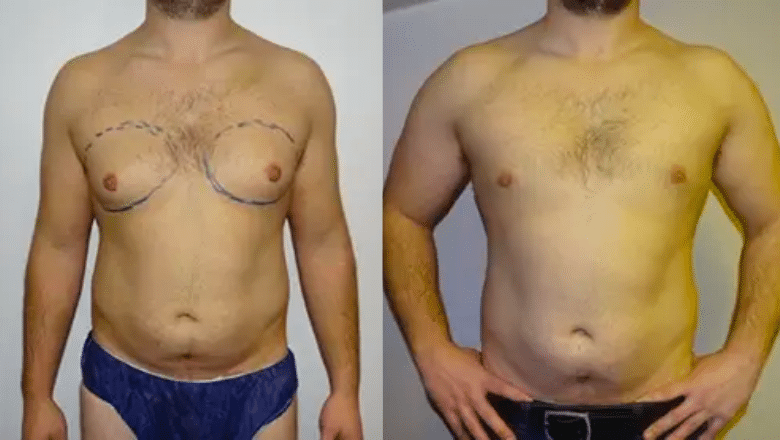 Case 4: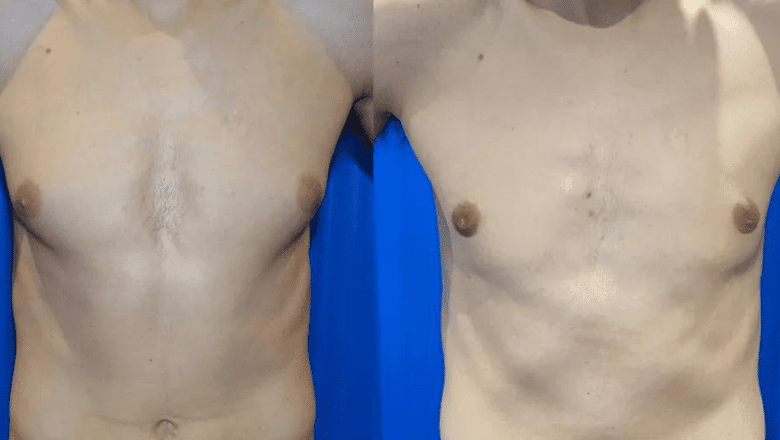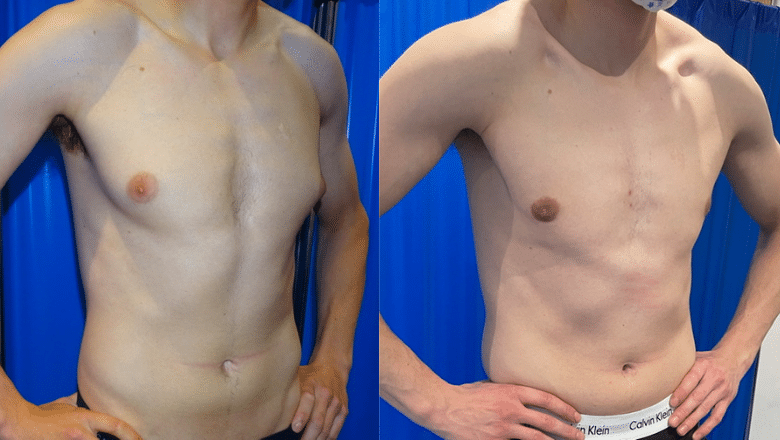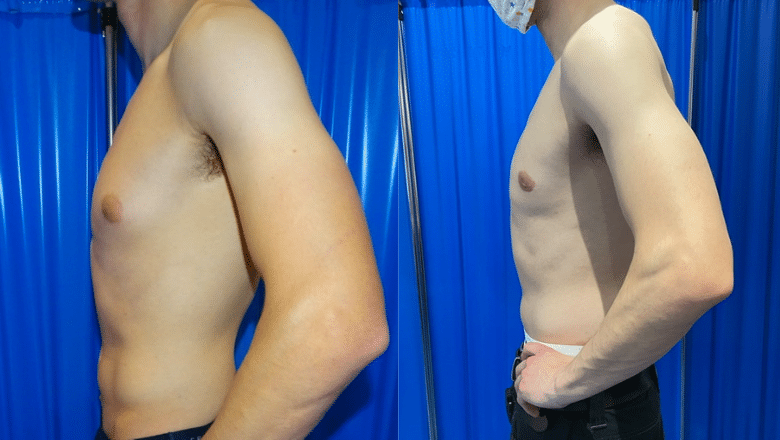 Case 5: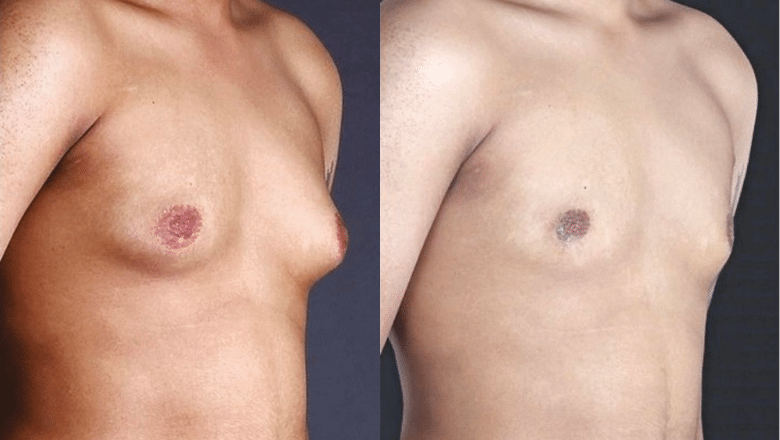 Case 6: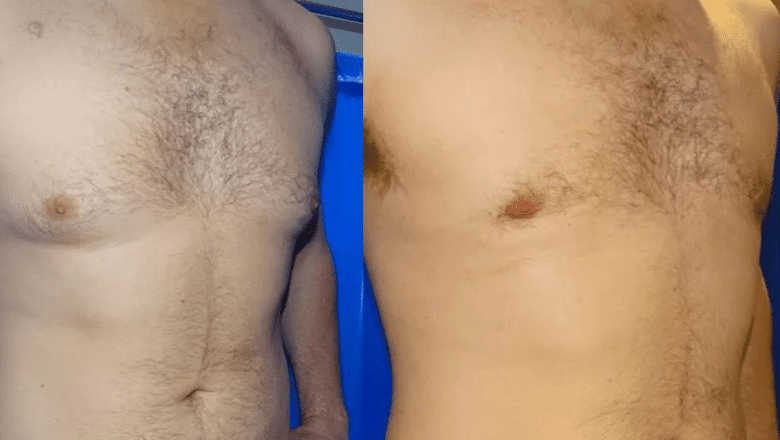 Case 7: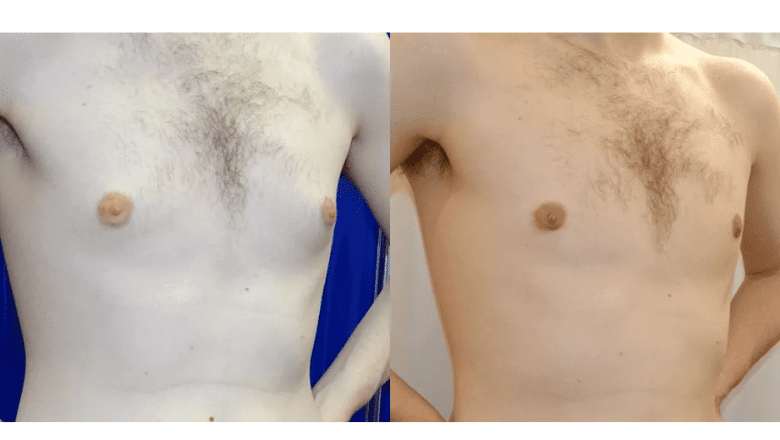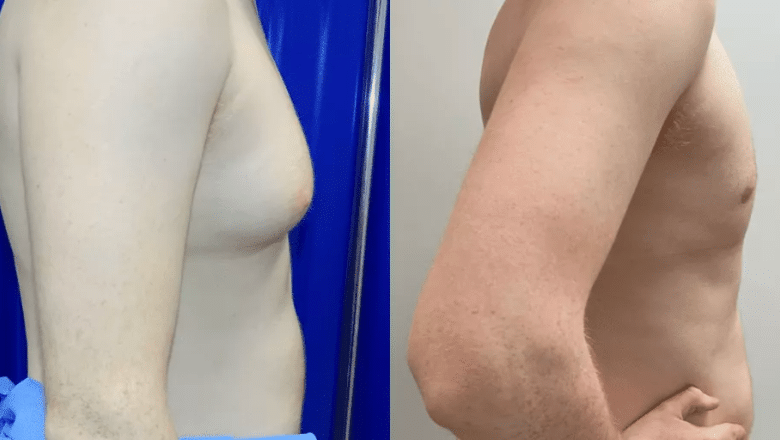 Case 8: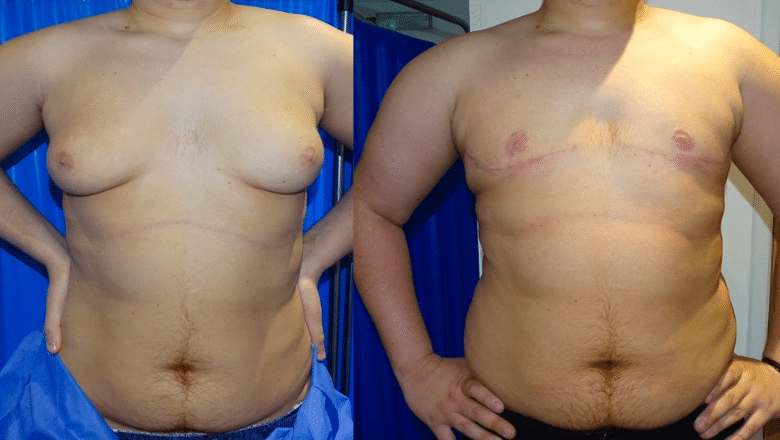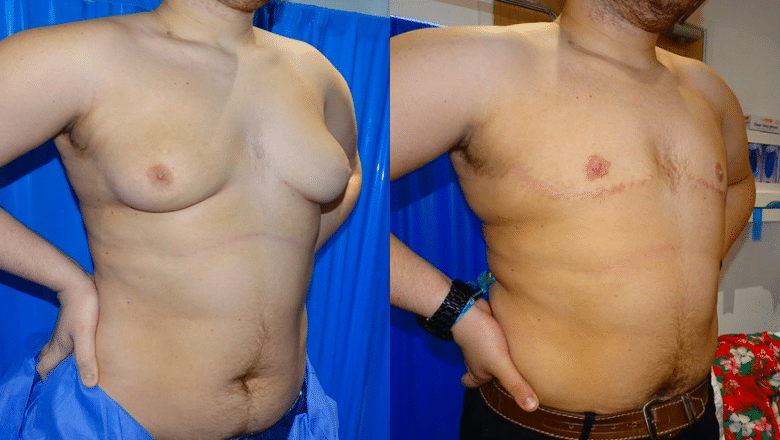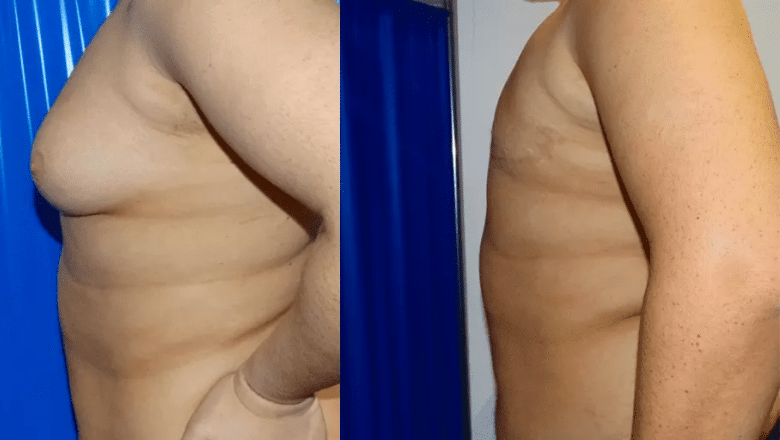 Case 9: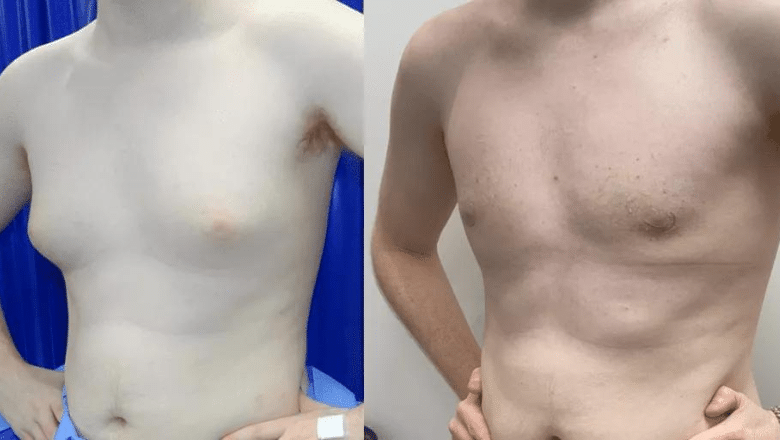 Case 10: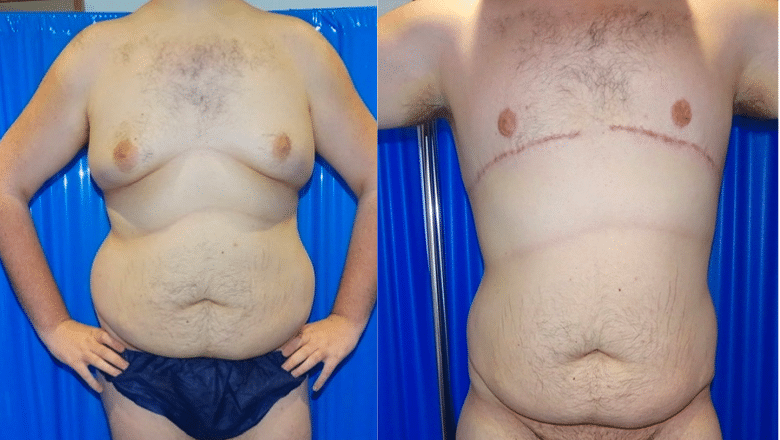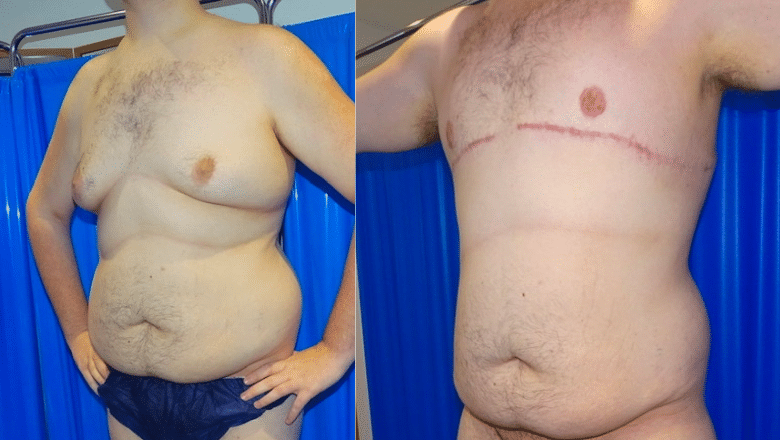 What causes gynecomastia?
It is not uncommon for young men who are going through puberty to develop excess glandular tissue and fat on the chest. Natural surges of hormones occur during puberty which leads to physical changes. In some cases, this can lead to the appearance of breast buds or puffy nipples composed of excess fat and land around the nipples. Although this can be a difficult stage for many young men, gynecomastia is commonly experienced at this time. In virtually all cases, boys can expect their puffy nipples to go away on their own as they mature into young adult men. No active treatment is required other than following a healthy lifestyle.
RELATED: Gynecomastia vs Pseudogynecomastia
Although gynecomastia can be caused by normal hormonal surges during adolescence, an overall imbalance of hormones can also cause the condition. Knowing whether your puffy chest is abnormal or not depends on your age. Excess breast tissue can even occur in young baby boys, which will disappear on its own in virtually all cases. Young men are also prone to developing the condition, which again will settle on its own without any further treatment in most cases. This situation changes when men in their 20s and above begin to notice excess breast tissue. There are several causes of enlarged male breast tissue in men. An overall hormonal imbalance is due to the production of too much oestrogen and insufficient testosterone.
What are the benefits of gynecomastia surgery?
Get rid of excess breast tissue
Reduce excess fatty tissue
Remove loose skin and tighten the chest if required
Achieve a contoured and flatter chest contour that appears more masculine
Improve chest symmetry
Boost self-confidence
Allow men to wear an unrestricted range of clothing, including tight-fitting clothes
Eliminate discomfort from painful and enlarged breast tissue
RELATED: Does exercise prevent gynecomastia?
Am I suitable for Gyno Surgery?
The best way to determine your suitability for gyno surgery is to have an in-person consultation with an expert gynecomastia surgeon in London. Ideally, men should be physically and mentally healthy with good skin elasticity. This will help the skin to contract to your new contour shape after male breast reduction. Man boob surgery most commonly involves a combination of either liposuction, surgical excision, or both to achieve a masculine-looking chest. When male breasts significantly protrude through common clothing items, leading to emotional distress, this is a valid reason to have the procedure. There are two main age ranges for men who choose to have this procedure, including:
Younger men who are embarrassed about how their chest looks but may otherwise be in good shape.
Older men in their late 40s and above want to get rid of excess fat and loose skin.
Many men can be in excellent physical condition and still have puffy nipples or swollen breasts. The best way to determine your suitability for gyno surgery is to have an in-person consultation at our specialist clinic in London. The procedure is also ideal for men who have lost a significant amount of weight and have been left with sagging skin in the chest. No amount of diet and exercise will be able to get rid of loose skin. The best treatment involves excess skin removal to tighten the chest, which may be combined with liposuction and gland removal to flatten the chest.
RELATED: How to get rid of puffy nipples in men
Is gynecomastia dangerous?
Most men with gynecomastia are not at risk of developing a serious medical condition such as cancer. Having enlarged male breasts is, however, linked with significant emotional and social upset. Men who have man boobs can feel increasingly self-conscious about how they look. This can affect the types of clothes a man chooses to wear and may refrain from removing their shirt when on a beach holiday. In severe cases, men may avoid certain social situations altogether and may find it difficult to form intimate relationships due to feeling uncomfortable about the appearance of man breasts.
Men should have realistic expectations about what the procedure can achieve. Men should be at or near their ideal body weight before considering the procedure. Significantly overweight or obese men should lose weight before having the procedure. Recreational drugs, including cannabis, should be stopped completely. The substances should be stopped for a minimum of 4 to 6 months before considering surgery for gynecomastia. Smoking should be avoided to minimise the risk of wound healing complications. Men should also be at an appropriate age when the breasts have completed growth and development. Other alternative treatments could be explored if your breasts are still immature.
RELATED: How to get rid of gynecomastia
What to expect at the consultation for male gyno surgery
You will first need to have a consultation with a gyno surgeon before you can book your surgery. The consultation is designed to allow the surgeon to assess your suitability and for you to explain your goals for treatment. Your surgeon will be able to assess whether your expectations for treatment are considered realistic. A medical history and physical examination will be performed to help select the most appropriate method of surgical correction for gynecomastia. It can be useful to bring previous medical records to the consultation, including any medicines and supplements you are currently taking. Once you have been assessed, you will be given personalised recommendations for the best method of treatment for gynecomastia surgery.
RELATED: Gynecomastia vs Chest fat
How to prepare for gynecomastia correction
As part of the consultation process, your doctor will take a detailed medical history and perform a physical examination to assess the extent and severity of your gynecomastia. Your treatment goals and expectations for treatment will also be covered in detail. Whilst it may not always be possible to meet all of your expectations with this procedure, it is important that you understand what a realistic outcome could be after gynecomastia surgery. Your gyno surgeon will issue detailed preoperative instructions on how to prepare for your surgery. Guidelines will include information on optimum nutrition, the importance of stopping smoking four weeks before the procedure and the preoperative fasting guidelines. Smoking interferes with the blood supply to the tissues and could increase the risk of wound healing complications. Getting the best results after gynecomastia surgery means following all of your surgeon's instructions in full.
What does gyno surgery involve?
Gynecomastia surgery is performed on-site at our state-of-the-art Baker Street clinic in Marylebone. The procedure usually takes one to three hours, depending on the extent of surgical correction required. The techniques used in your gynecomastia surgery will depend on the underlying cause of your gynecomastia. Gynecomastia can be caused by excess fat, glandular tissue, or a combination of both. Older men and those who have lost significant weight may also suffer from excess skin which can also be removed as part of the procedure.
Fatty tissue removal
Here at Centre for Surgery, we use the gold standard method of liposuction known as power-assisted liposuction, or PAL for short. PAL involves high-frequency vibration of the liposuction cannula, allowing it to effortlessly glide through the tissues. This permits an easier and more efficient extraction of both fat and glandular tissue with more even results and minimal bleeding. Less bleeding means reduced bruising and quicker recovery following the procedure.
Glandular tissue removal
A semi-circular incision is made around the margin of the areola. Glandular tissue is then precisely removed from beneath the nipple and the surrounding areas. Excess glandular tissue must be removed with surgical excision. Liposuction alone is not an effective technique alone for gland tissue removal.
Excess skin removal
In certain cases where excess fat or glandular tissue has been surgically removed, the chest skin may not be able to contract effectively to the new smaller contour of the chest. This is particularly the case in men who have previously lost significant amounts of weight. The best treatment is to surgically remove excess skin to effectively tighten the remaining skin for the creation of a tighter and more youthful chest appearance.
Recovery after male breast surgery
After the procedure, a compression garment will be applied to your chest to protect the healing tissues. An adult caregiver will need to pick you up from the clinic and remain with you for the first 24 hours after gyno surgery.
RELATED: Recovery after Gyno Surgery
It is normal to feel mild discomfort for the first few days after the procedure. Any discomfort can be easily controlled with over-the-counter painkiller medications. If you have childcare commitments, we would advise having suitable arrangements in place to look after small children during the first few days after gynecomastia surgery. This will help you rest and recover without too much time standing up. It is important to take it easy during the first few days after surgery as this has been proven to optimise healing and help you get the best results. It is normal to experience bruising and swelling during gynecomastia surgery recovery. It may take up to 2 weeks for bruising to settle down. Swelling can be improved by wearing the compression vest continuously for six weeks after surgery. The compression vest is made of a specialised medical fabric and should not be visible beneath most clothing items. Although most swelling will disappear over the first few weeks, it may take up to 3 months or longer for the final results of gynecomastia surgery to become evident.
RELATED: What is gynecomastia surgery recovery like?
The recovery process is relatively smooth and straightforward as long as you follow your surgeon's postoperative instructions in full. It is important to keep mobile during the early recovery period, and most men can return to work after one week. You will be reviewed at our postoperative clinic after one week to inspect your incision lines and remove any stitches. Mild exercise can be restarted after two weeks, although you should avoid strenuous exercise, including going to the gym for six weeks after the procedure. You should avoid excessive sunlight exposure to the healing areas to minimise the risk of hyperpigmentation. Sunscreen should be worn if you plan to spend any significant period of time in the sun.
RELATED: What do gynecomastia scars look like?
What results can I expect after surgery?
Results of gynecomastia surgery will be immediately visible after the procedure, although any swelling will obscure the final results until six weeks. Final results of gynecomastia surgery are generally seen between 3 to 6 months. It is normal to have scars after this type of surgery. By following the post-operative instructions carefully and looking after your incision site, the gynecomastia incisions should heal well without the risk of excessive scarring. The scars will gently fade and flatten over time to form a faint white line. Your surgeon will take extra care to position incisions where possible within the natural skin folds of the body to make them appear less noticeable.
Gynecomastia London costs and prices - how much is gyno surgery in London?
Gynecomastia surgery is customised to the needs of the individual patient. The cost of gynecomastia surgery will be determined once you have had an in-person consultation with a specialist gyno surgeon in London. Factors which will determine gynecomastia prices include the extent of surgical correction required, the anticipated duration of the procedure, where there any procedures will be combined and the type of anaesthetic you choose. After your consultation, you will be seen by your dedicated patient coordinator, who will give you a detailed quote including the surgical, anaesthetic, and facility fees. Postoperative aftercare is included in the total cost of gyno surgery. at Centre for Surgery.
RELATED: How much does gynecomastia treatment cost?
Finance for gynecomastia surgery
Centre for Surgery partners with Chrysalis Finance, the U.K.'s leading provider of specialist medical loans, to offer patients a range of flexible repayment options to meet all budgets. We also offer 0% finance for eligible patients. Please call us on 020 7993 4849 to learn more about how to finance gynecomastia surgery.
RELATED: Finance Options
Is Gyno surgery worth it?
The vast majority of men who have gynaecomastia surgery report a significant boost in self-confidence and emotional well-being with their new look. Men often tell us how much better they feel with additional health benefits. Most men would say they wish they had the procedure many years earlier. Gyno surgery is considered one of the most successful cosmetic surgery treatments for men, and our hundreds of happy former patients feel that having gynecomastia surgery was definitely worth it.
RELATED: Is gynecomastia removal worth it?
What are the risks and complications of gynecomastia surgery?
We advise all patients to consider all aspects of the procedure once they have had an in-person consultation. At your consultation, your surgeon will explain the potential risks of gynecomastia surgery and the strategies that will be in place to minimise their occurrence. This is why you should always choose an experienced consultant plastic surgeon with years of experience in treating all grades of gynecomastia to get the best results with minimal risk. All invasive surgery carries certain risks, and gyno surgery is no different. Before proceeding with treatment, it is important to be aware of the risks and potential complications.
Risks of gynecomastia surgery include:
Anaesthetic risks, including anaphylaxis
Bleeding
Haematoma formation
Infection
Chest wall irregularities
Over resection leading to a 'scooped out' appearance
Changes in nipple sensitivity
Excessive scarring
Chest asymmetry
Possible requirement for revision gyno surgery
Our surgeons are highly respected and recognised gynecomastia specialists and are regularly invited to speak about the latest advances in gynecomastia treatment in the UK and at international conferences in Europe and the USA.
Gynecomastia surgery at Centre for Surgery
Centre for Surgery in London specialises in offering high-quality natural-looking gynecomastia surgery results using gold standard surgical techniques. Our consultant plastic surgeons have many years of experience in treating all types of gynecomastia. The first step for every patient is to have a consultation to discuss your requirements for surgery with consideration of all the potential treatment options before deciding on the most effective solution.
During the consultation, your surgeon will clearly explain the pros and cons of gynecomastia surgery, including potential risks. Once you have all the information you need, you can make an informed decision that is right for you.
Call us today on 020 7993 4849 or complete the contact form below to book a Gynaecomastia consultation with an expert consultant surgeon at our purpose-built day surgery facility in central London.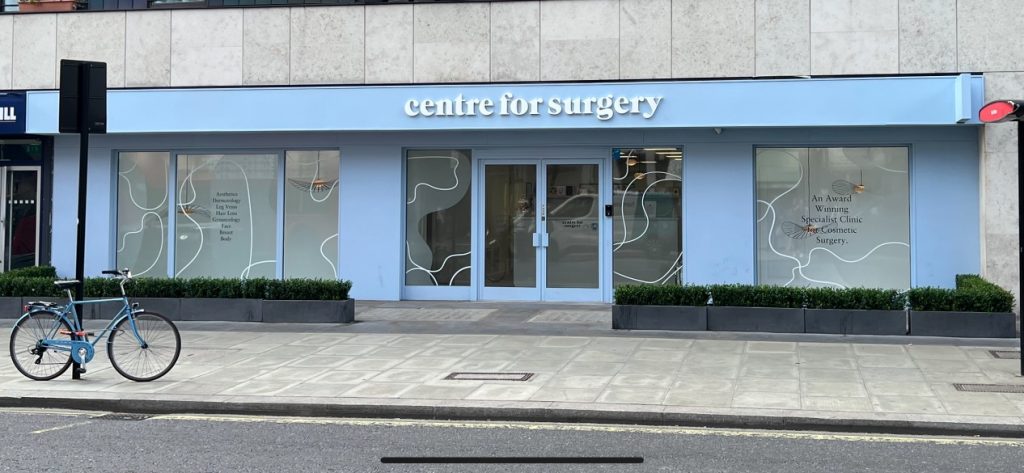 Amazing from start to finish, the communication was the main thing was fully informed and looked after, on the day of my breast augmentation, the staff were fab and made me feel at ease through out the whole process. Thank you so much.
Mohammed Farid
18/11/2021
I've had such a great experience with excellent advice, care and attention and surgical treatment (gynaecomastia) - I can fully endorse the treatment I have received from Centre for Surgery with absolutely no qualms at all. Brilliant in every way - thank you all so much.
Caroline Thorpe
14/11/2021
Very pleased with my whole experience of having a procedure. Was so nervous about getting treatment and i was reassured and felt so comfortable throughout thanks to the amazing nurses. I definitely made the right decision to have breast augmentation at centre for surgery with dr erel.
Melissa Briggs
08/11/2021
So glad I went with centre for surgery, the whole process went very smoothly from the consultations down to the actual day of the procedure. I was so nervous on the day but the whole team put me at ease and I'm happy with my results as I feel a lot more comfortable wearing certain clothes now. My surgeon was Alberto Di Giuseppe who performed a breast Augmentation on me, and I would definitely recommend as he was very clear on what the outcome of the surgery would be and which size would look the best for my frame.
Couldn't be happier with Dr Tillo work,i had my breast surgery one week ago and so happy with the results so far,all the staff are extremely nice and very supportive,i would definitely recommend their services,thank so much
From start to the finish everything was perfect for tummy tuck surgery. All staff is very friendly and the aftercare has been good. The Doctor and the nurse team was fantastic. I'm so happy...result is amazing. Thank you!!!
This was overall a great experience, all the staff at Centre for Surgery were friendly and put me at ease. It is a nerve wracking thing to go through an op but the staff were so nice. Mr Ertan has got a great team around him. On the day of the operation everything went smoothly to plan, there was no delay or holdups, I had another consultation with Mr Ertan who confirmed what was going to be done and that I was still happy to proceed. I was prepped for the procedure, I met with the anaesthetist who again was really nice and put me at ease explaining his role. After the procedure I woke up with the nurse by my side making sure I was OK and checking on me, I was able to stay in the clinic until I was ready to leave and was not rushed at all. I was well looked after from the start to the point when I was discharged. Post operation I was staying at a local hotel it was so close there was no point in even getting a taxi and I was able to walk back where my partner was waiting for me. I was expecting a lot of bruising to both my eyes but there was very little if any by the time the cast came off after 7 days, I am now at the two week post operation point and it is healing well with no outwardly visible bruising or scaring. The next milestone is a checkup at the 6 week point with my surgeon. If you're thinking of having something like this done I would highly recommend getting in touch with Centre for Surgery.
The staff at Centre for Surgery were very kind and accommodating. They answered any questions I had about the procedure and were constantly checking up on me. A special thank you to Christina for all her support throughout.
I would just like to state the quality of care received from the nurses at Centre for Surgery was beyond the highest level. Sophie takes her patient care to another level beyond words. She always puts me at ease. She is there for me even at awkward hours just when I mostly needed reassurance and she is one of the most compassionate nurses I have come across and demonstrates her passion naturally for caring for others. She totally deserves recognition at its finest and thank you for always being there for me. 😍