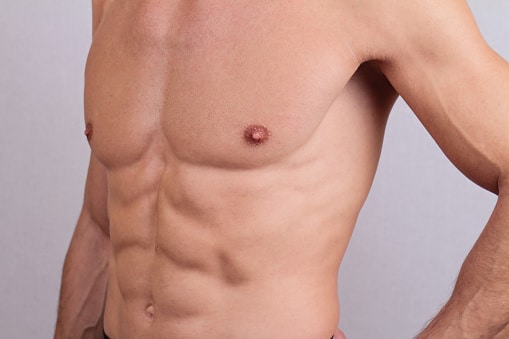 Gynecomastia is caused by the excessive development of glandular tissue and is most commonly linked with hormonal imbalances. It differs from chest fat as it cannot be treated by simple lifestyle measures alone, including diet and exercise. Men typically seek treatment to get rid of gynecomastia, as it often appears noticeable beneath clothing. The aim is to achieve a masculine-looking and sculpted chest that appears flat.
RELATED: How much does male breast reduction surgery cost?
Identifying the precise cause of gynecomastia is key to instituting the correct treatment to remove excessive breast tissue using male breast reduction surgery. Here we discuss the key differences between gynecomastia and chest fat and outline the optimum treatments for both conditions.
What is gynecomastia?
Gynecomastia London is a condition where excessive glandular tissue develops beneath the nipples. Gynecomastia can affect one or both sides and may appear symmetrical or asymmetrical between both sides. The reduction in circulating levels of testosterone with an increase in oestrogen is thought to be the most common underlying cause of the condition. However, there are several causes that may be responsible.
The most common clinical features of gynaecomastia affecting men include:
Excessive glandular tissue leading to a swollen chest
Hard lumps felt beneath the skin
A feeling of tenderness when the chest is touched
Pain which may affect certain activities
Increased body mass index (BMI)
Do I have gynecomastia or chest fat?
Gynaecomastia is very common in men of all age groups, although many types of gynecomastia will resolve spontaneously without any treatment. In other cases, gynecomastia may not resolve, and only surgical treatment can get rid of it.
RELATED: How common is gynecomastia?
Gynecomastia most commonly develops from an underlying imbalance in hormones or may be caused by recreational drug use or certain medicines. The most common causes of gynecomastia affecting men in the UK include:
Hormonal imbalance
An underlying hormonal imbalance is most commonly responsible for the development of gynecomastia. Abnormalities in the levels of certain hormones, including testosterone or oestrogen, can occur at any point in life.
Gynecomastia may first present itself when a baby boy is born, and this is most commonly due to excessive levels of circulating oestrogen which pass from the mother. This type of gynecomastia affecting babies often settles down by itself after three or four months after birth but may, on occasion, take longer to resolve.
Gynecomastia next affects boys in their teenage years, often just before undergoing puberty. Gynecomastia is very common during puberty, and this type of gynecomastia also settles down within six months to a year without any treatment.
Gynecomastia in adult men may still develop, and this is most often due to a hormonal imbalance. In rare cases, there may be a hormone-secreting tumour affecting the pituitary gland or the adrenal gland resulting in gynecomastia. Cancer of the liver or testes may also result in an overproduction of oestrogen, with a deficiency of oestrogen leading to gynecomastia.
Puberty
As young men approach puberty, excess breast tissue may begin to form under the effects of substantial hormonal changes. This is often the time when the body is undergoing rapid growth and development. Excess breast tissue caused by puberty is, in the vast majority of cases, entirely harmless and does not require surgical treatment.
Certain medications
Men may be taking several medications, which may result in gynecomastia. These medicines may increase oestrogen levels. There are also types of medications that may prevent the formation of testosterone. Testosterone and dihydrotestosterone (DHT) work to inhibit the effects of oestrogen in men. If a medicine is taken that blocks the formation of testosterone or DHT, then the effects of oestrogen will be more obvious, resulting in gynecomastia.
Examples of medicines that may result in gynecomastia:
Epilepsy medications
Antianxiety and antidepressant medications
Drugs used for the treatment of cardiovascular disease
Drugs used to treat peptic ulcers
Certain types of chemotherapy drugs, including alkylating agents such as cisplatin, work to prevent cancer cells from growing but may also disrupt cellular DNA.
Many men may also take over-the-counter substances, such as herbal preparations and essential oil products that may cause gynecomastia, including lavender oil.
Medical causes
Several medical conditions can result in gynecomastia, including cancer of the pituitary gland, adrenal glands or testis. Certain types of lung cancer, as well as hyperactive thyroid, are recognised causes.
Chronic medical conditions such as liver cirrhosis caused by excessive alcohol intake or cancer of the liver may also cause gynecomastia resulting in the development of excess breast tissue.
Recreational substance abuse
Many men may take anabolic steroids to promote muscle gain and augment the effects of weightlifting. Anabolic steroid use is strongly associated with the formation of 'man boobs'. Excessive alcohol intake along with cannabis use are recognised causes of the condition.
How can I tell the difference between gynecomastia and chest fat?
This is one of the most commonly asked questions, and men often seek the most effective treatment to get rid of 'man boobs'. Many men often feel increasingly self-conscious about their prominent chests. They usually avoid taking off their shirt whilst on holiday or may avoid wearing fitted clothing, which may accentuate the appearance of gynecomastia. Here we describe the key questions to identify gynecomastia vs chest fat.
How old are you?
Many young men may develop excess fat or glandular tissue on their chest just before puberty. Surgery for gynecomastia should be avoided in boys who are going through puberty, as the condition will settle down on its own without any further treatment.
Once puberty has passed, hormonal imbalance will return to normal, and the risk of developing gynecomastia can be minimised by eating healthily and doing physical exercise. Most boys who approach the age of 16 are often free of gynecomastia.
Later in life, hormonal changes may result in many older men developing prominent breasts due to a natural fall in testosterone with age. This occurs more commonly in men who are overweight or obese.
Are you overweight or obese?
A clinical assessment from a doctor can often determine whether you have true gynecomastia or simply excessive chest fat. Men who are overweight or obese will have a higher proportion of excess chest fat than slimmer men. The percentage of body fat can often be determined with body fat analysis. This may identify leaner men who may have gynecomastia even though they have a low percentage of body fat. This may be due to lower levels of muscle mass and an increased amount of subcutaneous fat. An elevated lipid profile may also be associated with an increased amount of chest fat due to excessive cholesterol levels.
Do you have any medical conditions?
Certain medical conditions may cause gynecomastia due to an underlying hormonal disturbance. This often develops in men who have hyperthyroidism or have cancer of the pituitary gland or testicular cancer, resulting in the secretion of excessive oestrogen. Men who drink excessively may develop cirrhosis of the liver, and this is also linked with the development of gynecomastia.
Have you had a blood test to check your hormone levels?
Many men may not know they have a hormonal disturbance, and very often, this is detected from a blood test to measure testosterone and oestrogen levels. A blood test will be able to measure levels of hormones and is usually taken in the morning as testosterone is at its highest level in the mornings.
Do you eat healthily?
Men with a higher proportion of subcutaneous body fat are more likely to have excess fatty tissue develop in the chest, even though they may be of a normal body mass index. The key to reducing chest fat is to eat healthily with plenty of fruits, vegetables, seeds, grains, avocados and lean protein sources. Avoiding energy-dense and processed foods will help to reduce chest fat.
Are you physically active?
Carrying out regular physical exercise involving a combination of cardiovascular exercise and resistance training will help to burn body fat and tone your chest muscles.
Do you drink excessive alcohol or take recreational drugs?
Men who drink alcohol excessively and take recreational substances, including cannabis, are at a higher risk of developing gynecomastia. Taking recreational substances can also cause other health risks, and we would advise consulting with your GP to access a specialist substance misuse service.
Male breast reduction surgery to get rid of London gynecomastia
It has been estimated that up to one in seven of all men in the UK will develop enlargement of the male breasts at some point in their lives. Although many types of male breast enlargement are short-lived and temporary, many men will require male breast reduction to get rid of man boobs permanently.
What does male breast reduction surgery involve?
Male breast reduction surgery is designed to get rid of excess breast tissue in men using a combination of surgical techniques. The procedure first involves the removal of extra chest fat using London liposuction, followed in many cases by direct surgical excision using a half-moon incision around the areola to remove excess glandular tissue.
SEE ALSO: What do gynecomastia scars look like?
In some cases, men may prefer to have smaller nipples and areolas, and this can easily be carried out during the same procedure using an areola reduction technique. Your surgeon will be able to detail what the procedure involves at your gynecomastia consultation in London.
SEE ALSO: What is gynecomastia surgery recovery like?
Is it true gynecomastia or just fat?
Can I get rid of gynaecomastia by losing weight?
In men with true gynecomastia or glandular enlargement due to an underlying hormonal imbalance or recreational substance use, fat reduction with diet and exercise will not treat the problem effectively. True gynecomastia with excess glandular tissue can only be improved using a surgical excision technique with male breast reduction surgery.
RELATED: How to get rid of gynecomastia without surgery?
Does gynecomastia always affect both breasts?
Gynaecomastia can also affect only one side, although most men commonly develop the condition in both breasts.
Is gynecomastia common?
Gynecomastia is a prevalent condition in men, with up to one in seven of all men in the UK developing symptoms at some point; however, in most cases, excess male breast tissue is temporary and resolves without treatment.
The condition is more likely to be temporary in younger men. Eating a healthy diet and exercising regularly can improve the appearance of gynecomastia in men in their 20s and 30s. In cases where there is no improvement, male breast reduction surgery can be considered the most effective treatment option.
Book your gynecomastia consultation at Centre for Surgery
Centre for Surgery is the leading cosmetic surgery clinic in London, and our surgeons have years of experience in carrying out all types of male breast reduction surgery, including liposuction, gland removal and skin tightening.
SEE ALSO: Male Chest Reduction Surgery in London
An expert clinical assessment will help to identify the precise cause of your excess chest tissue, whether it is true gynecomastia or chest fat. Male breast reduction surgery will improve your chest contour with a more sculpted and masculine appearance if you have excess breast tissue that you want to get rid of, speak to one of our patient coordinators today at 020 7993 4849 or fill out the contact form below.
Amazing from start to finish, the communication was the main thing was fully informed and looked after, on the day of my breast augmentation, the staff were fab and made me feel at ease through out the whole process. Thank you so much.
Mohammed Farid
18/11/2021
I've had such a great experience with excellent advice, care and attention and surgical treatment (gynaecomastia) - I can fully endorse the treatment I have received from Centre for Surgery with absolutely no qualms at all. Brilliant in every way - thank you all so much.
Caroline Thorpe
14/11/2021
Very pleased with my whole experience of having a procedure. Was so nervous about getting treatment and i was reassured and felt so comfortable throughout thanks to the amazing nurses. I definitely made the right decision to have breast augmentation at centre for surgery with dr erel.
Melissa Briggs
08/11/2021
So glad I went with centre for surgery, the whole process went very smoothly from the consultations down to the actual day of the procedure. I was so nervous on the day but the whole team put me at ease and I'm happy with my results as I feel a lot more comfortable wearing certain clothes now. My surgeon was Alberto Di Giuseppe who performed a breast Augmentation on me, and I would definitely recommend as he was very clear on what the outcome of the surgery would be and which size would look the best for my frame.
Couldn't be happier with Dr Tillo work,i had my breast surgery one week ago and so happy with the results so far,all the staff are extremely nice and very supportive,i would definitely recommend their services,thank so much
From start to the finish everything was perfect for tummy tuck surgery. All staff is very friendly and the aftercare has been good. The Doctor and the nurse team was fantastic. I'm so happy...result is amazing. Thank you!!!
This was overall a great experience, all the staff at Centre for Surgery were friendly and put me at ease. It is a nerve wracking thing to go through an op but the staff were so nice. Mr Ertan has got a great team around him. On the day of the operation everything went smoothly to plan, there was no delay or holdups, I had another consultation with Mr Ertan who confirmed what was going to be done and that I was still happy to proceed. I was prepped for the procedure, I met with the anaesthetist who again was really nice and put me at ease explaining his role. After the procedure I woke up with the nurse by my side making sure I was OK and checking on me, I was able to stay in the clinic until I was ready to leave and was not rushed at all. I was well looked after from the start to the point when I was discharged. Post operation I was staying at a local hotel it was so close there was no point in even getting a taxi and I was able to walk back where my partner was waiting for me. I was expecting a lot of bruising to both my eyes but there was very little if any by the time the cast came off after 7 days, I am now at the two week post operation point and it is healing well with no outwardly visible bruising or scaring. The next milestone is a checkup at the 6 week point with my surgeon. If you're thinking of having something like this done I would highly recommend getting in touch with Centre for Surgery.
The staff at Centre for Surgery were very kind and accommodating. They answered any questions I had about the procedure and were constantly checking up on me. A special thank you to Christina for all her support throughout.
I would just like to state the quality of care received from the nurses at Centre for Surgery was beyond the highest level. Sophie takes her patient care to another level beyond words. She always puts me at ease. She is there for me even at awkward hours just when I mostly needed reassurance and she is one of the most compassionate nurses I have come across and demonstrates her passion naturally for caring for others. She totally deserves recognition at its finest and thank you for always being there for me. 😍