Gynecomastia or 'man boobs' is a common condition that affects men. Many men who are affected by gynecomastia often develop a loss of self-confidence. Male breast reduction surgery is a highly effective procedure to contour and sculpt the male chest for a more defined and masculine appearance. Here we discuss what gynecomastia surgery involves, its pros and cons and whether the procedure is suitable for you.
RELATED: What is gynecomastia?
Why do men have gynecomastia surgery?
Men most commonly choose to have gynecomastia surgery to get rid of both excess glandular tissue and excess fat to contour and sculpt the chest. Men who develop enlargement of breast tissue can experience pain and discomfort in many cases. Many men become increasingly self-conscious about how they look in fitted clothing and might avoid taking their shirts off whilst on holiday. Men with gynecomastia can achieve an effective treatment with a straightforward surgical procedure for a significant boost in self-confidence and emotional well-being.
Gynecomastia vs chest fat
Gynecomastia is often mistaken for excess chest fat, as both conditions can lead to swelling of the chest. Although the clinical appearance may appear similar, they are quite distinct entities, although both excess gland and fat may commonly coexist in the same patient. Men with true gynecomastia often experience pain, tenderness and sensitivity to touch. Gynecomastia swelling also is more firm to the touch and may cause the nipples to appear 'puffy'. Puffy nipples commonly lead men to seek treatment for this condition. Men with gynecomastia will not be able to get rid of it with diet and exercise alone. Excess fat in the male chest may, in some cases, be treated with diet and exercise alone.
RELATED: Gynecomastia vs Chest Fat – How to Tell the Difference
Pros of gynecomastia surgery
Gynecomastia surgery is the best treatment to achieve a more contoured and toned chest with a more pleasing aesthetic look. Gynecomastia treatment can also help to get rid of pain or discomfort associated with the condition with an associated boost in quality of life.
Cons of gynecomastia surgery
As with any type of cosmetic surgery, surgery for gynecomastia involves a recovery period, and certain side effects may be experienced during the early healing face. Common symptoms include swelling, bruising and temporary numbness. In some cases, men may not be suitable for gynaecomastia surgery if they have significant medical conditions such as severe hypertension and diabetes. These conditions may affect wound healing and increase the risk of prominent gynecomastia scars.
Gynecomastia surgery before and after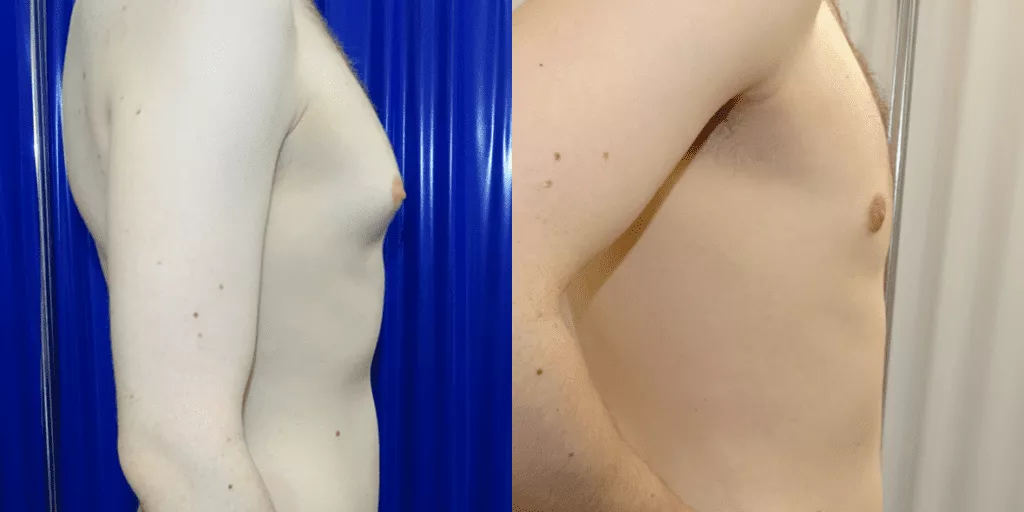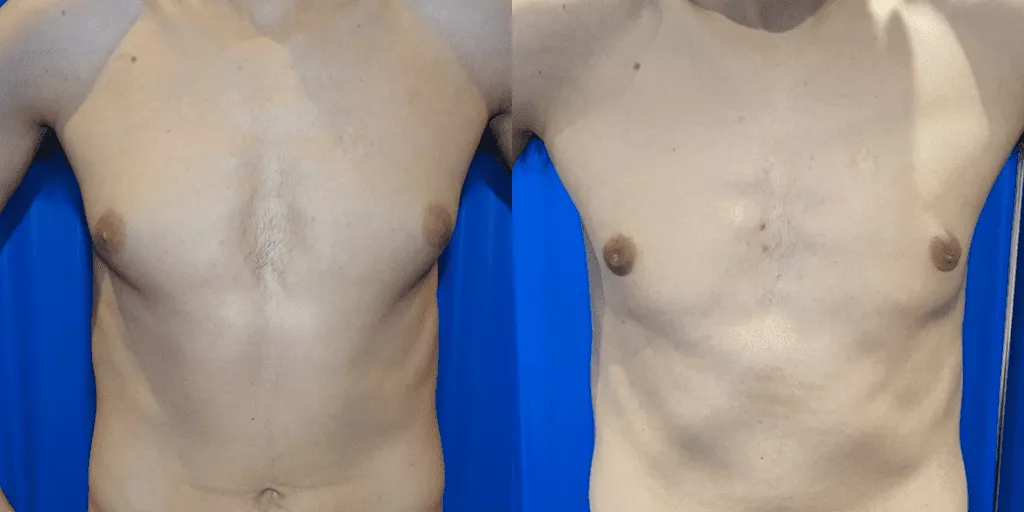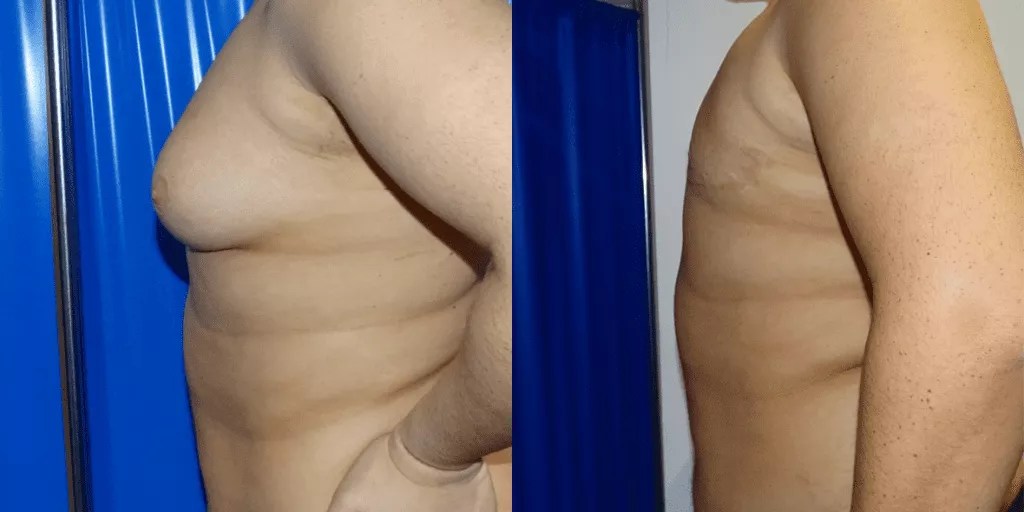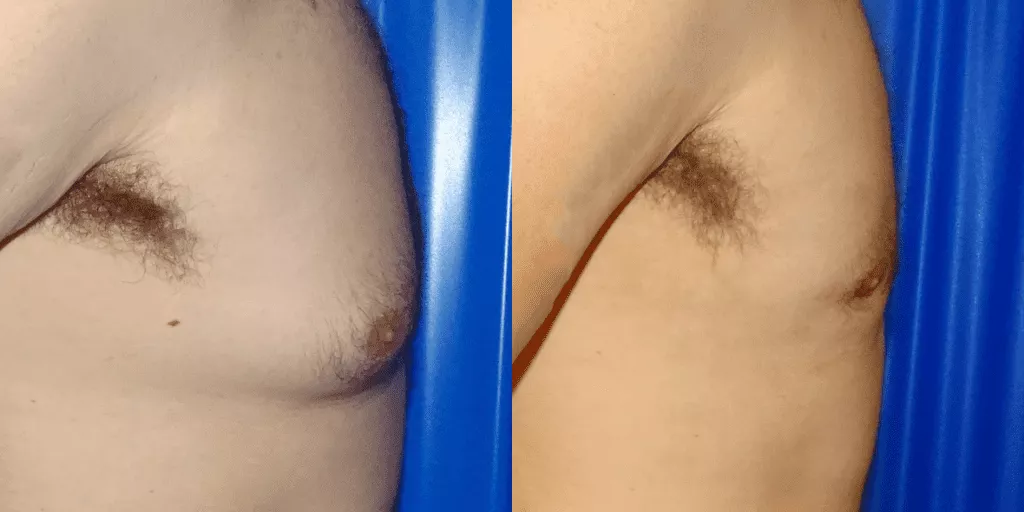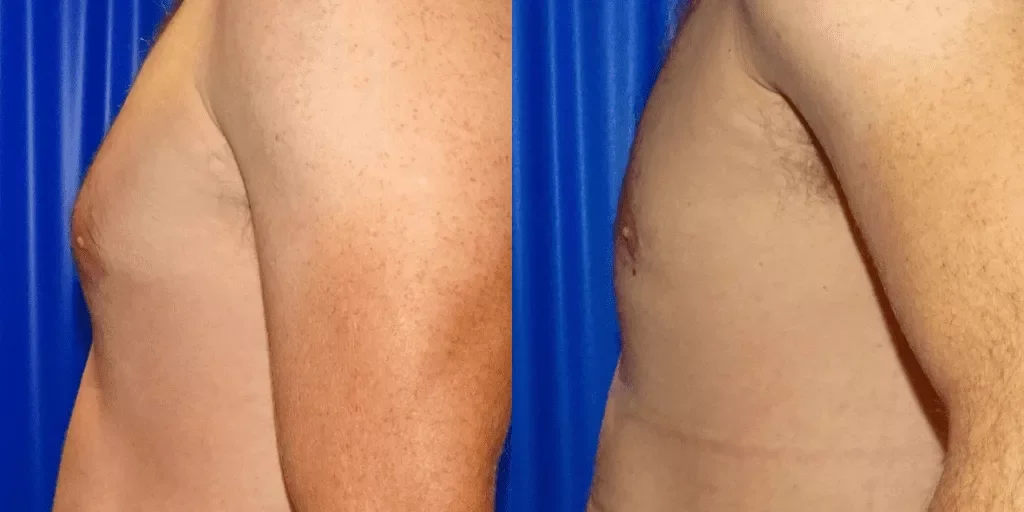 RELATED: Gynecomastia Before and After Photos
How much does gynecomastia cost?
The cost of gynecomastia surgery starts from £5000 at Centre for Surgery. Once you have had a consultation with one of our surgeons, you will receive an accurate quotation from your dedicated patient coordinator. Gynecomastia surgery prices will depend on several factors, including the surgical technique used for gynecomastia removal as well as the type of anaesthetic, whether general anaesthetic or local anaesthetic.
RELATED: How much does gynecomastia surgery cost?
What does gynecomastia surgery involve?
Gynecomastia surgery is always customised to the individual patient to ensure the best results. The type of surgical technique used will depend on the amount of surgical correction required to achieve a contoured and sculpted chest. Gynecomastia incisions will be placed in inconspicuous areas where possible such as natural skin folds. In many cases, liposuction will be used to remove excess fat. Once a patient has had local anaesthetic injected into the area around the nipples, the surgeon will perform a semi-circular incision around the margin of the nipples to remove glandular tissue. Excess skin can be removed if patients have developed loose skin, particularly after weight loss. The incisions are closed with dissolvable stitches followed by the application of a sterile dressing.
What happens in the recovery period?
Male breast reduction is associated with certain common side effects such as bruising, swelling and numbness. It is normal to be tender in the treated areas for up to 1 week after surgery. You will be assessed by our post-operative nurses one week after surgery to review your incision lines and provide advice on optimum wound care. Any mild discomfort is easily controlled with prescription painkillers given to you by your surgeon. No side effects gradually settle down after one week, and most men can return to light activities, including walks in the park. Depending on the type of work undertaken, men can return to work one week after surgery. More time may be needed off for more strenuous work occupations. Patients should avoid strenuous exercise, including going to the gym for a full six weeks after surgery, to minimise the risk of wound complications.
RELATED: Recovery after Gynecomastia Surgery – Top Tips & Timeline
What results can I expect after gynecomastia surgery?
Immediately after the procedure, you will notice your chest to be much fatter compared with before surgery as the fat and glandular tissue has been surgically removed. Swelling may persist up to 2 weeks after surgery. Once the swelling begins to settle down, you will start to notice the final results of gynecomastia surgery. It can take up to 6 months for gynecomastia results to become noticeable. Gynaecomastia surgery can produce permanent results if you maintain a sensible program of eating healthily and exercising regularly.
Am I suitable for gynecomastia surgery?
The best way to determine suitability for gynecomastia surgery is to have a face-to-face consultation with an expert consultant plastic surgeon with specialised expertise in gynecomastia surgery. Provided you are in good overall physical and mental health and are at or near your ideal weight, you may be a suitable candidate for gynaecomastia correction with Surgery. We would recommend that patients should be over the age of 18 before considering gynecomastia removal as some cases of gynecomastia may be due to hormonal factors, and once hormone levels normalise, gynaecomastia may go away on its own.
Gyno Surgery in London: Why Choose Centre for Surgery?
When it comes to treating gynecomastia, also known as 'man boobs,' you want to make sure you choose a clinic with a reputation for excellence. Here's why Centre for Surgery in London is the best choice for your gyno surgery.
World-Class Surgeons
Our surgical team possesses unparalleled expertise in the field of gynecomastia surgery. They've dedicated years to refining their skills and are committed to keeping abreast of the latest advancements in surgical techniques.
Real Stories from Real Patients
Our past patients speak volumes about the quality of care we offer:
Brian T.: "I had my gyno surgery at Centre for Surgery and couldn't be happier with the results. The team really understood what I wanted to achieve."
Anthony M.: "After years of feeling self-conscious, Centre for Surgery gave me the confidence to go shirtless at the beach. My life has changed for the better."
Tailored to Your Needs
No two cases of gynecomastia are the same. That's why we offer individualised treatment plans based on your unique medical history and aesthetic goals. Our surgeons invest time in understanding your expectations and explaining the options available to you.
Comprehensive Information
For more in-depth information on gyno surgery, its implications, and various techniques, we encourage you to visit our Plastic Surgery Blog. You'll find an extensive array of articles that can help inform your decision.
How to Book Your Consultation
If you're ready to take the first step toward a more confident you, get in touch with us to schedule a consultation. Here's how to reach us:
📞 Phone: 0207 993 4849
📧 Email: contact@centreforsurgery.com
📍 Address: 95-97 Baker Street, London W1U 6RN
Choosing Centre for Surgery for your gyno surgery in London means opting for a clinic that brings an unbeatable combination of top-notch surgical expertise, personalised care, and stellar results. Take control of your body and your confidence by booking a consultation with us today.