Hybrid BA London – Implants plus Fat London UK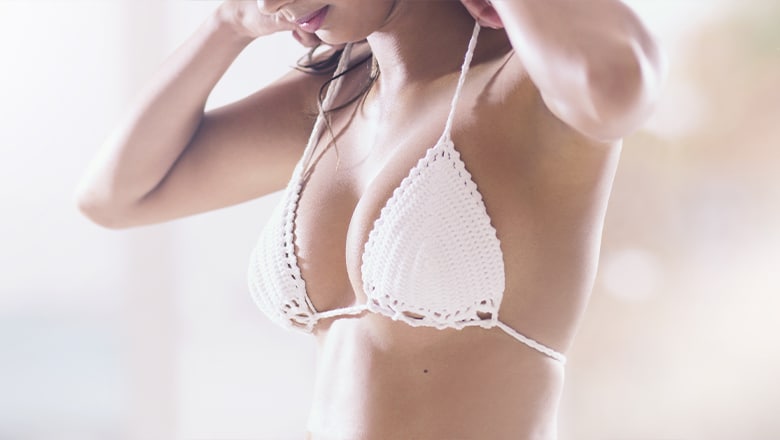 Breast Implants With Fat Transfer – Composite Or Hybrid Breast Augmentation London at Centre for Surgery
Hybrid breast augmentation, also known as composite breast augmentation, is a significant advance in the traditional breast augmentation procedure as it involves optimising the appearance and shape of the breast using both breast implants and fat transfer to the breasts. In expert and the procedure has very high patient satisfaction rates due to its ability to optimise volume, upper pole fullness and enhanced cleavage.
In order to achieve the best results in breast augmentation requires an implant that is adequately covered by overlying soft tissue, which is especially the case in very thin patients who have very little breast tissue and tight skin envelopes. In these patients, having breast augmentation with implants alone could lead to a less-than-ideal aesthetic outcome despite excellent improvement in breast volume and projection. This is because it is difficult to conceal the edges of the breast implant in patients with very thin soft tissue, which affects slim women most commonly. The lack of balance between the size of the breast implant and inadequate soft tissue coverage also means that patients are able to feel the edges of the breast implant, and skin rippling may be evident, which leads to a cosmetically unacceptable result.
Over time, surgeons have used several different techniques to hide the edges of breast implants in slim patients more effectively. Placing breast implants under the chest wall muscle, which is also referred to as the dual plane approach, helps to increase the amount of soft tissue between the implant and the overlying skin. The latest fourth-generation implants have much lower rates of rippling and capsular contracture. Surgeons have often borrowed techniques from breast reconstruction using various support scaffold materials to adequately support soft tissue and prevent many of the soft tissue-related complications from slim patients who have breast augmentation with implants alone. However, these methods have not stood the test of time due to their significant cost and lack of predictability in achieving consistently good results.
Our surgeons have many years of experience in carrying out the fat transfer to the breasts and have now applied their expertise to performing breast fat transfer at the same time as breast augmentation with implants to create more natural results and hide the implant edges using the injected fat. Hybrid breast augmentation is a commonly performed procedure at Centre for Surgery in London. It relies on combining the insertion of breast implants with simultaneous fat transfer to the breast to optimise breast volume and properly contour the overlying soft tissues surrounding the breast.
Hybrid breast augmentation could be the ideal treatment option for patients looking for natural results. Using both breast implants and fat transfer permits the surgeon full control over reshaping the breast. In slim patients with limited soft tissue coverage, hybrid breast augmentation is an excellent solution to addressing the inherent limitations of performing breast augmentation with implants only in women with poor soft tissue coverage. Hybrid breast augmentation is an excellent technique for correcting breast asymmetry in women with uneven breasts. Both techniques permit surgeons to use smaller breast implants as the combined fat transfer also contributes to the volume enhancement of the breasts. Breast implants that are smaller in size carry fewer risks than larger breast implants.
Benefits of hybrid breast augmentation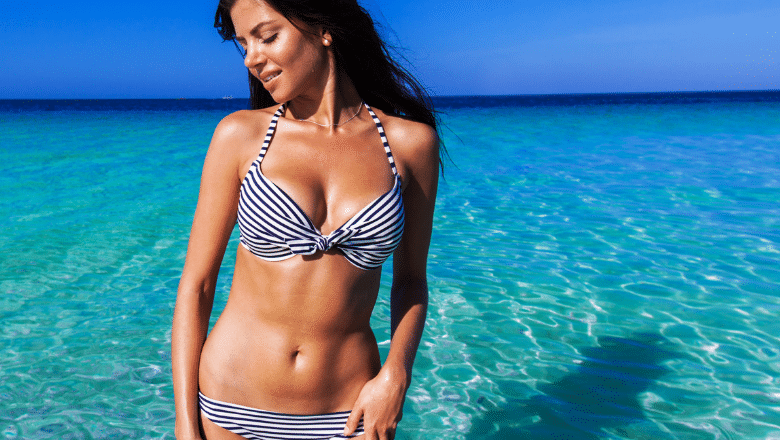 By combining breast fat transfer with a breast implant procedure, the benefits of achieving excellent aesthetic results are many. Breast fat transfer can accurately augment soft tissue surrounding the implant and shape the breast in the area where the edges of the implant are potentially visible beneath the skin. Expertly performed fat transfer to the breast can disguise the edges of the breast implant. This benefit is particularly useful in slimmer patients who desire both an improvement in upper pole fullness and an improvement in the appearance of their cleavage.
RELATED: Fat transfer breast augmentation pros and cons
Another key benefit of hybrid breast augmentation is the option it gives surgeons to place breast implants in more superficial planes, such as the subglandular plane. This means the surgeon does not need to cut the muscle to insert the implant beneath, also known as the dual plane approach. Placing the breast implant beneath the muscle can lead to potential muscle weakness over time. For patients who carry out weightlifting exercises in the gym, the risk of a double-bubble deformity or animation deformity is possible. The recovery from dual-plane breast augmentation is also longer than when breast implants are placed above the muscle. By selecting breast implants above the muscle combined with fat transfer, surgeons can effectively correct any mild degrees of breast sagging or breast ptosis.
Am I A Good Candidate For Hybrid Breast Augmentation?
Hybrid breast augmentation carries very high patient satisfaction rates when ideal patients are chosen for the procedure. You will be considered an ideal candidate for combined breast implants with breast fat transfer if:
Patients who are in good physical and mental health
Patients who have realistic expectations about what hybrid breast augmentation can achieve
Patients must have adequate fat reserves to enable sufficient liposuction to be carried out, followed by a fat injection to the breasts.
Patients who desire more natural-looking breasts
Patients were keen to enhance both the cleavage and upper pole fullness
Patients who smoke should be aware that this significantly increases the risks of surgery, and all patients should stop smoking at least six weeks before hybrid breast augmentation.
At your face-to-face consultation, you'll be able to view a series of before and after photos to get an idea of how you could look after surgery. Please note that this is only a rough idea of what your final results could look like, and it's not 100% accurate as every patient feels differently and has different expectations for treatment. As with all types of cosmetic surgery, it is very fully informed, and we would invite you to ask as many questions as possible at your consultation and to have follow-up consultations before surgery to enable you to be fully equipped with all the knowledge with what the surgery can achieve for you.
The Hybrid Breast Augmentation Procedure
Hybrid breast augmentation is designed to increase the volume of the breasts with breast implants and enhance the shape with breast fat transfer. The procedure involves two essential steps: placement of breast implants and liposuction followed by breast fat transfer to enhance the shape of the breasts. The surgeon uses specially designed cannulas to inject the fat around the implants and in the cleavage area to achieve natural-looking breasts.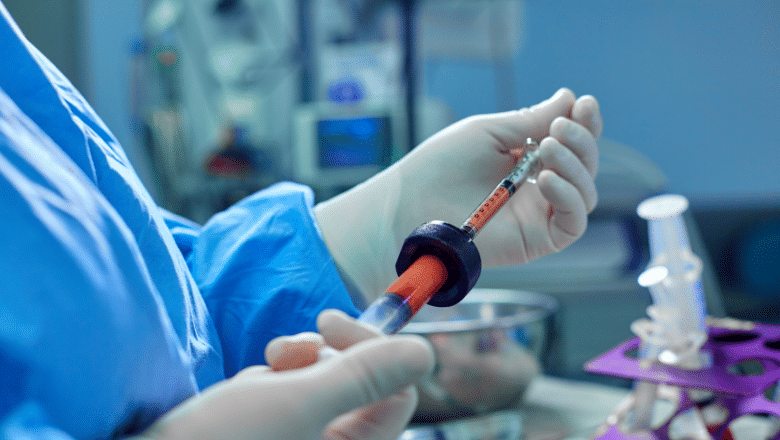 The procedure takes approximately 2 to 3 hours to complete, and your surgeon takes every precaution to make small incisions. Hybrid breast augmentation is carried out under TIVA general anaesthesia as a day case at our state-of-the-art Baker Street Centre in Marylebone, central London.
The first step of the procedure involves liposuction. Very small incisions are made near the area from which fat is to be removed. Aspiration cannulas are then inserted through the small incisions, and the power-assisted liposuction technique is carried out to remove fat efficiently. The removed fat is placed in a sterile fat canister which is then purified and processed, ready for the later fat transfer part of the procedure.
The surgeon will then perform the breast implant part of the procedure. The inframammary incision is created, followed by dissection of the breast pocket, most commonly on top of the breast muscle, which helps to minimise bleeding pain and discomfort post-operatively. Once the breast pocket has been created, the breast implants are inserted using a Keller Funnel sterile no-touch technique. The surgeon will select the size of the implant based on the amount of fat transfer to be carried out. Hybrid breast augmentation usually involves selecting smaller breast implant sizes, but larger-sized implants may be chosen for those with inadequate fat reserves. The ideal breast implant size will be agreed upon with you at the preoperative consultation. Once the breast implants are in the correct position, the surgeon will perform a layered closure using dissolvable sutures. The appearance of the scar depends on several factors, including your skin type and whether you smoke.
The final part of the procedure involves fat transfer. The fact that has been harvested and purified is then injected using specialised cannulas into the marked areas of the breast. Fat cells are usually injected in a more superficial plane as this is where the blood supply is most well developed, and a rich blood supply helps ensure fat cell survival. Once the planned amount of fat transfer has been carried out, the tiny incisions used for the fat injection will be closed and then covered with a sterile dressing.
Once the procedure is complete, it is normal to expect a mild to moderate degree of pain and discomfort in both the breast and the sites where liposuction was performed. Your surgeon will pre-infiltrate the areas of the breasts and liposuction with local anaesthetic during the procedure to minimise any post-operative pain and discomfort once you have fully recovered from the effects of the anaesthetic and you are medically fit for discharge. Our post-operative nursing team will safely discharge you into the care of a responsible adult escort who must look after you for the first 24 hours after your procedure. You will also be given a postoperative prescription for antibiotics and painkillers, which must be taken per the doctor's instructions.
RELATED: How will my breasts feel after fat transfer to breasts?
Recovery after hybrid breast augmentation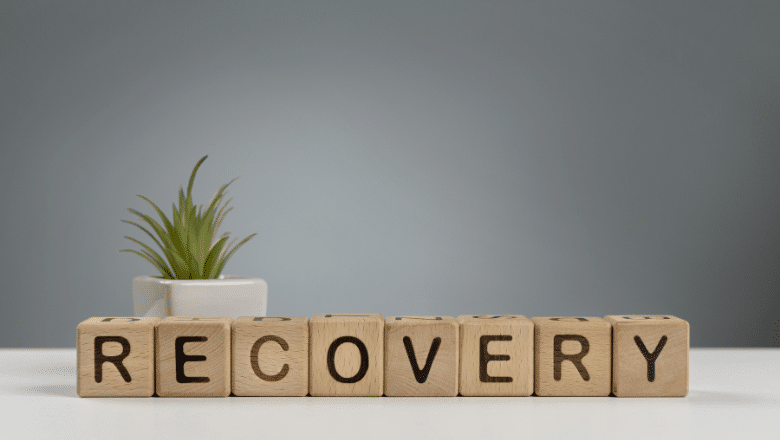 The hybrid breast augmentation procedure is carried out in such a way as to minimise the post-operative recovery period. Your surgeon only uses gentle techniques to minimise post-operative bruising and swelling. Refraining from strenuous physical activities for at least the first four weeks after surgery is important. The best sleeping position involves lying on your back with the head of the bed raised to about 30°, and this is most helpful during the first week following the procedure. Lying in this elevated position helps to accelerate the resolution of post-operative swelling and enhances wound healing. Patients should generally lie on their back for at least the first 3 to 4 weeks after surgery to prevent implant malposition or premature fat loss.
RELATED: What is the recovery time for fat transfer to breast surgery?
You may resume normal activities as per the postoperative recommendations, which must be followed in full. In most cases, patients can return to work after one week as the majority of bruising and swelling will have settled down by then. Patients should avoid strenuous gym activities for the first six weeks following the surgery. It is recommended to wear a well-fitting post-operative bra or a sports bra to help maintain the position of the implants. Once your pain has settled down and you no longer require painkillers, you may resume driving after two weeks postop. You should avoid any breast massage for the first three weeks as it may affect the fat transfer results. All forms of smoking should be avoided entirely during the postoperative period for at least four weeks. Active smoking is associated with a high risk of delayed wound healing and surgical site infection. Smoking also has a deleterious effect on the newly transferred fat cells. The amount of fat transfer that survives in patients who smoke is markedly reduced. This may then necessitate the requirement for a revision top-up procedure to restore the adequate amount of volume.
Risks and complications of hybrid breast augmentation
All types of cosmetic surgery, including hybrid breast augmentation, carry risks. It is important that all patients are aware of the potential risks associated with the procedure as this will help to minimise the risk of complications developing postoperatively.
Risks of hybrid breast augmentation
Infection
Post-operative haemorrhage
Capsular contracture
Breast implant rupture
Fat necrosis
Breast asymmetry
Temporary changes in nipple sensitivity
By choosing to have hybrid breast augmentation at Centre for Surgery in London, you can be assured of receiving the highest standard of medical care delivered by consultant plastic surgeons. The risk of complications after hybrid breast augmentation can be significantly reduced by following all preoperative and postoperative care instructions.
Hybrid Breast Augmentation London Cost & Prices – How much is Hybrid Breast Augmentation in London
The cost of hybrid breast augmentation, which combines implants with fat grafting, can vary depending on several factors. These factors include the patient's anatomy, the extent of surgical correction required, the type of implant to be used, and the expertise of the surgeon. The time required for surgery will also impact the price. To receive a detailed quote for the cost of the procedure, it is best to book a consultation with Centre for Surgery, the leading specialist plastic surgery clinic in London.
During your consultation, your surgeon will evaluate your needs and goals, assess your physical condition, and discuss your best options. The surgeon will also provide you with a detailed quote that includes all the fees associated with the surgery, including surgeon and anaesthetist fees, equipment costs, and hospital fees. To get an estimate of your own hybrid breast augmentation cost in London, you can call Centre for Surgery at 0207 993 4849 or visit their website to book a consultation.
Why choose Centre for Surgery for Hybrid BA?
Choosing Centre for Surgery for hybrid breast augmentation has many benefits.
Firstly, Centre for Surgery is a leading specialist plastic surgery clinic in London, with a team of highly experienced and skilled surgeons who specialise in a range of breast enhancement procedures. Our surgeons have undergone rigorous training and have years of experience in performing hybrid breast augmentation procedures, ensuring the best possible outcome for our patients.
Secondly, we use the latest techniques and equipment to ensure the highest standards of care for our patients. This includes the use of advanced liposuction techniques for fat harvesting, as well as the latest breast implant options.
Furthermore, we provide a caring and supportive environment for our patients, with a dedicated staff team committed to providing excellent care throughout the entire process, from the initial consultation to the postoperative period.
We also offer a range of payment options and flexible finance plans, making hybrid breast augmentation more affordable for our patients. Finally, we are committed to providing the highest standards of patient safety and have achieved excellent results with a very low rate of complications.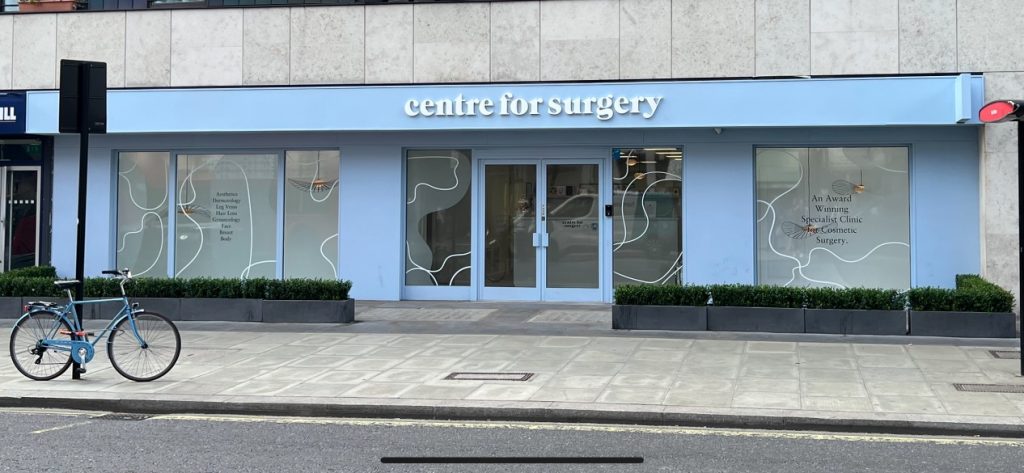 Amazing from start to finish, the communication was the main thing was fully informed and looked after, on the day of my breast augmentation, the staff were fab and made me feel at ease through out the whole process. Thank you so much.
Mohammed Farid
18/11/2021
I've had such a great experience with excellent advice, care and attention and surgical treatment (gynaecomastia) - I can fully endorse the treatment I have received from Centre for Surgery with absolutely no qualms at all. Brilliant in every way - thank you all so much.
Caroline Thorpe
14/11/2021
Very pleased with my whole experience of having a procedure. Was so nervous about getting treatment and i was reassured and felt so comfortable throughout thanks to the amazing nurses. I definitely made the right decision to have breast augmentation at centre for surgery with dr erel.
Melissa Briggs
08/11/2021
So glad I went with centre for surgery, the whole process went very smoothly from the consultations down to the actual day of the procedure. I was so nervous on the day but the whole team put me at ease and I'm happy with my results as I feel a lot more comfortable wearing certain clothes now. My surgeon was Alberto Di Giuseppe who performed a breast Augmentation on me, and I would definitely recommend as he was very clear on what the outcome of the surgery would be and which size would look the best for my frame.
Couldn't be happier with Dr Tillo work,i had my breast surgery one week ago and so happy with the results so far,all the staff are extremely nice and very supportive,i would definitely recommend their services,thank so much
From start to the finish everything was perfect for tummy tuck surgery. All staff is very friendly and the aftercare has been good. The Doctor and the nurse team was fantastic. I'm so happy...result is amazing. Thank you!!!
This was overall a great experience, all the staff at Centre for Surgery were friendly and put me at ease. It is a nerve wracking thing to go through an op but the staff were so nice. Mr Ertan has got a great team around him. On the day of the operation everything went smoothly to plan, there was no delay or holdups, I had another consultation with Mr Ertan who confirmed what was going to be done and that I was still happy to proceed. I was prepped for the procedure, I met with the anaesthetist who again was really nice and put me at ease explaining his role. After the procedure I woke up with the nurse by my side making sure I was OK and checking on me, I was able to stay in the clinic until I was ready to leave and was not rushed at all. I was well looked after from the start to the point when I was discharged. Post operation I was staying at a local hotel it was so close there was no point in even getting a taxi and I was able to walk back where my partner was waiting for me. I was expecting a lot of bruising to both my eyes but there was very little if any by the time the cast came off after 7 days, I am now at the two week post operation point and it is healing well with no outwardly visible bruising or scaring. The next milestone is a checkup at the 6 week point with my surgeon. If you're thinking of having something like this done I would highly recommend getting in touch with Centre for Surgery.
The staff at Centre for Surgery were very kind and accommodating. They answered any questions I had about the procedure and were constantly checking up on me. A special thank you to Christina for all her support throughout.
I would just like to state the quality of care received from the nurses at Centre for Surgery was beyond the highest level. Sophie takes her patient care to another level beyond words. She always puts me at ease. She is there for me even at awkward hours just when I mostly needed reassurance and she is one of the most compassionate nurses I have come across and demonstrates her passion naturally for caring for others. She totally deserves recognition at its finest and thank you for always being there for me. 😍