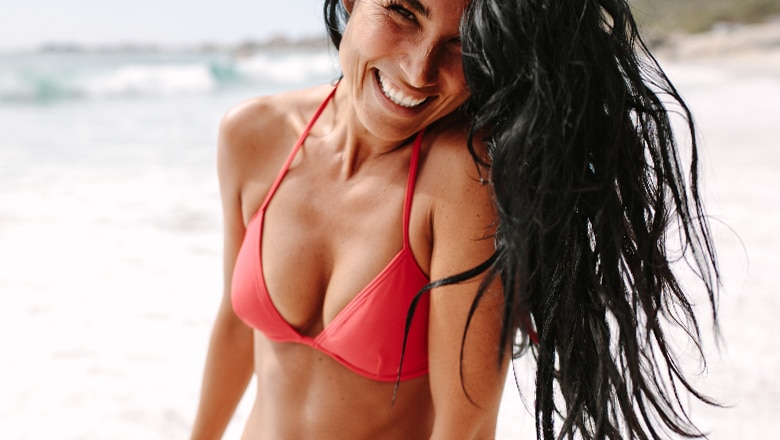 Breast augmentation is one of the most popular cosmetic surgery procedures in the UK and for good reason. Continual refinement in breast implant technology means the procedure has become safer and more effective over the years for women looking to increase the size of their breasts. Nowadays there are many effective treatment options for enhancing the size and shape of the breasts and are no longer limited to just breast implants.
One of the most advanced techniques for natural breast augmentation involves fat transfer. Fat transfer breast augmentation in London involves the removal of excess fat from unwanted parts of the body before carefully injecting the processed fat into the breasts to improve their size and shape. Many patients have often tried unsuccessfully to shift stubborn fat deposits from areas such as the stomach, arms, back or thighs. When deciding on the best option to enhance the size of your breasts, consider the pros and cons of fat transfer breast augmentation as described below.
Benefits of fat transfer to breasts
Fat transfer is a natural procedure
Many patients are unwilling to have breast implant surgery as they feel uncomfortable at the notion of having an artificial object inside their body. They often find the concept of breast fat transfer to be highly appealing
Fat transfer to breasts is completely natural and the look and feel of the breasts appear more natural-looking compared with breast implants. Women are often concerned about having a fake look and this is effectively addressed with a fat transfer procedure. Before being injected into the breasts, the fact is carefully prepared and washed with say line to ensure fat cell survival is as high as possible.
Fat transfer produces permanent results
Fat transfer to breast results is considered permanent because the procedure makes use of your own body's fat and once the transferred VAT successfully integrates into the new area, it does not go away. Unlike breast implants, there is no risk of fat cell rupture so patients can look forward to enjoying the results of their fat transfer procedure for many years to come. Although some fat reabsorption is inevitable with any fat transfer procedure, your surgeon will give you an accurate idea of how much that can be successfully transferred to help you achieve the results you desire.
RELATED: What is the recovery time for fat transfer to breast surgery?
No need for revision breast surgery
London breast implants are not designed to last for your entire lifetime. The vast majority of women will need to have a breast implant replacement between 10 and 20 years after the original procedure. With breast implant surgery, a revision procedure involving breast implant removal or replacement will need to be considered further down the line. Natural breast augmentation with fat transfer is a natural way of enhancing your breasts so there is no need to have another procedure 10 to 15 years later.
Fat transfer is a two-in-one procedure
One of the great things about fat transfer breast augmentation is its ability to contour and sculpt areas of the body from where fat was removed using liposuction. Problematic fat is typically removed from areas such as the tummy or the thighs before being transferred to the breasts. Many women have often been concerned about the appearance of their excess fat. They are now able to achieve a flatter stomach and larger breasts at the same time.
Breast augmentation with fat transfer is a safe procedure
Natural breast augmentation using fat transfer has been proven to be a very safe procedure for virtually all women because the procedure does not involve the use of synthetic objects such as silicone breast implants and so there is no possibility of developing an adverse reaction to breast implants.
Fat transfer results in less scarring
Many women are understandably concerned about the appearance of scars after breast implant surgery. With fat transfer to the breasts, the fat is injected via tiny skin incisions that are barely noticeable after a few weeks once they have fully healed.
Avoid breast implant-related complications
Breast augmentation with silicone breast implants involves certain risks that may require revision surgery later. Capsular contracture involves the formation of thickened and tight scar tissue around the implant which can often be painful and deform the breast. Implant rupture can also occur. Fortunately, with modern breast implants, the risk of these complications is less however both may still require breast implant removal or replacement. There is therefore the potential for a prolonged recovery with increased scarring.
SEE ALSO: What are the most natural-looking breast implants?
Breast fat transfer has far fewer risks and complications as the procedure involve using fat which is a natural substance and does not carry the risk of allergic reactions or implant-related complications.
What are the disadvantages of fat transfer to the breasts?
Fat cell reabsorption
Natural breast augmentation involves the injection of fat into the breasts. This fat initially lacks a blood supply and must rely on obtaining nutrients from adjacent fat cells. Therefore a certain amount of fat will be naturally reabsorbed by the body. Fat transfer survival rates are usually between 60 to 90%. Your surgeon makes use of meticulous surgical techniques to maximise fat cell survival. Having said that, a certain proportion of fat could be reabsorbed by the body which may result in less dramatic results than you had hoped for.
Subtle breast enhancement
Breast enhancement with fat transfer is designed to produce a modest increase in the size of the breasts. Most surgeons would agree that an increase in a single cup size is achievable with fat transfer to breasts. The amount of fat that can be successfully transferred often depends on the tightness of the skin envelope surrounding the breast. There may not be enough space to inject large volumes of fat in some cases. You may wish to consider having breast implant surgery if you would like to achieve a significant increase in the size of your breasts.
Fat transfer does not produce a breast lift
Many women may find their breasts develop sagging and drooping as part of the ageing process or due to pregnancy. Fat transfer breast augmentation does not produce a significant lift effect on the breasts. When implants are placed on top of the muscle or in a subglandular position, a certain amount of breast lift can be achieved without the need for breast lift surgery.
Cost of fat transfer breast augmentation
Given that fat transfer breast augmentation involves two procedures, liposuction and fat transfer, the cost of the procedure is higher compared with breast implant surgery. Fat transfer to breasts starts from £6500 at Centre for Surgery.
RELATED: How much does fat transfer breast augmentation cost?
Mammograms can be difficult to interpret
Breast cancer screening programs involve regular mammograms to be carried out. Women who have had fat transferred to breasts may find their mammograms to be slightly more difficult to interpret due to the appearance of the fat on x-rays. In a small number of cases, small fat cysts may be mistaken for cancerous changes. Fortunately, with the improvement in x-ray technology, this risk has markedly lessened with time.
Am I suitable for fat transfer breast augmentation
The ideal patient for that transfer should fulfil the criteria below:
Are keen to achieve natural-looking breasts
Prefer to have a more subtle increase in breast size of no more than one cup size
Are not currently pregnant or breastfeeding and are in a good state of health with no chronic medical conditions
Are keen to get rid of stubborn areas of fat elsewhere on the body and enhance the size of their breasts at the same time
Book your transfer breast augmentation consultation
Once you have decided to proceed with fat transfer surgery, please get in touch with us today on 020 7993 4849 to book your fat transfer consultation at our specialist cosmetic surgery clinic in Marylebone, central London.
Amazing from start to finish, the communication was the main thing was fully informed and looked after, on the day of my breast augmentation, the staff were fab and made me feel at ease through out the whole process. Thank you so much.
Mohammed Farid
18/11/2021
I've had such a great experience with excellent advice, care and attention and surgical treatment (gynaecomastia) - I can fully endorse the treatment I have received from Centre for Surgery with absolutely no qualms at all. Brilliant in every way - thank you all so much.
Caroline Thorpe
14/11/2021
Very pleased with my whole experience of having a procedure. Was so nervous about getting treatment and i was reassured and felt so comfortable throughout thanks to the amazing nurses. I definitely made the right decision to have breast augmentation at centre for surgery with dr erel.
Melissa Briggs
08/11/2021
So glad I went with centre for surgery, the whole process went very smoothly from the consultations down to the actual day of the procedure. I was so nervous on the day but the whole team put me at ease and I'm happy with my results as I feel a lot more comfortable wearing certain clothes now. My surgeon was Alberto Di Giuseppe who performed a breast Augmentation on me, and I would definitely recommend as he was very clear on what the outcome of the surgery would be and which size would look the best for my frame.
Couldn't be happier with Dr Tillo work,i had my breast surgery one week ago and so happy with the results so far,all the staff are extremely nice and very supportive,i would definitely recommend their services,thank so much
From start to the finish everything was perfect for tummy tuck surgery. All staff is very friendly and the aftercare has been good. The Doctor and the nurse team was fantastic. I'm so happy...result is amazing. Thank you!!!
This was overall a great experience, all the staff at Centre for Surgery were friendly and put me at ease. It is a nerve wracking thing to go through an op but the staff were so nice. Mr Ertan has got a great team around him. On the day of the operation everything went smoothly to plan, there was no delay or holdups, I had another consultation with Mr Ertan who confirmed what was going to be done and that I was still happy to proceed. I was prepped for the procedure, I met with the anaesthetist who again was really nice and put me at ease explaining his role. After the procedure I woke up with the nurse by my side making sure I was OK and checking on me, I was able to stay in the clinic until I was ready to leave and was not rushed at all. I was well looked after from the start to the point when I was discharged. Post operation I was staying at a local hotel it was so close there was no point in even getting a taxi and I was able to walk back where my partner was waiting for me. I was expecting a lot of bruising to both my eyes but there was very little if any by the time the cast came off after 7 days, I am now at the two week post operation point and it is healing well with no outwardly visible bruising or scaring. The next milestone is a checkup at the 6 week point with my surgeon. If you're thinking of having something like this done I would highly recommend getting in touch with Centre for Surgery.
The staff at Centre for Surgery were very kind and accommodating. They answered any questions I had about the procedure and were constantly checking up on me. A special thank you to Christina for all her support throughout.
I would just like to state the quality of care received from the nurses at Centre for Surgery was beyond the highest level. Sophie takes her patient care to another level beyond words. She always puts me at ease. She is there for me even at awkward hours just when I mostly needed reassurance and she is one of the most compassionate nurses I have come across and demonstrates her passion naturally for caring for others. She totally deserves recognition at its finest and thank you for always being there for me. 😍