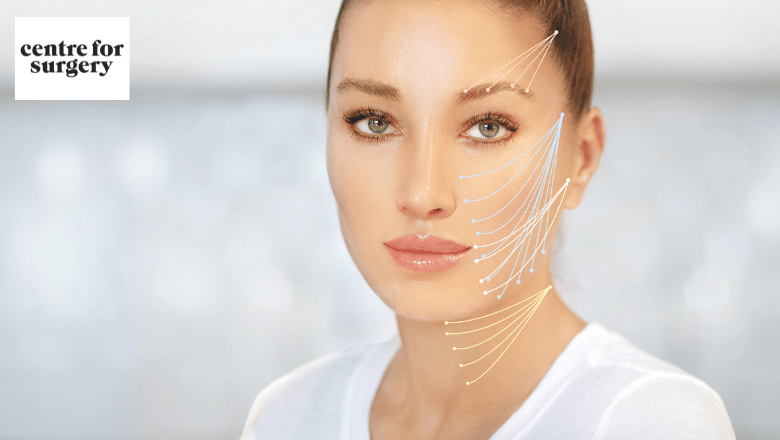 Face Surgery London UK
Facial rejuvenation surgery has evolved significantly over the last decade with a comprehensive range of treatment options, both non-surgical and surgical, to help tackle the signs of facial ageing. Facial rejuvenation surgery is designed to produce results that appear natural and in harmony with your facial features without looking "overdone".
RELATED: The Definitive Guide to Facial Cosmetic Surgery in London
What are the signs of facial ageing?
As we age, our skin naturally loses elasticity and collagen, resulting in wrinkles, fine lines, and sagging skin. The face is one of the first areas of the body to show signs of ageing, and several specific areas are affected.
One of the first signs of facial ageing is the development of wrinkles and fine lines. These can appear around the eyes, on the forehead, and around the mouth. As skin loses collagen and elasticity, it becomes less able to bounce back from being stretched or folded, resulting in wrinkles and lines.
RELATED: What are the signs of ageing in the face over time?
Another common sign of ageing is the loss of volume in the face. As we age, our skin loses the ability to retain moisture, resulting in a loss of plumpness and a gaunt appearance. This can be particularly noticeable in the cheeks and around the eyes.
Sagging skin is another common sign of ageing. As we lose collagen and elasticity, our skin becomes less able to hold its shape, resulting in drooping and sagging in areas such as the jawline, neck, and jowls.
Age spots and discolouration can also be a sign of ageing. These dark spots can appear on the face, hands, and other body areas that have been exposed to the sun. They are caused by the overproduction of melanin, which is triggered by sun exposure and the natural ageing process.
Another sign of ageing is the development of puffiness and bags under the eyes. This can be caused by a combination of factors, including genetics, lifestyle, and a loss of elasticity in the skin.
Finally, changes in the skin's texture can be a sign of ageing. As we get older, our skin can become rough, dry, and dull. This can be caused by a loss of collagen and elasticity, as well as a decrease in the production of natural oils.
It's important to note that while these are common signs of ageing, they can also be caused by other factors such as genetics, lifestyle, and environmental factors. To help delay the signs of ageing and keep your skin looking youthful, it's important to protect your skin from the sun, maintain a healthy diet, and avoid smoking and excessive alcohol consumption. Additionally, a skincare routine that includes cleansing, moisturizing, and exfoliating can help keep skin looking its best. If you are concerned about the signs of ageing on your skin, it's best to consult a specialist plastic surgeon for personalised advice and treatment options.
Benefits of facial rejuvenation procedures
Facial rejuvenation surgery, also known as a facelift, can improve the appearance of the face by reducing wrinkles, sagging skin, and other signs of ageing. The procedure can also help to restore a more youthful and refreshed appearance to the face and can improve the patient's self-confidence and self-esteem. Additionally, facial rejuvenation surgery can also improve the function of the face, such as by improving the patient's ability to close their eyes or open their mouth. However, It's important to know that the benefits of facial rejuvenation surgery can vary depending on the individual patient and the specific procedure performed. It's always best to consult with a board-certified plastic surgeon to learn about the benefits and risks of facial rejuvenation surgery.
RELATED: What is the best age for a facelift?
Facelift surgery is ideal for people who are keen on achieving youthful-looking skin that appears both radiant and smooth. Our treatment philosophy is based on developing a bespoke treatment plan that will effectively address your needs and desires. This could range from a non-invasive cosmetic injectable procedure to invasive facial rejuvenation surgery involving both eyelid surgery and a full facelift and neck lift for long-lasting and aesthetically pleasing results.
RELATED: Facelift with fat transfer – Benefits of a "lift and fill" facelift
Facial cosmetic surgery is designed to enhance your existing features and maintain overall facial harmony. A facial plastic surgeon is an expert in optimising overall facial proportions using state-of-the-art cosmetic surgery techniques, both nonsurgical and surgical. Overall facial balance can be adversely affected by choosing a procedure or combination of procedures that produce unnatural results.
RELATED: Types of Facial Rejuvenation Treatments
Facial rejuvenation surgery can achieve the following benefits:
Youthful and more refreshed facial appearance
Boost in self-confidence
Elimination of visual disturbances caused by droopy eyelids
Benefits of facelift surgery
A facelift (also known as a cervicofacial rhytidectomy or rhytidoplasty) is a broad category that refers to several procedures, including a mini facelift that will change the look of the upper and lower face, including cheeks, jowls, and neck. Facelift surgery entails incisions placed in front of and behind the ear. The approach to facial rejuvenation has evolved significantly over the last few decades. Surgery, however, has remained the gold standard of care for long-lasting treatment of the ageing face in both women and men. Despite the rise of less invasive methods, a facelift or rhytidectomy has maintained its pre-eminent position in facial rejuvenation as the number of facelifts performed each year continues to increase. In fact, facelift or rhytidectomy currently ranks as the fifth or sixth most popular cosmetic surgery procedure in the UK.
At Centre for Surgery, patients have access to the full range of options for treatment of the ageing face. These options include laser treatments, injections and traditional surgery. Facelift surgery, traditionally called rhytidectomy, is an extremely popular procedure in London and the UK more broadly. Facelifts are most popular for being able to stop the ageing process, at least when it comes to the aesthetic aspect. A facelift is a surgical procedure that involves facial skin tightening to remove those wrinkles and give the face a younger look.
The goal of modern facelift surgery is to create a natural, refreshed and rejuvenated appearance for patients so that they look like a younger version of themselves. The procedure typically involves the repositioning of deep fat and muscle tissue and may involve volume replacement.
The gold standard for treatment of the lower face and jowls, neck skin laxity and neck banding remains the 2-layer SMAS facelift. Surgeons at Centre for Surgery have pioneered the day-case full facelift – you will be able to return home the same day as your facelift procedure is performed.
You may also be suitable for a neck lift. A neck lift is a surgical procedure commonly used to tighten and smooth out neck skin which makes you look more youthful, radiant and relaxed. Sometimes, submental liposuction is performed at the same time to enhance the results further.
Patients who are not ready for a facelift or may not want a facelift or neck lift have several other options, including minimally invasive procedures like lasers or injectables. Even though no one can reverse time, signs of ageing can be prevented by removing any trace of excess fat and skin and straightening the facial muscles. This intervention can be performed as an individual operation or in combination with other similar procedures, such as eyelid surgery.
Am I suitable for facial cosmetic surgery?
The first step is to have an in-person consultation with a specialist facial plastic surgeon at our state-of-the-art Baker Street clinic in London. During the consultation, a detailed medical history will be completed, followed by a physical examination. The following criteria will be used to determine your suitability for facial surgery:
People concerned about obvious signs of facial ageing
Are not taking any medications, such as aspirin, that could increase the risk of bleeding during and after the procedure
Are non-smokers or are willing to stop smoking at least four weeks before surgery
Are in a good state of health without any chronic medical conditions
Have realistic expectations of what facial cosmetic surgery can achieve
Have a positive attitude
Are willing to comply with preoperative and post-operative surgical care instructions.
Have objective signs of facial ageing, including fine lines, wrinkles, eye bags, sagging jowls and loose skin.
Different types of facial rejuvenation surgery
Centre for Surgery is recognised as the leading expert in facial cosmetic surgery in the UK, and our specialist plastic surgeons are skilled in the full range of facial plastic surgery procedures, including:
Recovery after facial rejuvenation surgery
Recovery after facial surgery will depend on several factors, including the type of facial procedure you had and whether it was combined with other procedures. A typical combination is a face and neck lift surgery with blepharoplasty. The time taken for recovery will differ between patients. It is normal to experience a mild degree of pain and discomfort after cosmetic facial surgery. Any discomfort can be easily controlled with over-the-counter painkillers. Facial plastic surgery is performed as a day case at our Baker Street clinic which means you will be able to go home later the same day after your procedure. You will be given detailed post-operative instructions on looking after your surgical incision sites and which medications to take and when. You will be given an appointment 7 to 10 days after your procedure to review your progress. You should avoid carrying out any vigourous activities to prevent excessive stress from being placed on the incision lines.
Risks and potential complications of facial plastic surgery
As with any surgical procedure, facial plastic surgery involves certain risks that will be discussed at your consultation. During your recovery after surgery, it is important to be aware of the following symptoms and signs which may be associated with a potential complication:
Anaesthetic reaction
Delayed wound healing
Facial swelling and numbness
Bleeding and haematoma
Pus draining from incision sites
Severe bruising
Skin necrosis
Excessive scarring
Wound breakdown
Alteration in facial sensation
Facial weakness affecting one or both sides of the face
Celebrities who have had facial cosmetic surgery
The following celebrities are commonly thought to have had a facial cosmetic surgery procedure:
Tyra Banks
Jane Fonda
Yolanda Hadid
Cindy Crawford
Kourtney Kardashian
Britney Spears
Kris Jenner
Ariel Winter
Lisa Kudrow
How much does facial surgery cost in London?
Facial cosmetic surgery is bespoke to the individual patient, and you will receive a detailed quotation for your procedure once you have had an in-person consultation. The price of the surgery will include anaesthetic fees, surgical fees and hospital fees. Postoperative aftercare appointments are also included. If you would like an estimate for your chosen facial surgery procedure in London, please call us on 020 7993 4849 and speak to one of our friendly and experienced patient coordinators.
How Can I Fund The Cost of Cosmetic Facial Surgery?
Centre for Surgery has partnered with Chrysalis Finance, the leading provider of specialist medical finance in the UK. We offer a full range of finance options to suit the full range of budgets, including 0% finance in selected cases. View our finance options pages to learn more about how to find the cost of facial surgery in London.
RELATED: Finance Options
Non-invasive facial rejuvenation procedures
Fotona 4D and SmoothEye are non-invasive treatments delivered using our state-of-the-art Fotona SP Dynamis dual wavelength laser to improve the appearance of wrinkles, fine lines, texture and loss of volume – all without injectables or more invasive surgery. Those who are not yet ready for a facelift or indeed have had a facelift and would like to maintain their results can now have non-invasive laser rejuvenation at Centre for Surgery.
Face surgery FAQs – commonly asked questions about facial plastic surgery
How should I prepare for facial surgery?
Optimum preparation for facial surgery involves avoiding any medicines containing aspirin to minimise the risk of bleeding. You should also stop smoking at least four weeks before surgery and refrain from drinking alcohol for two weeks before and after surgery. Excessive sun exposure should also be minimised both before and after surgery to minimise the risk of excessive scarring and ensure you achieve excellent results.
Is cosmetic facial surgery covered by private medical insurance?
Private medical insurance does not usually cover the cost of surgery to enhance cosmetic appearance. If you would like to learn about the finance options available, contact us today and speak to a patient coordinator to get the options for funding your procedure.
What type of anaesthesia is used for facial plastic surgery?
Facial plastic surgery can be performed using a variety of anaesthesia options, including local anaesthesia, sedation, and general anaesthesia. The type of anaesthesia used will depend on the specific procedure being performed, as well as the patient's preferences and medical history.
Local anaesthesia is used to numb a specific area of the face, while the patient remains awake. This type of anaesthesia is often used for minor procedures such as the removal of skin lesions or laser resurfacing.
Sedation, also known as "twilight sleep" or "conscious sedation," is a type of anaesthesia that involves the use of medication to help the patient relax and feel more comfortable during the procedure. It is often used for procedures that are more invasive than local anaesthesia but less extensive than general anaesthesia.
General anaesthesia is used to put the patient to sleep and make them unaware of the procedure. This type of anaesthesia is typically used for more extensive procedures, such as a facelift, which may involve multiple areas of the face and require longer surgical times.
It's important to note that the choice of anaesthesia will depend on the type of procedure, the preference of the surgeon and the patient, and the patient's medical history. Your surgeon will discuss with you the best option for you.
Is facial cosmetic surgery painful?
Compared with other types of cosmetic surgery, facial surgery is not associated with significant pain and discomfort. Any mild discomfort can be easily controlled with over-the-counter painkillers and anti-inflammatory medication. You are also advised to apply ice packs regularly during the first 72 hours after surgery to reduce bruising and swelling. You will be given detailed information on how and when to take your painkillers before you are discharged from the clinic.
How long do the results of facial plastic surgery last?
Several factors can determine the longevity of your facial surgery results, including the type of surgery and its extent. Other factors include how well you comply with post-operative aftercare instructions, including avoiding smoking and excessive sunlight. Most patients can enjoy the results of facial surgery for many years. However, you may wish to consider having further surgery at some point further down the line to maintain the results of your initial procedure.
FACELIFT GLOSSARY
Here is a glossary of terms related to facelift surgery:
Facelift: A surgical procedure to address visible signs of ageing in the face and neck by tightening and lifting the skin and underlying tissues.
SMAS (Superficial Musculo-Aponeurotic System): The layer of tissue beneath the skin and fat that is typically targeted during a facelift to provide a more lasting lift.
Mini facelift: A less invasive version of a facelift that focuses on lifting and tightening the skin in the lower face and neck.
Deep plane facelift: A facelift technique that involves lifting and repositioning the deeper layers of tissue, including the SMAS and fat, for a more dramatic and longer-lasting result.
Neck lift: A surgical procedure to address sagging and excess skin in the neck.
Platysmaplasty: A surgical technique used to tighten and reposition the muscles in the neck, often in combination with a neck lift.
Blepharoplasty: A surgical procedure to address sagging and excess skin in the eyelids.
Brow lift: A surgical procedure to lift and reposition the eyebrows for a more youthful and rested appearance.
Fat grafting: The process of transferring fat from one area of the body to another, often used in facelift surgery to restore lost volume and create a more youthful appearance.
Incision: The cut made in the skin during facelift surgery to allow access to the underlying tissues. The location and length of the incision will depend on the specific technique used.
Anaesthesia: The medication used to manage pain and ensure the patient's comfort during facelift surgery. The type of anaesthesia used will depend on the specific procedure and the patient's needs.
Recovery: The period of time after facelift surgery during which the patient must avoid strenuous activity and follow the surgeon's instructions for care and healing.
Facial cosmetic surgery at Centre for Surgery
Cosmetic facial surgery can be a genuinely life-changing experience when performed by a specialist facial plastic surgeon using gold-standard techniques. Although there are many reputable plastic surgeons in London, you should spend time researching your choice of surgeon and clinic carefully and make sure to ask plenty of questions at the consultation to help you build up a clear idea of what the procedure involves and whether your surgeon can meet your needs and desires with facial plastic surgery. We recommend avoiding cosmetic surgeons who often lack the qualifications and expertise possessed by specialist plastic surgeons. Looking at before and after photos and reading patient testimonials will help you to select a surgeon you feel fully comfortable with.
Centre for Surgery is considered the leading cosmetic surgery clinic in the UK and is home to some of the best facial plastic surgeons in London. Our specialist plastic surgeons are renowned for their years of experience in all types of cosmetic facial surgery, including eyelid surgery, facelift surgery and brow lift surgery. Although cosmetic surgery is often cheaper overseas, the standards of medical care may fall significantly below the levels of care found in the UK. Choosing a specialist facial plastic surgeon practising in accredited facilities gives you the best possible chance of getting excellent results the first time around.