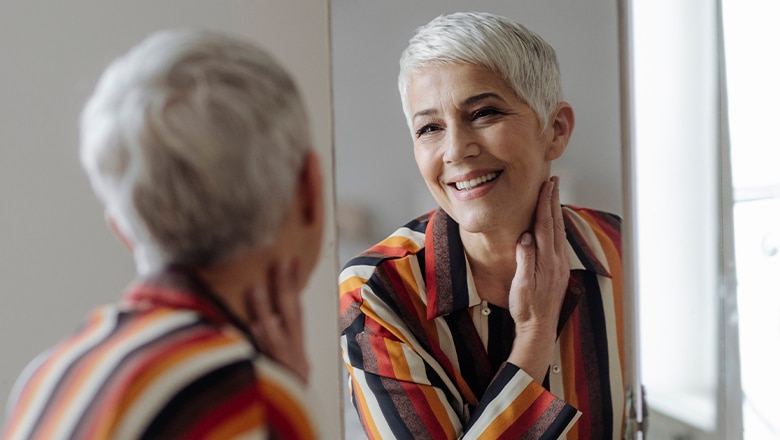 The natural ageing process affects us all as we get older. Although it is not possible to stop or reverse the ageing process, there are several effective facial rejuvenation procedures, both surgical and non-surgical, to produce a refreshed and youthful look. The effects of ageing on the face vary as we get older, and here we recommend the best treatments to help you appear younger regardless of your age.
What causes the face to age?
The skin contains collagen and elastin, which confer elasticity and firmness. With age, the rate of new collagen production begins to decline, leading to loose skin and wrinkles. When we are younger, our faces often appear fuller due to the presence of subcutaneous fat in the cheeks and temples. As we get older, we begin to lose fat from the face, which can give rise to flattened or sunken cheeks. As we get older, we begin to lose fat from the face and this can give rise to flattened or sunken cheeks. Certain lifestyle habits may exacerbate facial ageing, including eating an unhealthy diet lacking fresh fruit and vegetables, smoking, excessive alcohol intake, erratic sleep patterns, and high stress levels. Environmental factors include living in areas with high levels of air pollution and excessive exposure to sunlight.
Which areas of the face are the first to show signs of ageing?
The earliest signs of ageing are often seen in the middle part of the face, where fine lines and wrinkles often develop. The nasolabial folds run from the side of the nose to the corners of the mouth. Other signs of ageing include crow's feet, also known as lateral canthal lines, and flattened cheeks. The forehead may also show signs of ageing in the form of lines, wrinkles, and a sagging brow.
What signs of facial ageing can be seen in people below 40?
When we are younger, the firmness and skin elasticity of the skin is due to ample amounts of collagen which is a natural protein found in the body. Maintaining healthy and youthful skin with the use of effective skincare products is essential to slow the ageing process over time. We would also advise against excessive exposure to sunlight and avoiding smoking and excess alcohol. All of these factors may contribute to accelerated ageing changes affecting the face. After the age of 30, many people may begin to notice the appearance of fine lines and when they are located at the outer aspect of the eyes, these are known as crow's feet. Crow's feet are particularly visible during facial expressions. Subcutaneous fat may begin to be lost from the face and this may affect the overall shape. You may feel you look less youthful and appear fatigued even though you may feel energetic in yourself. Other people may even remark on your tired look and this can lead to a significant reduction in self-confidence.
Excessive sunlight exposure can result in hyperpigmentation including age spots and seborrhoeic keratosis. Both men and women can be affected by hyperpigmentation due to excess sunlight exposure.
What are the most effective treatments to treat signs of ageing in people under 40?
Botulinum toxin type A is a type of anti-ageing treatment involving the injection of a muscle relaxant for the smoothening of fine lines and wrinkles by targeting the underlying facial muscles. Wrinkle relaxing injections are ideal for improving the parents of existing lines and wrinkles as well as helping to prevent new ones from forming. Botulinum toxin type A treatment is suitable for people over the age of 18. Dermal fillers in London are another type of facial injectable containing hyaluronic acid for filling in lines and wrinkles and also or treating areas of volume loss such as sunken cheeks. Facial contours can be improved with the expert injection of dermal fillers for a more youthful appearance. The effects of dermal fillers can last up to 12 months and can be used for several applications including cheek augmentation, jawline enhancement, lip augmentation and chin enhancement. Wrinkles around the mouth also known as smoker lines can also be treated with dermal fillers.
Morpheus8 London is a non-invasive treatment involving the use of radiofrequency and microneedling to target signs of ageing affecting the face and neck. Areas of loose skin can be tightened with Morpheus8 treatment without the need for incisions and scars of surgery. Morpheus8 is ideal for patience below the age of 40 who may be starting to experience early signs of ageing affecting the face.
The one stitch facelift has emerged as a highly effective treatment to address signs of ageing in anyone aged 35 and over. A one-stitch facelift is ideal for treating early signs of ageing in the middle part of the face such as mild skin laxity and early lines and wrinkles. Results of one stitch facelift surgery can last for up to 5 years and are often seen as a precursor treatment to a mini facelift or full facelift in later life.
What signs of facial ageing can be seen in people above 40?
People over 40 may begin to notice further changes in the appearance of the skin. Any lines or wrinkles which has appeared in the 30s may appear more prominent and deeper. Soft tissue volume loss may be noticed in the face due to further loss of subcutaneous fat from the cheeks, lower eyelids and temples. The cheeks are often the first area to show volume loss, followed by fat loss from the lower part of the face around the jawline, chin and mouth.
Declining levels of collagen production results in a loss of skin elasticity and the formation of loose skin. Loose skin begins to sag over time. People may even start to notice the tip of the nose droop downwards. Rhinotip surgery or a mini nose job can effectively alter the size or shape of the nose tip for an improvement in cosmetic appearance. Once people reach the age of 50, the skin may begin to develop coarse skin texture due to the effects of prolonged sunlight exposure and an increase in hyperpigmentation with more age spots. People who spend long periods in the sun during their youth are often at higher risk of developing premature ageing changes affecting the face.
Women approaching menopause may also notice significant changes in the tone and texture of the skin. Menopause often results in declining levels of oestrogen, which may cause saggy and loose skin to develop. The average age for menopause in the UK is 51, although some women may experience menopause much earlier.
What are the most effective treatments to treat signs of ageing in people over 40?
Morpheus8 and cosmetic injection treatments involving botulinum toxin type A and dermal fillers are considered the most effective non-surgical anti-ageing treatments for people over 40. The one stitch facelift is a minimally invasive surgical procedure designed to address signs of ageing affecting the middle part of the face. The treatment is ideal for those in their early 40s. Those with more prominent features of ageing affecting the face may be better suited for a mini facelift. Mini facelift surgery is one of our most popular treatments at Centre for Surgery in London. It involves getting rid of loose skin and tightening the lower part of the face and jawline hence its alternative name of a lower facelift.
What signs of facial ageing can be seen in people over 50?
People over 50 will have more significant signs of ageing affecting the face, including lines and wrinkles visible at rest, extensive hyperpigmentation and deep skin folds. The skin decreases in thickness due to a loss of collagen. The skin becomes increasingly dry and develops a coarse skin texture. Jowls and jawline laxity are often visible with significant wrinkling of the neck, which may result in the appearance of a turkey neck.
What are the most effective treatments to treat signs of ageing in people over 50?
A full facelift, also known as a rhytidectomy, is the most suitable treatment option to address severe signs of ageing affecting the face. A traditional facelift can effectively target deep skin folds and sagging skin. The procedure is more invasive than a one-stitch or mini facelift and involves a more extended recovery period.
Many people combine a facelift with a neck lift to address signs of ageing affecting the jawline and neck. The most common signs of ageing affecting this area include jowls and sagging neck skin. A turkey neck can be effectively treated with neck lift surgery. Although a neck lift can be carried out on its own for those with isolated neck laxity, it is most commonly combined with a facelift for a more comprehensive improvement in facial appearance and youthfulness.
How do signs of facial ageing affect men?
Men are also prone to developing signs of ageing affecting the face, including bags under the eyes, pigmentation such as age spots, deeper wrinkles, skin folds, and jowls. The earlobes may begin to elongate, leading to the appearance of long ears. One stitch facelift, mini facelift and full facelift are equally suitable treatments for men. Here at Centre for Surgery, we have noticed a significant increase in men choosing to have facelift surgery. Our surgeons are specialists in facelifts for men using advanced techniques to maintain the natural masculine features of a man's face.
Contact us on 020 7993 4849 or complete the contact form below to book a consultation with a specialist facial plastic surgeon. Our Baker Street clinic in Marylebone is considered the leading cosmetic surgery clinic in London.
Amazing from start to finish, the communication was the main thing was fully informed and looked after, on the day of my breast augmentation, the staff were fab and made me feel at ease through out the whole process. Thank you so much.
Mohammed Farid
18/11/2021
I've had such a great experience with excellent advice, care and attention and surgical treatment (gynaecomastia) - I can fully endorse the treatment I have received from Centre for Surgery with absolutely no qualms at all. Brilliant in every way - thank you all so much.
Caroline Thorpe
14/11/2021
Very pleased with my whole experience of having a procedure. Was so nervous about getting treatment and i was reassured and felt so comfortable throughout thanks to the amazing nurses. I definitely made the right decision to have breast augmentation at centre for surgery with dr erel.
Melissa Briggs
08/11/2021
So glad I went with centre for surgery, the whole process went very smoothly from the consultations down to the actual day of the procedure. I was so nervous on the day but the whole team put me at ease and I'm happy with my results as I feel a lot more comfortable wearing certain clothes now. My surgeon was Alberto Di Giuseppe who performed a breast Augmentation on me, and I would definitely recommend as he was very clear on what the outcome of the surgery would be and which size would look the best for my frame.
Couldn't be happier with Dr Tillo work,i had my breast surgery one week ago and so happy with the results so far,all the staff are extremely nice and very supportive,i would definitely recommend their services,thank so much
From start to the finish everything was perfect for tummy tuck surgery. All staff is very friendly and the aftercare has been good. The Doctor and the nurse team was fantastic. I'm so happy...result is amazing. Thank you!!!
This was overall a great experience, all the staff at Centre for Surgery were friendly and put me at ease. It is a nerve wracking thing to go through an op but the staff were so nice. Mr Ertan has got a great team around him. On the day of the operation everything went smoothly to plan, there was no delay or holdups, I had another consultation with Mr Ertan who confirmed what was going to be done and that I was still happy to proceed. I was prepped for the procedure, I met with the anaesthetist who again was really nice and put me at ease explaining his role. After the procedure I woke up with the nurse by my side making sure I was OK and checking on me, I was able to stay in the clinic until I was ready to leave and was not rushed at all. I was well looked after from the start to the point when I was discharged. Post operation I was staying at a local hotel it was so close there was no point in even getting a taxi and I was able to walk back where my partner was waiting for me. I was expecting a lot of bruising to both my eyes but there was very little if any by the time the cast came off after 7 days, I am now at the two week post operation point and it is healing well with no outwardly visible bruising or scaring. The next milestone is a checkup at the 6 week point with my surgeon. If you're thinking of having something like this done I would highly recommend getting in touch with Centre for Surgery.
The staff at Centre for Surgery were very kind and accommodating. They answered any questions I had about the procedure and were constantly checking up on me. A special thank you to Christina for all her support throughout.
I would just like to state the quality of care received from the nurses at Centre for Surgery was beyond the highest level. Sophie takes her patient care to another level beyond words. She always puts me at ease. She is there for me even at awkward hours just when I mostly needed reassurance and she is one of the most compassionate nurses I have come across and demonstrates her passion naturally for caring for others. She totally deserves recognition at its finest and thank you for always being there for me. 😍