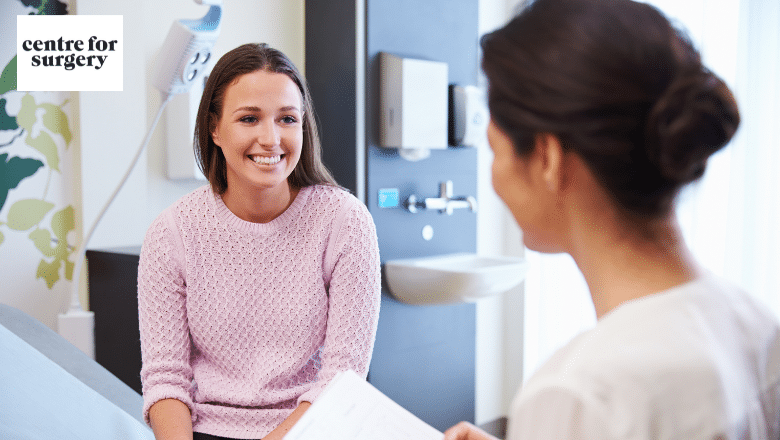 For patients considering a cosmetic surgery procedure such as rhinoplasty, eyelid surgery, facelift, breast augmentation, liposuction or a tummy tuck then, it is important to have a detailed understanding of the entire process from start to finish. You may not yet have had your consultation and might be wondering what happens on the day of surgery, among other important questions. Knowing how these all are linked together can be a daunting process.
At Centre for Surgery, we think it is extremely important for all patients to have a full understanding of every part of their treatment journey. By summarising the details of the process below, we hope this will give you a good idea of what happens during your patient journey from the time you have your first consultation with a surgeon to the day of your procedure and leading into your recovery period after surgery.
We have put together a fantastic team of patient coordinators, clinical support staff, nurses, and of course, surgeons at Centre for Surgery to guide our patients throughout all stages of their journey with us.
Read Our Plastic Surgery Beginners Guides
The cosmetic surgery consultation
We pride ourselves on offering in-depth cosmetic surgery consultations as we believe patients should have all the information they need before committing to an invasive surgical procedure which may not be strictly medically necessary. We invite all patients to learn more about the procedure they are interested in by coming in for a face-to-face consultation with an expert surgeon to get all the information and advice you may need to make an informed decision on whether cosmetic surgery is right for you. When you first attend your consultation with one of our surgeons, the first step is to confirm your personal information and important details, followed by a measurement of your height and weight to make sure that you are within the safe BMI range for cosmetic surgery.
RELATED: BMI and Cosmetic Surgery
The consultation is a fundamental component of a patient's journey with us. It is an opportunity for each patient to be assessed as an individual so that a proposed treatment can be designed to fit one's needs and preferences. Although a preliminary idea of suitability may be possible from a virtual consultation, only a face-to-face consultation can definitively confirm whether a patient is a suitable candidate for cosmetic surgery.
During your consultation, the surgeon will take time to listen carefully without interruption to enable an accurate picture to be formed. A full and detailed medical history will be taken, including any medicines you may be taking, and this information will be used to determine your medical fitness for surgery. The consultation is also an ideal opportunity for discussion of your ideas, concerns, and expectations and whether the surgeon is able to achieve what you are hoping for. In all cases, you will receive honest and straightforward advice based on years of experience carrying out all types of cosmetic surgery procedures. In many cases, there may be a range of treatment options available, and the potential risks and complications of each option will be discussed. Cosmetic surgery, like any other type of surgery, does carry risks, although these are rare when all safety protocols are adhered to fully. All patients must have a clear understanding of the potential risks associated with a particular procedure before proceeding with surgery.
RELATED: Risks and Complications of Cosmetic Surgery
For patients who are considering breast augmentation, the consultation will include implant sizing using a range of foam inserts and sample implants to give you a clear idea of how you can potentially look after surgery. Some surgeons may choose to supplement this process with 3D imaging for detailed analysis. Many patients find implant sizing to be the fun part of the consultation and will allow you to proceed with confidence with the most appropriate breast implant size decided in conjunction with your surgeon's advice. All patients should always bear in mind that it is an impossible objective to achieve perfection and that not all expectations can be addressed with cosmetic surgery, and this is something your surgeon will emphasise during your consultation.
Once your consultation is complete, your patient care coordinator will provide you with a summary of your consultation, the treatment options discussed and an individualised quote for your procedure(s). Many patients choose to secure a date for surgery after their consultation, and our coordinators will be able to confirm this for you without having to return at a later date to make a deposit or process your credit card. Once you have secured your date, one of our preoperative nurses will be able to see you for a clinical assessment during the same visit, which will include measuring your vital signs. Detailed preoperative instructions will be given to make sure you are optimally prepared for surgery. At Centre for Surgery, we believe thorough patient education is fundamental to achieving optimal outcomes following surgery.
For patients who are keen to finance their procedure, your patient care coordinator will be able to guide you through a very simple three-step process which can be carried out in a matter of minutes.
RELATED: Finance Options
We encourage all patients to ask as many questions as they like, even once they get home later that day, and should reach out to our team to have any of their queries answered. Patients can have as many consultations as they like, as we understand that having cosmetic surgery is a big decision. Evidence shows that patients who ask lots of questions are often better prepared and understand their procedure well, achieving better outcomes following surgery.
Booking your procedure
Once you have booked your cosmetic surgery procedure at Centre for Surgery, a member of our clinical support team will get in touch to begin the process of preparing you for surgery and will provide you with the necessary support, including answering any questions you may have about your surgery, the need for further preoperative appointments which may include an anaesthetist assessment and any required medical documentation such as a GP summary. For procedures carried out under general anaesthetic, it is our policy to request a GP summary for all patients in line with national guidance.
The clinical support team will collect all the required medical documentation and will liaise closely with our preoperative nursing team, the anaesthetist and your surgeon. You may be required to have certain blood tests or an ECG if requested by your doctor, and this should be carried out in good time to enable interpretation of the results from such tests. We are here to support you and to ensure that as you get closer to the date of your surgery, you are in the best-prepared state for surgery.
On the day of your procedure
You should aim to arrive for your procedure at the booked admission time. It is very important to have a good support system in place both on the day of your surgery and for the first two weeks of your recovery. Ideally, you should be dropped off by your caregiver so that our nursing team can give them essential instructions before they head off. Your responsible adult escort should ensure that their mobile phone is on at all times and that they are readily available within a 20 to 30-minute drive from the clinic at any time on the day of surgery. Your escort will not be able to wait in the clinic during your surgery, and our recovery nursing staff will call him or her when you are ready to be discharged.
When you arrive at the clinic on the day of your surgery, our nursing team will first confirm the contact details for your escort and answer any last-minute questions you may have before admitting you to our day surgery ward. You'll be asked to change into a single-use clinic gown and will have your vital signs checked. You will then be seen by your anaesthetist. The anaesthetist will prescribe oral premedications for you to take by mouth with a small sip of water. The purpose of these medicines is to reduce the risk of post-operative sickness, relieve pain and help you relax. Although many patients are excited on the day of their surgery, it is quite normal to feel a bit nervous and anxious. Our expert nursing team will do their best to make sure you are as comfortable and relaxed as possible.
RELATED: Anaesthesia for Cosmetic Surgery
Once you have been seen by the nurse and anaesthetist, you will be seen by your surgeon, who will confirm the surgical plan and may carry out pre-operative markings and photography. Any last-minute questions you may have about the surgery can be answered by your surgeon at this point. Once the surgical team has completed their team brief, you will be walked to the operating room accompanied by one of our theatre nurses. Once you are lying comfortably on the operating bed, your anaesthetist will confirm your name, date of birth, allergies and the procedure to be undertaken before inserting an intravenous cannula, most commonly in the back of your hand. Vital signs monitors will be attached before starting the process of putting you to sleep.
After your procedure
At the end of your surgery, sterile dressings will be applied, and the anaesthetist will wake you up. Once you are awake, alert and have minimal discomfort or sickness, you'll be transferred to our designated recovery area, where you will be looked after by specialised recovery nurses. The recovery nurse will call your adult escort to inform them that your surgery is complete and to advise them of an approximate time to collect you once you are ready to be safely discharged. During your period in the recovery unit, once you have tolerated sips of water, any pain and discomfort are well controlled, you have minimal sickness, and you have been to the toilet, your nurse will let your escort know that they should make their way to the clinic. Once your escort has arrived, the nurse will give detailed written postoperative care instructions, which will also contain the emergency number of the surgeon who carried out your procedure and who to contact if you have any other issues or concerns outside of normal clinic hours. Your postoperative review appointment with a nurse will also be booked before you are discharged from the clinic. A copy of your discharge summary will also be sent to your GP unless you specifically object to this.
For certain procedures, such as rhinoplasty, facelift, breast surgery and abdominoplasty, your adult escort will need to bring you back to the clinic the next morning for further post-operative care by a member of our nursing team. It is normal to experience a degree of bruising and swelling after plastic surgery. Our postoperative nurse will be able to tell you what is to be expected during your recovery period. If there are any concerns about your healing and recovery, they will immediately contact your surgeon for further advice. Sometimes, your surgeon may wish to see you later that same day for a face-to-face assessment.
RELATED: How long is recovery after cosmetic surgery?
Postoperative review appointments with our nursing team are regular, and it is very important to attend these follow-up checks to make sure that you are healing well and also to reinforce any post-operative care instructions given by your surgeon to optimise your recovery and get the best possible results.
In our experience, amazing results can be achieved following cosmetic surgery, and we cannot emphasise enough how important high-quality post-operative care is. The postoperative care process should be viewed as a close partnership between yourself, the surgeon and the nursing staff during the critical healing phase to minimise the risk of complications and get the very best possible results.
RELATED: How to minimise scars after cosmetic surgery