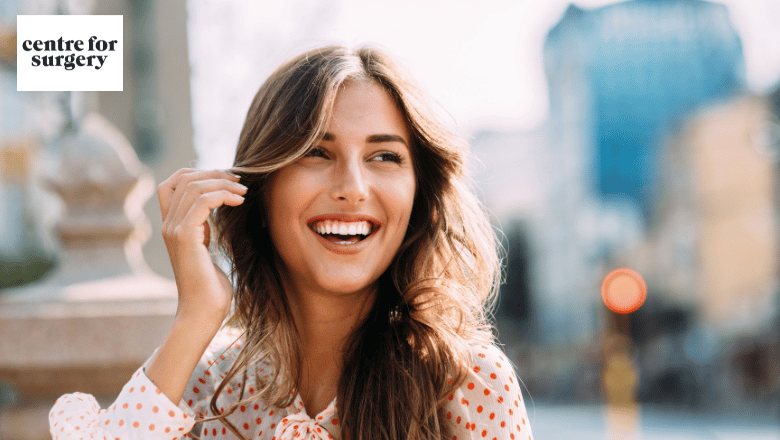 You may have been seriously considering finally treating yourself and having a cosmetic surgery procedure such as breast augmentation, liposuction or a tummy tuck. Some people may be concerned about the potential appearance of scars after plastic surgery. This is understandable. Although you are looking forward to achieving life-changing results, you may be slightly apprehensive about how visible scarring could look.
Many people who come to us often express concern about potential scarring after cosmetic surgery. What is essential to bear in mind is that every surgical procedure involving making an incision will result in a scar of some sort. Your specialist plastic surgeon is highly skilled in minimising the appearance of scars so that they are barely visible once you have fully healed. We are a specialist Centre for scar management, and we are more familiar than most clinics with how to improve the appearance of plastic surgery scars. There are several things which patients can do to improve scar cosmesis, which we will discuss below.
The appearance of scars depends on the type of cosmetic surgery you have had
Scars come in a wide range of different appearances depending on the type of plastic surgery procedure that is performed. Many patients are often anxious about scarring after a rhinoplasty or facelift surgery. We completely understand this as the surgery is performed on the face, and many people will want to know how potential scars will appear on their faces. You may be pleased to learn that scars after rhinoplasty and facelift surgery are virtually invisible when performed by a skilled and experienced plastic surgeon.
Body contouring procedures include liposuction and Brazilian butt lift. These procedures are considered minimally invasive as the incisions are tiny, often no more than 5 mm in length. These small incisions are strategically placed in areas of the body that are located in natural skin creases or can be easily covered up by everyday clothing items, including underwear.
In comparison, a tummy tuck or abdominoplasty is a more invasive surgical procedure that results in the formation of a long scar along the lower part of the abdomen and a smaller scar located around the belly button. When tummy tuck surgery is performed by a specialist plastic surgeon, and you follow your surgeon's postoperative instructions in full, it is highly likely a tummy tuck scar will appear as a neat faint white line that is virtually unnoticeable 6 to 12 months later.
RELATED: What kind of tummy tuck scars should I expect?
How to minimise scarring after plastic surgery
Once you have chosen to have a cosmetic surgery procedure at Centre for Surgery, you will be closely monitored by our clinical support team throughout your postoperative recovery. You'll be given customised recommendations on how to look after your incisions and which activities to avoid after surgery based on how you are healing. Here we share some of the essential top tips on how to minimise scarring after cosmetic surgery.
Do not smoke or vape
We cannot stress enough how important it is to stop smoking at least four weeks before and after surgery. This also includes vaping, and having plastic surgery should serve as the ideal opportunity to quit smoking for good.
Smoking is associated with several risks that can increase the risk of complications during and after surgery. Smoking reduces blood flow to the healing tissues, which results in delayed wound healing. Even an occasional cigarette here and there can adversely affect your healing and recovery. Nicotine products significantly impair the delicate capillary microcirculation in the skin and soft tissues, which is vital for proper wound healing.
If you are an active smoker and have been considering having a cosmetic surgery procedure, you should stop smoking at least one month before and one month after your procedure. The earlier you stop smoking, the lower the risk of postoperative complications. You should also avoid passive second-hand smoke from being in the company of people who smoke.
Increase your protein intake
Many patients who come to us for the plastic surgery procedure have experienced significant weight loss (often more than 18-24 kg). Nutritional deficiencies are more common in massive weight loss patients, and we recommend supplementing nutritional intake with extra protein. One of the best solutions is to choose a reputable brand of protein shake. Consuming one protein shake each day for four weeks before and after surgery has been shown to have positive effects on wound healing after post weight loss surgery.
RELATED: What to eat to speed up recovery after surgery
Look after your incision sites
Managing your postoperative wounds is not as complex and cumbersome as it first seems. Postoperative wound care instructions are actually very simple and straightforward. You will be given detailed written instructions on how to look after your incision site before you leave the clinic. This will increase the likelihood of smooth healing without any complications.
RELATED: How to Minimise Scars after Tummy Tuck Surgery
The best way to keep your incisions clean is to use gentle soap and warm water whilst having a shower. Make sure to gently pat your incisions dry and avoid vigourous rubbing. There is no need for expensive soaps, although a standard shower gel is fine. We would recommend avoiding antibacterial soaps as they also kill the normal flora found on your skin which has beneficial effects for wound healing.
You should take extra care to wash your incisions with the aim of removing any dried blood that is attached to the incision sites. Scabs increase the risk of excessive scarring. There is no need to apply any cream or ointment after having a shower.
Once your incisions have healed by approximately four weeks, you may begin to apply silicone strips if you have had breast or body surgery. Silicone gel is more appropriate if you have had facial plastic surgery. There is a substantial body of medical evidence to support the effectiveness of silicone in reducing the thickness, redness and darkness of surgical scars. Silicone products should be applied for six months and preferably for up to a year to achieve the best-looking scars. There is no need to apply topical vitamin E. Silicone is the gold standard treatment for improving scars after plastic surgery.
As a centre of excellence for scar management, we also offer advanced techniques for improving scar cosmesis, including RF microneedling with Morpheus8 and laser skin resurfacing.
The importance of realistic expectations for the appearance of scars
As with any type of cosmetic surgery, it is important to have realistic expectations of the type of surgical results that can be achieved, including the cosmetic appearance of scars after surgery. It can take a considerable length of time for scars to heal and flatten with time. We would recommend waiting for at least 12 months for full scar maturation. Certain types of schools may heal quicker than others, depending on the type of procedure undertaken. As a general rule, the more patient you are with scar visibility, the better the results that can be achieved.
We would advise all patients to be prepared for their incisions to appear very prominent immediately after surgery. Incisions often appear red and raised above the level of surrounding skin for the first few weeks after surgery. Focusing on following all of your surgeon's postoperative instructions in the days and weeks after surgery will help you to achieve a smooth and uneventful surgical recovery. Our clinical support team are always available to answer any questions or concerns you may have.
Eating a healthy diet with plenty of protein and adopting good wound care habits with the application of silicone after four weeks will help to ensure your plastic surgery scar will heal as well as possible. In 6 to 12 months' time, you may even struggle to see where the initial incision was placed.
Schedule a consultation at Centre for Surgery
Centre for Surgery is the leading cosmetic surgery clinic in London and is home to the top consultant plastic surgeons in the UK. Our state-of-the-art Baker Street clinic is a centre of excellence for elective plastic surgery and we perform the full range of cosmetic procedures, including rhinoplasty, eyelid surgery, facelift surgery, breast surgery and body contouring surgery. Call us today on 020 7993 4849 to schedule an in-person consultation at our Marylebone clinic today.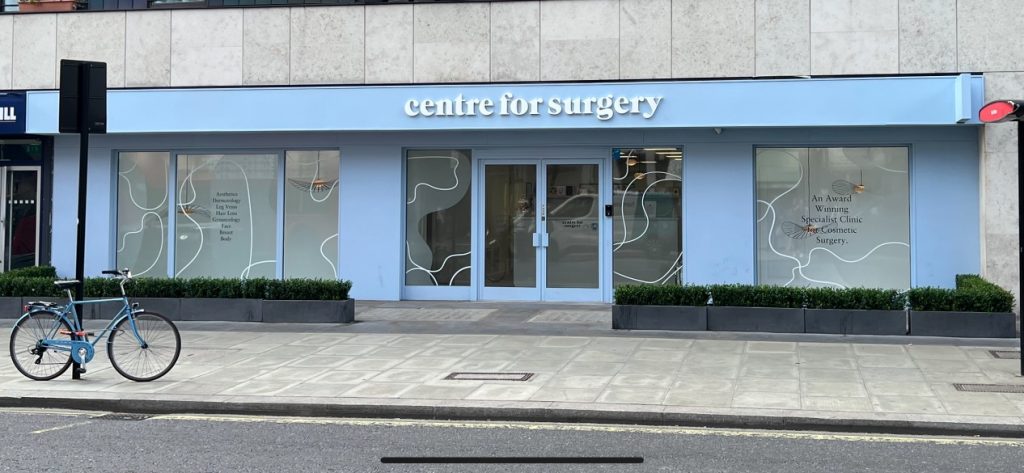 Amazing from start to finish, the communication was the main thing was fully informed and looked after, on the day of my breast augmentation, the staff were fab and made me feel at ease through out the whole process. Thank you so much.
Mohammed Farid
18/11/2021
I've had such a great experience with excellent advice, care and attention and surgical treatment (gynaecomastia) - I can fully endorse the treatment I have received from Centre for Surgery with absolutely no qualms at all. Brilliant in every way - thank you all so much.
Caroline Thorpe
14/11/2021
Very pleased with my whole experience of having a procedure. Was so nervous about getting treatment and i was reassured and felt so comfortable throughout thanks to the amazing nurses. I definitely made the right decision to have breast augmentation at centre for surgery with dr erel.
Melissa Briggs
08/11/2021
So glad I went with centre for surgery, the whole process went very smoothly from the consultations down to the actual day of the procedure. I was so nervous on the day but the whole team put me at ease and I'm happy with my results as I feel a lot more comfortable wearing certain clothes now. My surgeon was Alberto Di Giuseppe who performed a breast Augmentation on me, and I would definitely recommend as he was very clear on what the outcome of the surgery would be and which size would look the best for my frame.
Couldn't be happier with Dr Tillo work,i had my breast surgery one week ago and so happy with the results so far,all the staff are extremely nice and very supportive,i would definitely recommend their services,thank so much
From start to the finish everything was perfect for tummy tuck surgery. All staff is very friendly and the aftercare has been good. The Doctor and the nurse team was fantastic. I'm so happy...result is amazing. Thank you!!!
This was overall a great experience, all the staff at Centre for Surgery were friendly and put me at ease. It is a nerve wracking thing to go through an op but the staff were so nice. Mr Ertan has got a great team around him. On the day of the operation everything went smoothly to plan, there was no delay or holdups, I had another consultation with Mr Ertan who confirmed what was going to be done and that I was still happy to proceed. I was prepped for the procedure, I met with the anaesthetist who again was really nice and put me at ease explaining his role. After the procedure I woke up with the nurse by my side making sure I was OK and checking on me, I was able to stay in the clinic until I was ready to leave and was not rushed at all. I was well looked after from the start to the point when I was discharged. Post operation I was staying at a local hotel it was so close there was no point in even getting a taxi and I was able to walk back where my partner was waiting for me. I was expecting a lot of bruising to both my eyes but there was very little if any by the time the cast came off after 7 days, I am now at the two week post operation point and it is healing well with no outwardly visible bruising or scaring. The next milestone is a checkup at the 6 week point with my surgeon. If you're thinking of having something like this done I would highly recommend getting in touch with Centre for Surgery.
The staff at Centre for Surgery were very kind and accommodating. They answered any questions I had about the procedure and were constantly checking up on me. A special thank you to Christina for all her support throughout.
I would just like to state the quality of care received from the nurses at Centre for Surgery was beyond the highest level. Sophie takes her patient care to another level beyond words. She always puts me at ease. She is there for me even at awkward hours just when I mostly needed reassurance and she is one of the most compassionate nurses I have come across and demonstrates her passion naturally for caring for others. She totally deserves recognition at its finest and thank you for always being there for me. 😍