Male Body Contouring Surgery After Massive Weight Loss London & UK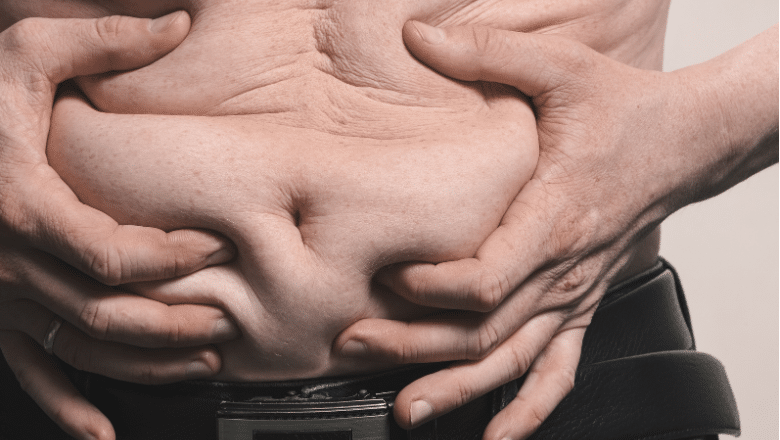 Transform your physique and boost your confidence with our male body lift surgery, expertly designed to remove excess skin and redefine your contours
As more and more men opt for weight loss surgeries like bariatric procedures, a new challenge emerges: dealing with loose, hanging skin after losing a lot of weight. While shedding the pounds is definitely something to celebrate, the leftover saggy skin can sometimes be a dampener on the excitement.
At Centre for Surgery, we're experts in surgeries that come after weight loss, specifically tailored for men. Our team of skilled surgeons are here to help you decide on the surgical options that best meet your needs and goals. Essentially, we're here to help you complete your weight loss journey by taking that final step to remove excess skin and make you feel more comfortable and confident in your body.
For men, the tummy area is often the most affected by excess skin after significant weight loss. That's why many choose to have procedures like an abdominoplasty, commonly known as a tummy tuck, or a more extensive belt lipectomy. But we offer much more than that; our range of body lift procedures designed for men also includes arm lifts, thigh lifts, male breast reduction for Gynecomastia, and back lifts. Each of these is specially designed to help men like you who want to take care of lingering issues with loose skin after weight loss.
What is a Male Body Lift?
A male body lift isn't a one-size-fits-all solution. Everyone's body is different, and the challenges each person faces after significant weight loss can vary dramatically. For some men, the main issue might be an excess of loose, hanging skin in the abdominal area, often described as a 'skin apron'. For others, the arms, back, or thighs may be the primary areas of concern.
Factors like how much weight you've lost, where your body tends to store fat, and even your age can influence where you'll have excess skin. Some men might find that they have issues in just one of these areas, while others may deal with excess skin in multiple places or even all over the body.
That's why the male body lift is tailored to each individual's needs. We look at your specific circumstances and shape the surgical approach accordingly, targeting your unique problem areas. The aim is to give you the most natural-looking results, helping you feel more confident and comfortable in your body.
What Are the Benefits of a Body Lift for Men?
Getting a body lift can offer a range of benefits for men, and here are some key points to consider:
Improves Your Health: When you have excess skin removed, you can find relief from discomfort and hygiene problems that often come along with significant weight loss.
Better Movement and Comfort: Removing extra skin helps to enhance your ability to move freely and comfortably. This enables you to take part in physical activities more easily.
Lower Risk of Skin Problems: By getting rid of folds of excess skin, you'll reduce your chances of experiencing skin irritation, chafing, and even skin infections.
Eases Back Pain: Some men find that having a body lift helps to relieve back pain that was caused by carrying around extra skin and fat.
Boosts Your Motivation to Stay Healthy: For some, having this surgery serves as a new beginning. It can act as a motivational kick-start to maintain a healthy lifestyle after the procedure.
Long-lasting Benefits: Generally, the positive outcomes of a male body lift can last a long time, especially if you continue to live a healthy lifestyle.
These are just some of the many advantages, so it's worth considering all the potential benefits that a male body lift can bring into your life.
Different Types of Body Lifting Procedures for Men
Male breast reduction, medically known as Gynecomastia surgery, is specifically crafted for men who struggle with enlarged breast tissue. This condition often arises due to hormonal imbalances, medications, or other underlying factors. The procedure aims to remove excess fatty tissue and glandular material, effectively creating a more streamlined and masculine chest profile. Not only does it enhance physical appearance, but it also offers psychological benefits, boosting self-esteem and comfort in social situations.
The male abdominoplasty, more commonly referred to as a tummy tuck, is ideal for men who are troubled by excess fat and sagging skin around their lower abdominal area. Whether due to substantial weight loss, ageing, or genetic factors, this surgical intervention targets these issues by removing stubborn fat and tightening the overlying skin. The result is a noticeably flatter and more well-defined midsection that aligns with a masculine physique.
A 360 Abdominoplasty, or male Belt Lipectomy, is an advanced body contouring technique tailored for men who have undergone significant weight loss, leaving them with drooping skin and fatty tissue around their midsection. This comprehensive procedure removes excess material not just from the abdomen, but also from the waist and back. This provides an all-around, "belt-like" improvement, achieving a more contoured and rejuvenated appearance that enhances the entire midriff area.
The arm lift, medically termed as Brachioplasty, targets loose and sagging skin that can occur on the upper arms as a result of ageing, weight loss, or genetic predisposition. The procedure involves surgically tightening the skin, giving the arms a more toned and youthful look. This is a great option for those who are self-conscious about the appearance of their arms and are looking for a way to improve their upper body contour.
Thighplasty, commonly known as a thigh lift, is designed to reshape and tighten the thigh area. This procedure is ideal for those who have sagging skin around their thighs due to significant weight loss or the ageing process. During the surgery, excess skin is removed, and the remaining skin is tightened, leading to smoother, more contoured thighs that better align with the rest of the body's aesthetics.
A back lift is a cosmetic surgical procedure aimed to deal with bothersome excess skin and fat deposits along the back and sides, which can often result from dramatic weight loss or the natural ageing process. By removing these folds of skin and fat, the back lift aims to create a more streamlined and toned appearance. This enhances not only how you look but can also increase comfort in daily activities and when wearing more fitted clothing.
Who is a Good Candidate for a Male Body Lift?
If you're contemplating a male body lift, it's important to evaluate whether you meet the criteria to be an ideal candidate for this surgical intervention. Here's a rundown of factors that make someone a good fit for this transformative procedure:
Significant Weight Loss: The surgery is most effective for men who have already lost a large amount of weight, either through rigorous diet and exercise or bariatric surgery.
Presence of Excess Skin: If you have noticeable skin folds or sagging skin around areas like the abdomen, arms, back, or thighs, you may benefit significantly from a body lift.
Close to Ideal Body Weight: This surgery isn't a substitute for weight loss. Ideal candidates are those who are near their target body weight.
Stable Weight: You should have maintained a stable weight for at least 12 months. Frequent weight fluctuations can impact the surgery's effectiveness and longevity.
Overall Health: Being physically and mentally healthy is essential for the healing process and for managing the stress that can accompany a surgical procedure.
Non-Smoker: Smoking not only poses general health risks but can also complicate both the surgery and the recovery process.
Informed Understanding: You need to have a clear understanding of what the surgery involves, including the potential risks and limitations.
Not a Weight-Loss Alternative: It's crucial to understand that body lift surgeries are not a shortcut to weight loss. They are intended to contour and tighten skin after significant weight loss has already occurred.
If you meet most or all of these criteria, you are likely a good candidate for a male body lift. Always consult with a qualified plastic surgeon to discuss your specific needs and expectations.
How is a Body Lift Procedure for Men Carried Out?
The procedure for a male body lift is a comprehensive surgical process that requires careful planning and execution. Here's a step-by-step guide to give you a thorough understanding of how it works:
Preparation Phase:
General Anaesthesia: First and foremost, you'll be placed under general anaesthesia, ensuring that you're unconscious and won't feel any pain throughout the surgery.
Surgical Phase:
Prepping the Area: Your surgeon will then clean and prepare the specific area or areas where the lift is to be performed. This usually involves disinfecting the skin to minimise the risk of infection.
Making the Incisions: Depending on the type of body lift you're having, the surgeon will make strategic incisions in the required areas. The aim is to remove excess skin while leaving as little scarring as possible.
Tightening Deep Tissues: Your surgeon goes beyond just lifting the skin. They will also dissect and manipulate deeper structures like muscle and connective tissue. If needed, these will be pulled upward and secured in place using strong sutures to provide a more contoured look.
Trimming and Closing: Once the deeper tissues are tightened, the overlying skin is then stretched and the excess is cut away.
Closing the Wounds: Finally, the incisions will be closed meticulously using fine sutures to minimise scarring. In some cases, temporary drains might be inserted to collect any excess fluid or blood.
Post-Surgical Phase:
Recovery: You will be moved to a recovery room where your vital signs will be closely monitored until you regain consciousness and the effects of the anaesthesia wear off.
Aftercare: Your surgeon will provide detailed instructions on how to care for your incisions, manage pain, and when you can return to your normal activities.
By following these steps, the procedure aims to improve not just your appearance but also your comfort and mobility, with results that are often long-lasting.
Recovering After a Body Lift for Men: What to Expect
Recovery from a male body lift can be quite different depending on the specific surgeries you have chosen. Here's a comprehensive guide to what you might experience during your recovery period:
Duration of Recovery:
The time it takes to fully recover can vary significantly, ranging from 2-3 weeks to as long as 2 months, depending on the extent and type of surgeries performed.
Common Symptoms During Recovery:
Pain and Discomfort:

You can expect some level of pain after the surgery, especially around the incision sites.
The intensity of the discomfort may differ depending on the specific type of surgery. For instance, a tummy tuck is generally considered to be more painful than an arm lift.
Pain is subjective; what may be painful for one person may not be as painful for another.
Your surgeon will prescribe medications to help manage and alleviate the pain.

Swelling:

Swelling is a normal part of the healing process and can last for a few weeks.
You'll notice a gradual reduction in swelling as time progresses.

Bruising:

Bruises will appear initially, changing colour over time.
They should largely disappear or significantly reduce in intensity within 2-3 weeks.

Tingling or Numbness:

Some people experience a loss of sensation or tingling in the skin near the treated areas.
While this is often temporary and resolves on its own, there's a chance it could be permanent, although this is rare.
Important Notes:
Always follow the postoperative care instructions provided by your surgeon, including when to start resuming regular activities.
Frequent check-ups may be necessary, especially in the early stages of recovery, to ensure that you are healing properly.
Knowing what to expect can make your recovery more manageable and help you prepare for a successful healing process.
Understanding the Risks and Complications of a Male Body Lift
Opting for male body lift surgery is a significant decision, and it's crucial to be aware of the possible risks and complications associated with this type of procedure. Here's a detailed overview of some of the risks you should consider:
Common Risks and Complications:
Wound Infection:

Infections at the surgical site are possible and require immediate attention to prevent further complications.

Suture Breaking:

The stitches used to close the surgical incisions could break or come undone, requiring additional care.

Bleeding:

Excessive bleeding during or after the surgery is a risk that may necessitate further intervention.

Poor Scarring:

Sometimes, scars can be more noticeable than anticipated, or they may not heal well.

Delayed Wound Healing:

In some cases, the surgical wounds may take longer than expected to heal.

Seroma:

This refers to the collection of fluid under the skin and may require drainage.

Haematoma:

A haematoma involves the accumulation of blood under the skin and might require surgical removal.

Skin Necrosis:

The death of skin tissue, usually around the surgical site, is a severe but rare complication.

Changes in Skin Sensation:

You may experience numbness, tingling, or changes in skin sensitivity.

Asymmetry:

Despite best efforts, the lifted areas may not be perfectly symmetrical.

Skin Irregularities:

The skin may appear uneven or have a 'rippled' texture post-surgery.

Deep Vein Thrombosis (DVT):

Blood clots in the deep veins, often in the legs, are a potential risk.

Pulmonary Embolism (PE):

A life-threatening complication where a blood clot travels to the lungs.

Anesthesia Risks:

Complications can arise from the anaesthesia itself, including allergic reactions or breathing difficulties.

Need for Revision Surgery:

Sometimes, additional surgeries may be required to correct complications or achieve the desired results.
Consultation and Aftercare:
It's imperative to have an in-depth discussion with your plastic surgeon about these risks. Your surgeon will offer personalized advice based on your medical history and desired outcomes. Following your surgeon's post-operative care instructions can go a long way in minimising these risks and improving your overall experience during the healing process.
Reducing Scarring After a Male Body Lift: What You Need to Know
Scarring is an inevitable part of any surgical procedure, including those that claim to be "scarless." However, there are ways to manage and minimise the appearance of scars post-surgery.
Expertise Matters:
A seasoned plastic surgeon takes meticulous care in placing the incisions as discreetly as possible, often along natural body creases or concealed areas to lessen their visibility.
Natural Healing:
Over time, scars typically fade on their own. In most cases, you'll see a significant reduction in scar visibility after about 12 months.
Post-Operative Appointments:
During your follow-up appointments, your surgeon will evaluate the state of your scars. If you express dissatisfaction with their appearance, they may recommend additional treatments.
Additional Scar Treatments:
Here are some common methods to further reduce scarring:

Silicone Gel or Sheets: These can be applied to the scar to help soften and flatten it.
Pressure Garments: Specially designed garments can sometimes help to flatten scars.
Laser Therapy: This can lighten the color of the scar and make it less noticeable.
Steroid Injections: These can be used to flatten raised scars, although they come with their own set of risks and should be discussed thoroughly with your surgeon.
Surgical Revision: In some cases, a minor surgical procedure may be performed to improve the appearance of a scar, although this is generally considered a last resort.
Follow Your Surgeon's Advice:
It's crucial to adhere to your surgeon's post-operative care instructions, as proper wound care can also impact the appearance of scars.
By being proactive and discussing any concerns with your surgeon, you can make informed choices to minimise scarring and improve your overall satisfaction with the body lift procedure.
How Much Does Male Body Lift Cost?
The cost of undergoing a male body lift can vary widely due to several factors. Understanding these components can help you make an informed decision. Here's a breakdown:
Factors Affecting Cost:
Anaesthetist Fees:
The cost of the anaesthesia is separate from the surgical fees and depends on the anaesthetist's experience and the duration of the surgery.
Surgeon Fees:
Surgeons with extensive experience or those who are highly specialised may charge higher fees.
Facility Fees:
Costs for hospital stay, operating room, and other hospital services will also add to the total bill.
Type of Surgery:
Different kinds of lifts come with different price tags. For instance, a thigh lift will have a different cost compared to an arm lift.
Length of Surgery:
The longer the surgery takes, the more you'll be charged for the operating room and the anaesthetist's time.
Recovery Garments:
Post-operative garments that aid in recovery may not be included in the initial quote and could be an additional expense.
Estimating Costs:
During your initial consultation, your surgeon will discuss what type of body lift is most appropriate for you. Only then can a comprehensive cost estimate be provided.
Typically, a stand-alone procedure like a male abdominoplasty would cost less than a more comprehensive approach, such as a circumferential body lift combined with a thigh lift.
Note:
The estimate provided will usually be a breakdown of the various costs involved. It's important to remember that this is an estimation and actual costs may vary.
Being aware of all these factors will not only help you understand what you're paying for but also allow you to plan your finances better. Always discuss the financial aspects in detail with your surgeon during the consultation phase to avoid any surprises later on.
RELATED: Your Financing Options
Why Choose Centre for Surgery for Your Male Body Lift Procedure?
When it comes to choosing the right place for a transformative procedure like a male body lift, the decision shouldn't be taken lightly. Here are compelling reasons why Centre for Surgery stands out as your go-to specialist clinic:
World-Class Expertise
Our surgeons are highly experienced and specialise in various types of body lift procedures. They are renowned for their surgical skills, attention to detail, and commitment to patient care.
State-of-the-Art Facilities
Centre for Surgery boasts cutting-edge operating rooms equipped with the latest technology, ensuring that your procedure is carried out in the safest and most effective manner possible.
Personalised Approach
We understand that every patient is unique. That's why we offer customised surgical plans tailored to meet your specific needs, aesthetic goals, and medical history.
Comprehensive Consultation
Our thorough consultation process allows us to understand your objectives, evaluate your suitability for the procedure, and provide you with a detailed cost breakdown.
Exceptional Aftercare
We pride ourselves on our holistic aftercare programme, which is designed to facilitate a smoother recovery process and minimise complications.
Patient Testimonials
Don't just take our word for it! Listen to what some of our satisfied clients have to say:
"My experience at Centre for Surgery was excellent. The expertise of the surgeons is top-notch, and I couldn't be happier with my results."
— John D.
"The staff were incredibly attentive from start to finish. I felt cared for and knew I was in good hands."
— Sarah P.
For more insights, we invite you to visit our plastic surgery blog: Centre for Surgery Blog
Booking a Consultation
If you're interested in taking the next step, don't hesitate to reach out and book your consultation today:
Choosing Centre for Surgery is choosing a dedicated team that is committed to your wellbeing and aesthetic aspirations. Trust us to make your body lift experience a success from consultation to recovery.