What is Tummy Tuck (abdominoplasty)?
Tummy tuck is also known by its medical description, abdominoplasty. Abdominoplasty is a cosmetic surgery procedure for removing redundant skin from the abdomen and reconstructing the rectus muscle of the abdomen to give a more contoured, flatter and tighter-looking abdomen. Tummy tuck surgery is increasingly popular in the UK and ranks just behind liposuction in its popularity as a body contouring procedure. Abdominoplasty is a highly effective method for removing saggy and stretched skin that often develops after pregnancy or massive weight loss.
RELATED: Tummy Tuck FAQs – Q&As about Abdominoplasty Surgery
View our Tummy tuck educational video
The presence of extra fat beneath the skin of the abdomen leads to the overlying skin stretching out. When someone successfully loses a large amount of weight, this stretched-out skin cannot return to its original tight and contracted state. As we age, the production of collagen and elastin diminishes, leading to thinning of the skin and a resultant loss of skin elasticity which increases the likelihood of sagging and wrinkle formation. In older patients, even a loss of small amounts of weight can result in a significant amount of skin laxity due to the loss of collagen and elastin in the dermis. It is very common for women after pregnancy to develop excess redundant skin and loose, weakened abdominal musculature due to the increase in the volume of the womb during pregnancy. Tummy tuck surgery is a highly effective procedure for restoration of the female body shape to the pre-pregnancy state.
Nowadays, abdominoplasty is rarely performed in isolation and is most commonly combined with other body contouring procedures, including liposuction. Many women who have lost breast volume due to pregnancy and breastfeeding will also have a breast augmentation with or without a breast lift at the same time as a tummy tuck. The combination of abdominoplasty surgery with a breast augmentation or lift is often referred to as a mummy makeover. It is very popular with an increasing number of women unhappy with the shape of their bodies after childbirth.
Why have a tummy tuck?
Abdominoplasty is a highly successful procedure when carried out by an expert surgeon at Centre for Surgery. It can deliver long-term results provided that patients maintain a stable weight and avoid any fluctuations in weight to avoid the risk of recurrent skin laxity. Your surgeon may recommend against having a tummy tuck until you have completed your family as the risk of developing recurrent laxity is high for women who have had a tummy tuck followed by further childbirth.
Amazing from start to finish, the communication was the main thing was fully informed and looked after, on the day of my breast augmentation, the staff were fab and made me feel at ease through out the whole process. Thank you so much.
Mohammed Farid
18/11/2021
I've had such a great experience with excellent advice, care and attention and surgical treatment (gynaecomastia) - I can fully endorse the treatment I have received from Centre for Surgery with absolutely no qualms at all. Brilliant in every way - thank you all so much.
Caroline Thorpe
14/11/2021
Very pleased with my whole experience of having a procedure. Was so nervous about getting treatment and i was reassured and felt so comfortable throughout thanks to the amazing nurses. I definitely made the right decision to have breast augmentation at centre for surgery with dr erel.
Melissa Briggs
08/11/2021
So glad I went with centre for surgery, the whole process went very smoothly from the consultations down to the actual day of the procedure. I was so nervous on the day but the whole team put me at ease and I'm happy with my results as I feel a lot more comfortable wearing certain clothes now. My surgeon was Alberto Di Giuseppe who performed a breast Augmentation on me, and I would definitely recommend as he was very clear on what the outcome of the surgery would be and which size would look the best for my frame.
Couldn't be happier with Dr Tillo work,i had my breast surgery one week ago and so happy with the results so far,all the staff are extremely nice and very supportive,i would definitely recommend their services,thank so much
From start to the finish everything was perfect for tummy tuck surgery. All staff is very friendly and the aftercare has been good. The Doctor and the nurse team was fantastic. I'm so happy...result is amazing. Thank you!!!
This was overall a great experience, all the staff at Centre for Surgery were friendly and put me at ease. It is a nerve wracking thing to go through an op but the staff were so nice. Mr Ertan has got a great team around him. On the day of the operation everything went smoothly to plan, there was no delay or holdups, I had another consultation with Mr Ertan who confirmed what was going to be done and that I was still happy to proceed. I was prepped for the procedure, I met with the anaesthetist who again was really nice and put me at ease explaining his role. After the procedure I woke up with the nurse by my side making sure I was OK and checking on me, I was able to stay in the clinic until I was ready to leave and was not rushed at all. I was well looked after from the start to the point when I was discharged. Post operation I was staying at a local hotel it was so close there was no point in even getting a taxi and I was able to walk back where my partner was waiting for me. I was expecting a lot of bruising to both my eyes but there was very little if any by the time the cast came off after 7 days, I am now at the two week post operation point and it is healing well with no outwardly visible bruising or scaring. The next milestone is a checkup at the 6 week point with my surgeon. If you're thinking of having something like this done I would highly recommend getting in touch with Centre for Surgery.
The staff at Centre for Surgery were very kind and accommodating. They answered any questions I had about the procedure and were constantly checking up on me. A special thank you to Christina for all her support throughout.
I would just like to state the quality of care received from the nurses at Centre for Surgery was beyond the highest level. Sophie takes her patient care to another level beyond words. She always puts me at ease. She is there for me even at awkward hours just when I mostly needed reassurance and she is one of the most compassionate nurses I have come across and demonstrates her passion naturally for caring for others. She totally deserves recognition at its finest and thank you for always being there for me. 😍
Tummy tuck or abdominoplasty is one of the most commonly performed cosmetic surgery procedures at Centre for Surgery. Our surgeons are experienced in all types of tummy tuck surgery for comprehensive rejuvenation of the abdomen. The tummy tuck procedure can produce impressive results in both women and men.
| Tummy tuck | Fast facts |
| --- | --- |
| Procedure time ⏳ | 2-4 hours |
| Anaesthetic type 💉 | General anaesthetic |
| Length of stay 🛏 | Day case |
| Up and mobile 🚶🏻‍♂️ | 1 day |
| Washing 🛁 | 1 week |
| Travel ✈️ | 4 weeks |
| Sexual activity ❤️ | 6 weeks |
| Driving 🚗 | 4 weeks |
| Postoperative garment 👕 | 6 weeks |
| Sleeping 😴 | On back for 4 weeks |
| Exercise 🏃🏽‍♀️ | 6 weeks |
| Full recovery 🕺🏻 | 6 weeks |
| Final results 😃 | 6 months |
Tummy Tuck results
Browse our tummy tuck photo gallery to see the results achieved by our surgeons at Centre for Surgery. The before and afters below offer a sampling of the patient photos we have on file. When you come to see us for a consultation, a wide variety will be available.
RELATED: Tummy Tuck (Abdominoplasty) Before And After Photos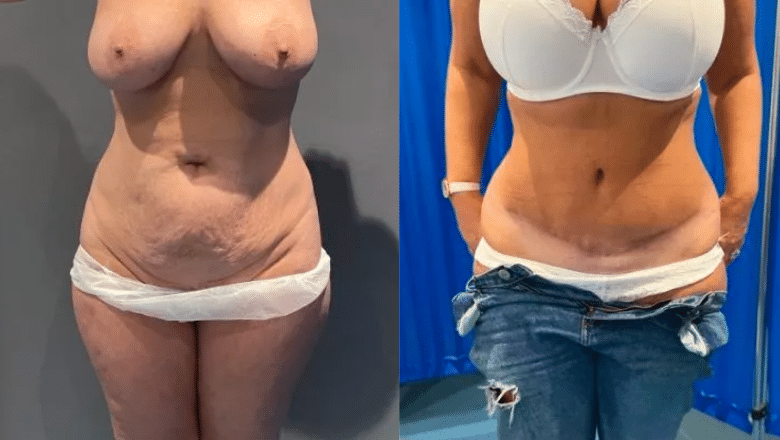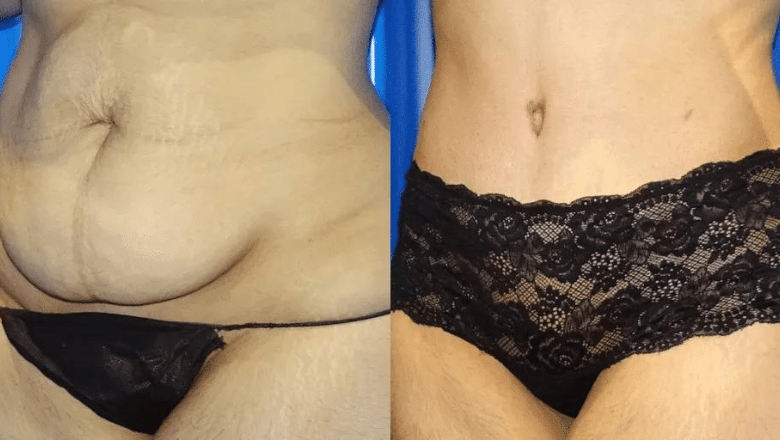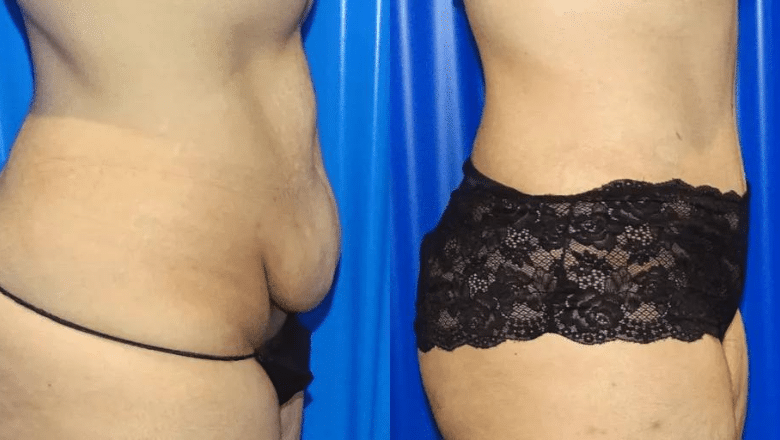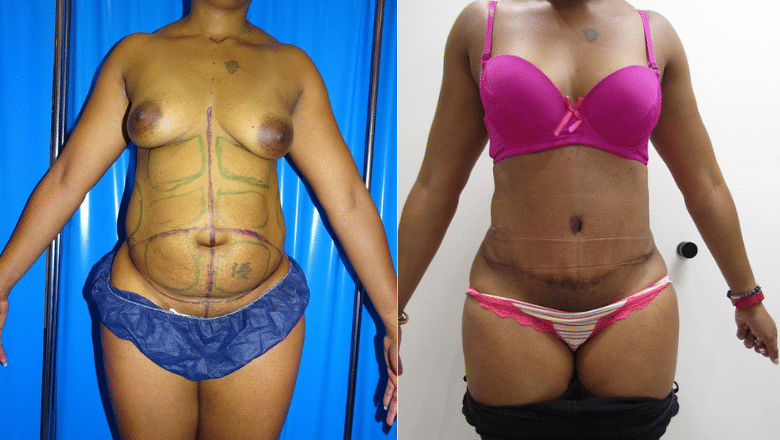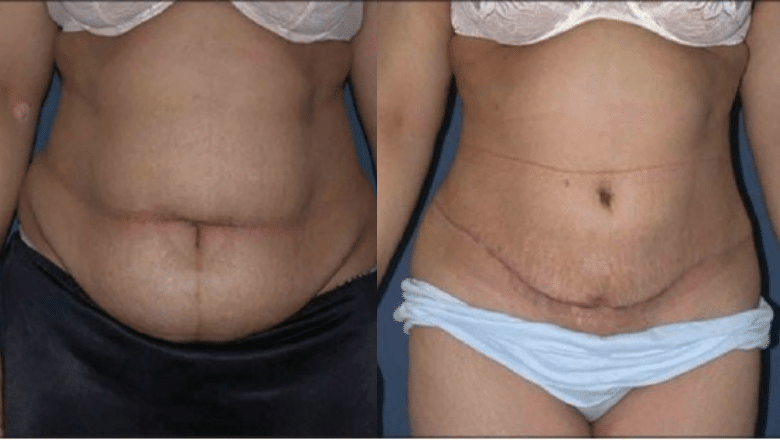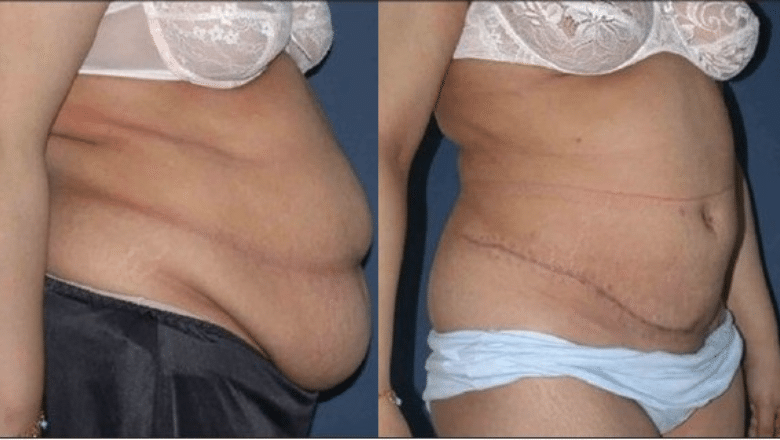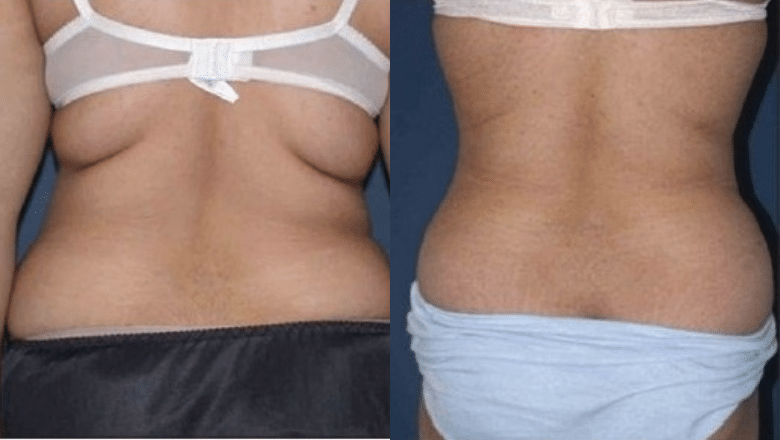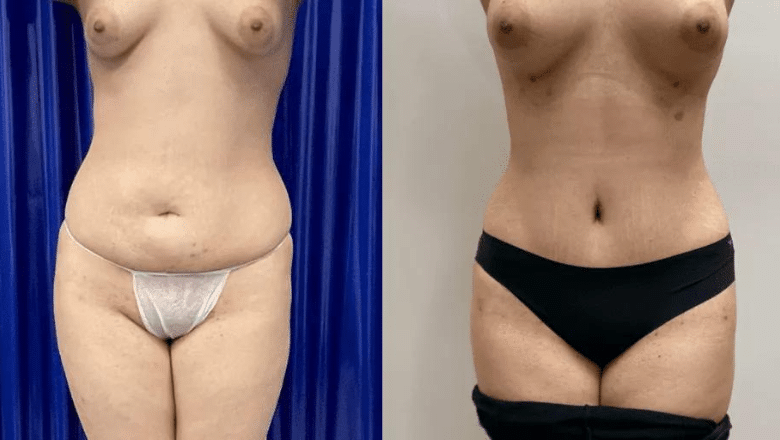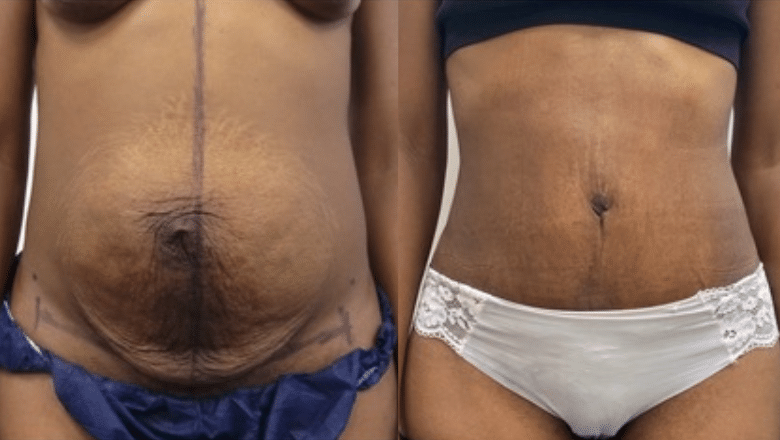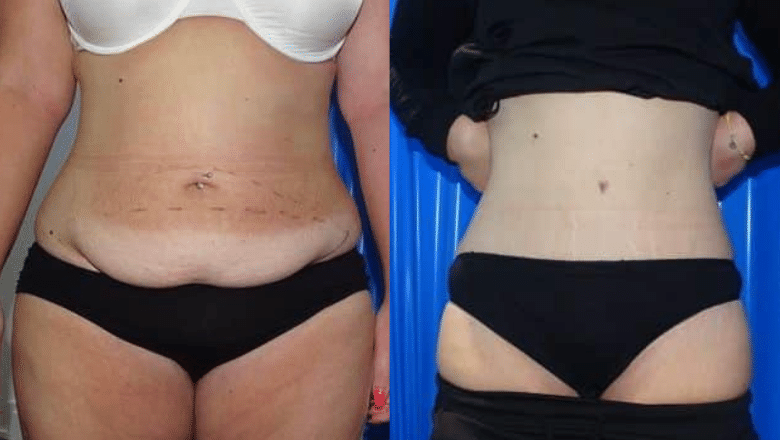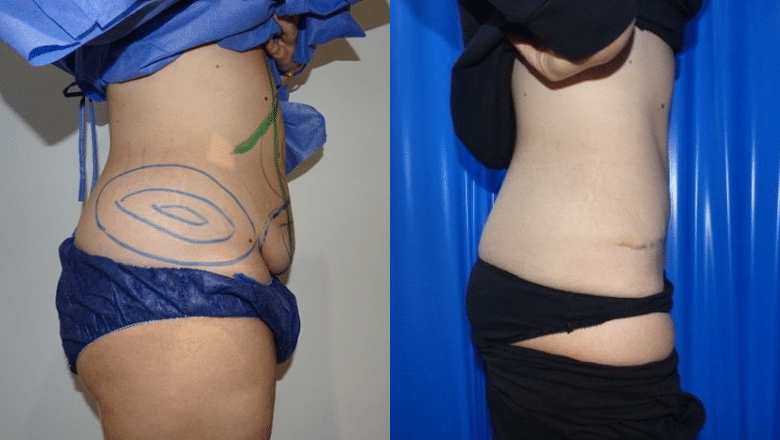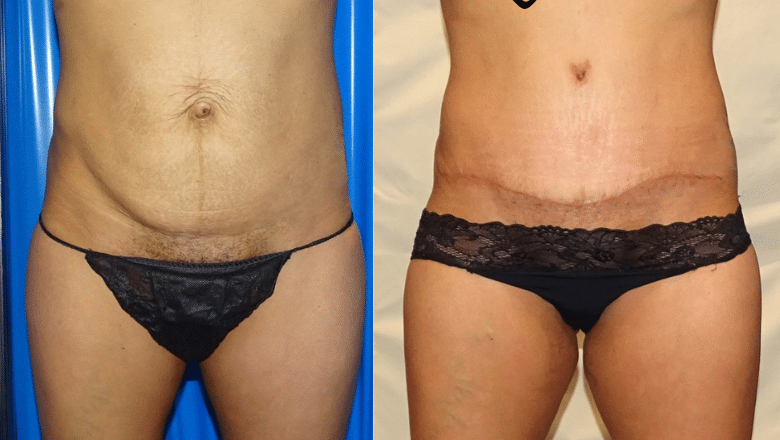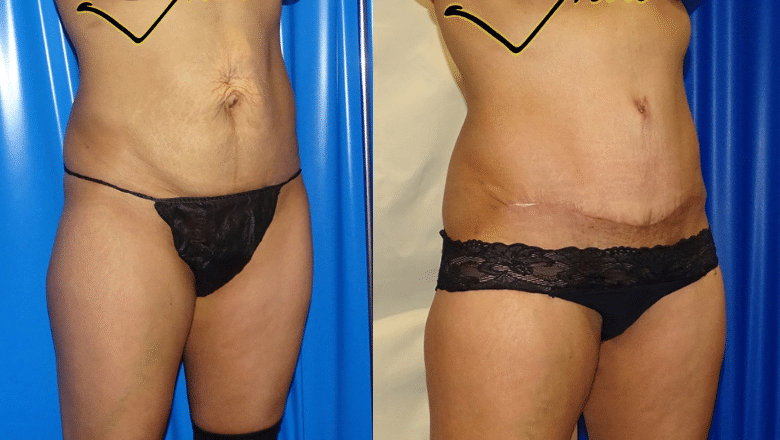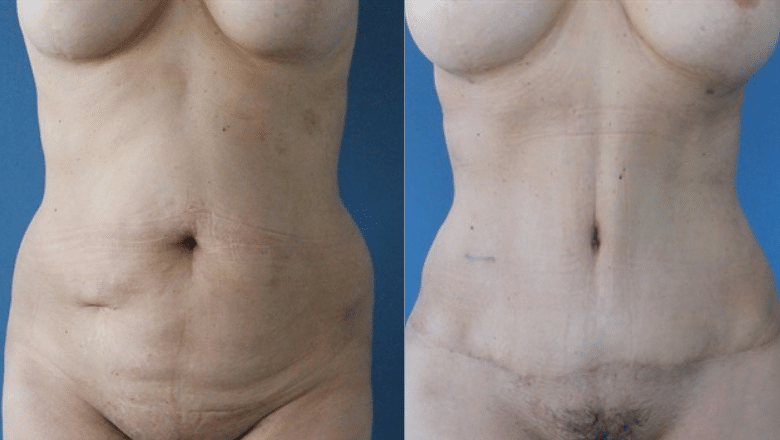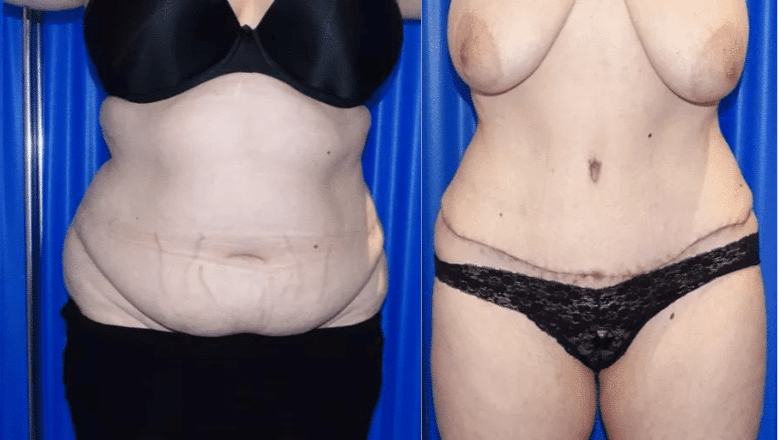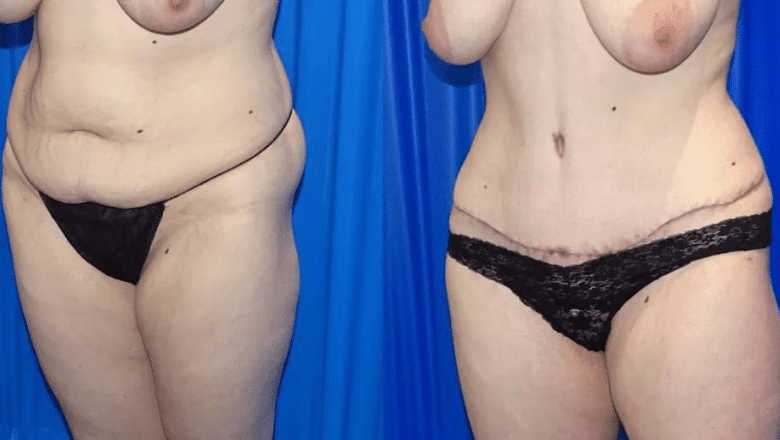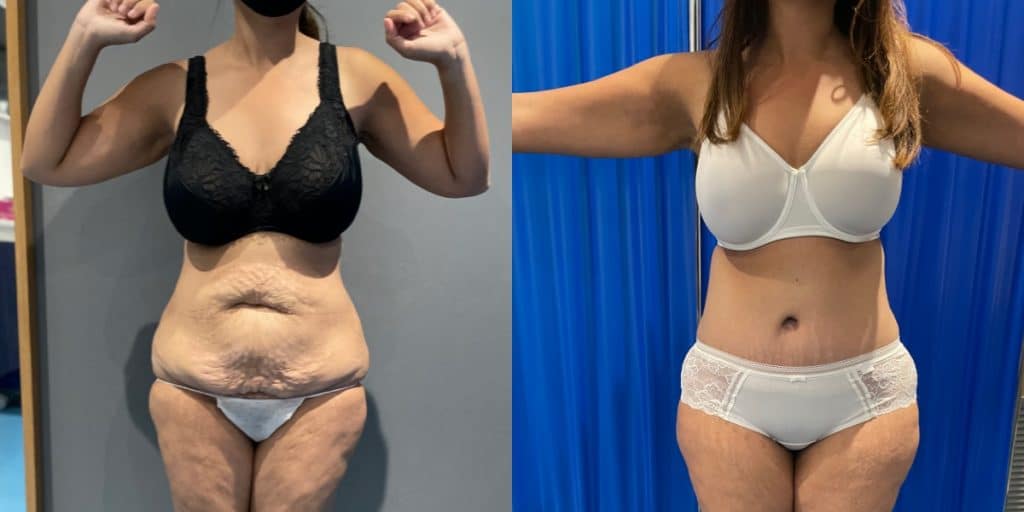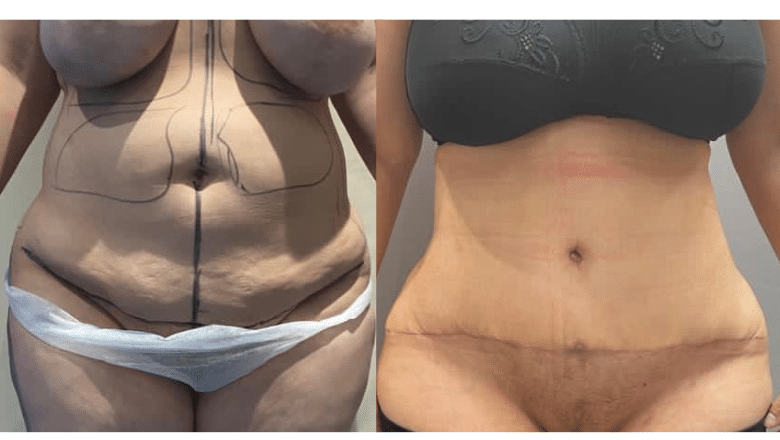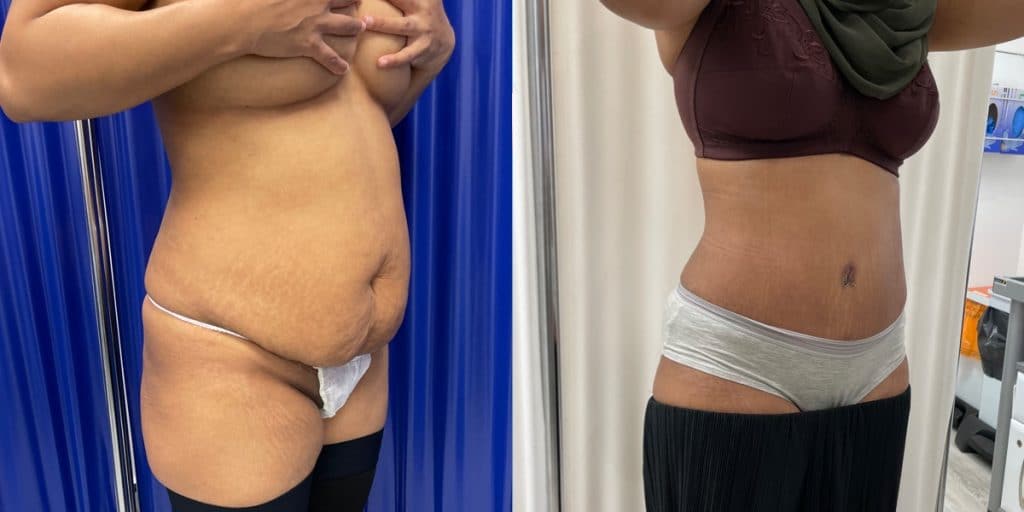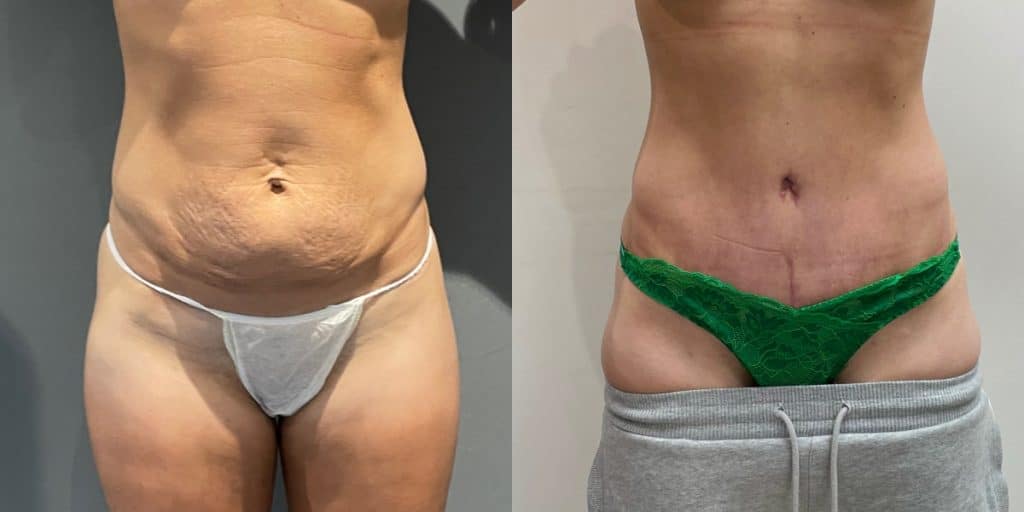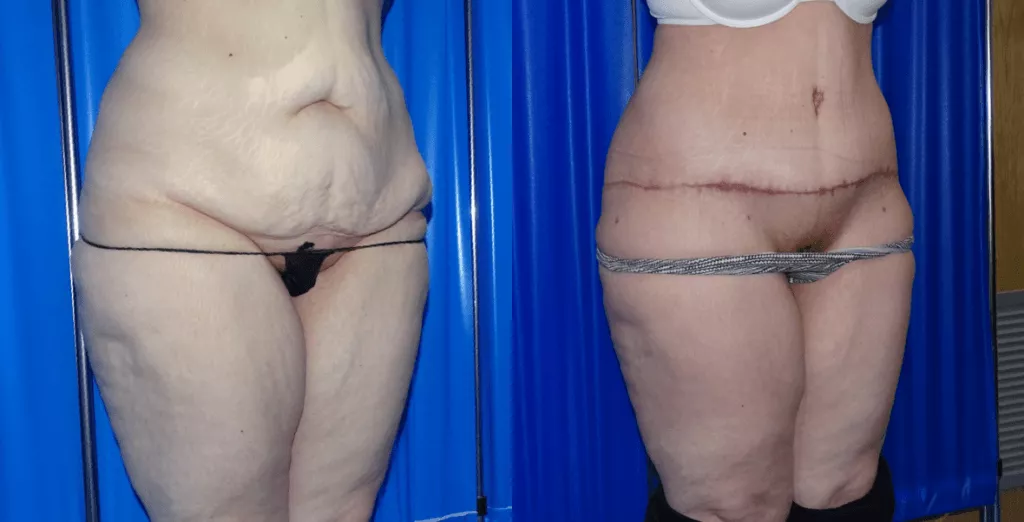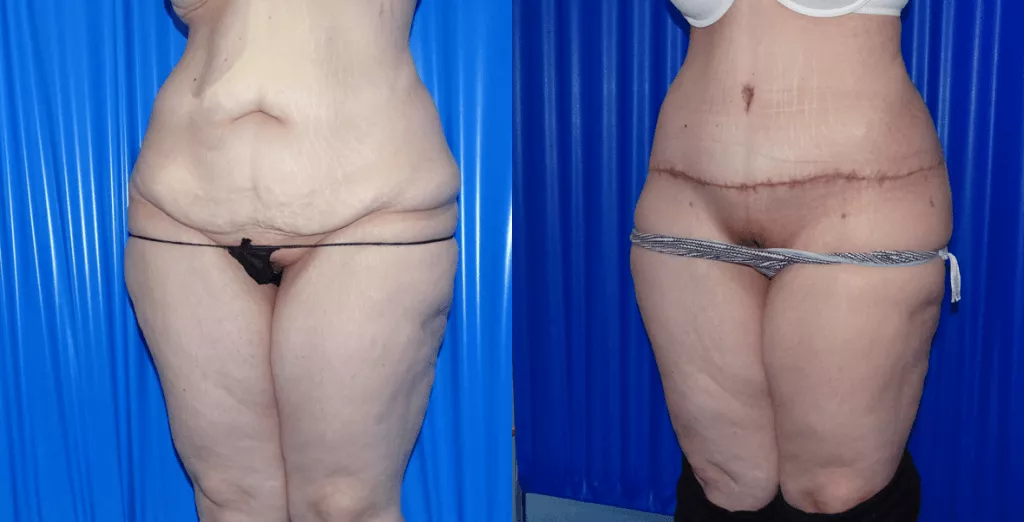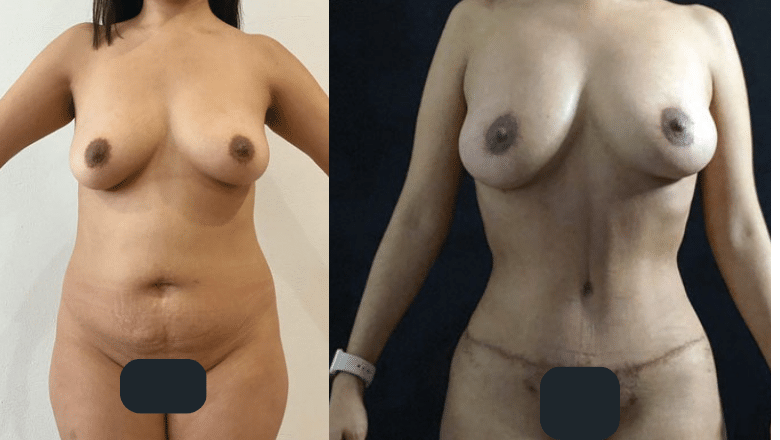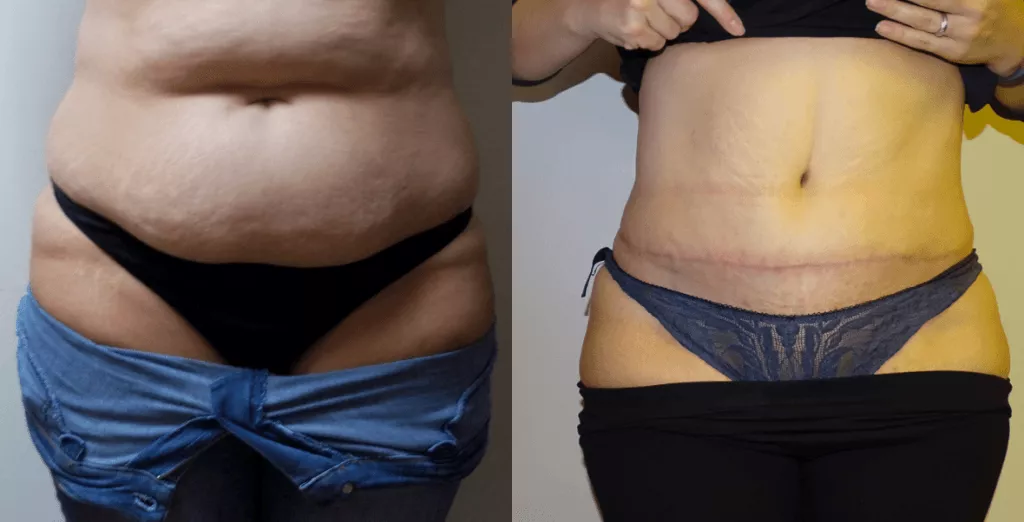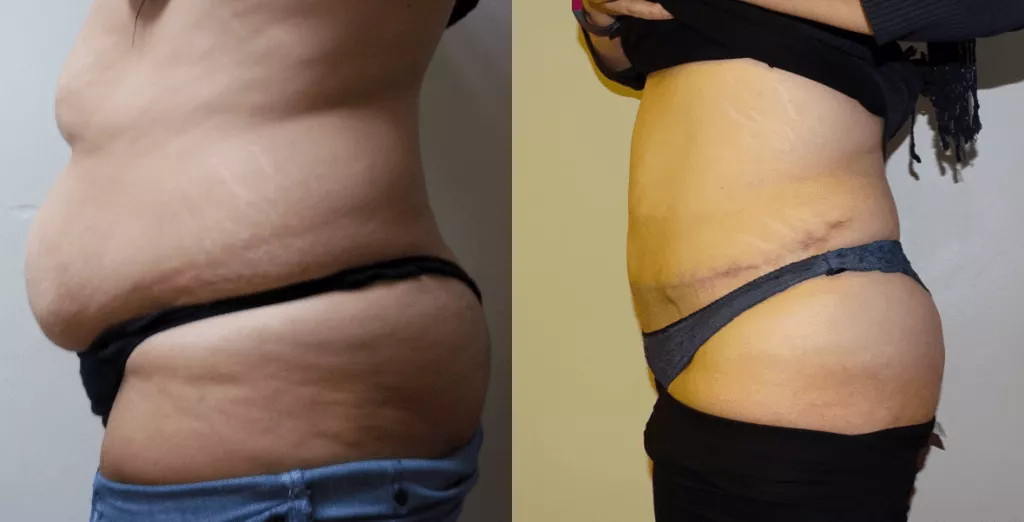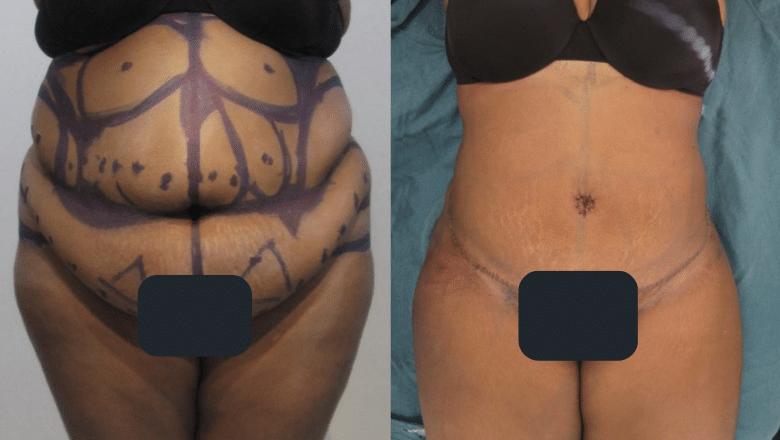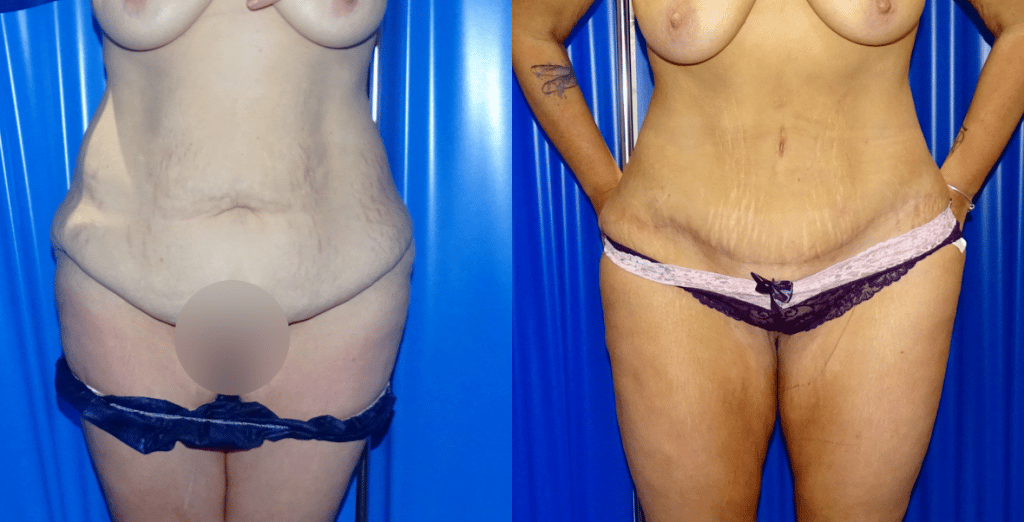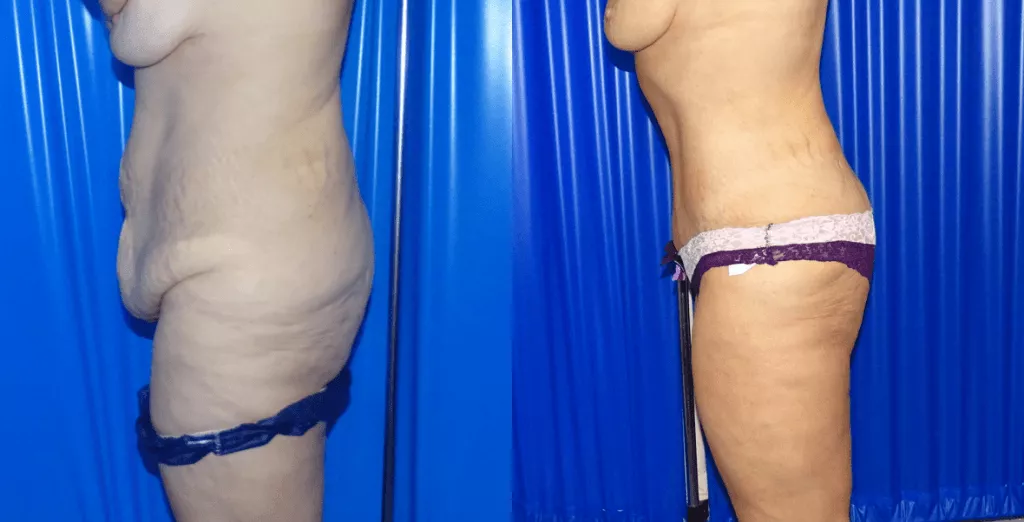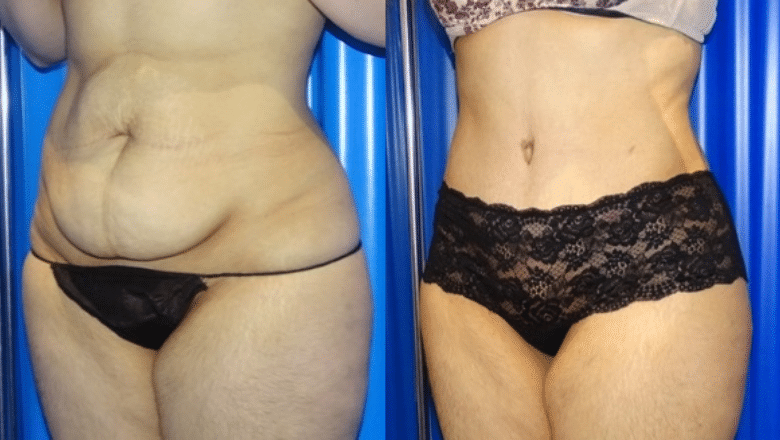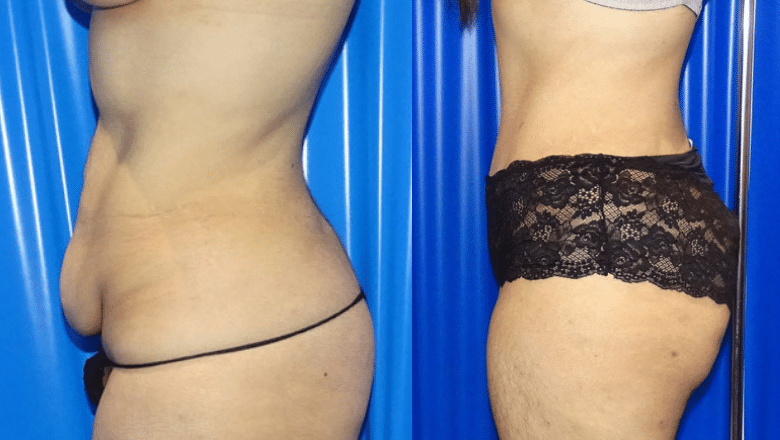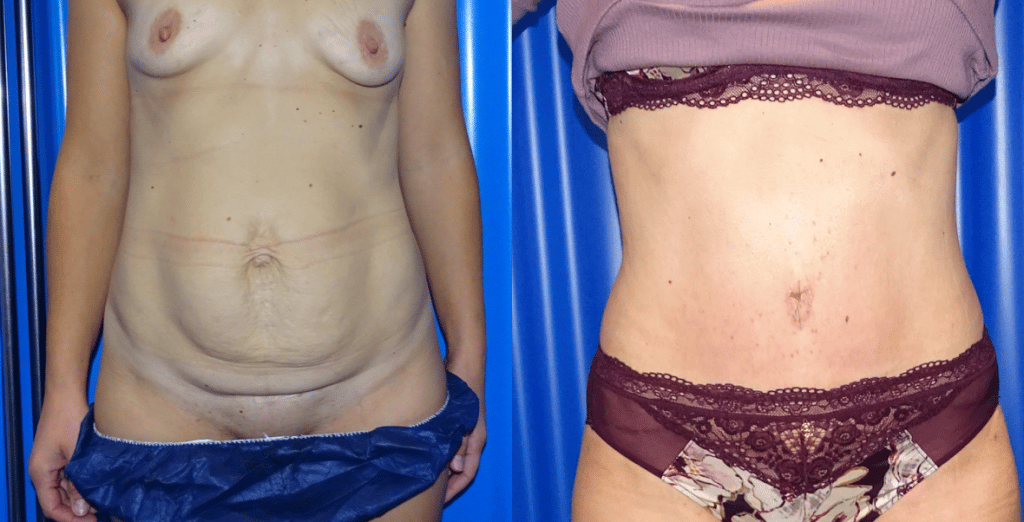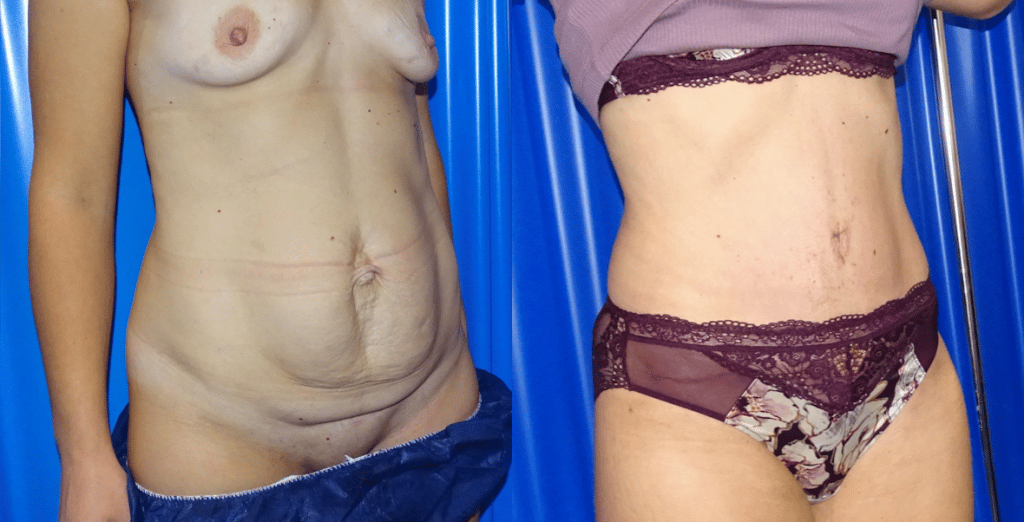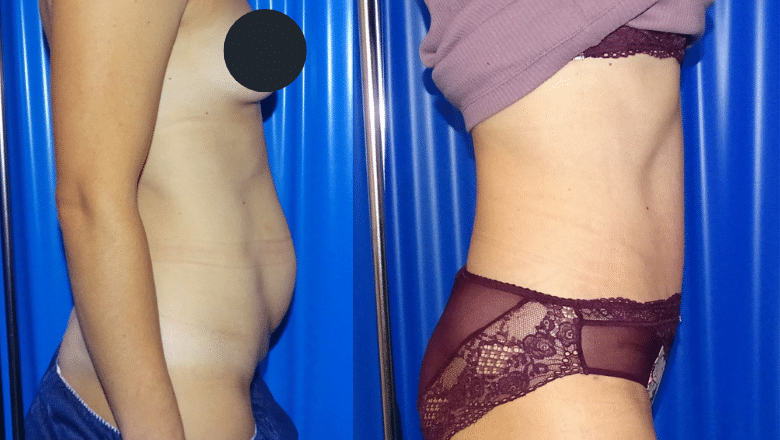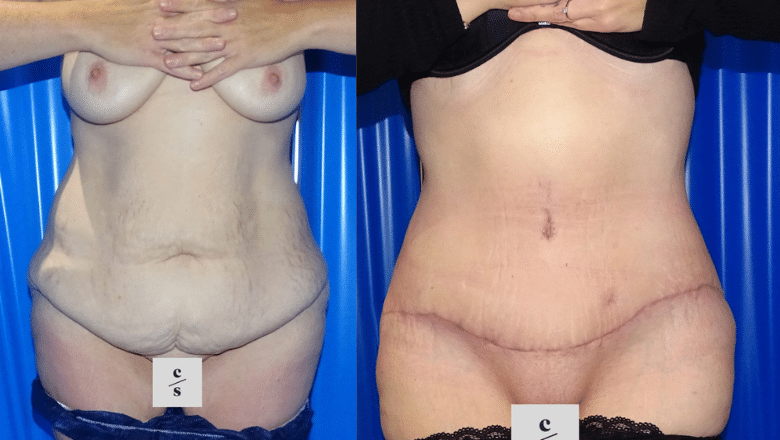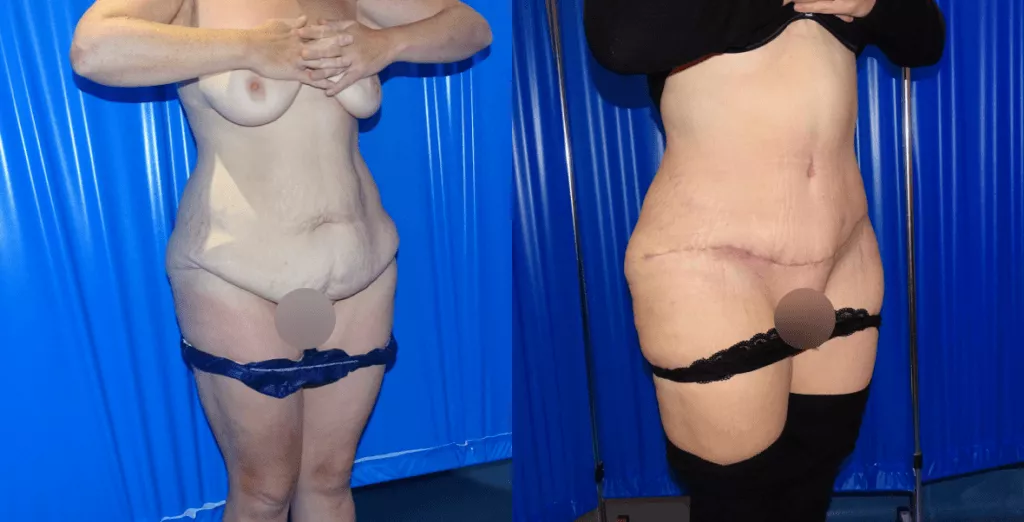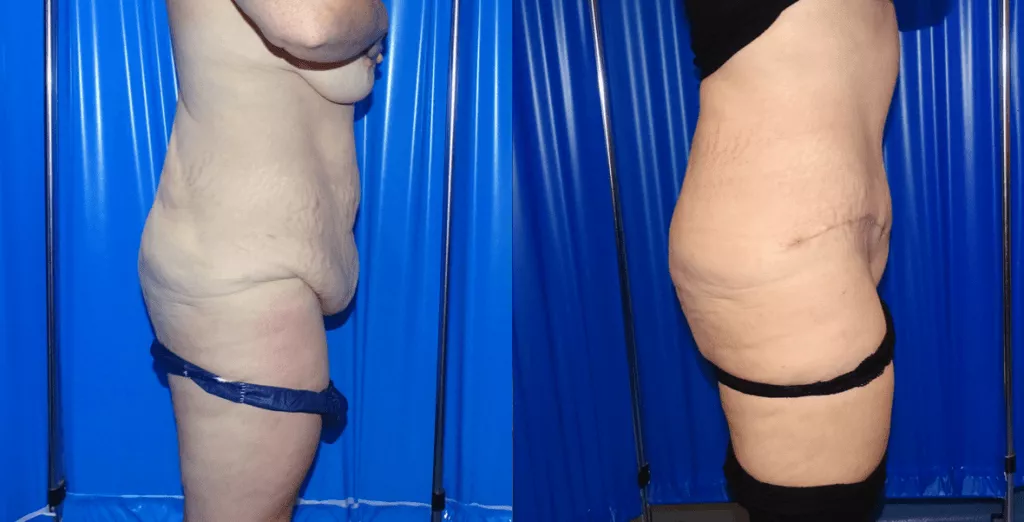 Tummy tuck London
A tummy tuck  (abdominoplasty) is a cosmetic surgical procedure specifically used to achieve a tighter, flatter smoother-looking abdomen. The procedure involves the removal of excess fat and skin along with the surgical repair of weakened and separate muscles.
There are two types of tummy tucks – mini-abdominoplasty and full abdominoplasty. The mini-abdominoplasty makes a smaller incision and removes fat and excess skin. The naval will be pulled lower, and there is not as much abdominal tightening required. As this surgery is smaller, there will be a quicker recovery time. At Centre for Surgery in London, we also perform a modern variant of the traditional abdominoplasty called a Brazilian tummy tuck.
In addition to skin removal and muscle tightening, this procedure also involves extensive liposuction to sculpt and contour the abdomen and flanks. Centre for Surgery are one of the very few providers of Brazilian abdominoplasty in London. We have gone a step further and taken the lipoabdominoplasty procedure and combined this with TIVA general anaesthesia to make us one of the few providers in the UK to offer day case lipoabdominoplasty. We also perform tummy tucks for men.
***Please note there is no non-surgical alternative to a proper abdominoplasty which, although invasive in nature, achieves dramatic results through skin tightening, muscle reconstruction and targeted fat removal – all in one procedure.
Whilst the surgeon will make every effort to make scars as concealed as possible, if you are not keen on the idea of large incisions, potentially long scars and a required period of downtime, then we do also offer a new, highly effective solution with BodyTite.
All our surgeons are on the GMC specialist register for plastic surgery. The Royal College of Surgeons of England has an excellent information resource on cosmetic surgery.
Why choose Centre for Surgery in London for your tummy tuck procedure?
Over 15 years of experience in all types of abdominoplasty

in London, including full, mini, extended and Brazilian abdominoplasty. So you can be sure our surgeons will select the right procedure for you. Abdominoplasty surgery techniques have vastly improved in the last 10 years. & we offer bespoke options rather than a 'one size fits all approach'.

We own and manage our own surgical facilities

. Properly performed abdominoplasty surgery takes time, so our surgeons perform a maximum of one tummy tuck per day and always schedule them for first thing in the morning. We take much longer to perform abdominoplasty than other providers, which is reflected in our 99.3% patient satisfaction rate. We do not cram 3-4 procedures into one day like other providers. You want your surgeon to be well-rested and mentally and physically sharp to perform abdominoplasty, which is a very demanding procedure to get the best results. Centre for Surgery have our own purpose-built operating theatre facilities both in central London and Watford. We do not use 'third-party' providers and can provide the highest standards of care at affordable prices.

Our surgeons live and work in London

. We don't work with 'fly-in, fly-out' surgeons from Italy. This is very important because whilst your surgeon takes all precautions to minimise tummy tuck complications, complications can and do occur. Our surgeons are readily available to manage any issues if and when they arise. All our surgeons are supported by a first-class nursing team who are on hand for you for any concerns you may have, however minor.
Our surgeons are full members of: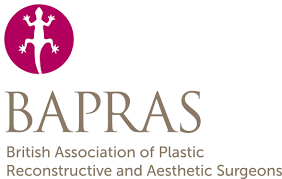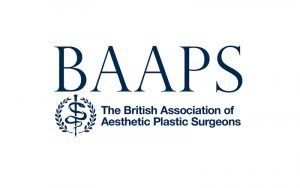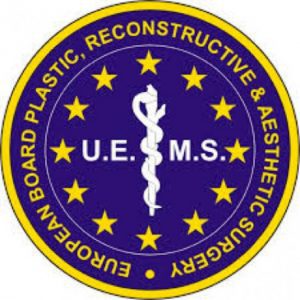 Tummy Tuck Expected Results
Tighter abdominal musculature to reverse the looseness which develops after pregnancy
Lipo contouring of the abdomen and flanks with liposuction
Removal of excess skin and fat that cannot be addressed with diet and exercise
Ability to revise unsightly c-section scars from previous pregnancies
Removal of stretch marks
Abdominal hernia repair
An improvement in confidence
Better fitting clothing
Things to consider before a tummy tuck
We believe that the best outcomes after tummy tuck happen when patients make the right choice of clinic and surgeon.
1. In deciding on the right clinic for you, always carry out extensive research and choose a well established and reputable clinic. Centre for Surgery are specialists in cosmetic surgery and have been established for many years. Our patient coordinators and surgeons are here to answer any questions you may have to empower you with the right information.
2. Your choice of surgeon should be based on their qualifications, experience and having a record of good patient feedback. You should know who you will be seeing before your consultation. At Centre for surgery, our surgeons are specially selected after a rigorous appointments process to ensure they have the right skill set to perform cosmetic surgery. Read more about our doctors here.
3. When choosing to have a cosmetic surgery procedure, you should not base your decision on price alone. It is important to make sure you are having treatment in a safe and regulated environment by staff who are both fully trained and caring to look after your needs – before, during and after your procedure.
4. Avoid clinics that offer a 'hard-sell'. If something sounds too good to be true, it probably is. We believe patient safety and happy satisfied patients are the bedrock of our reputation as an ethical provider of cosmetic surgery. Our doctors are known for giving straightforward honest advice and you can be assured that your journey with Centre for Surgery will be a positive experience on the path to renewed self-confidence.
Would highly recommend Centre for Surgery. Very professional staff who supported me through my entire journey from initial consultation to the procedure. Always on hand to answer any questions I had and thoroughly explained the procedure and associated risks to ensure I was well-informed.
Aesthetic ideals of the abdomen
Achieving a great tummy tuck result requires the surgeon to consider the position of the transverse lower scar, position and shape of the umbilicus, waist-to-hip (WHR) ratio, and definition of the underlying abdominal wall musculature. These considerations differ in female and male patients and must be taken into account because an ever-increasing range of patients seek abdominal contouring procedures.
The transverse tummy tuck scar should be well hidden by undergarments and swim wear. The popularity of swimwear and clothing that sits lower on the hips and abdomen dictates placing this incision approximately 5–9 cm above the vaginal opening in women and below prior scars such as for c-section.
Contour abnormalities of the abdomen can be classified based on skin laxity, amount of underlying fat, and muscle wall weakness with bulging and laxity to create a treatment algorithm using these techniques:
Type 1: minimal skin laxity and minimal muscle laxity treated with liposuction alone;
Type 2: mild skin laxity and muscle laxity confined to below the belly button treated with skin excision and muscle repair of the lower abdominal wall (mini-abdominoplasty);
Type 3: moderate skin laxity and muscle laxity above the belly button treated with abdominoplasty with or without creating a new belly button (modified abdominoplasty);
Type 4: significant skin laxity and muscle laxity treated with full abdominoplasty with or without liposuction.
What is the difference between a tummy tuck and liposuction?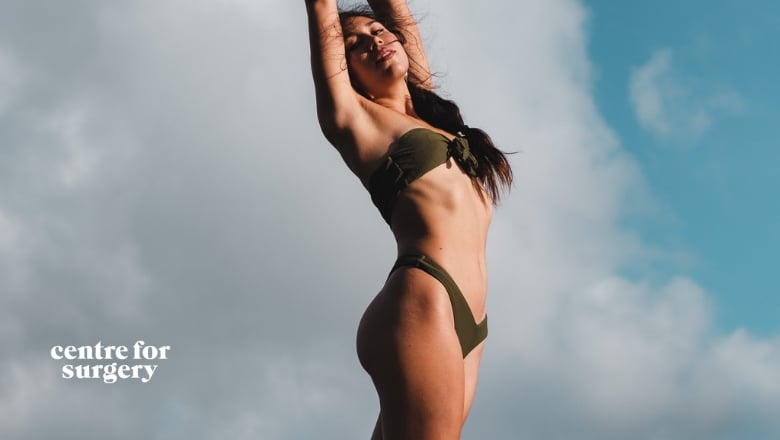 There are several differences between abdominoplasty and liposuction, including what results they can achieve and the best candidates for each procedure. It is best to discuss your wants, needs and ideal desired outcome in your consultation, so your surgeon can recommend the best procedure for you to have.
RELATED: What is the difference between liposuction and a tummy tuck?
A tummy tuck is more suitable for those who have excess skin or significant stretch marks. Liposuction can be performed alongside a tummy tuck. This is suitable for those people who have excess skin, such as from a significant weight loss, and may also have excess weight.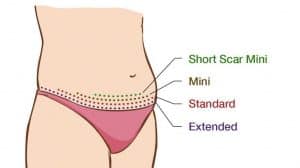 Liposuction only removes fat rather than excess skin. Liposuction will not alter the appearance of any stretch marks and could even make them worse, as the skin will be looser. Liposuction is more suitable for patients with excess fat but still have firm abdominal skin, as the skin will shrink after the liposuction. Patients now have access to a highly effective treatment for stretch marks in the form of Morpheus8 which our non-surgical practitioners offer at Centre for Surgery in London. 
If you are not keen on the idea of having scars from abdominoplasty surgery, Centre for Surgery also offers a 'scarless tummy tuck' utilising the innovative BodyTite platform. A BodyTite tummy tuck utilises minimally invasive bipolar radiofrequency to tighten the skin along with Morpheus8 RF microneedling. By using both BodyTite and Morpheus8, your surgeon can address mild to moderate skin laxity in a minimally invasive manner and without the downtime of a traditional abdominoplasty. A BodyTite abdominoplasty can be performed under local anaesthetic (with or without oral sedation) in properly selected candidates.
Your surgeon may also wish to combine the BodyTite/Morpheus8 combination with a mini-abdominoplasty to extend the benefits of partial skin excision. In this case, the procedure would be performed with TIVA anaesthesia.
Ideal candidates for tummy tuck surgery
The ideal candidate for a tummy tuck with or without liposuction is a woman who desires no further children with no significant medical conditions, normal body mass index of below 30, and loose abdominal muscles, also known as rectus diastasis, and/or skin laxity secondary to pregnancy.
However, with the ever-growing global obesity epidemic, a growing number of patients have significant fat deposits of the central abdomen and flanks. In addition, some patients seeking abdominoplasty present after massive weight loss (MWL), whether through weight loss surgery or diet and exercise, which may present unique considerations for surgical planning and management. 
Ideal candidates for tummy include::
Are physically and mentally healthy

Are close to their ideal body weight

Have good skin elasticity

Have large fat deposits

Have excess skin

Have lost elasticity in the muscles and/or skin, particularly due to pregnancy or ageing

Are a 

non-smoker

Are at a stable weight
How to prepare for cosmetic surgery
If you are planning to lose a large amount of weight, it is best to postpone this surgery until you have achieved your weight loss goals. This procedure is also not recommended for women planning future pregnancies, as the tightened muscles can separate during pregnancy.
If you have abdominal scarring, the surgeon may advise against undergoing an abdominoplasty, as this may increase the noticeability of the scars.
If you are interested in having this procedure, you may wish to look at our finance options.
Will a tummy tuck get rid of my stretch marks?
Stretch marks located on the region of abdominal skin marked for removal will, of course, also be removed along with the skin flap. The overall presence of stretch marks should become markedly reduced as a result. Stretch marks that are outside the area of skin excision will remain. Centre for Surgery offers several highly effective stretch mark removal treatments, including Morpheus8 micro-needling and fractional laser resurfacing.
What are the different types of Tummy Tuck techniques?
Centre for Surgery perform the full range of tummy tucks:
Full abdominoplasty
A full abdominoplasty addresses the removal of redundant extra tissue involving skin and fat. The muscle layer is also reconstructed, which helps to create a more narrow torso. Repairing the muscle layer is also referred to as rectus diastasis repair. A full abdominoplasty is ideal for patients after pregnancy or who have undergone weight loss. Traditional abdominoplasty does not involve liposuction and has become something of an obsolete technique in recent years.
Brazilian abdominoplasty
A full abdominoplasty has generally been a major surgical procedure with recognised complications including postoperative bleeding, seroma formation, delayed wound healing and abnormal scarring. Often complications require many post-op appointments with the doctor leading to an unsatisfactory outcome. Surgeons at Centre for Surgery specialise in the Brazilian tummy tuck or Brazilian abdominoplasty, similar to a full abdominoplasty. It involves removing excess skin, muscle repair of the rectus muscle, and creating a new position for the belly button. The key difference is the addition of liposuction to the above to facilitate a gentler method of mobilising the excess skin without excessive dissection and compromise of the blood supply to the skin flap. This leads to better healing and less risk of postoperative wound complications.
A Brazilian tummy tuck should not be seen as a lesser version of a full tummy tuck. It does not involve more steps and is a more effective body contouring procedure than an old-style 'cut and shut' abdominoplasty, which is still most commonly performed in the UK. Brazilian tummy tuck takes longer to perform than a full tummy tuck due to the extra liposuction required but the dramatic results achieved are well worth the extra time needed. In keeping with all the other types of tummy tuck performed at Centre for Surgery, a Brazilian tummy tuck is performed a day case procedure and a more favourable side risk profile compared with a full abdominoplasty.
Benefits of Brazilian Abdominoplasty:
Significantly less postoperative pain and discomfort

A shorter period of downtime

Lower risk of localised seroma or haematoma formation

Day case procedure, which means you get to go home and recover at home, leading to better healing.

A more defined and smaller waist as a result of liposuction combined with the tummy tuck
Downsides of a traditional tummy tuck:
Inpatient stay of 2-3 nights required with risk of acquiring nasty hospital superbugs
Increased period of recovery required
Higher risk of haematoma formation
More pain and with a regular requirement for postoperative opioid medicines given IV
Mini abdominoplasty
A mini-abdominoplasty is a smaller procedure than a full abdominoplasty. The procedure involves the removal of the loose skin from below the umbilicus. The procedure also involves the surgical tightening of the lower abdominal muscles. A mini-abdominoplasty is ideally suited for patients on the lower end of BMI (BMI<23) who have skin laxity below the umbilicus only and not above the umbilicus. The scar from a mini tummy tuck is shorter with a shorter recovery and downtime. With skin laxity above the umbilicus, a full abdominoplasty may be more suitable. As with a Brazilian abdominoplasty, the use of liposuction is used to contour the waist and is performed as a day case without any requirement for the insertion of drains.
One of the main advantages of a mini tummy tuck is that it can address smaller more localised areas of the abdomen in those who otherwise have good skin elasticity. Similar to a full tummy tuck, a mini tummy tuck is a highly effective surgical technique to tighten and contour the lower abdomen with long-term results provided that patients adhere to eating a healthy diet and maintaining a stable weight.
Extended abdominoplasty
Extended abdominoplasty involves the removal of extra skin and tissue from the flanks in addition to the abdomen. This often requires liposuction in addition to skin excision. The incision is longer than for a full abdominoplasty to ensure full correction to the sides. If you have extra muscle looseness in the hips and flank area in addition to abdominal laxity, an extended abdominoplasty may be an appropriate option. Liposuction is always a key component of an extended abdominoplasty.
Fleur-De-Lis abdominoplasty
A subset of patients who present for abdominoplasty surgery will have extra redundant skin both vertically and laterally. A standard abdominoplasty may not adequately address the loose skin located centrally. The Fleur-De-Lis technique of tummy tuck involves both the standard low horizontal incision and a vertical incision. The resulting incision resembles an inverted T shape with a small midline vertical aspect extending from the midline of the horizontal scar upwards towards the belly button.
Circumferential abdominoplasty or Body Lift
A circumferential abdominoplasty or 360 tummy tuck or body lift is a major procedure compared with a standard full abdominoplasty. It is an ideal procedure for massive weight loss patients who often have extensive hanging skin all the way around their torso. The incision encircles the torso is performed in 2 stages – first, the front is addressed followed by the back and sides. Circumferential abdominoplasty is often combined with a thigh and buttock lift. This is known as a lower body lift or belt lipectomy – A major body contouring procedure. At Centre for Surgery, body lift surgery is always carried out in a two-stage procedure to ensure proper healing.
Caesarean section scar revision
After a Caesarean section, it is not uncommon to develop a prominent fold of skin that sits above the C-section scar. The prominence of the scar is due to the attachment of the scar to deeper structures and therefore any fat or lax skin above looks much more obvious. Many women notice that the bulge protrudes through tight-fitting clothing. The extra skin and fat can be surgically removed and this can be combined with liposuction if appropriate. The Caesarean scar revision procedure is performed under local anaesthetic and as a day case procedure.
Revision abdominoplasty
Our surgeons see a growing number of patients who have had tummy tuck surgery with another surgeon elsewhere and are disappointed with their results. Our surgeons have sub-specialist expertise in abdominal wall reconstruction in the NHS and have years of experience performing revision tummy tuck surgery for patients who had their first procedure elsewhere – often overseas in places like Turkey.
Reasons to seek revision tummy tuck:
Excess fat not removed at the original procedure
A poorly shaped umbilicus
Insufficient muscle repair
An unsightly scar
A poorly placed scar (often too high)
I recently had surgery here and would definitely recommend, from initial contact from Carolyn to the aftercare I received was exceptional, Carolyn was very helpful and informative and answered all my questions – even the silly ones late at night! Dr Tillo was very knowledgable, professional and welcoming at the same time and put me at ease about the procedure, it's still early but so far I'm pleased with the results
What does a Brazilian tummy tuck involve?
A Brazilian tummy tuck also known as lipoabdominoplasty differs from a full tummy tuck in the following ways:
TIVA anaesthesia combined with specialist medicines to dramatically reduce intraoperative bleeding. Less bleeding leads to less inflammation and a smoother recovery.
Tumescent anaesthesia – The use of tumescent local anaesthesia (TLA) has revolutionised the safety of abdominoplasty. Tumescent anaesthesia involves the injection of a diluted local anaesthetic into the abdomen before the procedure starts. The benefits are numerous, including reduced pain, shorter recovery, less bruising and swelling and enhanced results.
Liposuction of the flanks – Tummy tucks performed elsewhere often omit this step to save time. One of the main reasons for the unsightly 'muffin top' after surgery is the lack of flank liposuction. Our surgeons routinely combine liposuction with abdominoplasty to shape and contour the waist area.
SAFElipo technique – SAFElipo helps contour the abdomen and helps to create defined surgical planes for accurate tissue dissection.
Advanced belly button reshaping techniques – a natural-looking belly button is an aim.
Barbed suture technology for improved scar cosmesis.
Utilising the shortest scar possible.
How to prepare for tummy tuck (abdominoplasty) surgery
You will be given detailed preoperative and postoperative instructions for tummy tuck surgery at your consultation with the surgeon. To ensure your recovery progresses smoothly and uneventfully, you should aim to follow all the steps below:
Ensure all the required blood tests if requested by the surgeon and get clearance by a medical specialist if you have a medical condition that requires close monitoring.

Make arrangements for a responsible adult to pick you up from the clinic and look after you for the first few days after tummy tuck surgery. You will not be allowed to drive home.

Collect your prescription medications before the day of the procedure, as some medications may need to be started straight away.

Buy any necessary supplies such as extra bedding, reading materials and entertainment products to make your first few days more comfortable.

Arrange for time off work for approximately one week

Eat a soft diet for the first few days after surgery to keep your digestive system functioning well.

Avoid smoking and exposure to people who smoke as nicotine interferes with wound healing and increases the risk of wound infection.

Wear your postoperative garment continuously for a full 6 weeks after tummy tuck surgery to ensure good healing and reduce swelling

Avoid strenuous exercise for 6 weeks.

Attend all your follow-up appointments with the nursing team and your surgeon to ensure you are healing correctly – try not to miss these.
Very happy with my experience at the Centre for Surgery, very helpful from start to finish and procedure was carried out very thorough. Any questions were answered quickly and in-depth so I had no worries and was pleased I went ahead with it. Even after the surgery, I've had calls and messages to check up on how I am and if everything went very well.
Benefits of TIVA anaesthesia for tummy tuck
Total Intravenous Anaesthesia or TIVA for short is the most advanced form of general anaesthesia available. Traditional general anaesthesia uses volatile gases, resulting in delayed recovery due to prolonged dizziness, drowsiness, and an increased risk of nausea and sickness. TIVA uses medicines given exclusively by the IV route, and the medicines used are both quick onset and short-acting.
This means that the recovery profile is smooth and quick for even longer procedures like a tummy tuck. Most patients will be ready for discharge after about 3 hours in recovery. Our anaesthetists also avoid the use of muscle relaxants which can prolong recovery and may increase the risk of complications. TIVA is regarded as a gentler form of general anaesthesia. Many patients will recall the quality of the anaesthetic to be far better than any anaesthetics they may have received in the hospital in the past.
Abdominoplasty procedure
Tummy tuck surgery is performed at one of our outpatient surgicentres using TIVA general anaesthesia. All our tummy tucks are outpatient procedures which means you will be admitted and discharged on the same day. Centre for Surgery are one of only a handful of providers in the UK to specialise in day case abdominoplasties.
A full abdominoplasty takes 3-4 hours to perform on average. In the case of combined procedures such as breast augmentation or breast lift, the procedure duration could take 5-6 hours.
Step by step tummy tuck
STEP 1: You will be placed under general anaesthesia

STEP 2: If required – the surgeon will perform liposuction to the flanks – you will lie on your front for this step

STEP 3: Liposuction using the SAFElipo technique is performed to the abdomen

STEP 4: The belly button is freed from the surrounding skin with a circular incision

STEP 5: An incision is made along the lower abdomen just above the public hairline – the length will vary on the amount of skin to be removed

STEP 6: The abdominal skin flap is created to the lower part of the sternum, and the redundant skin is then removed

STEP 7: The abdominal muscles are repaired

STEP 8: The belly button is brought out to a suitable position and sutured in position

STEP 9: The abdominal incisions are closed

STEP 10: Two drains are inserted, dressings are applied, and a postoperative compression garment is applied
An abdominoplasty is performed as an outpatient surgery. This means you will be able to return home the same day as your tummy tuck and recover in the comfort of your own home. You will need someone to drive you home, and you may wish to have someone stay with you for the first few days following the procedure.
Before deciding to undergo the procedure, make sure you know about the risks of choosing to undergo a tummy tuck abroad.
How will my belly button look after tummy tuck surgery?
In full and extended abdominoplasty surgery, a new belly button will need to be created after the skin is pulled down. The original belly button will be released from its original location and secured in the new location once the surgeon has removed all the excess skin and fat. Our surgeons are well known for their specialist expertise in umbilicoplasty surgery, using advanced methods customised to each patient to ensure naturalness.
RELATED: What happens to the belly button in a tummy tuck?
In mini tummy tucks, your original belly button will be preserved.
What does tummy tuck recovery involve?
After the procedure, your surgeon will apply waterproof dressings to the horizontal incisions and the umbilicus. A well-fitting compression garment will then be applied. This should be worn for 6 weeks after surgery. When walking, you should try to walk with a slight stoop forward for 2 weeks to avoid undue tension on the incision line to optimise wound healing.
RELATED: What does tummy tuck recovery involve?
The first few days following the procedure will be the most uncomfortable, and you may experience some pain. You can take medication to help manage your pain. You will have to avoid any strenuous activity during the recovery period, particularly if your abdominal muscles were tightened. You should avoid physical activity for four to six weeks.
After the abdominoplasty, you will notice bruising and swelling in the abdominal area. This will take between one and two weeks to reduce. You may be given a garment to wear, which will help to reduce the swelling. This swelling will reduce the results of the procedure, but you will be able to notice this once the swelling has gone down. However, it may take several months to see the final results.
After surgery, you will retain some water, which can cause temporary weight gain. This is a completely normal side effect and will quickly dissipate. You should stay mobile to reduce the risk of venous thromboembolism occurring.
SEE ALSO: Top strategies to reduce the risk of venous thromboembolism
To help speed up recovery, you will need to avoid smoking. Smoking reduces the amount of oxygen, which can result in infections and problems with wounds.
Your surgeon and medical team will contact you during your recovery period to monitor your progress and help avoid any complications.
SEE ALSO: Best sleeping positions post-surgery
How to look after tummy tuck scars
Our surgeons are trained to create low transverse incisions which sit directly above the pubic area. The length of the tummy tuck scar will depend on the type of tummy tuck that is chosen. The appearance of the tummy tuck scars will be influenced by proper care of the area and following the post-procedure instructions to optimise its appearance.
Top Tips to Help with Tummy Tuck Scar Healing
It is important to keep the postoperative dressings for the recommended duration.

Avoid stretching the area too much. An example would be bending backwards, which may stretch the scar.

Avoid sun exposure. Sun exposure leads to excess scarring and delays wound healing.

Use recommended silicone scar gels and medical-grade brown tape.

Have patience. Any scar takes time to mature and fade. Scars that are still overly prominent can be treated with several modalities, including laser or Morpheus8. Centre for Surgery has a specialist department for scar revision of all types of scars at our 106 Crawford Street clinic.
Tummy tuck drains
The surgeon places surgical drains at the end of the abdominoplasty procedure to facilitate the removal of any blood or body fluids. The drains are under negative pressure, allowing any fluid inside the abdomen to drain efficiently outwards. Without drains, the risk of seroma and haematoma development is much increased, resulting in an adverse impact on wound healing. Our patients are sent home with two drains in situ, and your surgeon will give detailed postoperative advice on all aspects of drain care, including emptying the contents. One of our expert nursing team removes the drains between 3-5 days following your tummy tuck procedure. Drain removal is an effortless and straightforward procedure and takes less than 30 seconds per drain removal.
How do I look after my surgical drain?
You will be discharged with two drains in situ. It is important to keep the drains in a bag to minimise the risk of them coming out prematurely on their own. The drains should be handled only with clean hands and avoid any water from bathing from getting into the drain sites. The character of the drain output is also essential. A straw-coloured or pink colour is to be expected. If the output looks like bright red blood or thick cloudy fluid resembling pus, then this should be urgently reported to your surgeon. Any unusual drainage should always be reported to the surgeon. We may need to call you in for a face-to-face assessment.
Can I get a drain-free tummy tuck?
A drain-free tummy tuck, also known as a "dry" tummy tuck, is a newer technique in which the surgeon does not use drains during the healing process. This technique can offer several benefits for patients, including less discomfort, less risk of infection, and a quicker recovery time.
During a traditional tummy tuck, the surgeon will make an incision in the lower abdominal area, and will then remove excess skin and fat. The remaining skin will be tightened and the abdominal muscles will be repaired, if necessary. After the surgery, the surgeon will place drains in the incision area to remove any excess fluid that may build up. These drains can be uncomfortable and can make it difficult for patients to move around, and they need to be checked and emptied regularly.
A drain-free tummy tuck, on the other hand, uses special techniques and devices to reduce the amount of fluid that accumulates in the surgical area after surgery. This can include the use of compression garments, special dressings, and other techniques to help the body to reabsorb the fluid more quickly. By reducing the need for drains, patients can experience less discomfort, less risk of infection, and a quicker recovery time.
It's important to note that not all patients are candidates for a drain-free tummy tuck. Factors such as the size of the surgical area, the patient's overall health, and the surgeon's experience and expertise may affect the ability to perform a drain-free tummy tuck.
It is important to consult with a qualified plastic surgeon who has experience with drain-free tummy tuck techniques, in order to determine if this approach is suitable for you and to discuss the potential benefits and risks. Your surgeon will also give you detailed instructions for post-operative care, which will be crucial for the success of the procedure, and can include the use of compression garments, special dressings, and physical therapy.
In conclusion, a drain-free tummy tuck is a newer technique that can offer several benefits for patients, including less discomfort, less risk of infection, and a quicker recovery time. However, not all patients are candidates for this procedure, and it is important to consult with a qualified plastic surgeon who has experience with drain-free techniques in order to determine if this approach is suitable for you. With the proper care and follow-up, patients can enjoy the benefits of a drain-free tummy tuck for many years to come.
Risks and potential complications of tummy tuck surgery
Our surgeons have many years of experience in abdominoplasty surgery of all types. Advanced techniques are used to provide patients with the ideal result for them. When you choose a reputable provider such as Centre for Surgery for your tummy tuck, the abdominoplasty procedure is performed to the very highest standards.
Tummy tuck risks:
Anaesthetic risks
Venous thromboembolism
Hypertrophic scars
Delayed wound healing
Excessive bleeding
Seroma or haematoma
Nerve injury or changes in skin sensation
Asymmetric results
Surgical site infection
Requirement for revision procedure
How much does a tummy tuck cost?
There are a number of factors that will determine the overall cost of your tummy tuck procedure, and the final quotation will be given after a face-to-face consultation with your specialist plastic surgeon.
Type of tummy tuck – full, mini, extended or revision
Tummy tuck combined with another procedure such as breast surgery
Number of areas of liposuction in combination with a tummy tuck
Primary or revision tummy tuck
Why not call 0207 993 4849 and speak to one of our expert patient coordinators who may be able to give you a rough costing prior to a consultation for a tummy tuck.
Always remember that price should never be the determining factor when it comes to choosing a plastic surgeon for your tummy tuck procedure. We feel that safety and quality of service should be your number one priority and instill in you the confidence that our team will look after you before, during and after your procedure to the best of their ability.
What is included in my treatment package?
As many preoperative consultations with your surgeon as you like to make sure the tummy tuck procedure is right for you
Treatment at a specialist day surgery facility recently rated 'Good' by the CQC
Enhanced same-day discharge with the added benefits of recovering in your own home
24/7 clinical support from your surgeon for the first 48 hours and our expert postoperative support team
Your very own dedicated patient coordinator available to answer all your questions
In-depth preoperative medical assessment to make sure you are fully fit for your tummy tuck procedure
Exceptionally high standards of postoperative care are described as 'outstanding' by the CQC with regular telephone and face-to-face checks to ensure you are healing well.
Spread the cost of your tummy tuck procedure – from as little as £120 per month

Centre for Surgery is fully approved to offer finance via our specialist finance partner, Chrysalis Finance.  no longer need to use your savings to pay for your treatment – you can apply to spread the cost of your procedure with Chrysalis Finance using their simple 1,2,3 application to pay for your procedure. Don't wait until you have enough money for your treatment, apply today and (subject to status) pay for your procedure easily in monthly instalments, using one of their payment options. Chrysalis Finance is the only ethical provider that focuses solely on the provision of specialist financing for medical procedures.
Schedule a tummy tuck consultation
If you would like to learn more about the benefits of an abdominoplasty, schedule a consultation with one of our top cosmetic surgeons at Centre for Surgery. Our patient coordinators are extremely knowledgeable about all aspects of the procedure and they have been directly trained by our team of consultant plastic surgeons.
[baslider name="tummytuck"]
What To Expect
The consultation
When you have a consultation with an experienced body contouring surgeon, a number of measurements are taken of the body areas where fat is to be removed and an assessment will be made of the soft tissue quality. Those who have good skin elasticity then you may be a good candidate for liposuction alone. If however, you have significant skin laxity with associated muscle weakness then a tummy tuck may be a better option. Your surgeon has is skilled in all types of tummy tuck surgery including the Brazilian tummy tuck and the most appropriate choice will be made based on your physical examination (full/mini/extended). The surgeon will also give information on the location of the incisions for the abdominoplasty procedure which usually runs from hip to hip and around the belly button if a full tummy tuck is planned. If you have a consultation for a revision tummy tuck after surgery performed elsewhere, your surgeon may want to see you again for a second consultation. He will want to see the medical records from your previous tummy tuck to plan the revision abdominoplasty more effectively.

High-resolution photos will be taken and your surgeon may also use computer digital imaging to map your areas of concern in closer detail. Your surgeon will take time to discuss the important risks and potential complications of abdominoplasty surgery and what you can expect in the postoperative period.

The surgeon will also take a full medical history which includes previous operations, current list of medicines taken and any potential allergies. This information will be used to decide on your fitness for the tummy tuck procedure. If you are deemed to be a suitable candidate for surgery then we would recommend spending a period of time to reflect on all the information given. We always recommend a minimum of a '2-week cool off period' to weigh up your options.

All our prospective patients are more than welcome to have as many follow-up consultations after their initial consultation to make sure you are fully empowered with all the information to make an informed decision for proceeding with tummy tuck surgery at Centre for Surgery.
Before the abdominoplasty procedure
Once you have decided that a tummy tuck procedure is right for you, our preoperative assessment team will be in contact to prepare you for the procedure.

The following are recommended actions to take:

- For 6 weeks beforehand, it is highly recommended to stop smoking as active smoking is associated with a number of risks including delayed wound healing which could result in wound infection. There is also a risk of impaired blood supply to the abdominal skin flap and this could result in wound breakdown.

- You should stop oestrogen-containing oral contraceptives 4 weeks before your procedure.

- You should also avoid aspirin and all medicines containing aspirin for at least one week prior to the tummy tuck procedure.

- For 6 hours before the abdominoplasty procedure, you should refrain from eating any food or any type of drink apart from sips of clear fluid (water and tea/coffee without added milk) which is allowed for up to 2 hours before the procedure.
On the day of the tummy tuck procedure
Please aim to arrive for your abdominoplasty procedure at the confirmed time. One of our nursing team will admit you for the procedure and will carry out a number of tasks including checking your blood pressure and other vital signs including pulse and temperature and then getting you changed into single-use clinic wear. The consultant anaesthetist will then come in to assess you to make sure you are fit for the TIVA anaesthetic and will also prescribe a number of pre-medications which are given by your nurse to help your recovery after the liposuction procedure. You will then be seen by your surgeon who will confirm the procedure to be undertaken and you will sign the informed consent form. Skin marking and photos may be taken at this point.

Abdominoplasty is a very commonly performed procedure at Centre for Surgery and is carried out under TIVA general anaesthesia as a day case. The tummy tuck procedure takes between 2-4 hours to perform depending on the extent of the procedure and if other procedures are combined as well. The surgeon begins by making an incision across the lower abdomen as low as possible to ensure optimum concealment of the resulting scar and an incision is made around the belly button. The abdominal skin flap is carefully undermined using radiofrequency cautery all the way to the lower ribcage. This resulting skin flap is then pulled down and the excess redundant skin is trimmed off to match the new contours. Liposuction is also performed to the upper abdomen, flanks and edges of the incision to create a smaller waist. The incision is closed with minimal tension to maximise good wound healing. A new opening for the belly button is created and the existing belly button is sutured into its new position. You may have one or two drains inserted to collect any excess fluid used during the liposuction and these are usually removed about 2-3 days later in the clinic.

Once you have woken up from the TIVA anaesthetic, our nurses will closely monitor you for 1-3 hours afterwards to make sure you make a full recovery. You will be given a fruit juice drink or a hot drink as you prefer to build up your energy levels. Once you are assessed as fit for discharge, you will require a responsible adult escort to take you home in a car or taxi and to look after you for at least the first 24 hours after surgery. You may have a mild sore throat for a few hours after surgery. This is due to the presence of the breathing tube used for your anaesthetic - it is temporary in nature.
After your procedure
After your procedure, our dedicated postoperative support team are available round the clock to answer any questions or concerns you may have. Our team will call you regularly for the first 2 weeks after your procedure to make sure your pain levels are well controlled and your healing is progressing as normal. You will need to come in for drain removal by one of our nurses 2-3 days after your procedure.

The recovery after a Brazilian tummy tuck is usually straightforward with minimal discomfort that can be effectively controlled with tablet painkillers and the majority of our patients are very comfortable by the end of week 1. The key is to keep well hydrated and keep mobilising gently to help the healing process as there is a risk of DVT/PE after tummy tuck surgery. Your doctor may recommend a period of approximately one week off work. You should minimise any excessive physical activity for the first 2 weeks after surgery to help with the healing of the incisions and reduce swelling.

You will be required to wear a supportive compression garment for a full 6 weeks to make sure healing is optimal, and also so that scars heal as best they can.

You will attend for a postoperative check-up with one of our nursing team at 7-10 days to review your surgical wound sites and ensure proper healing is taking place. Recommendations on treatments for scar healing may be given for optimal cosmesis. At 6 weeks you should begin to see your final results and you will see your surgeon for a comprehensive review and make sure your results are in line with your expectations.