Tummy Tuck London UK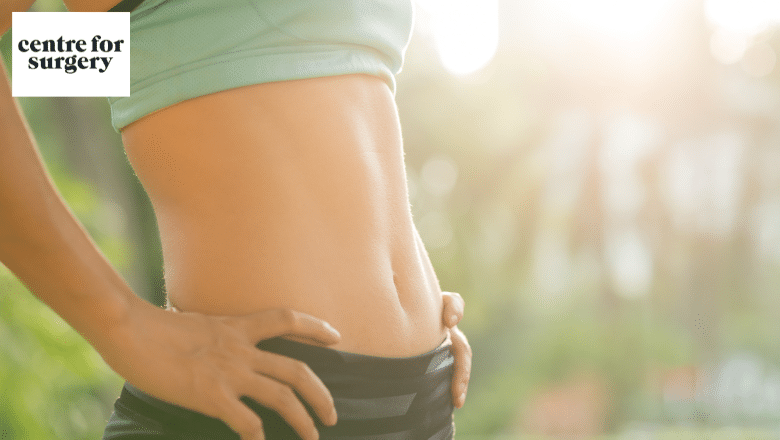 Rediscover your confidence with a Tummy Tuck – the transformative procedure that eliminates excess skin and fat, revealing a flatter, firmer, and more youthful abdomen
Tummy tuck is also known by its medical description, abdominoplasty. Abdominoplasty is a cosmetic surgery procedure for removing redundant skin from the abdomen and reconstructing the rectus muscle of the abdomen to give a more contoured, flatter and tighter-looking abdomen. Tummy tuck surgery is increasingly popular in the UK and ranks just behind liposuction in its popularity as a body contouring procedure. Abdominoplasty is a highly effective method for removing saggy and stretched skin that often develops after pregnancy or massive weight loss.
RELATED: Tummy Tuck FAQs – Q&As about Abdominoplasty Surgery
The presence of extra fat beneath the skin of the abdomen leads to the overlying skin stretching out. When someone successfully loses a large amount of weight, this stretched-out skin cannot return to its original tight and contracted state. As we age, the production of collagen and elastin diminishes, leading to thinning of the skin and a resultant loss of skin elasticity which increases the likelihood of sagging and wrinkle formation. In older patients, even a loss of small amounts of weight can result in a significant amount of skin laxity due to the loss of collagen and elastin in the dermis. It is very common for women after pregnancy to develop excess redundant skin and loose, weakened abdominal musculature due to the increase in the volume of the womb during pregnancy. Tummy tuck surgery is a highly effective procedure for restoration of the female body shape to the pre-pregnancy state.
Nowadays, abdominoplasty is rarely performed in isolation and is most commonly combined with other body contouring procedures, including liposuction. Many women who have lost breast volume due to pregnancy and breastfeeding will also have a breast augmentation with or without a breast lift at the same time as a tummy tuck. The combination of abdominoplasty surgery with a breast augmentation or lift is often referred to as a mummy makeover. It is very popular with an increasing number of women unhappy with the shape of their bodies after childbirth.
Why have a tummy tuck?
Abdominoplasty is a highly successful procedure when carried out by an expert surgeon at Centre for Surgery. It can deliver long-term results provided that patients maintain a stable weight and avoid any fluctuations in weight to avoid the risk of recurrent skin laxity. Your surgeon may recommend against having a tummy tuck until you have completed your family as the risk of developing recurrent laxity is high for women who have had a tummy tuck followed by further childbirth.
[trustindex no-registration=google]
Tummy tuck or abdominoplasty is one of the most commonly performed cosmetic surgery procedures at Centre for Surgery. Our surgeons are experienced in all types of tummy tuck surgery for comprehensive rejuvenation of the abdomen. The tummy tuck procedure can produce impressive results in both women and men.
| Tummy tuck | Fast facts |
| --- | --- |
| Procedure time ⏳ | 2-4 hours |
| Anaesthetic type 💉 | General anaesthetic |
| Length of stay 🛏 | Day case |
| Up and mobile 🚶🏻‍♂️ | 1 day |
| Washing 🛁 | 1 week |
| Travel ✈️ | 4 weeks |
| Sexual activity ❤️ | 6 weeks |
| Driving 🚗 | 4 weeks |
| Postoperative garment 👕 | 6 weeks |
| Sleeping 😴 | On back for 4 weeks |
| Exercise 🏃🏽‍♀️ | 6 weeks |
| Full recovery 🕺🏻 | 6 weeks |
| Final results 😃 | 6 months |
What is an Abdominoplasty or Tummy Tuck?
Abdominoplasty, commonly known as a tummy tuck, is a surgical procedure that aims to enhance the appearance of the abdominal region by tightening the abdominal muscles and removing excess skin and fat. The procedure results in an improved abdominal contour, tone, and function. The abdominal area may become loose over time due to factors such as age, pregnancy, significant weight loss, prior surgeries, and hereditary factors.
This cosmetic surgery is suitable for both women and men who are in good physical shape and have maintained a stable weight for at least three months prior to surgery. It is recommended that the body mass index (BMI) be below 30 to be considered a suitable candidate for a tummy tuck.
The surgery is performed under general anaesthesia in a fully accredited hospital with the assistance of a qualified anaesthetist. The duration of the procedure can vary from two to five hours, and patients usually require hospitalization for one to two days.
During the procedure, a horizontal incision is typically made in the pubic region, with the exact placement and incision length depending on the amount of skin to be removed and the patient's abdominal structure. The final scar is strategically placed to fall discreetly within the patient's underwear and swimsuit lines.
After the surgery, drainage tubes are usually left in place for up to a week, and a compression garment must be worn for six weeks post-surgery to support the healing process. While any bruising or swelling may resolve within six weeks, it can persist for several months. Light activity may be resumed two to three weeks following the procedure, but heavy lifting and vigorous activities should be avoided for up to eight weeks.
Tummy Tuck Before & After Photos - Real Patient Results
Browse our tummy tuck photo gallery to see the results achieved by our surgeons at Centre for Surgery. The before and afters below offer a sampling of the patient photos we have on file. When you come to see us for a consultation, a wide variety will be available.
RELATED: Tummy Tuck (Abdominoplasty) Before And After Photos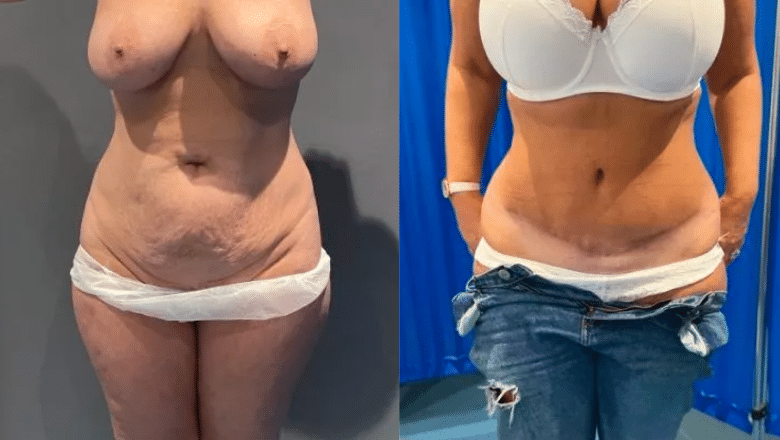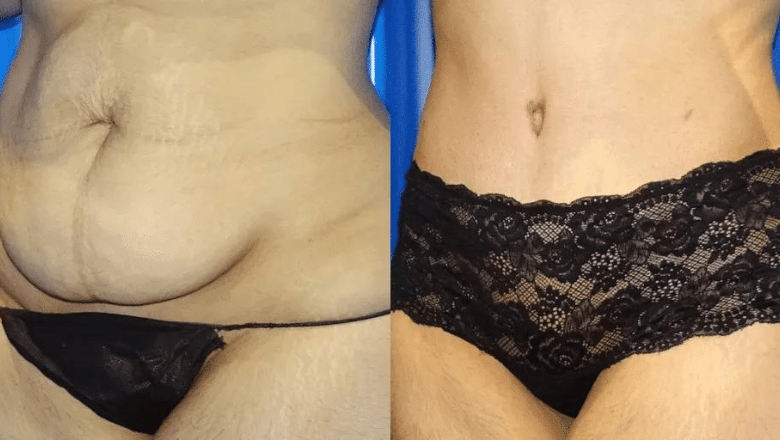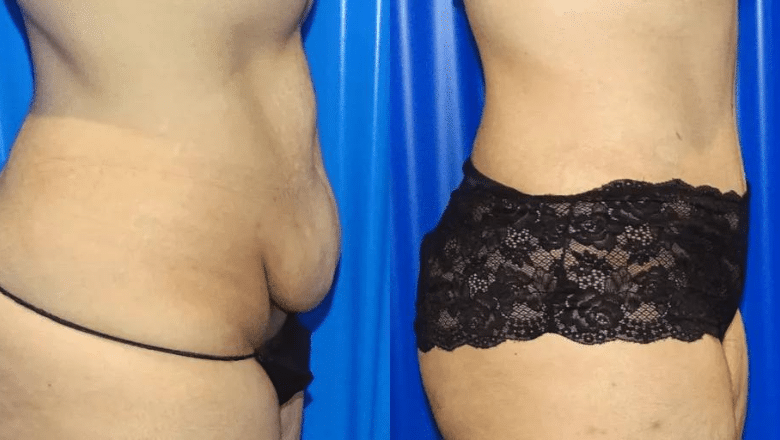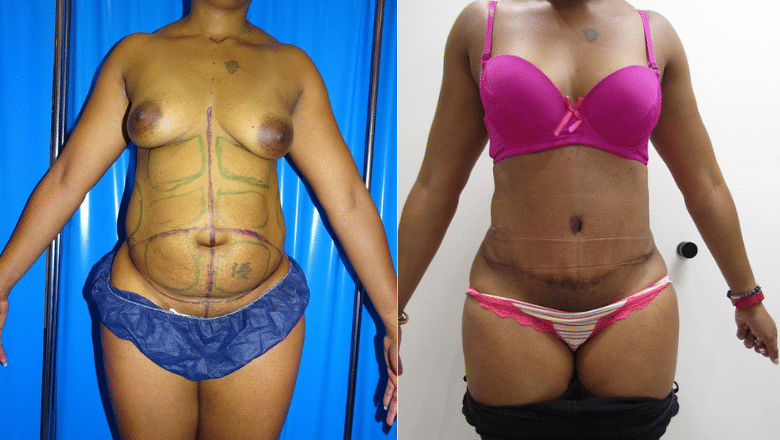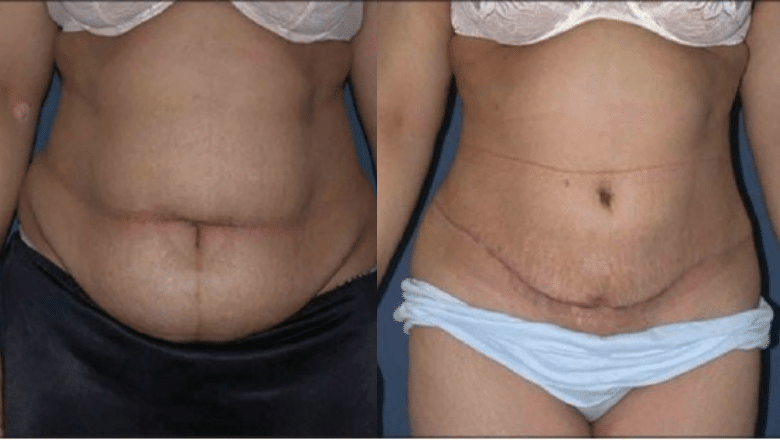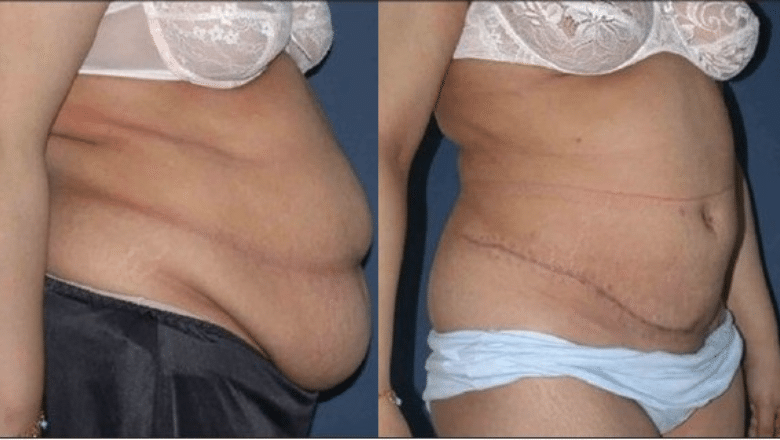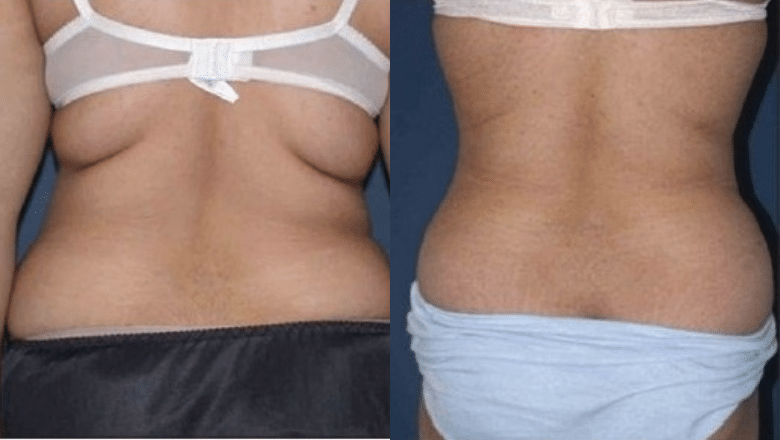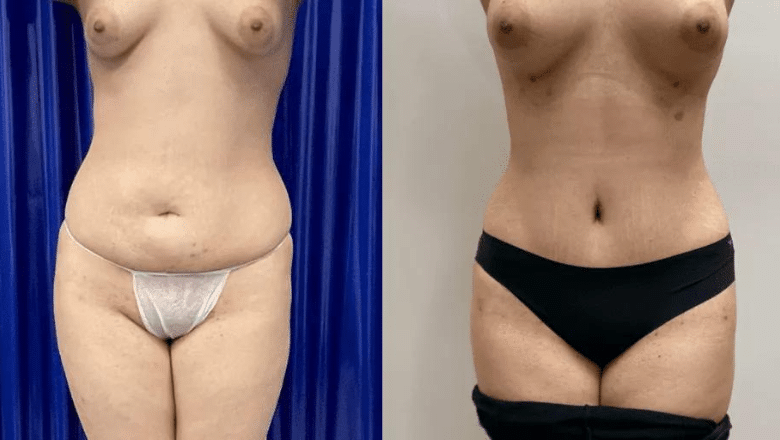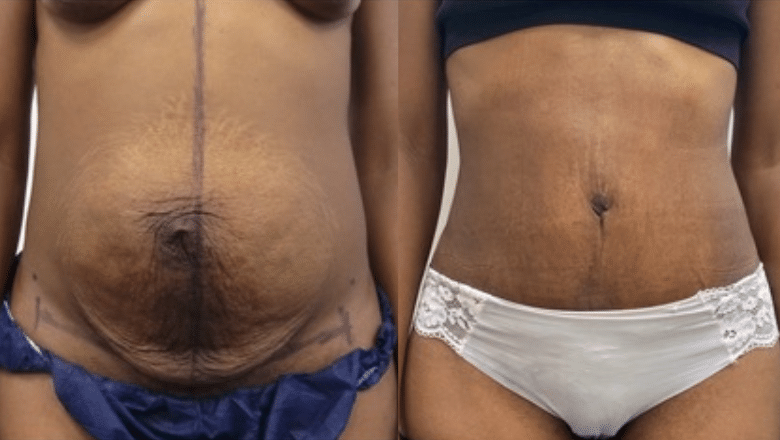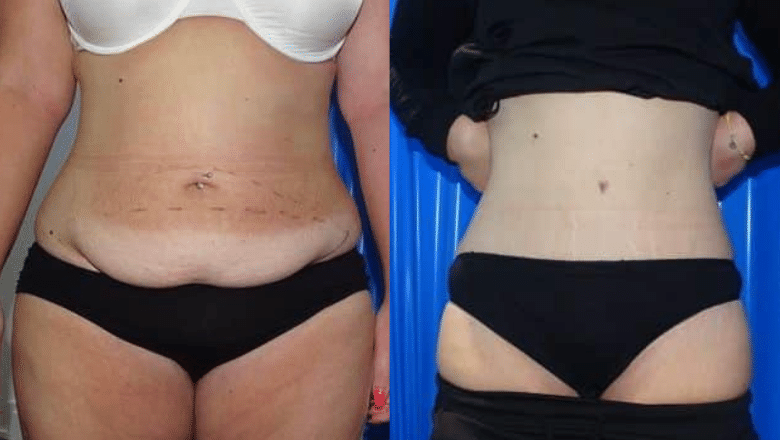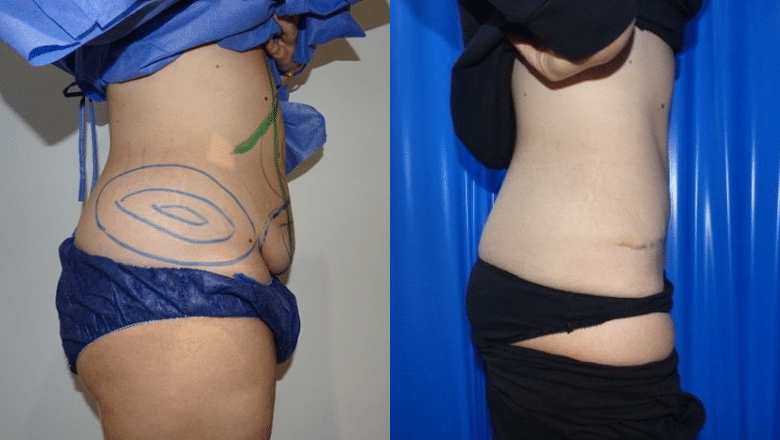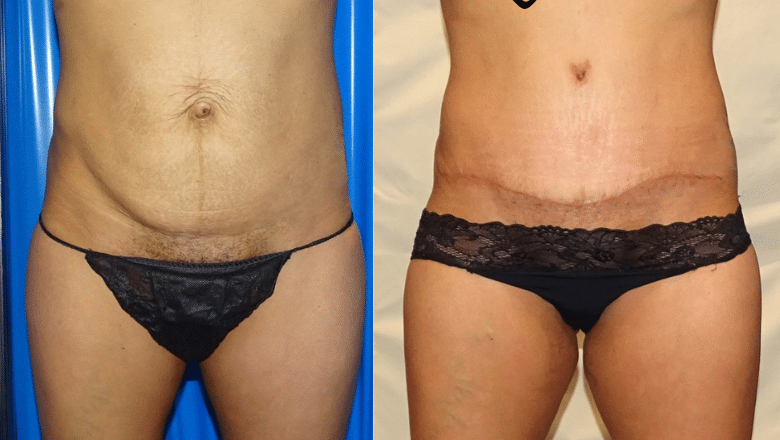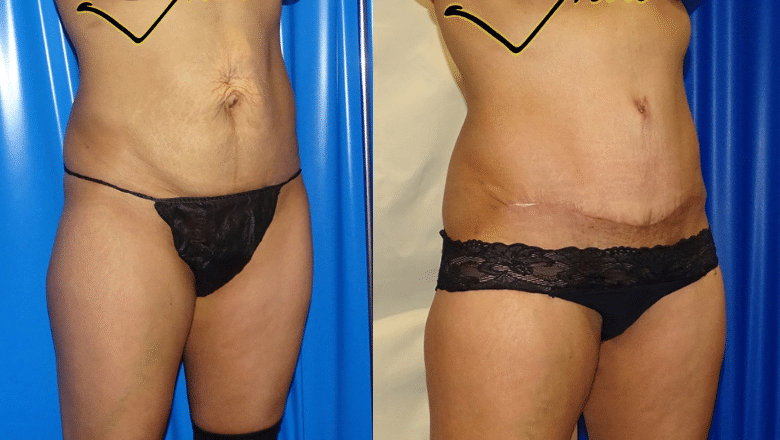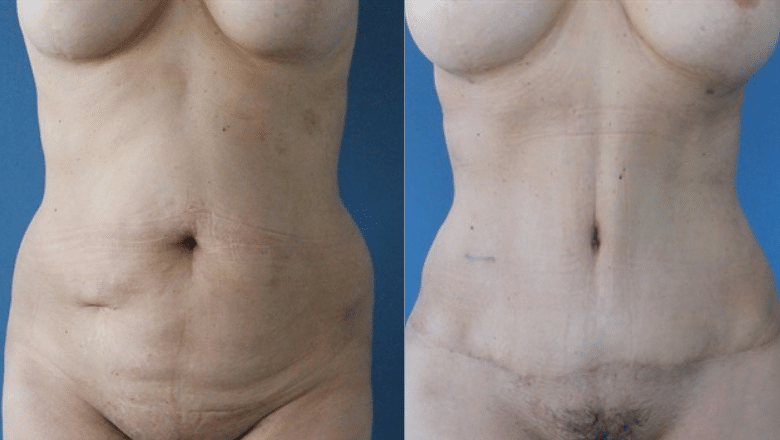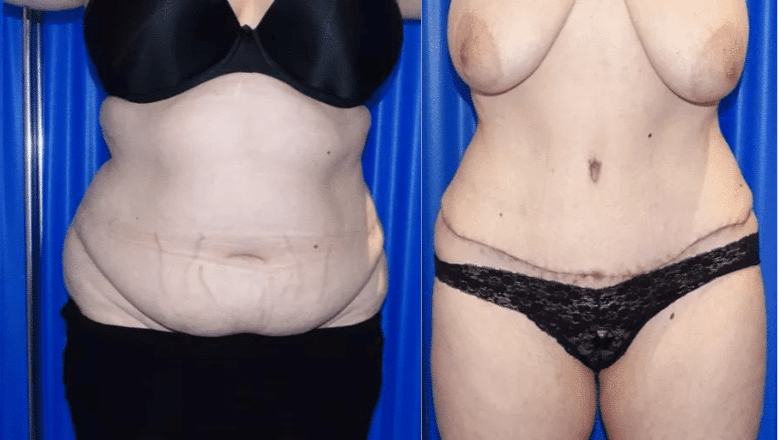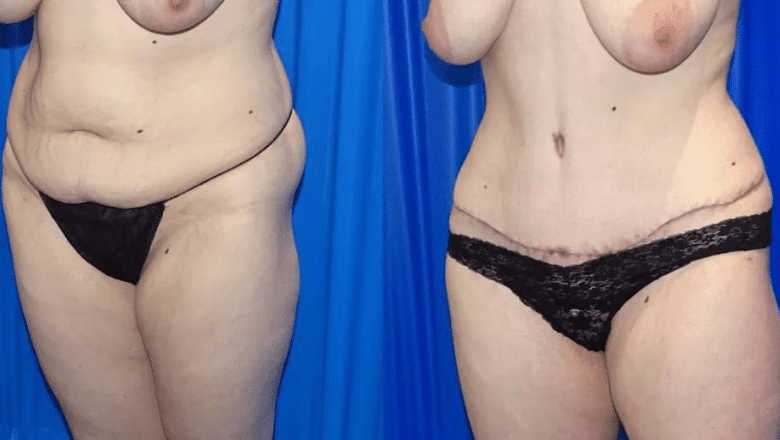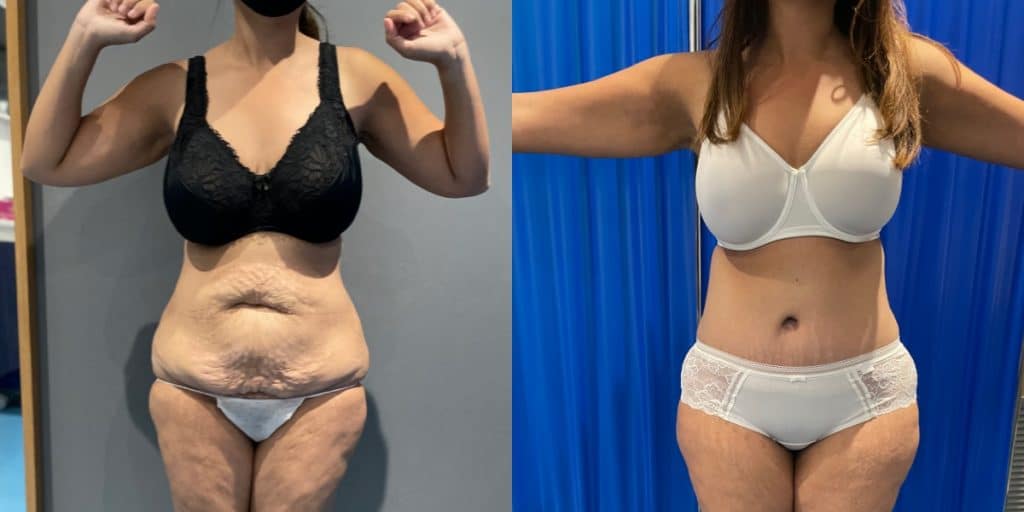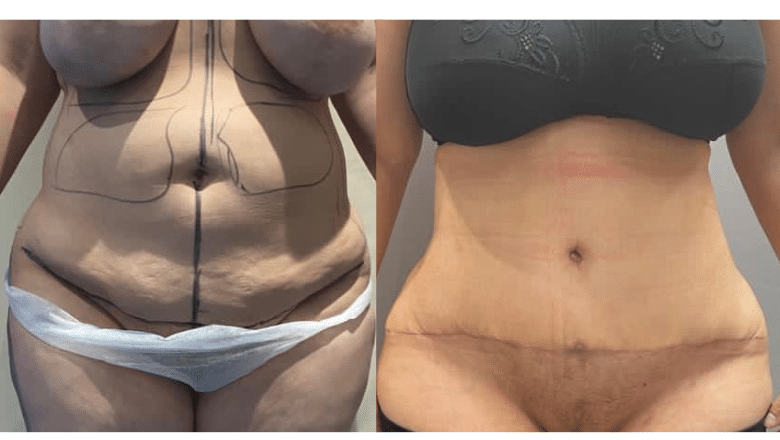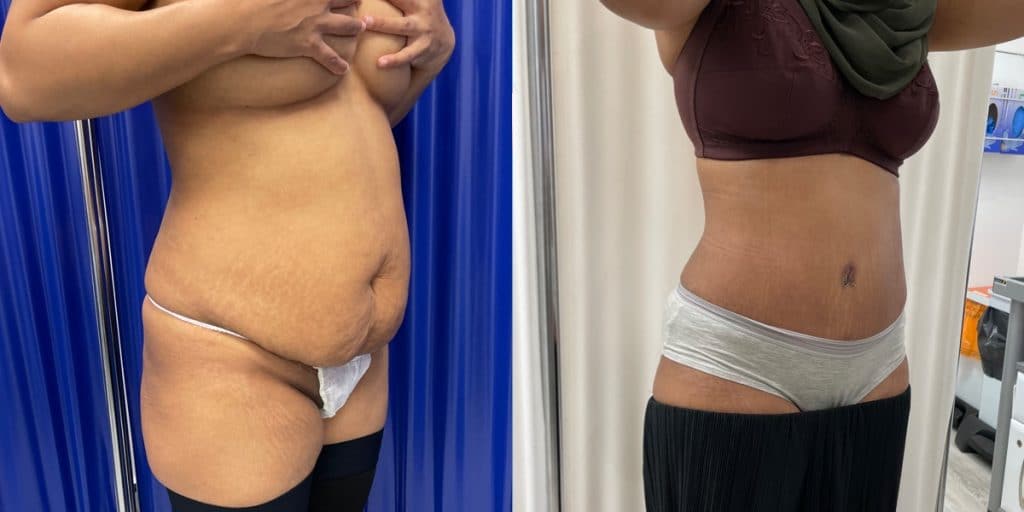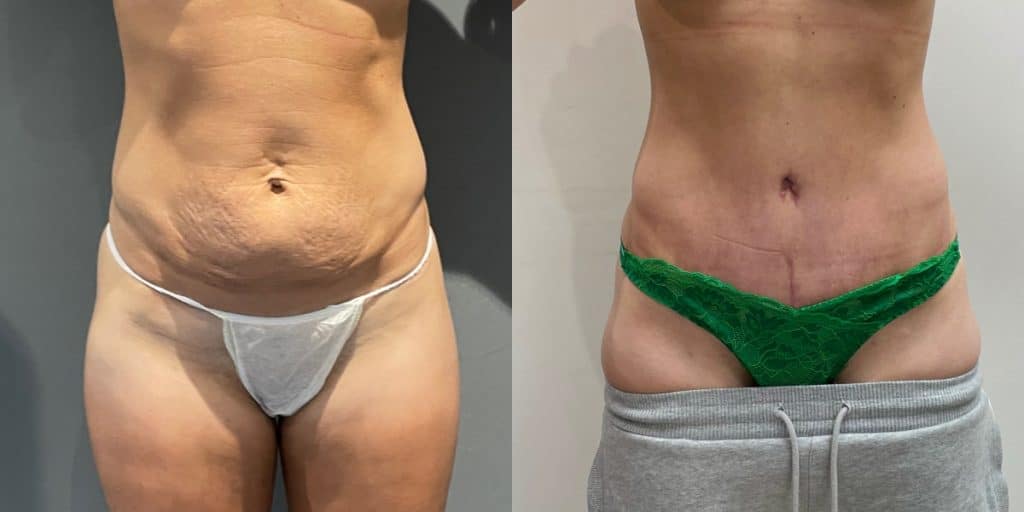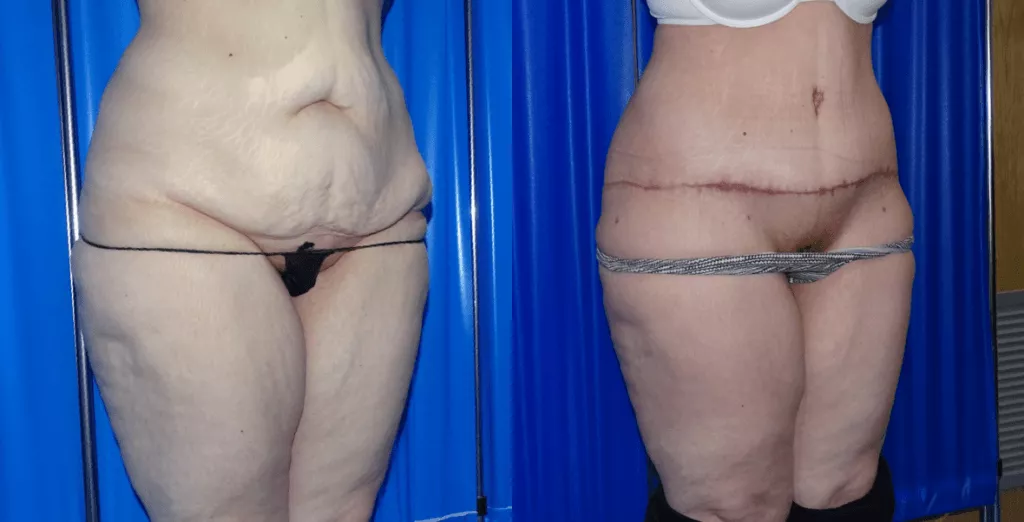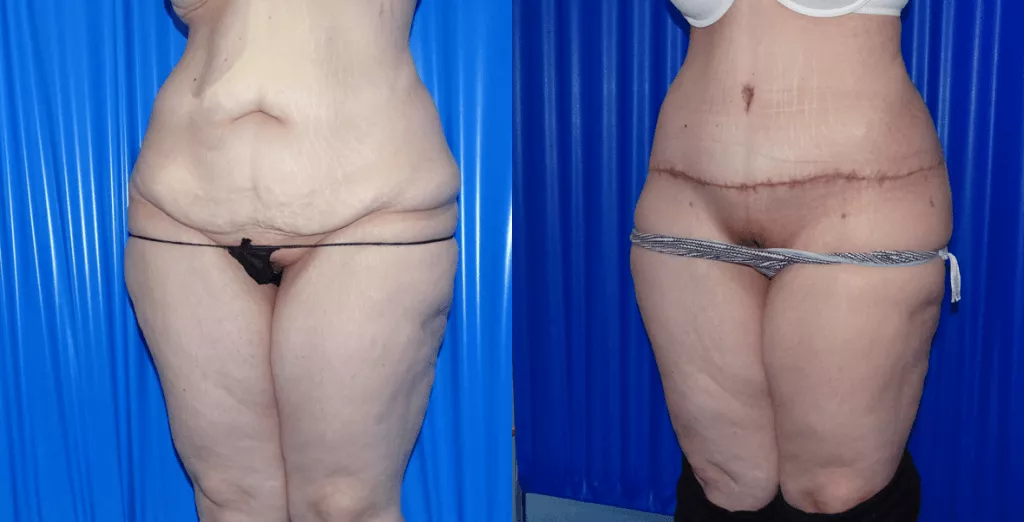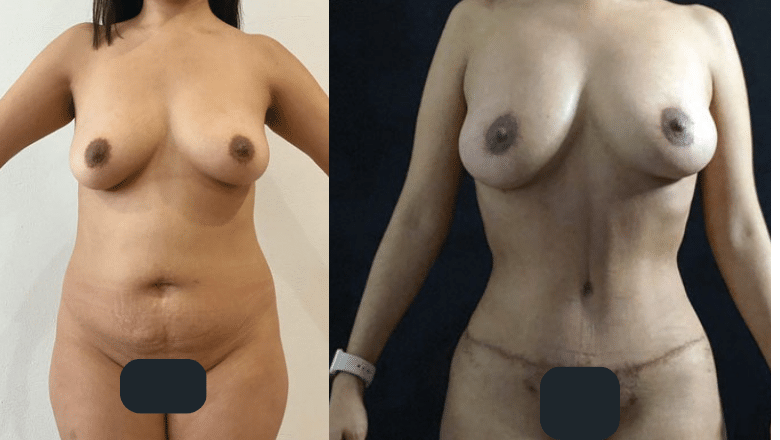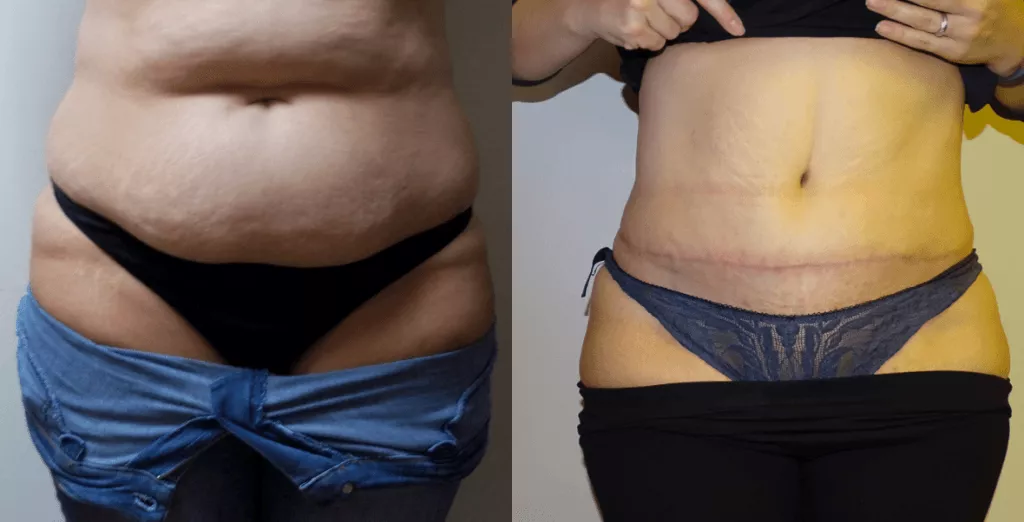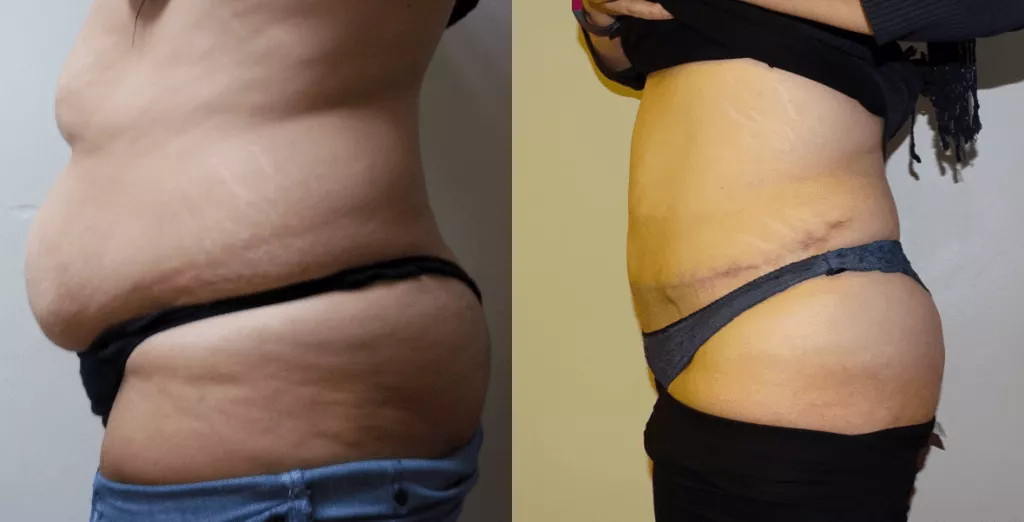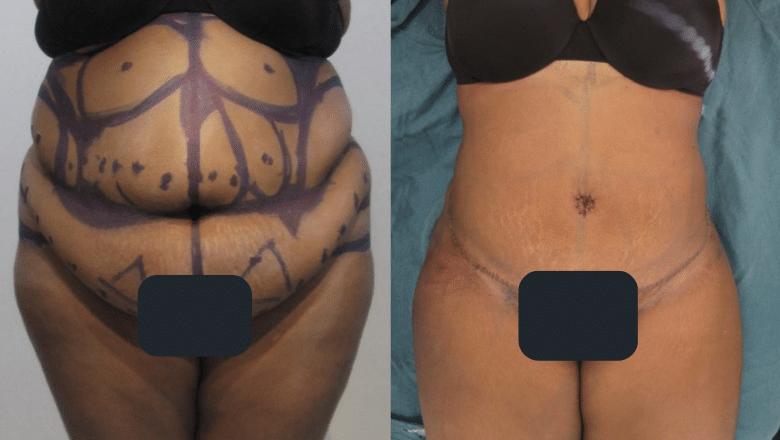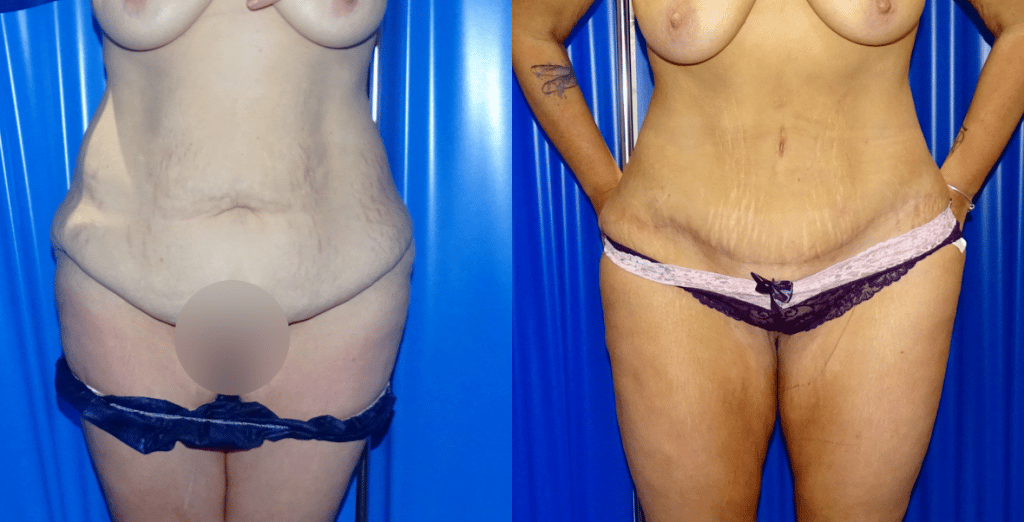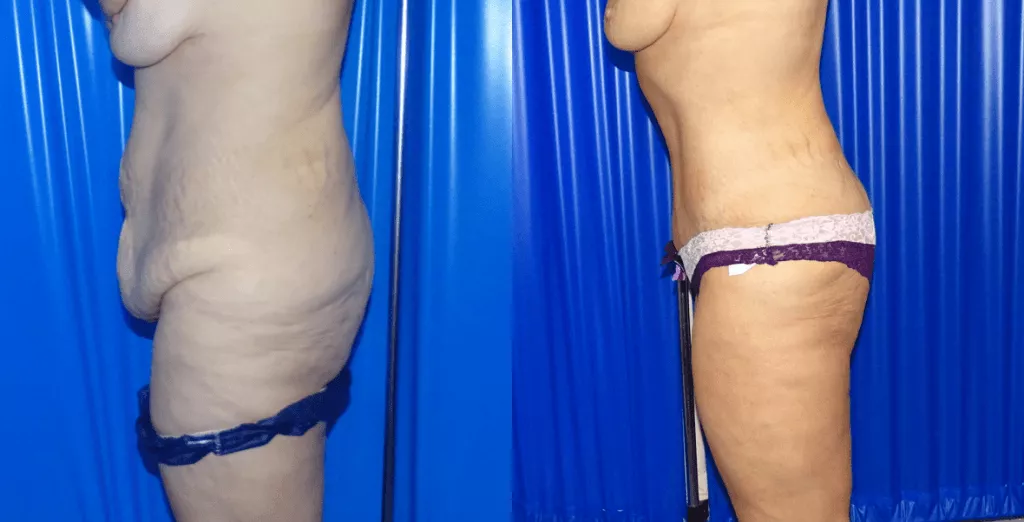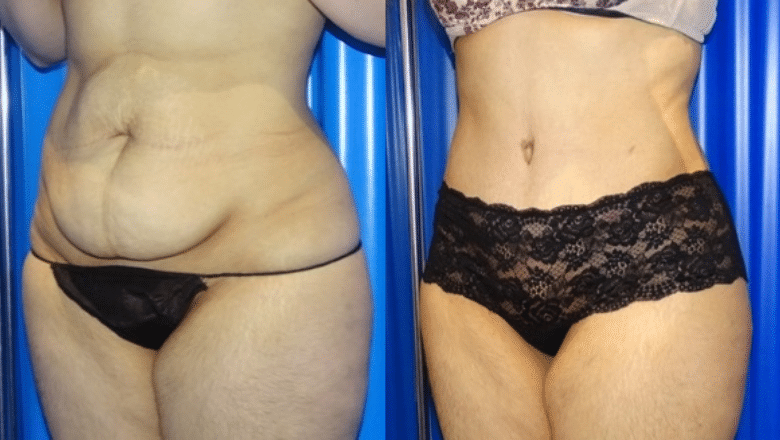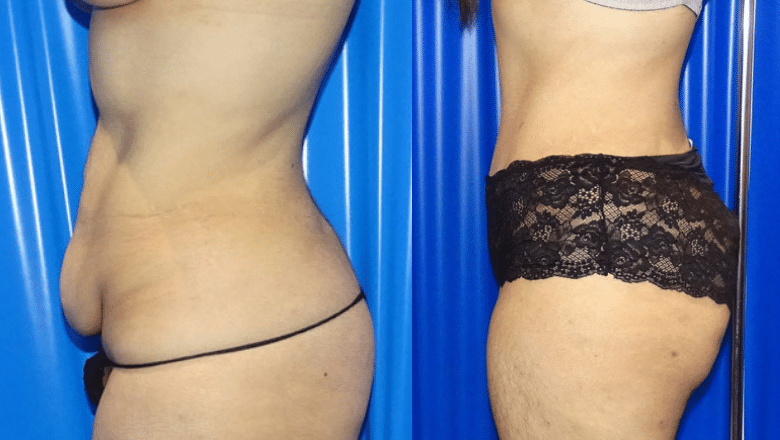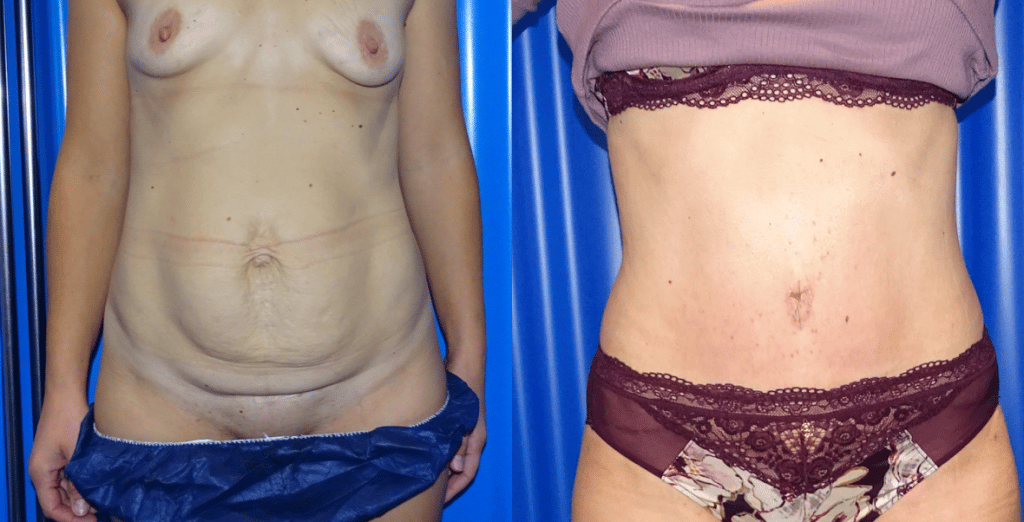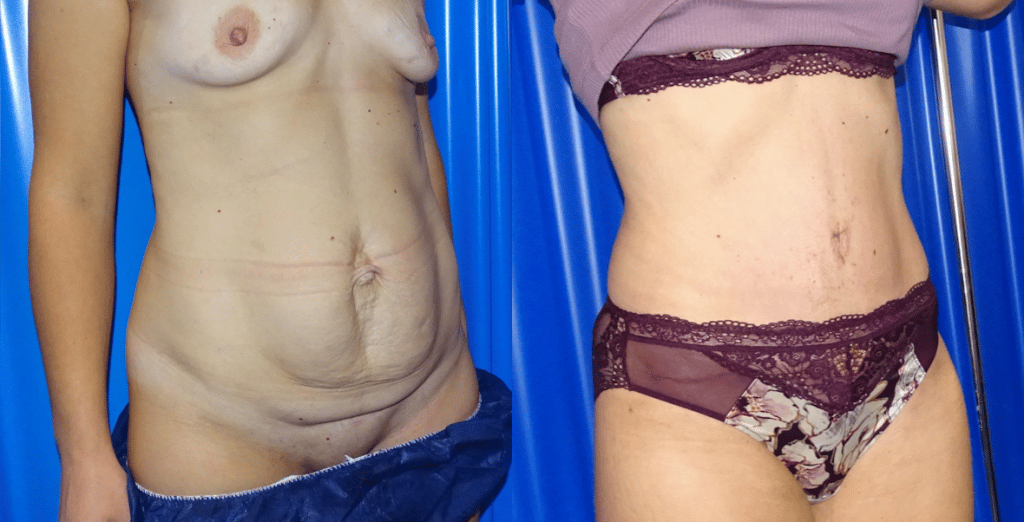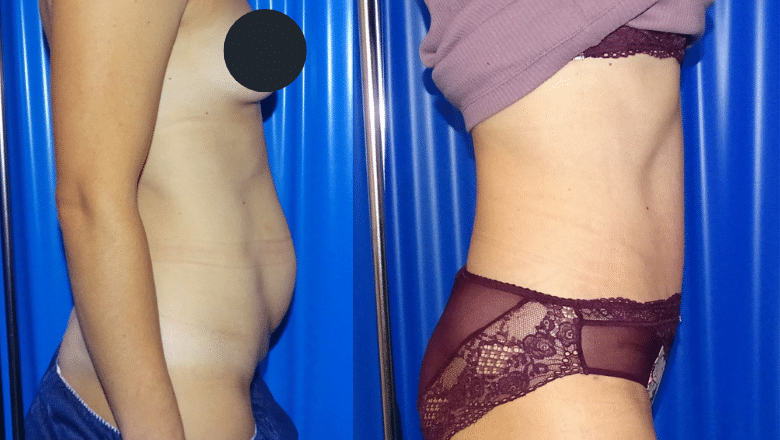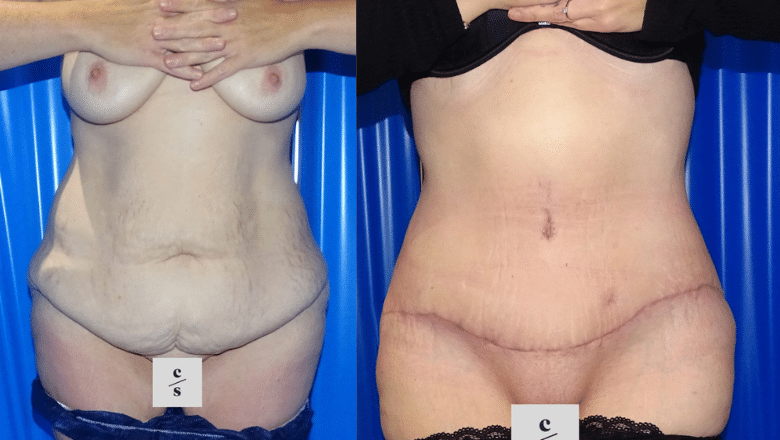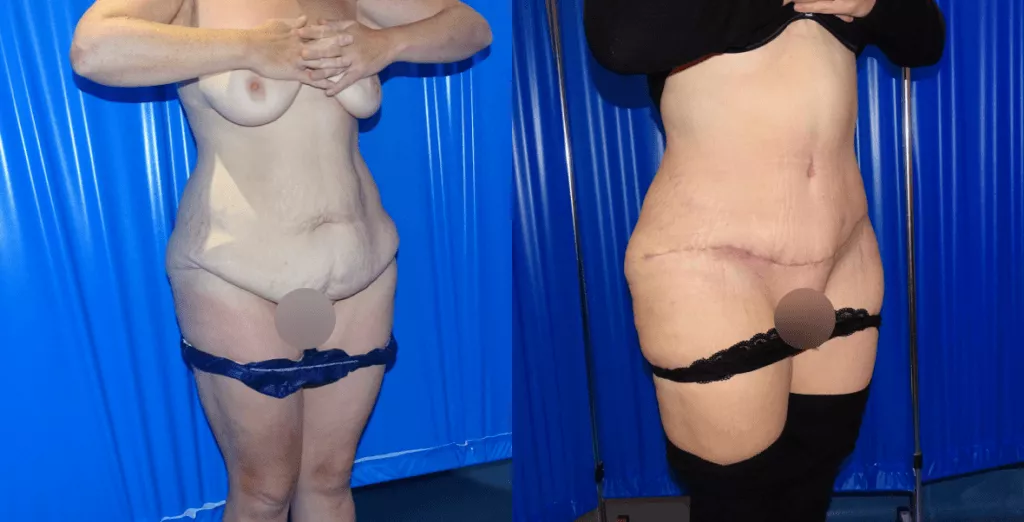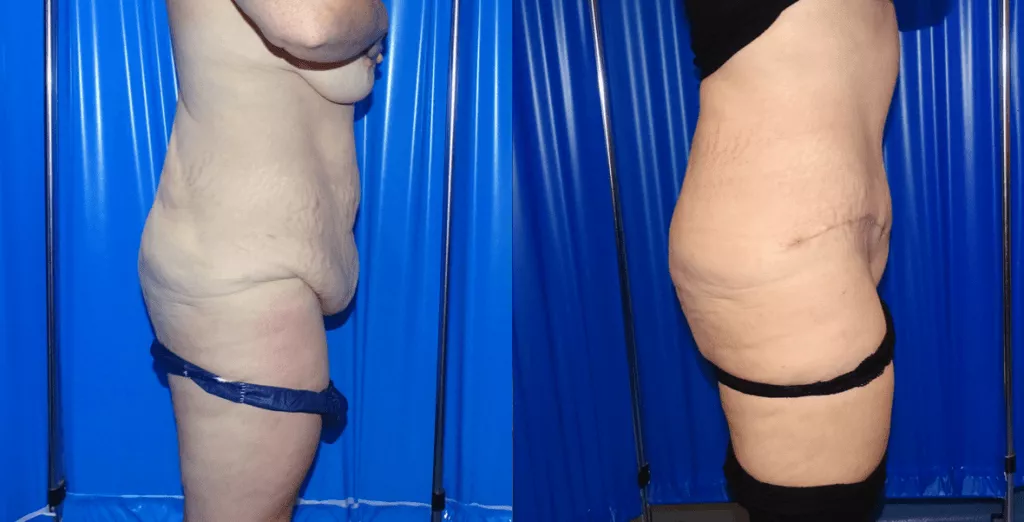 Benefits of an Abdominoplasty – Tummy Tuck Surgery
The abdominoplasty operation, commonly referred to as a tummy tuck, is an optimal choice for both women and men who are in good health, physically fit, and either close to their ideal body weight or have achieved a stable weight following significant weight loss. For individuals who have devoted considerable time and effort to rigorous dieting and exercise but are still struggling to achieve a flat, toned stomach or firm up loose skin marred by stretch marks, undergoing surgery may enhance their overall appearance. As a result, they can regain self-assurance when wearing form-fitting clothing and no longer feel the need to conceal their figure in baggy garments.
There are numerous advantages associated with abdominoplasty surgery, such as:
Elimination of surplus skin and fat in the abdominal region: The procedure effectively removes excess skin and fat, helping to create a smoother, more toned appearance.
Reinforcement of underlying abdominal muscles: A tummy tuck not only deals with superficial issues but also strengthens the underlying abdominal muscles, which can provide added support to the spine and improve posture.
Enhancement of torso contours: By removing excess skin and fat and tightening the abdominal muscles, abdominoplasty surgery can help to create a more defined and aesthetically pleasing silhouette.
Restoration of a flat, smooth stomach: The surgery results in a smoother and flatter tummy, which can boost one's confidence and comfort in various clothing styles.
Increased ease in fitting into regular clothes: With a flatter and firmer abdomen, patients often find that they can comfortably fit into a wider range of clothing, including form-fitting garments.
Reduction of irritation, chafing, and infections in the lower abdominal fold: Excess skin and fat in the lower abdomen can cause discomfort and irritation due to friction and chafing. By eliminating this excess tissue, abdominoplasty surgery can alleviate these issues and reduce the risk of infections.
Enhanced exercise tolerance and support for weight loss activities: After undergoing abdominoplasty surgery, patients often experience improved exercise tolerance and find it easier to engage in physical activities that can further aid in their weight loss journey. This can contribute to an overall healthier lifestyle and promote long-term weight maintenance.
Ideal candidates for tummy tuck surgery
Determining your suitability for abdominoplasty, or a tummy tuck, depends on several factors. While only a consultation with a qualified plastic surgeon at Centre for Surgery can give you an accurate assessment, the following criteria can help you evaluate whether you might be a suitable candidate:
Physical health: Ideal candidates for abdominoplasty are in good overall health and do not have any medical conditions that could impair the healing process or increase the risk of complications during surgery.
Stable weight: It is recommended that you are close to your ideal body weight or have maintained a stable weight after significant weight loss. Abdominoplasty is not a weight loss solution; rather, it is a body contouring procedure to address excess skin and fat and tighten abdominal muscles.
Realistic expectations: It is essential to have a clear understanding of what the surgery can achieve and to maintain realistic expectations regarding the results. While abdominoplasty can significantly improve your appearance, it is not a guarantee of perfection.
Non-smokers: Smoking can increase the risk of complications and negatively impact the healing process. If you are a smoker, you will be advised to quit smoking well before the surgery and during the recovery period.
Completed pregnancies: If you are a woman considering future pregnancies, it is advisable to postpone abdominoplasty until after you have completed your family. Pregnancy can stretch the abdominal muscles and skin, potentially reversing the results of the surgery.
Commitment to a healthy lifestyle: Candidates should be committed to maintaining a healthy lifestyle, including a balanced diet and regular exercise, to preserve the results of the surgery long-term.
If you believe you meet the criteria above, you should schedule a consultation with a GMC-certified London plastic surgeon to discuss your specific situation, goals, and expectations. They will evaluate your medical history, current health, and desired outcomes to determine if abdominoplasty is an appropriate option for you.
How to prepare for abdominoplasty surgery
Before undergoing tummy tuck surgery, your surgeon will provide you with detailed preoperative and postoperative instructions. Following these instructions is crucial to ensure a smooth and uneventful recovery. Here are some of the steps you should aim to follow:
Ensure that you complete all the necessary blood tests and obtain clearance from a medical specialist if you have a medical condition that requires close monitoring.
Make arrangements for a responsible adult to pick you up from the clinic and take care of you for the first few days after surgery as you will not be able to drive home.
Collect your prescription medications before the day of the procedure, as some medications may need to be started right away.
Purchase any necessary supplies such as extra bedding, reading materials, and entertainment products to make your first few days more comfortable.
Plan for approximately one week off work to ensure that you have enough time to rest and recover.
Eat a soft diet for the first few days after surgery to keep your digestive system functioning well.
Avoid smoking and exposure to people who smoke, as nicotine can interfere with wound healing and increase the risk of wound infection.
Wear your postoperative garment continuously for a full six weeks after tummy tuck surgery to ensure good healing and reduce swelling.
Avoid strenuous exercise for at least six weeks after surgery to avoid complications.
Attend all your follow-up appointments with the nursing team and your surgeon to ensure that you are healing correctly and to address any concerns or questions you may have.
By following these steps, you can help to ensure that your tummy tuck surgery and recovery progress smoothly and successfully. It's important to remember that everyone's recovery process is unique, so it's essential to listen to your body and seek medical advice if you experience any unexpected symptoms or complications.
Watch the Tummy Tuck Animated Video
How is the Tummy Tuck done?
Tummy tuck surgery is performed at Baker Street clinic using TIVA general anaesthesia. All our tummy tucks are outpatient procedures which means you will be admitted and discharged on the same day. Centre for Surgery is one of only a handful of providers in the UK to specialise in day-case abdominoplasties.
Benefits of TIVA anaesthesia for tummy tuck
Total Intravenous Anaesthesia, also known as TIVA, is an advanced form of general anaesthesia that has several advantages over traditional general anaesthesia. Unlike traditional anaesthesia that uses volatile gases, TIVA exclusively uses medicines administered through the IV route. The medicines used in TIVA are quick-acting and short-lasting, resulting in a smooth and quick recovery for patients, even for longer procedures such as tummy tucks.
The recovery profile of TIVA is much better than traditional anaesthesia, with patients typically ready for discharge from the hospital after only about three hours in recovery. In contrast, traditional anaesthesia can cause delayed recovery due to prolonged dizziness, drowsiness, and an increased risk of nausea and sickness. Additionally, TIVA avoids the use of muscle relaxants, which can prolong recovery and increase the risk of complications.
TIVA is regarded as a gentler form of general anaesthesia that provides a superior quality of anaesthesia experience for patients. Many patients who have undergone TIVA have reported that the quality of the anaesthesia was better than any anaesthesia they had previously received in the hospital. If you are considering a surgical procedure that requires general anaesthesia, you should speak to your doctor about the benefits and risks of TIVA.
A full abdominoplasty takes 3-4 hours to perform on average. In the case of combined procedures such as breast augmentation or breast lift, the procedure duration could take 5-6 hours.
Step by step tummy tuck
STEP 1: You will be placed under general anaesthesia

STEP 2: If required – the surgeon will perform liposuction to the flanks – you will lie on your front for this step

STEP 3: Liposuction using the SAFElipo technique is performed on the abdomen

STEP 4: The belly button is freed from the surrounding skin with a circular incision

STEP 5: An incision is made along the lower abdomen just above the public hairline – the length will vary on the amount of skin to be removed

STEP 6: The abdominal skin flap is created to the lower part of the sternum, and the redundant skin is then removed

STEP 7: The abdominal muscles are repaired

STEP 8: The belly button is brought out to a suitable position and sutured in position

STEP 9: The abdominal incisions are closed

STEP 10: Two drains are inserted, dressings are applied, and a postoperative compression garment is applied
An abdominoplasty is performed as an outpatient surgery. This means you will be able to return home the same day as your tummy tuck and recover in the comfort of your own home. You will need someone to drive you home, and you may wish to have someone stay with you for the first few days following the procedure.
Different Types of Abdominoplasty & Tummy Tucks
1 – Mini Tummy Tuck or Mini Abdominoplasty – usually not including tummy muscle repair
A mini-abdominoplasty is a smaller procedure than a full abdominoplasty. The procedure involves the removal of the loose skin from below the umbilicus. The procedure also involves the surgical tightening of the lower abdominal muscles. A mini-abdominoplasty is ideally suited for patients on the lower end of BMI (BMI<23) who have skin laxity below the umbilicus only and not above the umbilicus. The scar from a mini tummy tuck is shorter, with a shorter recovery and downtime. A full abdominoplasty may be more suitable with skin laxity above the umbilicus. As with a Brazilian abdominoplasty, the use of liposuction is used to contour the waist and is performed as a day case without any requirement for the insertion of drains.
One of the main advantages of a mini tummy tuck is that it can address smaller, more localised areas of the abdomen in those who otherwise have good skin elasticity. Similar to a full tummy tuck, a mini tummy tuck is a highly effective surgical technique to tighten and contour the lower abdomen with long-term results, provided that patients eat a healthy diet and maintain a stable weight.
2 – Full Abdominoplasty or Full Tummy Tuck – including muscle repair
A full abdominoplasty addresses the removal of redundant extra tissue involving skin and fat. The muscle layer is also reconstructed, which helps to create a more narrow torso. Repairing the muscle layer is also referred to as rectus diastasis repair. A full abdominoplasty is ideal for patients after pregnancy or who have undergone weight loss. Traditional abdominoplasty does not involve liposuction and has become something of an obsolete technique in recent years.
3 – Brazilian abdominoplasty – Combining Liposuction & Tummy Tuck
A full abdominoplasty has generally been a major surgical procedure with recognised complications including postoperative bleeding, seroma formation, delayed wound healing and abnormal scarring. Often complications require many post-op appointments with the doctor leading to an unsatisfactory outcome. Surgeons at Centre for Surgery specialise in the Brazilian tummy tuck or Brazilian abdominoplasty, similar to a full abdominoplasty. It involves removing excess skin, muscle repair of the rectus muscle, and creating a new position for the belly button. The key difference is the addition of liposuction to the above to facilitate a gentler method of mobilising the excess skin without excessive dissection and compromise of the blood supply to the skin flap. This leads to better healing and less risk of postoperative wound complications.
A Brazilian tummy tuck should not be seen as a lesser version of a full tummy tuck. It does not involve more steps and is a more effective body contouring procedure than an old-style 'cut and shut' abdominoplasty, which is still most commonly performed in the UK. A Brazilian tummy tuck takes longer to perform than a full tummy tuck due to the extra liposuction required, but the dramatic results achieved are well worth the extra time needed. In keeping with all the other types of tummy tuck performed at Centre for Surgery, a Brazilian tummy tuck is performed as a day case procedure and has a more favourable side risk profile compared with a full abdominoplasty.
Benefits of Brazilian Abdominoplasty:
Significantly less postoperative pain and discomfort

A shorter period of downtime

Lower risk of localised seroma or haematoma formation

Day case procedure, which means you get to go home and recover at home, leading to better healing.

A more defined and smaller waist as a result of liposuction combined with the tummy tuck
Downsides of a traditional tummy tuck:
An inpatient stay of 2-3 nights is required with the risk of acquiring nasty hospital superbugs
Increased period of recovery required
Higher risk of haematoma formation
More pain and with a regular requirement for postoperative opioid medicines given IV
4 – Extended Abdominoplasty – a longer incision to reach reduce the sides & flanks
Extended abdominoplasty involves the removal of extra skin and tissue from the flanks in addition to the abdomen. This often requires liposuction in addition to skin excision. The incision is longer than for a full abdominoplasty to ensure full correction to the sides. If you have extra muscle looseness in the hips and flank area in addition to abdominal laxity, an extended abdominoplasty may be an appropriate option. Liposuction is always a key component of an extended abdominoplasty.
5 – Fleur-De-Lis abdominoplasty
A subset of patients who present for abdominoplasty surgery will have extra redundant skin both vertically and laterally. A standard abdominoplasty may not adequately address the loose skin located centrally. The Fleur-De-Lis technique of tummy tuck involves both the standard low horizontal incision and a vertical incision. The resulting incision resembles an inverted T shape with a small midline vertical aspect extending from the midline of the horizontal scar upwards towards the belly button.
6 – Circumferential abdominoplasty or Body Lift
A circumferential abdominoplasty or 360 tummy tuck or body lift is a major procedure compared with a standard full abdominoplasty. It is an ideal procedure for massive weight loss patients who often have extensive hanging skin all the way around their torso. The incision encircles the torso and is performed in 2 stages – first, the front is addressed, followed by the back and sides. Circumferential abdominoplasty is often combined with a thigh and buttock lift. This is known as a lower body lift or belt lipectomy – A major body contouring procedure. At Centre for Surgery, body lift surgery is always carried out in a two-stage procedure to ensure proper healing.
Caesarean section scar revision
After a Caesarean section, it is not uncommon to develop a prominent fold of skin that sits above the C-section scar. The prominence of the scar is due to the attachment of the scar to deeper structures, and therefore any fat or lax skin above looks much more obvious. Many women notice that the bulge protrudes through tight-fitting clothing. The extra skin and fat can be surgically removed, and this can be combined with liposuction if appropriate. The Caesarean scar revision procedure is performed under local anaesthetic and as a day-case procedure.
Revision abdominoplasty
Our surgeons see a growing number of patients who have had tummy tuck surgery with another surgeon elsewhere and are disappointed with their results. Our surgeons have sub-specialist expertise in abdominal wall reconstruction in the NHS and have years of experience performing revision tummy tuck surgery for patients who had their first procedure elsewhere – often overseas in places like Turkey.
Reasons to seek revision tummy tuck:
Excess fat not removed at the original procedure
A poorly shaped umbilicus
Insufficient muscle repair
An unsightly scar
A poorly placed scar (often too high)
RELATED: Can I Get A Second Tummy Tuck?
Recovery after Tummy Tuck - What to expect
Upon the completion of your abdominoplasty procedure, your surgeon will insert drains beneath the abdominal skin, apply a specialized dressing to promote wound healing and fit you with a surgical compression garment. All abdominoplasty surgery at Centre for Surgery is performed as a day case which means you will be able to go home later the same day. The drains may be removed before you are discharged from the clinic, or during your first follow-up appointment at days 5-7.
During your recovery period, your body will naturally remain slightly flexed at the waist and knees to increase comfort and alleviate tension on the incision site. The tight sensation in your abdomen may persist for several weeks post-surgery. You may also experience numbness around the incision area and the belly button, which could potentially be permanent. The surgical scar will gradually fade, starting around six months and taking up to two years to achieve its final appearance. Bruising and swelling may last for several months.
Upon discharge, you will be provided with prescriptions for pain management and antibiotics. Ensure someone is available to fill your prescriptions, drive you home, and assist you during the initial days of your recovery. You may remove the compression garment for brief periods while at home and shower with the dressings in place.
Your return to regular activities should be gradual and paced according to your comfort level. Recovery times will differ between patients, but you should anticipate the following:
Taking at least two weeks off work
Refraining from driving for two weeks
Avoiding moderate to high-intensity cardiovascular exercises for six weeks
Waiting three months before resuming abdominal core exercises (such as sit-ups)
Arranging for assistance with childcare for young children for at least the first three weeks post-operation
You will have a follow-up appointment with the nursing team within the first week after surgery to ensure your wounds are healing properly and to remove drains if necessary. Your surgeon will monitor your progress closely during the first year and provide guidance on scar management, wearing compression garments, and gradually resuming normal activities.
Adhering to all post-operative instructions provided by your surgeon is crucial for achieving the best possible outcome from your abdominoplasty surgery.
Risks and potential complications of tummy tuck surgery
Like any surgical procedure, a tummy tuck has some risks and potential complications that patients should be aware of before undergoing surgery. Some of the most common risks and complications associated with tummy tuck surgery include:
Bleeding: Some bleeding is normal after any surgery, but excessive bleeding can be dangerous and may require additional treatment or surgery.
Infection: Any surgical procedure carries a risk of infection. Patients will be given antibiotics before and after surgery to help reduce this risk.
Blood clots: Blood clots can form in the legs after surgery and may travel to the lungs, which can be life-threatening. Patients may be given blood thinners and encouraged to move around as soon as possible after surgery to reduce this risk.
Scarring: Tummy tuck surgery will leave a scar, which can be extensive depending on the amount of skin removed. However, a skilled surgeon will make the incision in a way that minimizes scarring and ensures the best possible cosmetic outcome.
Numbness: Some patients may experience numbness or reduced sensation in the abdominal area after surgery. This is usually temporary but can sometimes be permanent.
Seroma: Seroma is a collection of fluid that can form under the skin after surgery. This can be uncomfortable and may require additional treatment to drain the fluid.
Wound healing problems: In rare cases, the incision may not heal properly, which can lead to an opening in the skin or other complications.
How to look after tummy tuck scars
Our surgeons are trained to create low transverse incisions which sit directly above the pubic area. The length of the tummy tuck scar will depend on the type of tummy tuck that is chosen. The appearance of the tummy tuck scars will be influenced by proper care of the area and following the post-procedure instructions to optimise its appearance.
Top Tips to Help with Tummy Tuck Scar Healing
It is important to keep the postoperative dressings for the recommended duration.

Avoid stretching the area too much. An example would be bending backwards, which may stretch the scar.

Avoid sun exposure. Sun exposure leads to excess scarring and delays wound healing.

Use recommended silicone scar gels and medical-grade brown tape.

Have patience. Any scar takes time to mature and fade. Scars that are still overly prominent can be treated with several modalities, including laser or Morpheus8. Centre for Surgery has a specialist department for scar revision of all types of scars at our 106 Crawford Street clinic.
Tummy Tuck Cost London - How much does a tummy tuck cost London UK? Prices & Fees
There are a number of factors that will determine the overall cost of your tummy tuck procedure, and the final quotation will be given after a face-to-face consultation with your specialist plastic surgeon.
Type of tummy tuck – full, mini, extended or revision
Tummy tuck combined with another procedure such as breast surgery
Number of areas of liposuction in combination with a tummy tuck
Primary or revision tummy tuck
Why not call 0207 993 4849 and speak to one of our expert patient coordinators who may be able to give you a rough costing prior to a consultation for a tummy tuck.
Always remember that price should never be the determining factor when it comes to choosing a plastic surgeon for your tummy tuck procedure. We feel that safety and quality of service should be your number one priority and instil in you the confidence that our team will look after you before, during and after your procedure to the best of their ability.
What is included in my treatment package?
As many preoperative consultations with your surgeon as you like to make sure the tummy tuck procedure is right for you
Treatment at a specialist day surgery facility recently rated 'Good' by the CQC
Enhanced same-day discharge with the added benefits of recovering in your own home
24/7 clinical support from your surgeon for the first 48 hours and our expert postoperative support team
Your very own dedicated patient coordinator available to answer all your questions
In-depth preoperative medical assessment to make sure you are fully fit for your tummy tuck procedure
Exceptionally high standards of postoperative care are described as 'outstanding' by the CQC with regular telephone and face-to-face checks to ensure you are healing well.
Spread the cost of your tummy tuck procedure – from as little as £120 per month

Centre for Surgery is fully approved to offer finance via our specialist finance partner, Chrysalis Finance. no longer need to use your savings to pay for your treatment – you can apply to spread the cost of your procedure with Chrysalis Finance using their simple 1,2,3 application to pay for your procedure. Don't wait until you have enough money for your treatment, apply today and (subject to status) pay for your procedure easily in monthly instalments, using one of their payment options. Chrysalis Finance is the only ethical provider that focuses solely on the provision of specialist financing for medical procedures.
Why choose Centre for Surgery for tummy tuck?
With over 15 years of experience in performing all types of abdominoplasty in London, including full, mini, extended, and Brazilian abdominoplasty, we at Centre for Surgery are confident in our ability to select the right procedure for you. We understand that every patient's needs are unique, which is why we offer bespoke options rather than a "one size fits all" approach to abdominoplasty surgery.
Over the last decade, the techniques for abdominoplasty surgery have vastly improved, and we have kept up with the latest advancements to provide our patients with the best possible outcomes. We own and manage our own surgical facilities, and our surgeons perform a maximum of one tummy tuck per day, always scheduled for first thing in the morning. This allows us to take the time needed to properly perform abdominoplasty surgery, which is a demanding procedure that requires precision and attention to detail to achieve the best results.
Unlike other providers who may cram 3-4 procedures into one day, we take much longer to perform abdominoplasty, which is reflected in our 99.3% patient satisfaction rate. We believe that it is essential for our surgeons to be well-rested and mentally and physically sharp to perform abdominoplasty, and we do not compromise on the quality of care we provide.
At Centre for Surgery, we have our own purpose-built operating theatre facilities located in central London and Watford. We do not use third-party providers, which allows us to provide the highest standards of care at affordable prices.
All of our surgeons live and work in London, and we do not work with fly-in, fly-out surgeons from other countries. This is important because complications can and do occur, and our surgeons are readily available to manage any issues that may arise. Our surgeons are supported by a first-class nursing team who are on hand for you for any concerns you may have, no matter how minor.
At Centre for Surgery, we pride ourselves on providing the highest standard of care and the best possible outcomes for our patients.
Our surgeons are full members of the following: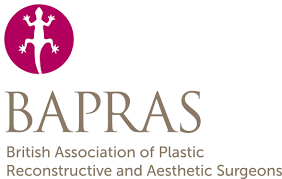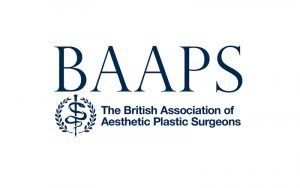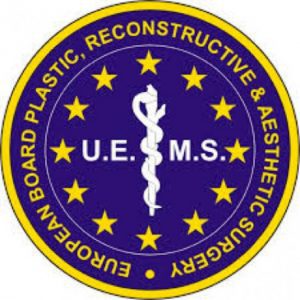 If you would like to learn more about the benefits of an abdominoplasty, schedule a consultation with one of our top cosmetic surgeons at Centre for Surgery. Our patient coordinators are extremely knowledgeable about all aspects of the procedure and they have been directly trained by our team of consultant plastic surgeons.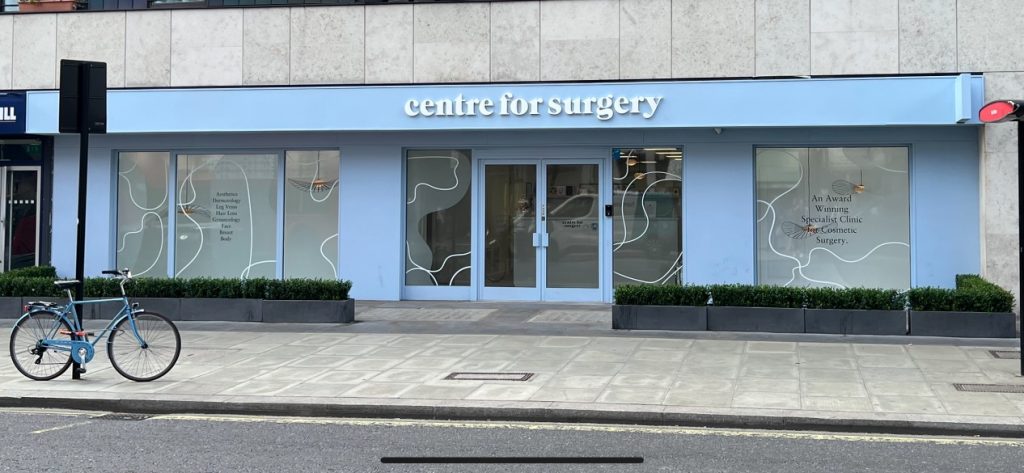 [wpseo_map id="9814″ width="750″ height="300″ zoom="15″ map_style="roadmap" scrollable="1″ draggable="1″ show_route="0″ show_state="0″ show_url="1″ show_email="1″ default_show_infowindow="1″ show_phone="1″ show_phone_2="0″ show_fax="0″]
[trustindex no-registration=google]
Medical References – Further Reading
[baslider name="tummytuck"]
What To Expect
The consultation
When considering body contouring surgery, it's important to have a thorough consultation with an experienced surgeon. During this consultation, your surgeon will take a number of measurements of the body areas where fat is to be removed and assess the soft tissue quality. This information will help determine the best course of action for achieving your desired results.

If you have good skin elasticity, liposuction alone may be a suitable option. However, if you have significant skin laxity with associated muscle weakness, a tummy tuck may be a better choice. Your surgeon will be skilled in all types of tummy tuck surgery, including the Brazilian tummy tuck, and will make the most appropriate choice based on your physical examination. This may include a full, mini, or extended tummy tuck.

During your consultation, your surgeon will also discuss the location of the incisions for the abdominoplasty procedure. Typically, these incisions run from hip to hip and around the belly button for a full tummy tuck.

If you're considering a revision tummy tuck after surgery performed elsewhere, your surgeon may want to see you again for a second consultation. In this case, your surgeon will want to review your medical records from your previous tummy tuck to plan the revision abdominoplasty more effectively.

High-resolution photos will be taken and your surgeon may also use computer digital imaging to map your areas of concern in closer detail. Your surgeon will take time to discuss the important risks and potential complications of abdominoplasty surgery and what you can expect in the postoperative period.

Your surgeon will also take a full medical history during your consultation, including previous operations, current list of medicines taken, and any potential allergies. This information will be used to determine your fitness for the tummy tuck procedure. If you're deemed a suitable candidate for surgery, it's recommended to take some time to reflect on all the information given. A minimum of a '2-week cool off period' is recommended to weigh up your options.

At Centre for Surgery, we encourage our prospective patients to have as many follow-up consultations as needed to ensure that they are fully informed and empowered to make an informed decision about proceeding with tummy tuck surgery. Our goal is to ensure that our patients have a positive and satisfying experience from start to finish.
Before the abdominoplasty procedure
Once you've made the decision to undergo a tummy tuck procedure, it's important to prepare properly for the surgery. Our preoperative assessment team will be in contact with you to ensure that you're fully prepared for the procedure.

To minimize the risks associated with the surgery, we recommend the following actions:

Firstly, if you are a smoker, it is highly recommended that you stop smoking for at least six weeks before the procedure. Smoking can be associated with a number of risks including delayed wound healing which could lead to wound infections. Additionally, smoking can impair blood supply to the abdominal skin flap, increasing the risk of wound breakdown. Therefore, it is essential to quit smoking before the surgery to optimize the healing process.

Secondly, if you're taking oestrogen-containing oral contraceptives, we recommend stopping these at least four weeks prior to the tummy tuck procedure.

Thirdly, it's important to avoid aspirin and all medicines containing aspirin for at least one week before the surgery. These medications can increase the risk of bleeding during and after the procedure.

Lastly, it's essential to refrain from eating any food or drink (except for sips of clear fluids such as water and tea/coffee without added milk) for at least six hours prior to the procedure. This helps to reduce the risk of complications during and after the surgery.

By following these recommendations, you can help ensure a safe and successful tummy tuck procedure. Our team will be with you every step of the way to guide you through the preoperative process and answer any questions you may have.
On the day of the tummy tuck procedure
It's important to arrive at the confirmed time for your abdominoplasty procedure at Centre for Surgery. Once you arrive, one of our nursing team will admit you for the procedure and perform a number of tasks, including checking your blood pressure and other vital signs such as your pulse and temperature. They will also get you changed into single-use clinic wear. The consultant anaesthetist will then assess you to ensure that you're fit for the TIVA anaesthetic and prescribe any necessary pre-medications to help with your recovery after the liposuction procedure. Your surgeon will then confirm the procedure to be undertaken, and you will sign the informed consent form. Skin marking and photos may also be taken at this point.

Abdominoplasty is a very common procedure at Centre for Surgery and is typically carried out as a day case under TIVA general anaesthesia. The procedure can take between 2-4 hours to complete, depending on the extent of the procedure and whether other procedures are combined with it. Your surgeon will begin by making an incision across the lower abdomen, as low as possible to ensure optimum concealment of the resulting scar. An incision will also be made around the belly button. The abdominal skin flap will then be carefully undermined using radiofrequency cautery all the way to the lower ribcage. The resulting skin flap will be pulled down, and any excess redundant skin will be trimmed off to match the new contours. Liposuction will also be performed on the upper abdomen, flanks, and edges of the incision to create a smaller waist. The incision will be closed with minimal tension to maximize good wound healing. A new opening for the belly button will be created, and the existing belly button will be sutured into its new position. You may have one or two drains inserted to collect any excess fluid used during the liposuction, and these are usually removed about 2-3 days later in the clinic.

After the procedure, you will be closely monitored by our nurses for 1-3 hours while you recover from the TIVA anaesthetic. You will be given a fruit juice or a hot drink to build up your energy levels. Once you're assessed as fit for discharge, you'll need a responsible adult escort to take you home in a car or taxi and look after you for at least the first 24 hours after surgery. You may experience a mild sore throat for a few hours after the surgery, which is due to the presence of the breathing tube used for your anaesthetic. This is a temporary discomfort.
After your procedure
Our postoperative support team is dedicated to ensuring that you have a smooth recovery process after your tummy tuck procedure. They are available around the clock to answer any questions or concerns you may have. Our team will call you regularly during the first two weeks after your procedure to monitor your pain levels and ensure that your healing is progressing as expected.

You will need to come in for drain removal by one of our nurses 2-3 days after your procedure. Recovery after a tummy tuck is usually straightforward, with minimal discomfort that can be effectively controlled with tablet painkillers. Most of our patients are very comfortable by the end of week 1. It's important to keep well hydrated and to gently mobilize to help with the healing process as there is a risk of DVT/PE after tummy tuck surgery. Your doctor may recommend taking approximately one week off work. You should minimize any excessive physical activity for the first 2 weeks after surgery to help with the healing of the incisions and reduce swelling.

You will be required to wear a supportive compression garment for a full 6 weeks to ensure optimal healing and to promote the best possible healing of scars. It's important to attend a postoperative check-up with one of our nursing team at 7-10 days to review your surgical wound sites and ensure proper healing is taking place. Our team may also provide recommendations on treatments for scar healing to promote optimal cosmesis.

At 6 weeks, you should begin to see your final results, and you will see your surgeon for a comprehensive review to ensure that your results are in line with your expectations. Our team is committed to providing you with the support you need throughout your recovery process to ensure that you have the best possible outcome.