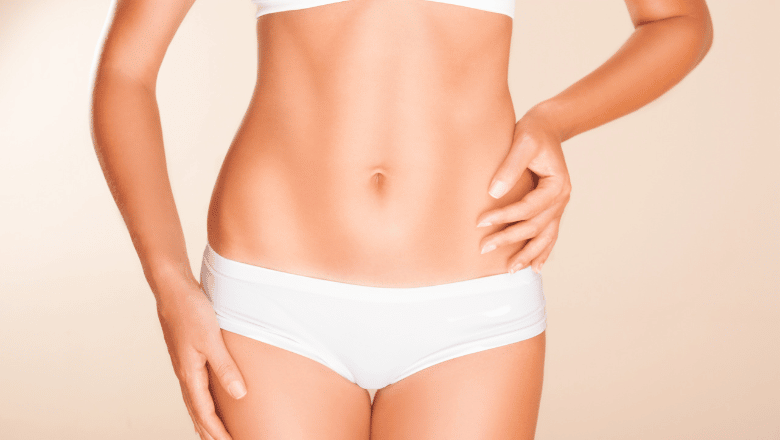 Pregnancy can result in significant changes to a woman's body, including a persistent bulge around the tummy area which may be associated with excess fullness in the lower abdomen, also known as a post-pregnancy pouch. Abdominal muscles may become permanently separated after childbirth, known as diastasis recti or abdominal separation. Abdominal separation can be effectively treated with a tummy tuck to achieve a more toned abdomen.
RELATED: What is Diastasis Recti and how can I fix it?
What is abdominal separation?
Abdominal separation is also known as diastasis recti. The abdominal muscles are primarily composed of the rectus abdominis which are the muscles located near the midline of the stomach. During pregnancy, the enlarging uterus expands outwards and results in the separation of the two parallel abdominal muscles, which lie on either side of the midline. As the baby begins to enlarge during the later stages of pregnancy, the increased intra-abdominal pressure causes the overlying abdominal muscles to undergo abdominal separation. It is exacerbated by the hormonal surges which occur during the second half of pregnancy.
The vast majority of women who undergo childbirth develop diastasis recti in the postpartum period. Certain women are more likely to develop abdominal separation, including:
Those with weak abdominal muscles.
Women who had more than one baby at delivery – twins or more.
Women who have undergone multiple pregnancies in the past
Older women, typically over the age of 35
What are the clinical features of diastasis recti?
Abdominal separation is most commonly characterised by an obvious bulge which is located in the middle part of the abdomen which has not gone away after childbirth. Some women may be able to visualise a clear gap between the two parts of the rectus abdominous muscles. This gap between the two muscles can be accentuated when women lie on their backs and with their heads raised. Bulging of the abdominal muscles may also lead to women developing back pain. Weakened abdominal muscles are less able to stabilise the lower back. Many women may also develop urinary incontinence or pelvic floor dysfunction due to damage to the pelvic floor during childbirth.
RELATED: Key facts about tummy tuck surgery & abdominoplasty
How can I tell if I have abdominal separation?
Diastasis recti can be easily identified by lying on your back with your knees bent and feet placed firmly on the floor. Your head should be gently raised whilst you place a hand along the middle part of your abdomen both above and below the umbilicus. With abdominal separation, a distinct gap can be felt in between your abdominal muscles, which may be more than 2 to 3 fingerbreadths in width.
We would recommend having an in-person consultation with a consultant plastic surgeon to determine whether you have diastasis recti.
Does diastasis recti go away on its own?
Whilst regular exercise and healthy eating can help to tone your body following pregnancy. Persistent abdominal bulging caused by abdominal separation can be affected by several factors, including:
Your skin quality or elasticity
How many times you have undergone childbirth
The number of babies delivered and their birth weight
  How much weight you gained during pregnancy and then lost after childbirth
More than one-third of women who have undergone childbirth experience symptoms of diastasis recti. Diastasis recti does not go away on its own and cannot be improved in most cases by eating healthily and exercising regularly. The only way to repair weakened abdominal muscles after childbirth is to have an abdominoplasty with muscle repair.
Which exercises are best for diastasis recti?
Exercises which are designed to target your abdominal muscles can help in mild cases of abdominal separation. These include many types of Pilates exercises, such as pelvic tilts and bridges. It is important to seek medical advice before targeting your abdominal muscles, as certain exercises may cause more harm. An experienced personal trainer or physiotherapist will be able to advise you appropriately. In most cases, abdominal separation, which is wider than 2 cm, is more likely to require a tummy tuck for effective correction. Women can achieve their pre-pregnancy body with a flat stomach after abdominoplasty surgery.
RELATED: Exercise after tummy tuck – top tips
What exercises should be avoided if I have abdominal separation?
Certain exercises and activities should be avoided to prevent diastases recti getting worse, including:
Lifting heavy weights
Abdominal crunches or planks
Traditional push-ups
Can diastasis recti be corrected?
Abdominal separation can be effectively corrected with a tummy tuck or an abdominoplasty combined with muscle repair when regular physical exercise or physiotherapy has failed to achieve improvement.
RELATED: What is Diastasis Repair?
What is a tummy tuck?
A tummy tuck, also known medically as an abdominoplasty, is a cosmetic surgery procedure designed to improve the appearance and shape of your abdomen and midsection by targeting the removal of excess fat and skin. Diastasis recti can be effectively treated with abdominal muscle repair.
What are the benefits of a tummy tuck?
Achieve a firmer and flatter-looking abdomen.
Improvement in abdominal muscle strength, which helps to reduce back pain.
Significant boost in self-confidence.
Am I suitable for a tummy tuck?
Ideal patients for tummy tuck surgery include:
Those who have stubborn belly fat that has not been reduced with diet and exercise.
Patients with excess skin after childbirth.
Patients who have developed diastasis recti or abdominal separation after pregnancy.
Patients left with saggy skin after significant weight loss.
Patients have developed a significant loss of self-confidence due to saggy skin and abdominal muscle bulging.
Will I need a full tummy tuck or a mini tummy tuck?
In most cases, a full tummy tuck will be required for patients who have loose skin and excess fat both above and below the belly button as a result of pregnancy or weight loss. Abdominal separation can only be fully treated as part of a full tummy tuck. Tummy tuck surgery involves the removal of saggy skin with the repair of diastasis recti combined with the repositioning of the umbilicus.
A mini tummy tuck is more suited for women who have a healthy body mass index with localised areas of loose skin in the lower part of the abdomen only and who otherwise have good overall muscle tone. Sometimes, the lower abdominal muscles can be tightened as part of a mini tummy tuck. However, a mini tummy tuck, in most cases, involves the removal of excess skin alone or in combination with liposuction.
What to expect after tummy tuck surgery
A tummy tuck can effectively help to improve the strength of the abdominal muscles by surgically repairing them, and this will also help to produce a narrow waist. Excess fat can be removed with liposuction, and liposuction is commonly combined with a tummy tuck which is also known as a Brazilian tummy tuck.
How to choose the best tummy tuck surgeon in London
When researching the best abdominoplasty surgeon in London, we recommend learning about the surgeon's qualifications and experience in body contouring surgery. Abdominoplasty surgery should only be carried out by a consultant plastic surgeon with experience in the full range of body contouring surgery, including liposuction.
Why choose Centre for Surgery for a tummy tuck?
Centre for Surgery is the leading plastic surgery clinic in the UK. Our London plastic surgeons are renowned for their expertise in tummy tuck and abdominoplasty surgery. Many women come to us after having undergone pregnancy and childbirth and have found it virtually impossible to get rid of abdominal separation. Our surgeons have years of experience carrying out diastasis recti correction as part of a tummy tuck to achieve a flat stomach and narrow waist.
Call us today on 020 7993 4849 or complete the contact form below to schedule an in-person abdominoplasty consultation at our state-of-the-art Baker Street clinic in Marylebone.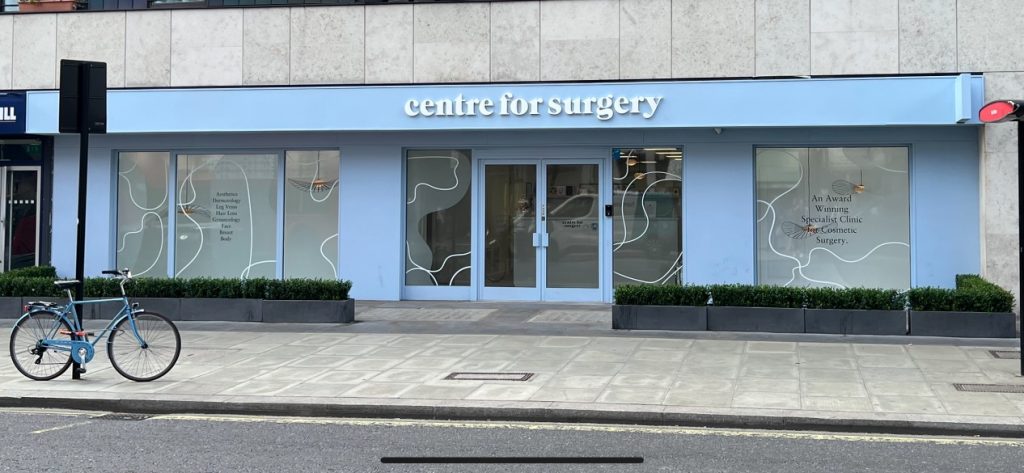 Amazing from start to finish, the communication was the main thing was fully informed and looked after, on the day of my breast augmentation, the staff were fab and made me feel at ease through out the whole process. Thank you so much.
Mohammed Farid
18/11/2021
I've had such a great experience with excellent advice, care and attention and surgical treatment (gynaecomastia) - I can fully endorse the treatment I have received from Centre for Surgery with absolutely no qualms at all. Brilliant in every way - thank you all so much.
Caroline Thorpe
14/11/2021
Very pleased with my whole experience of having a procedure. Was so nervous about getting treatment and i was reassured and felt so comfortable throughout thanks to the amazing nurses. I definitely made the right decision to have breast augmentation at centre for surgery with dr erel.
Melissa Briggs
08/11/2021
So glad I went with centre for surgery, the whole process went very smoothly from the consultations down to the actual day of the procedure. I was so nervous on the day but the whole team put me at ease and I'm happy with my results as I feel a lot more comfortable wearing certain clothes now. My surgeon was Alberto Di Giuseppe who performed a breast Augmentation on me, and I would definitely recommend as he was very clear on what the outcome of the surgery would be and which size would look the best for my frame.
Couldn't be happier with Dr Tillo work,i had my breast surgery one week ago and so happy with the results so far,all the staff are extremely nice and very supportive,i would definitely recommend their services,thank so much
From start to the finish everything was perfect for tummy tuck surgery. All staff is very friendly and the aftercare has been good. The Doctor and the nurse team was fantastic. I'm so happy...result is amazing. Thank you!!!
This was overall a great experience, all the staff at Centre for Surgery were friendly and put me at ease. It is a nerve wracking thing to go through an op but the staff were so nice. Mr Ertan has got a great team around him. On the day of the operation everything went smoothly to plan, there was no delay or holdups, I had another consultation with Mr Ertan who confirmed what was going to be done and that I was still happy to proceed. I was prepped for the procedure, I met with the anaesthetist who again was really nice and put me at ease explaining his role. After the procedure I woke up with the nurse by my side making sure I was OK and checking on me, I was able to stay in the clinic until I was ready to leave and was not rushed at all. I was well looked after from the start to the point when I was discharged. Post operation I was staying at a local hotel it was so close there was no point in even getting a taxi and I was able to walk back where my partner was waiting for me. I was expecting a lot of bruising to both my eyes but there was very little if any by the time the cast came off after 7 days, I am now at the two week post operation point and it is healing well with no outwardly visible bruising or scaring. The next milestone is a checkup at the 6 week point with my surgeon. If you're thinking of having something like this done I would highly recommend getting in touch with Centre for Surgery.
The staff at Centre for Surgery were very kind and accommodating. They answered any questions I had about the procedure and were constantly checking up on me. A special thank you to Christina for all her support throughout.
I would just like to state the quality of care received from the nurses at Centre for Surgery was beyond the highest level. Sophie takes her patient care to another level beyond words. She always puts me at ease. She is there for me even at awkward hours just when I mostly needed reassurance and she is one of the most compassionate nurses I have come across and demonstrates her passion naturally for caring for others. She totally deserves recognition at its finest and thank you for always being there for me. 😍