Morpheus8 London UK

Experience the ultimate in skin rejuvenation with Morpheus8, the revolutionary technology that combines micro-needling and radiofrequency for unparalleled anti-ageing results
With advancing years, the skin gradually loses its firmness and elasticity. Collagen and elastin content diminish and is often accompanied by volume loss caused by loss of underlying fat. The result is often skin that is sagging, less firm and prone to the premature development of lines, wrinkles and skin folds. The lines and wrinkles which develop can be worsened by fluctuations in weight, tobacco smoking, chronic sun exposure and genetics. Once advanced skin changes have developed, even premium skin creams and serums are unable to restore a healthy and youthful appearance. Although a surgical facelift is an excellent procedure for addressing the ageing face, not all patients are willing to accept an invasive procedure that carries potential risks and a period of downtime. Centre for Surgery in London are pleased to offer Morpheus8 fractional radiofrequency for restoration of a youthful and refreshed appearance without the incisions, scars, risks or downtime of traditional excisional surgery.
Morpheus8 is fully FDA-approved for the smoothening of fine lines and wrinkles in the face, neck and décolletage. The treatment involves the delivery of precise radio frequency energy deep into the dermal layer of the skin. The transmitted radiofrequency energy induces stimulation of dormant fibroblasts leading to new collagen and elastin production, which are the fundamental building blocks of smoother and firmer skin. Treatment results continue to improve over time as the collagen is remodelled in the dermal layer and can lead to both a lifting and plumping effect. The newly remodelled skin is both firmer and tighter and can be successfully paired with FaceTite or BodyTite for more significant degrees of skin laxity in patients not keen on excisional surgery. For patients who have had previously had laser skin tightening and are keen to achieve more skin tightening before considering a surgical option, fractional RF microneedling is an ideal option.
Expected Results after Morpheus8
Reduction of deeper peri-oral lines around the mouth
Smoothening of superficial and deep lines around the eyes
Reduction of jawline laxity and sagging leading to a tighter, more defined jawline
Tightening of skin beneath the chin which leads to a reduction in the appearance of a double chin when combined with submental liposuction
Tightening tissue in the neck and décolletage area
What is Morpheus8
Morpheus8 is a cutting-edge aesthetic treatment that combines microneedling with radiofrequency (RF) energy to rejuvenate and improve the skin's appearance. This non-surgical procedure is designed to target the deeper layers of the skin, promoting collagen production and remodeling tissue for a firmer, smoother, and more youthful complexion.
Here's how Morpheus8 works:
Microneedling: Morpheus8 uses an array of small needles that penetrate the skin to create controlled micro-injuries. This process stimulates the body's natural healing response, which includes the production of collagen, an essential protein for skin elasticity and firmness.
Radiofrequency Energy: While the needles are in the skin, Morpheus8 delivers radiofrequency energy to the deeper layers. This energy heats the underlying tissues, further stimulating collagen production and tightening the skin.
The combined effect of microneedling and radiofrequency energy makes Morpheus8 particularly effective for addressing a range of skin concerns, including:
Wrinkles and fine lines
Skin laxity or sagging
Acne and acne scars
Stretch marks
Uneven skin texture
Enlarged pores
Scarring
The procedure is minimally invasive and usually well-tolerated with the application of a topical anaesthetic. There is typically some redness and swelling post-procedure, but most patients can return to their regular activities within a few days.
Morpheus8 is versatile and can be used on various parts of the body, including the face, neck, arms, and abdomen. It is also safe for all skin types and tones, making it a popular choice for those seeking a non-surgical option for skin rejuvenation.
Morpheus8 combined with FaceTite
Case 1: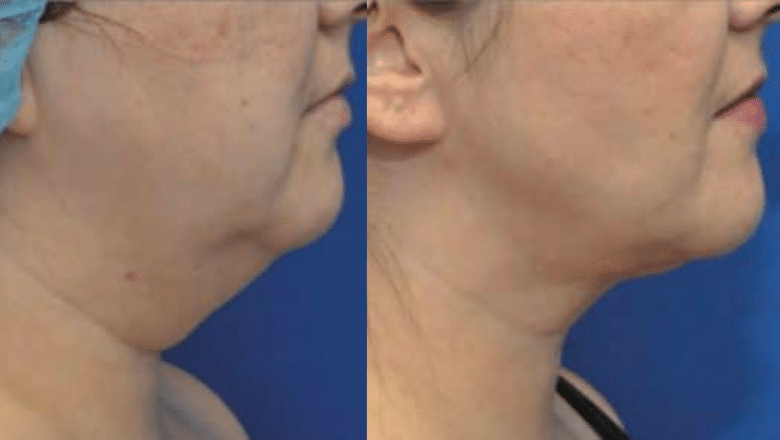 Case 2: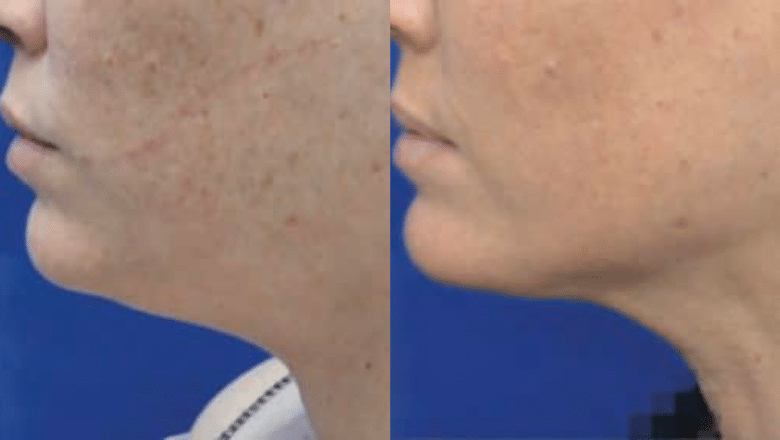 Case 3: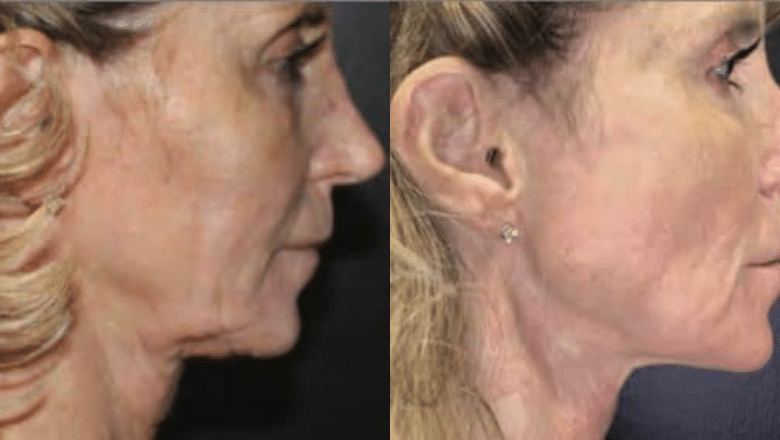 See a Morpheus8 Face Treatment
Morpheus8 combined with BodyTite
Case 1: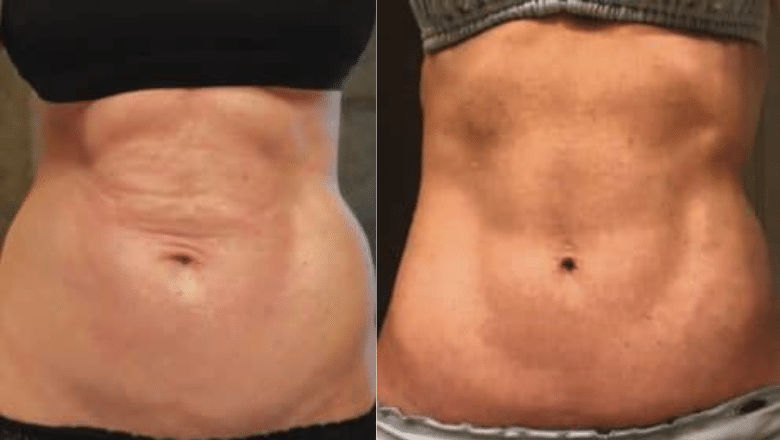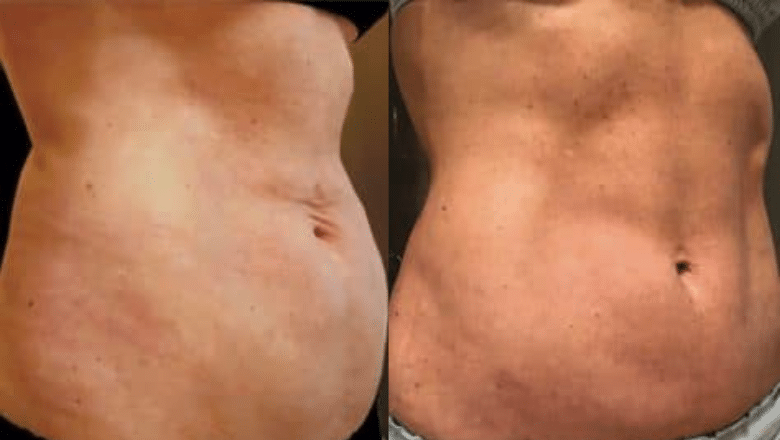 Case 2: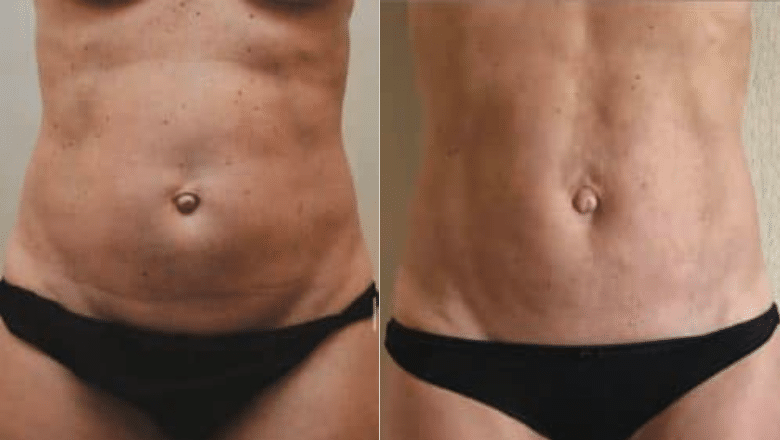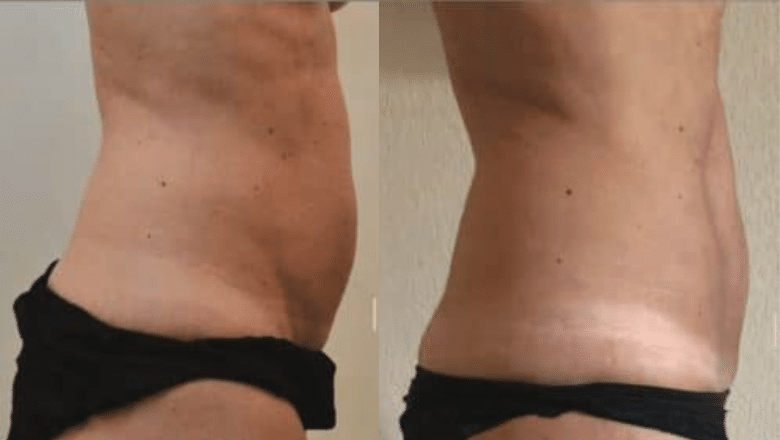 Case 3: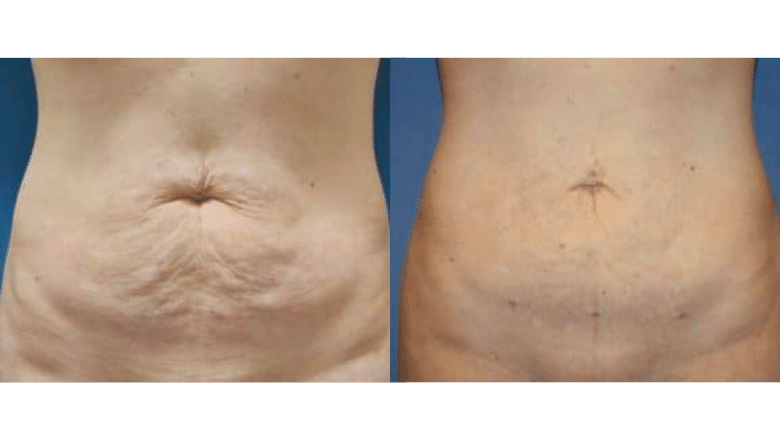 Case 4: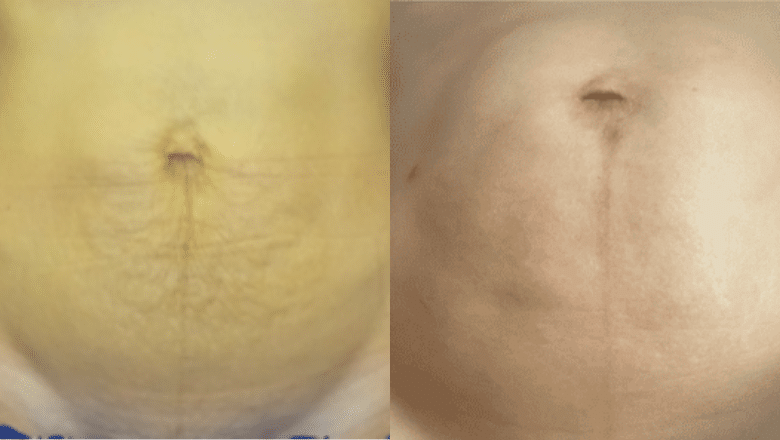 Case 5:
See a Morpheus8 Body Treatment
Benefits of Morpheus8
Morpheus8 offers an array of benefits for individuals seeking to improve the texture, tone, and overall appearance of their skin. Some of the key benefits include:
Minimally Invasive: Morpheus8 is a minimally invasive procedure, which means that it involves little to no cuts or incisions. This reduces the risk of infection and results in a shorter recovery period compared to more invasive surgical procedures.
Collagen Production: By combining microneedling with radiofrequency energy, Morpheus8 stimulates the production of collagen, a vital protein that maintains the skin's elasticity and firmness. Increased collagen helps in reducing wrinkles and sagging.
Skin Tightening: The radiofrequency energy delivered to the deeper layers of the skin leads to the contraction of the tissues, resulting in noticeable skin tightening, which is beneficial for individuals with loose or sagging skin.
Improved Skin Texture and Tone: Morpheus8 effectively improves skin texture and tone by addressing issues like enlarged pores, scars, and uneven pigmentation.
Reduction of Scars and Stretch Marks: It's effective in reducing the appearance of acne scars, surgical scars, and stretch marks.
Contour Refinement: Besides improving skin texture, Morpheus8 also helps in refining and sculpting the contours of the face and body, giving a more youthful and rejuvenated appearance.
Customisable Depth: Morpheus8 allows for customisation in terms of the depth of needle penetration and energy levels. This makes it possible to tailor the treatment to address specific concerns and cater to different skin types.
Suitable for All Skin Types: Morpheus8 is safe and effective for all skin types and tones, including darker skin tones, which are sometimes at risk of hyperpigmentation from other laser treatments.
Reduced Downtime: Compared to more invasive procedures, the downtime for Morpheus8 is relatively short. While there might be some redness and swelling, most individuals can return to their normal activities within a couple of days.
Long-lasting Results: The results of Morpheus8 are not only noticeable but are also long-lasting. As the treatment stimulates natural collagen production, the effects continue to improve over several months.
Versatility: Morpheus8 can be used on various parts of the body, not just the face. It's effective for treating areas like the neck, abdomen, arms, and legs.
Combination with Other Treatments: Morpheus8 can be combined with other aesthetic treatments for enhanced results.
Ideal candidates for Morpheus8
Morpheus8 is a suitable treatment for those who are wishing to improve the appearance of:
Mild sagging in the face and neck

Chronic sun damage

Acne scars

Perioral fine lines

Uneven skin tone and texture

Scars and stretch marks
You will need to be at least 18 years old to undergo this treatment. This treatment is suitable for all skin types including darker skin types. You will need to have realistic expectations about what the procedure can achieve as it does not give surgical results but can significantly improve ageing changes.
Who is not suitable for Morpheus8?
You will not be a suitable candidate if you are currently pregnant, breastfeeding or have an active skin infection. Those who have severe wrinkles or skin laxity may not be suitable. Prior to undergoing this treatment, you will need to have a consultation with one of our surgeons. They will be able to assess your skin and ensure you are a suitable candidate for this procedure. Some people may need to combine treatments, or it may be better to undergo more effective but invasive procedures such as a surgical facelift.
Morpheus8 procedure
Morpheus8 RF microneedling is a minimally invasive procedure. In most cases, a topical anaesthetic will be applied to the skin prior to the procedure to minimise any discomfort associated with treatment. For larger areas or for treatment performed at higher energy settings, your practitioner may perform a local anaesthetic block for enhanced comfort. Treatment time can vary depending on the areas treated. A full face and neck treatment takes about 2 hours to complete. Morpheus8 works by utilising microneedles which are combined with radiofrequency energy. The microneedles are then used on the target area, penetrating up to 4mm. The radiofrequency is then applied at this level. The handheld device will be gently passed over the skin until the treatment is complete. This treatment will not only target the fat beneath the skin but will also act on the collagen and elastin in the skin for enhanced effect. This will cause the skin to become tighter, more vibrant and more youthful.
Morpheus8 Aftercare
As this is a non-surgical procedure, you will experience minimal downtime. Following the treatment, it is usual to experience redness, swelling and shiny skin for up to five days. You may also notice that your skin will peel during this period. During the first few days following the procedure, you will need to ensure you take care of your skin. You will need to avoid excess sun exposure and ensure you apply high-SPF sunscreen. You should also ensure your skin stays moisturised. Avoid applying makeup until the following day. You will not need to take any time off work – most people will return to work the day after they have treatment. You will be able to notice results straight after the procedure. However, with time the results will continue to improve, and you will notice the best results after two to three weeks.
Morpheus8 Cost London
There are a number of factors which will impact the final cost of your RF microneedling procedure:
Treatment of face and/or neck
Combination treatments with anti-wrinkle injections
Combination with FaceTite
Why not call 0207 993 4849 and speak to one of our expert patient coordinators, who may be able to give you a rough costing before the treatment?
Always remember that price should never be the determining factor when choosing your provider. We feel that safety and quality of service should be your number one priority and instil in you the confidence that our team will look after you before, during and after your procedure to the best of their ability.
RealSelf Top Doctors for Morpheus8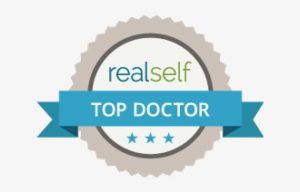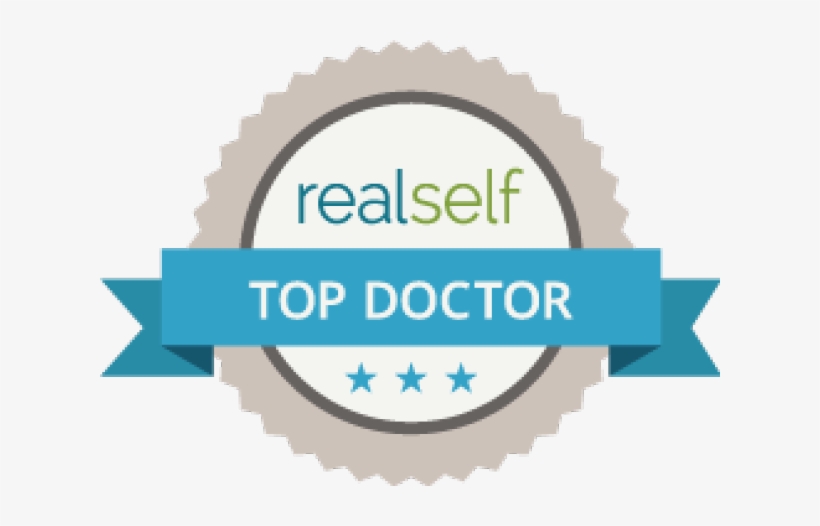 RealSelf's top doctor status is awarded to less than 10% of the RealSelf doctor community. This status is earned by achieving consistently high patient satisfaction (from RealSelf reviews), getting excellent feedback on expert answers to patient questions, and investing significant time in Q&A and other doctor activities. RealSelf's top doctors are rated among the best surgeons in the United Kingdom.
Morpheus8 at Centre for Surgery - What Sets Us Apart?
Selecting Centre for Surgery for your Morpheus8 treatment is a decision accentuated by numerous advantages that set us apart in the realm of aesthetic procedures:
Expertise and Experience: Our team comprises highly skilled and experienced practitioners who have honed their craft in administering Morpheus8 treatments. Our professionals stay abreast with the latest advancements, ensuring that you receive the most cutting-edge and effective treatment.
Tailored Approach: We understand that each individual's skin and aesthetic goals are unique. At Centre for Surgery, we take the time to comprehensively evaluate your skin and listen to your concerns to craft a customised treatment plan that aligns with your aspirations.
Patient-Centric Care: Our priority is your comfort and satisfaction. From the initial consultation through to post-treatment follow-up, our dedicated team ensures that you are well-informed, supported, and that your experience is as seamless and pleasant as possible.
Stringent Safety Standards: Patient safety is paramount at Centre for Surgery. Our facilities and protocols are designed to adhere to the highest standards of hygiene and safety. Moreover, we utilise state-of-the-art equipment, ensuring that your treatment is conducted in a secure environment.
Natural and Long-lasting Results: Our adept execution of Morpheus8 treatments aims at delivering results that not only meet but exceed your expectations. We focus on creating natural-looking improvements that are durable, allowing you to enjoy the benefits for an extended period.
Post-Treatment Support: After undergoing Morpheus8 treatment, we remain dedicated to your care. Our post-treatment support includes guidance on skincare routines, tips to enhance and maintain results, and follow-up appointments to monitor your progress.
Accessible Location and Modern Facility: Situated at a convenient location, Centre for Surgery is easily accessible. Additionally, our clinic boasts a contemporary and serene ambiance, ensuring that your experience is both convenient and enjoyable.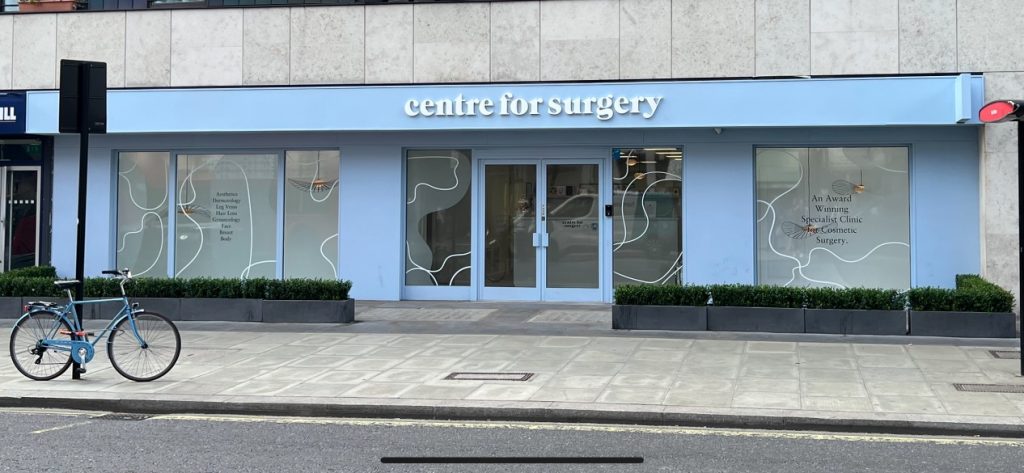 What To Expect
The consultation
We always recommend a face to face consultation with one of our expert aesthetic practitioners as a first step in your journey towards achieving a more revitalised appearance When you meet with one of our practitioners, they will take time to listen carefully to what you hope to achieve and give you an expert opinion on what can and cannot be achieved with Morpheus8 after performing a thorough physical examination. Your practitioner may use computerised digital imaging to map the structure of the face region in detail to give you an idea of how you could look like after your procedure.
Your practitioner will also take a number of measurements as part of a detailed facial analysis. Finally high resolution photographs are taken in a number of views. Your surgeon will also discuss with you the potential risks and complications of radio frequency microneedling and what to expect in the period after your procedure. It is important to know what medicines you taking as some medicines can interfere with blood clotting and may need to be stopped. Any history of medical conditions or previous surgery will also be recorded and all the compiled information is used to make a decision on your medical fitness for the Morpheus8 procedure. After a recommended two week "cool off" period and provided you are appropriate for the procedure, you can then make an informed decision on whether you would like to proceed with the Morpheus8 procedure. If you are unsure on any aspect of the procedure and what it entails then we would invite you to return for as many follow-up consultations with your practitioner as you like to make sure that Morpheus8 is right for you. The consultation lasts about 45 minutes on average. It may take longer if your procedure is going to be more complex or combined with other treatments. We would actively recommend coming in for a follow-up consultation to ensure all your questions are answered.