Veins Under Eyes Laser Treatment London & UK

Rejuvenate your appearance with our precise laser treatment, designed to safely reduce the visibility of under-eye veins for a brighter, more youthful look
Visible veins under the eyes can be a cosmetic concern due to the thin dermis of lower eyelid skin and facial fat volume loss with age. As the eye area is highly sensitive and differs from other facial and body regions, it's essential to have any under-eye veins evaluated by an experienced clinician at Centre for Surgery to determine appropriate treatment options.
If deemed suitable, Fotona Laser may be utilised for under-eye thread vein treatment. This procedure directs pulses of light energy at the problematic vein, causing the blood inside to clot, subsequently leading to the vein's disintegration and absorption by the body. As a result, blood flow is rerouted to deeper veins within the face.
The procedure typically lasts between 15 to 30 minutes, with cooling gel applied for comfort during the process. The laser vein treatment is a safe and effective method for reducing the appearance of visible under-eye veins, providing a more refreshed and youthful look.
What are Veins Under Eyes?
The veins under your eyes are small blood vessels that can sometimes be visible through the skin. This area of skin, known as the periorbital area, is much thinner and more delicate than the skin elsewhere on your body, making the veins underneath more noticeable. Veins under the eyes often require a different treatment approach compared with other types of facial thread veins.
Several factors can make these veins appear more prominent. Ageing is one of them, as our skin naturally loses fat, collagen and elastin over time, making it thinner and more translucent. Genetics can also play a role – some people naturally have thinner skin or more prominent veins in this area.
Other factors can also contribute to the visibility of under-eye veins. For example, fatigue or lack of sleep can cause the skin to pale, making veins more visible. Allergies or eye strain can cause inflammation and swelling that puts pressure on the veins, making them appear more prominent. Certain medical conditions or medications can also affect the appearance of these veins.
While they are typically harmless, some people may choose to seek treatment for cosmetic reasons if they find the appearance of these veins bothersome.
What Causes Prominent Veins Under the Eyes?
The prominence of veins around the eyes can be attributed to several interconnected factors:
Genetic Predisposition: Your genes play a substantial role in how the skin structure and vein appearances around your eyes develop. Akin to many other physical traits, issues like vein prominence and significant skin laxity, also known as dermatochalasis, have a tendency to be inherited. It's not uncommon to see these concerns manifesting similarly across multiple generations within a family.
Age-Related Changes: As we age, the anatomical structure of our eye region undergoes numerous changes. For instance, the bony frame that forms the perimeter of the eye alters its shape with advancing age. This transformation contributes to the loss of support of the soft tissues surrounding the eye, leading to changes in the orbital fat distribution. The orbital fat may begin to exert more outward pressure against the skin around the eyes, stretching the skin and rendering veins around the eyes more conspicuous. Simultaneously, the skin in this region itself starts to become thinner and more translucent, further highlighting the underlying veins.Additionally, the density and elasticity of collagen, a key structural protein in our skin, tend to decline with age. This change results in the loss of supportive tissues around larger veins around the eyes, leading these veins to dilate and expand due to the diminished dermal support. This coupled with the thin and translucent skin around the eyes makes these large, blue, or green veins even more apparent.
Skin Type Differences: The characteristics of your skin type also play a role in the visibility of veins under your eyes. For instance, people with lighter skin types are more prone to developing this issue, mainly because lighter skin is generally less elastic and has a lower collagen density. As a result, the supporting structure around these veins tends to deteriorate earlier in individuals with lighter skin types.Conversely, darker skin types are naturally more collagen-dense and retain elasticity for a longer period. The higher melanin content in darker skin reduces the visibility of underlying veins due to less skin translucency.
Sun Exposure and Photodamage: Prolonged exposure to the sun, particularly UVA light, can contribute to the appearance of large veins around the eye. UVA light can penetrate the skin, progressively degrading the collagen and elastin within it. This degradation is particularly problematic for the skin around the eyes, which is on average four times thinner than the skin on the face.Sun damage, therefore, accelerates the loss of skin integrity, especially in lighter skin types which have less natural melanin to protect the skin against the harmful effects of UV light. Over time, this can lead to the collagen and elastin in the skin degrading faster than the body can replace them, leading to changes such as more visible veins around the eyes.
By understanding these factors, we can better comprehend why some individuals have more visible veins around their eyes and can accordingly develop personalised treatment plans to address this concern.
Why are periorbital veins difficult to treat?
Understandably, it might seem perplexing why veins around the eyes are challenging to treat effectively.
Firstly, the National Health Service (NHS) doesn't provide treatment for large, prominent veins around the eyes because it's viewed as a cosmetic, rather than a health issue. Consequently, treatment options are only accessible within the UK's private sector.
Given the absence of NHS cover, many doctors haven't received training to address this particular concern, lacking experience and expertise in this field. There are only a few private medical centres that possess the necessary knowledge, training, and legal authorisation to carry out this type of treatment.
The required equipment to treat these veins isn't commonplace either. Specifically, you need potent vascular lasers, a technology only available in a limited number of NHS departments across the UK. Even then, they're not permitted to use these lasers for cosmetic procedures like treating eye veins.
The expertise required to treat veins around the eyes safely and effectively shouldn't be underestimated. Attempting to do so without adequate experience could be perilous. Misjudged settings could lead to burns and scarring on the delicate, thin skin surrounding the eyes.
Acquiring the judgement to select the correct settings takes a specialist doctor thousands of laser vein treatments to master. They need to understand the intricate relationship between depth of penetration, pulse width, and energy/fluence. Additionally, the doctor must be adept at placing internal ocular metal eye shields to safeguard the cornea and eyes from laser exposure.
The only alternative non-laser method of treatment, Sclerotherapy, is considered high-risk around the eye area. The skin here contains blood vessels closely linked with those supplying blood to the retina. Injecting liquid or foamed sclerosants into these veins carries the potential risk of blindness, either by hindering retinal circulation or by causing air embolus. Some have attempted to mitigate this risk by using sutures to tie off parts of the problematic vein before injecting with sclerosant, limiting the possibility of sclerosant entering the eye or brain circulation.
However, this Sclerotherapy technique is quite complicated, unpredictable, and still considered experimental and hazardous. Some centres worldwide use this method, but it requires highly skilled hands. Due to the potential risk, most doctors and specialists are reluctant to use this approach and strongly discourage the use of sclerosants around the eyes.
On the other hand, the vascular Laser methodology, when carried out by seasoned professionals, focuses solely on the prominent large vein and poses no danger to the retinal or brain circulation. The NdYAG laser type is recognised as the Gold Standard for safe and effective treatment of large, blue veins around the eyes.
Veins Under Eyes Before & After Photos
At Centre for Surgery, we're renowned as one of the UK's leading clinics specializing in minimally invasive vein treatments. We take immense pride in the excellent results we deliver, as well as our outstanding post-procedure care for all vein treatments. For a visual representation of the effectiveness of our treatments, we invite you to view our before and after photos of under-eye vein removal procedures conducted by our expert team. To determine the best approach for your individual needs and to see an extended gallery of our successful vein removal transformations, we encourage you to book a consultation with our specialists. With our expert guidance, we can help you achieve a refreshed, youthful look.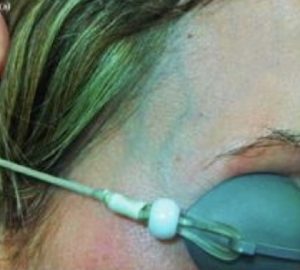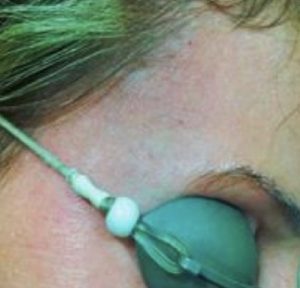 Benefits of using laser for veins under eyes
Using laser technology for treating under-eye veins offers a multitude of benefits:
Minimally Invasive: Laser treatment is a non-surgical procedure, meaning there's no need for incisions or stitches. This results in less discomfort and a quicker recovery period.
Precision: Lasers can precisely target the problematic veins while leaving the surrounding tissue unharmed. This ensures effective treatment of the veins without causing damage to the nearby skin.
Safe: Laser treatments for under-eye veins are generally very safe with a low risk of complications.
Minimal Discomfort: Most patients experience only a slight sensation during the procedure. Depending on the type of laser used, it may feel like a rubber band snapping against your skin.
Short Procedure: Treatment usually takes between 15-30 minutes, making it a convenient option for those with a busy schedule.
Immediate Return to Normal Activities: There is typically no downtime with laser vein treatments. You can usually resume your regular activities immediately after the procedure.
Long-Lasting Results: The results from laser treatment for under-eye veins are usually permanent. Once a vein is destroyed, it is unlikely to return.
Why do Patients usually not achieve their desired results?
A common reason patients often don't achieve the desired results when treating larger veins around the eye is that many aesthetic or dermatology clinics may refuse to perform such treatments. This may be due to misconceptions about safety. Some may incorrectly inform patients that eliminating these veins could compromise the venous blood circulation around the eye, which is not accurate.
When treated with the NdYAG laser, there is no risk of impairing the drainage of blood from the tissue around the eye. Should a segment of a vein be lasered, the venous blood will simply reroute through the myriad alternative vein pathways in the vicinity of the eye. Moreover, the human body has a natural process of forming new blood vessels, known as neovascularisation, which kicks in when the circulation is potentially compromised.
Regrettably, due to a lack of understanding of light-tissue interaction, coupled with inadequate experience or training, some practitioners might inappropriately use Pulse Dye Laser or IPL devices (Intense Pulse Light) for this purpose. While these methods might be somewhat effective in addressing generalised redness or tiny capillaries around the eye, they are utterly inadequate for treating larger blue, green, purple or red veins near the eye. If a practitioner attempts to use these methods, the procedure is bound to fail, even if repeated multiple times. This not only results in unnecessary trauma to the patient but also fails to seal the vessel successfully, owing to the poor absorption of light energy from these Laser/IPL devices by venous blood.
How do we treat under eye veins?
At our clinic, we utilise the Fotona NdYAG 1064nm laser to treat larger veins around the eye. This particular laser device is currently the most appropriate for this purpose.
Using this laser safely and effectively around the eye necessitates comprehensive knowledge and experience, something our clinicians possess in abundance. Having routinely performed periorbital vein treatments over the years, our clinicians have accumulated over a decade of experience, successfully completing hundreds of laser vein cases.
In instances where the vein can be safely treated over the bone, we utilise external metal eye shields for protection. For cases where the vein is closer to the eye or on the eyelids, we use internal metal eye shields.
However, if there are smaller red capillaries on the eyelids, your practitioner might opt to treat these with the 532nm laser. While this laser wavelength is more suited for smaller red vessels around the eyes as opposed to the NdYAG laser, it can still cause trauma to the eye and thus requires the insertion of internal metal eye shields for protection.
For more complex cases where deemed necessary by your specialist, we can perform Ultrasound guided vascular treatment. This technique involves the use of a high-resolution ultrasound scanner to evaluate vein diameter. It allows for a more precise assessment of the vessel diameter and calculation of the appropriate laser pulse width. Additionally, the use of high-resolution ultrasound lets the clinician evaluate when the vein has been adequately treated.
Laser under eye procedure and aftercare
Laser treatment for under eye veins is a minimally invasive procedure designed to reduce the appearance of unsightly veins beneath the eyes. Here's a detailed outline of the process:
Consultation: The process begins with a consultation where the medical professional assesses your suitability for the procedure and discusses your expectations and potential results.
Preparation: On the day of the procedure, the area around your eyes will be thoroughly cleaned. You'll be given protective eyewear to safeguard your eyes from the laser. A cooling gel may be applied to the skin to minimise discomfort.
Laser Treatment: The specialist will use a Fotona Laser, a device that emits focused light energy, targeting the veins beneath the eyes. The laser's heat causes the blood within the veins to coagulate, leading to the destruction of the unwanted blood vessels. These vessels are then gradually reabsorbed by the body, while blood flow is redirected to deeper veins in the face.
Post-Procedure Care: After the procedure, you may experience minor swelling or redness in the treated area. These are temporary and should subside within a few days. You'll be provided with specific aftercare instructions to ensure a smooth recovery and optimal results.
Follow-Up: A follow-up appointment will be scheduled to monitor your recovery and assess the results. In some cases, additional sessions may be recommended for optimal results.
The procedure usually lasts for about 30 minutes and is generally well-tolerated by patients, with most reporting minimal discomfort. Most patients see immediate results, but final outcomes are typically noticeable after 7-14 days as the body gradually eliminates the treated veins.
Why Choose Centre for Surgery
Choosing Centre for Surgery ensures you are treated by expert medical practitioners with years of experience and access to state-of-the-art facilities that are registered by the CQC (Care Quality Commission). We take pride in offering advanced, minimally invasive treatment options through our innovative approach, aimed at reducing downtime. Our focus is on personalised care to cater to your specific needs. The non-surgical treatments we offer are designed to ensure minimal disruption to your life, letting you get back to your routine as quickly as possible. Choose Centre for Surgery for a safe, effective, and patient-centric cosmetic enhancement experience.