Breast asymmetry correction in London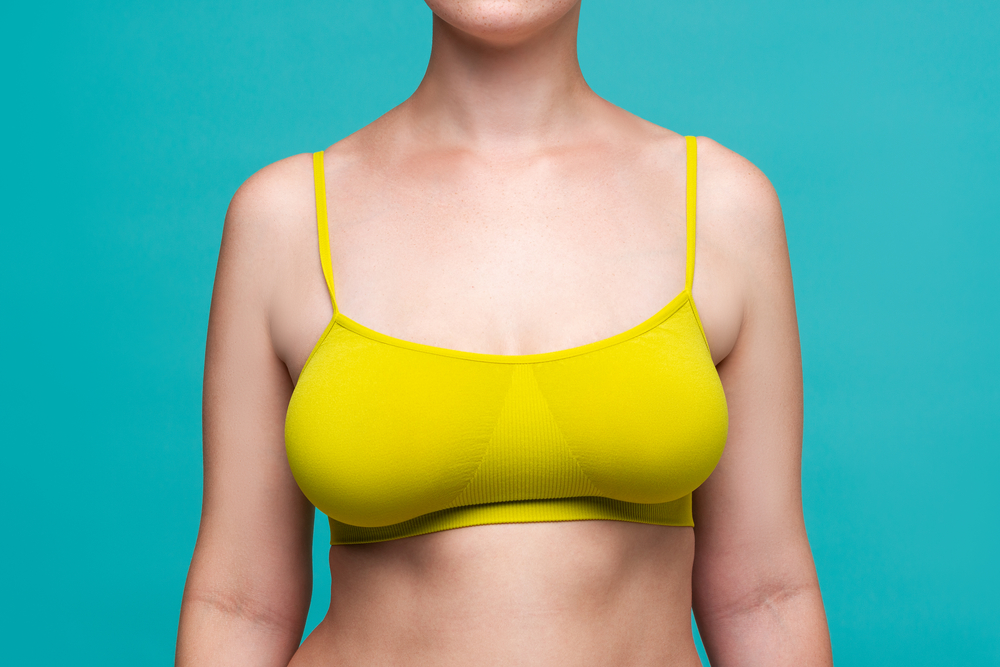 Breast asymmetry correction is commonly performed for breasts that differ in shape, size, volume or position. Often a combination of techniques are used to restore symmetry to the female breast.
Breast asymmetry is a common occurrence, and more than half of women will have it. However, if your breast asymmetry is causing you concern, or negatively impacting your self-esteem and confidence, you may wish to undergo surgery to even the sizes of your breasts.
Breast Asymmetry Correction Expected Results
Restore a fuller shape and volume to one or both breasts
Address droopy appearance of one or both breasts
Removal of excess breast tissue in one or both breasts
Surgically repositioning nipples in one or both breasts to a more upright and forward facing position
Causes of Breast Asymmetry
Breast asymmetry is not a reason for concern – in fact, it is a very common occurrence.
There are numerous different reasons for breast asymmetry to occur, including hormonal changes, pregnancy, menopause and trauma. It can even be caused by medical conditions such as juvenile hypertrophy of the breast, a rare condition which causes one breast to grow larger than the other.
While most people have some form of asymmetry, for others the size or shape difference is particularly noticeable. This can not only be damaging to your self-esteem but can cause other problems such as ill-fitting underwear causing skin problems, or physical pain from the weight of the breasts.

Ideal Candidates for Breast Asymmetry Correction
You will be considered a suitable candidate for breast asymmetry correction if you have breasts which are an uneven shape or size and this is detrimental to your self-image.
To have breast asymmetry correction, you will also need to:
Be 18 years or older

Be in good physical and mental health

Have reasonable expectations about what the procedure can achieve
You will also need to be getting the procedure for the right reason, the procedure may not go ahead if surgery is not being completed for the right reasons eg. having surgery to please someone else.
Verified
I had a smooth procedure all throughout. Staff were very compassionate and caring.
angelika lipka
24/05/2021
Verified
I had a Septo-Rhinoplasty done. My patient co-ordinator was a lovely lady called Linda, who supported me from the start and took every call, answering every question I had. She helped to reassure me and reduce my anxiety ahead of my operation and continued to check up on me post-op. My doctor was Mr Ertan Erel and I cannot stress how amazing he was. I had watched hours of YouTube vlogs and read dozens of articles about the recovery process, and they honestly traumatised me. This was completely the opposite of my experience. Due to Mr Erel's steady hand, my face received minimal bruising and swelling all of which was gone within 8 days post-op! During my recovery I continued to receive regular check-up phone calls from the team, mainly Gregory. I'm in love with my results, even though I'm still in the early stages of recovery. If you're thinking about selecting this surgery, I would certainly recommend them due to the support they offer, amazing customer service and care they put into their procedures!!
Verified
I had a breast augmentation 6 weeks ago. And I couldn't be happier! It's the best choice Iv ever made! They have dropped and look so natural I feel like the old me. The me before kids. The recover was around 5 days of feeling abit high from all the meds but I was never in pain and from day 6 I was honestly back to normal. Of course I took it slow but I was so happy nothing else matters. Thank you so much Dr. Tillo and the amazing staff kind and caring staff at centre for surgery! What a pleasant experience from start to finish!
Verified
I had a BBL with Dr Omar Tillo, and the results have far surpassed my expectations! I'm so pleased with it and my recovery went well with no problems. His body contouring skills are genius! The whole process was very easy and the aftercare was great. Everyone was friendly, welcoming and made me feel at ease at the centre. My patient coordinator Carolyn was brilliant too!
Rosanna Purkiss
27/04/2021
Verified
I can't say how amazing the whole experience was with Centre for Surgery. Such a calming place and they really looked after me. The consultation was very thorough and went through everything for my nipple inversion correction. I felt comfortable with every step. The day of the surgery was of course nerve racking but was quickly put at ease. Had great music on in the theatre which relaxed me and it was so quick with no pain during or after. I was called everyday for a week after the surgery to go through any concerns and red flags which was great. The people are so lovely and I can't recommend this procedure enough and this place! Best money I've spent on myself and very glad I did it with Centre or Surgery. Thank you!!
Verified
I had an excellent experience with the Centre for Surgery. I had my questions answered by the friendly patient coordinator and was able to book a consultation with the surgeon in a timely manner. The procedure was explained and my expectations were discussed. I had a brilliant result and smooth recovery following my surgery!
Verified
Amazing, exceptional, professional and quality service! From the initial request for more information until the day of procedure and after the procedure. The constant calls and emails from the team made me feel as if I was relevant and showed me that my business was important to them. Dr. Mitakos, Carolyn, Samira and Natalie (recovery nurse) OUTSTANDING, OUTSTANDING, OUTSTANDING!!! Dr. Mitakos was thorough and made sure to be honest about the procedure and my results. It's been a week post-op and I'm in love! Even with swelling in some areas!! I couldn't have asked for a better Dr. He was very professional, kind and genuine. Carolyn, Samira and Natalie are angel sent! They were so kind, caring and ensured that I was well taken care of days leading up to the surgery, on the day of surgery and during recovery. I would recommend Centre for Surgery to anyone who wants to get surgery to feel better about themselves.
Breast Asymmetry Correction Procedure
There are numerous different procedures which can be performed to achieve breast asymmetry correction. The best procedure for you will be discussed during your initial consultation with the surgeon.
Breast augmentation
Breast augmentation involves the use of implants to increase the size of the breast. Centre for Surgery uses silicone implants which are approved by the UK medicines and healthcare products regulatory agency (MHRA). You will be able to decide which profile you want (low or high), size, shape (teardrop or round) and placement (under or over the muscle). These factors will alter how natural the breast implants look – low profile will make the breast implants look more natural, while round implants give women more fullness in the cleavage area.
You will be able to try on a bra with sample implants in order to ensure you are choosing the correct size. If you choose implants which are too large, the edges may become visible following surgery. You will also be assessed to ensure you have sufficient tissue to cover the implant size.

Breast lift
A breast lift aims to lift the position of the breasts, and is designed for those who have breasts that appear saggy, hollow or flat. This often occurs as a result of ageing or after pregnancy. Unlike a breast augmentation or fat transfer to the breasts, a breast lift will not make the breasts look bigger. Instead, it makes the breasts appear firmer and more youthful. The breast uplift will be performed in one of two ways – the periareolar lift, or the vertical lift. A breast lift will leave you with breasts that are no longer saggy and appear fuller.
If you wish to have the breasts lifted and volume added, you may wish to have an augmentation mastopexy, which combines a breast lift with breast augmentation. Breast lift surgery is an effective technique for breast asymmetry correction.
Breast reduction
If you are wanting to reduce the size of the breasts so they are even, you will need to undergo a breast reduction. This is a suitable procedure for those who have large, uneven breasts, particularly those who have other side effects such as back or neck ache, skin irritation or numbness.
A breast reduction will involve the use of surgical excision to address excess fat, glandular tissue and skin from the breasts. This procedure may also involve the position of the nipples and areolas being altered, however, they will still be attached to the nerves and blood vessels.
All procedures are performed under a TIVA general anaesthetic You will be asleep for the entirety of the procedure, and the recovery after TIVA anaesthesia is smoother than a traditional GA with a lower risk of post-operative nausea and vomiting. TIVA anaesthesia results in a rapid recovery once the procedure is completed, and there is a low risk of dizziness, drowsiness or grogginess typically associated with a general anaesthetic.
Fat transfer to the breasts
If you would like to increase the size of your breasts, but do not want a foreign object (implant) in your body, you may wish to opt for a fat transfer to the breasts.
A fat transfer to the breasts involves the use of liposuction to remove fat from a donor area of the body – such as the abdomen, hips, flanks or thighs. This is then treated and injected into the breasts to create breasts of equal size and shape. Centre for Surgery uses the PAL lipo method, which unlike other liposuction methods, does not involve the use of heat, causing less damage to the interior and exterior.
A fat transfer to the breasts will be able to increase the size of the breast by one cup size. Some fat transferred into the breasts will be naturally absorbed by the body, which is a side effect that cannot be avoided. A fat transfer to the breasts will give you very natural looking results. In more subtle volume discrepancies, fat grafting to the breast can be an excellent method for breast asymmetry correction.
Before and after
Case 1:
Differential breast augmentation with different sized implants to equalise breast symmetry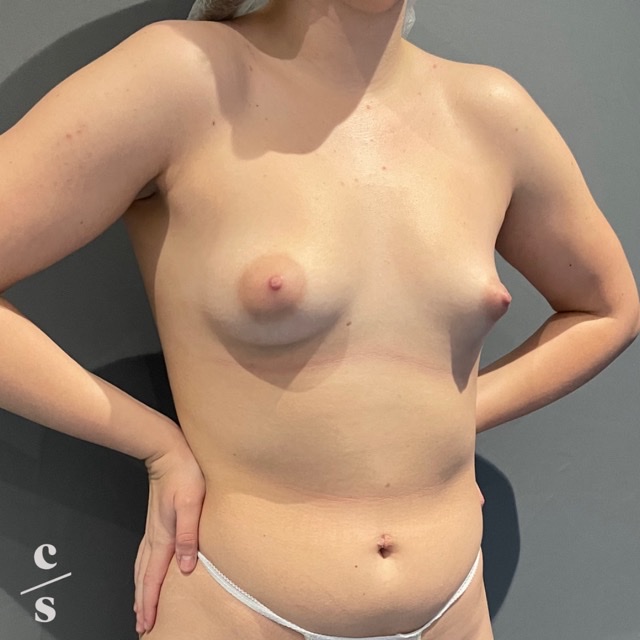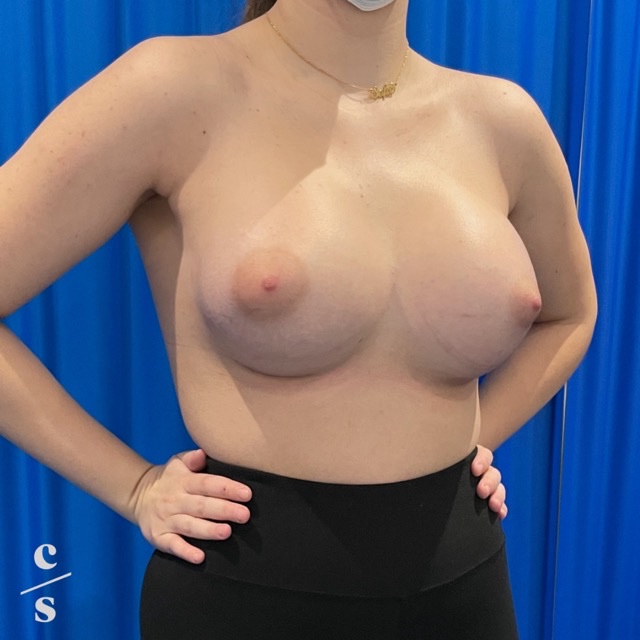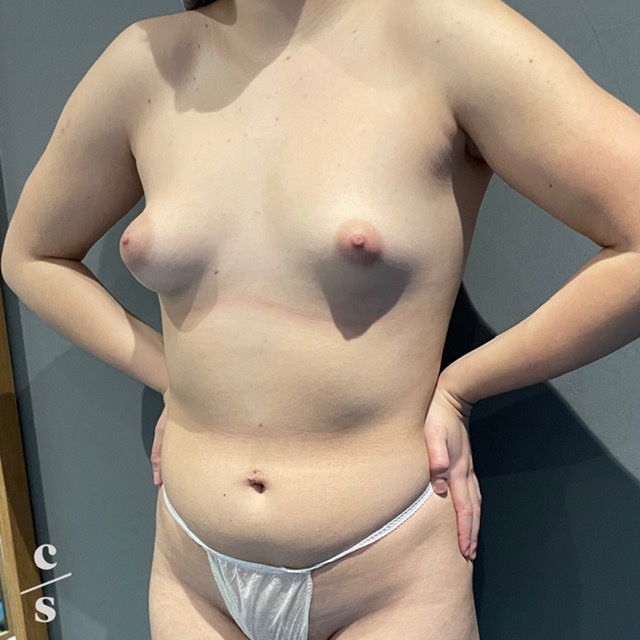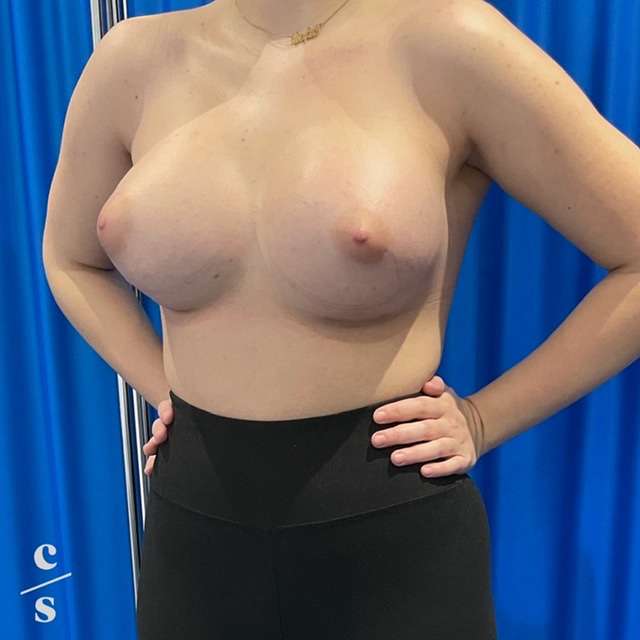 Recovery after Breast Asymmetry Correction
The recovery may vary slightly depending on which procedure you undertook – augmentation, uplift or reduction.
After the breast asymmetry correction procedure, it is normal to experience some bruising and swelling, particularly around the incision sites. This may last up to four weeks. You will be given pain medication which can be taken to alleviate any pain and discomfort. You can also use ice packs to help reduce any swelling and bruising in the first few days.
You will be given a compression garment to wear. This will help to reduce any swelling, therefore reducing the recovery period, and help to give you the best results possible.
You will have to make sure to avoid strenuous physical activity. This will help to avoid any damage to the surgery area. Your surgeon will be able to advise on how long you will need to avoid physical activity.
You may need to take at least one week off work to recover; however, this will vary from person to person.
Risks and potential complications of breast asymmetry correction
Breast asymmetry correction has been successfully performed for many years with an excellent safety profile. Women should only choose a reputable provider with years of experience in aesthetic breast surgery. With a fully credentialed plastic surgeon at Centre for Surgery, you can be confident in having made the very best choice for breast asymmetry correction coupled with an outstanding package of aftercare to reduce the risk of complications after the procedure.
Risks of Breast Asymmetry Correction
As with any surgical procedure, correction of breast asymmetry has potential risks. These include:
Bleeding

Anaesthetic risks

Infection

Delayed wound healing
Skin necrosis

Nipples that lose sensation

Breastfeeding difficulties

Need for revision surgery