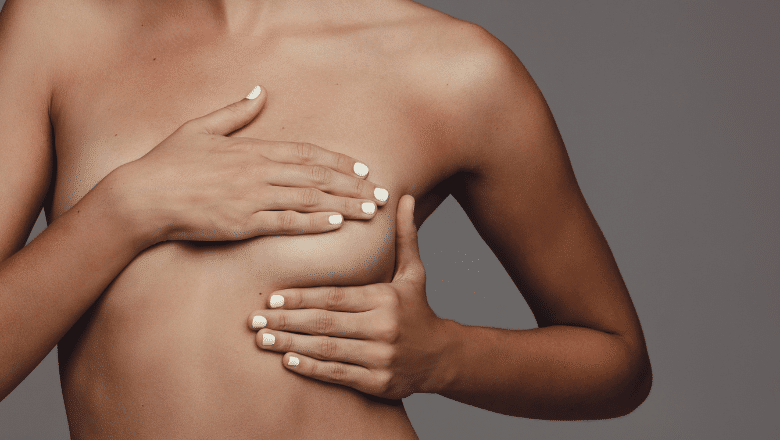 Tuberous breasts are a condition where the breasts don't develop normally, and it can happen to both men and women. The breasts might look like they are pinched at the base, and the area around the nipple, known as the areola, may be larger than usual. The overall size of the breast tissue is often smaller than what is typically expected. For women, a good way to treat this issue is through breast enlargement surgery, which involves placing implants to make the breasts look fuller and rounder.
At Centre for Surgery in London, we specialise in plastic surgery and have expert surgeons who often carry out surgery to correct tuberous breasts. You can visit our clinic on Baker Street to consult with our team and explore your treatment options.
What Are Tubular Breasts?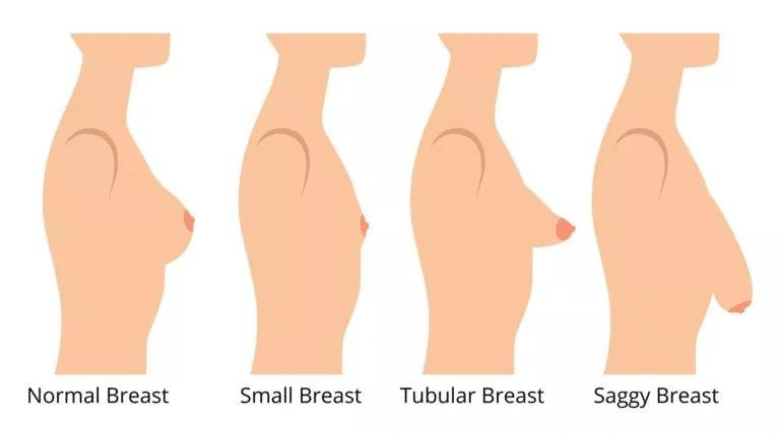 Tubular breasts, also known as tubular breast syndrome, occur when there's too much tough, fibrous tissue in the chest area. This extra tissue pulls the breast downward, giving it a tube-like or cylinder-shaped appearance. The severity of this condition can vary: it can be mild or extreme, and it can affect both men and women. In extreme cases, this tissue constriction can be so limiting that the breasts don't develop fully.
RELATED: What Are Tuberous Breasts?
People often start noticing this condition during puberty, which is when the breasts begin to grow. Many young girls who have tubular breasts feel self-aware about how they look. They might avoid wearing clothes that are tight or reveal their body shape.
Tubular breasts aren't just a cosmetic issue; they can also cause real physical and emotional challenges. For instance, the unusual breast shape can make it hard to find clothes that fit well. On top of that, it can contribute to negative feelings about one's body, leading to issues with body image and self-esteem.
Understanding Tuberous Breast Syndrome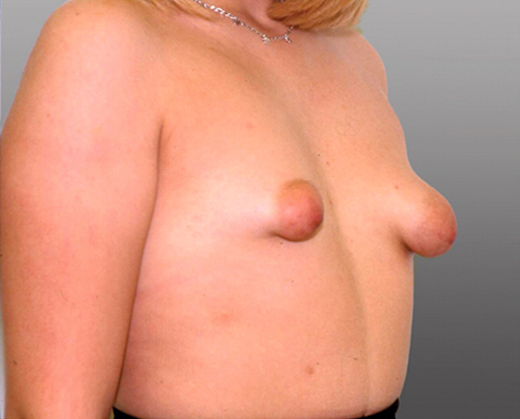 Breasts come in all sorts of shapes and sizes, a fact that becomes particularly evident during the stage of puberty. However, tubular or tuberous breasts exhibit certain distinct characteristics that make them easier to identify. These features help medical professionals diagnose the condition and guide individuals towards appropriate treatment options.
Primary Symptoms of Tuberous Breasts:
Cylindrical Shape of Breast Tissue: Unlike typical breasts, which have a more rounded appearance, tuberous breasts are shaped like tubes. The tissue extends from the base of the breast to the nipple in a cylindrical fashion.
Constricted Base: The breast tissue in tuberous breasts tends to be narrow or constricted at its base, which often gives the breast a "pinched" look.
Enlarged and Misshapen Areola: The areola, which is the darker skin surrounding the nipple, is often larger than normal and may be irregular in shape, a condition known as areolar hypertrophy.
Smaller Than Average Breast Tissue: Generally, the breast tissue is less voluminous when compared to the average breast size.
Widened Spacing: The distance between the two tuberous breasts usually exceeds 3-4cm, making them appear farther apart than is commonly seen.
In some instances, the severity of these traits can differ between the two breasts. One breast may appear more underdeveloped or constricted compared to its counterpart. Surgical correction on just one of the breasts, known as a unilateral breast procedure, is often an option in such cases.
RELATED: How to Fix Breast Asymmetry
Secondary, Less Severe Symptoms:
Breast Asymmetry: The breasts may not be identical in size or shape, which is a milder form of the deformity.
Ptosis or Drooping: In some cases, the breasts may sag or droop, which is technically known as ptosis.
Nipple Inversion: Occasionally, the nipple may be pulled inward instead of protruding outward, a condition known as nipple inversion.
All these symptoms contribute to both the physical and emotional challenges that individuals with tuberous breast syndrome may experience. This often includes difficulty in finding well-fitting clothing and potential self-esteem issues related to body image. Surgical intervention is often recommended to correct these anatomical issues and improve the individual's quality of life.
RELATED: Tubular Breasts – Causes and Treatments
Causes and Classification of Tubular Breasts
Tubular breasts develop due to a malformation in the connective tissue of the chest area. While the exact root cause of this condition remains uncertain, medical experts generally believe that it is likely linked to some form of genetic predisposition or underlying genetic condition. This means that if you have tubular breasts, it's possible that other family members might also have experienced the same or similar breast development issues.
The abnormality is usually congenital, meaning it's present from birth, although it becomes most noticeable during the period of puberty. This is the stage in life when breasts start to grow and develop, making the unusual characteristics of tubular breasts more evident.
When it comes to classification, tubular breasts can be categorised based on the severity and range of symptoms. Some common categories include:
Mild: In milder cases, only one breast may be affected and the differences in shape and size may be less noticeable.
Moderate: In moderate cases, both breasts may exhibit symptoms but to varying degrees of severity. This could include noticeable but not extreme constriction at the base of the breast, or mildly enlarged areolas.
Severe: In the most severe cases, both breasts are significantly affected. The constriction can be so limiting that the breast tissue fails to develop fully, and the areolas may be exceptionally large and misshapen.

This classification helps medical professionals tailor treatment plans according to the individual's specific needs. Surgical interventions, such as breast augmentation or reconstruction, may be recommended based on the category of severity to provide the most aesthetically pleasing and functionally effective results.
Correcting Tuberous Breasts: A Range of Surgical Options
When it comes to treating tuberous breasts, surgery is often considered the most effective approach. However, it's important to note that there's no one-size-fits-all solution; the ideal treatment varies depending on the severity of the condition as well as the individual's personal goals and expectations.
In cases that are less severe, a straightforward breast augmentation may suffice to bring about the desired improvement in breast shape and size. On the other hand, for more complicated or severe cases, more advanced surgical techniques may be required. Here's a breakdown of some common surgical options available for correcting tuberous breasts:
Breast Augmentation for Tuberous Breasts
Breast augmentation is the most frequently opted-for surgical procedure to correct tuberous breasts. In this treatment, a silicone gel implant is placed to enhance both the size and shape of the breasts. Using a breast implant is generally effective for tuberous breasts as it offers a dependable improvement in their form. When opting for breast implants, several factors need to be considered:
Implant Size: The size of the implant that best suits your body and desired outcome.
Implant Placement: You'll need to decide whether the implant should be placed over or under the muscle. For tuberous breasts, under-the-muscle placement is usually recommended because it better masks the edges of the implant.
Implant Shape: Choices typically include round or teardrop-shaped implants.
Additional Procedures: Depending on your condition, additional procedures like addressing breast asymmetry, correcting an inverted nipple, or lifting drooping breasts may also be required.
Staging: You have the option to either combine these procedures into one comprehensive surgery or opt for multiple stages.
Breast Lift for Tuberous Breasts
A breast lift, or mastopexy, could also be a suitable treatment option, especially for those with tuberous breasts that sag (known as ptosis). The procedure can elevate the position of the breasts, making them appear perkier and giving them a more aesthetically pleasing shape. In some scenarios, a breast lift and breast augmentation may be performed together for optimal results.
RELATED: Breast Lift Scars – what you need to know
Breast Tissue Expansion
Breast tissue expansion is yet another surgical alternative specifically designed for tuberous breasts. This technique uses a device called a tissue expander to gradually stretch and relax the constriction in the lower part of the breast. The tissue expander serves as a temporary breast implant and helps in rounding out the breast shape from within.
Once the tissue expanders have successfully achieved the desired expansion, they are then replaced with permanent breast implants. This approach can be particularly useful for severe cases where the breast tissue is extremely constricted.
Each of these surgical options has its own set of advantages and considerations. The best course of action will depend on the severity of your tuberous breast condition, your individual health status, and your personal aesthetic goals.
Recovery Timeline After Tuberous Breast Augmentation
The recovery process following a tuberous breast augmentation surgery is an essential aspect of your overall treatment journey. While the average healing time is around two months, it's crucial to remember that individual recovery times can vary. Having a strong support network of family and friends can make your recovery smoother and more comfortable.
The First Two Weeks
The initial two weeks post-surgery are especially vital. Even if you feel well, it's imperative to adhere strictly to the post-operative instructions provided by your surgeon. Make sure you:
Rest adequately and limit physical activity.
Keep an eye out for any signs of discomfort or complications.
Take prescribed medications as directed.
Avoid any heavy lifting or strenuous activities.
Beyond Two Weeks
After the two-week mark, most patients find that they can return to their regular work schedules and resume daily routines, albeit with some limitations on physical exertion. However, it's essential to:
Continue to monitor for any discomfort or abnormalities.
Inform your surgeon immediately if you notice anything concerning.
Attend all your scheduled follow-up appointments for assessments and advice.
General Guidelines
Communication: Always keep an open line of communication with your healthcare team. If you have any concerns, no matter how minor they may seem, report them to your surgeon promptly.
Rest: Even when you start feeling better and getting back into your normal routine, make sure you're still getting ample rest to aid in the healing process.
Frequently Asked Questions About Tubular Breasts

Are Tuberous Breasts a Deformity?
Tuberous breasts aren't generally classified as a deformity. Instead, they're viewed as a condition where the breast tissue doesn't grow as it usually would. This leads to smaller than average breasts that may appear constricted or narrow, often accompanied by enlarged, puffy areolas.
How Can I Tell if I Have Breast Hypoplasia?
Breast hypoplasia is often the underlying issue for those with tuberous breasts. The most noticeable symptom is smaller, underdeveloped breasts. Other signs you might observe include:
Enlarged or puffy areolas
Tightness or constriction in the lower part of the breast, below the nipple
Breasts that are spaced further apart than usual
Uneven breast size or shape
Larger areolas compared to the size of the breast tissue
If you're worried that you might have tuberous breasts and want professional advice, it's advisable to schedule a consultation at Centre for Surgery. Our expert surgeons can perform an assessment to confirm whether you have the condition.
Is It Possible to Correct Tubular Breasts Without Using Implants?
The most common way to correct the shape of tuberous breasts is by using breast implants. This helps to fill out the breast tissue and create a more rounded shape.
Can I Breastfeed If I Have Tubular Breasts?
While breastfeeding can be more challenging for women with tuberous breasts due to the constriction in breast tissue, it's generally still an option. However, some women may experience difficulties, so it's essential to discuss this with your healthcare provider.
What's the Best Way to Address Tubular Breasts?
The most effective treatments for tuberous breasts tend to be plastic surgery procedures like breast lifts and breast augmentations. These surgical options aim to reshape the breasts, giving them a more rounded and fuller appearance. If you're considering this, we recommend booking a consultation at Centre for Surgery for a personalised treatment plan tailored to your needs.
Why Choose Centre for Surgery for Tuberous Breast Correction Surgery?
At Centre for Surgery, we are committed to providing you with the highest standard of care in the field of plastic surgery. As specialists in tuberous breast correction, we combine years of experience, cutting-edge techniques, and a patient-centric approach to deliver exceptional results tailored to your needs.
Expert Surgeons
Our highly skilled surgeons are among the best in the field, with a proven track record of success in treating tuberous breasts. We regularly perform tubular breast surgeries, focusing on giving you natural-looking results that enhance your self-confidence and well-being.
Personalised Treatment Plans
We understand that every case is unique, which is why we offer customised treatment plans designed just for you. During your initial consultation, our experts will assess your condition and discuss the best surgical options to achieve your desired outcome.
Advanced Surgical Facilities
Our state-of-the-art Baker Street clinic in London is equipped with the latest medical technology to ensure your safety and comfort throughout the procedure and recovery period.
Patient Testimonials
Don't just take our word for it; listen to what our satisfied patients have to say:
"The team at Centre for Surgery were attentive and caring. The results from my surgery exceeded my expectations. I couldn't be happier!"
– Jane, London
"I was very nervous before my surgery, but the entire staff made me feel at ease. The aftercare was excellent, and I love my new look."
– Sarah, Manchester
Easy Consultation Booking
Booking a consultation with us couldn't be more straightforward. Simply call us at 0207 993 4849 or email us at contact@centreforsurgery.com. Our friendly customer service team will help schedule your appointment at the earliest convenience.
Additional Resources
For more information on tuberous breast correction and other plastic surgery procedures, visit our comprehensive plastic surgery blog.
Convenient Location
Our clinic is conveniently located at 95-97 Baker Street, London W1U 6RN, making it easily accessible whether you're local or coming from out of town.
Choose Centre for Surgery for a transformative journey to the best version of yourself. We look forward to partnering with you on your path to improved confidence and well-being.