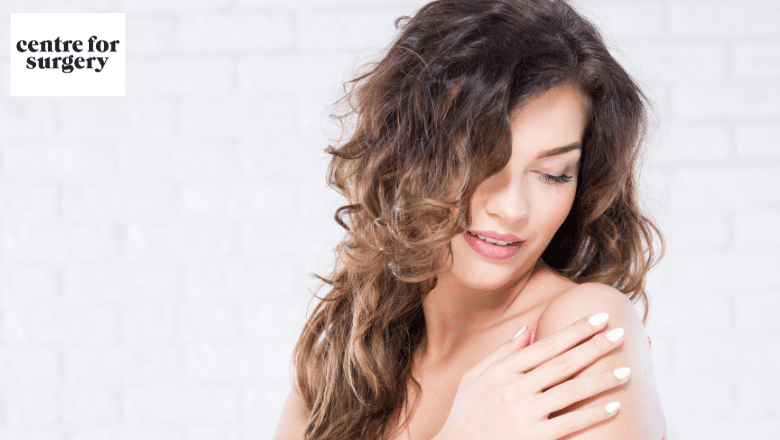 Breasts come in a wide variety of shapes, dimensions, and appearances, and a prevalent concern for women considering breast enhancement in the UK is a chest gap, which results in insufficient cleavage. This problem can be addressed with breast implants, but it is essential to select a highly proficient and seasoned plastic surgeon at Centre for Surgery, as improper implant selection and positioning may exacerbate the issue following the procedure.
RELATED: Breast Surgery
Is normal to have a space between my breasts?
The shape, size, and natural spacing of breasts differ from person to person. This space is influenced by the attachment point of the pectoralis muscles to the sternum. A flat ribcage may lead to a more significant gap in some women, while others may experience this due to an indented breastbone.
A congenital breast condition known as tubular or tuberous breasts can also contribute to a wider-than-usual space between the breasts. This condition causes constriction at the base of the breasts, resulting in a tubular shape and, subsequently, an increased gap.
Breast spacing is an entirely normal variation in human anatomy, and it's essential to appreciate and accept your body's unique features. However, if you find that the gap between your breasts is causing discomfort or affecting your self-esteem, there are options available to address the issue. One such solution is breast augmentation.
Three primary factors contributing to wide-set breasts
Breast enhancement is a sought-after cosmetic surgery method to rectify wide-set breasts, but meticulous planning is crucial to avoid exacerbating the issue.
Individual anatomy
Our plastic surgeons will thoroughly evaluate your distinct anatomy and address any underlying conditions to guarantee the most satisfactory results. If tuberous breasts are the cause, they may need to alleviate the constriction at the breast base before implant placement.
Breast implant selection
Choosing the right implant is often crucial in addressing the problem of a prominent chest gap. The implant width should correspond to the breast base, as implants that are too narrow or highly projected can make a wider cleavage appear even more noticeable.
Surgical method
During the surgery at our Baker Street clinic, our plastic surgeons will create a pocket for the implant. The pocket's lower portion is determined by the breast crease or inframammary fold or IMF for short, and the outer portion must be carefully outlined to avoid lateral displacement of the implant after the surgery.
Breast augmentation, when done correctly, can help reduce the gap between wide-set breasts and improve the overall appearance. However, it's essential to consult with an experienced and qualified plastic surgeon to discuss your concerns and understand the available options. They will guide you in choosing the most appropriate course of action, considering factors like your body shape, natural breast size, and the extent of the gap between your breasts. This personalized approach will ensure the best possible results and help you achieve the desired outcome, boosting your confidence and comfort with your body.
Addressing the Gap Between Your Breasts: Effective Procedures
Closing the chest gap with breast augmentation
Breast augmentation surgery is a well-known procedure that can address a lack of cleavage or an excessively wide space between the breasts. To achieve the best results, it is crucial to work with a proficient surgeon. Our experienced plastic surgeons often combine breast augmentation with fat transfer to the breast, providing greater control in sculpting the final outcome, particularly in the upper portion of the breast.
RELATED: Does breast augmentation enhance cleavage?
Restoring cleavage through mastopexy
Over time, gravity can cause breasts to sag, leading to a more elongated and drooping appearance. This can result in a widening gap between the breasts. A breast lift, or mastopexy, is a procedure that can counteract these effects. Our surgeons will expertly reposition and reshape the breast tissue, creating a more youthful, uplifted appearance and rejuvenated cleavage.
Selecting Centre for Surgery for Your Breast Procedures
EXPERTISE AND EXPERIENCE
At Centre for Surgery, our team of highly skilled and experienced plastic surgeons specialises in a range of breast procedures. Choosing our centre ensures you are in the hands of professionals who are dedicated to providing personalised care and achieving exceptional results.
STATE-OF-THE-ART FACILITIES
Our centre is equipped with cutting-edge technology and modern facilities to ensure the highest standard of patient care. By investing in advanced surgical equipment, we maintain a commitment to safety, comfort, and effectiveness in all our procedures.
COMPREHENSIVE CONSULTATION PROCESS
At Centre for Surgery, we prioritise understanding your unique needs and goals. Our comprehensive consultation process involves a thorough assessment of your medical history, as well as discussing your desired outcomes. This allows us to create a tailored surgical plan that aligns with your expectations.
PATIENT-CENTRIC CARE
We believe in providing patient-centric care, which means we are dedicated to supporting you throughout your entire journey. From pre-operative consultations to postoperative care, our team will be available to answer any questions or concerns you may have and ensure your experience is as smooth and comfortable as possible.
AFTER-CARE AND SUPPORT
Centre for Surgery is committed to offering exceptional after-care and support services. Our goal is to ensure your recovery is swift and smooth while minimising the risk of complications. Our staff will be readily available to provide guidance and assistance throughout the healing process.
To explore options for enhancing the appearance of your breasts, schedule a consultation for cosmetic breast surgery at our state-of-the-art Marylebone clinic today by calling us on 0207 993 4849.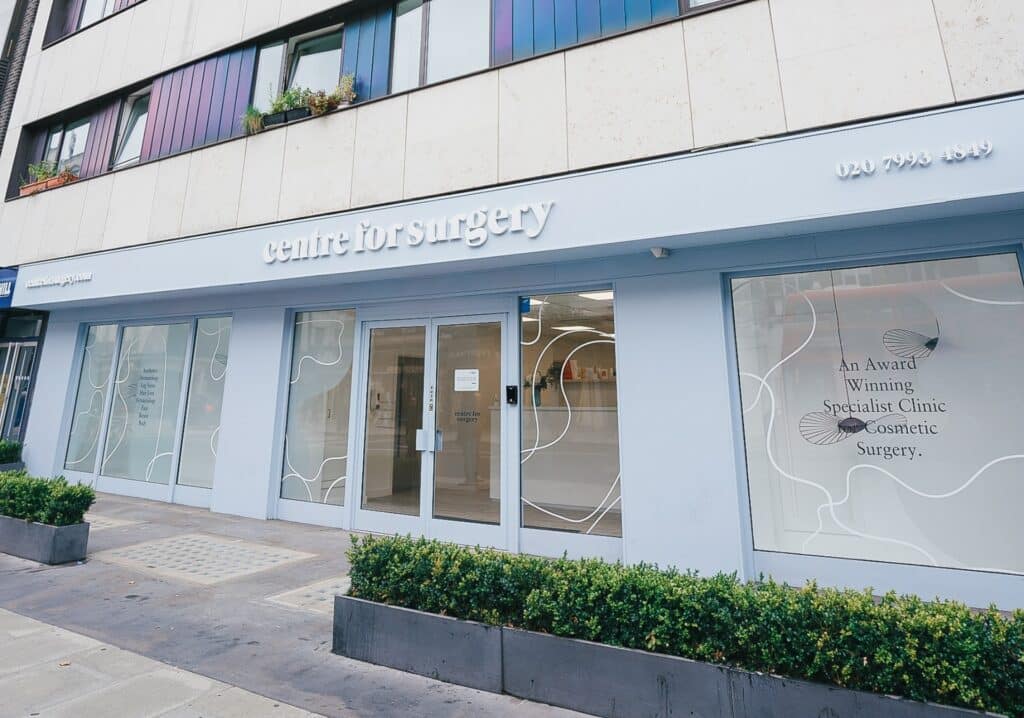 Amazing from start to finish, the communication was the main thing was fully informed and looked after, on the day of my breast augmentation, the staff were fab and made me feel at ease through out the whole process. Thank you so much.
Mohammed Farid
18/11/2021
I've had such a great experience with excellent advice, care and attention and surgical treatment (gynaecomastia) - I can fully endorse the treatment I have received from Centre for Surgery with absolutely no qualms at all. Brilliant in every way - thank you all so much.
Caroline Thorpe
14/11/2021
Very pleased with my whole experience of having a procedure. Was so nervous about getting treatment and i was reassured and felt so comfortable throughout thanks to the amazing nurses. I definitely made the right decision to have breast augmentation at centre for surgery with dr erel.
Melissa Briggs
08/11/2021
So glad I went with centre for surgery, the whole process went very smoothly from the consultations down to the actual day of the procedure. I was so nervous on the day but the whole team put me at ease and I'm happy with my results as I feel a lot more comfortable wearing certain clothes now. My surgeon was Alberto Di Giuseppe who performed a breast Augmentation on me, and I would definitely recommend as he was very clear on what the outcome of the surgery would be and which size would look the best for my frame.
Couldn't be happier with Dr Tillo work,i had my breast surgery one week ago and so happy with the results so far,all the staff are extremely nice and very supportive,i would definitely recommend their services,thank so much
From start to the finish everything was perfect for tummy tuck surgery. All staff is very friendly and the aftercare has been good. The Doctor and the nurse team was fantastic. I'm so happy...result is amazing. Thank you!!!
This was overall a great experience, all the staff at Centre for Surgery were friendly and put me at ease. It is a nerve wracking thing to go through an op but the staff were so nice. Mr Ertan has got a great team around him. On the day of the operation everything went smoothly to plan, there was no delay or holdups, I had another consultation with Mr Ertan who confirmed what was going to be done and that I was still happy to proceed. I was prepped for the procedure, I met with the anaesthetist who again was really nice and put me at ease explaining his role. After the procedure I woke up with the nurse by my side making sure I was OK and checking on me, I was able to stay in the clinic until I was ready to leave and was not rushed at all. I was well looked after from the start to the point when I was discharged. Post operation I was staying at a local hotel it was so close there was no point in even getting a taxi and I was able to walk back where my partner was waiting for me. I was expecting a lot of bruising to both my eyes but there was very little if any by the time the cast came off after 7 days, I am now at the two week post operation point and it is healing well with no outwardly visible bruising or scaring. The next milestone is a checkup at the 6 week point with my surgeon. If you're thinking of having something like this done I would highly recommend getting in touch with Centre for Surgery.
The staff at Centre for Surgery were very kind and accommodating. They answered any questions I had about the procedure and were constantly checking up on me. A special thank you to Christina for all her support throughout.
I would just like to state the quality of care received from the nurses at Centre for Surgery was beyond the highest level. Sophie takes her patient care to another level beyond words. She always puts me at ease. She is there for me even at awkward hours just when I mostly needed reassurance and she is one of the most compassionate nurses I have come across and demonstrates her passion naturally for caring for others. She totally deserves recognition at its finest and thank you for always being there for me. 😍