Laser Snoring Treatment London UK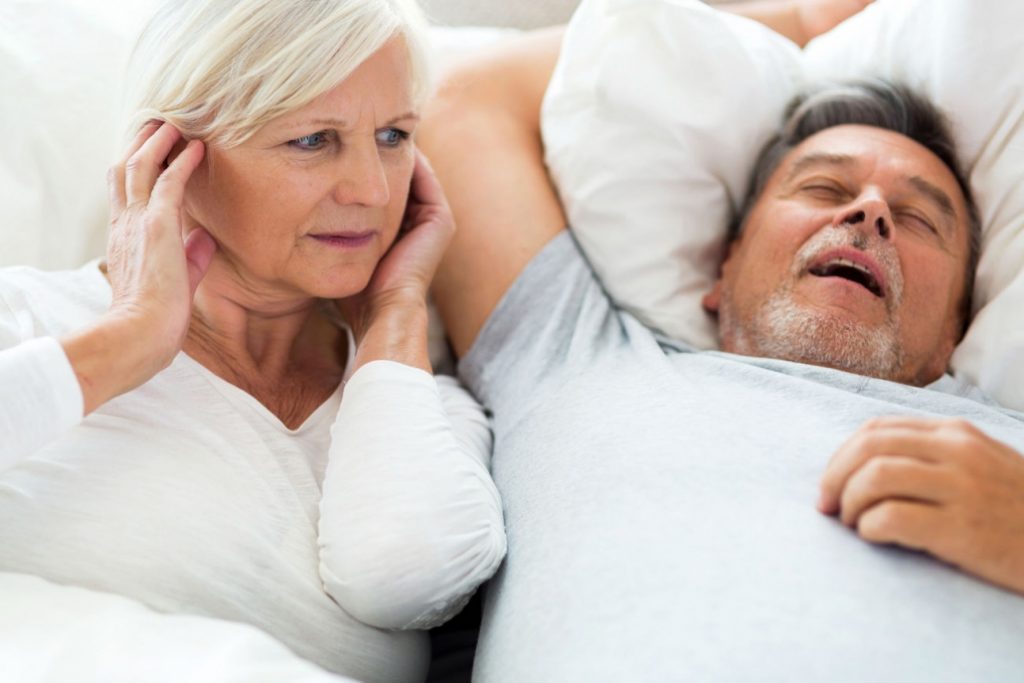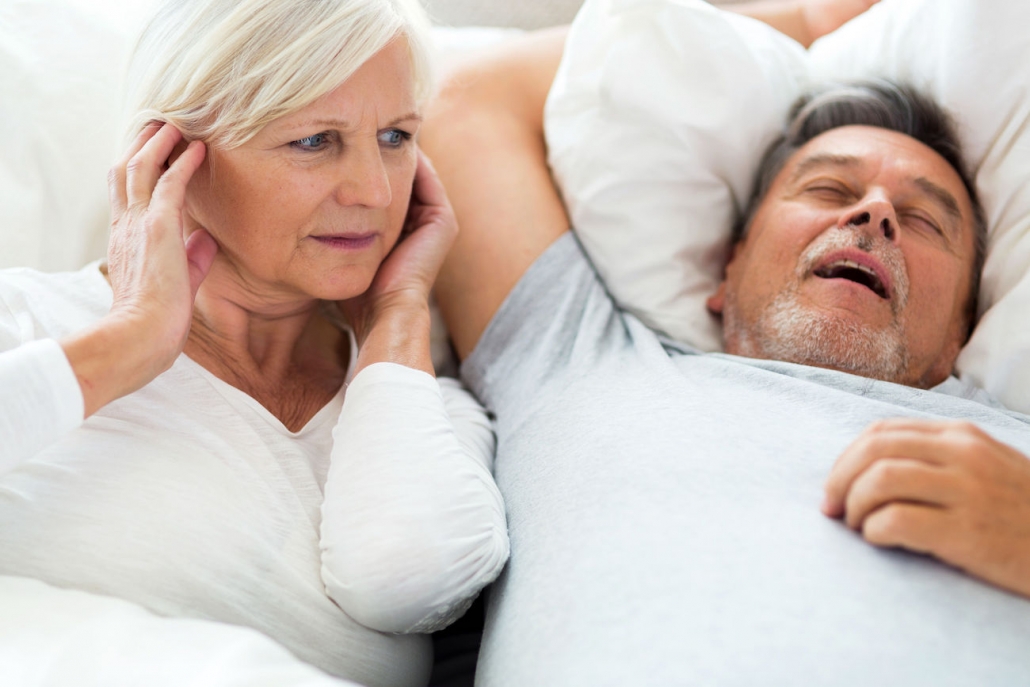 Laser snoring treatment, also known as NightLase, is a procedure in which a laser is used to remove excess tissue in the throat that may be causing snoring. The procedure is typically performed by an ear, nose, and throat (ENT) specialist and is done on an outpatient basis. It is also called laser-assisted uvulopalatoplasty (LAUP) or laser-assisted uvuloplasty (LAUP). The treatment is considered to be a minimally invasive procedure with low complication rates and can reduce or eliminate snoring in many patients. It is a non-surgical alternative to traditional snoring treatments such as uvulopalatopharyngoplasty (UPPP) or radiofrequency ablation (RFA).
Although snoring affects millions of people, many have decided not to treat their snoring problems because of low success rates and the high invasiveness of surgical treatment. The NightLase snoring and sleep apnoea reduction therapy is a unique approach to treatment using the Fotona SP Dynamis laser and a proprietary protocol with specially designed handpieces. NightLase uses the photothermal capabilities of the Erbium laser to convert and initiate the formation of new collagen within the soft tissues of the oropharynx, soft palate and uvula. The heat generated by the laser allows the collagen to re-form, resulting in the tightening of the soft palate and surrounding tissues. This causes a rise in the soft palate and a tightening of the tissues of the oropharynx, resulting in an improvement of the airway.
NightLase is a non-invasive therapy which aims to reduce the effects of sleep apnea and decrease snoring.
What is NightLase?
NightLase is a non-invasive laser treatment designed to help reduce snoring and improve the quality of sleep in individuals suffering from sleep apnea or other sleep-related breathing disorders. The treatment is performed using a specific type of laser, typically an Erbium:YAG laser, which emits light energy in a controlled manner to target the soft tissues at the back of the throat.
The NightLase treatment works by gently heating the soft tissues of the palate and uvula, which causes the collagen fibres to contract and tighten. This tightening effect helps to reduce the vibrations of the soft tissues that can lead to snoring, and may also help to improve airway patency, potentially reducing the occurrence of sleep apnea episodes.
Here are some key aspects of the NightLase treatment:
Non-invasive: NightLase is a non-surgical treatment, which means there are no incisions, stitches, or scarring involved. The laser energy is applied topically to the targeted areas, without the need for any anaesthesia or sedation.
Quick and painless: Each NightLase treatment session typically takes about 20-30 minutes, and most patients report minimal discomfort during the procedure. Some may experience a mild warming sensation as the laser energy is applied, but this is generally well-tolerated.
Multiple sessions: A typical treatment plan involves two to three sessions, spaced a few weeks apart, to achieve the desired results. The exact number of sessions required may vary depending on individual factors such as the severity of the snoring or sleep apnea and the response to the initial treatments.
Long-lasting results: The effects of NightLase treatment can last up to a year or more, although individual results may vary. In some cases, maintenance treatments may be recommended to prolong the benefits.
Minimal side effects: NightLase has a low risk of side effects, with most patients experiencing only mild and temporary redness or swelling in the treated areas. Serious side effects are rare but can include burns, blisters, or changes in skin colour.
Not a cure-all: While NightLase can help to reduce snoring and improve sleep quality for many patients, it is not a guaranteed cure for all sleep-related breathing disorders. It is essential to consult with a healthcare professional at Centre for Surgery to determine the most appropriate treatment plan for your specific needs.
Laser snoring treatment Before & Photos - real patient results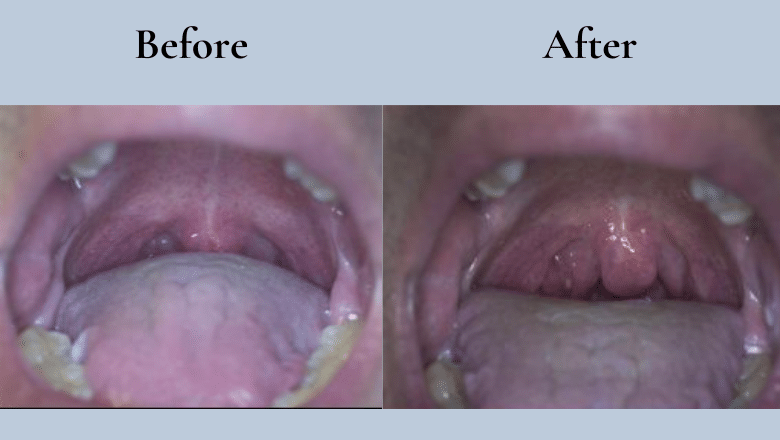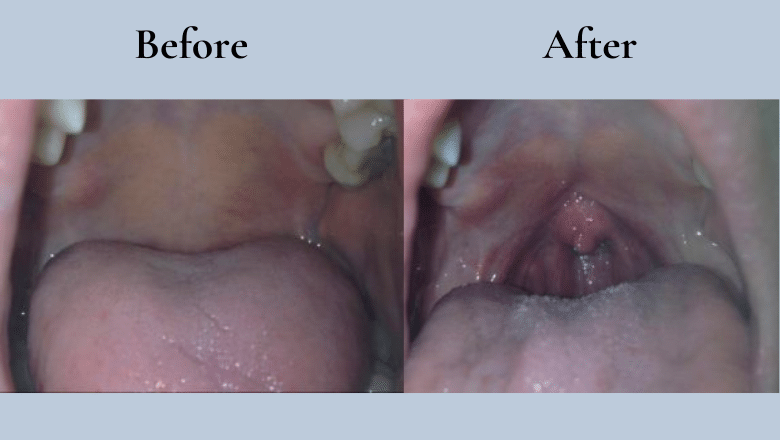 Benefits of NightLase
NightLase is a non-invasive treatment for snoring and mild to moderate sleep apnea. It uses laser energy to stimulate collagen production in the soft palate, which can help to tighten and firm the tissue and reduce vibrations that cause snoring. Some benefits of NightLase include:
Non-invasive: NightLase does not require any incisions or surgery, so there is no risk of bleeding or infection.
Quick recovery time: Patients can usually return to their normal activities immediately after the procedure.
Long-lasting results: The effects of NightLase can last for several months, and the treatment can be repeated as needed to maintain the results.
Improved sleep: By reducing or eliminating snoring, NightLase can improve the quality of sleep for both the patient and their partner.
Improved overall health: NightLase can also help to alleviate symptoms of sleep apnea, such as daytime fatigue and high blood pressure, which can improve overall health and well-being.
FDA approved treatment
It's important to note that NightLase is performed by a trained medical professional, and that it may not be suitable for everyone. Schedule a consultation at Centre for Surgery to determine if NightLase is right for you.
Is NightLase effective?
NightLase is a specific type of laser snoring treatment that is designed to use laser energy to shrink and tighten the soft tissue in the throat that can cause snoring. Many studies have suggested that NightLase can be effective in reducing or eliminating snoring in patients. However, as with any medical treatment, the effectiveness can vary from person to person, and it is not a guaranteed solution for every individual. It is important to note that laser snoring treatment should only be done by an experienced and qualified medical professional, and it is always recommended to consult with a specialist to determine if NightLase or any other laser snoring treatment is the right option for you.
Am I suitable for laser snoring treatment?
Ideal candidates for laser snoring treatment, like NightLase, typically have mild to moderate snoring caused by excess tissue in the throat. This can include people with the following:
Uvula elongation
Palatal flutter
Soft palate hypertrophy
Tonsil hypertrophy
It is recommended that people who have other underlying conditions that cause snoring such as sleep apnea or nasal obstruction should be treated first before considering laser snoring treatment.
Laser snoring treatment may not be suitable for everyone, and a qualified and experienced medical professional should evaluate each patient individually to determine if they are a good candidate for the procedure.
It is also important for patients to have realistic expectations about the outcome of the treatment, as laser snoring treatment may not completely eliminate snoring, and some patients may require more than one treatment session.
The laser snoring procedure
The NightLase procedure is a laser snoring treatment designed to shrink and tighten the soft tissue in the throat that can cause snoring. The procedure is typically performed by a laser specialist, and is done on an outpatient basis. The steps of the NightLase procedure are as follows:
A thorough examination of the patient's throat and airway to determine if they are a suitable candidate for the procedure.
The patient is given a local anaesthetic to numb the area where the laser will be applied.
The laser is then used to shrink and tighten the soft tissue in the throat that can cause snoring.
The procedure typically takes about 30 minutes to perform.
After the procedure, the patient can go home but should avoid strenuous activities and alcohol consumption for 24 hours.
The patient will be evaluated after a few weeks to determine if additional treatments are needed.
It's important to note that this is the general procedure of NightLase, and the exact steps may vary depending on the patient's condition and the doctor's preference.
You should feel no discomfort throughout the procedure. This treatment uses the Er:YAG laser, which allows for the superficial penetration of heat into the tissue without any damage occurring. The laser is deployed in three areas as shown below, for optimal tightening of the oral tissues.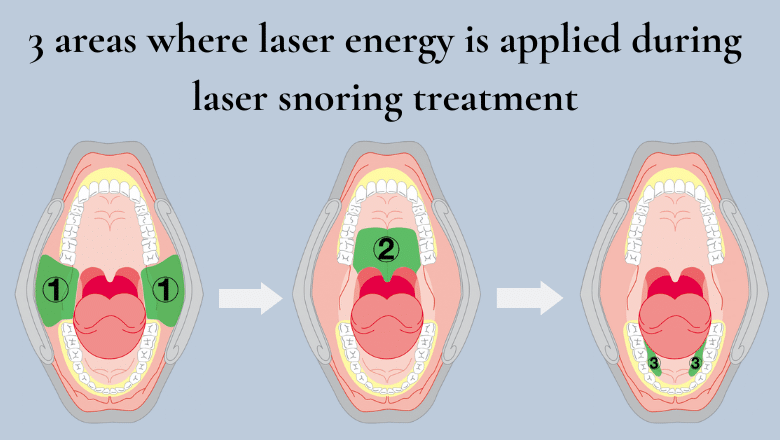 How many NightLase treatments will I need?
The number of NightLase treatments that a person may need can vary depending on their individual condition and goals. NightLase is a non-surgical laser treatment that is used to reduce snoring and improve the quality of sleep by tightening the tissues in the back of the throat.
In general, a course of NightLase treatment typically involves three to four sessions, which are performed over a period of a few weeks. Each session usually takes around 20-30 minutes to complete.
However, the number of treatments required may vary based on the severity of the snoring or sleep apnea, as well as the individual's response to the treatment. Some patients may require more or fewer treatments than others to achieve the desired results.
What to expect after laser snoring treatment
After undergoing a laser snoring treatment like NightLase, you can generally expect the following:
Immediate recovery: As NightLase is a non-invasive procedure, there is typically no downtime, and patients can resume their normal daily activities immediately after treatment. However, it is recommended to avoid strenuous activities or heavy lifting for at least 24 hours after the procedure to minimize any potential discomfort.
Mild discomfort: Some patients may experience mild discomfort, such as a sore throat, dry mouth, or a sensation of warmth or tightness in the treated area. These symptoms are usually temporary and should subside within a few days.
Swelling and redness: Some patients may experience mild swelling and redness in the treated area, which usually resolves within a few hours to a couple of days. Applying a cold compress or ice pack can help alleviate the swelling and provide relief.
Gradual improvement in snoring: The effects of the NightLase treatment may not be immediate, as the collagen remodelling process takes some time. Patients often notice a gradual reduction in snoring and improved sleep quality over the weeks following the treatment sessions.
Follow-up sessions: Depending on the individual's response to the initial treatment, additional sessions may be required, typically spaced a few weeks apart. A total of 2-3 treatment sessions are generally recommended to achieve optimal results.
Maintenance treatments: Although the effects of NightLase can last up to a year or more, some patients may require maintenance treatments to maintain the benefits. The frequency of these maintenance treatments will depend on the individual's specific needs and the severity of their snoring or sleep apnea.
Monitoring your progress: It is essential to keep in touch with your healthcare provider and discuss any concerns or questions you may have during the treatment process. They will be able to assess your progress and make any necessary adjustments to your treatment plan.
Complementary treatments: In some cases, your healthcare provider may recommend additional treatments or lifestyle changes, such as weight loss, positional therapy, or the use of oral appliances, to help improve your sleep quality and further reduce snoring.
Laser Snoring Treatment Cost London - How much does NightLase cost in London UK? Prices & Fees
The cost of laser snoring treatments like NightLase at Centre for Surgery, depends on the number of sessions required. The average cost per session for NightLase treatment in London is £600, depending on the severity of snoring symptoms.
Typically, a treatment plan consists of 3 sessions, so the total cost for a complete treatment course is approximately £1500.
It's important to note that laser snoring treatments like NightLase are elective procedures and are generally not covered by the National Health Service (NHS) or most private insurance providers. Patients should expect to fund the cost of treatment themselves.
NightLase & Laser Snoring Treatment Near Me
Centre for Surgery is a leading provider of cosmetic and surgical treatments in London, UK. With a team of highly skilled and experienced professionals, state-of-the-art facilities, and a commitment to patient care, Centre for Surgery is an excellent choice for NightLase treatments. Here are some reasons to choose Centre for Surgery for your NightLase procedure:
Expertise: The Centre for Surgery has a team of qualified and experienced practitioners who specialise in various surgical and non-surgical treatments, including NightLase. Their expertise ensures that you receive high-quality care and the best possible results.
Patient-focused care: At the Centre for Surgery, patient satisfaction and safety are of utmost importance. The team is dedicated to providing personalised care, addressing individual needs, and ensuring a comfortable and positive experience throughout the treatment process.
Comprehensive consultation: Before any treatment, you will receive a thorough consultation to discuss your concerns, medical history, and treatment goals. The practitioner will evaluate your suitability for NightLase and develop a customised treatment plan to achieve the desired results.
State-of-the-art technology: Centre for Surgery uses the latest technology and equipment, including advanced laser systems specifically designed for NightLase treatments. This ensures that the treatment is safe, effective, and comfortable for the patient.
Clear communication: The team at the Centre for Surgery is committed to maintaining open and transparent communication with their patients. We will provide you with all the necessary information, answer your questions, and address any concerns you may have throughout the treatment process.
Follow-up care: After your NightLase treatment, Centre for Surgery will provide ongoing support and follow-up care to monitor your progress and ensure optimal results. We are available to answer any questions or address any concerns that may arise after the procedure.
Reputation: Centre for Surgery has built a strong reputation for providing high-quality care and achieving excellent results for our patients. You can feel confident that you are in good hands when choosing our clinic for your NightLase treatment.
Centre for Surgery in London is a specialist centre for laser snoring treatment and NightLase, and we carry out over 50 laser snoring procedures each year at our state-of-the-art Baker Street clinic in Marylebone. Call us today on 0207 993 4849 to schedule a NightLase consultation.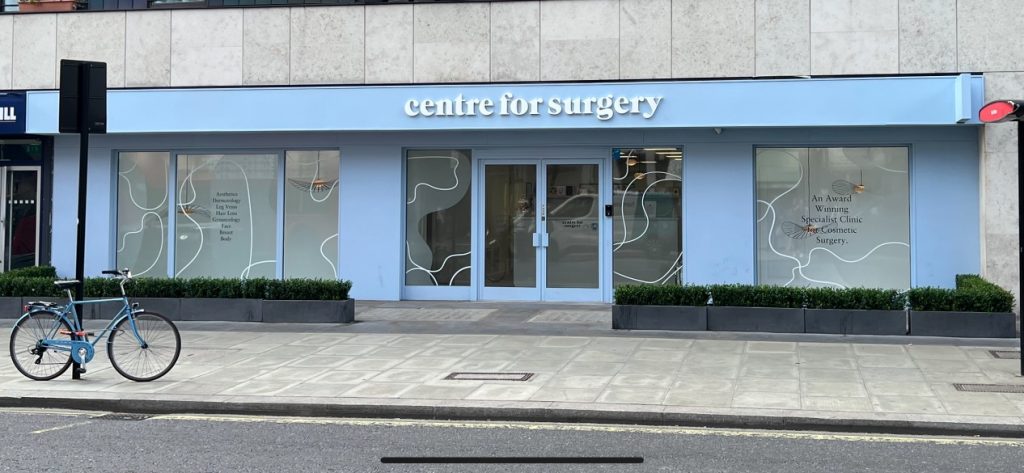 Amazing from start to finish, the communication was the main thing was fully informed and looked after, on the day of my breast augmentation, the staff were fab and made me feel at ease through out the whole process. Thank you so much.
Mohammed Farid
18/11/2021
I've had such a great experience with excellent advice, care and attention and surgical treatment (gynaecomastia) - I can fully endorse the treatment I have received from Centre for Surgery with absolutely no qualms at all. Brilliant in every way - thank you all so much.
Caroline Thorpe
14/11/2021
Very pleased with my whole experience of having a procedure. Was so nervous about getting treatment and i was reassured and felt so comfortable throughout thanks to the amazing nurses. I definitely made the right decision to have breast augmentation at centre for surgery with dr erel.
Melissa Briggs
08/11/2021
So glad I went with centre for surgery, the whole process went very smoothly from the consultations down to the actual day of the procedure. I was so nervous on the day but the whole team put me at ease and I'm happy with my results as I feel a lot more comfortable wearing certain clothes now. My surgeon was Alberto Di Giuseppe who performed a breast Augmentation on me, and I would definitely recommend as he was very clear on what the outcome of the surgery would be and which size would look the best for my frame.
Couldn't be happier with Dr Tillo work,i had my breast surgery one week ago and so happy with the results so far,all the staff are extremely nice and very supportive,i would definitely recommend their services,thank so much
From start to the finish everything was perfect for tummy tuck surgery. All staff is very friendly and the aftercare has been good. The Doctor and the nurse team was fantastic. I'm so happy...result is amazing. Thank you!!!
This was overall a great experience, all the staff at Centre for Surgery were friendly and put me at ease. It is a nerve wracking thing to go through an op but the staff were so nice. Mr Ertan has got a great team around him. On the day of the operation everything went smoothly to plan, there was no delay or holdups, I had another consultation with Mr Ertan who confirmed what was going to be done and that I was still happy to proceed. I was prepped for the procedure, I met with the anaesthetist who again was really nice and put me at ease explaining his role. After the procedure I woke up with the nurse by my side making sure I was OK and checking on me, I was able to stay in the clinic until I was ready to leave and was not rushed at all. I was well looked after from the start to the point when I was discharged. Post operation I was staying at a local hotel it was so close there was no point in even getting a taxi and I was able to walk back where my partner was waiting for me. I was expecting a lot of bruising to both my eyes but there was very little if any by the time the cast came off after 7 days, I am now at the two week post operation point and it is healing well with no outwardly visible bruising or scaring. The next milestone is a checkup at the 6 week point with my surgeon. If you're thinking of having something like this done I would highly recommend getting in touch with Centre for Surgery.
The staff at Centre for Surgery were very kind and accommodating. They answered any questions I had about the procedure and were constantly checking up on me. A special thank you to Christina for all her support throughout.
I would just like to state the quality of care received from the nurses at Centre for Surgery was beyond the highest level. Sophie takes her patient care to another level beyond words. She always puts me at ease. She is there for me even at awkward hours just when I mostly needed reassurance and she is one of the most compassionate nurses I have come across and demonstrates her passion naturally for caring for others. She totally deserves recognition at its finest and thank you for always being there for me. 😍