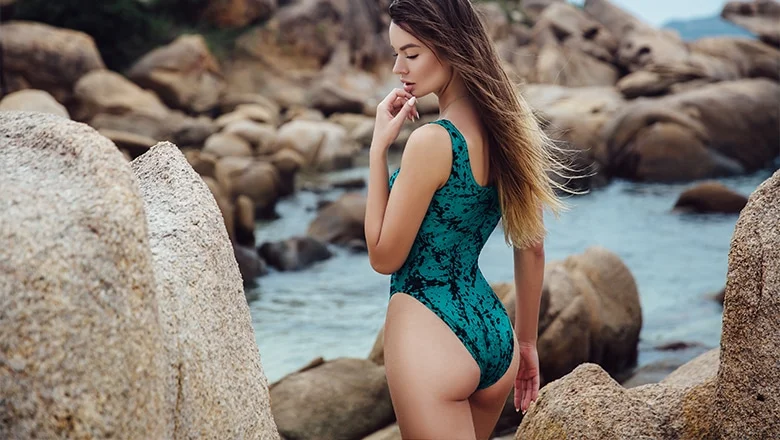 The Brazilian Butt Lift, or BBL for short, is becoming more and more popular at our clinic in London. So, what's it all about? Well, this cosmetic surgery procedure involves removing excess fat from specific areas of your body where you feel you've got a bit too much—such as your thighs, hips or tummy. This fat is then carefully processed and purified before being injected back into your bottom.
The main aim of the surgery is to give your bum a more attractive, well-shaped and lifted appearance. But that's not all. The procedure also helps to slim down the areas where the fat was taken from, resulting in a body that looks well-balanced and beautifully proportioned. In short, it's a win-win: you get a more sculpted bum and a slimmer body overall.
There's been a lot of progress in the world of plastic surgery, especially when it comes to BBLs. The industry is always pushing forward with new research and technological innovations to ensure that the procedure is as safe as possible and delivers precise, high-quality results. One of the latest advancements is the ultrasound-guided BBL, which uses ultrasound technology to make the fat-transfer process even more accurate and safe. This means you can expect an even better outcome than before.
RELATED: BBL & Gluteal Fat Grafting – BAAPS Update
RELATED: Brazilian Butt Lift FAQs – Q&A about BBL Surgery
Brazilian Butt Lift Safety
The safety of the Brazilian Butt Lift (BBL) procedure has garnered significant attention since it first emerged as a popular cosmetic surgery option. While it's natural to have questions and concerns about any surgical procedure, it's crucial to understand that much of the BBL's safety rests on the credentials and experience of the plastic surgeon performing it, as well as the quality of the clinic where it's being done.
RELATED: Is the Brazilian Butt Lift Safe?
When you choose a well-established clinic like Centre for Surgery and opt for a highly trained, specialist plastic surgeon, you're putting yourself in very capable hands. It's true that all surgical procedures come with inherent risks, but a seasoned surgeon knows precisely how to mitigate these. They will follow best practices, such as avoiding excessive fat injections and steering clear of injecting fat directly into the gluteal muscle—actions that could lead to severe complications.
An expert surgeon possesses not just the technical skills, but also the extensive education and research background to execute the BBL safely and effectively. It's for these reasons that you can feel as comfortable opting for a BBL as you would for more time-tested procedures like breast augmentation or liposuction, which have been safely performed for decades.
However, it's worth noting that the safety reputation of the BBL has been somewhat tarnished by unfortunate incidents. These usually occur when individuals opt for cheaper options, often travelling abroad to countries like Turkey, where they might encounter less experienced surgeons or subpar medical facilities. These instances have cast an undeserved shadow over the BBL's safety profile.
RELATED: The Dangers of Cosmetic Surgery Tourism
To counteract these misconceptions, it's important to stress that when performed by qualified professionals, a BBL is an extremely safe procedure. Moreover, ongoing advancements in surgical techniques and technology have made it even safer. At Centre for Surgery, we continually adopt the latest industry best practices and technological innovations to ensure that our BBL procedures meet the highest standards of safety and quality. Therefore, when considering a BBL, always prioritise the expertise of the surgeon and the reputation of the clinic, and remember that cutting corners on cost could mean compromising on safety.
RELATED: Why have a Brazilian Butt Lift in London?
What is the ultrasound-guided BBL?
At Centre for Surgery, we've always prioritised the safety and well-being of our patients above all else. While achieving stunning results is important, it's secondary to ensuring that every procedure is executed with the utmost care. That's our philosophy for all treatments we offer, and the Brazilian Butt Lift (BBL) is no exception. This focus on safety is why we're incredibly excited to introduce the ultrasound-guided BBL, a pioneering technique that enhances both the safety and precision of the procedure.
So, what exactly is an ultrasound-guided BBL? In essence, the core procedure remains largely the same. Excess fat is removed from one part of your body through liposuction, purified, and then re-injected into your buttocks to give them a more rounded and lifted appearance. What sets the ultrasound-guided BBL apart is an added layer of real-time imaging. During the surgery, your surgeon will be assisted by a team member operating a wireless ultrasound machine, which provides a live visual feed of the target area.
What's the benefit of this? Quite simply, it equips the surgeon with a kind of 'X-ray vision,' allowing them to see exactly where they're depositing the harvested fat. This ensures that the fat is being placed in the optimal layer above the muscle, enhancing the safety of the procedure and delivering more precise, high-quality results. The ultrasound-guided approach represents a groundbreaking advancement in the field, and we're delighted to offer it to our patients.
If you've been hesitant about getting a BBL due to safety concerns, our adoption of this new technology should provide extra reassurance. We continually update our protocols based on the latest scientific research and recommendations. In line with the British Association of Aesthetic Plastic Surgeons (BAAPS) guidelines, we also limit the number of BBLs performed by each surgeon to no more than three per day. This ensures that the surgeon is not fatigued and can give each operation the full attention and care it requires, further reducing surgical risks.
So, it's clear: when it comes to the Brazilian Butt Lift, safety is at the forefront of everything we do. And with the introduction of ultrasound-guided BBLs, we're taking that commitment to a whole new level.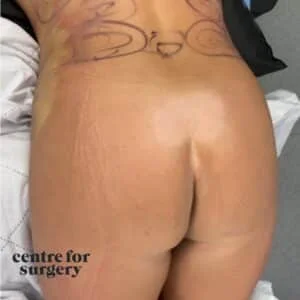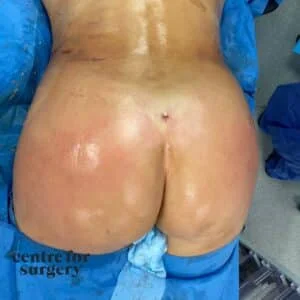 Benefits of Ultrasound-guided BBL
Ultrasound-guided Brazilian Butt Lift (BBL) has several benefits over traditional techniques. These include:
Increased precision: Ultrasound guidance allows the surgeon to better visualise the location and size of the fat deposits being transferred, leading to more precise and accurate results.
Reduced risk of complications: By using ultrasound guidance, the surgeon can avoid major blood vessels and nerves in the area, reducing the risk of complications such as bleeding and nerve damage.
Faster recovery time: Because the procedure is less invasive, patients typically experience less pain and swelling, leading to a faster recovery time.
Improved fat survival rate: Ultrasound guidance can also help to improve the survival rate of the fat being transferred, leading to better and longer-lasting results.
Reduced trauma to the surrounding tissue: Ultrasound-guided liposuction causes less trauma to the surrounding tissue, which leads to less pain, less bruising and faster recovery.
It is important to note that the results may vary depending on the surgeon's experience and the patient's individual characteristics.
Ultrasound-Guided BBL: Why Choose Centre for Surgery
When it comes to cutting-edge procedures like the ultrasound-guided Brazilian Butt Lift (BBL), Centre for Surgery stands out as a pioneer in the industry. Our focus has always been on ensuring the utmost patient safety while striving for exceptional aesthetic results. The ultrasound-guided BBL exemplifies this commitment by integrating the latest technology for a safer, more precise outcome.
A Tradition of Excellence
At Centre for Surgery, our team of highly qualified and experienced surgeons are backed by state-of-the-art medical facilities. We take a patient-centred approach, tailoring each procedure to individual needs and ensuring that you are well-informed at every step. Our adherence to rigorous safety protocols and continuous adoption of the latest in surgical advancements has made us a leading choice for cosmetic surgery in London.
To know more about our ethos and what sets us apart, you can visit our About Us page.
Patient Testimonials
Don't just take our word for it; listen to what our patients have to say:
Sarah, 34: "I had an ultrasound-guided BBL at Centre for Surgery and the results are simply amazing. Not only do I look great, but the level of care and attention from the staff was unparalleled."
Daniella, 29: "Safety was a big concern for me when choosing where to have my BBL. At Centre for Surgery, I felt secure and in good hands from consultation to aftercare."
Emily, 27: "The whole experience was incredibly professional. The ultrasound technology they used made me feel confident that the procedure would be precise and it was. I couldn't be happier with the results!"
Finance Options
We understand that finance is often a consideration, which is why we offer a range of finance options, including 0% APR with Chrysalis Finance. For more details, check out our Finance Options page.
Further Information
For in-depth articles, updates, and insights into the world of plastic surgery, feel free to browse through our Plastic Surgery Blog. Additionally, for any frequently asked questions you may have, our Clinic FAQs page might have the answers you're looking for.
Location
Our clinic is conveniently located at 95-97 Baker Street, London. You can find more information about our Baker Street clinic here.
Book a Consultation
Ready to take the next step? Contact us today for a consultation.
Your safety and satisfaction are our top priorities. Choose Centre for Surgery for a state-of-the-art, compassionate approach to your aesthetic needs.