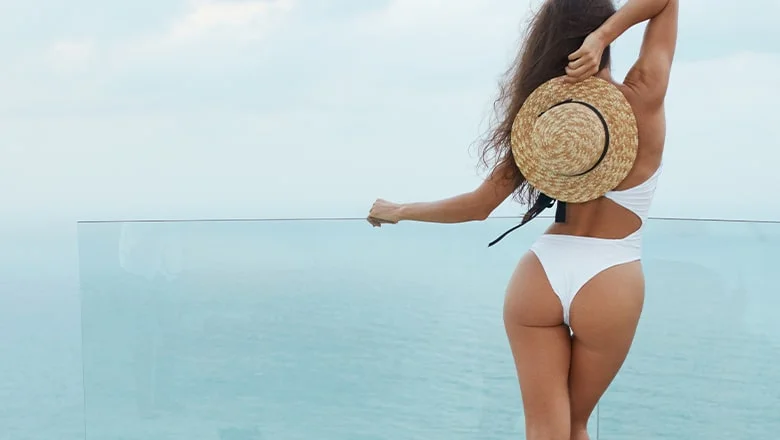 The Brazilian butt lift procedure has skyrocketed in popularity over the last five years, and many patients choose to have their BBL in London with Centre for Surgery. Given the growing numbers of patients undergoing a BBL at our state-of-the-art Baker Street clinic in London, we wanted to take the opportunity to answer some of your most commonly asked questions about the Brazilian butt lift procedure.
What is a Brazilian butt lift?
Brazilian butt lift, also known as a BBL or fat transfer to buttocks, is a specialist body contouring procedure that involves two key aspects, firstly sculpting the torso and the thighs while simultaneously enhancing the volume of the buttocks. The first step of the procedure involves liposuction to areas with excess fat deposits, which commonly include the abdomen, flanks and thighs. The next step consists of purifying the collected fat in a sterile collection vessel to remove unwanted oils and local anaesthetic fluids. Once the fat is ready to be injected, the surgeon will utilise ultrasound-guided BBL to ensure the injection cannula is situated above the gluteal muscle, which is the safest technique for fat transfer. The addition of fat to the buttocks helps to enhance the shape as well as the volume of the buttocks. The final result of 360 liposuction with a BBL is a contoured hourglass figure which looks in total harmony with the rest of your body shape.
RELATED: What are the different types of Brazilian Butt Lift or BBL?
Does weight matter for BBL surgery?
Many patients may have a body mass index classed as overweight or obese. The key to getting the best results in Brazilian butt lift surgery is to have a body mass index below 30. If you want to lose weight before a BBL, it's essential to remember that you should maintain stable body weight after that. The ideal patients for BBL are those at or near their target weight, and it is always essential to remember that a BBL is not a treatment for weight loss. The main prerequisite for BBL surgery is to have adequate stores of fat to enable sufficient liposuction, so it would be important not to lose too much weight before having a BBL. There is no one correct answer to this question, and it very much depends on your goals for treatment. Our surgeons are here to assist you in achieving your dream look. As with all cosmetic surgery, the best outcome is the one that makes you happy and does not conform to anyone else's desires.
The best way to determine your suitability for a Brazilian butt lift is to have a face-to-face consultation with one of our expert BBL surgeons. They will be able to assess you and give you honest and straightforward advice on what can be achieved with a Brazilian butt lift.
Is BBL surgery effective for the treatment of asymmetry or cellulite?
Patients with an uneven distribution of body fat that manifests as an asymmetrical appearance can be very effectively treated with a BBL procedure. Our expert BBL surgeons are equipped with a full range of surgical methods, including expansion vibration lipofilling, to reposition fat in a manner that leads to a more symmetrical and aesthetically pleasing outcome. This is why we always recommend that you have your Brazilian butt lift carried out by a surgeon who performs this type of surgery regularly. Patients with significant degrees of asymmetry may find limits to what can be achieved, but this is very uncommon in expert hands. Many patients commonly present with hip dips which are asymmetrical in appearance, and this is something our surgeons regularly correct with the BBL procedure.
Both liposuction and fat transfer are not effective treatments for treating cellulite. After any Brazilian butt lift procedure, many patients may find that they have an improvement in the appearance of the cellulite, but this is only temporary and is most often a result of post-operative swelling. Once this swelling settles down, the dimpled skin which characterises cellulite reappears.
For patients concerned by the appearance of their cellulite, Centre for Surgery is pleased to offer an innovative treatment known as CelluTite. CelluTite is a minimally invasive radiofrequency procedure easily carried out under a local anaesthetic and is designed to treat cellulite permanently.
Does BBL work for hip hips?
BBL surgery works brilliantly for treating hip dips as the fat can be injected directly into the areas of soft tissue depression in the hips to restore a curvy silhouette. For patients interested in having their hip dips treated, it's essential to have realistic expectations of what can be achieved, as the procedure's success will depend on your pre-existing anatomy. Your surgeon will be able to tell you how much that can be injected to create a significantly improved result. If you're interested in having a BBL for hip dips, then it's best to ask your surgeon at consultation about what can be done to improve this.
What happens if I gain weight after BBL?
In some cases, patients may develop an increase in weight after BBL surgery. This increase in weight tends to be generalised as opposed to collecting in a specific area whether or not you had a BBL. Although there may be minor and barely noticeable changes in where fat stores we accumulate, in the vast majority of cases, you will notice increased fat stores in all parts of the body where you are usually prone to developing them.
RELATED: What is the right body weight for BBL?
It's important to remember that BBL results are permanent, but for those patients who undergo weight gain, the body's overall shape will change, which is due to an increase in the size of the adipocytes or fat cells. These changes also occur with the ageing process. With age, the shape of our bodies naturally changes. When viewed 5 to 10 years in the future, the body will have a somewhat different shape to what you had before the surgery, which is not only due to the surgical procedure.
The best way to maintain results after a BBL is to maintain a stable weight with a sensible regular exercise program and a healthy, nutritious diet.
When can I return to work after a Brazilian butt lift?
Before considering having a BBL procedure, it's essential to make sure that you are aware of what the recovery period involves. The critical aspect of the recovery process consists of avoiding all pressure on the buttocks for a minimum of two weeks. This means you cannot lie flat or sit on the buttocks during this period. This, therefore, means you will not be able to drive a car for the first two weeks. Although the recovery period is more difficult compared with other procedures such as a tummy tuck, by following the post-operative instructions fully, you'll be able to get the very best possible result.
RELATED: How visible will BBL scars be?
Your BBL Surgeon can advise on how many weeks you need to avoid exerting any pressure on the buttocks. Our patient coordinators have considerable experience in guiding patients through the BBL patient journey. They will be your dedicated point of contact for any questions or concerns you may have. Over time, we've developed several valuable tips and tricks to make BBL recovery as easy as possible. When you have your consultation with a BBL surgeon in London at our Baker Street clinic, your surgeon will want to know what your work involves so that they can advise you accurately on how much time you may need to take off work. By sitting for shorter periods at a time spaced out over a more extended period, you may be able to return to work sooner if this does not involve driving a car.
As with all types of cosmetic surgery, the treatment and the post-operative instructions always have to be tailored to you as a unique individual and your particular lifestyle. These are just a small number of questions that we have covered about the BBL procedure. For further information, please don't hesitate to contact one of our knowledgeable patient coordinators. They will be able to give you comprehensive information about many aspects of the BBL procedure.
RELATED: Can you do a revision BBL?