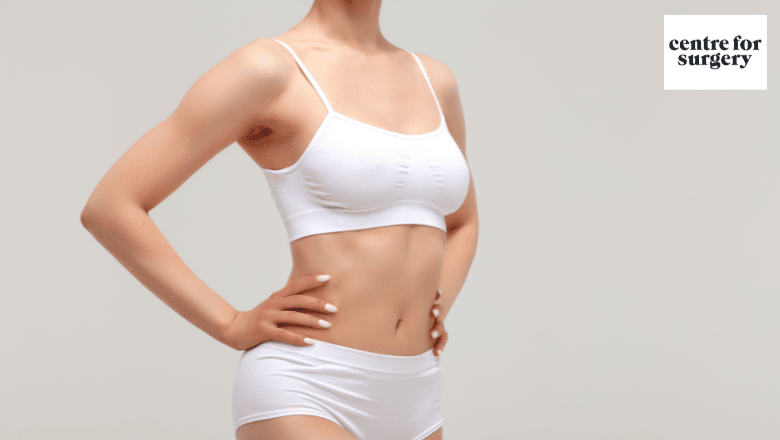 Body Contouring Surgery London & UK
Body surgery procedures are a popular option for patients looking to achieve a sculpted and more contoured physique. This can help many people to achieve a significant boost in self-confidence. Body contouring surgery is highly effective for the removal of excess fat and loose skin that has not gone away with diet and exercise alone. Loose skin, in particular, does not return to its normal level of tightness once significant weight loss has occurred.
Fortunately, there is a range of effective body contouring procedures that can target areas of loose skin or excess fat to help you achieve your aesthetic goals. Pregnancy and breastfeeding, significant weight loss and the natural ageing process all contribute to the development of loose skin and excess fat.
Pregnancy can cause significant stretching of the abdominal muscles and overlying skin, resulting in the development of stretch marks and saggy loose skin. Our expert plastic surgeons can help women to restore their pre-pregnancy bodies and help them to feel amazing about themselves with a mummy makeover procedure customised to individual needs and desires.
Body contouring surgery is adapted to the needs of the individual patient regardless of the extent of excess fat or saggy skin to produce beautiful and natural-looking results. Liposuction and tummy tuck surgery can help to achieve a significant body transformation with results that can last many years as long as you maintain a healthy lifestyle.
Top Body Cosmetic Surgery Procedures: Enhancing Appearance and Confidence
In the dynamic field of plastic surgery, body cosmetic procedures stand out for their popularity and effectiveness. Life's journey, marked by aging, stress, and lifestyle habits, inevitably impacts our body's appearance. This universal experience drives the demand for transformative surgical solutions.
Among these, procedures like Liposuction, Tummy Tuck (Abdominoplasty), and Body Lift not only garner widespread interest but consistently rank among the UK's top 10 surgical enhancements annually.
Liposuction: Sculpting the Body
Liposuction expertly targets and eliminates stubborn fat deposits in areas resistant to diet and exercise. Centre for Surgery frequently employs this technique to redefine body contours, addressing regions including the neck, arms, abdomen, buttocks, hips, thighs, knees, and calves. This versatile procedure can simultaneously address multiple areas, aligning one's physical appearance with their fitness aspirations.
Tummy Tuck (Abdominoplasty): Revitalising the Abdomen
Abdominoplasty, commonly known as a Tummy Tuck, focuses on the abdominal area. It effectively removes excess skin, particularly the lower abdominal 'apron', and tightens the area to eliminate the 'baggy belly' look. Beyond cosmetic enhancement, this surgery strengthens weakened muscles, solves hygiene issues linked to excess skin, improves posture, enhances bladder function, and reshapes the abdomen for a firmer, smoother profile.
Mummy Makeover: Post-Pregnancy Transformation
Mummy Makeover procedures address the physical changes following pregnancy. This suite of surgeries includes breast lifts (with or without implants), liposuction, and tummy tucks. These procedures collectively aim to restore pre-pregnancy body contours and confidence.
Arm Lift (Brachioplasty): Reshaping the Upper Arms
Brachioplasty or an Arm Lift is a response to aging or significant weight loss that often leaves upper arms with sagging skin. This procedure, focusing from the armpit to the elbow, removes excess skin and fat, countering the 'tuckshop arms' appearance that exercise alone may not resolve.
Thigh Lift: Enhancing Upper Thighs
A Thigh Lift targets the sagging, excess skin often left after considerable weight loss. This procedure not only removes this unwanted skin but also sculpts the thighs by eliminating additional fat, significantly improving both appearance and comfort.
Belt Lipectomy: Comprehensive Abdominal Reshaping
The Belt Lipectomy, or 360 circumferential abdominoplasty, is ideal for those who have experienced massive weight loss. It addresses the loose, sagging skin that often remains, offering a comprehensive solution that can complement weight loss surgeries like gastric sleeves or significant dieting efforts.
Body Lift: The Ultimate Transformation
A Body Lift combines multiple plastic surgeries to eradicate excess skin, sagging muscles, and residual fat following substantial weight loss. It's a sought-after procedure for those looking to finalize their weight loss journey, focusing on areas like the hips, outer thighs, lower abdomen, and upper buttocks for a complete rejuvenation.
Each of these procedures at Centre for Surgery is designed with the ultimate goal of enhancing physical appearance and boosting self-confidence, tailored to individual needs and aesthetic goals.
What is Body Surgery?
Body contouring surgery encompasses a range of procedures designed to improve the appearance of the body for a more sculpted and toned physique. This can help produce a significant boost in self-confidence. Body surgery procedures are aimed at the removal of loose skin and excess fat to produce slimmer and more defined contours. Once full recovery has occurred, people can look forward to a smoother, firmer and better-defined body shape. Body surgery is uniquely customised to the needs and desires of the individual patient to enable optimal treatment outcomes.
What are the Benefits of Body Surgery?
Whether you have liposuction, abdominoplasty or a Brazilian butt lift, body contouring procedures carry the following benefits:
Firmer and tighter skin
Flatter and more defined abdomen
Better body posture
Slimmer body contour
Less skin irritation
Increased choice of clothing options
Elimination of stretch marks
Firmer and more masculine-looking chest
Improved confidence
Elimination of saggy skin
Firmer and more toned arms and thighs
Am I Suitable for Body Surgery?
Suitability for body surgery will be determined by having an in-person consultation with a specialist body contouring surgeon. Your surgeon will take a detailed medical history and perform a physical examination to determine your suitability for surgery. Ideal candidates for body surgery include:
People in a good state of physical and mental health with no chronic medical conditions
Have a healthy body mass index below 30
Are non-smokers or are willing to quit smoking at least six weeks before surgery
Have localised areas of fat that have proven resistant to diet and exercise
Have a healthy lifestyle with a stable weight.
Have loose or saggy skin affecting the abdomen, arms, thighs or other areas of the body.
Have realistic expectations of the results that can be achieved with body surgery.
Most Popular Body Surgery Procedures in the UK
The following body procedures are considered the most popular surgeries in the UK:
Liposuction – this involves the minimally invasive removal of stubborn areas of fat using a cannula connected to a negative pressure vacuum.
Tummy tuck – abdominoplasty surgery is designed to produce a more contoured and flatter abdomen with the removal of excess fat and skin and repair of weak abdominal muscles.
Mummy makeover – this is a combination procedure most commonly involving a breast procedure such as a breast lift or breast augmentation combined with an abdominal procedure such as a tummy tuck or liposuction for women keen to get their pre-pregnancy body back.
Male breast reduction – gynecomastia surgery is designed to achieve a flatter and more masculine-looking chest with the removal of excess fat and glandular tissue.
Post-weight loss surgery, also known as post-bariatric surgery, is commonly undertaken for patients left with significant amounts of excess loose skin after massive weight loss. Common post-weight loss procedures include:
Arm lift – Brachioplasty surgery is designed to produce slimmer and contoured arms with the removal of excess skin and fat.
Thigh lift – thigh reduction surgery, also known as an inner thigh lift, removes loose skin and excess fat to produce slimmer-looking thighs with smoother and tighter skin.
Lower body lift – a belt lipectomy involves the circumferential removal of excess skin and fat to improve the appearance of the abdomen, sides and buttocks for people affected by loose, saggy skin caused by dramatic weight loss.
RELATED: Excess Skin Removal Surgery
What is the difference between liposuction and a tummy tuck?
Liposuction and a tummy tuck (abdominoplasty) are two different surgical procedures that are used to improve the appearance of the abdomen.
Liposuction is a procedure that uses a thin, hollow tube called a cannula to remove excess fat from specific areas of the body. The cannula is inserted through small incisions in the skin, and the fat is suctioned out. Liposuction can be used to remove fat from the abdomen, hips, thighs, and other areas of the body. Liposuction is best for those who have good skin elasticity and are close to their ideal body weight but have isolated pockets of fat that they would like to remove.
A tummy tuck, on the other hand, is a procedure that removes excess skin and fat from the abdomen, and tightens the abdominal muscles. This procedure is best for those who have loose or sagging skin or stretched abdominal muscles due to pregnancy, weight loss, or ageing. A tummy tuck involves a longer incision than liposuction, usually across the lower abdomen, and the recovery time is usually longer.
In some cases, a combination of both procedures can be done at the same time. This is called a "lipo-abdominoplasty". This procedure combines the benefits of both liposuction and tummy tuck, removing excess fat and skin while also tightening the abdominal muscles.
It's important to consult with an experienced plastic surgeon at Centre for Surgery who can evaluate your specific needs and recommend the best course of treatment for you.
Recovery after Body Contouring Surgery
The time needed to recover after body surgery differs between patients depending on the type and extent of the surgical procedure undertaken and your overall state of physical health. A tummy tuck involves a more extended recovery period compared with liposuction. You will be given detailed preoperative and postoperative instructions by your surgeon to help speed up recovery after body surgery. Stopping smoking and vaping and avoiding taking medications containing aspirin will help to reduce the risk of complications and shorten your recovery period. You should avoid any form of strenuous exercise for at least six weeks after surgery, including going to the gym.
Risks and complications of body surgery
As with any surgery, body contouring surgery involves certain risks that are minimised by adhering to all of your surgeon's preoperative and postoperative instructions. You can learn more about the specific risks associated with body surgery at your in-person consultation. This will help you to make an informed decision as to whether body surgery is right for you.
Which celebrities have had body surgery?
The following celebrities have had or are thought to have had body contouring surgery:
Kourtney Kardashian
Victoria Beckham
Iggy Azalea
Anna Faris
John Travolta
Dwayne Johnson, "The Rock"
How much does body surgery cost in London?
Body surgery is always customised to the needs of the individual patient. Costs and prices for body surgery will be determined by the type and extent of the procedure or combination of procedures you choose to have. All body surgery prices include surgical fees, anaesthetic fees, hospital fees and all preoperative and post-operative care appointments. Once you have had your face-to-face consultation, you will receive a detailed quotation from your dedicated patient coordinator, who will act as your personal point of contact throughout your journey with us at Centre for Surgery. Call us today on 020 7993 4849 to get a price estimate for your selected body surgery procedure.
Body Contouring FAQs
What is the best age to have body surgery?
The ideal age to have body surgery will be determined by the type of procedure you choose to have. Breast surgery is generally recommended for younger patients as they will have more elastic skin and a greater proportion of breast tissue. Body surgery procedures are ideal for older patients who may have developed areas of excess fat and loose skin caused by ageing, weight loss or pregnancy and childbirth. You can get an accurate idea of the best procedure for you by having a consultation at our Baker Street clinic, where a detailed physical examination will be undertaken.
Can I combine different body procedures in the same operation?
Certain body procedures can be combined in the same operation with a favourable risk profile. However, certain combinations of procedures may substantially increase the risk of complications occurring during and after surgery. An example would be a Brazilian butt lift combined with a tummy tuck. Your surgeon will recommend separating these two procedures to ensure a safe recovery. Permissible combinations include having a breast lift combined with a tummy tuck. Further information can be gained by having an in-person consultation.
Can I get body contouring surgery on the NHS?
Most types of body surgery are considered cosmetic procedures for the improvement of aesthetic appearance and are not carried out for medical purposes. The NHS does not fund cosmetic surgery, and you will need to find the cost of the treatment yourself. In rare cases, body contouring surgery after massive weight loss may be used to treat skin irritation or infection caused by loose skin. Although you may qualify for treatment, current NHS waiting lists are significantly long, and you may have to wait several years before you have treatment. Choosing to have your procedure at a private clinic means there are no waiting lists, and you can have treatment at a convenient date to suit you.
Body Surgery at Centre for Surgery
Centre for Surgery is considered the leading specialist centre for all types of body contouring surgery in London, including complex post-weight loss surgery involving the removal of significant amounts of excess loose skin. Our UK-trained plastic surgeons perform hundreds of body contouring procedures each year at our state-of-the-art Baker Street clinic in Marylebone. Booking a consultation is easy and straightforward. Simply call us on 0207 993 4849, complete the contact form below, and one of our patient coordinators will be in touch to schedule a consultation at a convenient date and time for you.
RELATED: What is excess skin removal?