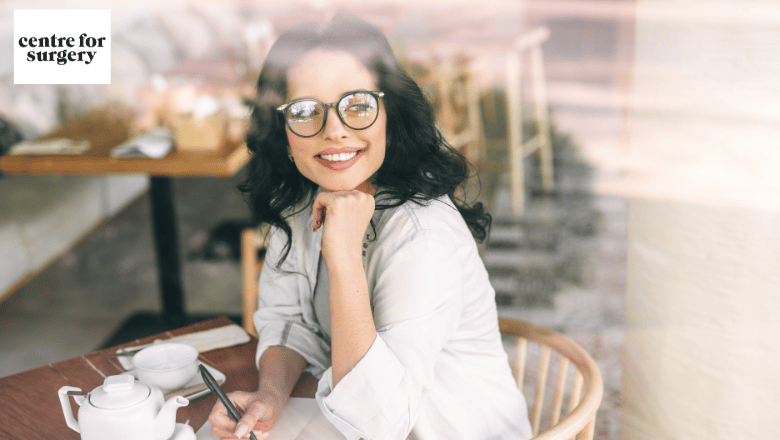 It's natural to experience a mix of excitement and nerves as you approach the date of your surgery or finalise the booking process. Cosmetic surgery is a significant event in your life, and we completely understand the emotions that come with it. We want to assure you that your well-being is our top priority.
RELATED: Preparing for Cosmetic Surgery
Rest assured, you are in excellent hands with our team of experienced and dedicated professionals at Centre for Surgery. Our clinic is one of the busiest and most reputable in London and the UK. We handle numerous surgeries daily, and our expertise is a testament to the outstanding results we achieve for our patients. We've seen it all and consistently perform at an exceptional level.
Upon booking your surgery, you will receive a comprehensive package containing information, forms, and detailed instructions to help you prepare for the big day. It's crucial to read through this material attentively, as it will outline everything you need to know and do to ensure you're ready for your procedure. We understand that you may have a lot on your mind and a myriad of questions, both big and small, and we're here to help.
To further assist you, we have compiled a list of some of the most frequently asked questions we receive from patients before their surgery. These questions address common concerns and provide valuable insights into the preparation process, helping you feel more confident and informed as you approach your surgical date.
Is it possible to have someone accompany me before the surgery?
Yes, you can have a friend or family member come with you to the clinic and stay with you until the pre-surgery process begins. When you arrive at Centre for Surgery, please check in at the front desk. After checking in, our staff will ask you a few brief questions and verify your caregiver's contact information. Depending on the schedule and the case preceding yours, you and your companion might need to wait in the waiting area for a short time.
As soon as our nursing team is ready to receive you, we will kindly ask your companion or caregiver to leave the clinic and find a nearby comfortable location to wait while your surgery is underway. We request that caregivers keep their mobile phones switched on and ensure they are easily reachable and within a 20-30 minute journey of the clinic throughout the entire duration of your surgical day.
Having a loved one by your side before your surgery can provide additional emotional support and comfort during this significant event in your life. However, it's essential to follow the clinic's guidelines to ensure a smooth and efficient surgical process for all patients.
When will I know the precise time for my surgical procedure?
The specific time for your surgery will be confirmed approximately one week before your scheduled procedure. Your patient coordinator will contact you to inform you of your designated arrival time at the clinic. During this call, they will also go over any final instructions and discuss the items you should bring with you on the day of the surgery.
It's important to note that the entire surgical process, from arrival to departure, typically lasts around 4-6 hours, assuming everything proceeds according to schedule. This duration includes pre-surgery preparations, the procedure itself, and post-surgery recovery time. Please keep in mind that this is an estimate, and individual experiences may vary depending on the specifics of your surgery and any unforeseen circumstances.
By providing you with a clear timeline and thorough information, we aim to ensure that you feel prepared, confident, and comfortable as you approach your surgical day.
What can I expect during the admission process on my surgical day?
Once it is time for you to proceed to the day ward, you'll be guided downstairs, where you'll meet your dedicated team, consisting of nurses, your anaesthetist, and, of course, your surgeon.
Upon arrival, you will be asked to change into a surgical gown, head cover, disposable underwear, and foot covers. You'll then settle into one of our comfortable beds in your private bay. Your admission nurse will take this opportunity to record your vital signs, verify the details of your procedure, and secure an ID band around your wrist. As part of the pre-operative preparations, the nurse will also provide you with the necessary medication.
Following this, your anaesthetist will join you to ask a few questions and address any concerns or inquiries you may have. Your surgeon will then meet with you for a final pre-surgery consultation, marking the surgical site and answering any last-minute questions that you may have.
The time spent in the day ward typically ranges between 45-60 minutes, but the duration may vary depending on the progress of the cases scheduled before yours. It's essential to understand that unforeseen delays can occur, and we appreciate your patience and understanding during this process.
Throughout the admission process, our team is committed to ensuring you feel comfortable, well-informed, and prepared for your surgical journey.
How long will I need to wear a postoperative compression garment?
The duration for wearing a postoperative garment depends on the specific surgical procedure you have undergone, as well as your surgeon's recommendations and your individual healing process. Postoperative garments, also known as compression garments, play a crucial role in facilitating a smooth and comfortable recovery. Here are some general guidelines and benefits of wearing these garments:
Duration: Typically, post-operative garments should be worn for a period of 2 to 6 weeks after surgery. However, this timeframe may vary based on the procedure, your body's healing response, and your surgeon's instructions. In some cases, your surgeon may advise wearing the garment for a shorter or longer period.
Purpose: Post-operative garments provide consistent compression, which helps to reduce swelling, support the tissues during the healing process, and enhance overall comfort. Compression garments can also help minimize the risk of complications such as seroma formation or excessive scarring.
Gradual reduction: In many cases, patients are advised to wear the post-operative garment continuously during the initial phase of the recovery process, with the exception of when showering or laundering the garment. As your healing progresses, your surgeon may recommend gradually reducing the amount of time spent wearing the garment each day.
Proper fit: It's essential to wear a post-operative garment that fits correctly. Your surgeon or a member of their team will help you select the appropriate size and type of garment for your specific needs. The garment should provide consistent compression without causing discomfort or restricting circulation.
Follow-up appointments: Your surgeon will monitor your healing progress during follow-up appointments and advise you on when you can stop wearing the post-operative garment. It's crucial to follow your surgeon's instructions carefully and not discontinue the use of the garment prematurely.
Potential variations: Depending on the procedure and the patient's individual needs, there might be variations in the type of post-operative garment used, the duration of wear, and the compression level. It's crucial to follow your surgeon's personalized recommendations for optimal recovery.
Is it necessary for me to obtain my medications before the surgery?
Yes, it is essential to make arrangements for acquiring your prescribed medications before your surgical procedure. Ideally, you should collect these medications ahead of time or ask a friend, family member, or caregiver to pick them up for you while you are being admitted by our team. Taking this proactive approach helps to ensure that you have the necessary medications readily available when needed, allowing for a smoother recovery process.
By acquiring your medications in advance, you can avoid the inconvenience of searching for open pharmacies after your surgery, when you might be experiencing pain or discomfort. Having your medications on hand not only expedites your recovery but also helps to alleviate any anxiety or concerns related to post-surgical care. Your health and comfort are our top priorities, and we highly recommend preparing for your surgery by securing your prescribed medications beforehand.
What should I do if I'm feeling unwell on the morning of my surgery?
If you happen to feel unwell on the day of your surgery, it's important to promptly notify our medical team, as we handle such situations on a case-by-case basis. Our primary concern is your well-being and ensuring the safest possible environment for your surgical procedure.
Upon receiving your call, we will assess your symptoms and the overall situation to determine the best course of action. Depending on the nature of your illness and its potential impact on the surgery, our medical team may decide that rescheduling your procedure is necessary in the interest of patient safety.
Please remember that your health is our top priority, and we will work with you to find the most suitable solution for your particular circumstances. It is crucial to keep the lines of communication open and inform our team of any health concerns, as this allows us to provide you with the best possible care and support throughout your surgical journey.
If I'm a smoker, when am I allowed to resume smoking? Is it permissible to have a cigarette before surgery to ease my nerves?
As a smoker, it is crucial to cease smoking a minimum of one month before your surgery, with an even earlier cessation—preferably two months—being the ideal scenario. Post-surgery, you must abstain from smoking for at least one month, although a longer period is highly recommended. Smoking significantly hinders the healing process, so the longer you can refrain from it, the better your recovery is likely to be.
Regarding smoking and its relation to surgery, there are strict guidelines that must not be compromised. It is absolutely prohibited to have a cigarette, even as a means of calming your nerves, prior to surgery. Undergoing cosmetic surgery may present the perfect opportunity for you to quit smoking permanently, thus leading to a healthier lifestyle overall.
RELATED: Smokers & Cosmetic Surgery – The Impact of Smoking
When can I have sex after cosmetic surgery?
The recommended timeline for resuming sexual activity after cosmetic surgery varies based on the specific procedure you undergo. In general, it is safe to engage in sexual activity approximately two weeks after your surgery, but we advise taking it easy during this time. It is important to remember that your body is still healing, and overly vigorous activity could lead to complications and prolong the recovery process.
It is essential to follow the specific guidelines provided by your surgeon regarding postoperative sexual activity. Some procedures, particularly those involving the genital area, may require a longer period of abstinence. For example, most cosmetic gynaecology procedures such as labiaplasty necessitate a period of abstinence of at least four to six weeks to ensure proper healing and minimise the risk of complications.
It is also essential to be mindful of your own body and listen to any discomfort or pain that you may experience during sexual activity. If you feel any discomfort, it may be best to refrain from sexual activity and consult with your surgeon to ensure everything is healing properly.
What degree of pain can I anticipate following my surgical procedure?
At Centre for Surgery, we prioritise patient comfort and have implemented an exceptional pain management protocol to ensure a smooth postoperative experience. Nonetheless, it is important to remember that surgery is an invasive process, and a certain degree of discomfort is expected. It is also essential to note that each individual's pain tolerance varies, and our team is dedicated to making sure you feel as comfortable as possible, with any pain or discomfort kept to a minimum.
The extent of discomfort experienced will differ depending on the specific surgical procedure you undergo. For instance, surgeries such as tummy tucks, 360 liposuction, or body contouring after significant weight loss are generally associated with higher levels of discomfort compared to other procedures.
Many patients who have undergone breast surgeries report a relatively comfortable recovery process. In fact, some of these patients may feel so well that we often need to encourage them to take it slow and allow their bodies to heal properly. However, it is crucial to understand that individual experiences will differ, and it is entirely normal to expect some level of discomfort and pain regardless of the type of surgery performed.
Our team is committed to providing personalized care and support throughout your recovery, ensuring that your healing process is as pain-free and comfortable as possible.
What steps should I take if my prescribed painkillers run out after my surgery?
Our medical team, including your nurse and doctor, will closely monitor your progress during your recovery. In most instances, patients do not require additional pain medication beyond the initial prescription. However, if you find yourself in an exceptional situation where you are experiencing unbearable pain, it is important to promptly communicate your concerns with your doctor and nurse.
Upon assessing your condition and evaluating your need for additional pain relief, your doctor may decide to issue a digital prescription for more painkillers, which can be sent to your local pharmacy. It is important to note that this is a rare occurrence, as our team carefully plans and prescribes appropriate pain management measures for each patient.
In any case, always remember to maintain open communication with your medical team and share any concerns you may have about your recovery. We are here to provide support and guidance throughout your post-operative journey, ensuring your comfort and well-being.
Can I smoke cannabis or take CBD oil before surgery?
It is not advisable to smoke cannabis or consume CBD oil before surgery. Both substances can have potentially negative effects on your surgical experience and recovery. Some reasons for abstaining from cannabis and CBD oil before surgery include the following:
Anaesthesia interactions: Cannabis and CBD can interact with anaesthesia, potentially causing complications during your surgery. These substances can alter the effectiveness of anaesthesia, making it difficult for your anesthesiologist to manage pain control and sedation.
Increased bleeding risk: Cannabis has been associated with an increased risk of bleeding due to its blood-thinning properties. This can cause complications during surgery and prolong the healing process.
Respiratory complications: Smoking cannabis can impair lung function and increase the risk of respiratory complications during and after surgery. Poor lung function can make it difficult for your body to recover from anesthesia and can lead to complications such as pneumonia.
Impaired healing: Cannabis and CBD oil can affect the body's immune response and interfere with the healing process. This may lead to slower wound healing, a higher risk of infection, and potentially compromised surgical results.
Drug interactions: Cannabis and CBD oil can interact with medications prescribed before, during, or after surgery, potentially leading to adverse reactions or reduced effectiveness of these medications.
Should I have someone to help me after the first 24 hours after surgery?
Post-surgery, it's important to consider having someone help you beyond the first 24 hours. At Centre for Surgery, having a caregiver for the initial 24 hours after the surgery is mandatory. This is because the anaesthesia medications can still be in effect during this period, which can make it difficult for you to take care of yourself.
While having someone to assist you after the first 24 hours is not a necessity, it can certainly be helpful. For instance, having someone to prepare meals or help with household tasks like laundry or cleaning can allow you to focus on your recovery and rest more comfortably. Additionally, having someone to provide emotional support and companionship during the post-surgery period can be highly beneficial.
It's also important to note that after your surgery, you need to take at least seven days off from any work, including household chores. This means that you should avoid activities such as cleaning, laundry, and other strenuous tasks. It's also essential to avoid any childcare responsibilities during this time. Taking these precautions is necessary to ensure proper healing and a successful outcome.
For those with young children, it can be challenging to take time off from household duties, but it's crucial to prioritise your recovery during this time. You may want to consider arranging for help from family or friends, or hiring a caregiver if needed.
What will I look like immediately after my procedure?
When it comes to the postoperative appearance, it can vary based on the nature of the surgery you undergo. Typically, right after the procedure, you may experience swelling and bruising in the treated area. The extent of these physical changes can differ from person to person, as some individuals are more prone to swelling and bruising than others. Additionally, the type of surgical intervention you have undergone can influence the severity of the swelling and bruising you experience.
It's worth noting that the immediate results you see after the surgery are not necessarily indicative of the final outcome. Recovery from surgery is a gradual process, and your body requires time to heal and adapt to the changes made. Therefore, the true results of the procedure may not be noticeable for several months, and sometimes up to a year after the surgery. During this time, it's crucial to follow your surgeon's aftercare instructions to ensure proper healing and optimal results. So, be patient and trust the process as you gradually see your desired outcome taking shape.
What if I do not like my cosmetic surgery results?
At Centre for Surgery, we understand that cosmetic surgery can be an exciting, yet nerve-wracking experience. It's perfectly normal to have pre-surgery jitters, especially when it comes to concerns about the final outcome of the procedure. We want you to feel completely confident and satisfied with your results, which is why we encourage open communication before, during, and after your surgery.
If you're feeling unsure or hesitant about the procedure, it's important to speak up and let us know. We're here to support you every step of the way and address any concerns you may have. We value your satisfaction and will work with you to achieve your desired outcome.
In the unlikely event that you are not satisfied with your results, we encourage you to contact us as soon as possible. Our team of skilled surgeons is dedicated to providing the highest level of care and expertise, and we will work with you to find a solution to any issues you may have. Your happiness and comfort are our top priority, and we will do everything we can to ensure that you are completely satisfied with your experience at Centre for Surgery.
So, if you're feeling uncertain or have any concerns about your cosmetic surgery results, don't hesitate to reach out to us. We're here to listen and support you every step of the way, from your initial consultation to your post-surgery recovery. Let us help you achieve the beautiful, confident look you deserve.
Preparing for your cosmetic procedure at Centre for Surgery
At Centre for Surgery, we are committed to providing the highest level of care and support to our patients. If you have any questions or concerns about preparing for your procedure, please don't hesitate to contact us. We're here to help you feel confident and prepared every step of the way.