Earlobe repair London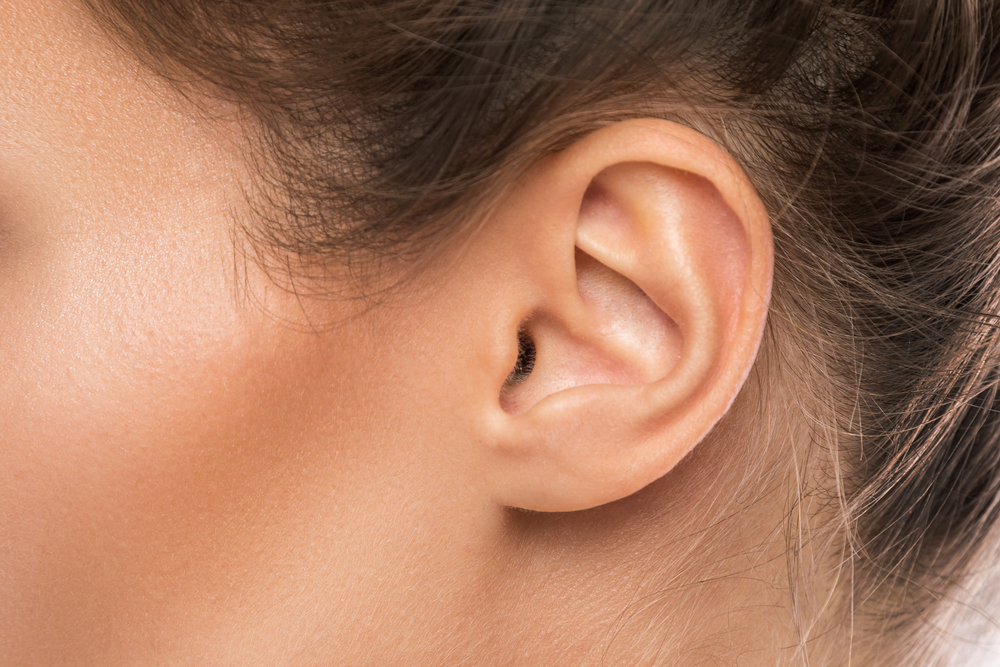 The ears play a fundamental role in the maintenance of facial proportions and symmetry. The earlobe is easily prone to injury from traumatic insults or ear rings. Problems with the earlobe are surprisingly common. Although seen as relatively trivial in nature, they can exert a disproportionately negative effect on self-image and confidence. Fortunately, earlobes can be easily repaired. Earlobe repair surgery is also often referred to as a lobuleplasty.
Partial or complete tear of the ear lobe is an important occurrence that is very common in women and often leads to a visible cosmetic deformity. The use of earrings and heavy piercings leads to often permanent deformities in the earlobe owing to the effect of gravity. This can cause tearing in the earlobe due to age, trauma, and mechanical factors. The most frequent causes of earlobe clefts are due to the holes made in the earlobe for ear rings enlarge over time and that the ear rings separate the borders of the cleft from each other under the influence of gravity, which results in permanent holes. Patients can improve their confidence and self-esteem with improved facial aesthetics by a simple procedure to repair or even reshape the earlobes.
At Centre for Surgery, the satisfaction rate related to the cosmetic outcomes of earlobe repair has been reported as 95%–100% according to our most recent patient feedback data. The high level of satisfaction can be attributed to the small size of the procedure, the simple and easy implementation of the techniques, and the low rate of complications.
Earlobe repair is a safe and effective way to correct ears that have been stretched, split or torn by tribal piercings or other earrings. This commonly happens when an ear piercing, sometimes referred to as flesh tunnels, has gradually had its diameter increased. This is a suitable procedure for both men and women who have stretched earlobes.
There are some people who are not happy with the size of their earlobes because they feel that they are too large. In these cases, an earlobe reduction can be performed by removing excess earlobe tissue. When choosing earlobe repair, it is important that you consult with a qualified plastic surgeon who has experience in these kinds of repairs.
Expected results after earlobe repair
Surgical correction of earlobes that have split, stretched, torn or enlarged.
Surgical correction of earlobes that are abnormal in shape.
Patients can have hairstyles that do not conceal the ears giving them renewed confidence
Ability to wear a full range of earrings without the risk of them falling out
All our surgeons are on the GMC specialist register. Our London clinic at 106 Crawford Street was recently inspected and rated as good across all 5 domains.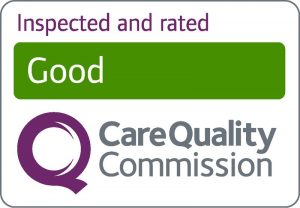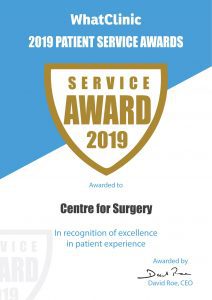 What is included in my treatment package?
As many preoperative consultations with your surgeon as you like to make sure the procedure is right for you
Treatment at a specialist day surgery facility recently rated 'Good' by the CQC
Enhanced same day discharge with the added benefits of recovering in your own home
24/7 clinical support from your surgeon for first 48 hours and our expert postoperative support team
Your very own dedicated patient coordinator
In-depth preoperative medical assessment to make sure you are fully fit for the rhinoplasty procedure
Exceptionally high standards of postoperative care described as 'outstanding' by the CQC with regular telephone and face to face checks by our expert postoperative support team
RealSelf Top Doctors for earlobe repair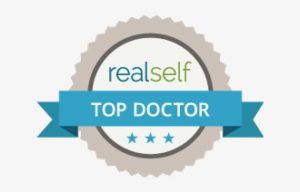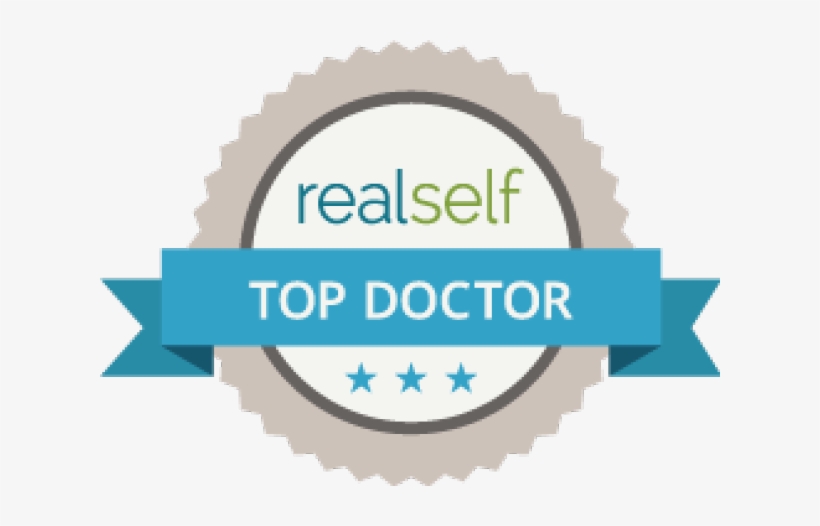 RealSelf top doctor status is awarded to less than 10% of the RealSelf doctor community.  This status is earned by achieving consistently high patient satisfaction (from RealSelf reviews), getting excellent feedback on expert answers to patient questions, and after investing significant time in Q&A and other doctor activity. RealSelf top doctors are rated among the very best surgeons in the United Kingdom and USA.
Would highly recommend Centre for Surgery. Very professional staff who supported me through my entire journey from initial consultation to the procedure. Always on hand to answer any questions I had and thoroughly explained the procedure and associated risks to ensure I was well-informed.
Amazing, exceptional, professional and quality service! From the initial request for more information until the day of procedure and after the procedure. The constant calls and emails from the team made me feel as if I was relevant and showed me that my business was important to them. Dr. Mitakos, Carolyn, Samira and Natalie (recovery nurse) OUTSTANDING, OUTSTANDING, OUTSTANDING!!! Dr. Mitakos was thorough and made sure to be honest about the procedure and my results. It's been a week post-op and I'm in love! Even with swelling in some areas!! I couldn't have asked for a better Dr. He was very professional, kind and genuine. Carolyn, Samira and Natalie are angel sent! They were so kind, caring and ensured that I was well taken care of days leading up to the surgery, on the day of surgery and during recovery. I would recommend Centre for Surgery to anyone who wants to get surgery to feel better about themselves.
Amazing service from start to finish, extremely professional staff and surgeons. Special thanks to my Consultant Plastic Surgeon Dr Ertan Erel was brilliant and made me feel so calm and confident from the moment we met through my consultation . He is definitally second to none.. I would recommend Centre for Surgery in a heart beat.
Recommend highly!! Always wanted a breast augmentation and never had the nerve to go through with it. Until i got Recommended center for surgery and spoke to carolyn and the ball got rolling 🙂 meeting dr tillo for a couple consultation made me certain i wanted it and i would be in great hands. The day of the surgery i was nervous but having such a great support team from the nurses and care team was a massive relaxation. And the aftercare is amazing. They check in with you every over day and i could contact them if needed for anything. I could name so many great people that helped me throughout my journey but dr tillo is amazing with what he does. And carolyn was and still is the best person to organise and help me with everything throughtout.
Absolutely amazing service from start to finish. I have been looked after the whole way through the process, from initial conversations, consultation, to having my surgery and being looked after by the brilliant aftercare team. I could not recommend Dr Omar Tillo enough, lovely surgeon who was honest with me throughout and made me feel so comfortable.
Domenico Betti
24/03/2021
Really wonderful experience, Jasmin the receptionist was very helpful and sweet she assisted me throughout my appointments, bookings and payment. The day of my surgery I was extremely nervous and very anxious, I was booked in for upper eyelid surgery ( Blepharoplasty ) First I was met with the lovely Gregory who I could not have asked for such a lovely kind person to be the Surgeons right hand man, he made me feel at ease straight away and as comfortable as possible. I then met my Surgeon Dr Ertan Erel who was also wonderful ( I had previously met him 2 weeks before for my consultation) I had a instant liking to him and felt comfortable with him performing the procedure on me. I had the treatment with Local anesthetic so I was fully awake and aware of what was going on, again I was extremely nervous and felt like I was having a small mini panic attack when we started but both Dr Ertan Erel and his assistant Gregory both made me feel at ease and as relaxed as they possibly could, we even had some 80s music on that helped to calm me down, Gregory was holding my hand the majority of the time and was having a chat with me that made me feel so relaxed, I could not have asked for 2 lovely men to have worked on me. Both the Surgeon and his assistant are as important as each other when you have a very nervous patient like myself. I have not had any complications since leaving the clinic and so far I am really so happy I can already see the amazing results. Dr Ertan returned my call back two days later to make sure everything was ok and how I was getting on ( that was very reassuring ) Very exited to get my stitches out in a few days. I could not give less than 5 stars so thank you very much. I will definitely be recommending. Verity.
Well where do I begin. So I am 6week post surgery and I couldn't be happier with my results. I done endless research on the procedure I wanted doing and where is best in England and Centre for surgery was the strongest contender and I felt super confident in the reviews and before and after photos they have online. So my journey started when I emailed centre for surgery for more information about liposuction and fat transfer with Dr Antonios Mitsakos. I then was contacted by Yasmin, she called me for a chat about what I'm after and to discuss options etc. She was incredible with getting my consultation and day of surgery booked as soon as she could and was on the end of the phone with any questions you had any time of day. As a first point of call Yasmin set a very high standard for the company and I was confident in my choice. I went for my consultation with Dr Antonios Mitsakos to discuss the procedure in much more depth, he went though all the risks, told me all the information I needed, we looked at my body to see if it's something he would be happy to do for me and went through all the aftercare I would need to do as well. We went through my medicals and talked about previous surgery I already had. He was so professional so informative that I literally wanted the surgery there and then. I left super happy and excited for my surgery date that was booked in. Before my surgery date I got phone call to go through all the paperwork and guidelines I had to follow and all the prep I needed to do before hand, I was told what garments were best to purchase and all the necessary bits I needed to by prior to the day. That support team were amazing and also answered any questions I had. So the day of my Surgery came and I was so calm but excited because I felt my care already had been great so I knew I was in safe hands. I had my nurse meet me to go through all medicals again, she helped me get prepared and dressed for the op and get everything ready. I then met my anaesthetist to also went through my medicals and asked all the relevant questions, gave me my pre meds and told me what he will be doing. I was super confident and he was very reassuring. Then Dr Antonios Mitsakos had my final chat before surgery checking everything through with me, confirming what he was going to do and where he was removing the unwanted fat and where he was going to transfer it too. He made me feel super comfortable and confident that I was in the right hands. I went into that theatre room a woman so unhappy with her body and when I woke up I was a new woman physically and mentally. Every single day for 2 weeks after my op I had a phone call to check in that I was doing ok and if I have any issues or concerns. The support team were absolutely amazing. I've just had my 6 week post op appointment with Dr Antonios, he again showed me my before photos and took new after photos and honestly the results are unreal. He has given me the body confidence I have never ever had and I can't thank him enough for his amazing skills and the transformation he has achieved. Thankyou so much to all of you that looked after me though out this whole procedure and a special Thankyou to Dr Antonios for changing my confidence, my body and my life. I'll be back again for more.
The service has been so far excellent and is highly recommended to anyone.
I recently had surgery here and would definitely recommend, from initial contact from Carolyn to the aftercare I received was exceptional, Carolyn was very helpful and informative and answered all my questions - even the silly ones late at night! Dr Tillo was very knowledgable, professional and welcoming at the same time and put me at ease about the procedure, it's still early but so far I'm pleased with the results
| Earlobe repair | Fast facts |
| --- | --- |
| Procedure time ⏳ | 30mins-1 hour |
| Anaesthetic type 💉 | LA |
| Length of stay 🛏 | Day case |
| Up and mobile 🚶🏻‍♂️ | Same day |
| Washing 🛁 | 3 days |
| Sexual activity ❤️ | 1 week |
| Back to work 📅 | Same day |
| Driving 🚗 | Same day |
| Postoperative garment 👕 | No garment |
| Sleeping 😴 | On back 1 week |
| Exercise 🏃🏽‍♀️ | 3 days |
| Full recovery 🕺🏻 | 4 weeks |
| Final results 😃 | 6 weeks |
Earlobe repair specialists
Centre for Surgery strive to provide each and every patient with the very highest standard of care. Our plastic surgeons are constantly learning about the latest techniques at international conferences to apply to patient care. The expert surgical methods combined with many years of experience result in earlobe repair results that look beautiful and natural-looking that are in harmony with overall facial aesthetics. Centre for Surgery differ from other providers in that our surgeons are sub-specialists and only perform a select range of procedures in which they are recognised as accredited experts.
If you are interested in earlobe repair, why not book a face to face consultation with one of our specialist earlobe surgeons. Our surgeons will take time to assess you in full including selecting the most suitable method of repair customised to your unique needs and preferences. If you wish, a selection of earlobe repair before and after photos of real patients can be shown, what you can expect in terms of results and answer all your questions in detail.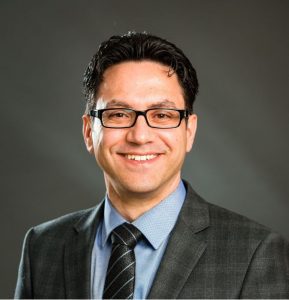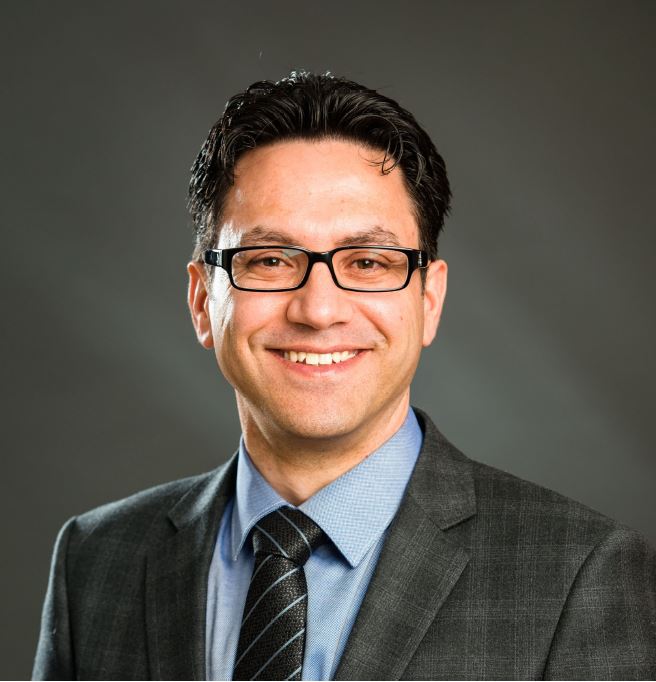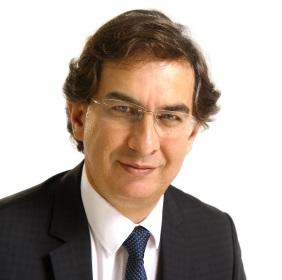 Our clinic at 106 Crawford Street was recently inspected and rated as good across all 5 domains.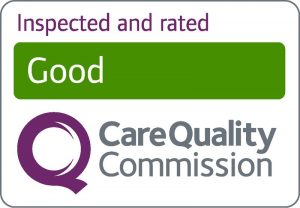 The Centre for Surgery approach to aftercare
Our aftercare programme was recently described as 'outstanding' by our regulator, the Care Quality Commission.
Our postoperative support team call all our patients the day after their procedure and then every other day thereafter for the first two weeks. The proactive nature of our postoperative support gives every patient the best opportunity for a smooth postoperative recovery free of complications. In many cases if complications were to occur, their impact is markedly lessened by early detection, prompt clinical assessment and correct treatment. Where a patient expresses concern to our team over the phone, then we often call patients in the same day for assessment with one of our expert nursing team. Even if there is no significant issue, the careful explanation and calm reassurance provided by our team can help to alleviate any worries you may have experienced.
Danielle Palmer
24/07/2021
Amazing!! I had a labiaplasty done recently and could not fault the practice on anything. The results themselves snd the experience I had with the team has been incredible
Thiago Ferreira
06/07/2021
I got in touch with the staff and they promptly got back to solve my concerns even if for some reason we had a gap in comms they were able to get back to me and answer my questions Thanks for the good customer service.
Everything was great from start to finish. Was easy and straight forward. Would highly recommenced using Centre for surgery to have a procedure.
I had an osteoma removed from my forehead with Dr Omar Tillo and I couldn't have asked for a better result! I had been researching for a long time before deciding to go ahead with the procedure as I knew I didn't want to swap a bump on my forehead with a scar. Dr Omar Tillo was able to successfully and skilfully remove the osteoma endoscopically and I was left with a very small inconspicuous scar, less than 1cm, hidden nicely behind my hairline. I couldn't be happier with the end result. All the staff at Centre for Surgery were brilliant. Carolyn, my patient co-ordinator was very helpful, patient and always had time to answer my questions. On the day of the procedure, Dr Omar Tillo and Gregory were amazing! They were very professional and made me feel at complete ease. I experienced very little discomfort during and after the procedure. The whole thing was a breeze and my only regret is that I didn't do it sooner. The after care was also amazing and I healed very quickly. I would like to take this opportunity to thank Dr Omar Tillo, Carolyn, Gregory and all the staff at Centre for Surgery. I would highly recommend Dr Omar Tillo and Centre for Surgery!
I had a smooth procedure all throughout. Staff were very compassionate and caring.
Read testimonials from our amazing patients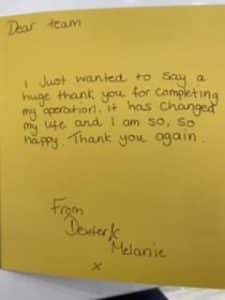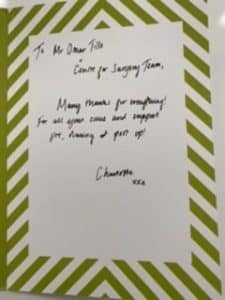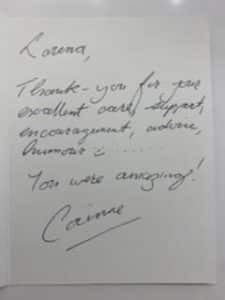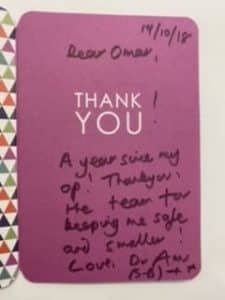 Split and stretched earlobe repair
Expected Results after Earlobe Repair
Correction of earlobes that have been torn, split or stretched
Congenital correction of earlobes that were abnormally shaped from birth
Renewed self confidence to style hair in such a way to reveal the earlobes
Freedom to wear all sorts of earrings with no risk of the earrings falling out
Should I have my earlobes repaired?
Large earrings and plugs will create a hole in the earlobe, which becomes bigger as the diameter of the earring is increased. After a certain size, the earlobe will never contract to its original size and shape. The altered shape of the earlobe is often difficult to hide, particularly for those who have shorter hair.
Sometimes the stretched or split earlobe will negatively impact your appearance and in some instances your work or career. In these cases, earlobe repair surgery is an appropriate option.
Dangers of ear stretching
Can cause an 'ear blow-out', which happens when the skin inside of the earlobe is forced out through the back of the piercing

Earlobe repair is the only option for stretched ears to go back to normal

Can cause physical pain
Would highly recommend Centre for Surgery. Very professional staff who supported me through my entire journey from initial consultation to the procedure. Always on hand to answer any questions I had and thoroughly explained the procedure and associated risks to ensure I was well-informed.
Ideal Candidate for Earlobe Repair
Torn, stretched or injured earlobes
Congenitally excessively large or small earlobes
Large holes created from tribal piercings
Earlobes that have sagged or overly prominent scars such as keloids
Fear that earrings will fall out because of how stretched the earlobes are
Fear of having hair styles that will expose the earlobes on show to others
Earlobe repair is a suitable procedure for any person who has had large, heavy jewellery in the past or sustained an injury which has caused their earlobes to become damaged. Those who have naturally large earlobes or whose earlobes have enlarged with age may also wish to undertake this procedure.
This procedure is suitable for those who are over 18 years old.
Earlobe repair procedure
Earlobe repair is one of the most popular procedures performed at Centre for Surgery. Earlobe repair take about an hour to perform if a patient elects to have both ears repaired. The treatment of torn earlobes, split earlobes or stretched earlobes demand a procedure which involves a reconstruction of the soft tissue and sometimes to replace any tissue that beyond repair. In cases of partial tear, the surgeon will surgically excise the injured skin and suture the earlobe back together using very fine sutures. A restoration of normal and natural looking earlobes can be expected at the conclusion of the procedure.
Centre for Surgery is one of the most highly regarded providers of earlobe repair.
Our surgeons reconstruct all types of earlobe deformity using meticulous plastic surgery techniques.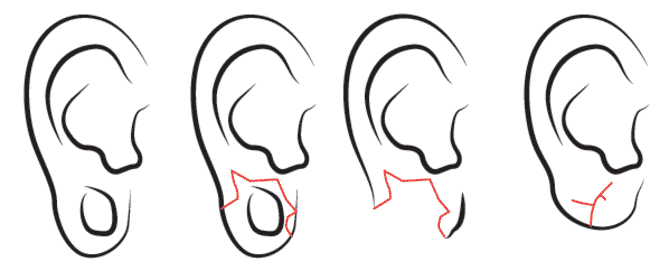 Earlobe repair is performed under a local anaesthetic, so you will still be awake but unable to feel any pain. The surgery involves removing any excess tissue, with surgeons applying fine internal and external stitches to the earlobe. This will create a normal earlobe shape.
Earlobe repair is performed as a day case, so you will be able to return home on the same day.
Amazing service from start to finish, extremely professional staff and surgeons. Special thanks to my Consultant Plastic Surgeon was brilliant and made me feel so calm and confident from the moment we met through my consultation. He is definitely second to none. I would recommend Centre for Surgery in a heart beat.
Cost of ear lobe repair
There are a number of a factors which will impact on the final cost of your earlobe repair procedure:
Primary or revision earlobe repair
One or both earlobes
Complex corrections such as tribal earlobes
Earlobe reduction
Why not call 0207 993 4849 and speak to one of our expert patient coordinators who may be able to give you a rough costing prior to your earlobe repair procedure.
Always remember that price should never be the determining factor when it comes to choosing your provider. We feel that safety and quality of service should be your number one priority and instilling in you the confidence that our team will look after you before, during and after your procedure to the best of their ability.
Preparation for earlobe repair
Earlobe repair can be performed on a 'see and treat' basis on the same day as the consultation provided our patient coordinators are informed of your preference at the consultation booking stage. The earlobe repair procedure is performed under local anaesthetic as an outpatient. After earlobe repair surgery, you will be required to follow all the necessary postoperative instructions to ensure a smooth recovery.
You should avoid taking any aspirin containing medicines before the procedure for at least 1 week beforehand. You should also avoid smoking and drinking alcohol for a minimum of 48 hours beforehand as both smoking tobacco and drinking alcohol impair the wound healing process.
If you have the procedure under local anaesthetic only (with no oral sedation), you may drive home after the procedure.
Recovery after earlobe repair surgery
Earlobe repair is a procedure with very little in the way of discomfort. The recovery period is characteristically very quick. Your surgeon may prescribe you a special antibiotic ointment to apply to the earlobes or a special brown tape may be applied to the earlobes which is dependent upon the surgical techniques employed.
In most cases there is no discomfort but your surgeon may recommend over the counter painkillers in the event of any prolonged soreness. Bruising and swelling are temporary phenomena and are expected to disappear in a few weeks after the procedure. Once the repair is fully healed, you can have your ears re-pierced if you wish.
You should avoid wearing polar neck jumpers or pressing your phone close to your earlobe for about a week after the procedure. You should also avoid direct sun exposure to the area and avoid use of harsh soaps to facilitate excellent healing. It is perfectly fine to return to work straightaway – there is no downtime with earlobe repair surgery. However you may wish to consider having your procedure at the end of the week to allow some rest over the weekend.
Want to wear earrings earlier?
During your consultation, it is best to discuss with your surgeon if you are wanting to wear earrings earlier then you may be a suitable candidate for the rotational flap technique, which will allow you to wear earrings sooner. This procedure will take around 50-60 minutes on each earlobe.
Risks and potential complications after earlobe repair surgery
Earlobe repair surgery is recognised to be a low-risk procedure with minimal risk of complications. Your surgeon will fully assess you to ensure your suitability for the procedure. During your consultation, the surgeon will outline the risks and potential complications associated with earlobe repair surgery.
Potential complications of earlobe repair
Surgical site infection
Keloid scarring
Delayed wound healing
Potential requirement for a revision procedure
Earlobe repair before and after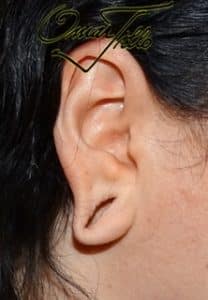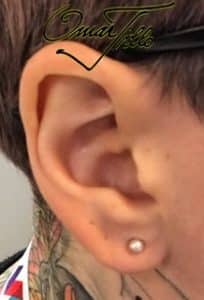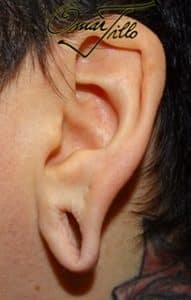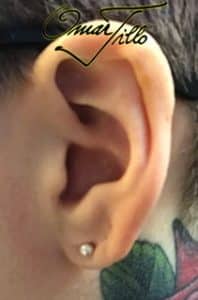 Earlobe reduction before and after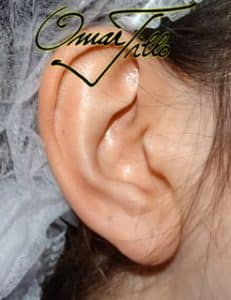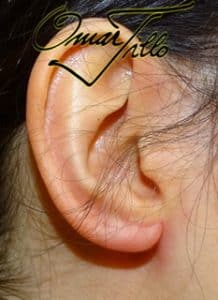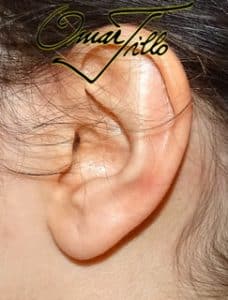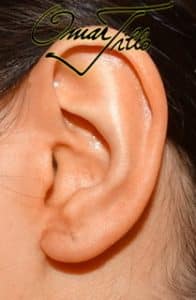 Earlobe repair specialists
Centre for Surgery are a medical practice with a commitment to providing all of our patients with the very highest standards of medical care. Our specialist plastic surgeons are always learning to keep abreast of the latest advances in their field of practice. This ensures patients get optimal results. With the use of microsurgical techniques combined with years of experience, all our earlobe repair patients cam achieve natural earlobes which are in overall facial harmony. Our surgeons are recognised sub-specialists and we believe this helps to achieve superior outcomes compared with general plastic surgeons. By performing a smaller number of procedures extremely well, outcomes are better compared with surgeons who perform lots of different procedures but each one with much lower frequency. If you are interested in earlobe repair, we would recommend booking a private consultation with one of our specialist plastic surgeons. Our surgeons will take time to assess you carefully and fully and will then advise the most earlobe repair technique to get optimal results.
You can ask to see before and after photos of recently treated patients to gain a general idea of what can be achieved with earlobe repair surgery. The surgeon will be able to answer any questions you may have about the earlobe repair procedure.
[baslider name="Earlobe"]
What To Expect
The consultation
After you have decided to learn more about earlobe repair, we would recommend a face to face consultation with one our expert earlobe repair surgeons as a first step in your journey towards achieving a full aesthetic earlobe correction. When you meet with one of our surgeons, your surgeon will take time to listen carefully to what you hope to achieve and give you an expert opinion on what can and cannot be achieved after performing a thorough physical examination of the ears.
Your surgeon will also take a number of measurements as part of a detailed facial analysis. Finally high resolution photographs are taken in a number of views of the ears from different angles. Your surgeon will also discuss with you the potential risks and complications of earlobe repair and what to expect in the postoperative phase during your healing and recovery. It is important to know what medicines you taking as some medicines can interfere with blood clotting and may need to be stopped. Any history of medical conditions or previous surgery will also be recorded and all the compiled information is used to make a decision on your medical fitness for the split earlobe repair procedure. After a recommended two week cool off period and provided you are appropriate for the procedure, you can then make an informed decision on whether you would like to proceed with the procedure. If you are unsure on any aspect of the procedure and what it entails then we would invite you to return for as many follow-up consultations with your surgeon as you like to make sure that earlobe surgery is right for you. The consultation lasts about 30 minutes on average. It may take longer if your procedure is going to be more complex. We would actively recommend coming in for a follow-up consultation to ensure all your questions are answered.
Before your procedure
Once you have decided to move forward with earlobe repair surgery. Our preoperative assessment team will be in touch to assess medical fitness prior to coming in on the day of surgery. There are a number of instructions to follow before your procedure including stopping any aspirin containing medicines as these can increase bleeding and ideally stopping smoking. Smokers have a higher risk of slower wound healing as well as more chance of wound complications. On the day of your procedure, you will have a local anaesthetic so there is no requirement to fast beforehand.


On the day of your earlobe repair procedure
When you arrive for your earlobe repair procedure, you should aim to arrive on time to allow the admission process to proceed smoothly. One of our nurses will formally admit you and will check a number of items including making sure you have your postoperative medications. You will have your vital signs measured including blood pressure and heart rate. Finally your surgeon will consent you for the planned procedure followed by a detailed preoperative marking of the earlobes to be treated.

The earlobe repair procedure takes about between 30 minutes to 1 hour to perform and is easily performed under a local anaesthetic with or without oral sedation to make you feel relaxed. The surgeon will first inject the ear lobes with local anaesthetic to make the area fully numb. Incisions will then be made to expose the earlobe for reshaping. The incisions can be located on the front or back of the earlobe depending on the degree of correction required. The surgeon will gently separate the redundant earlobe skin. The earlobe repair technique used in your procedure is dependent on what is to be achieved from the procedure. Once the earlobe has been reshaped, the new position is carefully secured with non-absorbable sutures. There is no need to wear a postoperative support garment. Any scarring from earlobe repair is very minimal.
After the procedure is complete, you will spend time in our recovery suite where you will be prepared for nurse-led discharge once you have met all the discharge criteria. If you had oral sedation, it is important to have a responsible adult to accompany you home and to look after you for the first 24 hours.
After your procedure
Once you are safely at home, you can be assured in having access to our specialist postoperative team round the clock. You will be given a contact number to contact your surgeon in the first 24 hours after surgery if there is any concern. An earlobe repair procedure is associated with very little in the way of postoperative discomfort although some discomfort is common for the first week after surgery. Bruising should start to subside after 7-10 days. You should avoid intense sunlight after the procedure to reduce the risk of pigmentary changes.

Our postoperative team will look to call everyday for the first 2 weeks after your procedure. This is so we can monitor your levels of comfort and can alert your surgeon if there is any concern. Our proactive approach allows the detection of any potential issues early which results in more effective treatment. Heavy exercise should be avoided for at least the first 1 week. Our postoperative clinical team will assess you face to face at your 1 week postoperative appointment to ensure healing is progressing normally and the wounds site are healthy. A wound check is performed at this time to make sure the wound is healing normally. You will be booked for your surgeon follow-up appointment for 6 weeks after your procedure.