Fleur de Lis Tummy Tuck London UK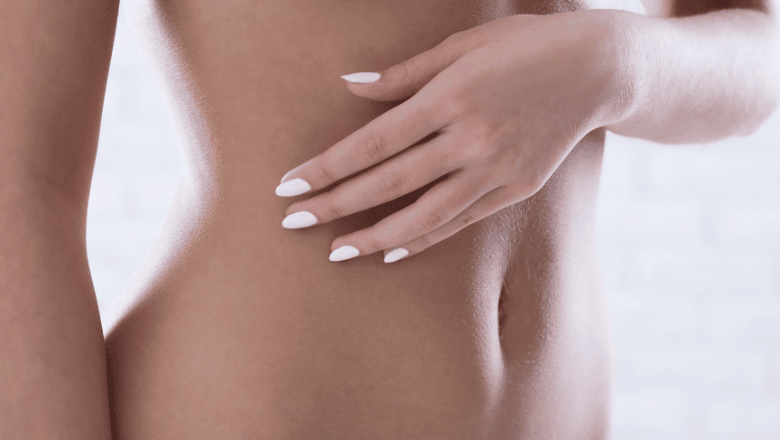 Achieve a beautifully sculpted abdomen and eliminate excess skin with our transformative Fleur-de-Lis abdominoplasty, tailored to address your unique aesthetic goals and provide long-lasting results
Fleur de Lis tummy tuck, also known as an FDL tummy tuck, is major skin reduction surgery when compared with a traditional abdominoplasty. A traditional tummy tuck is designed to remove excess skin from the lower part of the abdomen. A Fleur de Lis tummy tuck is designed to tighten the skin of the entire abdominal area. A full tummy tuck removes excess skin in a horizontal vector. A Fleur de Lis procedure is ideal for removing excess skin affecting both horizontal and vertical directions. The name 'Fleur de Lis' is used to describe the shape of the abdominal region that the surgeon will tighten.
An FDL tummy tuck is an excellent procedure for patients who have developed sagging skin affecting the upper part of the abdomen, which extends into the sides in addition to skin laxity affecting the lower abdomen. A Fleur de Lis tummy tuck is also known as a vertical abdominoplasty and can achieve a sculpted and tighter abdominal appearance compared with traditional tummy tuck surgery.
What Is Fleur de Lis Tummy Tuck?
The Fleur de Lis tummy tuck, scientifically known as Fleur de Lis abdominoplasty, is a type of cosmetic surgical procedure specifically designed to invigorate the abdominal region by eliminating excess sagging skin and fat. This innovative approach is a robust solution for those seeking a more aesthetically pleasing and tighter stomach area.
In contrast to the conventional abdominoplasty, popularly known as a tummy tuck, the Fleur de Lis surgery boasts a more extensive scope of action. It incorporates an additional level of tightening and facilitates the removal of a larger volume of redundant skin and fat. This results in a more pronounced tightening effect on the abdomen, especially in the lateral and upper sections of the body.
Just like the traditional tummy tuck, the Fleur de Lis procedure entails making a significant horizontal incision along the bikini line, stretching from one side to the other. This incision is a standard part of most tummy tucks and allows for the removal of excess skin and fat and the tightening of the abdominal muscles. However, what sets the Fleur de Lis surgery apart is the inclusion of an extra vertical incision.
The additional incision in the Fleur de Lis procedure extends upwards from the pubic region, passes through the umbilicus, or belly button, and stops just short of the ribcage. This distinctive feature of the Fleur de Lis surgery is instrumental in addressing the issue of excess skin stretching horizontally or from side to side. The vertical incision not only allows for further tightening but also aids in removing additional skin and fat from the sides and the upper abdomen.
In essence, this particular incision serves as an enhancement to the vertical tightening achieved through the traditional horizontal incision, contributing significantly to the overall reshaping and revitalization of the abdomen.
Should You Get Fleur de Lis or Traditional Tummy Tuck?
Deciding between a Fleur de Lis and a traditional tummy tuck depends on your unique needs and circumstances. The Fleur de Lis abdominoplasty offers a more comprehensive approach to abdominal tightening and fat removal, making it an ideal choice for individuals with specific needs. Here are some conditions under which you should contemplate undergoing a Fleur de Lis surgery:
Significant weight loss: If you've experienced considerable weight reduction, you might have excess, sagging skin around your abdomen that a traditional tummy tuck might not fully address.
Multiple pregnancies: Having undergone multiple pregnancies can cause the skin and muscles in your abdominal region to become excessively stretched, resulting in a need for more substantial tightening and fat removal.
Extremely lax abdominal skin: If your stomach skin is exceptionally loose or saggy, the Fleur de Lis might be the more suitable surgical option.
Prominent belly fat and 'mummy pooch': If you have a substantial protruding belly or persistent belly fat that hasn't responded to diet or exercise, Fleur de Lis abdominoplasty could provide the desired results.
Overhanging abdominal skin: Extensive skin overhang in the abdominal region can be effectively addressed with this more extensive surgical procedure.
Fat and skin excess in the central and lateral abdomen: If you have excessive fat and skin that hangs over the middle and sides of your abdomen, the Fleur de Lis technique can offer a more comprehensive removal and tightening.
Need for belly button reconstruction: If your belly button requires reconstruction due to significant skin laxity or prior surgeries, the Fleur de Lis procedure would be ideal.
Limited improvements from a traditional tummy tuck: If a conventional tummy tuck is predicted to yield suboptimal results, the Fleur de Lis could provide the necessary enhanced tightening and contouring.
Presence of skin rolls and fat flaps on the middle and sides of the abdomen: The Fleur de Lis procedure is well-equipped to handle such issues, providing a smoother, firmer appearance.
Fleur de Lis before and after photos
When you have your face-to-face consultation, your surgeon will be able to show you a range of before and after Flor de lis tummy tuck photos which can give you an idea of the results that can be achieved with FDL surgery. It is important to bear in mind that actual results will vary depending each individual patient
What are the benefits of Fleur de Lis surgery?
Fleur de lis abdominoplasty, also known as a vertical tummy tuck, is designed to improve the contours of the abdomen by getting rid of saggy and loose skin. The desired result is a more contoured and flatter abdomen with tighter skin. This procedure can also tighten the waist and hips in both horizontal and vertical directions. Fleur de Lis surgery is specifically designed to tighten the skin over the entire abdomen and hips.
Many people may be affected by excess loose skin on a daily basis. Saggy skin can cause localised skin irritation which may be a source of discomfort. Patients often wear baggy clothing to conceal any loose skin. Fleur de Lis tummy tuck surgery can permanently get rid of excess skin with relief of disabling symptoms, including skin rashes, infections and discomfort. Patients are free to wear an unrestricted range of clothing, including tight figure-hugging clothes.
Am I suitable for Fleur de Lis abdominoplasty?
Patients who may be suitable for an FDL tummy tuck include those who have experienced significant weight loss due to bariatric surgery or natural weight loss with diet and exercise. Women who have given birth multiple times may also require the procedure due to the development of extensive skin laxity affecting the entire abdomen. People who have surgeries on the abdomen for other reasons may also develop sagging skin and require a Fleur de Lis procedure.
Compared with non-invasive and minimally invasive skin tightening treatments, the results achievable with a Fleur de Lis tummy tuck exceed those of less invasive procedures. Diet and exercise alone will not be able to tighten loose skin.
Patients can develop a significant loss of self-confidence due to the presence of sagging skin and loss of abdominal contour.
Patients may find it affects their ability to form intimate relationships due to feeling increasingly self-conscious about how they look. If this is something which you have been experiencing, you may wish to consider a vertical abdominoplasty as the ideal treatment to address your cosmetic concerns.
The best way to determine your suitability for Fleur de Lis abdominoplasty is to have a face-to-face consultation. During the consultation, your surgeon will assess your general state of health, encompassing both your physical and mental health. They will also determine whether an FDL abdominoplasty is the right procedure for you or if another type of body contouring surgery will achieve excellent results without the surgical invasiveness of a Fleur de Lis procedure. Fleur de Lis surgery involves certain risks and potential complications, and these must be understood before making an informed decision for Surgery.
Generally, the best candidates for Fleur de Lis tummy tuck are those who are unhappy with how the abdomen looks and have developed a loss of self-confidence due to the presence of saggy and hanging excess skin. Fleur de Lis surgery is designed to get rid of excess skin in the upper and lower part of the abdomen extending into the sides. Traditional tummy tuck surgery is designed to get rid of loose skin affecting the lower abdomen.
Optimal healing and recovery depend on avoiding certain medicines that could affect your incision site. It is important to have realistic expectations of what an FDL tummy tuck can achieve. Smokers will be encouraged to stop smoking before surgery as smoking increases the risk of wound complications. Once you are familiar with the potential risks and complications of a vertical abdominoplasty, your surgeon will be in a better position to recommend an FDL procedure to achieve your aesthetic goals.
What does a Fleur de Lis tummy tuck involve?
FDL tummy tuck surgery is significantly more invasive compared with a standard tummy tuck. Compared with traditional tummy tuck surgery, an FDL abdominoplasty focuses on removing loose skin in both horizontal and vertical vectors. This means an extra vertical incision is needed to adequately remove excess loose skin.
All types of FDL procedures involve two incisions. The main incision is in the area commonly associated with tummy tuck surgery which runs in a horizontal direction in the lower part of the abdomen. The additional vertical incision runs from the midpoint of the horizontal incision and extends upwards. The length of the vertical incision will vary depending on the amount of skin laxity present. Patients with extensive amounts of saggy and loose skin may require a vertical incision to extend as far upwards as the upper abdomen. The purpose of the vertical incision is to ensure your surgeon can tighten the skin extending outward to the sides as well as the upper and lower part of the abdomen.
Although an FDL tummy tuck results in additional scarring, our skilled Plastic Surgeon are experts in ensuring your resulting scars will fade gradually over time so that they are barely visible six months later. Here at Centre for Surgery, we are renowned for our expertise in store management to ensure your scars look as faint as possible. FDL Surgery allows the removal of extensive amounts of saggy skin and loose tissue situated in the abdomen's central part, extending both upwards and sideways.
As with any type of surgery, Fleur de Lis abdominoplasty surgery involves certain risks. By choosing Centre for Surgery to perform your FDL surgery, you can be assured of receiving the highest standards of care by fully accredited consultant plastic surgeons to minimise the risk of complications occurring.
Recovery after Fleur de Lis Abdominoplasty
Fleur de Lis tummy tuck recovery will vary depending on the extent of surgical correction required to achieve a tighter-looking abdomen. As with any type of excess skin removal surgery, a vertical tummy tuck is customised to the needs of the individual patient.
Every patient will therefore have a different length of recovery. Having said that, most patients can expect to experience mild to moderate degrees of pain and discomfort. These can be easily controlled with painkiller medication prescribed to you by your surgeon. It is normal to experience bruising and swelling for the first few weeks after FDL surgery. You should make sure to wear your compression garment as recommended to accelerate the resolution of swelling and bruising.
Complex FDL Surgery will require you to take it easy for the first few days after surgery. Avoid lifting heavy objects or children for the first few weeks after surgery. FDL tummy tucks are carried out as a day case at Centre for Surgery which means you will be able to go home the same day once you are medically fit for discharge. Full recovery after FDL surgery depends on the extent of the procedure and your body's ability to heal. This can be improved by eating a healthy and nutritious diet and by keeping well hydrated.
After approximately three weeks, it should be possible to carry out many light activities of daily living. Most patients can return to work after two weeks although you should check with our post-operative nursing team before doing so. Those carry out more strenuous types of work may need a longer period of time off. Strenuous activities including going to the gym should be avoided for a minimum of six weeks after surgery.
Fleur de Lis Surgery Cost London- Prices & Fees - How much does Fleur de Lis surgery cost in London UK?
The cost of an FDL tummy tuck will depend on the extent of surgical correction required to remove loose and saggy skin. Your state of health, including whether you smoke, will also be considered when determining the FDL surgery cost. Once you have had a face-to-face consultation with an expert surgeon, you will be seen by your dedicated patient coordinator to give you a price for FDL surgery with a cost breakdown. The cost of your FDL abdominoplasty includes your surgeon's fee, anaesthetist fee, nursing fees and facility fee. Postoperative wound care appointments are included in the cost of your procedure.
Which procedures can be combined with a Fleur de Lis tummy tuck?
Fluid in this abdominoplasty is designed to remove excess skin from both the lower and upper abdomen using three incisions. Many patients choose to combine their FDL procedures with other procedures to enhance the results of surgery.
Liposuction
Liposuction is a minimally invasive procedure designed to remove excess fat from the abdomen. Liposuction is designed to remove both smaller and larger quantities of fat, although it should not be considered a replacement for weight loss. When liposuction is performed as part of an FDL tummy tuck, it is usually performed first before the skin removal part of the procedure. Combining a Fleur de Lis tummy tuck with liposuction can help to achieve significantly enhanced results that an FDL procedure alone may not achieve.
Back lift
A backlift procedure involves the removal of excess skin and fat from the lower and upper back. This helps to achieve a smoother and tighter looking back with better contours. Patients may develop excess folds of skin after dramatic weight loss. Back lift surgery is commonly combined with an FDL abdominoplasty to achieve dramatic results and a significant improvement in the aesthetics of the abdomen and back.
Is a Fleur de Lis tummy tuck worth it?
Fleur de Lis surgery is an excellent treatment for patients who have significant amounts of excess skin that may result in hanging skin folds from the abdomen. Although an FDL tummy tuck results in a vertical midline scar, the vast majority of patients who choose to have FDL surgery are extremely pleased with the results and are not concerned about having a midline scar.
Fleur de Lis tummy tuck surgery is designed to produce a dramatic improvement in the appearance of the abdomen. Patients report a significant boost in self-confidence with the ability to wear an unrestricted range of clothing, including tight-fitting clothes. The results of surgery are immediately noticeable after the procedure and continue to improve over the next few months. Patients who have Fleur de Lis tummy tuck at Centre for Surgery report very high satisfaction levels, and the procedure is, therefore definitely worth it.
Fleur De Lis Tummy Tuck at Centre for Surgery
Don't delay your journey towards a more confident and comfortable you. With more than two decades of professional experience, the highly skilled surgeons at the Centre for Surgery in London are committed to utilising various surgical techniques to achieve optimal outcomes tailored to your unique needs.
Our surgeons take great pride in the exceptional level of care and attention they provide to each individual, and that commitment begins from the very first consultation. They stand by their promise to guide you through your transformative journey with the utmost professionalism and care, ensuring that you feel supported at every step.
Become a part of our satisfied community of patients. Schedule your consultation with the Centre for Surgery at the earliest possible time that suits your schedule. This is your opportunity to discuss your needs, concerns, and goals with our expert team, and start on your path to physical rejuvenation.
Your next step is simple – reach out to us by filling the enquiry form provided below or give us a call on 0207 993 4849. We look forward to accompanying you on this exciting journey to a revitalized you.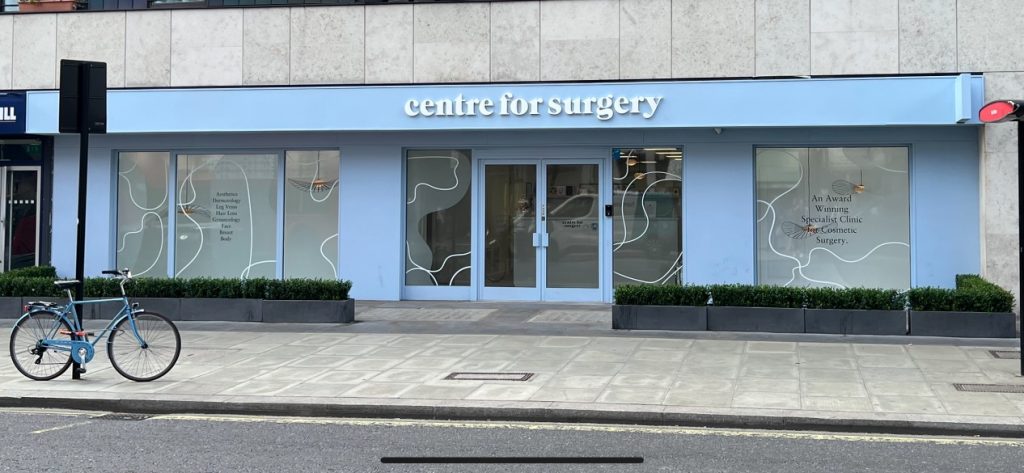 Amazing from start to finish, the communication was the main thing was fully informed and looked after, on the day of my breast augmentation, the staff were fab and made me feel at ease through out the whole process. Thank you so much.
Mohammed Farid
18/11/2021
I've had such a great experience with excellent advice, care and attention and surgical treatment (gynaecomastia) - I can fully endorse the treatment I have received from Centre for Surgery with absolutely no qualms at all. Brilliant in every way - thank you all so much.
Caroline Thorpe
14/11/2021
Very pleased with my whole experience of having a procedure. Was so nervous about getting treatment and i was reassured and felt so comfortable throughout thanks to the amazing nurses. I definitely made the right decision to have breast augmentation at centre for surgery with dr erel.
Melissa Briggs
08/11/2021
So glad I went with centre for surgery, the whole process went very smoothly from the consultations down to the actual day of the procedure. I was so nervous on the day but the whole team put me at ease and I'm happy with my results as I feel a lot more comfortable wearing certain clothes now. My surgeon was Alberto Di Giuseppe who performed a breast Augmentation on me, and I would definitely recommend as he was very clear on what the outcome of the surgery would be and which size would look the best for my frame.
Couldn't be happier with Dr Tillo work,i had my breast surgery one week ago and so happy with the results so far,all the staff are extremely nice and very supportive,i would definitely recommend their services,thank so much
From start to the finish everything was perfect for tummy tuck surgery. All staff is very friendly and the aftercare has been good. The Doctor and the nurse team was fantastic. I'm so happy...result is amazing. Thank you!!!
This was overall a great experience, all the staff at Centre for Surgery were friendly and put me at ease. It is a nerve wracking thing to go through an op but the staff were so nice. Mr Ertan has got a great team around him. On the day of the operation everything went smoothly to plan, there was no delay or holdups, I had another consultation with Mr Ertan who confirmed what was going to be done and that I was still happy to proceed. I was prepped for the procedure, I met with the anaesthetist who again was really nice and put me at ease explaining his role. After the procedure I woke up with the nurse by my side making sure I was OK and checking on me, I was able to stay in the clinic until I was ready to leave and was not rushed at all. I was well looked after from the start to the point when I was discharged. Post operation I was staying at a local hotel it was so close there was no point in even getting a taxi and I was able to walk back where my partner was waiting for me. I was expecting a lot of bruising to both my eyes but there was very little if any by the time the cast came off after 7 days, I am now at the two week post operation point and it is healing well with no outwardly visible bruising or scaring. The next milestone is a checkup at the 6 week point with my surgeon. If you're thinking of having something like this done I would highly recommend getting in touch with Centre for Surgery.
The staff at Centre for Surgery were very kind and accommodating. They answered any questions I had about the procedure and were constantly checking up on me. A special thank you to Christina for all her support throughout.
I would just like to state the quality of care received from the nurses at Centre for Surgery was beyond the highest level. Sophie takes her patient care to another level beyond words. She always puts me at ease. She is there for me even at awkward hours just when I mostly needed reassurance and she is one of the most compassionate nurses I have come across and demonstrates her passion naturally for caring for others. She totally deserves recognition at its finest and thank you for always being there for me. 😍
What To Expect
The consultation
The consultation is designed to give you the opportunity to discuss your ideas, concerns and expectations about FDL surgery. Your surgeon will inform you about all the potential risks and complications associated with a Fleur de Lis abdominoplasty. Your surgeon will perform a detailed medical assessment to determine your suitability for a vertical tummy tuck. As part of the physical examination, the amount of excess skin you have as well as the extent of hanging skin, will be determined. The strength of your abdominal muscles will also be assessed, and if these are weakened, you may need to have abdominal muscle repair as part of the FDL procedure
On the day of surgery
Once you have been admitted for the procedure, you'll be taken through to the operating room, where anaesthesia will be administered. Once you are asleep, the surgeon will commence the procedure by removing excess tissue and hanging skin. Once any loose skin has been removed, the site of the incisions will be closed with dissolvable stitches. You will then be taken to our dedicated recovery suite until you are ready for discharge.
The recovery period after FDL tummy tuck
You will be given detailed post-operative care instructions on how to look after yourself and your incision site after surgery.

You should ensure to follow your surgeon's post-operative care instructions in full to minimise the risk of complications occurring. Your healing should be straightforward and smooth, and this will ensure you get the best possible results. You will have a post-operative appointment with our nursing team one week after surgery to review the site of Surgery and to see how you have been managing. Practical tips for recovery will be given at this stage. You will be reviewed by your surgeon six weeks after surgery to assess the results of your FDL tummy tuck procedure.