Keyhole Top Surgery London & UK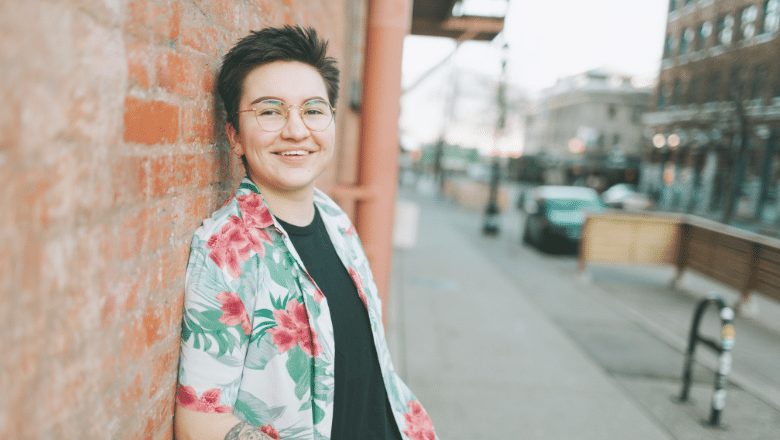 Discover the path to a more affirming and comfortable self with keyhole top surgery, offering a natural chest contour and minimal scarring for your gender-affirming journey
Embarking on a journey towards gender affirmation is a significant step, and we at Centre for Surgery understand the profound impact this decision has on your life. Our dedicated team of expert plastic surgeons and compassionate support staff are here to guide you through every stage of the process.
Keyhole top surgery is a type of FTM Top surgery we specialise in, helping transgender men and non-binary individuals achieve a chest appearance that aligns with their gender identity. By utilising a less invasive approach than the traditional double incision mastectomy, keyhole surgery offers less scarring and quicker recovery times, without compromising the results.
Our surgeons at Centre for Surgery have extensive experience in performing keyhole top surgeries. They are committed to providing personalised, high-quality care, tailoring each procedure to suit the unique needs of the individual. By combining technical expertise with a deep understanding of the transformative power of gender confirmation surgery, our surgeons help patients achieve their desired outcomes.
What is Keyhole Top Surgery?
Keyhole top surgery, sometimes known as periareolar top surgery or keyhole mastectomy, is a highly specialised gender-affirming procedure that is designed to sculpt a more masculine chest appearance. Undertaken as an outpatient procedure, this method usually lasts approximately two hours, encompassing the entirety of the surgical journey from pre-operation to post-operation.
The core principle of the keyhole technique involves making a small incision around the border of the areola. Through this carefully created opening, breast tissue is delicately extracted, leaving the chest area flatter and more aligned with the patient's gender identity.
A distinctive feature of keyhole top surgery is its ability, in certain cases, to preserve the patient's natural sensitivity in the nipple. In contrast to other chest reconstruction techniques, the areola and nipple stalk are left undisturbed during a keyhole mastectomy. Depending on your specific circumstances and the surgeon's professional assessment, the size of your nipples may or may not be altered during the procedure.
One of the standout benefits of a keyhole mastectomy is the prospect of a speedier recovery time coupled with minimal scarring. The surgical incision, typically about half the length of the areola's border, is often barely discernible post-operation. Furthermore, as this technique doesn't necessitate grafting, it reduces the potential for additional scarring.
However, it's important to acknowledge that keyhole top surgery may not be suitable for everyone. A potential drawback of this procedure is that it doesn't remove the inframammary fold (IMF)—the natural boundary delineating the chest and the breast. As a result, this surgery is often recommended for patients with smaller chests and excellent skin elasticity.
As with any medical procedure, it's crucial to have a comprehensive discussion with a qualified surgeon to determine if keyhole top surgery is the right choice for you. At Centre for Surgery, our expert team is committed to guiding you through this important decision, providing the advice, care, and support you need during your transformative journey.
Benefits of Keyhole Mastectomy
Keyhole top surgery, also known as keyhole mastectomy, offers a range of benefits that make it an attractive option for many individuals seeking gender affirming surgery. Here are some of the main advantages:
Minimal Scarring: As keyhole surgery only requires a small incision around the border of the areola, the resulting scars are usually less noticeable than with other types of top surgery. This minimal scarring can lead to a more aesthetically pleasing outcome and may help reduce body image concerns.
Preservation of Nipple Sensation: Unlike other top surgery methods where the nipple and areola complex are repositioned, in keyhole surgery, they are usually left intact. This means there's a higher likelihood of maintaining natural nipple sensation after surgery.
Faster Recovery: Keyhole top surgery is less invasive than other techniques, leading to a potentially quicker and smoother recovery process. The smaller incisions typically heal faster and there is less overall trauma to the body.
Less Invasive: This technique is less invasive as it doesn't involve extensive cutting or tissue removal. It also avoids nipple grafting, which can be a more complex and delicate procedure.
Natural Appearance: With keyhole top surgery, the natural position of the nipple and areola is preserved. The small incision made during surgery is often concealed by the natural border of the areola, leading to a natural-looking chest contour.
Shorter Surgery Time: Keyhole top surgery generally requires less time in the operating room compared to more extensive double incision mastectomy.
However, it's important to note that keyhole top surgery isn't suitable for everyone. This method is typically most effective for individuals with small to medium-sized chests and good skin elasticity. As always, a thorough consultation with a qualified surgeon is essential to determine the best surgical approach for your individual needs and desired outcomes.
Am I suitable for Keyhole Top Surgery?
Determining your suitability for keyhole top surgery involves several factors that should be considered and discussed with your surgeon. Indeed, because keyhole top surgery does not involve the removal of excess skin, it tends to be most appropriate for those with smaller chests and excellent skin elasticity.
Here are a few key considerations that could indicate you're a good candidate for keyhole top surgery:
Small to Medium Chest Size: Keyhole top surgery is typically most effective for individuals with smaller chests, usually falling within the A-B cup range. This is because the procedure involves the removal of breast tissue through a small incision, and it can be challenging to remove larger amounts of tissue using this technique.
Good Skin Elasticity: The skin's ability to retract and adjust to the new chest contour after surgery is crucial for achieving optimal results from a keyhole mastectomy. Individuals with good skin elasticity are likely to see better results as their skin can effectively reshape itself post-surgery.
Overall Health: As with any surgical procedure, being in good overall health can reduce the risk of complications and promote a smoother recovery. This includes not smoking (or being willing to quit for a set period before and after surgery), maintaining a stable weight, and not having any uncontrolled health conditions.
Emotional Readiness: Undergoing gender affirming surgery is a significant step, and being emotionally prepared is crucial. It's essential to have realistic expectations about what the surgery can achieve and to understand the process of recovery.
Support Network: Having a supportive network of family and friends can greatly assist with the emotional aspects of transition and recovery. Their support can be invaluable during your surgical journey.
Remember, every person's journey is unique, and there isn't a 'one size fits all' approach to gender affirming surgery. It's crucial to have an open conversation with your surgeon about your goals, expectations, and concerns to decide the best surgical approach for you.
Preparing for Keyhole Mastectomy
Preparing for your keyhole mastectomy involves several steps designed to ensure your surgery goes as smoothly as possible and to promote optimal recovery. Here are some recommendations:
Medical Evaluation: Before surgery, you'll undergo a medical evaluation to ensure you're in good health for the procedure. This might include blood tests, a physical examination, and other appropriate health checks.
Medication Management: Discuss with your surgeon and healthcare provider any medications you're currently taking, including prescription drugs, over-the-counter medications, herbal supplements, and vitamins. You may need to stop or adjust the dosage of certain medications before surgery.
Smoking and Alcohol: If you smoke, you'll need to stop several weeks before and after your surgery, as smoking can significantly impede the healing process. Excessive alcohol consumption should also be avoided in the weeks leading up to and following surgery.
Nutrition and Hydration: Ensure you're eating a balanced diet to provide your body with the necessary nutrients for recovery. Staying well-hydrated is also crucial.
Exercise: Regular physical activity can help improve your overall health and strengthen your body for surgery. However, intense workouts should be avoided a few days prior to surgery.
Post-surgery Arrangements: Arrange for someone to drive you home after the surgery and, if possible, stay with you for the first 24-48 hours post-operation. Also, make sure your recovery area at home is ready with everything you might need within easy reach.
Clothing: Have loose, comfortable clothing available for after the surgery. Button-up shirts are a good option as they don't need to be pulled over your head.
Mental Preparation: Mentally preparing yourself for surgery is also essential. Consider talking to a mental health professional who can provide strategies for managing any pre-surgery anxiety and post-surgery emotions.
Remember, each patient's preoperative process may vary. Your surgeon will provide you with detailed instructions tailored to your situation to ensure you're fully prepared for your keyhole mastectomy.
Keyhole Mastectomy Procedure
Keyhole top surgery, or keyhole mastectomy, is a meticulous procedure designed to create a more masculine chest contour. While each procedure can be somewhat individualised based on the patient's unique anatomy and desired outcomes, here is a general overview of the process:
Anaesthesia: To ensure you are comfortable and feel no pain during the procedure, the surgery will typically be performed under general anaesthesia. This means you'll be asleep throughout the operation.
Incision: Once the anaesthesia has taken effect, your surgeon will make a small incision along the border of the areola. The size of the incision is usually about one-third to one-half the diameter of the areola.
Tissue Removal: Using a specialised surgical instrument, the surgeon will proceed to remove the breast tissue. This is often done through a technique called liposuction, which removes fat and glandular tissue via suction. In some cases, additional small incisions may be made in the armpit area to facilitate the complete removal of the breast tissue.
Chest Contouring: After the breast tissue has been removed, your surgeon will evaluate the remaining chest contour and make any necessary adjustments to achieve a smooth, masculine appearance. This can include additional liposuction to ensure a uniform look.
Closure: Once the surgeon is satisfied with the result, the incision will be closed using dissolvable sutures. A bandage will then be applied to protect the surgical area and help minimise swelling and discomfort.
Recovery: After surgery, you'll be taken to a recovery room where healthcare professionals will monitor your condition. Once your condition is stable, you'll be able to go home. It's important to have a friend or family member available to drive you home after the procedure, as you won't be able to drive yourself.
The entire procedure typically lasts about 1-2 hours, depending on the patient's specific anatomy and the surgeon's techniques. It's also important to remember that everyone's body and surgical needs are unique, and your procedure might vary somewhat based on your specific goals and circumstances.
Recovery after Keyhole Top Surgery
The recovery process after keyhole top surgery can vary greatly from person to person, depending on various factors such as overall health, physical condition, and the specific details of the surgical procedure. However, here are some general guidelines:
Immediate Post-Operative Period: Immediately after the procedure, you will spend some time in the recovery area where your condition will be closely monitored by healthcare professionals. Once you're stable, you'll be able to go home. You'll need someone to drive you, as you won't be able to do so yourself.
Pain Management: Some discomfort and pain are normal after surgery. Your surgeon will prescribe pain medication to help manage this. If the pain becomes severe or isn't adequately managed by the prescribed medication, contact your surgeon immediately.
Bandages and Drains: You'll likely have bandages covering your incisions. If drains were placed during surgery to prevent fluid accumulation, you'll receive instructions on how to care for them. Usually, drains are removed within the first week following surgery.
Activity: You should limit your physical activity in the days immediately following your surgery. Avoid lifting heavy objects and any strenuous activities that could strain your chest. Light walking is encouraged to promote circulation. Gradually, you can return to your regular activities as instructed by your surgeon.
Follow-up Visits: You'll have follow-up appointments with your surgeon to monitor your progress. These are crucial for ensuring a smooth recovery.
Long-term Recovery: Most patients can return to work or school within 1-2 weeks post-operation, but this can vary. Full recovery usually takes several weeks, and you may need to wear a compression garment during this period. Regular exercise can usually be resumed after 4-6 weeks, but always follow your surgeon's advice.
Scarring: Scarring is minimal in keyhole top surgery due to the small incisions. However, everyone heals differently, and some patients may experience more visible scarring.
Emotional Support: The emotional aspect of recovery is just as important as the physical. Make sure you have a support system in place, and consider seeking professional help if you experience feelings of depression or anxiety.
Remember, these are general guidelines, and your surgeon will provide you with more detailed and personalised instructions based on your individual circumstances and needs. Always follow your surgeon's instructions to ensure a safe and smooth recovery.
Risks and Potential Complications of Keyhole Mastectomy
While keyhole top surgery is considered a safe procedure with a high satisfaction rate, as with any surgical procedure, it does carry some potential risks and complications. Your surgeon will discuss these in detail with you during your consultations, but it's important to be aware of them as you consider your surgical options.
Here are some potential risks and complications associated with keyhole top surgery:
Bleeding and Hematoma: As with any surgery, there's a risk of bleeding during or after the procedure. A hematoma, which is a collection of blood outside the blood vessels, can also form. If this occurs, additional treatment or surgery may be necessary.
Infection: Post-operative infections are a risk with any surgical procedure, though they are relatively rare. Antibiotics are often given to reduce this risk.
Scarring: Even though scarring is minimal with keyhole surgery, some scarring is inevitable. The degree of visible scarring can vary from person to person based on individual healing processes and skin characteristics.
Nerve Damage: There's a risk of damaging the nerves in the chest area during surgery, which could affect nipple sensation and chest sensation. While keyhole surgery often preserves nipple sensation, some loss of sensation can still occur.
Unsatisfactory Aesthetic Result: There's always a risk that the final aesthetic result might not meet your expectations. This could include unevenness in the chest, puckering or dimpling of the skin, or a chest contour that doesn't meet your expectations. In some cases, additional surgery might be necessary.
Anaesthesia Risks: As with any procedure that uses anaesthesia, there are potential risks and side effects, including allergic reactions and problems with breathing.
Emotional Distress: Some people might experience emotional distress or dissatisfaction after surgery. It's crucial to have emotional and psychological support available to you during the process.
Seroma: This is the accumulation of fluid in the space where the breast tissue was removed. It may require drainage.
These risks can often be minimised by choosing a qualified and experienced surgeon, following all pre-operative and post-operative instructions carefully, and maintaining good overall health. Remember, it's important to discuss any concerns or questions you have with your surgeon during your consultation.
Why Choose Centre for Surgery for your Periareolar Top Surgery?
At Centre for Surgery, we believe in delivering healthcare that is respectful, affirming, and sensitive to the unique needs of every individual we serve. Recognising the widespread discrimination and challenges faced by transgender and non-binary individuals in healthcare, we've made it our mission to create an environment where everyone can feel safe, respected, and cared for.
We're proud to be a leading provider of gender affirming procedures, including keyhole top surgery, for the LGBTQIA+ community. Our commitment to inclusivity extends throughout our organisation, and we strive to maintain a supportive and accepting atmosphere where all patients feel comfortable expressing their identities.
With years of experience in delivering high-quality, patient-focused care, our surgeons and healthcare professionals understand the profound impact that gender affirming surgery can have on an individual's life. We work closely with each patient, taking the time to understand their unique journey and their goals for the surgery. Our goal is to help every patient feel more aligned with their true self.
Our team is not just known for their technical expertise, but also for their compassion, empathy, and dedication to providing the highest level of care. We are committed to treating each patient with dignity and respect, regardless of their gender identity or expression.
Transparency, communication, and respect are at the heart of our approach. We provide comprehensive education about the surgical process, recovery, and potential outcomes to ensure that our patients are well-informed and confident in their decision to proceed with surgery.
We have been privileged to witness the transformative effect that gender affirming surgery can have on our patients' lives and self-esteem. We're honoured by the trust placed in us by the hundreds of transgender and non-binary individuals who have chosen Centre for Surgery for their procedures.
We look forward to continuing our work in providing affirming, compassionate, and expert care for the LGBTQIA+ community, both in the UK and around the world. At Centre for Surgery, you can expect a welcoming environment, a dedicated team, and exceptional results.