LipLase laser in London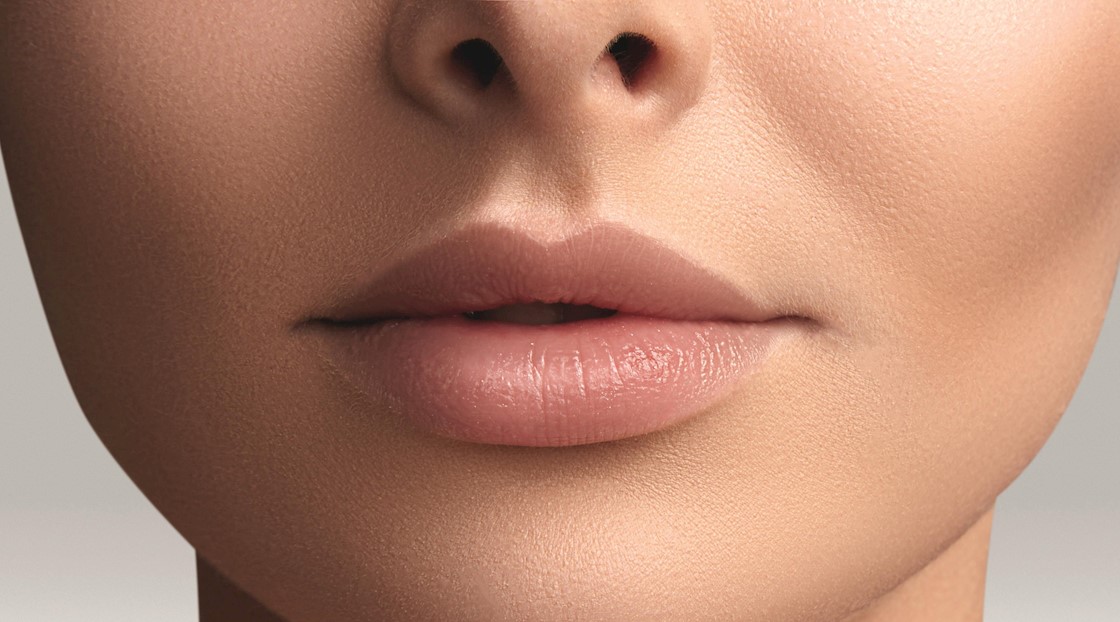 LipLase is a new revolutionary non-invasive treatment at Centre for Surgery using a combined dual laser approach (Nd:YAG and Er:YAG) using the amazing SP Dynamis laser for enhanced fullness and colour enhancement of the lips. This is a new option for patients who are not keen on inejctions with lip fillers. LipLase carries minimal discomfort and downtime and the results are immediately visible. LipLase Laser lip-plumping treatments are required once a month for three months followed by one session every three months to maintain the increased fullness in the lips. Not only do we treat the lips and surrounding skin, but we also target the nasolabial folds to stimulate the collagen using the unique SMOOTH mode of the erbium laser.
Many patients also choose to combine LipLase with Fotona 4D or SmoothEye for a more comprehensive facial rejuvenation.
All our doctors are on the GMC specialist register. Our London clinic at 106 Crawford Street was recently inspected and rated as good across all 5 domains.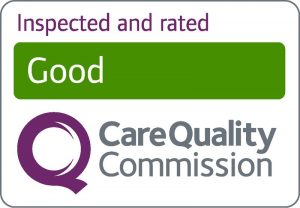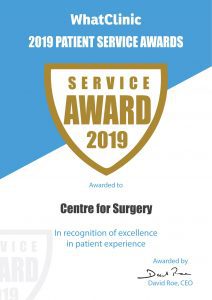 I recently had surgery here and would definitely recommend, from initial contact from Carolyn to the aftercare I received was exceptional, Carolyn was very helpful and informative and answered all my questions - even the silly ones late at night! Dr Tillo was very knowledgable, professional and welcoming at the same time and put me at ease about the procedure, it's still early but so far I'm pleased with the results
A simply fabulous experience with Dr Misra. Centre for Surgery was recommended to me by a close friend who had received excellent treatment. From the first call to the day of my procedure and beyond, the level of care has been exceptional. The aftercare phone calls really gave me peace of mind and I look forward to my follow up appointment with Dr Misra.
Everything has been great! From submitting the online enquiry form I received a call from Nikesh within about ten minutes discussing the procedure and how the process works. Got booked in for an initial telephone conversation and then in-person consultation with Dr Gilleard. The finance team had no issue with me making individual payments and Nikesh patiently answered my many questions and calls in the lead up to the surgery. Everyone on the actual day was very reassuring (I was quite nervous) and efficient. I was very pleased with how smoothly everything ran with the surgery and was even more straight forward then expected. Dr Gilleard also took a phone call later that evening when we had some questions about the anaesthetic. Gregory has phoned most days since the surgery to check in on my recovery and has been lovely. Highly recommend!
To say they change my life is an understatement. All the staff here are SOO down to earth and make you feel at ease! From check up calls to that first consultation, Lidia made sure everything was running smoothly for me!! The whole team is literally by your side all the way!! Going in to a procedure i was petrified, scared and everything else, i couldn't even bring my self to the consultation but Lidia made it her priority to ensure i was as comfortable as can be and that i was in safe hands! without her kind words i wouldn't have gone ahead with it all. Having really bad anxiety has always been a challenge for me but i can honestly say after my experience with Dr.Dimitriadi she basically educated me and gave me a whole different perspective on my procedure and that in-fact i was more then normal even if i didn't feel so myself! Something i've never had before! Her support was beyond belief, i couldn't thank Dr. Dimitriadi and everyone enough for making me feel so secure. Her team were brilliant i've never felt more confident and finally excited about my next chapter in life!! Safe hands is indeed the word for it!! I would highly recommend Centre for surgery as I truly believe no other practise would make this journey as professional and comforting as they did! Feeling extremely grateful and blessed to have had the most amazing team to give me a start on my dream life. I say that because with no exaggeration i have been dreaming for this day for as long as i can remember. Slowly but surly i'm going through the healing stages and i couldn't be more happier with my results!!!! Brings me tears of joy just writing this review. You guys are straight out the best!
Extremely happy and proud of the final result! From the beginning of the process to get rhinoplasty Yasmin made sure that all my questions were answered and that I never had to worry about something going wrong. The team is very good with communication and keeping you at ease. I highly recommend my surgeon Mr Amir Sadri! He did a fantastic job with my nose making it look better than we expected so soon post the surgery. He made sure that we had a detailed conversation about my expectations and what is possible and has exceeded in the work that he performed on my nose! My only concern throughout the whole process that I raised was that I felt like there was a bit of rush to wake me up post surgery, however once communicated it back to Mr Sadri he made sure that he'd advise the team to help with a calm waking up moving forwards. Thank you for helping me with what WAS my insecurity Patryk
Drooping heavy eye lids were making me look older and more tired than I felt. (Nothing more deflating when feeling sparkling and vibrant at a party, to be told you're looking tired!) Time for action. Blepharoplasty. Did my research, found Centre for Surgery, booked a consultation and met Mr Erel, a highly qualified surgeon. Any nervousness was dispelled immediately by his calm, friendly and professional guidance. The supporting team were great, special mention for Lea, and the whole process was straightforward. Two weeks in from the operation and I am thrilled with the results.(Should have done it sooner!) I thoroughly recommend them.
Very happy with my experience at centre for surgery, very helpful from start to finish and procedure was carried out very thorough. Any questions were answered quickly and in depth so I had no worries and pleased I went ahead with it. Even after the surgery, I've had calls and messages to check up on how I am and if everything went very well.
Everyone I met at Centre for Surgery were amazing; Yasmin and Gregory were great at staying in touch with me! I felt reassured the whole way through from consultation through to aftercare. I am very happy with the results of my labiaplasty, thanks to the work of Dr Dimitriadi and help of the lovely nurses. I would recommend to anyone considering. A huge thanks!
So glad I went ahead with my procedure! Lovely experience from start to finish. The whole team is helpful and my result with Dr Misra is exactly as I'd hoped
My experience was fantastic.. I went with Mr Antonios Mitsakos for a mummy makeover and I couldn't be more pleased with the result and the care and support I got from the staff. Thank you for elevating my experience, would definitely recommend to all my fellow Mamas!
Achieve larger lips without lip fillers
LipLase™ is a non-invasive procedure using the amazing Fotona SP Dynamis laser which enhances the appearance of the lips. This method is appealing as it involves no incisions or injections. This is a day procedure, and you will be able to return to your usual daily routine immediately with little downtime involved.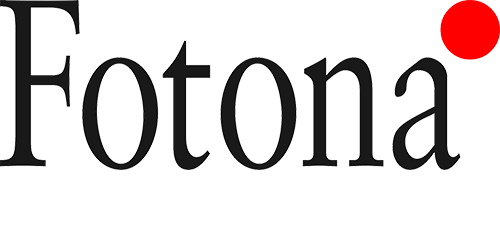 LipLase™ uses heat pulses on and around the lips. This works to stimulate collagen production, which results in the lips becoming fuller and plumper over time.
There are many benefits to undergoing laser lip enhancement. These include:
No foreign materials (such as 

fillers

) used

Little to no downtime

No needles

No bruising

Can return to work immediately
Adebimpe Adewoyin
04/02/2021
I had 360 Liposuction and BBL with centre for surgery 11/01/2021. I found centre for surgery by searching online. My consultation was booked with Dr. Tillo, the procedure was explained to me thoroughly including the risks, the clinic is beautiful and very clean. I received the best care I could think of on the day of my surgery, the staff were very friendly and caring, the surgery went well and the result was amazing! My recovery was very quick too with no complications. I am very happy with the follow up and after care. I would highly recommend centre for surgery.
I was able to be booked for my consultation and procedure on the timeline that suited me. Very happy overall; especially with my results and the care I've received since. Would return
Highly Recommend Mr Tilo and this clinic. My partner had Facial Scar Revision 5 weeks ago and can honestly say the speed, care and attention Mr Tilo and the team gave him was amazing. Right from the outset when I contacted Michael for a quote the speed and professionalism he gave was 5 star. My partner was also very nervous about the whole procedure and the attention the nursing team gave helped ease any nerves
I recently had surgery performed for a small unwanted tattoo by Mr Amir Sadri. The whole team at Centre for Surgery were brilliant and Mr Amir Sadri perfomed a brilliant job and cannot thank him enough for his services. I would thoroughly recommend anyone considering any form of procedure to go with these guys as from start to finish were brilliant.
Bracesbybella Annabelle Ariza
24/08/2020
I had a wonderful experience . I cannot thank you all enough. The location is convenient, the actual place is lovely , non clinical looking. I had liposuction carried out and I was amazed at how caring and wonderful the entire team were towards me. I would definitely recommend to friends and family. Big shout out to Dr Tillo , nursing team and wonderful reception team. Please don't be disheartened by bad reviews , often people ask for prices to try and avoid a proper consultation. If you are seriously considering surgery, you should always have time for a proper consultation with a surgeon who can then provide you with an accurate estimate/quote for propsed (suitable)treatment.
Dr Gilleard at Centre for Surgery is master of rhinoplasty surgery! Absolutely fab work with piezotome technique. Hardly any bruising at all.
Ida Bafende - Aesthetic Nurse Practitioner
Ida Bafende is a trained & registered nurse by background. She has over 17 years experience as nurse, senior nurse, sister and Nurse Specialist in Dermatology at one of the major teaching hospitals in London. She has managed team of nurses, run nurse-led clinics and worked closely with all members of the Multidisciplinary team to ensure the best possible care was given to individual patients.
Read testimonials from our amazing patients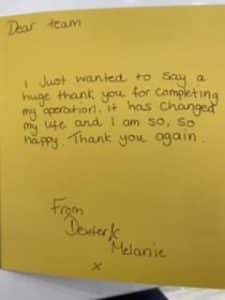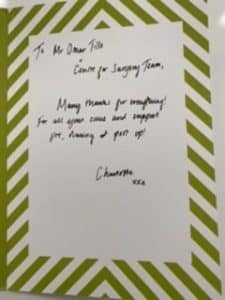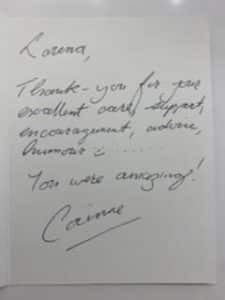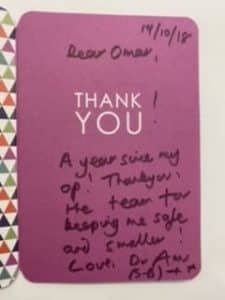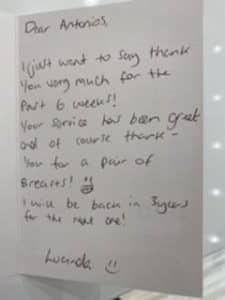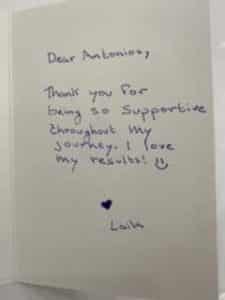 Ideal candidates for liplase
You will be a suitable candidate if you wish to increase the appearance of your lips and do not wish to use fillers or undergo a surgical procedure such as a lip lift.
You will need to be at least 18 years old to undergo this procedure.
You will need to have realistic expectations about what the procedure can achieve.
Prior to undergoing this procedure, you will need to have a consultation with one of our practitioners, who will be able to tell you if you are a suitable candidate for this procedure.
The LipLase procedure
LipLase™ is a quick, non-invasive procedure. It will take around 30 minutes to complete.
You do not require any injection of local anaesthetic. However, if elected, a topical anaesthetic cream can be applied to the area prior to treatment due to the slight discomfort during the treatment of external parts of the lips.
The Fotona Erbium laser using the unique non-ablative Smooth Mode is a deep laser treatment that targets the vermillion borders of the lips, the oral commissures, the ridges of the philtrum and the Cupid's bow area of the lips. The erbium laser acts by creating a thermal effect in the deeper layer of the dermis without affecting the epidermis. Controlled temperature increases of up to 60 degrees celcius results in collagen regeneration. The lips undergo a lifting effect which results in more exposure of the lips due to an increase in volume. The laser energy directly stimulates the production of new collagen.
The second step of the procedure is working with the Nd:YAG laser in Piano Mode which is the safest mode for reaching deeper lying skin tissues, with minimal thermal effect on the surface. Ida will also treat the lips above the vermillion border in order to have a well-defined vermilion border which resembles the effect of a filler.
To achieve the best results, you will generally need three to four treatments.
Recovery after LipLase
After the treatment the lasered tissue goes through three stages of healing: in the first stage, some swelling appears immediately after the treatment and lasts for about two to three days. The second stage is characterised by superficial surface peeling that lasts for 24 to 48 hours after the treatment. Ida recommends to apply skin moisturiser as a lip balm to keep the lips moist and sun protection 50+ to the lips to prevent peeling. The third stage is neocollagenesis, the development of new collagen. The patient needs to avoid going swimming, sporting activities, sun or sunbeds after the procedure.
If the patient reports a previous history of herpes infection, Ida will recommend antiviral agents for recurrent herpes simplex infection before and after the procedure. Many patients report the feeling of the lips being swollen after the procedure. The patient may feel the sensation of mild burning for up to 30 minutes after the treatment. You will notice results improve over time as the collagen continues to be produced. Results will continue to improve over four to six months.
This is a non-invasive procedure with minimal discomfort, minimal risk of change in skin or lumpiness in one area, and all our patients love it!
LipLase before and after
Case 1: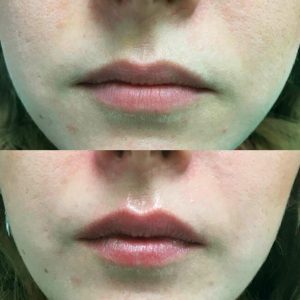 Case 2: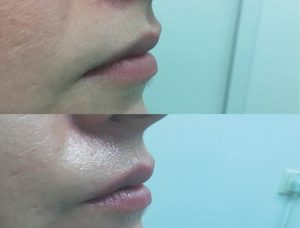 Case 3: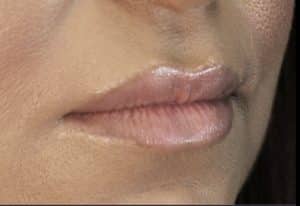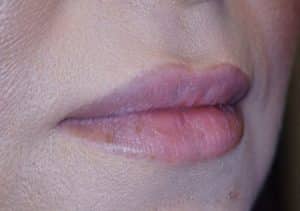 How to find us
Centre for Surgery is located at 106 Crawford Street in Marylebone. Crawford Street is just off Baker Street.
We are easily accessible by all major bus routes that pass through Baker Street as well as Baker Street underground station.
From the tube station, we are just a 5 minute walk southwards down Baker Street followed by a right turn onto Crawford Street. The clinic is about 200 yards on the left.
There is ample local pay & display parking in the surrounding area and an NCP car park is located further west along Crawford Street. Our local residential parking zone is the City of Westminster.
Address: 106 Crawford Street, Marylebone, London, W1H 2HY