A Comprehensive Guide to Resuming Exercise After Undergoing Cosmetic Surgery
Cosmetic surgery procedures are frequently carried out to enhance the appearance or aesthetics of an individual's body and face. There are instances where these procedures are also performed to restore or improve the functionality of the affected area. Regardless of your reasons for opting for cosmetic surgery, it is essential to remember that the long-term success of these procedures largely depends on your commitment to an effective recovery process, adherence to a healthy diet, embracing a balanced lifestyle, and incorporating regular exercise post-surgery.
It is not uncommon for patients to feel better and eager to return to their normal exercise routines shortly after being discharged from our Baker Street clinic. However, in most instances, it is inadvisable to resume physical activity too soon after surgery. Instead, it is crucial to approach the resumption of exercise in a gradual manner, and only after seeking guidance from our experienced medical team at the Centre for Surgery.
Please bear in mind that exercising prematurely during the recovery period can have negative consequences for your healing process. It is of the utmost importance to allow your body ample time to heal and recover before diving back into your regular exercise regimen. This ensures that you will be able to enjoy the full benefits of the cosmetic surgery procedure without compromising your health or the results achieved.
It is crucial to remember that recovery and exercise post-plastic surgery are highly individualised processes, with no universal approach suitable for everyone. Each patient's healing and recovery rates can vary significantly. For instance, some individuals may find themselves capable of engaging in activities such as shopping on the same day they undergo a minor plastic surgery procedure, like an upper eyelid blepharoplasty. In contrast, others may require several days to regain their sense of normalcy after experiencing the same surgical intervention.
This variation in recovery experiences highlights the importance of understanding your own body and its unique healing process, as well as closely following the guidance provided by your healthcare team. They will help you tailor your recovery plan to suit your specific needs and ensure that you can safely resume exercise without jeopardizing the results of your surgery or your overall health.
Explore Our Blogs on Exercising Following Specific Procedures
The Importance of Gradual Movement and Exercise Post-Surgery
During your consultation at our Baker Street clinic, your surgeon will discuss the critical aspects of your recovery process and the necessary precautions to ensure a successful surgery outcome. Adhering to these postoperative care recommendations is vital in order to avoid unsatisfactory results after your procedure.
One of the key recommendations provided by our surgeons is the need for gentle movement as soon as possible following cosmetic procedures such as breast surgery, liposuction, tummy tuck, among others. Engaging in gentle movement is essential for your overall well-being, as it can accelerate your recovery and help prevent complications such as blood clotting.
While taking short walks around the room or your home is encouraged from day one, it may take some time before you can fully return to your regular exercise routine.
For most upper body procedures, there is a strict "no lifting" rule in place. This includes surgeries such as breast augmentation, breast lift, and breast reduction. Patients are not only advised against lifting weights or heavy objects but also cautioned against overstretching their arms to avoid placing excessive pressure on the incisions. Consequently, even light stretching or yoga is not recommended during the initial weeks post-procedure.
Body contouring procedures, such as tummy tuck and mummy makeover surgery, also come with the recommendation to gradually reintroduce exercise into your routine. This should only be done after at least four to six weeks post-op or once the incisions have fully healed. By following these guidelines and resuming exercise in a controlled and gradual manner, you can ensure a smooth recovery and enjoy the lasting benefits of your chosen cosmetic surgery procedure.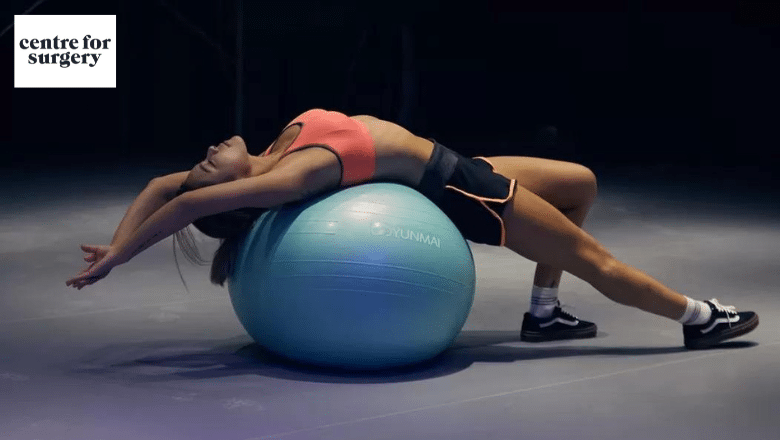 Prioritise Healing and Recovery After Plastic Surgery
Undergoing cosmetic plastic surgery can often lead to a renewed appreciation for taking good care of your body. It is essential to remember that your body requires adequate time to heal and recuperate after undergoing such procedures. Pushing yourself too hard or resuming your regular activities too soon can not only delay the recovery process but also result in potential complications.
By allowing your body the time it needs to heal, you are giving yourself the best chance for a successful recovery and long-lasting, satisfactory results from your plastic surgery procedure. It is crucial to pay close attention to the guidance provided by your medical team and to follow their recommendations for postoperative care.
Our Commitment to Your Care and Support at Centre for Surgery
Please keep in mind that our team at Centre for Surgery is always available to assist you with any questions or concerns you may have. Our primary goal is to provide encouragement and support throughout your journey, from the initial consultation to your complete recovery. What sets us apart from other healthcare providers is our unwavering commitment to your well-being and ensuring that your recovery experience is as smooth and successful as possible.
We understand that each patient's needs are unique, and our dedicated team is here to provide personalised care and guidance tailored to your specific situation. By maintaining open communication with our medical professionals, you can feel confident that you are receiving the best possible care and support throughout your entire journey with Centre for Surgery.
Centre for Surgery – Premier Plastic Surgery Clinic in London
Located in the heart of central London's Marylebone, Centre for Surgery is a highly regarded and compassionate Specialist Plastic Surgery clinic dedicated to providing top-notch care and expertise in the field.
Our clinic is home to some of London's most distinguished and sought-after Plastic Surgeons, who specialize in a comprehensive range of aesthetic and reconstructive plastic surgery procedures. Our areas of expertise include Rhinoplasty, Eyelid Surgery, Facelift, Breast Reduction, Breast Lift, Breast Implant Surgery, Liposuction, Tummy Tuck, and Labiaplasty.
With over 25 years of collective surgical experience in Plastic Surgery, our surgeons adhere to the principle that a skilled surgeon must first be an excellent doctor. We take great care to consider the overall health and personal circumstances of each patient before devising a tailored treatment plan.
As a dedicated Specialist Plastic and Cosmetic Surgery Clinic, Centre for Surgery is renowned for delivering exceptional care, support, and guidance in helping patients achieve realistic and satisfying outcomes. Our unwavering commitment to patient well-being and satisfaction sets us apart as a premier destination for those seeking the highest quality plastic surgery services in London.