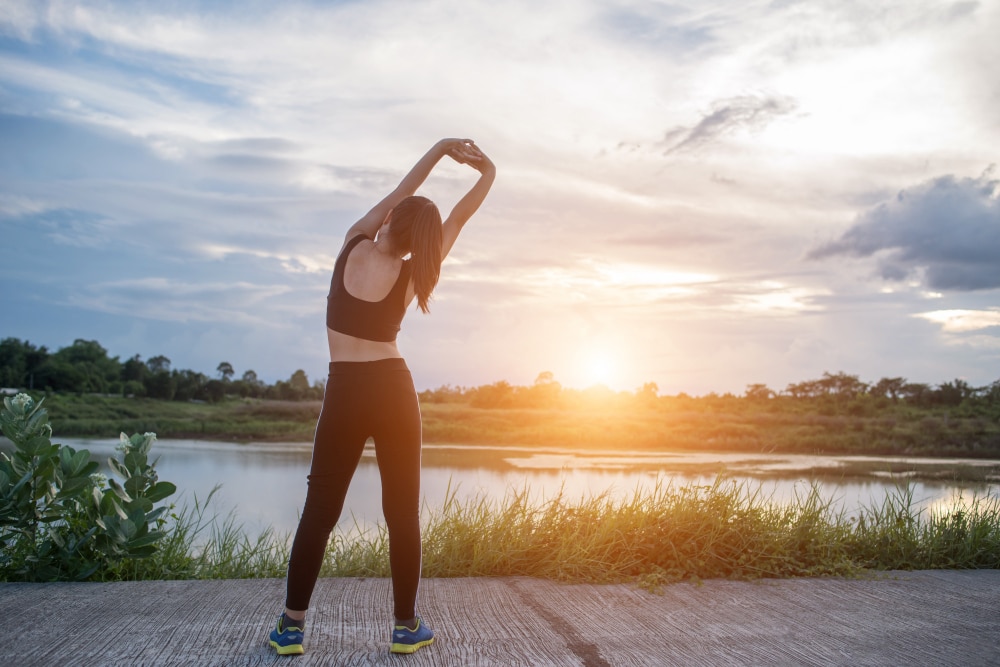 Breast augmentation can produce a significant boost in self-confidence and emotional well-being. Happy patients often retain the ability to show off their new look when in the gym or on the beach. Despite the impressive cosmetic results of breast augmentation, it should always be borne in mind that breast augmentation is a surgical procedure and having a smooth recovery means avoiding certain types of exercise until your surgeon says it is safe to resume. Here we discuss top tips about exercising after breast augmentation surgery.
RELATED: How long is breast augmentation recovery?
Go slow for the first few days
Breast augmentation is an invasive surgical procedure; we recommend taking it easy for the first few days. When you move around at home, be extra careful and avoid too much physical exertion. Gentle moving around, even to the bathroom and back, is sufficient exertion at this stage. After five days, try to maintain your blood circulation and optimise healing with slow and leisurely walks outside the home. It's essential to maintain a balance; we would also advise against being immobile and not moving at all. Breast augmentation surgery has a minimal risk of causing deep vein thrombosis. You can minimise the risk of deep vein thrombosis or blood clots in the legs by keeping reasonably mobile to maintain blood flow.
RELATED: Is breast augmentation painful?
Gentle exercise can be restarted after one to two weeks
As the early part of healing after breast augmentation passes, you may carry out low-intensity cardiovascular exercises such as longer walks. You should avoid walking outside when it is very hot to prevent excessive perspiration or raising your heart rate excessively. This can adversely affect healing. Gentle exercises will help keep your muscles well conditioned so that it should be much easier when you resume moderate exercises.
Moderate exercise is allowed after two weeks
When we say moderate exercise, we are talking about using stationary bikes on low settings or longer walks. Low-impact cardiovascular exercises, which should be no more than half of your average pace are recommended. Although you may be allowed to do specific leg exercises, we advise against carrying out any upper body exercise that may affect healing.
Exercise can be gradually increased in intensity after four weeks
Your surgeon will review you six weeks after your procedure. Your healing will be assessed, and depending on the outcome of the assessment, you may be allowed to add upper body workouts to your exercise routines. We would still advise against chest exercises during the first six weeks after surgery. You may be allowed to increase the intensity of your lower body workouts.
Full exercise can be carried out after six weeks
Once your surgeon has cleared you, you may return to your regular exercise routines, including both lower and upper body exercises. High-intensity cardiovascular workouts may also be allowed. It should be remembered that we all heal at different rates, depending on any coexisting medical conditions which may slow down healing, such as diabetes or if you are a smoker. Always listen to your body; if you experience sudden pain or discomfort, you should immediately stop exercising and seek medical attention.
Try not to do too much too soon
Breast augmentation is most commonly performed on women in their 20s who may be physically active in their everyday lives. Therefore, it is understandable to want to return to your normal activities as soon as possible after surgery. A note of caution as advised, doing too much too soon may increase the risk of complications after breast augmentation.
The underlying issue related to breast augmentation healing is avoiding too much chest muscle activity during the early recovery period. Carrying out vigorous exercise too early after breast augmentation may result in problems with implant position or may increase the risk of prominent scarring. In rare cases, patients may cause their stitches to tear, resulting in significant bleeding. Revision surgery may be required for patients who experience significant bleeding after surgery resulting in a breast haematoma or collection of blood surrounding the implants from too much physical activity.
We would advise against carrying out the following activities until a minimum of six weeks after breast augmentation:
Lifting heavy objects, including young children
Lifting any weights more than 5 kg
Push-ups and pull-ups
Upper body weight lifting such as benchpress
Deadlifts
Certain types of yoga and Pilates
Jogging or swimming
Using cross trainers or rowing machines
Always wear the prescribed postoperative breast garment after your breast enlargement procedure. This postoperative bra is designed to stabilise the position of your implants to help reduce pain and discomfort and promote fast healing and recovery.
Always listen to your body and follow your surgeon's instructions
Healing after breast augmentation varies between patients. Activity levels also vary from being sedentary to being highly active. Both of these factors will determine how much you can safely carry out during Breast augmentation recovery. If at any time you experience pain or discomfort during exercise, you should immediately stop what you are doing and speak to our postoperative nursing team for further advice. You should consult with your surgeon about your levels of physical activity, and a customised plan can be designed for you to help you remain as reasonably physically active as possible.
RELATED: What to expect after a breast augmentation
Book a London breast augmentation consultation today
Once you have decided to proceed with breast augmentation, please contact us on 020 7993 4849 or complete the contact form below to start your journey towards achieving your dream look. Our state-of-the-art Baker Street clinic in London is a specialist centre for all types of cosmetic breast surgery, including breast augmentation.
Amazing from start to finish, the communication was the main thing was fully informed and looked after, on the day of my breast augmentation, the staff were fab and made me feel at ease through out the whole process. Thank you so much.
Mohammed Farid
18/11/2021
I've had such a great experience with excellent advice, care and attention and surgical treatment (gynaecomastia) - I can fully endorse the treatment I have received from Centre for Surgery with absolutely no qualms at all. Brilliant in every way - thank you all so much.
Caroline Thorpe
14/11/2021
Very pleased with my whole experience of having a procedure. Was so nervous about getting treatment and i was reassured and felt so comfortable throughout thanks to the amazing nurses. I definitely made the right decision to have breast augmentation at centre for surgery with dr erel.
Melissa Briggs
08/11/2021
So glad I went with centre for surgery, the whole process went very smoothly from the consultations down to the actual day of the procedure. I was so nervous on the day but the whole team put me at ease and I'm happy with my results as I feel a lot more comfortable wearing certain clothes now. My surgeon was Alberto Di Giuseppe who performed a breast Augmentation on me, and I would definitely recommend as he was very clear on what the outcome of the surgery would be and which size would look the best for my frame.
Couldn't be happier with Dr Tillo work,i had my breast surgery one week ago and so happy with the results so far,all the staff are extremely nice and very supportive,i would definitely recommend their services,thank so much
From start to the finish everything was perfect for tummy tuck surgery. All staff is very friendly and the aftercare has been good. The Doctor and the nurse team was fantastic. I'm so happy...result is amazing. Thank you!!!
This was overall a great experience, all the staff at Centre for Surgery were friendly and put me at ease. It is a nerve wracking thing to go through an op but the staff were so nice. Mr Ertan has got a great team around him. On the day of the operation everything went smoothly to plan, there was no delay or holdups, I had another consultation with Mr Ertan who confirmed what was going to be done and that I was still happy to proceed. I was prepped for the procedure, I met with the anaesthetist who again was really nice and put me at ease explaining his role. After the procedure I woke up with the nurse by my side making sure I was OK and checking on me, I was able to stay in the clinic until I was ready to leave and was not rushed at all. I was well looked after from the start to the point when I was discharged. Post operation I was staying at a local hotel it was so close there was no point in even getting a taxi and I was able to walk back where my partner was waiting for me. I was expecting a lot of bruising to both my eyes but there was very little if any by the time the cast came off after 7 days, I am now at the two week post operation point and it is healing well with no outwardly visible bruising or scaring. The next milestone is a checkup at the 6 week point with my surgeon. If you're thinking of having something like this done I would highly recommend getting in touch with Centre for Surgery.
The staff at Centre for Surgery were very kind and accommodating. They answered any questions I had about the procedure and were constantly checking up on me. A special thank you to Christina for all her support throughout.
I would just like to state the quality of care received from the nurses at Centre for Surgery was beyond the highest level. Sophie takes her patient care to another level beyond words. She always puts me at ease. She is there for me even at awkward hours just when I mostly needed reassurance and she is one of the most compassionate nurses I have come across and demonstrates her passion naturally for caring for others. She totally deserves recognition at its finest and thank you for always being there for me. 😍