Scar Revision Surgery London UK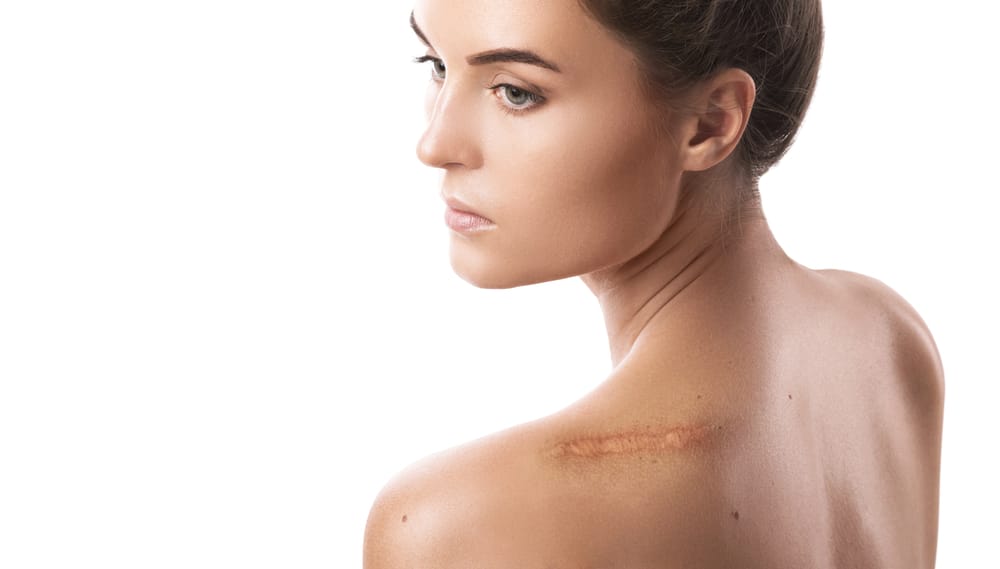 Scar Treatment in London – Making Scars Smaller & Removing Scars with the Help of Plastic Surgeons
If you get a surgical wound, burn, or cut, it will often result in a scar. Some scars are small and go away by themselves as time passes. Others might be much bigger, or they may grow too much (which are called keloid scars) or not heal properly. Scars like these, which stick out or are too big, can be worrying. But don't worry, because a Scar Revision Surgery done by a specially trained plastic surgeon can usually fix these problems.
RELATED: Scar Management After Cosmetic Surgery
There are different types of scars, like large ones, keloid scars, and hypertrophic scars, and they can be made to look better through a special surgery that reduces their size. There are ways to do this by cutting and ways to do it without cutting, and both can help to make scars look less obvious.
At Centre for Surgery, our Specialist Plastic Surgeons have a lot of training in working with the skin and in surgeries to make scars smaller. They know how to use different techniques like Z-plasty, W-plasty, adding fat, and others to take away or make your scars smaller. They can help to make your skin smooth and reshape it so it looks natural and as good as possible.
Why do Scars Form?
Scars appear as part of the way our skin heals itself after being hurt or damaged. This can happen in different ways like surgery, cuts that are done on purpose, accidental cuts, scrapes, or burns. These things usually lead to scarring in the tissue.
RELATED: Scar Revision Surgery FAQs
No matter how the skin gets damaged, when the top layer of the skin (called the epidermis) is broken, certain healing processes in the body get started. Special cells come together to fix the skin.
A particular kind of cells called fibroblasts play a big role in this. They create a protein called collagen and help make new cells, form blood vessels, and multiply cells to close up the wound. If the wound is not very deep and the sides of it are close together, it can be closed up with healthy skin cells (these are called squamous cells). When this happens, you usually can't see a scar.
But if the wound is really deep or the sides of it are far apart, then the fibroblasts will use collagen fibres to close it up, and this creates a scar. In the last part of the process of making a scar, the collagen gets smaller and tighter. This is what gives scars their pulled-together and odd-looking appearance.
Why have Scar Revision Surgery?
For many people, a tiny scar that's hard to see might not be an issue. Generally, scars heal in a normal way and just leave behind a thin line that might be a different colour from the surrounding skin. Given a bit of time, perhaps a few months, many of these small scars become less and less noticeable.
But there are times when scars can turn into a problem, especially if they don't heal and grow in the right way.
When a scar doesn't heal properly, it might become too big, or grow in an overextended way (these are often called keloid or hypertrophic scars), or simply not heal as it should. These scars might become more noticeable, or even affect the movement of the skin and underlying tissues.
In some cases, these problematic scars can lead to feelings of self-consciousness or discomfort. They might become a constant reminder of a past event or surgery, or they may just make a person feel less confident about their appearance.
Scar Revision Surgery, performed by expert plastic surgeons, is a way to address these concerns. The surgery can help reduce the appearance of the scar, smooth and reshape the skin, and even help restore the natural contour of the affected area. It's about more than just looks; it's about helping individuals feel more comfortable and confident in their skin.
The choice to have Scar Revision Surgery is a personal one and may depend on the individual's feelings about their scar, the location and type of scar, and their overall goals for appearance and well-being. It's something that can be discussed with a qualified medical professional to determine the best course of action.
Different Types of Scars – What sort of scar do you have?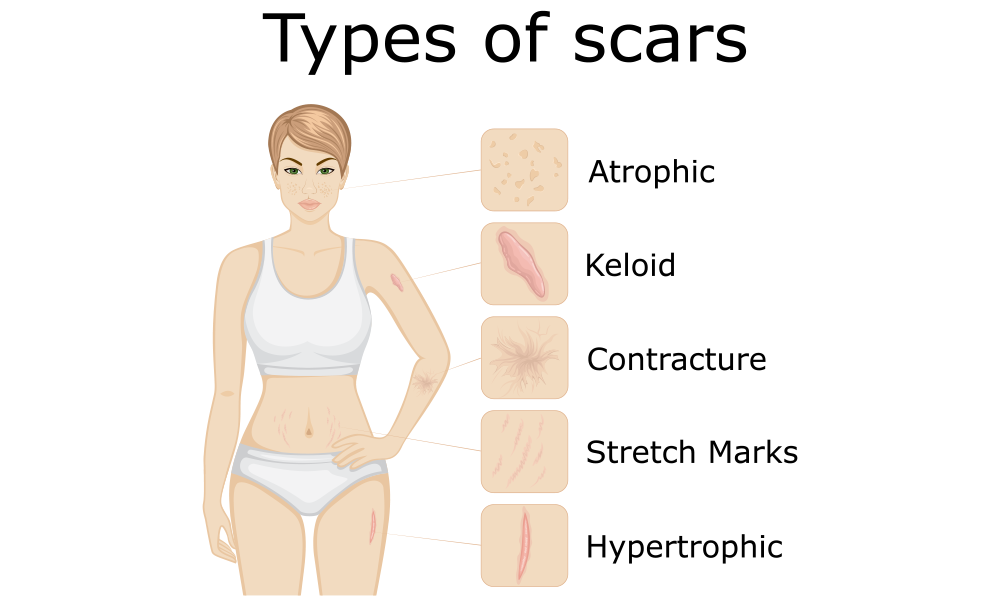 Problems with how wounds heal can create various types of scars. Here's a look at some of them:
What is it? Keloids are one of the more usual wound-healing problems. They are raised and grow too much. Instead of just covering the wound, the scar tissue bulges outwards, extending beyond the edges of the wound and rising above the skin.
Why does it happen? We're not exactly sure why keloid scars form, but when they do, they might change the way someone looks.
How is it treated? Treating keloid scars might involve surgery to remove them, injections of steroids into the scar, or using special silicone gel sheets. The way to remove the scar depends on how big it is and where it's located. There are many different ways that cosmetic surgery can treat keloids.
What is it? These are another type of scar that grows too much, but unlike keloids, they stay within the edges of the wound.
How is it treated? You can treat hypertrophic scars with silicone gel sheets, scar removal surgery, laser surgery, light therapy, or other ways that make the skin look better. The right kind of treatment depends on where the scar is and how big it is.
What is it? This type of scar often comes from burn injuries. Burn scars can destroy the outer layers of the skin, leading to too much collagen and the tissue pulling together too much.
Why is it a problem? Contracted scars can change the way you look (like with a facial scar) and can even make it hard to move joints (like in the knee, fingers, or elbow).
How is it treated? Reconstructive surgery and advanced techniques are usually needed to make these scars look and function better.
What is it? Acne can leave scars that don't look nice.
How is it treated? Different skin types need different treatments for acne scars. Options might include Morpheus8, laser resurfacing, dermal fillers, fat grafting, and creams you put on the skin.
RELATED: How To Get Rid of Acne Scars
Other Scars – Skin Graft Scars, Self-Harm Scars, Flat or Atrophic Scars
What are they? These are other types of scars that might need attention.
How are they treated? These scars can be treated and made to look better too. Get in touch with our team for advice on what to do.
Each type of scar is unique and may require different approaches to treatment. If you have a scar that bothers you, consult with our expert team who specialise in skin and scar care to understand the best treatment options for your particular situation. It may be possible to significantly improve or even completely remove the appearance of a scar through various medical and cosmetic procedures.
When Should You Have Scar Revision?
It's important to note that not every scar needs to be treated or removed.
You might want to think about having scar removal surgery if:
You Have Problems with How Wounds Heal: If you have specific types of scars like keloid scars, hypertrophic scars, or contractures (scars that pull the skin together), these might need treatment.
You Have Scars on Your Face: This includes things like acne scars or other facial wounds that might be affecting how you feel about your appearance.
You Have Scars in Sensitive or Private Areas: Scars in places like the lower abdomen or on the breasts might be particularly concerning for you, depending on their size and location.
Your Scars Are Affecting How You Move: If you have scars near or on your joints that limit how you can move, this might be a serious concern that needs addressing.
If any of these situations apply to you, scar reduction procedures might be the next sensible step. There are lots of different ways to treat scars, both with and without surgery.
Our skilled plastic surgeons are here to help you understand what might be best for your particular situation. They can explain the choices between surgical scar removal (cutting out the scar) and non-surgical treatments (methods that don't involve cutting).
Deciding to have scar revision is a personal choice and one that should be made after considering how you feel about your scars, talking to a surgeon at Centre for Surgery, and weighing up the benefits and possible risks. It can be a way to improve not just how you look, but how you feel about yourself, and even how your body functions in the case of scars that limit movement.
Scar Revision Surgery Techniques
Scar removal surgery is a complex process that requires a high level of skill and expertise. Here's a look at some of the techniques that surgeons might use to remove or improve a scar:
Elliptical Incision and Removal

Details: The surgeon marks an elliptical or oval shape around the scar and cuts along this marking, ensuring that the angles are gentle and the cut is smooth. After removing the scar tissue, the surgeon delicately stitches the wound, aligning the edges for minimal scarring.
Best for: Smaller and straight scars where the goal is to make them less noticeable.

Z-Plasty

Details: Involves three incisions that form a Z shape. The central incision is made along the scar line, with two diagonal incisions forming the top and bottom of the Z. This allows for rearranging of skin flaps to align the scar with natural skin tension lines. The new angles of the scar can reduce its visibility.
Best for: Scars that restrict movement or are very visible due to their orientation.

Multiple Z-Plasty

Details: When a scar is long or irregular, multiple Z-shaped incisions are made along the scar. This has the same benefits as single Z-plasty but can cover a larger area.
Best for: Long or winding scars that need careful alignment with natural skin lines.

Z-Plasty Variations

Details: These are specific modifications of the Z-plasty technique, tailored to the scar's unique shape and location. They may involve different angles or more flaps.
Best for: Specific scar shapes and areas that require customized approaches.

W-Plasty

Details: This technique involves cutting the scar into a series of peaks and valleys that form a 'W' shape. When stitched together, this breaks up the straight line of the scar, making it less noticeable.
Best for: Large, linear scars that need to be broken up to blend with the surrounding skin.

Geometric Broken Line Closure (GBLC)

Details: In GBLC, the incision is made in a jagged line, like shark teeth, breaking the scar's linear appearance. This irregularity can mimic natural skin texture and reduce visibility.
Best for: Scars that are straight and highly visible, especially in areas where the skin naturally has more texture.

Y-V or V-Y Advancement

Details: These techniques manipulate the scar's tension. V-Y advancement releases a contracted scar, while Y-V advancement tightens a loose scar, each reshaping the scar to make it less noticeable.
Best for: Contracted scars that have pulled the skin too tightly or loose scars that have lost their normal skin contour.

Skin Grafting

Details: In cases where a large scar must be removed and the wound cannot be closed, skin is taken from another part of the body (like the thigh) and grafted onto the wound. This is a complex procedure that requires careful matching of the skin type and careful handling to ensure the graft takes.
Best for: Very large or complicated scars where the natural skin can't close the wound on its own.
Choosing the right technique requires a deep understanding of the scar's type, location, and individual factors like skin type and personal preferences. The surgeon's expertise is crucial in selecting the right technique, as the success of the surgery often depends on the precision and skill with which it's performed.
After surgery, there may be a need for post-surgical care like massage, silicone gel sheeting, or other therapies to ensure optimal results. These care methods will be discussed with you by your surgeon to ensure that the scar heals well and blends with the surrounding skin as much as possible.
Non-Surgical Scar Treatments
Let's explore the non-surgical scar treatments in more detail, as available at Centre for Surgery:
Scar Creams and Ointments
Details: Special creams containing ingredients like silicone gel or vitamin E oil can help reduce pigmentation and improve the appearance of scars. These can be used post-surgery or for minor scars.
RELATED: Do Silicone Strips Help Cosmetic Surgery Scars Heal Better?
Best for: Minor scars and post-surgical care.
Duration of Results: Ongoing use may be needed for maintained results.
Chemical Peels
Details: A chemical solution is applied to the skin, causing it to exfoliate and eventually peel off, revealing smoother, less-pigmented skin underneath.
Best for: Superficial scars and pigmentation issues.
Duration of Results: Temporary to semi-permanent; may require multiple treatments.
Fat Grafting (Autologous Fat Transfer)
Details: Fat grafting involves taking fat from another part of the body using liposuction, purifying it, and injecting it into depressed scars. This fills in the scar, aligning it with the normal skin level.
Best for: Depressed acne scars and other sunken scars.
Duration of Results: Long-lasting but may require touch-ups.
Dermal Fillers
Details: Injectable dermal fillers like hyaluronic acid are used to fill in depressed scars. They elevate the base of the scar, blending it with the surrounding skin.
Best for: Small depressed scars, including acne scars.
Duration of Results: Temporary; requires periodic maintenance.
Injectable Steroids
Details: Steroids or other drugs are injected into hypertrophic and keloid scars to reduce their size and appearance.
Best for: Bulky hypertrophic and keloid scars.
Duration of Results: Varies; may require multiple treatments.
Dermabrasion
Details: A specialised device is used to scrape away the outermost skin layers, promoting the growth of new skin cells to replace the scarred area.
Best for: Small and superficial scars.
Duration of Results: Semi-permanent; may require follow-up treatments.
Scar Revision Before & After photos
Case 1: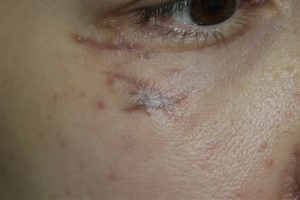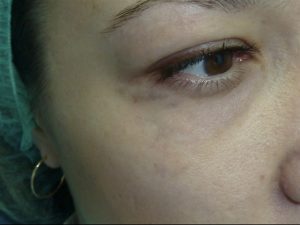 Case 2: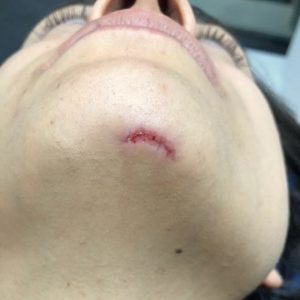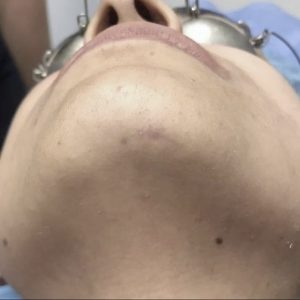 Case 3: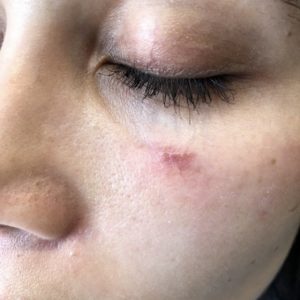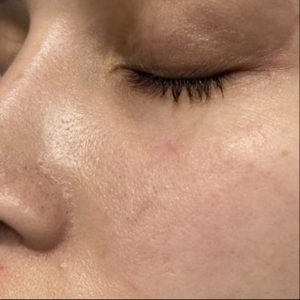 Case 4: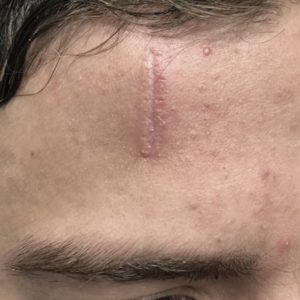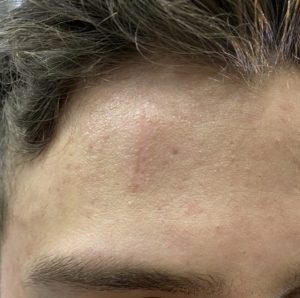 Case 5: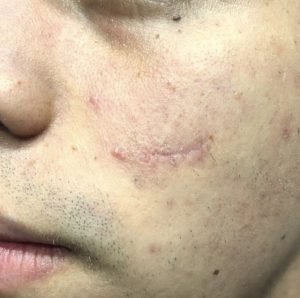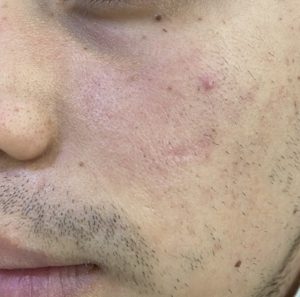 Case 6: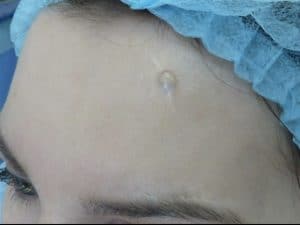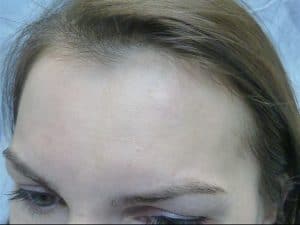 Case 7: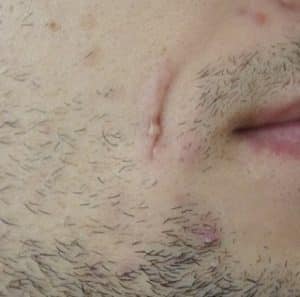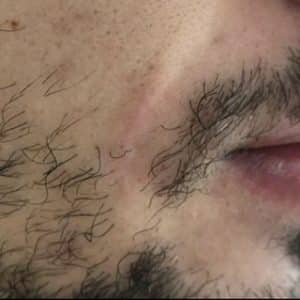 Case 8: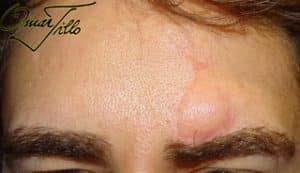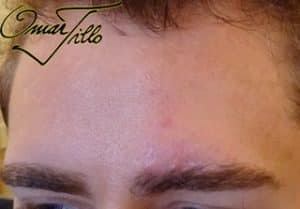 Case 9: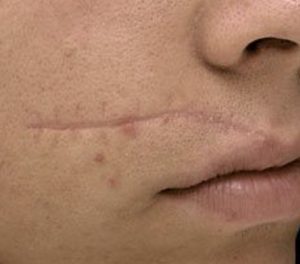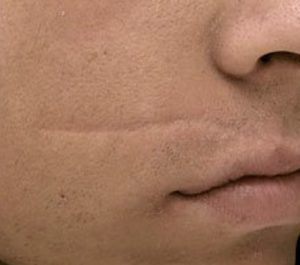 Case 10: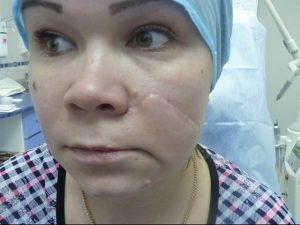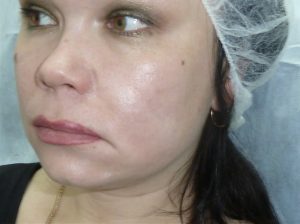 How much does Scar Revision Surgery cost in London?
Understanding the cost of scar revision surgery in London can be complex as every patient and scar is unique. Treatment procedures vary and are tailored to the individual's specific situation.
To get an idea of what your particular scar revision surgery might cost, you can reach out directly to the team. Call on 0207 993 4849 or fill in the contact form provided.
Funding Your Surgery
Don't let the cost deter you. There are various ways to fund your scar revision surgery, including multiple financing options and payment plans. You can learn more about these options on the Surgery Finance page of our website or by speaking with our team.
Private Health Insurance
You might be wondering if your private health insurance would cover the scar revision surgery. This can depend on a number of factors. If the scar is causing you physical limitations or medically proven excessive distress, you may be eligible for coverage. It's wise to consult with your insurance provider to understand the specific details of eligibility related to your plan.
Remember, we're here to assist and guide you through this process, so don't hesitate to reach out with any questions or concerns.
Scar Revision Surgery at Centre for Surgery
Scar Revision Surgery at Centre for Surgery – Restoring Beauty, Renewing Confidence
At Centre for Surgery, we understand that scars can be more than just visual reminders of the past; they can impact your self-esteem, your appearance, and even your daily life. That's why our world-class surgeons dedicate themselves to the art and science of scar revision, offering a range of advanced surgical and non-surgical options to help patients reclaim their natural beauty.
Personalised Care
Every scar has a story, and every patient has unique needs. Our team is committed to understanding your individual circumstances, goals, and concerns. From the first consultation to post-surgery follow-up, we create a personalised care plan that suits your specific situation. We will answer all your questions, explain the treatment options, and guide you through every step of the process.
Cutting-Edge Techniques
Scars come in various shapes and sizes, and so do our treatment options. Our skilled surgeons are trained in the latest techniques, including Elliptical incision, Z-plasty, W-plasty, Geometric broken line closure, and more. We also offer non-surgical treatments like fat grafting, dermal fillers, and chemical peels. Whatever your scar type, we have a solution to reduce its appearance or eliminate it entirely.
Expert Team
Our surgeons are not only technically skilled but also compassionate and understanding. They are experts in their field, with a wealth of experience in scar revision procedures. Their focus on patient safety, comfort, and satisfaction ensures that you're in the best hands.
State-of-the-Art Facilities
Located in the heart of London, our Baker Street facility is equipped with the latest technology, ensuring that we provide the highest standard of care. Our caring staff and serene environment make sure that your experience with us is as comfortable and stress-free as possible.
Flexible Financing
We believe that everyone deserves the chance to feel confident and beautiful. That's why we offer various financing options to help make scar revision surgery accessible to all. Whether it's through a payment plan or insurance coverage, we'll work with you to find a solution that fits your budget.
Contact Us Today
If a scar is holding you back, it's time to take the next step. Call us on 0207 993 4849 or fill in our contact form, and let's start the journey towards a more confident you. Trust in Centre for Surgery – where science meets art, and where patients find renewed confidence. Your new beginning starts here.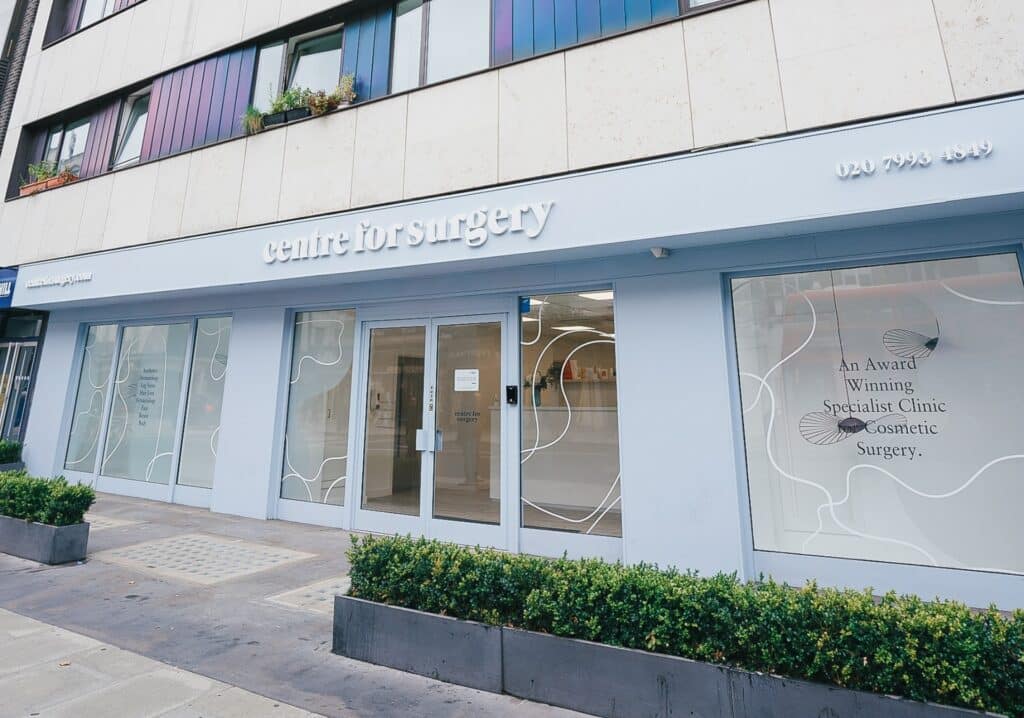 What To Expect
During Your First Consultation
When you come in for your very first meeting, the doctor will want to get to know more about you and your health. They'll have a good look at you and ask a lot of questions. It's like when you tell a story, but this time about your scar and how you feel. Here are some of the things they might ask:

Can you tell me the story of how you got this scar?
Has the look of the scar changed since you first got it?
What's making you think about getting rid of the scar now?
Does the scar ever make you feel sore or itchy?
In the past, have you had any scars that grew bigger and lumpier, like keloid or hypertrophic scars?
If you've had any tests or have taken pictures of your scar, it would be great if you can bring those along. Also, remember to bring a list of any tablets or medicine you're taking, so the doctor knows everything that might be important. This will help the doctor understand better and give you the best advice.
About the Scar Revision Surgery Procedure
Scar removal surgery doesn't mean you'll be staying in the hospital overnight. It's what's known as an outpatient procedure, so you'll be able to go home on the same day.

Here's a bit more about what you can expect:

Anaesthesia: Most of the time, the surgery is done under local anaesthesia, which means you'll be awake but won't feel any pain in the area where the surgery is being done. If the scar is especially big or in a difficult place to reach, the doctor might use general anaesthesia, which means you'll be asleep for the procedure.

Time for the Surgery: Scar revision surgery can be quick, taking as little as 20 minutes, or it might take quite a bit longer, like 2 hours or more. It depends on the size and complexity of the scar and where it's located on your body. If the doctor has to use a piece of skin from another part of your body (called skin grafting), then the surgery will take more time.

After the Surgery: Once the surgery is over, you'll spend a little time in a recovery area where the nurses will keep an eye on you. They want to make sure everything's okay before you head home. It's a good idea to have a friend or family member ready to help you get back home, as you might not be able to drive. Sometimes the doctors give you a medication to help you feel relaxed during the procedure, and this might make you a bit too drowsy to drive safely.

Going Home: When everything's been checked and the doctors are happy with how you're feeling, you'll be allowed to leave the hospital. It's not like staying over, but you still need to make sure you've got someone to help you home if needed. The surgery team will make sure you know what to do to look after yourself once you get home, and they'll tell you when you should come back for a check-up.

So all in all, the experience is designed to be as smooth as possible, with the aim of helping your scar look better without causing you too much fuss or inconvenience.
Recovery After Scar Revision Surgery
Recovering from scar revision surgery doesn't usually take too long. Here's a bit more detail about what you can expect:

Healing Time: The wounds from the surgery typically heal within 1 to 3 weeks. Exactly how long it takes depends on things like how big the scar was to start with and where on your body it was. Smaller scars in easier-to-reach places might heal more quickly.

Getting Back to Work: Most people can go back to work the day after the surgery. If it was a bigger procedure, you might need a bit more time off, but your doctor will give you guidance on that.

What to Expect as the Scar Heals: Once the wound itself has healed, you'll notice that the new scar will start to change over time. It might change colour, shape, and size. This process can take anywhere from 6 to 12 months before it's finished. This is just a normal part of the healing process.

How to Help the Healing Along: There are things you can do to help the scar heal as well as possible. Protecting it from the sun is a good idea, as is keeping the skin hydrated with a good moisturiser. Sometimes doctors prescribe specific medications to help with healing, too.

Keeping in Touch with Your Doctor: Your doctor will want to see you for follow-up appointments to check how everything's healing. They'll tell you when those appointments will be and what you need to do in the meantime.

Final Thoughts: Scar revision surgery is all about making a scar less noticeable, and the recovery is generally straightforward. Your doctor and their team will guide you through the process, letting you know what to expect and how to take care of yourself along the way.