Scar revision in London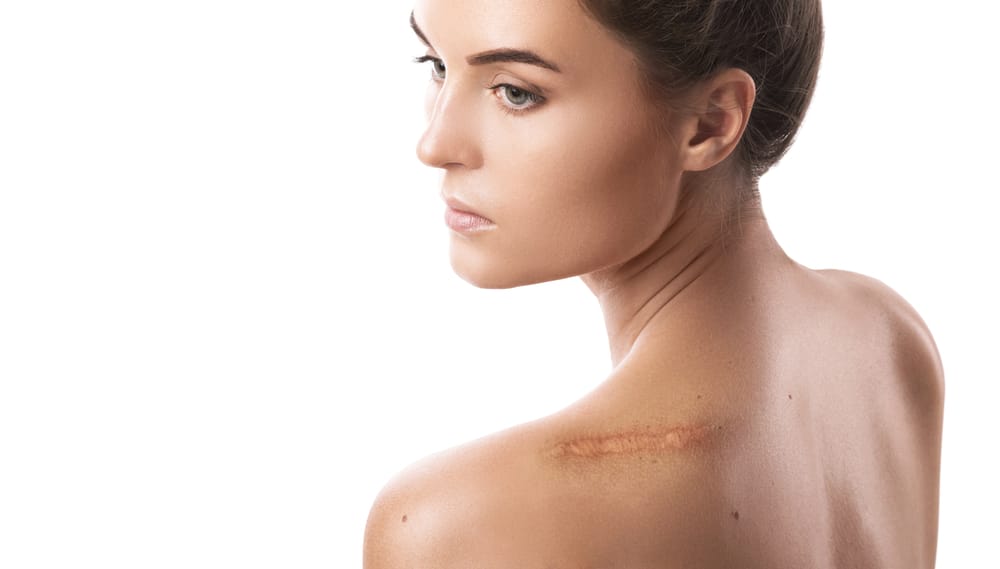 Scar revision procedures are designed to improve the overall appearance of a scar which results in it looking less obvious. Scars can have a major consequence on a patients' overall well-being, appearance, and satisfaction with a surgery especially when the scars are in sensitive places on the body or cannot be covered by clothes.Treatment of scars can be potentially life changing for a patient and relieve a painful burden, which patients may have been carrying for years. The increase in the number of cosmetic surgeries has resulted in the visual appearance of the final result of the surgery, growing in importance to both surgeons and patients.
Types of scar
Hypertrophic scars are thickened, often red and raised scars that can develop after traumatic wounds or arising from surgical incisions.
Keloid scars are also thick and extend well beyond the margins of the original scar. Keloid scars are most often found on the upper chest, shoulders, face and neck area in darker skin types.
Burn scars are scars that often restrict movement due to the development of scar contracture as a result of loss of skin.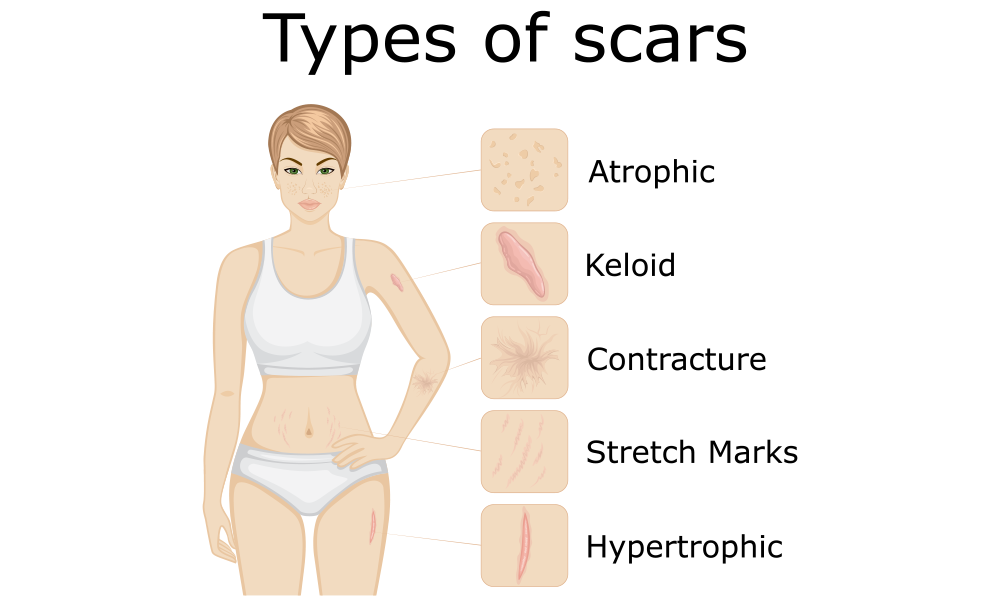 A key identifying feature of hypertrophic and keloid scars is that both types of scars are characterised by excess production of fibrous tissue, where there is excessive healing and wound repair. In hypertrophic and keloid scars, there is an absent or poorly functioning repair process that results in excess scar tissue production. Hypertrophic scars are those localised to the original wound parameters. Keloid scars are characterised by excess production of scar tissue, which grows as a tumour of scar tissue, exceeding the initial scar boundaries. This type of scar has a genetic predisposition in some individuals.
Scars of any type can have a profound effect on the mental and physical state of a patient. Many scars cause symptoms including pain and itchiness which can cause significant functional limitation. Scars in prominent areas can lead to a change in physical appearance which can have psychological implications. Scars on the face are known to be particularly distressing and can lead to a reduction in social contact with the outside world as a result. With all scar revision techniques, it is important to understand that surgically removing an old scar and then surgically closing the skin leads to another scar, though it is hoped that the new scar will be much more cosmetically acceptable.
Causes of scars
Surgery
Traumatic injury
Burns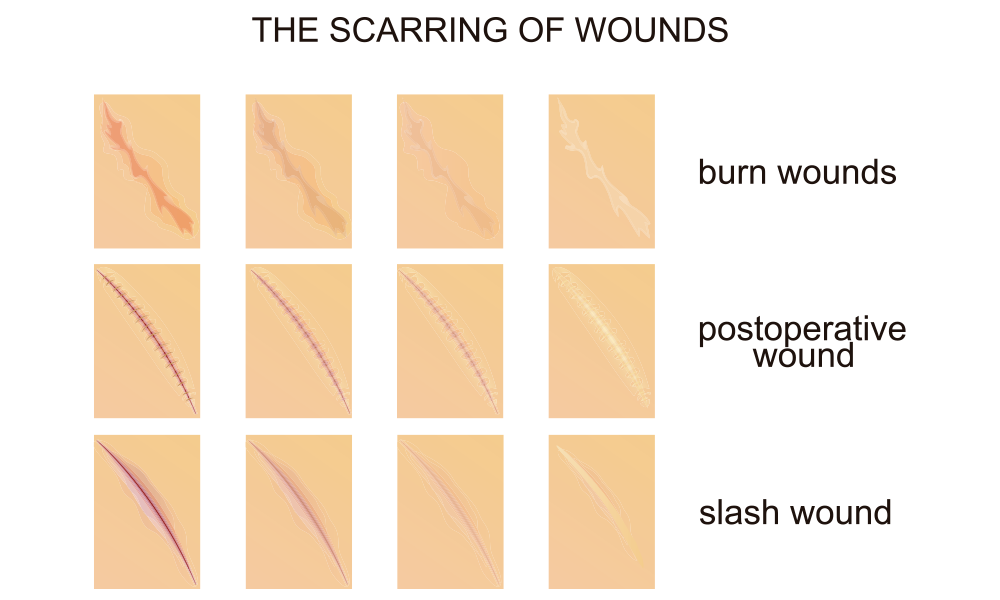 All our doctors are on the GMC specialist register. Our London dermatology clinic at 106 Crawford Street was recently inspected and rated as good across all 5 domains.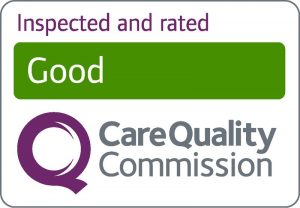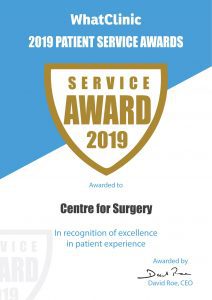 RealSelf Top Doctors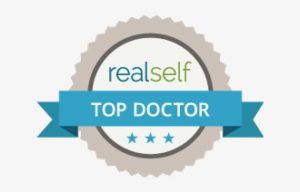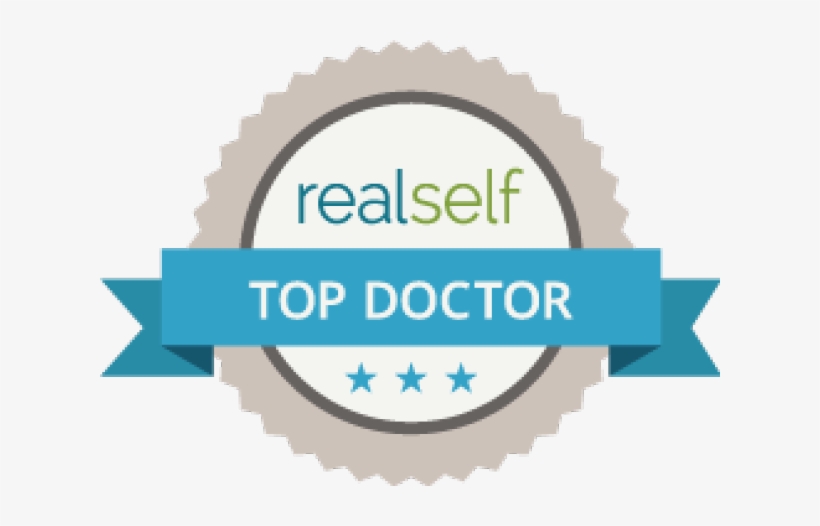 RealSelf top doctor status is awarded to less than 10% of the RealSelf doctor community.  This status is earned by achieving consistently high patient satisfaction (from RealSelf reviews), getting excellent feedback on expert answers to patient questions, and after investing significant time in Q&A and other doctor activity. RealSelf top doctors are rated among the very best surgeons in the United Kingdom and USA.
Type of scars
When the skin heals from a cut or trauma, it will result in a scar. Some areas of the body are more susceptible to scarring, with the middle of the chest and the top of the shoulders being some of the worst areas. Scarring will also be impacted by which direction it runs across the skin – scars within the lines of the skin often heal better than ones going across.
There are numerous types of scars which may occur on your body. Every type of scar will require different treatments.
Scar types include:
Post-traumatic scars: this will occur as the result of traumatic incidents including an accident, disease, or a previous surgery. This type of scar requires a surgical revision, where the tissue will be re-positioned. 
Burn scars: these scars may appear across a large section of skin. Scar removal will involve excising the scar tissue. Healthy, unscarred skin will be lifted and a new incision line will be formed. In cases where this is not an option, tissue expanders or skin grafts will be used.
Hypertrophic scars: these often have a thick texture which may negatively impact your self-confidence. Hypertrophic scars are treated by removing excess scar tissue and repositioning the scar, allowing it to be less visible.
Keloid scars: when skin overproduces collagen while healing, a keloid scar will form. This will make the scar look much larger than the original wound, and will be raised above the skin. Keloid scars are treated through the removal of the hard collagen within the scar, with the skin then being closed. After the scar revision, the site will need to be monitored in case the keloid returns. 
Atrophic scars: these scars are considered to be the opposite of hypertrophic scars. Atrophic scars will generally have an indentation and will lack soft-tissue substance. This type of scar can be treated with a surgical release as well as a fat transfer.
Ideal candidates for scar revision
Ideal candidates for scar revision include:
Those who have a scar that is at the same level as the surrounding skin and not raised
Those who have a scar that runs parallel to the body's natural skin creases
Those who have a similarly coloured scar as the surrounding skin
Have realistic expectations of what scar revision can achieve
Children should avoid having any scar revision procedure until they reach full adulthood. In children the skin is still actively growing and any scar in children will change over time. Patients with lighter skin types generally achieve better results than those with darker skin. Patients with darker skin have a tendency to develop hyperpigmentation with invasive scar treatments. Laser resurfacing for scar revision is not generally recommended in darker skin types for the same reason.
Scar revision can benefit any person whose life is being negatively impacted by their existing scar, either because of functional or aesthetic concerns. Factors such as age and skin type are usually not a concern, however, some skin types will be prone to worse scars than others.
You will be a suitable candidate for laser scar removal if you have a scar on your body which you wish to improve the appearance of.
You will have to be at least 18 years old to undergo scar revision. It is important to have realistic expectations about what the procedure can achieve. Scar revision will not completely remove the scar. It will, however, improve the aesthetic appearance of the scar and make the scar less noticeable. You will need to be a non-smoker, or be able to stop smoking at least two weeks before having treatment – read more here. You may also need to stop taking certain medications – read more here. Prior to undergoing treatment, you will have a consultation with one of our surgeons who will be able to assess the scar. In some instances, your scar may be better treated with non-surgical methods.
Benefits Of Scar Removal Surgery
This an effective and quick to perform surgical procedure
Scar removal surgery is easily performed under a local anaesthetic with no requirement for a general anaesthetic in most cases
Scars can be significantly reduced and even made barely visible in many cases
Scars causing pain or itchiness can be treated
Scar which impede movement of the joints can be treated to increase range of motion in the affected area
The successful treatment of scars can significantly improve psychological well being.
Laser scar removal removes the top layer of the skin, while also stimulating the production of new collagen, leaving you with newer, tighter and healthier tissue. For laser scar removal, Centre for Surgery uses Fotona's SP Line multi-application laser system.
There are many advantages to undergoing laser scar revision compared with surgical scar revision, including:
Reducing the appearance of the scar

Improved skin texture

Narrowed pores

Increase the volume of the skin

Skin resurfacing
Scar revision surgical techniques
Treatments for scar revision will vary depending on the type of scar. Most methods of scar revision are surgical in nature although non-invasive laser techniques are also very effective for certain types of scar. Well established surgical techniques include a Z-plasty, skin grafts, tissue flaps and tissue expansion techniques.
Z Plasty
A Z-plasty involves the surgical reorientation of scars to make them less obvious and also better positioned. Z-plasty is perfectly complemented by laser resurfacing or chemical peels to flatten the scar.
M-Plasty and W-Plasty
Both an M-plasty and a W-plasty are quite similar to one another but differ in the shapes and directional alignments to decrease scar visiblity. A W-plasty has more a zig-zag type configuration and is ideal for evening out tension on a scar. An M-plasty is primarily used for the end of a scar to prevent excess bunched up tissue forming also known as dog ears.
Linear Closure
For rounded scars, the linear closure method is ideal to make the scar straighter and hence less obvious. A portion of tissue is surgically removed and ellipitical scars are converted into convex scars which can then be converted into linear scars.
Skin Grafts
Skin grafts involve the surgical transfer of tissue  from one part of the body to another area. Skin grafting techniques can be used for scar revision through the transfer of healthy tissue and using it to cover cosmetically unappealing scarred areas. Skin grafting is often used for the more severe types of scarring.
Tissue Expansion
Tissue expansion techniques are ideal for areas where the overlying skin is too tight. A tissue expander can be surgically inserted beneath the scarred and tight area of skin before inflated to stretch out the overlying skin. By stretching out the scar, the appearance is markedly improved as the new stretched skin now covers the area where the scar was originally situated.
Hair Grafts
Hair is often unable to grow in areas of scarring due to disruption of the local blood vessels network. Scars that affect visible parts of the scalp and other visible areas can look very obvious to others. Hair follicles can transferred to the scarred area to make the scar less visible. The procedure of hair transplantation involves the harvest of hair follicles from an area of the body where the hair is able to regrow and surgically implanted in the area of the scar. Hair transplantation techniques for scars are ideal for flatter scars that are not raised from the surrounding skin.
Non-invasive techniques of scar revision
Chemical Peels
Chemical peels exert their action on the superficial layers of the skin by removing the epidermal layer to a variable depth depending on the strength of the peel Powerful chemical peels such as TCA peels are able to penetrate to the dermal layer when used in an appropriate strength. Deep peels are able to induce scar remodelling by stimulating the production of new collagen which results in the production of healthier looking skin in the region the scarred tissue. Stronger chemical peels carry a period of downtime and this is often about 2-3 weeks on average.
Laser techniques
Laser scar revision is done using Fotona's SP Line laser system, which involves dual-wavelength scar-revision therapy. The first wavelength is the Er:YAG wavelength, which is used for ablation of scar tissue and collagen remodelling. It also uses the Nd:YAG wavelength which improves the aesthetic appearance and tissue quality of the scar. This is a handheld device which precisely targets the scar, reducing its appearance. The laser will only target the area where the scar is and will leave the surrounding skin and tissue undamaged. Other non-surgical procedures will target the entire area, while laser revision allows for more control, resulting in precise and accurate treatment. You will start to see results immediately after treatment. However, you may need to undergo multiple treatments to achieve the desired results. This is performed as a day procedure, so you will be able to return home once the procedure is complete.
Scar revision recovery
Laser scar revision is a non-surgical procedure, so there is minimal recovery time.
You may notice some redness or swelling on the treated area, which should last around 24 hours. You may wish to place an ice pack on the area to help reduce any symptoms.
You may need to undergo multiple treatments to achieve the desired results.
Your recovery period will vary depending on the size and location of the scar.
You will be able to return home the same day as your procedure, once the effects of the anaesthetic have worn off.
After surgery, you may feel some pain and discomfort. This can be managed by taking pain medication. You may have to wear supportive dressing or garments after the procedure, however, this will depend on the size and location of the scar.
You should be able to resume work within one week. You will need to avoid strenuous activity and exercise for six weeks.
You will need to take care of the surgical area. You will need to avoid too much sun exposure, by either wearing clothes or using sunscreen.
Facial scar revision before and after
Case 1: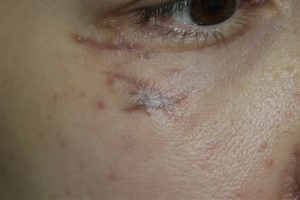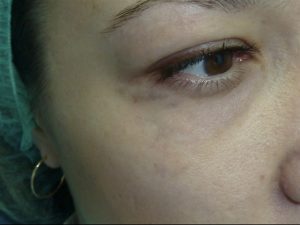 Case 2: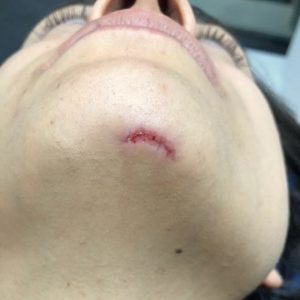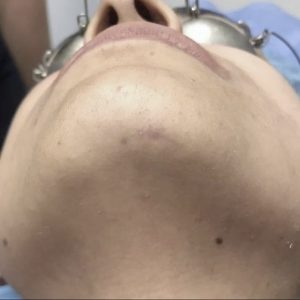 Case 3: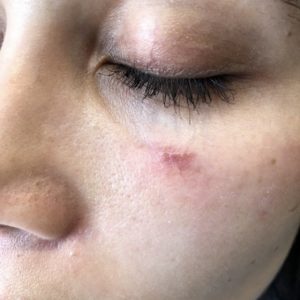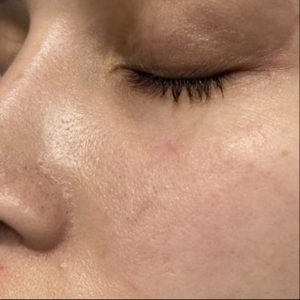 Case 4: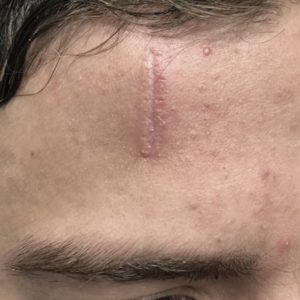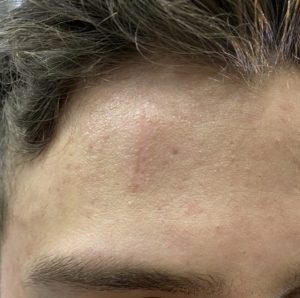 Case 5: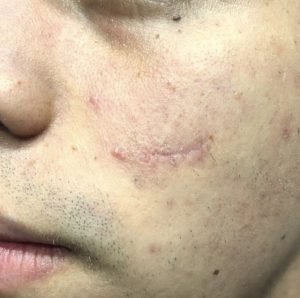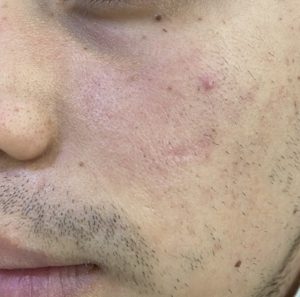 Case 6: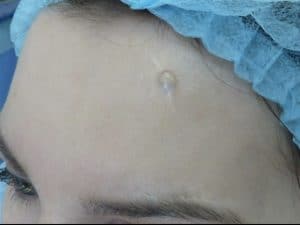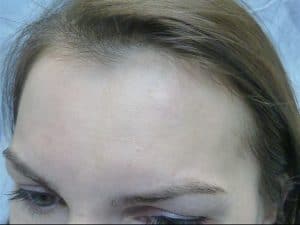 Case 7: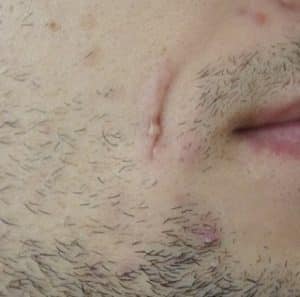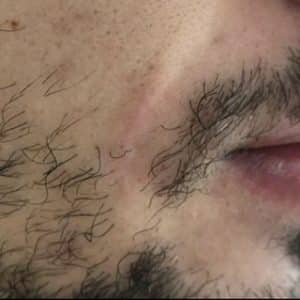 Case 8: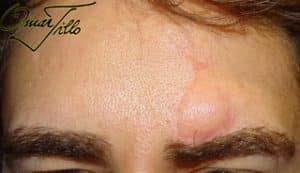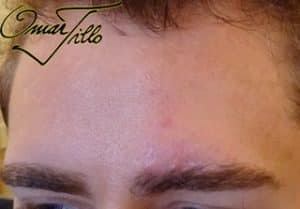 Case 9: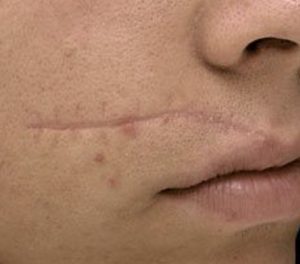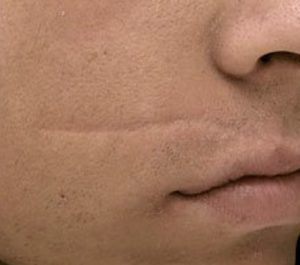 Case 10: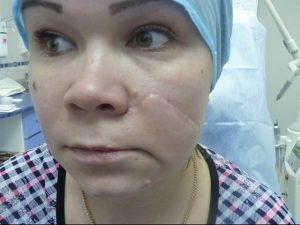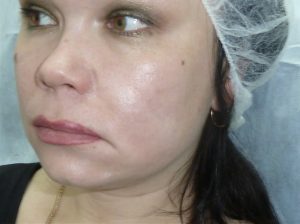 How to find us
Centre for Surgery is located at 106 Crawford Street in Marylebone. Crawford Street is just off Baker Street. We are easily accessible by all major bus routes that pass through Baker Street as well as Baker Street underground station.
From the tube station, we are just a 5 minute walk southwards down Baker Street followed by a right turn onto Crawford Street. The clinic is about 200 yards on the left.
There is ample local pay & display parking in the surrounding area and an NCP car park is located further west along Crawford Street. Our local residential parking zone is the City of Westminster.
Address: 106 Crawford Street, Marylebone, London, W1H 2HY