Acne scar removal in London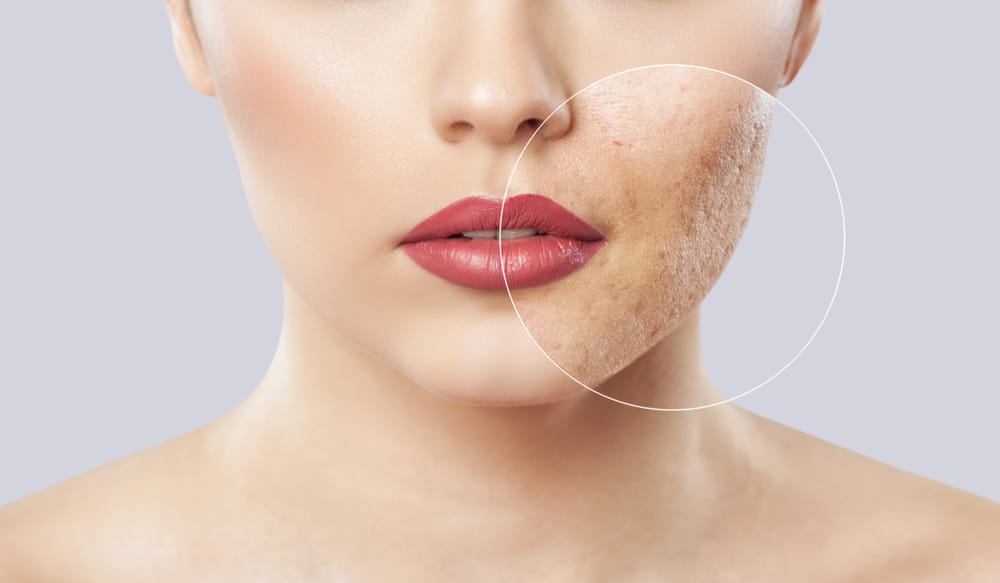 Acne has a prevalence of over 90% among adolescents and commonly persists into adulthood in approximately 12 to 14% of all cases. The face, back and chest are the most commonly affected areas and areas of inflammatory acne can lead to the development of permanent acne scars, the severity of which often depends on delays in treating acne patients. Nearly 1% of the UK general population have acne scars of varying severity. Severe acne scarring in particular, is associated with a significant impact on mental health and well-being and especially so in younger adolescents.
Centre for Surgery is recognised as a centre of excellence in the expert management of acne scar removal of all grades of severity. Our dermatologists teach and lecture widely to international doctors on the best techniques for acne scarring. Our dermatologists are expert in the use of laser resurfacing and Morpheus8 fractional RF microneedling for effective treatment of acne scarring and acne scar removal. At our specialist acne scar removal clinic in central London, our doctors have access to both fractional and fully ablative laser resurfacing often used in combination with manual methods to achieve the very best outcomes following acne scar treatment. Unlike other clinics we use only the most powerful surgical grade lasers including both erbium lasers and CO2 lasers. We are also an expert centre in the use of RF micro needling also known as Morpheus8 for the treatment of deeper and fibrotic types of acne scars resistant to other types of treatment.
The key to successful treatment of a difficult condition such as acne scarring consists of using only state of the art technology performed in a CQC approved medical environment by fully accredited and experienced dermatologists. Our dermatologists are expert in the use of high power surgical-grade lasers. These lasers are commonly found in only a handful of specialist NHS units across the country as they are very expensive devices often costing more than £100,000. These devices have the power to penetrate deeper than most aesthetic grade lasers commonly to be found in a local high street medispa. Our philosophy is to focus on results-driven treatment underpinned by the latest treatment protocols so that our patients get the very best outcomes.
In addition to laser resurfacing and RF micro needling, our dermatologists use a number of complimentary manual techniques to enhance the results of treatment including:
Subcision using the most advanced tumescent technique for full-field subcision
TCA CROSS also known as Chemical Reconstruction Of Skin Scars
Punch excision for deeper ice-pick scars
There are a very wide range of treatments for acne scarring not all of which are effective, particularly when carried out in an aesthetic medi-spa environment. It is important to only have treatment in a CQC-regulated specialist centre with access to the full range of techniques for the treatment of acne scars including both surgical, nonsurgical and laser techniques.
What are the different types of acne scars?
Acne scarring most commonly develops as a result of damage to the skin during the healing of active acne. The most common type of acne scars are referred to as atrophic acne scars and make up between 80 to 90% of all people with acne scars. Atrophic acne scars are characterised by a net loss of collagen. A minority of patients comprising around 10% of all acne scar sufferers have hypertrophic or keloid acne scars and these are characterised by a net gain in collagen.
Ice pick scar
Ice pick scars are the most challenging type of acne scars to treat effectively. This is due to the deep seated nature and narrow tracks which appear similar to very small column like punctures. This makes ice pick scars very difficult to adequately fill in or exfoliate effectively. Ice pick scars most commonly develop following severe cystic acne with a deep skin inflammatory component. Ice pick scars do not completely go away on their own although there are a number of effective treatments which can improve the appearance of these types of scars including TCA CROSS and punch excision techniques. Ice pick scars represent approximately 60 to 70% of all atrophic acne scars.
Boxcar scar
Boxcar scars are wider than ice pick scars and typically much shallower in depth and tend to have well-defined and almost vertical borders to them. Boxcar scars most commonly develop as a result of loss of collagen in the skin after an episode of inflammatory acne. Boxcar scars make up approximately 20 to 30% of all atrophic acne scars.
Rolling scar
Rolling scars have a wide and shallow sunken appearance and appear similar to boxcar scars. The differences lie in their edges and rolling scars have a much softer and irregular border which is more blended with the surrounding skin. Rolling scars most commonly develop from inadequately treated or untreated inflammatory acne episodes. These scars can be very difficult to treat effectively. Rolling scars comprise approximately 15 to 25% of atrophic traffic acne scars.
In practice the three different types of acne scars can often be seen in the same patient and it can be very difficult to differentiate between them.
Hypertrophic and keloid scars
Hypertrophic and keloid scars are associated with excess collagen production leading to scars that protrude above the surface of the skin. Hypertrophic scars are typically pink in colour, raised, and firm to the touch. The scar tissue remains within the borders of the original scar. The internal structure of hypertrophic scars is very similar to that of other types of typically observed scars such as after surgery or traumatic injury. In distinction, keloid scars form as reddish purple papules and nodules that extend beyond the borders of the original wound. The internal structure of keloid scars is characterised by a dense arrangement of collagen which is markedly different to hypertrophic scars. Hypertrophic and keloid scars are much more common in darker skinned people and occur most commonly in the trunk area.
Principles of treatment for acne scar removal
The foundation of acne scar removal treatment is based on prevention as the main step in avoiding the development of acne scars in the first place. Both genetic factors and the body's healing response to trauma are the main factors which influence the formation of a scar. There are many treatments currently available to reduce the appearance of acne scars. Firstly, it is very important to reduce as much as possible the duration and the intensity of the inflammation which characterises active acne. This is why it is very important to see a dermatologist early on in an acute episode of acne inflammation and especially for cystic acne. The use of topical retinoids is very effective in the prevention of acne scars and the use of silicone gel has proven effectiveness in the prevention of prominent scars including both hypertrophic scars and keloid scars.
Microneedling for acne scars
Microneedling is one of the most popular treatments for acne scars. Although it does have beneficial effects, it is only effective for very mild forms of acne scarring. This means patients need many sessions of microneedling treatments to achieve even modest results. The treatment works through the production of new collagen and the remodelling of existing collagen in depressed acne scars. The recovery time with microneedling is rapid with any redness usually lasting no more than 48 hours and patients can often return to normal activities the next day. For patients who are unable to tolerate up to 10 days of downtime which is common with a laser resurfacing procedure, then microneedling can be of benefit. It is a good way of improving acne scarring without disruption to normal activities. There are a number of devices on the market used for microneedling. At Centre for Surgery we use the SkinPen device which is the only FDA approved microneedling device available today. Skin pen is an electronic needle stamping device which involves the rapid reciprocating movement of needles to a depth of no more than 1.5 mm. Topical local anaesthetic cream is routinely applied prior to micro needling as the procedure can otherwise be uncomfortable. Older Techniques for micro needling include dermaroller and dermastamp devices. Although these older devices have mild skin rejuvenating affects, they are ineffective in the treatment of acne scars.
Chemical peels for acne scars
The use of chemical peels in the treatment of acne scars is a well established treatment. The most common treatment involves the application of a TCA chemical peel to the skin and this typically results in the outermost layers of the skin to be removed as a result of a controlled chemical burn taking place. As a result, acne scarring can be improved in one of two ways. The outermost layer of the skin surface undergoes remodelling through regeneration of the superficial dermis and epidermis. During the healing process an inflammatory cascade develops leading to an increase in the production of new collagen. The formation of new collagen is localised to the uppermost layers of the skin which is consistent with the superficial action of chemical peels in the treatment of acne scars. In most cases involving chemical peel treatment improvement is generally mild, however at Centre for Surgery our dermatologists are expert in the use of higher strength chemical peels typically involving 35% TCA for results that can exceed even multiple treatments of microneedling. Using TCA concentrations above 35% TCA can result in unpredictable outcomes such as scarring and is therefore avoided by most dermatologists. The downside of chemical peel treatment is similar to that of laser resurfacing in that the recovery time is typically between 7 to 10 days during which old skin is shed and newer healthy skin regenerates. When carried out properly, peeling with TCA can be one of the most satisfying procedures in acne scar treatment but it is not suitable for dark skin because of the high risk of hyperpigmentation.
Chemical peel treatment for acne scars has generally been replaced by more advanced laser resurfacing treatment as the benefits are greater with laser resurfacing but with a similar period of downtime. This has therefore given rise to chemical peels now becoming seen as an outdated form of treatment for acne scars.
Subcision for acne scarring
Subcision is a process whereby tethered collagen fibres that pull acne scars inwards beneath the skin are carefully transected using a specialist subcision probe. At Centre for Surgery, our dermatologists are part of a handful of UK acne scar specialists trained in the tumescent technique for full field subcision. At consultation, the severity of your acne scarring will be carefully assessed. If your dermatologist advises that succession may be an appropriate technique then this will be discussed with you in detail. Tumescent subcision is most appropriate for acne scars that are tethered to deeper layers below the skin. Subcision is used to release these tethered scars which then allows the depressed scars to elevate upwards thus reducing the dented appearance of the skin.
What are the risks of subcision for acne scarring?
Subcision using the tumescent technique is a safe procedure when performed by an expert dermatologist at Centre for Surgery in London. Despite this, there are a number of recognised risks which are rare and include:
Bleeding
Infection – your dermatologist will prescribe appropriate antibiotics for a period of seven days after the procedure to minimise the risk of infection. The development of infection is characterised by localised pain, swelling and warmth in the area treated by substation. You should urgently contact your dermatologist if you are developing clinical features of infection.
Nerve damage
Recovery after tumescent subcision
As part of the technique used for subcision, your dermatologist will inject tumescent anaesthesia into the face. This will lead to a significant degree of facial swelling which is entirely normal and helps to facilitate an effective subcision procedure. This swelling will gradually settle down over the course of 24 to 48 hours after the procedure. Initially facial movements may be restricted to begin with but will return to full function by the next morning. If you are still having difficulties in facial expressions then you must contact your dermatologist for an urgent review.
The following are key post-operative instructions to facilitate optimal healing after tumescent subcision:
Avoid getting any water onto the sterile wound dressings for at least 48 hours
Avoid any strenuous exercise for 72 hours after treatment
Avoid the use of aspirin and other anti-inflammatory medicines which include ibuprofen for at least 48 hours after the procedure
Avoid eating excessively hot foods and hot beverages for the first 24 hours after treatment
Try to avoid any pressure on the face and refrain from vigorous washing off the face for at least 48 hours after the procedure
TCA CROSS for ice-pick acne scars
TCA CROSS is a specialised technique used by our dermatologists in the treatment of ice pick acne scars. Ice pick scars are one of the most difficult types of acne scar to treat effectively. Often these types of scars may need surgical removal with a punch excision technique.
TCA CROSS involves the topical application of 90% trichloroacetic acid (TCA) using a very fine needle applied directly to the base of the ice pick scar. The application of this concentrated solution stimulates the production of new collagen and elastin with a resultant thickening of the underlying dermis. The desired effect is a reduction in width of the ice pick scars with an associated lifting of the tissue at the base of the scar. The treatment is very well tolerated and the time taken for treatment depends on the degree of acne scarring but is typically between 10 to 30 minutes. During treatment it is common to experience a mild burning or prickly sensation but it is not normally required to have a prior injection of local anaesthetic. After the treatment, the development of overlying skin crusting will occur and this lasts for about one week. Patients should avoid vigorous washing of the face for a minimum of 24 hours after TCA CROSS application and make up should be avoided for one week. It is common to experience persistent facial redness and this can last for up to 3 to 4 weeks. Generally redness can persist in between individual treatments and may only fully resolve until all sessions have been completed.
TCA CROSS before and after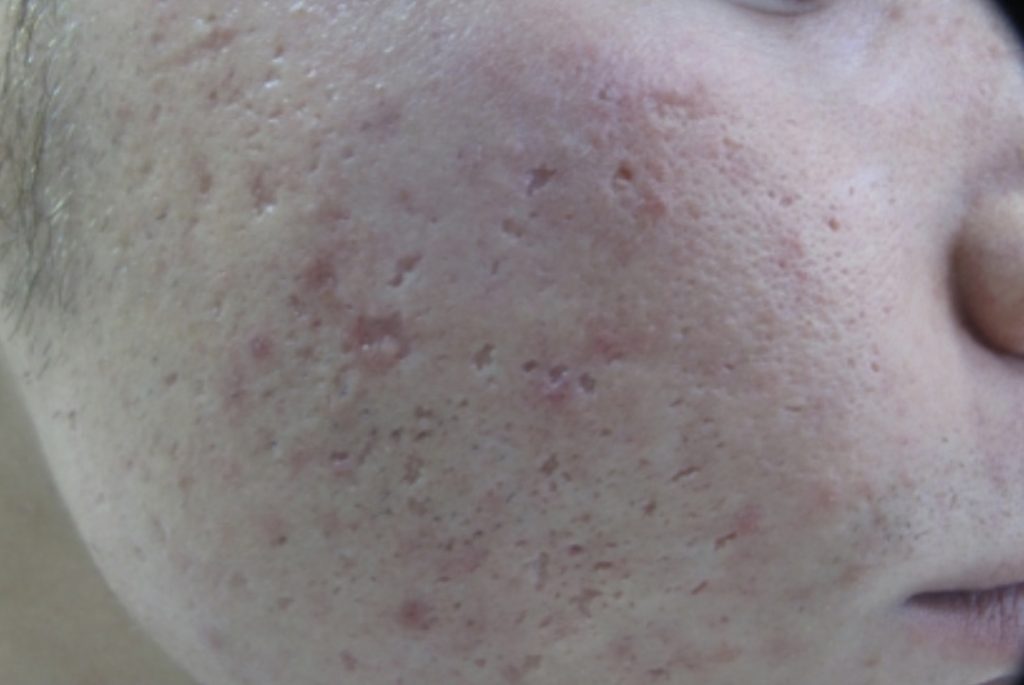 TCA CROSS requires a number of repeat treatments, often up to 6 treatments which should be carried out at four week intervals. The best approach to acne scarring as always, is to follow a multi-modality combined approach for best results. Once this treatment is complete, our dermatologist will then perform laser resurfacing using erbium laser for lighter skin types and radio-frequency microneedling using Morpheus8 for darker skin types for optimal treatment outcomes.
Punch excision
The technique of punch excision involves the surgical removal of an acne scar using a specialised punch biopsy instrument that has the same dimensions as the scar to be removed. After removal of the acne scar tissue, the resulting wound is closed often with a single suture. Punch excision is most commonly used for the treatment of deep ice pick scars but also less commonly for the treatment of boxcar scars with narrow dimensions and a deep component less than 3 mm. Punch excision is a one and done method of treating the difficult types of acne scars without the requirement for multiple repeated treatments.
Laser resurfacing for acne scar removal
Fractional laser resurfacing can be ablative or non-ablative and is commonly used to treat acne scars of a wide variety of types. Ablative fractional laser resurfacing with either Erbium YAG or CO2 laser is the gold standard in the treatment of acne scars and results in less tissue damage and swelling as well as a shorter recovery time compared with surgical techniques. The latest generation of fractional lasers used at Centre for Surgery combine fractional technology with the deep penetrative effect of ablative laser. Micro columns of laser energy are able to penetrate deep into the skin up to a maximum depth of 2.5 mm to stimulate remodelling of collagen fibres in the deeper dermis also known as the reticular dermis. There is a dual advantage of laser for acne scars including the stimulation of wound regeneration as well as the increased production of fibroblasts which lead to an increased collagen and elastin and hyaluronic acid. Ideal candidates for laser resurfacing should have no active herpes infection for at least six months prior to the procedure and do not have a history of excessive scarring such as hypertrophic or keloid scars. Laser resurfacing for acne scar removal is ideally suited to patients with lighter skin types as those with darker skin types have an increased risk of developing hyperpigmentation following laser treatment.
Morpheus8 fractional RF microneedling
Ablative lasers such as CO2 laser and erbium laser can lead to significant improvement with a success rate of 25 to 90% for treatment of acne scars but are associated with persistent redness of more than three months, hyperpigmentation and scarring. Non-ablative lasers such as erbium glass laser has a success rate of 40 to 50% after a series of treatments but is only effective for shallow boxcar scars and is unable to produce significant improvement in the epidermis.
Fractional radiofrequency microneedling using the Morpheus8 device been shown to be clinically effective in the treatment of acne scars without causing direct injury to the superficial epidermis. Morpheus8 works by applying radiofrequency energy to discrete thermal zones located in the reticular dermis. This leads to an increase in dermal thickness an increase in collagen and elastin and improved dermal remodelling in the long term.
Patients undergo three sessions of Morpheus8 with an interval of six weeks between each session as collagen remodelling will last around 4 to 6 weeks. Treatment is customised based on the predominant type of scar and scar depth. The treatment can be carried out comfortably under topical anaesthesia although deeper levels of treatment may require injections of local anaesthesia. Any mild discomfort after the procedure is easily controlled with paracetamol and NSAIDS. As with laser resurfacing, patients should avoid exposure to strong sunlight and apply topical skin protective agents.
Acne scar treatment before and after
Case 1: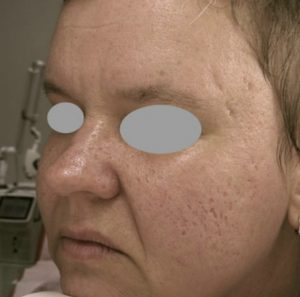 Case 2: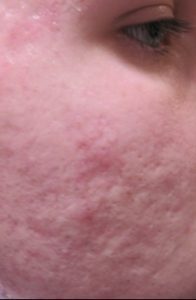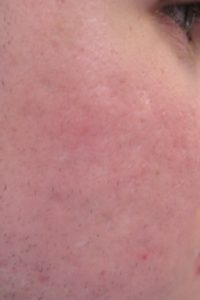 Case 3: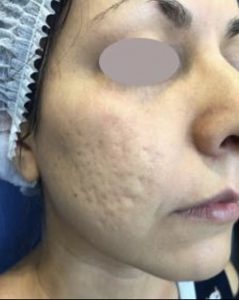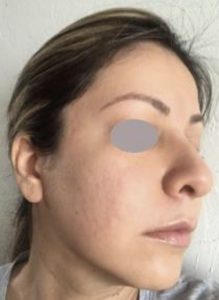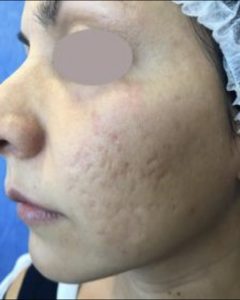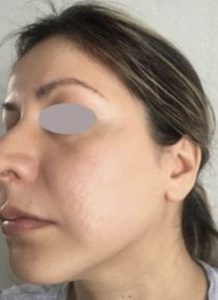 Case 4: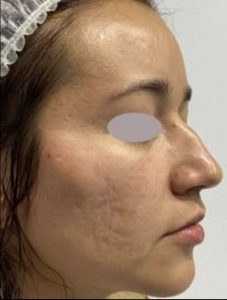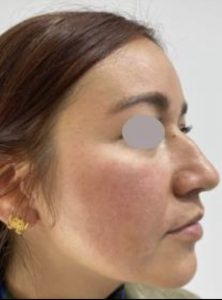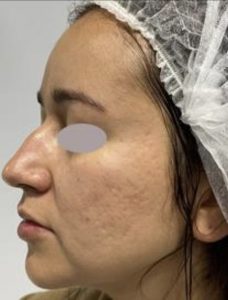 Complications of acne scar removal
Post-inflammatory hyperpigmentation
Post inflammatory hyperpigmentation is the most common side effect of laser resurfacing for acne scar removal. Fortunately in most cases it settles without any further treatment. The use of 4% hydroquinone cream can help to speed on its resolution. The duration of hyperpigmentation usually depends on the aggressiveness of the laser resurfacing treatment with more aggressive laser resurfacing resulting in hyperpigmentation of a longer duration. It is normal for PIH to last from anywhere from 3 to 4 weeks up to 6 months depending on the grade of hyperpigmentation. It is extremely important to avoid any sun light exposure after having laser resurfacing as this is the most common cause of the development of post inflammatory hyperpigmentation and this is particularly important in the first 3 to 4 weeks after treatment.
Hypopigmentation
Hyperpigmentation or lightning of the skin compared with surrounding normal skin is relatively rare and affects less than 1% of patients who have had laser resurfacing for acne scar treatment. It is usually much more common for patients to develop a lighter skin complexion as a result of the formation of new and healthier skin. The cause of this appearance is due to the formation of more highly structured collagen that more efficiently reflects light and this gives rise to the appearance of lighter skin.
Infection
Infection after laser resurfacing is a well recognised potential complication. The risk of infection is more likely to occur in CO2 laser treatment or erbium laser treatment and especially when performed using more aggressive settings. The occurrence of bacterial or fungal infection occurs in up to 5% of cases of laser resurfacing and viral infection can occur in up to 10% of all cases in the form off the cold sore virus. It is important to recognise any potential infection early so it can be treated much more effectively and without the risk of scarring developing. Your dermatologist will actively monitor you after treatment for this potential complication and where infection is suspected antibiotics will be prescribed. Most patients are prescribed antibiotic and antiviral prophylaxis as standard treatment to take after laser resurfacing and this helps to minimise the risk of infection.
Scarring
Scarring is rare after laser resurfacing treatment however the most common cause is infection that has not been recognised early on. This risk can be controlled by regular pro active monitoring by your dermatologist especially in the first week after treatment. Another potential cause is from the laser being used at excessively high settings leading to the formation of a thermal injury or laser burn. This cause is extremely unlikely in the hands of an expert laser dermatologist.
Prolonged redness
Prolonged redness is more of a side-effect that is to be expected rather than an actual complication which may or may not occur following laser treatment for acne scars. It is easily concealed with foundation and make up and always resolves fully. Some form of concealment can also be used in men. Although in general most men are less concerned about the facial redness compared with women. Facial redness varies in its duration and depends on the aggressiveness of the laser treatment that was performed for acne scar removal but generally CO2 laser treatment results in more facial redness compared with other laser treatments
Contact dermatitis
Contact dermatitis refers to an increased sensitivity of the skin that develops after laser resurfacing for the treatment of atrophied acne scars. In a small proportion of cases the symptoms can be severe in nature. Even with a mild skin irritant can lead to significant itchiness and a burning sensation which then results in prolonged facial redness and possible darkening of the skin or post inflammatory hyperpigmentation. Contact dermatitis after laser resurfacing is affectively treated with a topical steroid cream and will eventually settle down on its own. It is important to avoid everyday common precipitants of contact dermatitis by using cleansers that are perfume-free and your dermatologist will be able to advise you on the correct products to use on your skin after acne scar treatment.
What happens at my acne scar removal consultation at Centre for Surgery?
You will be booked in to see one of our expert acne scar dermatologists at Centre for Surgery (106 Crawford Street) in Marylebone for your consultation for acne scar treatment.
The dermatologist will perform a thorough clinical examination of your skin and will discuss a number of aspects with you:
– Treatment options based on the types of acne scars you have and what kind of results can be expected with the proposed treatment
– What the treatment involves including how often to take medicines prescribed after an in clinic treatment
– Review your medical history including any medicines you may be taking
– Answer your questions about any aspect of the acne scar treatment
Patient journey summary:
– Arrange a consultation at our dermatology clinic at 106 Crawford Street, Marylebone for a face to face consultation with an expert dermatologist
– Commence a treatment or course of treatments based on your needs and preferences
– Arrange a follow-up appointment if required to be seen by your dermatologist to review the effectiveness of treatment
How to find us
Centre for Surgery is located at 106 Crawford Street in Marylebone. Crawford Street is just off Baker Street. We are easily accessible by all major bus routes that pass through Baker Street as well as Baker Street underground station.
From the tube station, we are just a 5 minute walk southwards down Baker Street followed by a right turn onto Crawford Street. The clinic is about 200 yards on the left.
There is ample local pay & display parking in the surrounding area and an NCP car park is located further west along Crawford Street. Our local residential parking zone is the City of Westminster.
Address: 106 Crawford Street, Marylebone, London, W1H 2HY
[wpseo_map id="237″ width="800″ height="350″ zoom="15″ map_style="roadmap" scrollable="1″ draggable="1″ show_route="0″ show_state="1″ show_country="1″ show_url="1″ show_email="1″ default_show_infowindow="0″]