Chemical peels in London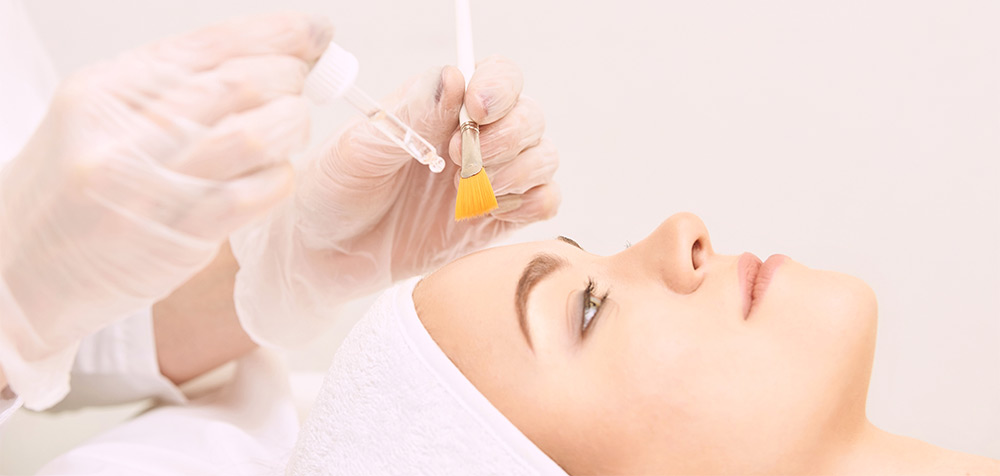 Chemical peels are an excellent option for skin resurfacing through targeted removal of the outer superficial layers of the skin through a controlled exfoliation process. The end result is the proliferation of newer skin to renew the outer damage layer. Chemical peels can create a youthful appearance of the face and neck. Chemical peels differ in their strength and subsequent ability to penetrate the deeper layers of the skin. Many common skin concerns can be addressed including fine lines and wrinkles, coarse skin texture, hyperpigmentation, chronic sun damage, and acne scarring. Chemical peels also increase the effectiveness of topical skin care products by removing the outer dead skin cells. This facilitates greater penetration of the skin care products. Chemical peels have been used for many years to create a fresher, youthful and more rejuvenated facial appearance. Chemical peels can complement facial injectables including Wrinkle relaxing injections and dermal fillers.
With the increasing popularity of laser skin resurfacing and Erbium laser over the past 20 years, the art of chemical peeling has diminished, however practitioners at Centre for Surgery in London have mastered the art of effective chemical peeling which is often a more affordable treatment compared with laser resurfacing. Ineffective chemical peels can lead to suboptimal results, as the surgeon must have s strong working knowledge on the type of solution, concentration, patient skin type, application technique, peri-procedural care, and repetition of treatment.
Expected results with chemical peels:
Skin rejuvenation
Treatment of acne scarring
Removal of hyperpigmentation and improvement in skin tone and texture
Treatment of pre-cancerous skin lesions including actinic keratosis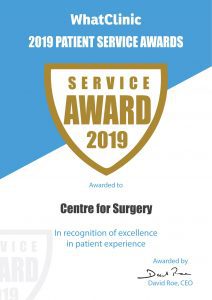 RealSelf Top Doctors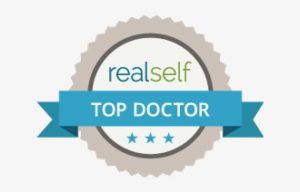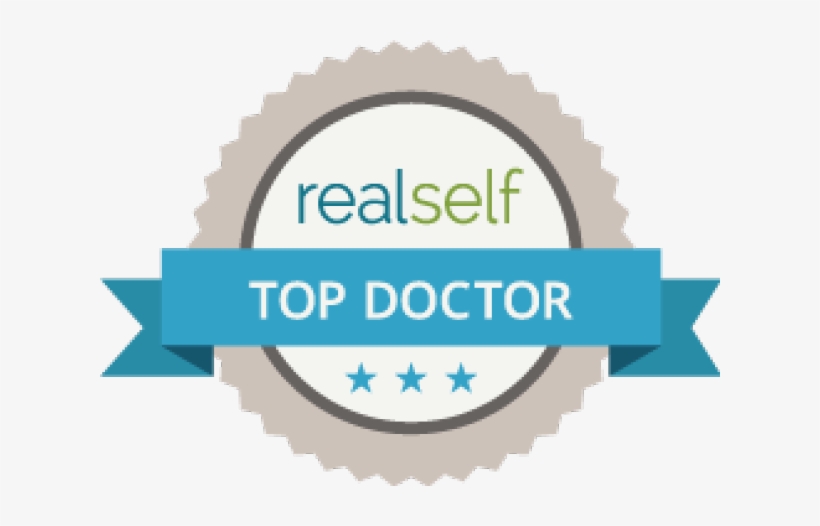 RealSelf top doctor status is awarded to less than 10% of the RealSelf doctor community.  This status is earned by achieving consistently high patient satisfaction (from RealSelf reviews), getting excellent feedback on expert answers to patient questions, and after investing significant time in Q&A and other doctor activity. RealSelf top doctors are rated among the very best surgeons in the United Kingdom and USA.
All our plastic surgeons are on the GMC specialist register. The Royal College of Surgeons of England has an excellent information resource on cosmetic surgery.
Our dermatology clinic at 106 Crawford Street was recently inspected and rated by the Care Quality Commission as good across all five domains of care.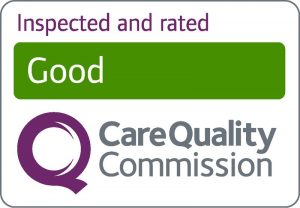 Domenico Betti
24/03/2021
Really wonderful experience, Jasmin the receptionist was very helpful and sweet she assisted me throughout my appointments, bookings and payment. The day of my surgery I was extremely nervous and very anxious, I was booked in for upper eyelid surgery ( Blepharoplasty ) First I was met with the lovely Gregory who I could not have asked for such a lovely kind person to be the Surgeons right hand man, he made me feel at ease straight away and as comfortable as possible. I then met my Surgeon Dr Ertan Erel who was also wonderful ( I had previously met him 2 weeks before for my consultation) I had a instant liking to him and felt comfortable with him performing the procedure on me. I had the treatment with Local anesthetic so I was fully awake and aware of what was going on, again I was extremely nervous and felt like I was having a small mini panic attack when we started but both Dr Ertan Erel and his assistant Gregory both made me feel at ease and as relaxed as they possibly could, we even had some 80s music on that helped to calm me down, Gregory was holding my hand the majority of the time and was having a chat with me that made me feel so relaxed, I could not have asked for 2 lovely men to have worked on me. Both the Surgeon and his assistant are as important as each other when you have a very nervous patient like myself. I have not had any complications since leaving the clinic and so far I am really so happy I can already see the amazing results. Dr Ertan returned my call back two days later to make sure everything was ok and how I was getting on ( that was very reassuring ) Very exited to get my stitches out in a few days. I could not give less than 5 stars so thank you very much. I will definitely be recommending. Verity.
Well where do I begin. So I am 6week post surgery and I couldn't be happier with my results. I done endless research on the procedure I wanted doing and where is best in England and Centre for surgery was the strongest contender and I felt super confident in the reviews and before and after photos they have online. So my journey started when I emailed centre for surgery for more information about liposuction and fat transfer with Dr Antonios Mitsakos. I then was contacted by Yasmin, she called me for a chat about what I'm after and to discuss options etc. She was incredible with getting my consultation and day of surgery booked as soon as she could and was on the end of the phone with any questions you had any time of day. As a first point of call Yasmin set a very high standard for the company and I was confident in my choice. I went for my consultation with Dr Antonios Mitsakos to discuss the procedure in much more depth, he went though all the risks, told me all the information I needed, we looked at my body to see if it's something he would be happy to do for me and went through all the aftercare I would need to do as well. We went through my medicals and talked about previous surgery I already had. He was so professional so informative that I literally wanted the surgery there and then. I left super happy and excited for my surgery date that was booked in. Before my surgery date I got phone call to go through all the paperwork and guidelines I had to follow and all the prep I needed to do before hand, I was told what garments were best to purchase and all the necessary bits I needed to by prior to the day. That support team were amazing and also answered any questions I had. So the day of my Surgery came and I was so calm but excited because I felt my care already had been great so I knew I was in safe hands. I had my nurse meet me to go through all medicals again, she helped me get prepared and dressed for the op and get everything ready. I then met my anaesthetist to also went through my medicals and asked all the relevant questions, gave me my pre meds and told me what he will be doing. I was super confident and he was very reassuring. Then Dr Antonios Mitsakos had my final chat before surgery checking everything through with me, confirming what he was going to do and where he was removing the unwanted fat and where he was going to transfer it too. He made me feel super comfortable and confident that I was in the right hands. I went into that theatre room a woman so unhappy with her body and when I woke up I was a new woman physically and mentally. Every single day for 2 weeks after my op I had a phone call to check in that I was doing ok and if I have any issues or concerns. The support team were absolutely amazing. I've just had my 6 week post op appointment with Dr Antonios, he again showed me my before photos and took new after photos and honestly the results are unreal. He has given me the body confidence I have never ever had and I can't thank him enough for his amazing skills and the transformation he has achieved. Thankyou so much to all of you that looked after me though out this whole procedure and a special Thankyou to Dr Antonios for changing my confidence, my body and my life. I'll be back again for more.
The service has been so far excellent and is highly recommended to anyone.
I recently had surgery here and would definitely recommend, from initial contact from Carolyn to the aftercare I received was exceptional, Carolyn was very helpful and informative and answered all my questions - even the silly ones late at night! Dr Tillo was very knowledgable, professional and welcoming at the same time and put me at ease about the procedure, it's still early but so far I'm pleased with the results
A simply fabulous experience with Dr Misra. Centre for Surgery was recommended to me by a close friend who had received excellent treatment. From the first call to the day of my procedure and beyond, the level of care has been exceptional. The aftercare phone calls really gave me peace of mind and I look forward to my follow up appointment with Dr Misra.
Everything has been great! From submitting the online enquiry form I received a call from Nikesh within about ten minutes discussing the procedure and how the process works. Got booked in for an initial telephone conversation and then in-person consultation with Dr Gilleard. The finance team had no issue with me making individual payments and Nikesh patiently answered my many questions and calls in the lead up to the surgery. Everyone on the actual day was very reassuring (I was quite nervous) and efficient. I was very pleased with how smoothly everything ran with the surgery and was even more straight forward then expected. Dr Gilleard also took a phone call later that evening when we had some questions about the anaesthetic. Gregory has phoned most days since the surgery to check in on my recovery and has been lovely. Highly recommend!
To say they change my life is an understatement. All the staff here are SOO down to earth and make you feel at ease! From check up calls to that first consultation, Lidia made sure everything was running smoothly for me!! The whole team is literally by your side all the way!! Going in to a procedure i was petrified, scared and everything else, i couldn't even bring my self to the consultation but Lidia made it her priority to ensure i was as comfortable as can be and that i was in safe hands! without her kind words i wouldn't have gone ahead with it all. Having really bad anxiety has always been a challenge for me but i can honestly say after my experience with Dr.Dimitriadi she basically educated me and gave me a whole different perspective on my procedure and that in-fact i was more then normal even if i didn't feel so myself! Something i've never had before! Her support was beyond belief, i couldn't thank Dr. Dimitriadi and everyone enough for making me feel so secure. Her team were brilliant i've never felt more confident and finally excited about my next chapter in life!! Safe hands is indeed the word for it!! I would highly recommend Centre for surgery as I truly believe no other practise would make this journey as professional and comforting as they did! Feeling extremely grateful and blessed to have had the most amazing team to give me a start on my dream life. I say that because with no exaggeration i have been dreaming for this day for as long as i can remember. Slowly but surly i'm going through the healing stages and i couldn't be more happier with my results!!!! Brings me tears of joy just writing this review. You guys are straight out the best!
Extremely happy and proud of the final result! From the beginning of the process to get rhinoplasty Yasmin made sure that all my questions were answered and that I never had to worry about something going wrong. The team is very good with communication and keeping you at ease. I highly recommend my surgeon Mr Amir Sadri! He did a fantastic job with my nose making it look better than we expected so soon post the surgery. He made sure that we had a detailed conversation about my expectations and what is possible and has exceeded in the work that he performed on my nose! My only concern throughout the whole process that I raised was that I felt like there was a bit of rush to wake me up post surgery, however once communicated it back to Mr Sadri he made sure that he'd advise the team to help with a calm waking up moving forwards. Thank you for helping me with what WAS my insecurity Patryk
Drooping heavy eye lids were making me look older and more tired than I felt. (Nothing more deflating when feeling sparkling and vibrant at a party, to be told you're looking tired!) Time for action. Blepharoplasty. Did my research, found Centre for Surgery, booked a consultation and met Mr Erel, a highly qualified surgeon. Any nervousness was dispelled immediately by his calm, friendly and professional guidance. The supporting team were great, special mention for Lea, and the whole process was straightforward. Two weeks in from the operation and I am thrilled with the results.(Should have done it sooner!) I thoroughly recommend them.
Meet our practitioners
Ida Bafende is a specialist aesthetic practitioner. She has over 17 years experience as a senior nurse Specialist in Dermatology at one of the major teaching hospitals in London. She has managed large teams of nurses, run nurse-led clinics and worked closely with all members of the Multidisciplinary team to ensure the best possible care is given to individual patients.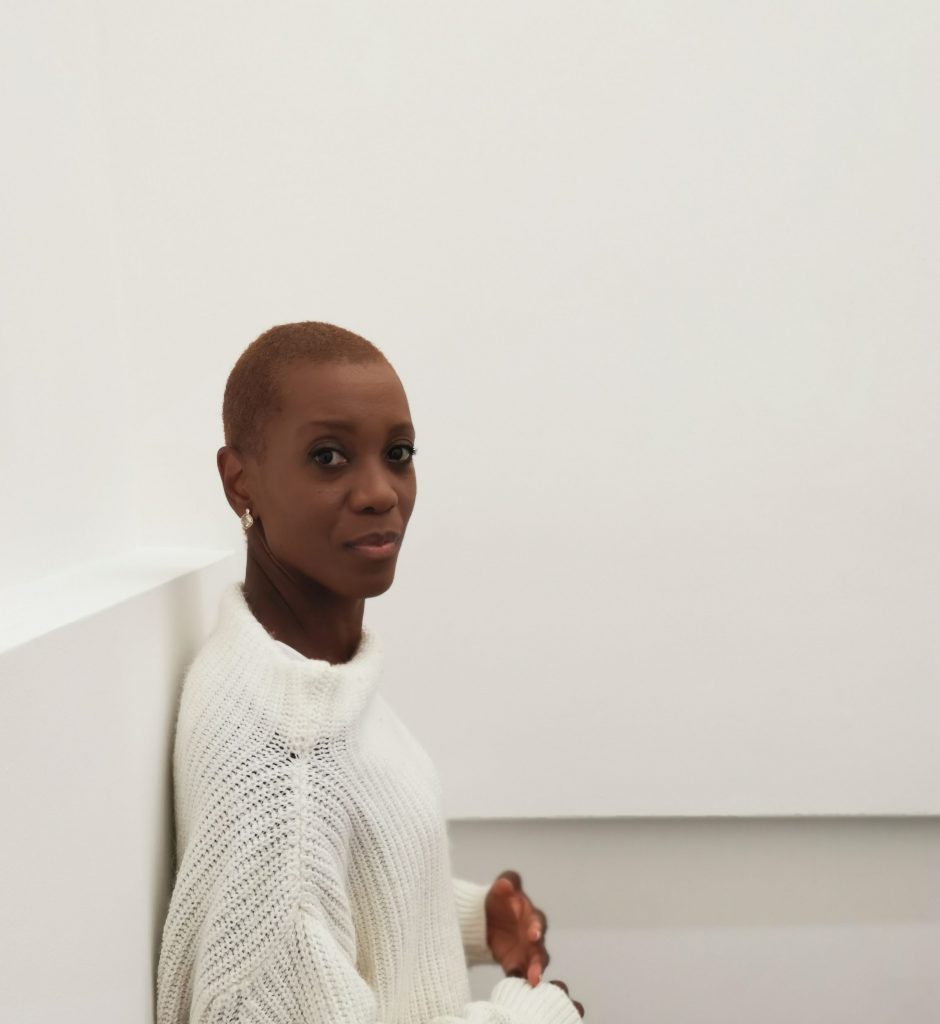 Ida is an expert in superficial chemical peels, anti-wrinkle injections, Fotona 4D, SmoothEye and LipLase and treats many hundreds of patients each year. Patients come to see her from all over London and further afield.
Structure and function of skin
The skin is the largest organ of the human body and covers its entire surface area. The total weight of skin averages just under 3kg in a 70kg male. On a daily basis, the skin is exposed to harsh conditions including sun damage. The skin possesses a number of adaptations which serve to protect the skin effectively against the daily 'skin stressors; of excessive heat, light, injury and radiation. In the skin, there are two main layers, the outer epidermis and the inner dermis. There is also a third layer beneath the dermis and this is the subcutaneous fat layer.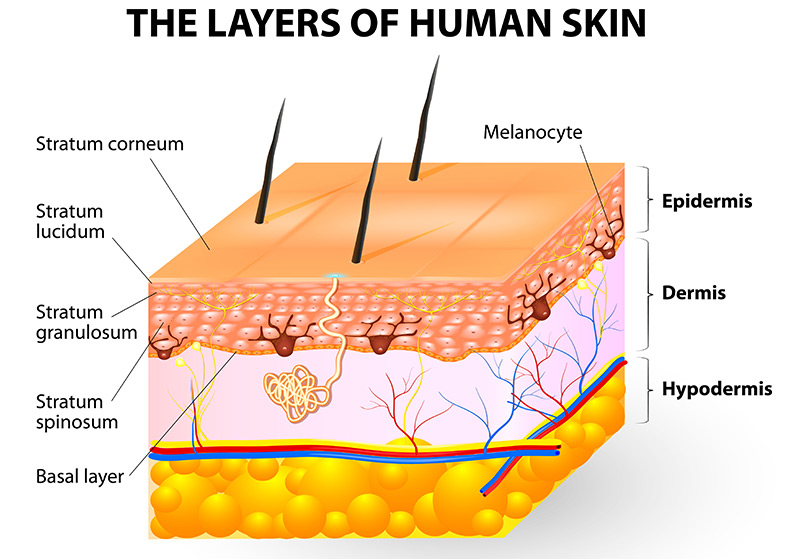 The Epidermis
The outer epidermis is the most superficial layer of the skin is made of a regular arrangement of skin cells of roughly 5-6 layers deep depending on the part of the body. The skin of the eyelid is exceptionally thin where as the skin of the sole of the foot can be a few millimetres thick.
The four constituent parts of the epidermis:
Stratum corneum: This is the flattened skin cell layer that is continuously being shed.  This layer completely renews itself approximately every 4 weeks.
Stratum granulosum: This is the transition layer between the new skin cells and the old, flattened skin cells at the stratum corneum.
Stratum spinosum: Newly formed skin cells are pushed up from the stratum basale into the stratum spinosum.
Stratum basale (basal layer): This is the deepest layer of the epidermis where new skin cells are produced which then start their migration upwards over time.
The Dermis
The inner dermis is situated beneath the epidermis and the dermis is the thickest component of the skin framework with a tough matrix of connective tissue. There are 2 components of the dermis:
Papillary dermis: This is the superficial portion of the dermis containing fine blood vessels called capillaries and free nerve endings. TCA chemical peels reach the papillary dermis.
Reticular dermis: This is the deeper portion of the dermis containing nerves, blood vessels and accessory glands such as hair follicles and sweat glands
Ideal candidates for chemical peels
A full consultation with the patient is undertaken to establish realistic goals and expectations as well as to educate the patient on important care instructions both before and after the procedure for optimum results. A careful history and physical examination allows the clinician to determine suitability for chemical peel treatment.
Chemical peels have great versatility and ideal candidates for chemical peels include:
Looking for an effective treatment for facial rejuvenation including fine lines and wrinkles and sun induced skin damage
Those with hyperpigmentation such as melasma, freckles, age spots and solar lentigo
Treatment for acne scarring
Seeking an improvement in skin scarring resulting from acne, traumatic injury or previous surgery
Treatment of pre-malignant skin conditions including actinic keratosis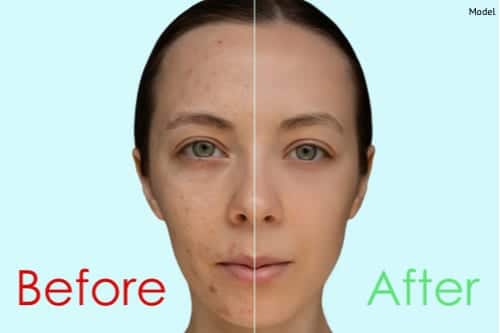 Types of chemical peels
Chemical peels come in several different varieties that are able to penetrate to different skin depths from superficial to deep depending on a patients goals for treatment. Your surgeon will determine the correct strength of chemical peel to use and this will be based upon a thorough analysis of your skin type and any other skin concerns to select the correct type of chemical peel for you. For the stronger chemical peels which penetrate to deeper levels, it is of vital importance to be seen by an experienced plastic surgeon or dermatologist as the potential risks and complications are higher. The milder chemical peels such as the glycolic peels and lactic acid peels can be safely performed by trained aesthetic practitioners.
Mild superficial peels
Superficial chemical peels are the least invasive type of chemical peel. Superficial peels are ideal for addressing mild photodamage, milder grades of acne scarring and for anti-aging effects. Superficial peels can remove the outermost layer of skin all the way to the deeper part of the epidermis based on the type of peel used.. Superficial peels do not penetrate to the level of the dermis. The two most common types of peels are the alpha hydroxy acid (AHA) peels which include glycolic acid and lactic acid and the beta hydroxy (BHA) peels. In addition, milder fruit peels are available which can be used to remove the most superficial layer of epidermis and this takes about 20 to 25 minutes. Superficial peels are performed by our aesthetic nurse practitioner.
Superficial chemical peels are most commonly used  on the face and neck area at regular intervals of 3-4 weeks to provide quick treatment effects. Superficial peels can also be used as a springboard to commencing a new skincare routine and can also be used to prime the skin in preparation for a later deeper chemical peel. If you have a busy routine with low tolerance for prolonged downtime then a superficial peel could be ideal with the excellent results with typically 5-7 days of downtime for most patients. Mild chemical peels are best for removing older and dead superficial skin cells and assist in the body's renewal of fresh skin cells without the typical side effects associated with more stronger peels such as redness, flaking, frosting and a degree of discomfort for a few days.
Medium strength peels
Trichloroacetic acid (TCA) is a versatile agent and is very effective in treating a wide variety of facial lines and wrinkles at varying concentrations. TCA is most commonly used at a 30% concentration to achieve a medium-depth peel into the upper part of the dermis. There are a number of factors other than the concentration of TCA that contribute to the depth of peel obtained such as skin preparation, the use of pre-conditioning protocol, and method of application. The depth of peel can be determined clinically based on the colour of the frosting. TCA peels often lead to a pinkish or white frosting that heals in approximately 5 days. Deeper peels lead to a solid white frosting that takes longer to settle. The addition of Jessner's solution before TCA peel application leads to partial removal of the epidermis, allowing for deeper penetration of the TCA. This combination is beneficial, as lower concentrations of TCA can be used for the same depth of peel, which helps to minimise complications such as scarring.
Treatment effects from medium strength chemical peels can also be enhanced by prior treatment with a superficial chemical peel. TCA peels are the most common type of medium strength peel and are ideal for patients who want more impressive results than can be achieved with a superficial peel but are not able to tolerate the increased risks, potential complications and longer downtime associated with a deep chemical peel.TCA peels can be used up to four times in a year and the downtime is about 10-14 days on average for most patients. Medium strength TCA peels are performed by one of our expert dermatologists or plastic surgeons.
3 step Centre for Surgery protocol for safe TCA peeling:
Application of superficial peel such as a glycolic acid peel
Pre-procedure priming for 4 weeks with prescription strength skin care products including 4% hydroxyquinone, tretinoin, sunscreen and antioxidants
Addition of Jessner's solution immediately before application of TCA peel
Deep chemical peels
Deep chemical peels are the most powerful and aggressive types of chemical peel available for significant skin exfoliation which is able to reach the deepest part of the reticular dermis. With their ability to reach the reticular dermis, they are able to address even the most severest skin wrinkles and photo-damage and have powerful effects against hyperpigmentation changes.
The most common deep chemical peel is the phenol chemical peel. Deep peels can also be composed of high strength TCA at concentrations of 60% and above. The traditional phenol peel previously used was based on the Baker-Gordon formula but this was then replaced by phenol mixed in with croton oil and the high strength TCA peels.
Deep chemical peels exert their effects deeper down in the skin and are therefore able to remove severe wrinkles, severe photodamage, age spots, facial scars and premalignant skin conditions including actinic keratosis. Surgical procedures like a facelift cannot change the quality of the skin and this is where chemical peels can be useful. Deep chemical peel results can last for many years but the treatment can be used only once. As with medium strength peels, patients would benefit from pre-treatment with a more superfical peel to enhance the treatment effects.
Centre for Surgery position on deep chemical peels
Whilst deep chemical peels with phenol can achieve very impressive skin rejuvenation effects. We believe the risks and potential complications from deep chemical peels significantly outweigh their beneficial effects. There are now more controlled methods of ablating the skin with less risk and downtime. An example is our significant expertise in laser resurfacing using the Er:YAG laser. Our practitioners regularly use Er:YAG laser resurfacing in fully ablative mode to achieve results that match and even exceed results from deep chemical peels with far less risk and complications. Laser resurfacing is much more precise in being able to target specific a skin depth. Our latest generation Er:YAG laser by Fotona is also fully tunable to balance ablation and thermal effects on the tissue. Deep chemical peels are largely uncontrolled in the level of skin depths which they penetrate even in the hands of highly skilled operators. Deep chemical peels are avoided in patients with heart conditions as they been shown to increase the risk of heart failure.
What is frosting?
After the application of a chemical peel, a chemical reaction with the skin then occurs which results in the appearance of whitish frost-like substance on the skin. Frosting occurs due to suppression of the melanocytes in the skin. Frosting results in a slightly higher risk of a skin burn or the development of hyperpigmentation in the post-procedure period. With patients with darker skin types, the risk of hyperpigmentation is higher depending on the strength of the peel used. Higher strength chemical peels should be avoid in those with darker skin types as the risk of potential scarring and hyperpigmentation is higher.
After treatment, all patients should apply topical tretinoin cream every day for four weeks to facilitate the skin peeling process and encourage the development of new fresher skin. Tretinoin will also help the peel to penetrate deeper thus giving an improved clinical effect.
Chemical peels cost
There are a number of a factors which will impact on the final cost of your chemical peels procedure:
Type of chemical peel – superficial or medium peel
Combination treatments with facial injections
Why not call 0207 993 4849 and speak to one of our expert patient coordinators who may be able to give you a rough costing prior to chemical peels.
Always remember that price should never be the determining factor when it comes to choosing your provider. We feel that safety and quality of service should be your number one priority and instilling in you the confidence that our team will look after you before, during and after your procedure to the best of their ability.
Preparation for chemical peels
At Centre for Surgery, we believe the success of all cosmetic procedures can be improved with proper patient preparation. We go above and beyond to make sure that all our patients are medically, emotionally, and physically ready for a procedure.
Our surgeons preference is to pre-treat all patients for 4–6 weeks before TCA chemical peeling. This regimen includes topical tretinoin (0.05%–0.1%), hydroquinone (2%–4%), sunscreen with SPF greater than 30, and alpha hydroxy acid (4%–10%). The pretreatment protocol improves skin tolerance, regulates fibroblast and melanocyte function, improves dermal circulation, and allows for the treated skin to heal 3–4 days faster due to increased cellular division and new collagen formation. Modifications to this pre-procedure regimen (dosages and application intervals) are made as needed based on tolerance and skin types. A week before the chemical peel, patients are started on a cleansing and toning protocol and encouraged to maintain adequate hydration and regular moisturising of the skin. Antiviral prophylaxis with Acyclovir is started 2 days before the chemical peel and continued for 5 days after the peel in patients with a prior history of herpes virus.
Recovery after chemical peels
Once the peel is complete a thin layer of mupirocin ointment is applied to the treated areas. The patients are instructed not to moisturise the area, as this will impair desired skin sloughing. Typically, 7–10 days are needed for skin to slough and renew itself. Dermal regeneration takes up to 6 weeks. Patient may wash their faces daily without scrubbing for the first 3 days. Patients are instructed to pat dry the area with a soft towel. Cold compresses can be used to minimise discomfort and paracetamol or ibuprofen may be used as needed. All patients are given 24 hours of prophylactic antibiotics. Once the skin regenerates after 7-10 days then the the pre-procedure regimen discussed above is restarted.
Risks and potential complications of chemical peels
Chemical peels are a safe procedure when performed by appropriately trained practitioners. At Centre for Surgery, risks are minimised by meticulous patient selection and thorough pre-procedure preparation. It is very important to undertake skin preconditioning with tretinoin, hydroxyquinone, sunscreen and alpha hydroxy acids to reduce risks and enhance treatment efficacy.
Who is not suitable for a chemical peel?
Pregnancy
Breastfeeding
Active skin infection
Open wounds
Inflammatory skin conditions
Drugs with photosensitivity side effects
Potential risks of superficial chemical peels
Excessive burning
Persistent redness
Post inflammatory hyperpigmentation
Persistent itchiness
Risks of medium strength chemical peels
Post-inflammatory hyperpigmentation
Infection
Facial scarring
Persistent redness
Herpes virus reactivation
Post-procedure milia
Acne breakouts
The Centre for Surgery approach to aftercare
Our aftercare programme was recently described as 'outstanding' by our regulator, the Care Quality Commission. 
Our postoperative support team phone all our patients the day after their chemical peel procedure and then every other day thereafter for the first two weeks. The proactive nature of our postoperative support gives every patient the best opportunity for a smooth post-procedure recovery free of complications. In many cases if complications were to occur, their impact is markedly lessened by early detection, prompt clinical assessment and correct treatment. Where a patient expresses concern to our team over the phone, then we often call patients in the same day for assessment with one of our expert nursing team. Even if there is no significant issue, the careful explanation and calm reassurance provided by our team can help to alleviate any worries you may have experienced.
How to find us
Centre for Surgery is located at 106 Crawford Street in Marylebone. Crawford Street is just off Baker Street.
We are easily accessible by all major bus routes that pass through Baker Street as well as Baker Street underground station.
From the tube station, we are just a 5 minute walk southwards down Baker Street followed by a right turn onto Crawford Street. The clinic is about 200 yards on the left.
There is ample local pay & display parking in the surrounding area and an NCP car park is located further west along Crawford Street. Our local residential parking zone is the City of Westminster.
Address: 106 Crawford Street, Marylebone, London, W1H 2HY