Filler Dissolving Hyalase treatment by Centre for Surgery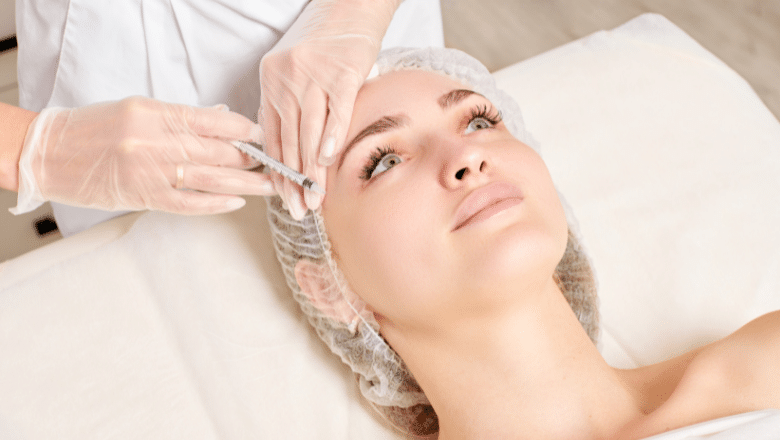 Misplacement of dermal fillers or incorrect injection locations can lead to undesired complications. However, these issues can be rectified effectively with filler dissolving treatments.
Should you encounter complications resulting from dermal filler treatments, Centre for Surgery is available to assist you. Our team comprises highly skilled specialist plastic surgeons, who frequently carry out filler dissolving treatments along with a range of other non-invasive procedures. We are located in our modern clinic on Baker Street in London, where we deliver top-tier aesthetic care.
What is Hyalase?
Hyalase is a formulation containing the active component, hyaluronidase enzyme, which has the capability to break down hyaluronic acid fillers. It typically takes around two weeks to see the optimal results, and the procedure may need to be repeated for the desired effect. Post-treatment, some individuals may experience minor side effects like redness, erythema, or a mild widening of blood vessels (vasodilation). Care must be taken while administering the Hyalase injection, as an improper dosage could potentially degrade an excessive amount of hyaluronic acid.
How Does the Hyalase Procedure Function?
When commencing a Hyalase treatment, the practitioner may initiate a skin patch test to check for any adverse reactions. To make the procedure more comfortable for the patient, a local anaesthetic may be applied. The Hyalase is then injected into the targeted areas where the dissolving of the filler is desired. Following the treatment, it's crucial to arrange a follow-up visit two weeks later to assess the dosage used and the resulting effects. At times, more dissolving treatment may be needed, and the procedure might need to be repeated. If this is the case, your practitioner will guide you through the next steps.
When do you need a filler dissolving treatment?
Undergoing a filler dissolving treatment becomes necessary when an initial dermal filler treatment has not produced the desired results or has led to undesirable side effects. This can be due to a variety of reasons, including the filler being misplaced, an excessive amount of filler being used, or an allergic reaction to the filler material.
Dermal fillers are a popular cosmetic treatment used to add volume, smooth wrinkles, and enhance facial contours. However, they are not without their potential issues. Some patients may experience lumps or unevenness in the skin, prolonged swelling or discomfort, or even more serious complications like vascular occlusion where the filler blocks a blood vessel. In some cases, patients may simply be unhappy with their aesthetic result, finding the changes to their facial features too drastic or not as expected.
In such instances, filler dissolving treatment is an effective solution. The procedure uses an enzyme known as hyaluronidase, which breaks down the hyaluronic acid-based filler, effectively dissolving it and allowing the body to naturally expel the product. This can restore the original appearance or prepare the area for a new, more precise filler application.
It's crucial to have a comprehensive consultation with a skilled practitioner before deciding on a filler dissolving treatment. They can assess your concerns, the condition of the filler, and the best course of action for your unique needs. This could be a full dissolution of the product or a partial correction to achieve a more pleasing aesthetic outcome.
As with any cosmetic procedure, it's crucial to seek the advice of an experienced professional. At Centre for Surgery, we provide thorough consultations and ensure you're informed of the potential risks and benefits before proceeding with a filler dissolving treatment.
Suitable candidates for Hyalase treatment
The ideal candidates for Hyalase treatment are those who have had a previous dermal filler treatment using hyaluronic acid and are unhappy with the results. This could be because they feel the result is asymmetrical, too excessive, or just not as they had envisaged.
Furthermore, people who are experiencing complications from a previous filler treatment, such as lumps, overfilling, or a vascular occlusion, can also greatly benefit from Hyalase treatment.
However, those who are pregnant or breastfeeding, have a known allergy to hyaluronidase or any other components of Hyalase, or have an active skin infection at the injection site, are not suitable candidates for the procedure.
It's essential that potential candidates have a detailed discussion with their practitioner to understand the implications and outcomes of the treatment, and to ensure it is the best course of action for them.
Common areas for treatment with Hyalase
Hyalase can be used to dissolve hyaluronic acid-based fillers in a variety of areas, including but not limited to:
Lips: If the fillers have resulted in excessively large lips or an asymmetrical appearance, Hyalase can be used to correct this.
Cheeks: Sometimes fillers can make cheeks appear over-filled or unnatural, and Hyalase can be utilised to bring back a more natural appearance.
Nasolabial folds: These are the lines from the nose to the mouth corners. If fillers have caused these areas to look too plump or uneven, Hyalase can be used to dissolve the fillers.
Tear troughs: This is the area beneath the eyes. If fillers have created a puffy or lumpy appearance under the eyes, Hyalase can help to dissolve the fillers and restore a more natural look.
Nose: Non-surgical rhinoplasty using fillers can sometimes result in an unsatisfactory outcome, and Hyalase can be used to reverse these effects.
What precautions should be taken before Hyalase treatment?
Before undergoing Hyalase treatment, it's important to take the following precautions:
Medication: You should inform your practitioner about all the medications, supplements, or herbal treatments you are currently taking. Some of these might increase the risk of bruising or bleeding at the injection site. If you're taking blood-thinning medications, you may be advised to stop them a few days before the treatment.
Allergies: It's essential to disclose any allergies, especially if you've had an allergic reaction to hyaluronidase or any other medicine in the past.
Infections: If you have an active skin infection or inflammation (like acne or cold sores) in the area where you're planning to have the treatment, you may need to postpone the treatment until it's healed.
Skin Care: You may be advised to avoid using certain skincare products, particularly those containing retinol or glycolic acid, a few days before the treatment.
Alcohol and Smoking: You should avoid alcohol and smoking at least 24 hours before the procedure as these can increase the risk of complications.
Hydration: Stay well-hydrated before the procedure. This can help promote healthy recovery.
What is the filler dissolving procedure with hyalase?
The filler dissolving procedure using hyalase, also known as hyaluronidase, is a relatively straightforward and quick process. Hyaluronidase is an enzyme that breaks down hyaluronic acid, which is the main component of most dermal fillers. When injected, it effectively dissolves the filler, returning the skin to its pre-filler state.
The procedure typically involves the following steps:
Consultation: During the initial consultation, the practitioner assesses the areas where filler needs to be dissolved. They will discuss your goals, the potential risks and benefits, and the expected results of the treatment.
Preparation: The skin is cleansed, and a numbing cream may be applied to ensure comfort during the treatment.
Injection: The hyaluronidase is mixed with a saline solution to create an injectable substance. It's then injected into the same areas where the original dermal filler was placed.
Dissolving: Once injected, the hyaluronidase quickly starts to dissolve the hyaluronic acid. Some patients may see results immediately, but typically it takes a few days for the full effects to be noticeable.
Post-treatment: The patient can usually return to their regular activities immediately, although some minor side effects such as redness, swelling, or tenderness may occur. These typically subside within a few days.
It's important to note that hyaluronidase only works on hyaluronic acid-based fillers. It won't dissolve fillers made of other materials. Additionally, while hyaluronidase is generally safe and well-tolerated, potential side effects and risks should be discussed with your practitioner during your consultation.
Aftercare instructions after Hyalase injections
injections. Here are some aftercare instructions to follow:
Avoid Touching the Treated Area: Try to minimise touching or rubbing the treated area for at least 6 hours after the treatment to prevent spreading the Hyalase to other areas.
Avoid Intense Heat: Saunas, hot tubs, or prolonged sun exposure should be avoided for at least two weeks post-treatment as they can exacerbate swelling or cause discomfort.
Stay Hydrated: Drink plenty of water post-procedure to help your body process the Hyalase.
Avoid Strenuous Exercise: It is advised to avoid heavy exercise for at least 24 hours after the treatment to minimise bruising and swelling.
Skin Care: You can resume your usual skincare routine the day after the procedure, but avoid using retinol or glycolic acid products for at least a week.
Avoid Alcohol and Smoking: Both can interfere with the healing process. It is recommended to avoid alcohol for at least 24 hours and quit smoking.
Follow-Up Appointment: Attend any scheduled follow-up appointments with your practitioner to check your progress and address any concerns you might have.
Results after filler dissolving treatment - what to expect
After undergoing filler dissolving treatment with Hyalase, you can expect a reduction or complete removal of the initial filler. The exact outcome will depend on how much filler was initially injected, the type of filler used, and the location of the treatment.
Immediately after the treatment, you might notice some swelling, redness, or tenderness at the injection site. These are common side effects and usually subside within a few days.
The hyalase starts to break down the hyaluronic acid filler immediately, but the results might not be visible right away due to the swelling. Generally, you can expect to see the final results within 1-2 weeks after the treatment. During this time, the filler will have dissolved and the swelling will have subsided, revealing the new contours of the treated area.
It's important to note that everyone's body responds differently to treatments, and individual results may vary. Some people might need more than one session to achieve their desired result. Always discuss your expectations with your doctor before the procedure to ensure you have a clear understanding of what the outcomes may be.
Remember, if you're unhappy with the results after the filler has been dissolved, you can discuss with your practitioner about having the area re-treated with dermal fillers. It's usually best to wait at least two weeks after the filler dissolving treatment before having more filler injected, to ensure all swelling has subsided and the Hyalase has fully taken effect.
Potential Complications after filler dissolving treatment
While filler dissolving treatments are generally safe, as with any procedure, there can be potential complications. Some of these include:
Allergic reactions: Some patients may have an allergic reaction to Hyalase, which is why a skin patch test is often performed prior to treatment. Symptoms can include itching, redness, or swelling at the injection site.
Over-correction: In some cases, more filler might be dissolved than intended, leading to an under-filled appearance. This can be corrected by injecting more filler, once the effects of Hyalase have worn off.
Infection: Any time the skin is broken, there is a risk of infection. This is usually minimised by following proper pre- and post-care instructions.
Bruising, swelling and redness: These are common side effects following any injectable treatment and usually resolve on their own within a few days.
Uneven results: There can sometimes be uneven results if the Hyalase doesn't fully dissolve the filler in all areas. This can usually be corrected with a follow-up treatment.
Pain or discomfort: Some people may experience pain or discomfort at the injection site.
It's important to note that the majority of these complications are rare, especially when the procedure is performed by an experienced medical professional. Always ensure you understand the potential risks and complications before undergoing any medical procedure.
Choose Centre for Surgery for Filler Dissolving Injections
Choosing Centre for Surgery for your filler dissolving injections is an excellent decision for several reasons:
Expertise: Our specialist plastic surgeons have extensive experience and expertise in non-invasive procedures such as filler dissolving treatment. They are skilled at assessing the precise amount of Hyalase required to dissolve the filler without harming your natural hyaluronic acid.
Personalised Approach: We believe in tailoring each treatment to the individual patient. We ensure that every aspect of your treatment, from the initial consultation to aftercare, is personalised to your specific needs and expectations.
Patient Care: We take pride in our exceptional patient care. Our dedicated team will guide and support you throughout your journey, ensuring that you are well-informed, comfortable, and confident in your treatment decisions.
Safe and Comfortable Environment: Our state-of-the-art clinic at Baker Street, London, is designed to provide a safe, clean, and comfortable environment for all our treatments.
Comprehensive Aftercare: We provide thorough post-treatment care to ensure your recovery is smooth and the results are successful. This includes regular follow-up appointments and direct access to our team for any questions or concerns.
Remember, your health and satisfaction are our utmost priority. Choosing Centre for Surgery means you're choosing quality, care, and excellence.
Your Next Steps:
Research Thoroughly
Explore our website, delve into the Procedure Pages and Blogs that are pertinent to your planned procedure.
Browse our extensive FAQs, including those on how to choose your surgeon
Learn about the potential risks and complications associated with your chosen surgery.
Download and thoroughly read our comprehensive Guides to Surgery
Prepare for Your Consultation with the Plastic Surgeon
Consider bringing a friend or family member to help discuss the information and your options
Take comprehensive notes and diligently read the provided documents
Dress in uncomplicated clothing as you might need to undress for a physical examination
Bring any necessary medical referral and any relevant medical documents or test results
Arrange Your Initial Surgery Consultation
Secure your consultation at our Baker Street clinic by paying the Cosmetic Consultation Fee
To book a consultation with a Specialist Plastic Surgeon or to converse with our Patient Care Advisor, please contact us.
You can email us or call on 0207 993 4849 to arrange your surgeon consultation appointment.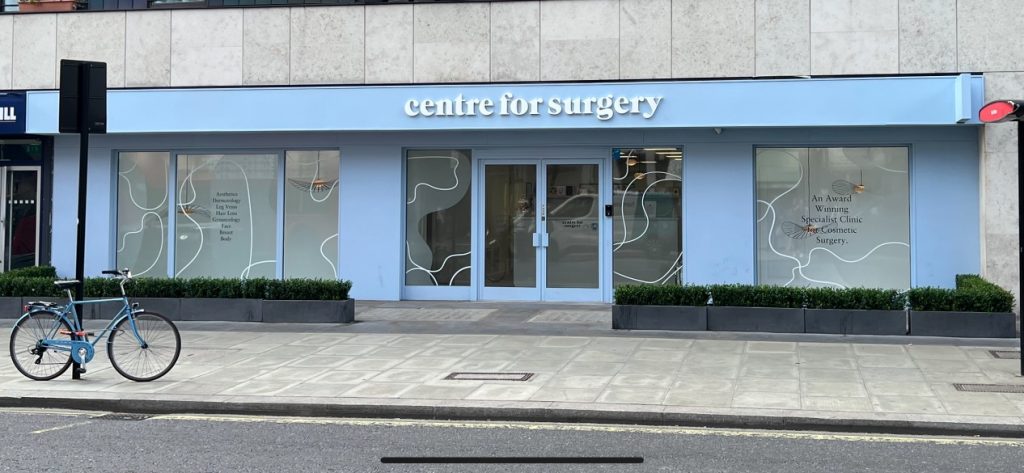 [wpseo_map id="9814″ width="750″ height="300″ zoom="15″ map_style="roadmap" scrollable="1″ draggable="1″ show_route="0″ show_state="0″ show_url="1″ show_email="1″ default_show_infowindow="1″ show_phone="1″ show_phone_2="0″ show_fax="0″]
[trustindex no-registration=google]
Medical References about Hyalase Treatment