Chin & Neck Liposuction London UK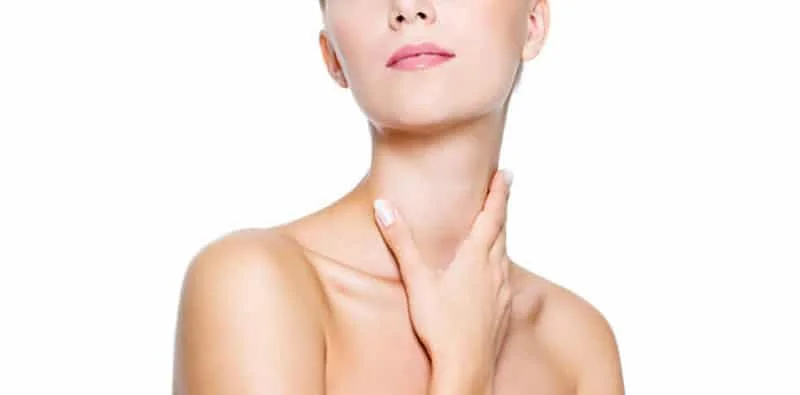 Neck and Chin Liposuction London can help reduce a double chin and heavy neck
Chin liposuction is a cosmetic procedure aimed at reducing the appearance of a double chin and contouring the neck and jawline for a more defined appearance. Despite the common occurrence of a double chin in both men and women of all ages, fat accumulation under the chin and neck can be stubborn and unresponsive to diet, weight loss, and exercise. A double chin or heavy chin can obscure the natural contour of the neck, causing the chin to appear overweight or saggy.
Chin liposuction is often considered the best surgical solution to eliminate a double chin and improve the neck's contour. While some patients may opt for non-surgical fat-dissolving chin injections like Belkyra or Kybella, our experienced surgeons prefer chin liposuction for its effective and long-lasting results. In some cases, a neck lift may be recommended in conjunction with chin liposuction for optimal results.
Chin liposuction can remove excess fat from the neck and jowls, helping to contour the jawline and neck and enhance their definition. At Centre for Surgery, our highly skilled plastic surgeons use the latest and safest techniques to eliminate stubborn chin fat and achieve a more refined and youthful appearance.
Alternative names for chin liposuction:
Submental liposuction
Neck liposuction
Double chin liposuction
Neck contouring
Chin sculpting
Chin reshaping
Submental fat removal
Jawline contouring
Neck fat removal
Neck rejuvenation
| Chin lipo | Fast facts |
| --- | --- |
| Procedure time ⏳ | 1 hour |
| Anaesthetic type 💉 | LA or GA |
| Length of stay 🛏 | Day case |
| Up and mobile 🚶🏻‍♂️ | Same day |
| Washing 🛁 | 3 days |
| Sexual activity ❤️ | 2 weeks |
| Back to work 📅 | Next day (desk work) |
| Driving 🚗 | 3 days |
| Postoperative garment 👕 | 2 weeks |
| Sleeping 😴 | On back 1 week |
| Exercise 🏃🏽‍♀️ | 4 weeks |
| Full recovery 🕺🏻 | 6 weeks |
| Final results 😃 | 3 months |
What is Chin Liposuction?
Double chin correction surgery is a cosmetic procedure aimed at removing excess fat from under the chin and contouring the neck and jawline for a more defined appearance. It involves making small incisions beneath the chin and using a cannula to suction out unwanted fat. This procedure is also known as submental liposuction or neck liposuction.
Chin liposuction is typically performed under local anaesthesia and involves minimal downtime. It is a popular option for individuals who have struggled with a double chin or excess neck fat unresponsive to diet and exercise.
Chin liposuction can improve the appearance of the neck and jawline, helping to create a more defined and youthful facial contour. The procedure can be performed alone or in combination with other facial procedures, such as a facelift or neck lift, to achieve optimal results.
Chin liposuction Before & After Photos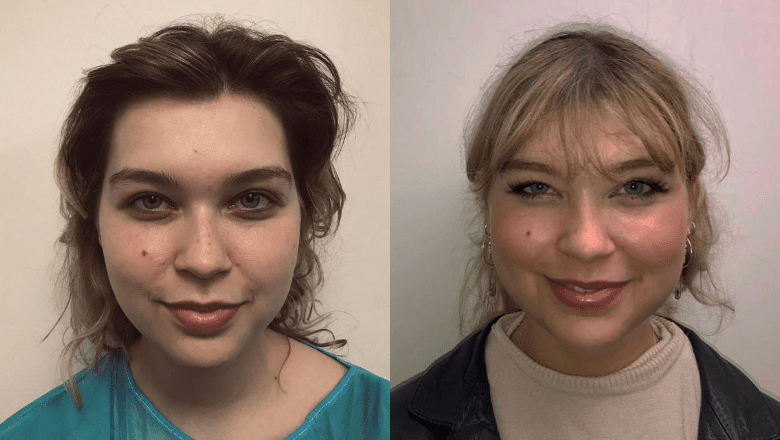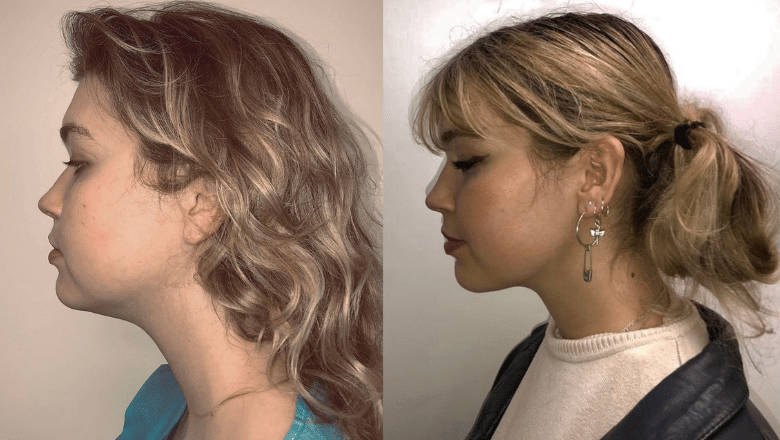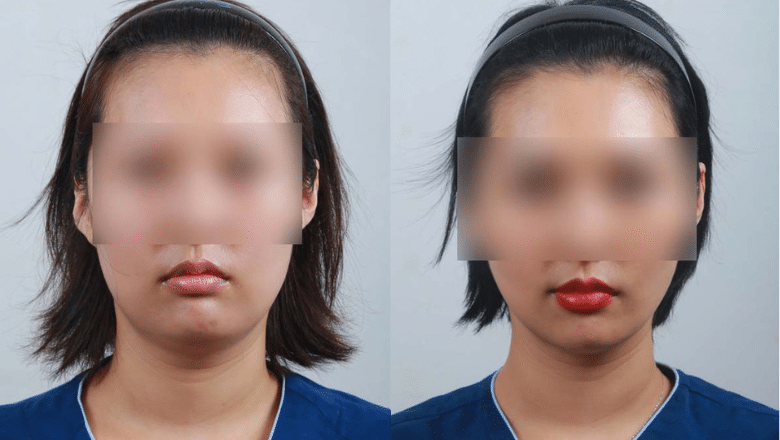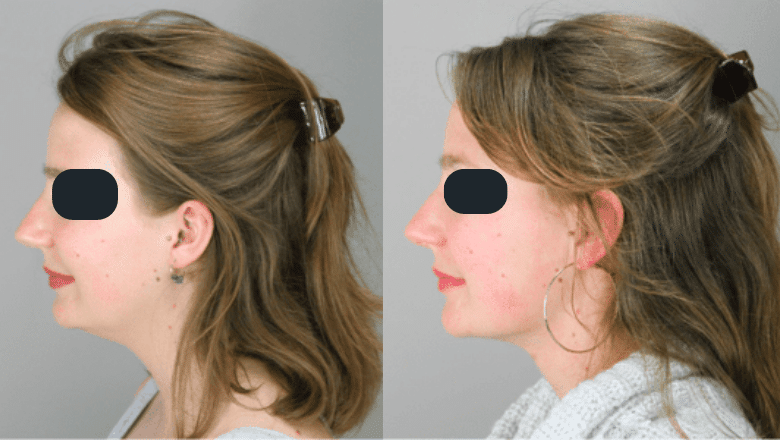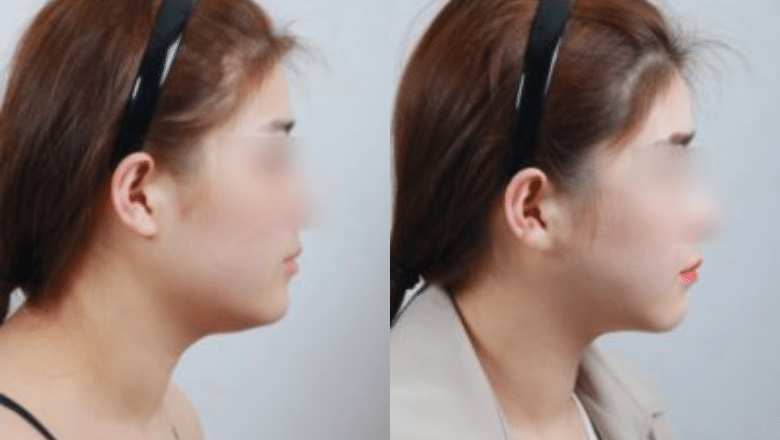 Benefits Of Chin Liposuction
Chin liposuction is an excellent solution for individuals who are bothered by the appearance of a double chin, jowls or excess fat beneath the chin. This minimally invasive procedure can significantly improve the contours of the face and neck. Here are some of the key benefits of chin liposuction:
Enhanced Facial Contour: Chin liposuction can effectively remove fat deposits under the chin and around the neck area, creating a sharper, more defined jawline and enhancing the overall balance and proportion of the face.
Permanent Fat Removal: The procedure permanently removes fat cells from the treatment area. As long as a stable weight is maintained, the results are long-lasting.
Reduced Recovery Time: Being a minimally invasive procedure, chin liposuction involves a shorter recovery time compared to more invasive surgical procedures.
Anesthesia Options: Chin liposuction can typically be performed under local anaesthesia, reducing the potential risks associated with general anaesthesia.
Minimal Scarring: The incisions made during chin liposuction are small, resulting in minimal and often unnoticeable scarring.
Improved Confidence: By addressing areas of concern such as a double chin or jowls, chin liposuction can significantly boost a person's self-confidence and self-esteem.
Combined Procedures: Chin liposuction can be combined with other facial procedures such as a facelift or neck lift for more comprehensive results.
It's important to note, however, that while chin liposuction can remove fat, it cannot address loose or sagging skin. If skin laxity is a concern, your surgeon at Centre for Surgery may recommend additional procedures to help achieve your desired aesthetic result.
Our team of highly skilled and experienced surgeons are committed to delivering personalised, high-quality care to ensure optimal outcomes for our patients. If you're considering chin liposuction, we're here to guide you through every step of your journey to ensure you achieve the best possible results.
Ideal candidates for Submental Liposuction
Removing chin fat through submental lipo may not always be the best choice for individuals seeking to enhance their appearance. It is important to evaluate various factors to determine whether liposuction is suitable for you. Generally, if you have a double or triple chin, jowls that obscure your jawline, or chin and neck fat that fades your neckline, liposuction may be an option to consider. However, if you are overweight, liposuction may not be the best approach as excess fat tends to accumulate beneath the neck muscles, an area not accessible through liposuction.
Furthermore, those with good skin elasticity will likely achieve satisfactory outcomes from chin liposuction alone. On the other hand, individuals with overstretched and lax neck skin may not experience the same results as the skin may not bounce back after the fat removal, leaving the skin droopy. In such cases, a neck lift procedure may be necessary to achieve optimal results.
RELATED: Solutions For Saggy Neck – Neck Liposuction vs Neck Lift
It is also important to consider your overall health and weight stability when contemplating liposuction for neck fat removal. Nonetheless, the primary concern when undergoing this procedure is the quality of your skin. If you have a large double chin with loose skin, the skin may not retract to conform to the new contours. In such instances, combining liposuction with a neck lift procedure can yield excellent results and contour your chin and neck effectively.
The submental liposuction consultation
All patients must have a consultation before proceeding with a chin lipo procedure. At the consultation, the surgeon will want to learn about your goals, and you will have an opportunity to discuss your ideas, concerns and expectations about the submental liposuction procedure and ask any relevant questions you may have.
The surgeon will:
Take a focused history and examine you

Explain the chin liposuction procedure

Take your needs and preferences into account when deciding on the most appropriate treatment option for you
How to prepare for Chin Liposuction
Our expert pre-operative assessment team will provide detailed pre- and post-op information when scheduled for your chin liposuction procedure. Patients who smoke will be advised to stop for at least two weeks before the date of their chin lipo procedure. Smoking has detrimental effects on blood circulation and is known to slow the healing process. All medications, prescribed and over-the-counter, will be reviewed. Aspirin and aspirin-containing medicines should be stopped both before and after surgery. Aspirin and NSAIDs impair the body's natural clotting process and may cause bleeding complications after surgery. If you require pain relief after surgery, paracetamol is advised.
If you are scheduled to have your procedure with a general anaesthetic, you will be required to fast for a minimum of 6 hours for food and 2 hours for water.
Chin Liposuction procedure
Submental liposuction is a day-case procedure, meaning you will be admitted and discharged on the same day. This means you can recover in the comfort of your own home. Day-case procedures have been shown in research to have a lower risk of complications than procedures requiring an in-patient stay. Submental liposuction takes about one hour to perform. It may take longer if combined with other procedures, and TIVA general anaesthetic is more suited for longer cases.
Chin liposuction is typically performed under local or general anaesthesia. The MicroAire® Liposuction device is commonly used to reduce swelling, bruising, and operating time while effectively removing fat.
The following steps are involved in chin liposuction:
Local anaesthesia is injected into multiple areas of the skin and neck.
Once the skin is numb, a small incision is made under the chin (submental incision).
Additional incisions on the sides of the chin may be made.
The surgeon advances the liposuction catheter through the incision, which resembles a thin hollow rod.
The cannula is moved in different directions beneath the chin and neck skin to extract the fat.
The catheter is withdrawn after enough fat has been removed from the chin and neck area.
The tiny skin incisions are closed using 1-2 thin sutures.
After the procedure, you can go home but should not drive on the same day.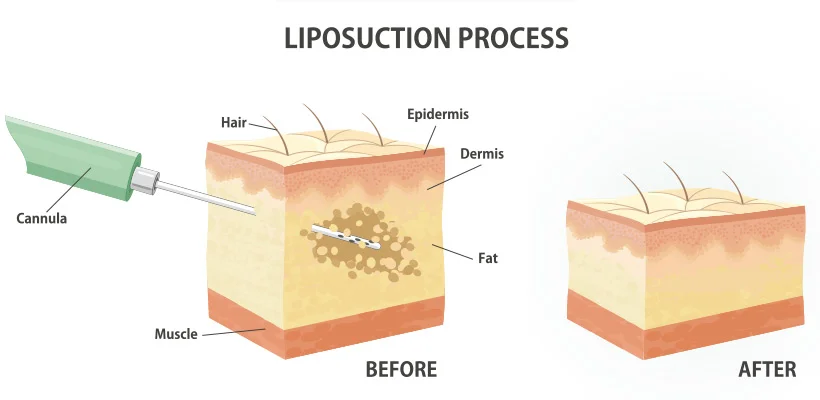 The procedure is ideally suited for younger patients with good skin elasticity. With older patients, there is a risk of residual skin laxity. In patients over 45, the surgeon often combines submental liposuction with a neck lift. The neck lift is designed to address redundant skin and tighten and sculpt the chin and neck.
The surgeon contours the chin and jawline region by removing excess fat deposits. A postoperative compression garment is then placed to ensure optimal healing. The compression garment should be worn continuously for the first week following the procedure to allow the skin to redrape over the new contours more effectively.
Recovery after chin liposuction
The recovery process after chin liposuction is typically smooth and requires minimal downtime. Patients can usually return to work within a few days of the procedure. However, following postoperative instructions carefully ensures a speedy and smooth recovery.
RELATED: Chin Liposuction Recovery – What To Expect
Here are some important things to keep in mind during the recovery process:
Compression Garment: Following the procedure, the surgeon will typically provide a compression garment to wear. This garment is designed to help reduce swelling and support the area during the healing process. The garment should be worn for at least 1-2 weeks after the surgery.
Swelling and Bruising: It is normal to experience some degree of swelling and bruising after chin liposuction. This can be managed with the help of ice packs and over-the-counter pain medication.
Rest and Recovery: It's important to take it easy for the first few days after the procedure. Avoid any strenuous activity or exercise during this time. Patients are typically able to return to work within a few days, but should avoid any physically demanding work or exercise for at least a week.
Follow-Up Appointments: Patients will have follow-up appointments with their surgeon to monitor their progress and ensure that they are healing properly. Any stitches that were used during the procedure will be removed at this time.
Results: Patients can expect to see initial results within a few weeks of the procedure. However, it can take several months for the final results to become visible as the swelling subsides and the skin adjusts to the new contours.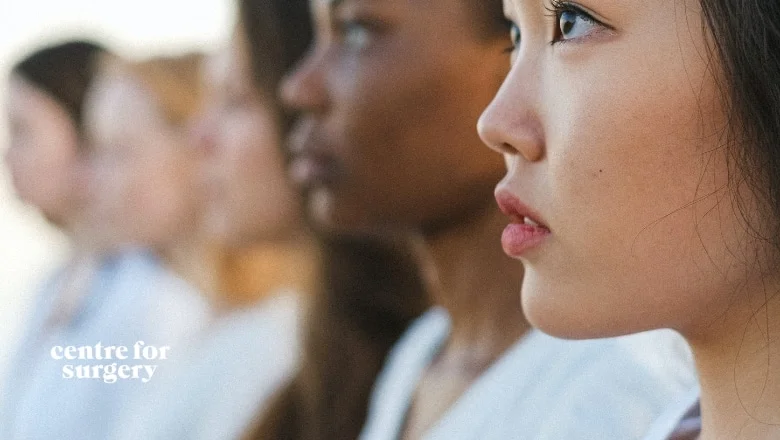 Are chin liposuction scars visible?
Chin liposuction is a minimally invasive procedure that involves removing excess fat from the chin and neck area through small incisions. The incisions used for chin liposuction are typically very small (usually less than half an inch) and are made in discreet locations, such as behind the earlobes or under the chin.
In most cases, the incisions used for chin liposuction heal very well and are not visible after the initial recovery period. The scars may be slightly pink or red for the first few weeks after the procedure, but they typically fade over time and become less noticeable.
Risks and Potential Complications of Chin Lipo
As with any surgical procedure, there are risks and potential complications associated with chin liposuction. Here are some of the possible risks and complications:
Swelling and Bruising: Swelling and bruising are common side effects after chin liposuction. These can last for a few weeks or longer, depending on the extent of the procedure.
Infection: As with any surgical procedure, there is a risk of infection. Your surgeon will give you antibiotics to reduce the risk of infection.
Nerve Damage: There is a risk of nerve damage during the procedure, which can result in temporary or permanent numbness or weakness in the chin or lower lip.
Skin Irregularities: Sometimes, the skin around the chin area may appear uneven after the procedure.
Blood Clots: There is a risk of blood clots forming in the veins of the neck after the procedure, which can be potentially life-threatening.
Anaesthesia Complications: General anaesthesia can cause complications such as allergic reactions, heart problems, and lung infections.
Unsatisfactory Results: Although chin liposuction is generally a safe and effective procedure, there is always the possibility that you may not be satisfied with the results.
It is essential to discuss these risks and potential complications with your surgeon before the procedure to fully understand the potential outcomes. Your surgeon will provide specific instructions on how to prepare for the procedure and reduce the risk of complications.
Can Chin Liposuction Be Combined with Other Procedures?
Yes, chin liposuction can be combined with other procedures for more comprehensive results. It is common for patients to opt for additional procedures such as a neck lift, facelift, or cheek augmentation along with chin liposuction to achieve their desired look.
A neck lift can address sagging skin and excess fat in the neck area, while a facelift can improve the overall appearance of the face and address deeper wrinkles and sagging skin. Cheek augmentation with fillers can add volume and definition to the cheeks, which can complement the improved jawline and neck contour achieved through chin liposuction.
Your plastic surgeon will evaluate your needs and goals to determine if combining procedures is the right choice. They will also discuss the risks and benefits associated with the combination of procedures and the recovery process and expected results.
Chin Liposuction Cost London - How much does chin liposuction cost in London UK? Prices & Fees
There are several factors which will determine the overall cost of the submental liposuction procedure, and the final quotation will be given after your face-to-face consultation with your specialist plastic surgeon.
Local anaesthetic or general anaesthetic
Primary or revision chin lipo
Why not call 0207 993 4849 and speak to one of our expert patient coordinators, who may be able to give you a rough costing before having a consultation for a neck liposuction procedure.
Always remember that price should never be the determining factor when choosing your provider. We feel that safety and quality of service should be your number one priority and instil in you the confidence that our team will look after you before, during and after your procedure to the best of their ability.
Spread the cost of your chin liposuction procedure

Centre for Surgery is fully approved to offer finance for chin liposuction via our specialist finance partner, Chrysalis Finance.
You no longer need to use your savings to pay for your treatment – you can apply to spread the cost of your procedure with Chrysalis Finance using their simple 1,2,3 application to pay for your procedure.
Don't wait until you have enough money for your treatment. Apply today and (subject to status) pay for your procedure easily in monthly instalments using one of their payment options.
Chrysalis Finance is the only ethical provider in the UK that focuses solely on providing specialist financing for medical procedures.
Is Chin Liposuction Worth It?
Absolutely, chin liposuction, according to Realself reviews from patients who have undergone the procedure, is a worthy investment, with a 92% satisfaction rate. This procedure is recognised for its efficacy in quickly slimming the neck and eliminating the appearance of a double chin, which ultimately contributes to a more refined and slimmer facial appearance.
Chin liposuction stands out due to its minimally invasive nature and swift procedure time. Moreover, the results it delivers are enduring, provided you maintain a consistent weight. Recovery from this procedure is typically brief, often requiring only a few weeks. Additionally, due to the small size of the incisions made during the procedure, any resulting scars are typically barely noticeable and tend to fade over time.
However, it's worth noting that there have been instances where patients have reported dissatisfaction with their chin liposuction results, citing issues such as lumpy or loose skin in the neck region following the procedure. It is crucial to mitigate such risks by selecting a reputable and experienced plastic surgeon to perform your procedure. At Centre for Surgery, our team of highly skilled and experienced surgeons is dedicated to delivering high-quality results while prioritising patient safety and satisfaction.
Why Choose Centre for Surgery
Experienced and Skilled Surgeons – Our team consists of highly qualified and experienced surgeons who specialise in chin and neck liposuction. Their expertise ensures that you receive personalised care and the best possible results.
State-of-the-Art Facilities – Centre for Surgery boasts modern, state-of-the-art facilities on Baker Street designed to provide a comfortable and safe environment for your procedure. Our advanced equipment and technologies ensure the highest standards of care.
Personalised Care and Attention – We pride ourselves on offering personalised care and attention to each patient. Our dedicated staff and surgeons work closely with you to understand your goals and develop a tailored treatment plan that meets your individual needs.
Comprehensive Consultation Process – Our comprehensive consultation process ensures that you have a thorough understanding of the procedure, risks, and expected outcomes. We prioritise patient education and open communication, helping you make informed decisions about your treatment.
Focus on Patient Safety and Satisfaction – At Centre for Surgery, patient safety and satisfaction are our top priorities. We follow strict safety protocols and adhere to the highest medical standards, ensuring a safe and positive experience for our patients.
Aftercare and Support – We provide exceptional aftercare and support throughout your recovery process. Our team is always available to answer any questions or address concerns, making sure you feel comfortable and well-informed during your healing journey.
Transparent Pricing and Financing Options – We offer transparent pricing and a range of

financing options

to help make your desired procedure more affordable. Our team can guide you through the available payment plans, ensuring you can confidently invest in your well-being.
Choosing Centre for Surgery means you are selecting a top plastic surgery clinic committed to providing the highest quality care, personalised attention, and exceptional results. Our dedicated team is here to support you every step of the way, ensuring a safe and satisfying experience from consultation to recovery.
Essential Steps to Take Before Your Consultation
Conduct Thorough Research
Read a procedure guide to gain further insight into your surgery
Visit our website to learn more about the specific procedure you're interested in
Is a Medical Referral Necessary for a Consultation at Our Clinic?
A medical referral is helpful, but not required, for purely cosmetic consultations.
If you seek a consultation for medical reasons and have private insurance, please obtain a referral from your GP or specialist.
Maximising the Benefits of Your Consultation
Arrive a little early for your in-person consultation
Feel free to bring a friend or family member to assist you in processing information and discussing your options
Be prepared to undress for a physical examination; wear simple clothing
Take detailed notes during the consultation and carefully review all provided documents
Seeking More Information Before Scheduling a Consultation?
Learn more about pricing, medical payment plans, and financing your surgery.
Request additional information about the procedure – call or contact us
Booking Your Consultation
Secure your initial consultation by prepaying the £100 cosmetic consultation fee when scheduling your appointment.
ARRANGE A PHONE CALL FOR MORE INFORMATION
To arrange a surgeon consultation at our Baker Street clinic, contact us or call on

0207 993 4849
For more information, email us: contact@centreforsurgery.com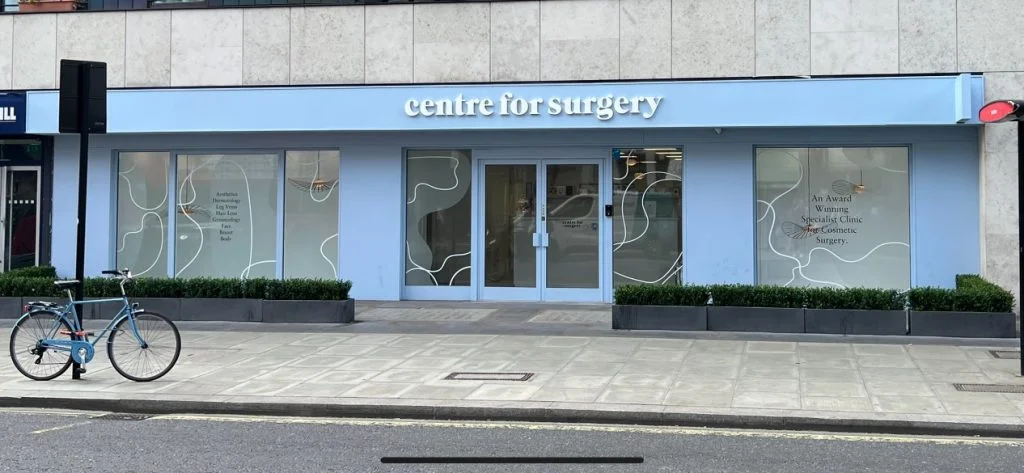 Further Reading and Medical References for Chin Liposuction:
What To Expect
The consultation for submental liposuction
When you have a consultation with an expert surgeon at Centre for Surgery, several measurements will be taken of the neck and chin area where fat is to be removed, and the soft tissue quality will be assessed.

Those with good skin elasticity will be good candidates for submental liposuction alone. Those with moderate to severe skin laxity may benefit from a surgical neck lift procedure. Your surgeon is skilled in all types of submental liposuction, including power-assisted liposuction, and the most appropriate choice will be made based on your physical examination. The surgeon will also give information on the location of the small incisions for the submental liposuction and whether the liposuction is to be combined with another procedure, such as a neck lift.

High-resolution photos will be taken; your surgeon may also use digital computer imaging. Your surgeon will discuss the important risks and potential complications of liposuction surgery and what you can expect in the postoperative period.

The surgeon will also take a full medical history, including previous operations, the current list of medicines taken, and any potential allergies. This information will be used to decide on your fitness for the chin liposuction procedure. If you are deemed a suitable candidate for neck liposuction surgery, then we recommend reflecting on all the information given. We always recommend a minimum of a '2-week cool-off period' to weigh up your options.

All our prospective patients are more than welcome to have as many follow-up consultations after their initial consultation to make sure you are fully empowered with all the information to make an informed decision for proceeding with chin liposuction surgery at Centre for Surgery.

Things to consider before having submental liposuction:

We believe that the best outcomes after submental liposuction surgery happen when patients choose the clinic and surgeon.

1. In deciding on the right clinic for you, always carry out extensive research and choose a well-established and reputable clinic. Centre for Surgery are specialist in liposuction and has been established for many years. Our patient coordinators and surgeons are here to answer any questions to empower you with the right information.

2. Your choice of surgeon should be based on their qualifications, experience and having a record of good patient feedback. You should know who you will be seeing before your consultation. At Centre for Surgery, our plastic & cosmetic surgeons are specially selected after a rigorous appointment process to ensure they have the right skill set to perform liposuction.

3. When choosing a cosmetic surgery procedure, you should not base your decision on price alone. It is important to make sure you are having treatment in a safe and regulated environment by staff who are both fully trained and caring to look after your needs – before, during and after your procedure.

4. Avoid clinics that offer a 'hard-sell'. If something sounds too good to be true, it probably is. Ask the surgeon what techniques will be used. Surgeons at Centre for Surgery perform all types of liposuction, including complex reconstructive surgery.

We believe patient safety and happy, satisfied patients are the bedrock of our reputation as an ethical cosmetic surgery provider. Our doctors are known for giving straightforward, honest advice, and you can be assured that your journey with Centre for Surgery will be a positive experience on the path to renewed self-confidence.
Before the consultation
Once you have decided that chin liposuction is right for you, our preoperative assessment team will be in contact to prepare you for surgery.

The following are recommended actions to take:

- For six weeks beforehand, it is highly recommended to stop smoking as active smoking is associated with several risks, including delayed wound healing, which could result in wound infection.

- You should also avoid aspirin and all medicines containing aspirin for at least one week before the liposuction procedure.

- For 6 hours before the liposuction procedure, you should refrain from eating any food or drink apart from sips of clear fluid (water and tea/coffee without added milk), which is allowed for up to 2 hours before the procedure.
On the day of your procedure
Please aim to arrive for your liposuction procedure at the confirmed time. One of our nursing team will admit you for the procedure and carry out several tasks, including checking your blood pressure and other vital signs, including pulse and temperature, and then changing you into single-use clinic wear. The anaesthetist will then come in to assess you to make sure you are fit for TIVA anaesthetic. You will be given several pre-medications, which your nurse gives to help your recovery after the liposuction procedure. You will then be seen by your surgeon, who will confirm the procedure, and you will sign the informed consent form. Skin marking and photos may be taken at this point.

Liposuction is a very commonly performed procedure at Centre for Surgery and is commonly carried out under local anaesthetic as a day case. TIVA general anaesthetic is an option if you wish to sleep for your procedure. The procedure takes approximately 1-1.5 hours to carry out. During liposuction surgery, your surgeon will make small incisions in the marked body areas. The fat tissue is surgically removed using specialised cannulas to contour the marked body areas before closing the skin with dissolvable sutures.

Once you have recovered from the anaesthetic, our nurses will closely monitor you for 1-3 hours afterwards to ensure you fully recover from the effects of the anaesthetic. You will be given a fruit juice drink or a hot drink as you prefer to build up your energy levels. Once you are assessed as fit for discharge, you will require a responsible adult escort to take you home in a car or taxi and look after you for at least 24 hours after surgery.
After your procedure
After your procedure, our dedicated postoperative support team are available round the clock to answer any questions or concerns you may have. Our team will call you regularly for the first two weeks after your procedure to ensure your pain levels are well controlled and your healing is progressing as normal.

The recovery after chin liposuction is usually very straightforward, with minimal discomfort that can be effectively controlled with tablet painkillers. Most of our patients are very comfortable by the end of week 1. Your doctor may recommend approximately one week off work. You should minimise excessive physical activity for the first two weeks after surgery to help heal the incisions and reduce swelling.

You will be required to wear a supportive compression garment for the face and neck for six weeks to ensure optimal healing and that scars heal with the best results.

You will attend a postoperative check-up with one of our nursing team at 7-10 days to review your surgical wound sites and ensure proper healing. Recommendations on treatments for scar healing may be given for optimal cosmesis. At six weeks, you should begin to see your final results, and you will see your surgeon for a comprehensive review and make sure your results are in line with your expectations.