Micro & Nano Fat Grafting London UK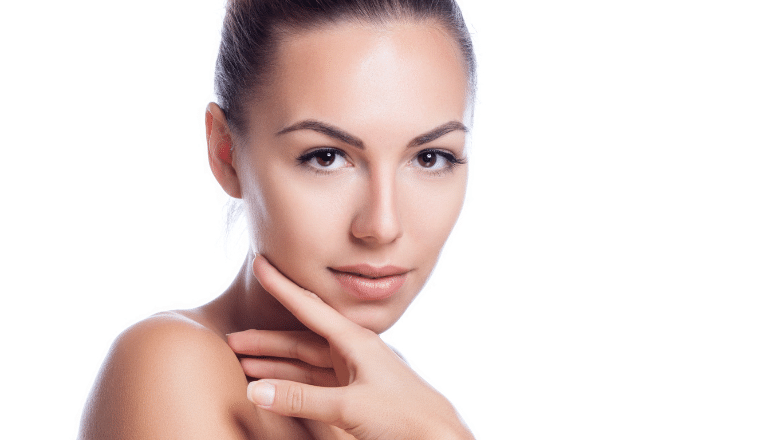 Revitalise your look with our micro and nano fat grafting procedures at Centre for Surgery, tailored to deliver natural and lasting results just for you!
In the realm of cosmetic surgery, innovative techniques are always being developed to enhance the results and improve the patient experience. Micro and Nano Fat Grafting are among these advancements that have revolutionised the way we approach facial rejuvenation and body contouring.
Micro and Nano Fat Grafting are minimally invasive procedures that harness the power of your own body's fat to rejuvenate and sculpt various areas. This process involves extracting small amounts of fat from one part of your body, processing it, and then re-injecting it into areas where you desire more volume or contour.
The significant difference between the two techniques lies in the size of the fat particles used. In Micro Fat Grafting, the fat particles are larger and are typically used to add volume and contour to larger areas like the breasts or buttocks, or to fill in larger facial wrinkles and hollows.
On the other hand, Nano Fat Grafting uses fat particles that have been further processed into a finer, almost liquid consistency. This 'nano fat' is ideal for delicate areas such as the tear troughs under the eyes, fine lines around the mouth, or even for improving skin texture and elasticity.
The advantage of these techniques is that they are natural and autologous, meaning they use your own tissue, reducing the risk of allergic reactions or rejection. They also create more natural-looking results compared to synthetic fillers, as they mould seamlessly with the recipient tissue.
Micro and Nano Fat Grafting offer an innovative way of harnessing the body's resources for rejuvenation and enhancement. Whether you want to fill in facial hollows, smooth out wrinkles, or enhance your body's contours, these techniques can provide natural and long-lasting results. As always, it is crucial to consult with a skilled practitioner to determine the best approach for your specific needs and goals.
What is Micro Fat Grafting?
Micro Fat Grafting, also known as fat transfer or fat injection, is a minimally invasive cosmetic procedure that uses your own body's fat to restore volume and contour to various parts of the body. The technique has gained popularity due to its ability to yield more natural-looking results compared to synthetic fillers.
The process begins with a gentle liposuction technique to harvest small amounts of fat from a part of your body that has excess fat, often the abdomen, thighs, or flanks. This harvested fat is then processed and purified to isolate the fat cells.
Once the fat has been prepared, it's injected into the desired area using special cannulas. The fat is usually injected in tiny amounts throughout the areas needing augmentation, and this microinjection technique ensures that each fat cell comes into contact with the surrounding tissues, which allows for blood supply to reach the newly transplanted fat cells, and thus, helps to ensure their survival.
Micro Fat Grafting can be used in a variety of applications, including facial rejuvenation and body contouring. On the face, it can fill in hollow cheeks, soften under-eye circles, or add volume to thinning lips. For body contouring, it can be used to enhance the buttocks (in a procedure often called a 'Brazilian Butt Lift'), correct skin depressions, and even enhance the hands.
The main advantage of Micro Fat Grafting is that since it uses your own body fat, the results are generally more natural-looking and there are fewer risks of allergic reactions or complications associated with synthetic fillers. Plus, the results can be long-lasting, with many patients enjoying their results for several years.
What is Nano Fat Grafting?
Nano Fat Grafting is a groundbreaking technique that further refines the process of fat transfer, enabling the restoration of volume to smaller, more delicate areas with precision. Like micro fat grafting, the process involves the harvesting of fat from your own body. However, in nano fat grafting, the harvested fat is subjected to additional processing to break it down into a much finer substance, almost akin to a very dense liquid or serum.
This 'nano' fat can then be injected with ultra-fine needles into the targeted area. Due to the tiny size of the fat particles, nano fat can be used in delicate, precise areas where larger particles may not be as effective or suitable. This includes fine lines and wrinkles, the under-eye area, or areas of the body with thinner skin. The goal is to deliver a smooth, evenly distributed enhancement that appears natural and integrates seamlessly with the surrounding tissue.
In essence, nano fat grafting provides a way to harness the natural volumising properties of your own body fat, but in a much more refined, precise manner that's ideal for fine detail work. This makes it a fantastic option for subtle, natural-looking rejuvenation and enhancement. Furthermore, because the fat is taken from your own body, the risk of allergic reactions or rejections is minimal, making this a safe and effective treatment for volume enhancement and anti-ageing treatments.
Micro & Nano Fat Before & After Photos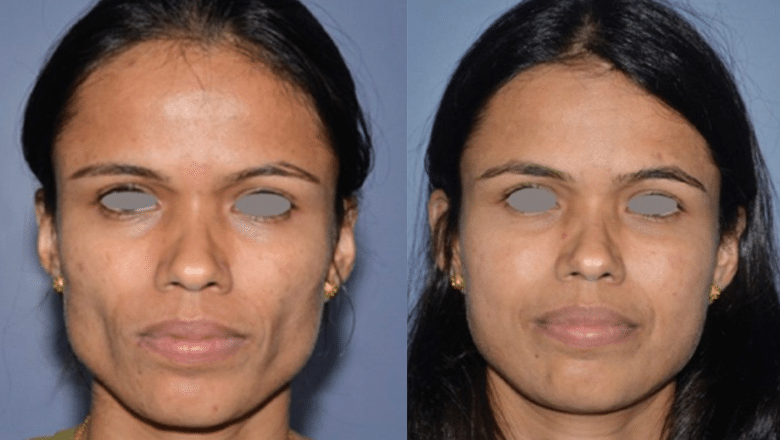 Benefits of Micro & Nano Fat Grafting
Natural-Looking Results: Both micro and nano fat grafting allow for a subtle and natural-looking enhancement, providing volume and rejuvenation where needed without the risk of overdone or unnatural results.
Use of Body's Own Material: As the fat is harvested from your own body, the risk of an allergic reaction or rejection is significantly reduced compared to synthetic fillers or implants.
Dual Benefit Procedure: Both techniques involve two procedures in one: liposuction to harvest the fat and the injection of the fat to enhance volume. This means you can slim down an area with excess fat while enhancing another area.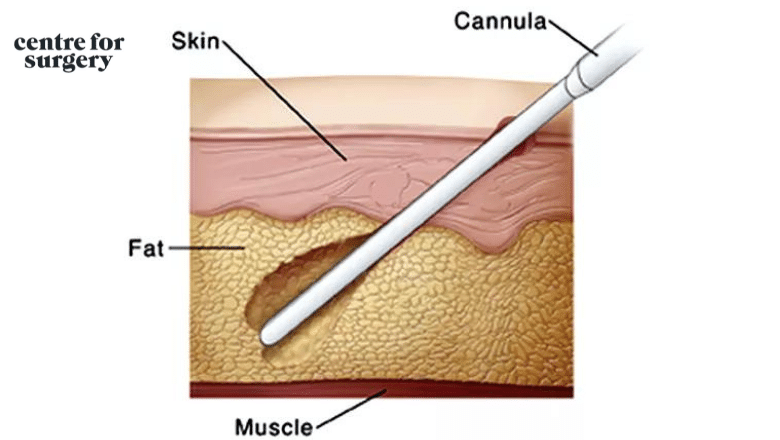 Long-Lasting Results: Once the transferred fat cells establish a blood supply in their new location, the results can last for several years, much longer than most dermal fillers.
Wide Range of Applications: Micro and nano fat grafting can be used in a variety of areas. Micro fat is typically used for larger areas needing volume, such as breasts and buttocks, whereas nano fat is great for fine lines, wrinkles, and under the eye area.
Improved Skin Quality: Besides providing volume, the transferred fat is rich in stem cells, which can improve the quality and texture of the overlying skin.
Minimally Invasive: Both procedures are minimally invasive compared to traditional surgery. While some bruising and swelling are expected, the recovery time is typically shorter.
Customisable: The techniques can be tailored to meet the specific needs of each patient, whether it's a subtle enhancement or more dramatic change.
Remember, although micro and nano fat grafting come with many benefits, they are still medical procedures that require an experienced and well-trained professional to perform. Consulting with a reputable cosmetic surgery provider, like Centre for Surgery, ensures you receive a treatment that is safe and suited to your individual needs and goals.
Suitable Candidates for Micro & Nano Fat Grafting
The perfect candidate for micro and nano fat grafting would be someone who:
Wants to Improve their Contour or Volume: Whether it's to add volume to the face, breasts, buttocks, or hands, or to improve contour in areas such as the cheeks or jawline, these procedures can help.
Has Available Fat for Harvesting: Since these procedures use your own body fat, you need to have enough fat that can be harvested without causing a negative impact on your overall body shape.
Prefers a Natural Approach: If you prefer natural over synthetic substances, micro and nano fat grafting can be a great choice since your own fat is used.
Has Good Skin Elasticity: This is particularly important if the fat is being transferred to a larger area like the buttocks or breasts. Good skin elasticity helps the skin conform to its new shape.
Is in Good Overall Health: As with any medical procedure, being in good general health and having realistic expectations are essential. These procedures can improve your appearance, but they are not magic and can't make you look like a completely different person.
Wants Long-Lasting Results: While the results of these procedures are not permanent, they do last longer than most dermal fillers. The longevity of results varies between individuals, but it can last several years.
Before deciding on undergoing micro or nano fat grafting, it's important to consult with a medical professional to ensure it's the right procedure for your unique needs and goals. At Centre for Surgery, we provide comprehensive consultations to discuss all your options and answer any questions you may have.
How to Prepare for Micro & Nano Fat Grafting
If you decide to undergo micro or nano fat grafting, here are some steps you can take to prepare:
Medical Evaluation: You may need to undergo a pre-procedure medical evaluation to ensure you're in good health. This could include blood tests or other diagnostics.
Discuss Medications: If you take any regular medications, discuss these with your surgeon. You may need to stop taking certain drugs, such as aspirin or other blood-thinning medications, a few weeks before the procedure.
Stop Smoking: Smoking can interfere with your body's ability to heal. If you're a smoker, you should quit at least a few weeks before your procedure.
Limit Alcohol: Alcohol can also affect recovery. Try to limit your intake in the weeks leading up to the procedure.
Stay Hydrated: Good hydration is important before any medical procedure. Make sure you're drinking enough water in the days leading up to your procedure.
Arrange for Help: You might need someone to drive you home after the procedure and help out at home for a day or two while you recover.
Follow Pre-Procedure Instructions: Your surgeon will give you specific instructions to follow in the days leading up to your procedure. This could include advice on eating and drinking, what to wear on the day, and what to bring with you.
Remember, it's important to follow all advice given by our medical team to ensure the best possible results from your procedure.
Watch the Fat Grafting Animated Video
Micro & Nano Fat Grafting Procedure
1. Anaesthesia: The procedure is usually performed under local anaesthesia with sedation, but general anaesthesia can also be used, depending on the extent of the procedure and the patient's comfort level. The choice of anaesthesia will be discussed with you in your pre-operative consultation.
2. Fat Harvesting: The procedure begins with harvesting fat from a donor area of the body. This is typically an area with excess fat such as the abdomen or thighs. Using a syringe with a large bore needle or a cannula attached to a liposuction machine, the surgeon carefully extracts a small amount of fat.
3. Processing: Once the fat has been collected, it is processed to separate the fat cells from the other components. In micro fat grafting, the fat is usually centrifuged, while in nano fat grafting, the fat goes through additional mechanical or enzymatic processing to break the fat cells down into a liquid form.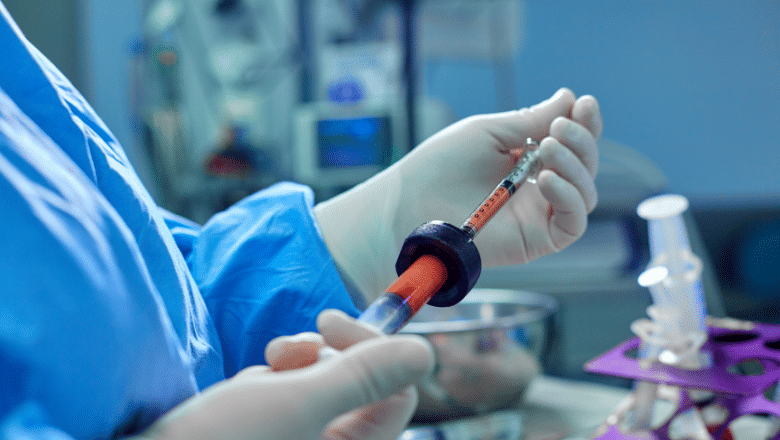 4. Injection: The processed fat is then carefully injected into the target area. In micro fat grafting, the fat is injected into deeper tissues to add volume, while in nano fat grafting, the liquid fat is injected into more superficial layers of the skin to improve skin quality.
5. Layering: The surgeon uses a technique called 'layering' to achieve a natural and even result. This involves injecting small amounts of fat at a time and gradually building up layers until the desired effect is achieved.
6. Completion: Once the desired correction has been made, the incisions at the donor and recipient sites are closed with sutures.
Recovery after Micro & Nano Fat Grafting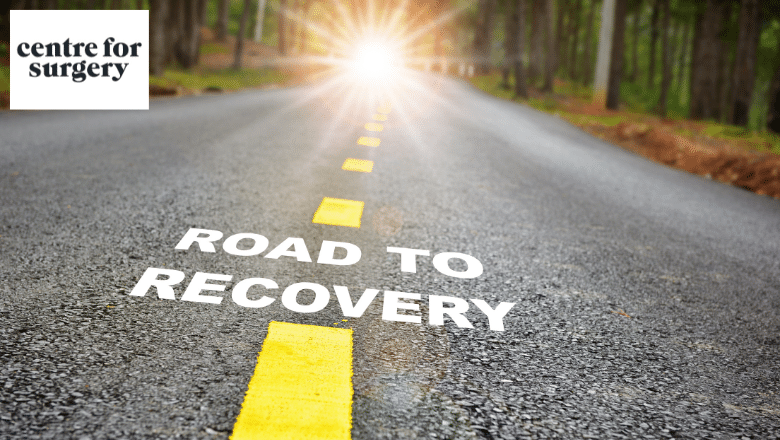 One of the benefits of undergoing micro and nano fat grafting procedures is that they are minimally invasive treatments with relatively quick recovery times. Here's what you might expect as you move through the healing process post-procedure.
Immediate Post-Procedure Care
Immediately after the procedure, you may experience mild swelling and bruising in both the donor area (where the fat was taken from) and the treatment area. This is a normal response and should gradually subside over the following weeks. Your surgeon may suggest over-the-counter medication to help with any discomfort.
The First Few Days
During the initial days following your procedure, it's recommended to rest and avoid any strenuous physical activity. This will give your body the time it needs to heal and adjust to the changes. While most patients find they can return to their daily routines within a few days, it's important to listen to your body and not rush your recovery.
Onwards Through the Healing Journey
As the weeks progress, the swelling and bruising should continue to reduce. You may start to see the first signs of the procedure's results as the newly transferred fat cells begin to integrate with the surrounding tissues. It's crucial during this time to maintain a healthy lifestyle, as significant weight fluctuation can impact the longevity of your results.
Long-term Care
While the initial recovery period is relatively short, the full results of micro and nano fat grafting may take several months to fully materialise. This is because the fat cells need time to establish a blood supply in their new location. To maintain the benefits of the treatment, a balanced diet and regular exercise regime are recommended.
Scheduled Follow-up Appointments
Your surgeon will schedule follow-up appointments to monitor your progress and ensure optimal results. These appointments are an excellent opportunity to discuss any concerns or questions you may have about your recovery or the results of the procedure.
Remember, everyone's recovery journey is unique, and your experience may differ slightly from the general timeline outlined here. Always consult with your surgeon for personalised advice. Your well-being and satisfaction with the results are the utmost priority in the journey of ageing gracefully with micro and nano fat grafting.
Risks and Complications of Micro & Nano Fat Grafting
While micro and nano fat grafting are generally considered safe procedures, like any surgical procedure, there are potential risks and complications that you should be aware of. However, these can be significantly mitigated by choosing a highly qualified and experienced surgeon at Centre for Surgery. Here are some possible risks and complications associated with these procedures:
Infection
As with any surgical procedure, there is a small risk of infection. However, stringent sterilisation protocols are followed during the procedure to minimise this risk. If an infection does occur, it is typically treated with antibiotics.
Bleeding or Bruising
Minor bleeding and bruising are normal following the procedure, but in rare cases, more significant bleeding can occur. If you notice excessive bleeding, contact your surgeon immediately.
Irregularities or Asymmetry
There is a possibility that the treated areas may have irregularities or asymmetry following the procedure. This could be due to uneven absorption of the injected fat. Your surgeon will use their skill and experience to minimise this risk and ensure the most natural-looking results.
Fat Necrosis
In rare cases, the transferred fat cells may not survive in their new location, a condition known as fat necrosis. This can lead to small, firm lumps under the skin.
Allergic Reaction
There's a low risk of allergic reaction since the procedure uses your own body's fat. However, if other substances are used in conjunction with the treatment, such as local anaesthetic, there's a minimal chance of an allergic reaction to these.
Unsatisfactory Results
There is always a risk that the results may not meet your expectations. However, choosing a reputable surgeon and discussing your expectations clearly beforehand can help to minimise this risk.
Remember, by selecting a skilled, experienced surgeon at Centre for Surgery and following their pre and post-operative advice, you can significantly reduce these risks. Always ensure to discuss any concerns or queries with your surgeon to be fully informed about the procedure and its potential risks.
Micro & Nano Fat Grafting Cost London - How much does Micro & Nano Fat Grafting cost in London UK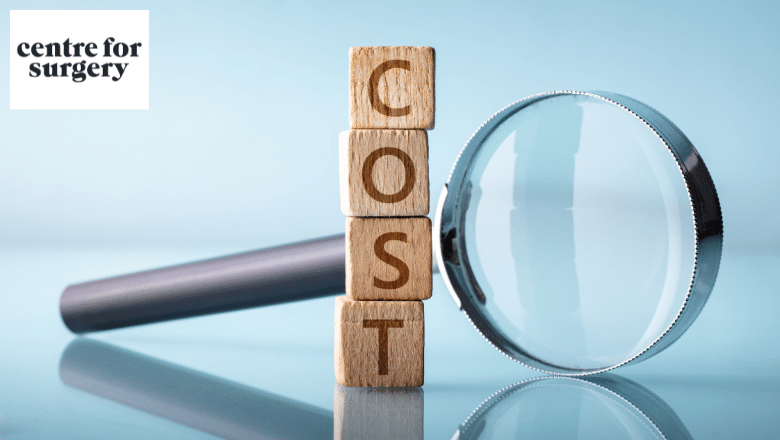 Several factors can influence the cost of micro and nano fat grafting at Centre for Surgery in London:
Complexity of the Procedure: The complexity of the procedure can significantly influence the price. More complex cases require a longer operation time and additional resources, which can increase the cost.
Treatment Areas: The number and size of the areas to be treated also play a significant role in determining the cost. Larger or multiple areas will require more time and resources.
Surgeon's Experience: The experience and reputation of your surgeon can also impact the cost. Highly experienced surgeons may charge higher fees.
Anaesthesia: The type of anaesthesia used for the procedure (local, sedation, or general) can also affect the cost.
Aftercare: The post-procedure follow-up care and support services offered by the clinic can contribute to the overall cost.
Additional Treatments: If the fat grafting procedure is combined with other treatments, this will also increase the overall cost.
It's important to note that a detailed quote will be provided following a consultation, taking into account your specific needs and desired outcomes. At Centre for Surgery, our primary concern is to ensure that our patients are fully informed about all aspects of their treatment, including costs, to make the most informed decision about their care.
Micro & Nano Grafting at Centre for Surgery
Choosing Centre for Surgery for your micro and nano fat grafting procedures can be a wise decision for several reasons:
Expertise and Experience: At Centre for Surgery, you'll be in the hands of highly experienced and board-certified plastic surgeons who specialise in these procedures. Our surgeons have carried out numerous successful treatments and their expertise can assure you of optimal results.
Personalised Approach: Every person's body and aesthetic goals are unique. At Centre for Surgery, the team is committed to providing personalised care, tailored to meet your specific needs and objectives.
Advanced Technology: The clinic uses the latest in medical technology to ensure that treatments are as safe, effective, and comfortable as possible. This, combined with the surgical skill of our practitioners, means you can expect superior results.
Safety and Care: Patient safety is paramount at Centre for Surgery. We strive to maintain the highest standards of care, from the initial consultation, through to the procedure and aftercare.
Aftercare: Post-procedure care is just as important as the surgery itself. Centre for Surgery offers comprehensive aftercare services to ensure you have the best outcome and experience.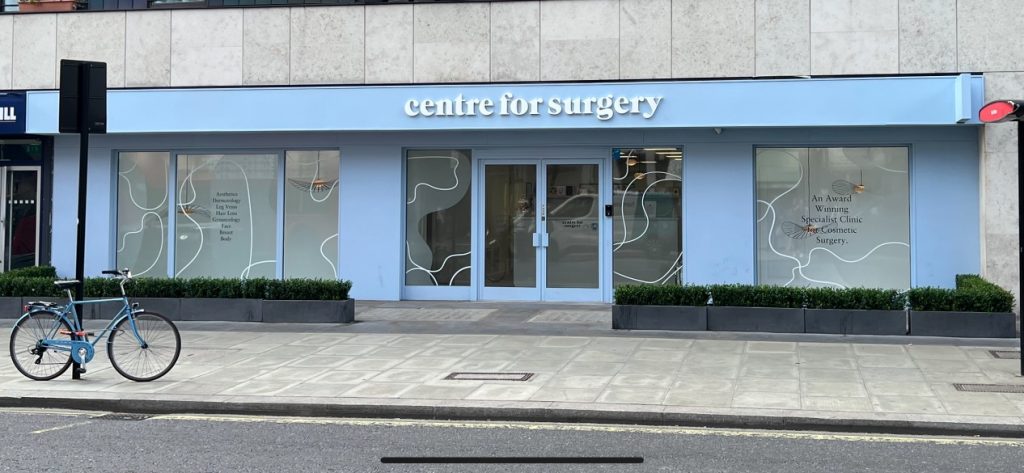 [wpseo_map id="9814″ width="750″ height="300″ zoom="15″ map_style="roadmap" scrollable="1″ draggable="1″ show_route="0″ show_state="0″ show_url="1″ show_email="1″ default_show_infowindow="1″ show_phone="1″ show_phone_2="0″ show_fax="0″]
[trustindex no-registration=google]