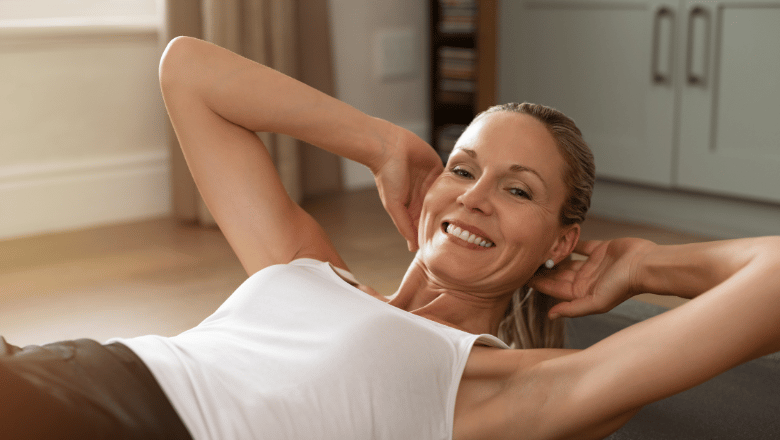 Facelift surgery is one of the most effective procedures for addressing the signs of facial ageing. When considering the pros and cons of a facelift, it is important to be aware of what the recovery period after a facelift involves and the potential impact on your ability to exercise. It's important to avoid vigorous types of exercise for the first six weeks after having a facelift, as it may affect the results of your surgery by slowing down the healing process.
RELATED: Facelift Recovery – top tips
It is important to plan for plenty of rest and relaxation to ensure you have a smooth recovery after facelift surgery. You should make sure to take at least two weeks off work to allow your body to recover in the best way possible. Your surgeon will give you comprehensive post-operative after-care instructions, which you should read and understand before having a facelift. Our surgeons are experienced in all types of facelift surgery, and you can ask to view facelift surgery before and after photos at your in-person consultation.
When is the best time to start exercising after a facelift?
We would recommend you take two weeks off work and refrain from carrying out any vigorous physical activity. You should avoid most types of heavy exercise until you have been reviewed by your surgeon. Many patients have a physically active lifestyle and may find it difficult to resist the temptation to work out at the gym soon after surgery. Doing so may increase the risk of complications developing after facelift surgery. Excessive physical exercise can place undue stress on your facelift incisions which may result in wound breakdown and subsequent excessive scarring. You should also avoid lifting heavy weights as this could lead to the incisions opening up, which increases the risk of wound infection and excessive bleeding. These facelift complications can be minimised by listening to your body and gradually building up your exercise levels slowly over the first six weeks.
RELATED: Face Lift For Men
Recommendations for safe exercise after facelift surgery
Once you have had your consultation, you will receive detailed information on what to expect at each phase of recovery after facelift surgery and what types of exercise you may safely resume. It is vital to follow the recommendations given to you by your surgeon. Every patient will heal at different rates depending on the type of facelift and their underlying state of health. By listening to your body and your surgeon, you give yourself the best possible chance of achieving fantastic facelift results.
First 3 days after surgery
It is normal to feel slightly sore and tender at the surgical sites during this early period after facelift surgery. You should take your prescribed medications as directed by your surgeon to minimise any pain and discomfort. Bruising and swelling are normal responses to any surgical procedure, and you will not be able to see the results of the procedure so soon after surgery.
You should remain patient and ensure you have a friend or family member to help you during the first few days after surgery. Avoid any excessive physical exertion and focus on keeping mobile around the home. This is a key period to get plenty of rest as he will feel tired after surgery. You should avoid walking around the house for more than a couple of hours and maintain your head in an elevated position when you are lying in bed. The first three days after surgery should be as relaxed as possible to avoid potential complications such as a haematoma after facelift surgery.
First three weeks after surgery
Most patients find they no longer need to take painkiller medications by the end of week one and start to feel much better. Vigorous physical exertion should still be avoided, although many types of light activities around the home can be restarted. The best sleeping position after a facelift is with your head elevated on a couple of pillows to minimise post-operative swelling, which helps to speed up the recovery process.
Walking around the house for up to 30 minutes at a time is highly recommended to improve blood circulation, which helps to minimise the risk of blood clots. Once two weeks have passed, most activities of daily living around the home can be recommenced. Yoga and Pilates exercises can be carried out after three weeks, but you should check with your surgeon first. You should refrain from lifting heavy items as this can increase the stress on your surgical incision which can lead to them opening up.
Four weeks after surgery
Many post-operative symptoms will disappear by four weeks after surgery. Patients can commence most of their normal daily activities, although you should always listen to your body. If you feel excessive pain or discomfort, you should immediately stop what you are doing. If you feel excessively tired, take time out and rest. Most post-operative bruising and swelling will have disappeared in four weeks, and you may be able to see the initial results of your facelift procedure. Numbness or tingling may persist, which is a normal side-effect of facelift surgery. Certain types of light cardiovascular exercise, such as walks in the park or jogging on the treadmill, can be carried out gently. Cycling can also be restarted if it does not involve excessively long distances or up steep hills. You should focus on maintaining a slow and steady pace and build up gradually as you recover from the effects of surgery.
Six weeks after surgery
Bruising, swelling and any numbness in the face will begin to improve, and most patients can now return to the gym to restart exercise gradually. Your surgeon will review you six weeks after surgery and will be able to advise you on what forms of exercise you may safely carry out. If your healing is progressing slower than predicted, you may be asked to avoid certain types of exercise for a longer period. This is until you have recovered sufficiently so that exercise has no ill effects on your facelift surgery results. Most patients can carry out virtually any type of exercise subject to the approval of their surgeon. If there is any doubt, consult your plastic surgeon first to get clearance. When you begin gym exercises, avoid pushing yourself too hard to prevent any complications from occurring. You should set easily achievable goals and build up gradually as your strength and stamina improves instead of carrying out heroic workouts from the outset.
What are the best forms of exercise after having a facelift?
The following types of exercise may be safely carried out provided your surgeon has cleared you after a clinical assessment.
Walking
Walking is probably the most effective form of exercise after having facelift surgery as it improves blood circulation and helps to prevent the risk of deep vein thrombosis. Many patients develop an increase in energy levels. You should initially start slowly and for shorter periods of time before gradually building up in an incremental manner over the first three weeks.
Cycling
Cycling can be safely carried out four weeks after surgery and can be done either on a road bike or a fixed bike. You should avoid long distances and excessively steep gradients until you have recovered sufficiently. You should take plenty of rest breaks, and if you feel excessively tired, you should stop and start again on another day.
Yoga
Gentle yoga exercises are an excellent way to optimise recovery after facelift surgery and will help with boosting an overall sense of well-being as well as helping to reduce stress levels. Avoid any yoga movements that place excessive stress on your incision lines otherwise, there is a higher risk of wound breakdown leading to excessive scarring. Yoga can be safely restarted approximately four weeks after facelift surgery.
Pilates
Pilates can be carried out four weeks after surgery and is excellent for strengthening call abdominal muscles without lifting heavy weights. As with other types of exercise, you should build up gradually and listen to your body by avoiding doing too much too soon.
Exercising after facelift surgery FAQs
How soon can I exercise after a facelift?
Most types of exercise can be restarted approximately six weeks after a facelift, provided your surgeon has examined you beforehand. Walking is an excellent initial exercise during the first few weeks after surgery. Yoga, Pilates and cycling can be carried out after four weeks. If in doubt, always check with your surgeon before starting a new exercise routine.
Why is it important to avoid strenuous exercise too early after a facelift?
Carrying out vigorous exercise too early after facelift surgery can place significant stress on the incision lines which could lead to excessive swelling and bruising and the formation of a haematoma. In some cases, the wound may break down fully, leading to serious medical complications and eventual excessive scarring.
What are the risks of exercising too soon after a facelift?
Exercising too soon after a facelift may increase the risk of wound infection, prolonged swelling and bleeding, which may require corrective surgery. The recovery period can be lengthened when patients excessively exercise too early after surgery.
When can I exercise after a mini facelift?
You should take adequate time to rest during the first three days after a mini facelift. After this time, it is recommended to go on short walks around the home, with most patients being able to carry out full exercise six weeks after a mini facelift.
How long should I wear the facelift compression garment?
The compression garment for a facelift should be worn for a minimum of two weeks continuously, followed by wearing during the day for the next two weeks, and it can be taken off if you wish to shower or go out in public.
When can I go for a walk after a facelift?
You can go for short walks three days after facelift surgery, but you should not walk for more than 30 minutes at a time and should focus on building up walking distances slowly over the first three weeks to minimise the risk of complications.
When can I fly after having facelift surgery?
You should check with your surgeon before you plan to fly. Most patients can safely go on short-distance flights approximately three days after facelift surgery. Long-haul flights may require a lengthy period of downtime, and you should check with your surgeon when it is safe to do so.
Why choose Centre for Surgery for facelift surgery in London?
Centre for Surgery is the leading cosmetic surgery clinic in the UK and is home to some of the most experienced facelift surgeons in London. Our surgeons have expertise in the full range of facelift techniques, including traditional facelift, deep plane facelift, mini facelift and one stitch facelift. Our team of friendly and knowledgeable patient coordinators are ready to act as your personal point of contact throughout your journey with us at Centre for Surgery. Call us today on 020 7993 4849 or complete the contact form below to schedule an in-person consultation at our state-of-the-art Baker Street clinic in Marylebone.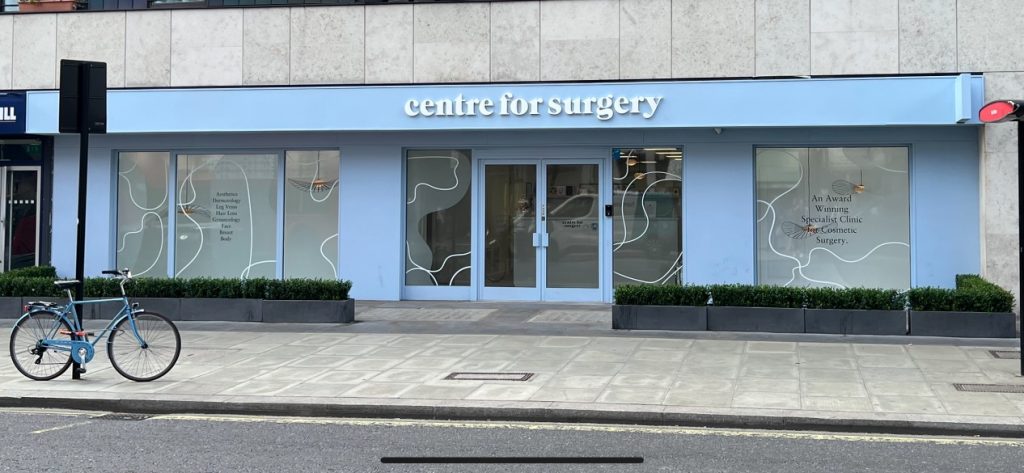 Amazing from start to finish, the communication was the main thing was fully informed and looked after, on the day of my breast augmentation, the staff were fab and made me feel at ease through out the whole process. Thank you so much.
Mohammed Farid
18/11/2021
I've had such a great experience with excellent advice, care and attention and surgical treatment (gynaecomastia) - I can fully endorse the treatment I have received from Centre for Surgery with absolutely no qualms at all. Brilliant in every way - thank you all so much.
Caroline Thorpe
14/11/2021
Very pleased with my whole experience of having a procedure. Was so nervous about getting treatment and i was reassured and felt so comfortable throughout thanks to the amazing nurses. I definitely made the right decision to have breast augmentation at centre for surgery with dr erel.
Melissa Briggs
08/11/2021
So glad I went with centre for surgery, the whole process went very smoothly from the consultations down to the actual day of the procedure. I was so nervous on the day but the whole team put me at ease and I'm happy with my results as I feel a lot more comfortable wearing certain clothes now. My surgeon was Alberto Di Giuseppe who performed a breast Augmentation on me, and I would definitely recommend as he was very clear on what the outcome of the surgery would be and which size would look the best for my frame.
Couldn't be happier with Dr Tillo work,i had my breast surgery one week ago and so happy with the results so far,all the staff are extremely nice and very supportive,i would definitely recommend their services,thank so much
From start to the finish everything was perfect for tummy tuck surgery. All staff is very friendly and the aftercare has been good. The Doctor and the nurse team was fantastic. I'm so happy...result is amazing. Thank you!!!
This was overall a great experience, all the staff at Centre for Surgery were friendly and put me at ease. It is a nerve wracking thing to go through an op but the staff were so nice. Mr Ertan has got a great team around him. On the day of the operation everything went smoothly to plan, there was no delay or holdups, I had another consultation with Mr Ertan who confirmed what was going to be done and that I was still happy to proceed. I was prepped for the procedure, I met with the anaesthetist who again was really nice and put me at ease explaining his role. After the procedure I woke up with the nurse by my side making sure I was OK and checking on me, I was able to stay in the clinic until I was ready to leave and was not rushed at all. I was well looked after from the start to the point when I was discharged. Post operation I was staying at a local hotel it was so close there was no point in even getting a taxi and I was able to walk back where my partner was waiting for me. I was expecting a lot of bruising to both my eyes but there was very little if any by the time the cast came off after 7 days, I am now at the two week post operation point and it is healing well with no outwardly visible bruising or scaring. The next milestone is a checkup at the 6 week point with my surgeon. If you're thinking of having something like this done I would highly recommend getting in touch with Centre for Surgery.
The staff at Centre for Surgery were very kind and accommodating. They answered any questions I had about the procedure and were constantly checking up on me. A special thank you to Christina for all her support throughout.
I would just like to state the quality of care received from the nurses at Centre for Surgery was beyond the highest level. Sophie takes her patient care to another level beyond words. She always puts me at ease. She is there for me even at awkward hours just when I mostly needed reassurance and she is one of the most compassionate nurses I have come across and demonstrates her passion naturally for caring for others. She totally deserves recognition at its finest and thank you for always being there for me. 😍