Laser thread vein removal in London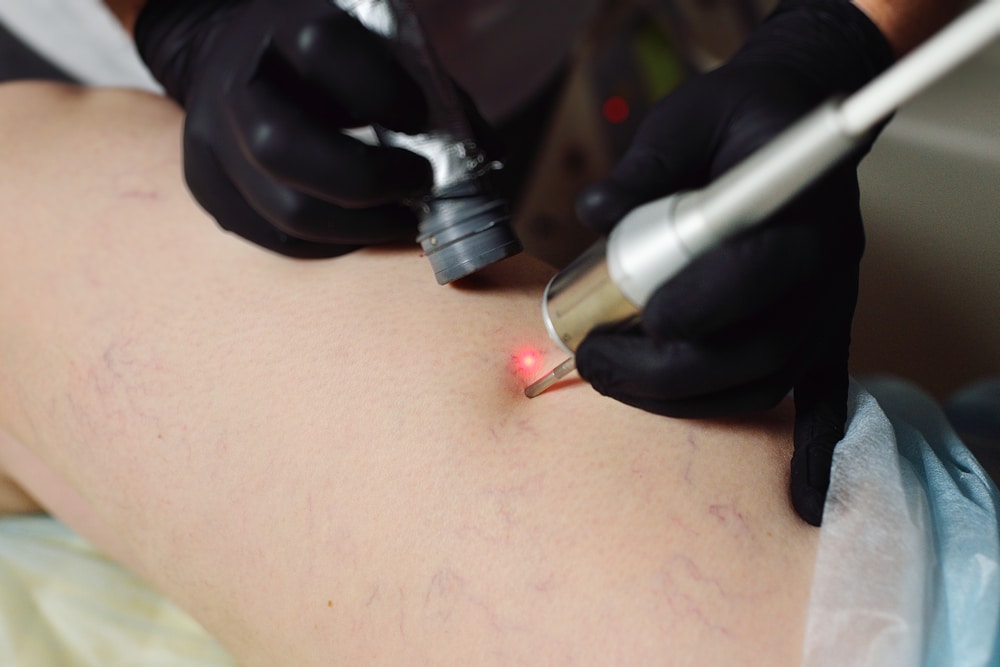 Laser thread vein removal is a commonly performed treatment for leg veins that not suitable for microsclerotherapy. Although the most effective treatment for the removal of thread veins is microsclerotherapy, there are a number of patients who are not appropriate for this treatment or may even be potentially harmful. Microsclerotherapy cannot be used for facial thread veins because of the potential risk of sclerosant blocking off blood vessels that are connected to the eyes or brain. Extremely small thread veins on the legs will be inaccessible to the needles used for microsclerotherapy and the only option for effective treatment is laser.
Laser thread vein removal before and after
Case 1: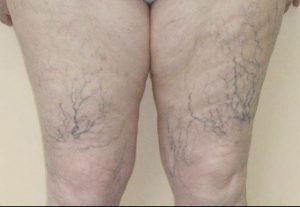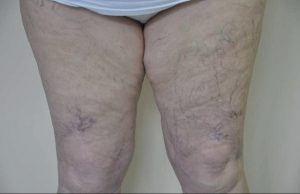 Case 2: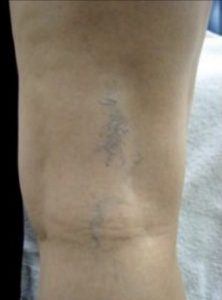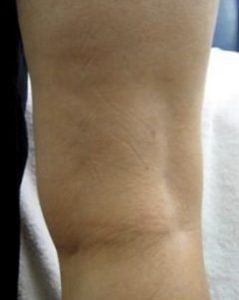 Case 3: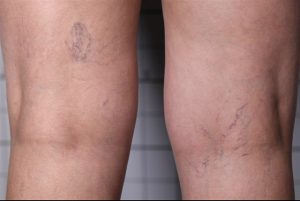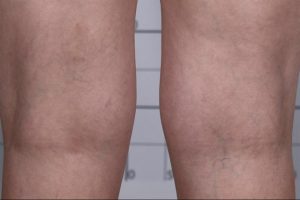 Potential risks and complications of laser thread vein removal
Post-inflammatory hyperpigmentation. PIH is the most common complication after laser vein removal but in the vast majority of cases, it settles within a few months provided the legs are kept out of sunlight. The risk of PIH can reduced by wearing well fitting compression stockings continuously for the first 3 days following treatment.
New vessel formation or matting. This complication develops when the body reacts to leg vein destruction by forming new smaller veins in the vicinity of treatment. These new smaller veins often settle and disappear without active treatment after a few months. Persistent small veins can be efficiently removed with long pulse Nd:YAG laser.
Skin breakdown / ulceration. This is a rare complication of microsclerotherapy but does not occur with laser treatment. Ulceration occurs when the sclerotherapy liquid enters a small artery and not a vein. This occurs more commonly at the ankle as the the arteries and veins are often in closer proximity to one another in this region. Our specialists will often prefer to use laser treatment for leg vein removal in these areas to avoid this risk. Ulcers once formed can be a cause of discomfort and take about 6 weeks to heal completely. Any resultant scarring is often inconspicuous and often no larger than 3-4 mm.
Deep vein thrombosis. This risk only applies to microsclerotherapy treatment only. Thankfully it is a rare occurrence (less than 1 in 1000) and is related to the following risk factors: patients who smoke, use of the combined oral contraceptive pill, those who are overweight or obese, those with a personal or family history of DVT, patients with cancer or are undergoing cancer treatment, diabetic patients.
Burns. The risk of burns arises from the use of laser treatment. It does not occur with microsclerotherapy. Avoidance of this risk os related to skill with laser treatment which is why it is important to choose a practitioner with plenty of experience in using laser for leg vein removal.
Tissue staining caused by haemosiderin. This is a rare complication caused by leakage of iron containing pigment from veins that have been previously treated. It takes time to appear and is often appears as a permanent bruise over the area of treatment. Although it can develop as a result of treatment with both microsclerotherapy and laser, it is more common with microsclerotherapy treatment.