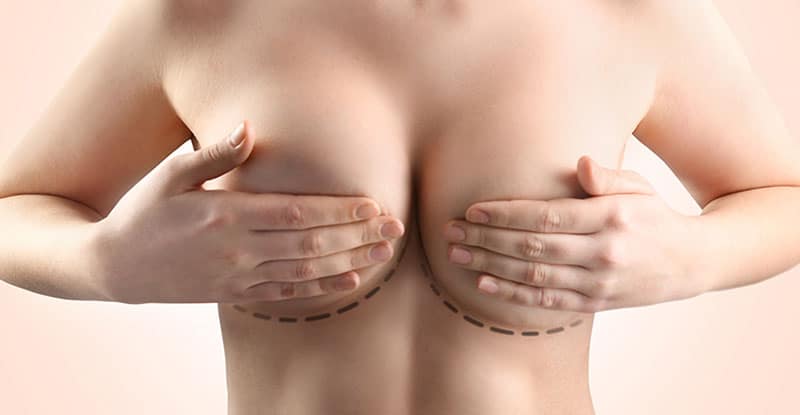 Choosing to have breast augmentation surgery is one of the most significant decisions women can make to transform their self-confidence. Despite this, many women understandably have concerns about the appearance of boob job scars. Boob jobs continue to be the most commonly performed cosmetic surgery in the UK.
RELATED: Can you get a breast enlargement on the NHS?
The procedure is so popular because the results can be truly remarkable, with a significant boost in emotional well-being for women who have lived for many years with small breasts, which have affected their lives in many ways.
Breast augmentation is designed to improve the size and shape of the breasts, although women who have the procedure do not want to be concerned about the potential appearance of breast augmentation scars. In some cases, the development of prominent scarring may reduce overall patient satisfaction, and so it is perfectly understandable for many women to be concerned about what kind of scars they can expect after breast augmentation. Here we discuss all aspects of boob job scars, including how to improve their appearance to help you make an informed decision before proceeding with breast enlargement surgery.
Will breast augmentation scars look obvious?
All types of cosmetic breast surgery involve making incisions through the skin as part of surgically altering the appearance of the breast. The surgeon always takes great care to keep breast augmentation incisions as short as possible. The most common incision for breast enlargement is made in the lower breast crease, also known as the inframammary fold. Less commonly, incisions may be made around the areola, also known as the periareolar approach. In the early post-operative phase, incisions look red and are often raised above the level of the surrounding skin. With time, the colour changes from a deep red to a lighter shade which may appear pink. Eventually, breast augmentation scars become a pale white colour and will appear flat and at the same level as the surrounding skin.
The most common incision for a boob job is made in the lower breast crease, and these types of boob job scars are not prominent. Incisions made around the areola are easily disguised as they are often made on the border between the darker areola skin and the lighter surrounding skin. This type of scarring can be hidden by wearing an appropriately fitting bra, and most items of clothing well conceal any scars which are made in the lower breast crease.
Is it possible to have a boob job without any scars?
Breast augmentation surgery requires making incisions to permit access for the insertion of breast implants. The procedure cannot take place without making surgical skin incisions. The surgeon takes great care to minimise the appearance of any scars by keeping incisions as short as possible. With proper after-care, the scars will gradually fade over the first six months and may become almost invisible after one year. Your surgeon will also use a breast funnel to insert the implants, and this helps to minimise the length of the skin incision required for breast augmentation. Our post-operative nurses recommend several effective scar management treatments, including silicone gel sheets, to help boob job scars fade even faster after surgery.
We often get asked about non-surgical boob jobs which do not involve the incisions and scars of more invasive surgery. There is no practical way to permanently increase the size of the breasts using non-surgical methods. The only effective way to enhance the size of your breasts is with breast augmentation surgery performed by an expert surgeon.
What can I do to reduce the appearance of boob job scars?
All types of breast implant surgery involve making incisions although these are shorter than other kinds of cosmetic surgery such as a tummy tuck. Boob job scars are therefore less prominent than what might be expected. All kinds of surgery, including a boob job, involve making incisions through the skin, and all breast augmentation incisions will result in a certain degree of scarring. The skill and expertise of the surgeon can play a large part in how breast augmentation scars appear. Our surgeons at Centre for Surgery are skilled in optimising the appearance of breast surgery scars using meticulous surgical techniques. There are also several tips we recommend can you follow after your procedure to improve the appearance of scars which include:
Avoid sunlight and tanning beds – in the six weeks after surgery; we would advise against tanning as this may increase of developing excessive pigmentation, which may make them more noticeable. Once you have fully healed from the surgery, you may expose your scars safely under the sun or with tanning beds.
Avoid lifting heavy objects – we would recommend avoiding heavy lifting objects during the first six weeks after surgery. There is a higher risk of wound breakdown, which could lead to excessive scarring if this advice is not followed.
Avoid scrubbing the skin – skin exfoliation is a sensible part of a daily skincare routine for maintaining healthy skin. However, they should be avoided when there are actively healing boob job scars, as excessive trauma may increase the prominence of scars.
How long do breast augmentation scars take to heal?
The healing of scars after breast augmentation varies between women depending on several factors. Lifestyle factors such as smoking, excess alcohol and a poor diet may be linked with slower healing times. Women with darker skin types may be more prone to developing excessive scarring, such as hypertrophic and keloid scars. Once your incisions have been closed with dissolvable stitches during the surgery, your boob job scars will start to mature over time as part of the healing process. It is usual for scars to appear red and raised above the surrounding skin initially, but this will significantly improve after six weeks. Breast augmentation scars can take months to remodel and mature; six months is the average time for scars to heal fully. Once six months have passed, breast augmentation scars often appear white and flattened and no longer feel firm or lumpy to touch.
How long do breast augmentation scars take to fade?
The time taken for scars to fade will depend on several factors. Scars are usually red and swollen for a minimum of three months after surgery and can take up to 12 months for full maturation. The initial red colour will become pink, followed by a pale, whitish scar. Breast augmentation scars may take up to 12 months to mature fully. Centre for Surgery are expert in scar management and has a variety of techniques available to speed up the fading of surgical scars.
What treatments are available to help boob job scars fade quickly?
Several recognised treatments can help boob job scars fade quickly. Your surgeon will advise you at your consultation of the available treatments, including scar massage, silicone gel sheets and the regular application of sunscreen. Several in-clinic treatments can be carried out to speed up the healing of boob job scars with high rates of effectiveness and minimal risk.
Morpheus8 – this non-surgical scar revision treatment uses fractional radio-frequency microneedling to deliver thermal energy via tiny micro-channels in the skin.  Morpheus8 is ideal for treating mature scars that remain prominent despite non-invasive scar revision treatments, including silicone gel sheets.
Scar revision surgery – surgical scar revision is designed to improve the appearance of scars on the face or body by removing existing scars and replacing them with a neater-looking scar.
RELATED: How much is a boob job?
Amazing from start to finish, the communication was the main thing was fully informed and looked after, on the day of my breast augmentation, the staff were fab and made me feel at ease through out the whole process. Thank you so much.
Mohammed Farid
18/11/2021
I've had such a great experience with excellent advice, care and attention and surgical treatment (gynaecomastia) - I can fully endorse the treatment I have received from Centre for Surgery with absolutely no qualms at all. Brilliant in every way - thank you all so much.
Caroline Thorpe
14/11/2021
Very pleased with my whole experience of having a procedure. Was so nervous about getting treatment and i was reassured and felt so comfortable throughout thanks to the amazing nurses. I definitely made the right decision to have breast augmentation at centre for surgery with dr erel.
Melissa Briggs
08/11/2021
So glad I went with centre for surgery, the whole process went very smoothly from the consultations down to the actual day of the procedure. I was so nervous on the day but the whole team put me at ease and I'm happy with my results as I feel a lot more comfortable wearing certain clothes now. My surgeon was Alberto Di Giuseppe who performed a breast Augmentation on me, and I would definitely recommend as he was very clear on what the outcome of the surgery would be and which size would look the best for my frame.
Couldn't be happier with Dr Tillo work,i had my breast surgery one week ago and so happy with the results so far,all the staff are extremely nice and very supportive,i would definitely recommend their services,thank so much
From start to the finish everything was perfect for tummy tuck surgery. All staff is very friendly and the aftercare has been good. The Doctor and the nurse team was fantastic. I'm so happy...result is amazing. Thank you!!!
This was overall a great experience, all the staff at Centre for Surgery were friendly and put me at ease. It is a nerve wracking thing to go through an op but the staff were so nice. Mr Ertan has got a great team around him. On the day of the operation everything went smoothly to plan, there was no delay or holdups, I had another consultation with Mr Ertan who confirmed what was going to be done and that I was still happy to proceed. I was prepped for the procedure, I met with the anaesthetist who again was really nice and put me at ease explaining his role. After the procedure I woke up with the nurse by my side making sure I was OK and checking on me, I was able to stay in the clinic until I was ready to leave and was not rushed at all. I was well looked after from the start to the point when I was discharged. Post operation I was staying at a local hotel it was so close there was no point in even getting a taxi and I was able to walk back where my partner was waiting for me. I was expecting a lot of bruising to both my eyes but there was very little if any by the time the cast came off after 7 days, I am now at the two week post operation point and it is healing well with no outwardly visible bruising or scaring. The next milestone is a checkup at the 6 week point with my surgeon. If you're thinking of having something like this done I would highly recommend getting in touch with Centre for Surgery.
The staff at Centre for Surgery were very kind and accommodating. They answered any questions I had about the procedure and were constantly checking up on me. A special thank you to Christina for all her support throughout.
I would just like to state the quality of care received from the nurses at Centre for Surgery was beyond the highest level. Sophie takes her patient care to another level beyond words. She always puts me at ease. She is there for me even at awkward hours just when I mostly needed reassurance and she is one of the most compassionate nurses I have come across and demonstrates her passion naturally for caring for others. She totally deserves recognition at its finest and thank you for always being there for me. 😍