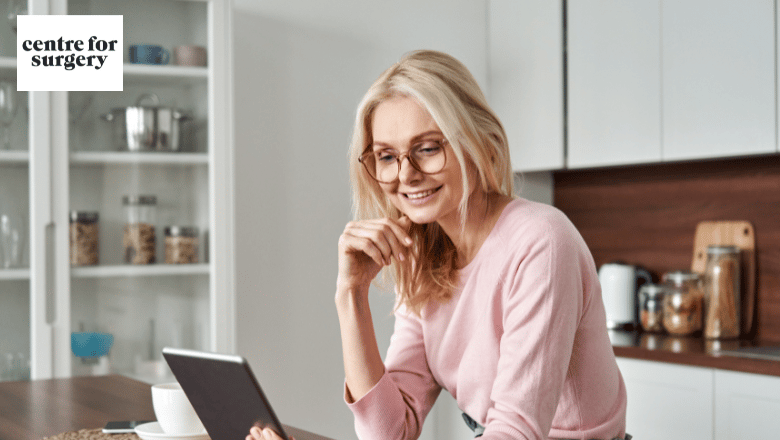 Here at Centre for Surgery, we commonly get asked about cosmetic surgery recovery and how long it takes to heal after surgery. We would start by saying recovery after any plastic surgery requires a period of downtime and adherence to your surgeon's postoperative instructions.  People lead increasingly busy lives with childcare commitments, social activities, going to the gym regularly and so on. Most men and women are, therefore, naturally eager to know when they can return to their normal everyday activities without any discomfort or restriction.
There is no straightforward answer on how long it takes to recover after cosmetic surgery. The length of recovery will be determined by several factors, including the procedure you had, if you experienced postoperative complications, your overall state of health, and how well you followed the postoperative instructions. In general, shorter procedures which are less invasive, will involve a shorter recovery time. Longer and more involved plastic surgery procedures, including combination procedures involving two or three surgeries combined in one operation, will involve a longer recovery.
RELATED: Recovery after Cosmetic Surgery
Recovery after breast augmentaion
Although there is no such thing as an easy recovery after surgery, breast augmentation recovery is considered relatively straightforward compared with, say, an abdominoplasty. This also applies to other types of press surgery, including a breast lift or breast reduction and in some cases, postoperative discomfort after these procedures may be less compared with under-the-muscle breast implants, despite involving longer incisions.
RELATED: How long is breast augmentation recovery?
We would recommend taking one week off work after breast augmentation and avoiding strenuous physical activities during the early recovery period. If you have childcare commitments, it is sensible to arrange for a helping hand as you will not be able to attend to their everyday needs during the first two weeks. You should avoid any form of vigourous physical exercise for at least four weeks after surgery. You may gradually resume physical activity after four weeks but avoid going to the gym until a minimum of six weeks after surgery. Focus on gentle exercises such as walking and using a stationary bike.
Recovery after liposuction
Liposuction is a minimally invasive body contouring procedure and the recovery period is relatively straightforward compared with an abdominoplasty. We would recommend one week away from work and avoiding excessive physical activity during the early recovery period. Whilst you are recovering in the early postoperative period, focus on getting plenty of rest and gently mobilise around the home. This means you can spend time catching up on your favourite books or TV programmes. Looking after children should be delegated to a responsible friend or relative. Doing too much in the early recovery period may affect the time taken to heal fully.
RELATED: How long does it take to recover after liposuction?
It is vital to take a minimum of one week off work to rest and relax, as this will help healing and recovery. Avoid attempting to do the laundry or look after children during this period. This applies even if you feel well enough to carry out many everyday activities. It is not uncommon to feel tired easily after surgery, and you should focus your efforts on getting plenty of rest which will help your recovery and, ultimately, the final liposuction results.
After four weeks, you may gradually commence light exercises, including short walks and using a stationary bike in a low-resistance setting. After approximately six weeks, you may be able to return to the gym, although you should consult with your doctor first. You will need to wear an appropriately fitting compression garment for at least six weeks after surgery. This helps to minimise bruising and swelling and speed up healing after liposuction. It should be worn day and night continuously.
You will be given a detailed information pack containing all the preoperative and post-operative instructions to follow. If you have any concerns, please reach out to us and speak to one of our clinical support team. You will have regular post-operative appointments with our nursing team, who will closely monitor your healing and progress.
Recovery after tummy tuck
A tummy tuck, also known as an abdominoplasty, is an invasive procedure and involves a lengthy recovery period. The surgery takes approximately 3 to 4 hours to perform and involves several surgical steps. The time taken to heal after a tummy tuck is determined by several factors, including whether abdominal muscle repair was performed and how much skin and fat was removed. If liposuction was combined with an abdominoplasty, this might lengthen the recovery period.
RELATED: Recovery after Tummy Tuck – Top Tips after Abdominoplasty
If you have been considering tummy tuck surgery, we would advise a minimum of two weeks off work and avoidance of physical activities for a minimum of six weeks. Recovery after a tummy tuck can be challenging because you'll be unable to stand fully upright for at least two weeks. You must stand and walk slightly bent at the hips until your surgeon says you can walk fully upright again. Bruising and swelling after a tummy tuck can be considerable, and it can be tender to touch the abdomen for several weeks after surgery. The key to a smooth tummy tuck recovery is to have a good social support system ready, particularly during the early period after surgery, to give you the crucial support you need.
Abdominoplasty procedures carried out at Centre for Surgery involve the use of dissolvable stitches for the lower abdominal and umbilicus incisions. A permanent stitch will be used to secure wound drains in position. The stitches will need to be removed 3 to 4 days after surgery when the drains are removed. All other stitches are fully dissolvable, which means this will not have to be removed at a post-operative appointment. In our experience, people recover after a tummy tuck at different speeds depending on the extent of the procedure and their overall state of health. Some patients can safely return to desk-based work after two weeks. However, many prefer to take extra time out, and this can be as many as four weeks, particularly for more physically demanding occupations.
Tummy tuck recovery takes weeks and not days, and it can take at least 2 to 3 weeks for you to begin to feel relatively normal once again. You should avoid any form of exercise in the early period after a tummy tuck. Mobilising gently around the home is beneficial to promote healthy blood circulation to the legs and minimise the risk of deep vein thrombosis. You should avoid any intense physical exercise for a minimum of six weeks, and you should always wear the postoperative abdominal binder for a full six weeks continuously. Although recovery after a tummy tuck takes time, the results achievable make a tummy tuck worth it. Patients can achieve a substantial boost in self-confidence and emotional well-being.
Recovery after mummy makeover
Mummy makeover recovery time is similar to that for a tummy tuck as it also involves an abdominoplasty. Mummy makeover procedures usually involve a combination of breast and tummy surgery and are carefully customised to the needs of the individual patient. The most common procedures which compose a mummy makeover include a tummy tuck and/or liposuction combined with a breast lift and/or breast augmentation.
RELATED: Is a mummy makeover worth it?
Having said that, a mummy makeover has an overall shorter recovery time compared with having each of the individual procedures carried out separately. A mummy makeover is one of our signature treatments at Centre for Surgery, and we carry out between 50 to 60 mummy makeover procedures each year at our Baker Street clinic.
RELATED: How soon can I have a mummy makeover after pregnancy?
Having two or more procedures in the same operation involves a similar recovery time to having an abdominoplasty alone. The recovery time is not made up of each individual procedure's recovery time added together. We would recommend taking off at least two weeks from work after a mummy makeover. Intense physical activities should be avoided for a minimum of six weeks until you have fully healed. Your surgeon will advise you when you can return to more vigourous forms of exercise at your six-week appointment.
RELATED: How long is mummy makeover recovery?
Recovery after rhinoplasty & facelift
Rhinoplasty and facelift surgery or two of the most popular types of facial plastic surgery, and we shall discuss them together as they have similar recovery profiles. A nose job and a facelift differ from breast and body surgery in that they both involve a slightly more straightforward recovery and have a lower risk of postoperative complications. These procedures are performed on the face, and any postoperative bruising and swelling will therefore be more visible compared with surgery on the breast or body. Breast augmentation and abdominoplasty procedures are easy to conceal beneath clothing.
We would recommend one week of work and avoiding strenuous physical activities for at least four weeks to allow proper healing to take place. There may be a considerable degree of bruising and swelling in the early postoperative period, and any discomfort can be minimised with prescription painkillers issued by your surgeon.
For a full facelift and neck lift, we would recommend at least 10 to 14 days away from work. This will allow any post-operative swelling and bruising to settle down, and any residual bruising can be easily covered with makeup.
Most bruising and swelling after rhinoplasty surgery will disappear after approximately two weeks. Most patients return to office-based roles after one week. Nasal congestion may take up to 4 weeks to improve once post-operative swelling has subsided. The bulk of post-rhinoplasty swelling will disappear after two weeks. You may notice a subtle degree of swelling affecting the tip of the nose, and this can last for up to 12 months. This residual rhinoplasty swelling is most often only noticeable to you or your surgeon, and any persistent nose swelling can be improved with steroid injections after 12 months.
RELATED: Risks of rhinoplasty surgery and how to minimise them
Follow your surgeon's recovery instructions to get the best results
The key to achieving excellent results after any type of cosmetic surgery is the follow your surgeon's preoperative and post-operative care instructions in full. Our clinical support team are available at any time to answer any questions or concerns you may have during recovery after plastic surgery. Our clinical protocols are well established and are regularly audited every three months to ensure we are delivering the highest standards of medical care.
RELATED: Risks and Complications of Cosmetic Surgery
If you are ready to embark on your journey to an enhanced physical appearance with cosmetic surgery, make sure to have plenty of patience during the recovery after surgery and give your body the time it needs to heal. You can learn more about recovery after cosmetic surgery by consulting a specialist plastic surgeon at our London clinic. The timeframe given above for each procedure should be viewed as rough estimates, and you should always check with your plastic surgeon before commencing any physical activity after surgery.
The final results of cosmetic surgery need time to appear. You will begin to see ongoing improvements in your surgical results over the weeks and months after your procedure. Final results are usually noticeable after approximately six months to 1 year after surgery. The vast majority of patients who have plastic surgery at our clinic find it to be well worth the wait.
Want to learn more about cosmetic surgery recovery?
If you would like to know more about recovery after cosmetic surgery, call us today on 020 7993 4849 or complete the contact form below to schedule an in-person consultation at our state-of-the-art plastic surgery clinic in London. All of our consultant plastic surgeons I've completed years of training in the UK, followed by specialist fellowships gained at the top medical centres internationally. Our treatment philosophy is focused on providing an attentive level of medical care both before and after your cosmetic surgery procedure to allow early recognition of any potential complications. You can increase the likelihood of achieving excellent cosmetic surgery results by following your surgeon's post-operative care instructions in full. Our clinical support team will be able to answer any questions or concerns you have after your procedure at any time.
RELATED: How much does a mummy makeover cost?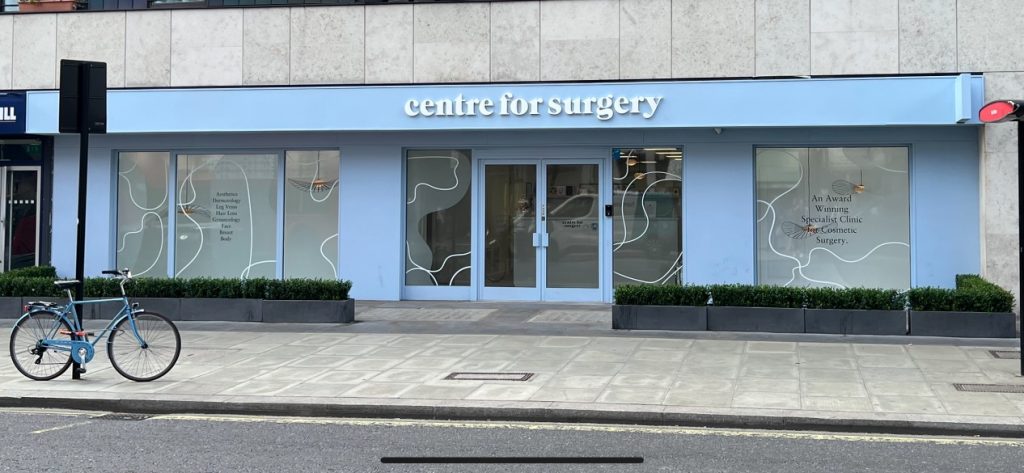 Amazing from start to finish, the communication was the main thing was fully informed and looked after, on the day of my breast augmentation, the staff were fab and made me feel at ease through out the whole process. Thank you so much.
Mohammed Farid
18/11/2021
I've had such a great experience with excellent advice, care and attention and surgical treatment (gynaecomastia) - I can fully endorse the treatment I have received from Centre for Surgery with absolutely no qualms at all. Brilliant in every way - thank you all so much.
Caroline Thorpe
14/11/2021
Very pleased with my whole experience of having a procedure. Was so nervous about getting treatment and i was reassured and felt so comfortable throughout thanks to the amazing nurses. I definitely made the right decision to have breast augmentation at centre for surgery with dr erel.
Melissa Briggs
08/11/2021
So glad I went with centre for surgery, the whole process went very smoothly from the consultations down to the actual day of the procedure. I was so nervous on the day but the whole team put me at ease and I'm happy with my results as I feel a lot more comfortable wearing certain clothes now. My surgeon was Alberto Di Giuseppe who performed a breast Augmentation on me, and I would definitely recommend as he was very clear on what the outcome of the surgery would be and which size would look the best for my frame.
Couldn't be happier with Dr Tillo work,i had my breast surgery one week ago and so happy with the results so far,all the staff are extremely nice and very supportive,i would definitely recommend their services,thank so much
From start to the finish everything was perfect for tummy tuck surgery. All staff is very friendly and the aftercare has been good. The Doctor and the nurse team was fantastic. I'm so happy...result is amazing. Thank you!!!
This was overall a great experience, all the staff at Centre for Surgery were friendly and put me at ease. It is a nerve wracking thing to go through an op but the staff were so nice. Mr Ertan has got a great team around him. On the day of the operation everything went smoothly to plan, there was no delay or holdups, I had another consultation with Mr Ertan who confirmed what was going to be done and that I was still happy to proceed. I was prepped for the procedure, I met with the anaesthetist who again was really nice and put me at ease explaining his role. After the procedure I woke up with the nurse by my side making sure I was OK and checking on me, I was able to stay in the clinic until I was ready to leave and was not rushed at all. I was well looked after from the start to the point when I was discharged. Post operation I was staying at a local hotel it was so close there was no point in even getting a taxi and I was able to walk back where my partner was waiting for me. I was expecting a lot of bruising to both my eyes but there was very little if any by the time the cast came off after 7 days, I am now at the two week post operation point and it is healing well with no outwardly visible bruising or scaring. The next milestone is a checkup at the 6 week point with my surgeon. If you're thinking of having something like this done I would highly recommend getting in touch with Centre for Surgery.
The staff at Centre for Surgery were very kind and accommodating. They answered any questions I had about the procedure and were constantly checking up on me. A special thank you to Christina for all her support throughout.
I would just like to state the quality of care received from the nurses at Centre for Surgery was beyond the highest level. Sophie takes her patient care to another level beyond words. She always puts me at ease. She is there for me even at awkward hours just when I mostly needed reassurance and she is one of the most compassionate nurses I have come across and demonstrates her passion naturally for caring for others. She totally deserves recognition at its finest and thank you for always being there for me. 😍