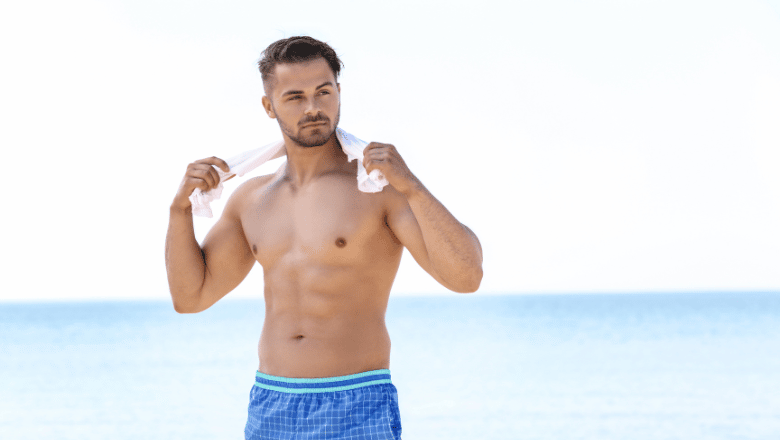 Gynecomastia, often referred to as 'man boobs' or 'moobs' is used to describe an excessive enlargement of the breast tissue in men. Many men develop a loss of self-confidence due to their prominent male breasts and wish to achieve a more sculpted and masculine-looking chest with the removal of excess breast tissue. We commonly get asked if gynecomastia can go away naturally. In many cases, male breast reduction or gynecomastia surgery is the ideal treatment to eliminate man boobs.
RELATED: What is gynecomastia?
Does gynecomastia go away naturally on its own?
The course of gynaecomastia will determine whether gynecomastia can go away on its own. Men with enlarged breasts often have an underlying hormonal disturbance affecting levels of oestrogen and progesterone. Gynaecomastia is exceedingly common when boys reach puberty due to hormonal fluctuations. In many cases, most young men often grow out of gynecomastia once they reach adulthood and levels of hormones begin to stabilise.
RELATED: How to get rid of Gynecomastia without surgery?
Gynaecomastia can also be caused by other factors such as prescription medications, recreational drug use, including anabolic steroids and cannabis use, the natural ageing process, and certain medical conditions such as chronic liver disease and gaining weight. Genetics can also contribute to gynecomastia forming, with the condition being more common if you have a first-degree relative having the condition.
What is the best way to treat gynecomastia?
In many cases, gynaecomastia does not settle on its own without active treatment. Patients may need to have male breast reduction as a highly effective treatment option to get rid of excess breast tissue in men. To get the best results after gynecomastia surgery, it is important to choose an appropriately skilled consultant plastic surgeon with specialised expertise in carrying out all types of gynecomastia surgery.
What does gynecomastia surgery involve?
Male breast reduction is the best type of surgical treatment for men who are affected by excess breast tissue, excess fat or loose skin. Gynaecomastia surgery is commonly combined with other complementary cosmetic surgery procedures, including liposuction, to remove excess fat. Gynaecomastia surgery can help to achieve a contoured and more sculpted chest without the unsightly bulging appearance that gynecomastia can cause.
What are the benefits of male gyno surgery?
Surgery is the most effective treatment to permanently remove excess breast tissue to achieve an aesthetically pleasing male chest with increased definition and a more toned appearance. Men who suffer from gynecomastia may experience pain and discomfort due to enlarged breasts, and this can affect certain activities, including gym exercises, playing sports or wearing certain types of fitted clothing.
Men who choose to have male breast reduction at Centre for Surgery often tell us how the procedure has transformed their life and allowed them to wear an unrestricted range of clothing, including tight-fitting T-shirts. Many men feel confident wearing their shorts on the beach. Men who suffer from severe gynecomastia can achieve improvement in certain medical problems, including poor posture or back pain, with male breast reduction surgery for a significantly improved quality of life.
Gynecomastia before and after     
RELATED: Gynecomastia Before and After Photos
How much does gynecomastia surgery cost?
The cost of gynecomastia treatment will differ depending on the amount of surgical correction required and the patient's overall health, including body mass index. Gynecomastia removal starts from £3500 at Centre for Surgery. Once you have had a face-to-face consultation, you will receive an accurate quotation from your dedicated patient coordinator. Other factors that may determine the cost of gynecomastia surgery include the type of anaesthetic used, whether a local anaesthetic or a general anaesthetic and whether other treatments will be combined with the surgery, including liposuction or skin removal.
Gynecomastia surgery is always customised to the individual needs and desires of the patient. Your surgeon will provide customised recommendations at your consultation to help you make an informed decision on the most appropriate type of treatment to permanently reduce or get rid of gynecomastia.
What does male breast reduction involve?
Once you are taken through to the operating theatre, a local anaesthetic will be injected into the area to numb the chest and nipples. If you have a general anaesthetic, you will be asleep for the duration of the procedure to ensure your comfort. The surgeon will make a semi circular incision around the nipple area. The size of gynecomastia will determine the type of incisions used. Men who have lost a significant amount of weight may require lengthy incisions for sufficient removal of excess male breast tissue. Once the desired amount of glandular tissue, fat and skin has been surgically removed, the chest skin will be surgically tightened using a delicate surgical technique, followed by the closure of the incisions with dissolvable stitches. The stitches do not need to be removed at a subsequent follow-up appointment.
What does gynecomastia surgery recovery feel like?
Once the surgery for gynecomastia removal is complete, you will be provided with detailed post-operative after-care instructions, which you must follow to minimise the risk of complications occurring. Any pain and discomfort can be easily controlled with prescription painkillers prescribed to you by your surgeon to ensure your healing and recovery are as smooth as possible.
RELATED: What is gynecomastia surgery recovery like?
Common side effects of surgery include bruising, swelling and temporary numbness in the treated areas of the chest. The symptoms will rapidly settle down over the first 3 to 5 days after gynecomastia surgery. Patients can restart most liked daily activities between one to 2 weeks after surgery. We would advise against any strenuous activity, including going to the gym for the first six weeks after surgery. Attempting to do too much too soon may affect your wound healing and final surgical results.
When will I see the final gynaecomastia results?
The time taken for final results to appear after gynaecomastia surgery will differ between men depending on the extent of the surgical procedure. However, in general, most patients can expect to see a significant improvement in the appearance of the chest straight after surgery. Continued improvements will become noticeable over the next few weeks as the swelling begins to resolve. Swelling can take between 3 to 6 months to fully settle down. Once the swelling has disappeared, you will begin to see the final aesthetic results of Surgery with a more contoured and flatter chest.
RELATED: What do gynecomastia scars look like?
What causes gynecomastia?
There are several factors that can cause an increase in breast tissue in men. In most cases, gynecomastia develops due to an underlying hormonal imbalance of the two hormones, oestrogen and testosterone. Oestrogen is the hormone most commonly found in women. Oestrogen can contribute to breast tissue proliferation when present at abnormally high levels in men. The factors that can cause gynecomastia include:
Advancing age – although men can develop gynecomastia at any stage of their life, most cases of gynaecomastia in young boys and teenagers are due to hormonal disturbances. Once hormone levels begin to stabilise, the gynaecomastia will disappear on its own. As boys approach puberty, hormonal levels begin to surge significantly, resulting in gynecomastia in teenage boys. In the bath majority of cases, this type of gynecomastia goes away naturally as hormone levels begin to normalise and do not need active treatment as long as it disappears within six months to 18 months. As men get older, gynecomastia becomes increasingly common as testosterone levels begin to decline naturally. Men also have a tendency to accumulate excess fat with age, and this may also contribute to changes in oestrogen levels and an increase in male breast tissue enlargement.
Prescription medications and recreational drugs – certain prescription medications can cause hormone levels to be disrupted, resulting in the development of excessive breast tissue in men. Typical drugs include drugs used to treat acid reflux or heart disease. Certain types of recreational drugs, including marijuana and anabolic steroids, are well-known causes of gynecomastia due to a disruption of hormone levels.
Medical conditions – a reduction in testosterone naturally occurs with age, although many men often produce insufficient levels of testosterone earlier in life. Oestrogen, therefore, acts on a post on male breast tissue development. Other medical conditions that may result in a decline in testosterone production include conditions affecting the pituitary gland or the genetic condition of Klinefelter's syndrome. Certain types of cancer, including testicular cancer or tumours of the adrenal glands, can cause a surge in certain levels of hormones which directly stimulates excess breast tissue proliferation. An overactive thyroid gland may result in abnormally high levels of the hormone thyroxine. Thyroxine can interfere with the overall balance of oestrogen and testosterone levels leading to the development of gynecomastia.
What are the common gynecomastia symptoms?
The most common symptoms of gynecomastia other than an enlarged and prominent male chest include:
Pain or discomfort which may be more common in younger boys
 Enlarged breasts causing tenderness when touched
An increase in sensitivity of the nipples
Swollen and puffy nipples
Is gynecomastia surgery worth it?
Gynecomastia continues to be a very common condition affecting men. Many men find gynecomastia does not go away on its own and would like to achieve a more defined and sculpted chest. Gynecomastia surgery is considered the most effective male contouring surgery to help men achieve a significant boost in self-confidence with the removal of excess breast tissue, fat or skin.
Men often notice an immediate improvement in the appearance of the chest, and this can give them the confidence to wear an unrestricted range of clothing and engage in physical activities which they would've previously avoided. This is why gynecomastia surgery is viewed as a worthwhile cosmetic surgery with benefits far outweighing the potential risks.
RELATED: Is gynecomastia surgery worth it?
Why choose Centre for Surgery for gynecomastia surgery?
Centre for surgery is the leading cosmetic surgery clinic in London, and our gynecomastia surgeons have significant expertise in the treatment of all types of gynecomastia affecting men. If you would like to achieve a more defined contour to the chest, you may be a suitable candidate to undergo gynecomastia removal surgery. Call us today on 020 7993 4841 to book a face-to-face consultation with an expert Surgeon to learn how gynecomastia surgery can be customised to help you reach your body goals.
RELATED: Male chest reduction surgery in London
Amazing from start to finish, the communication was the main thing was fully informed and looked after, on the day of my breast augmentation, the staff were fab and made me feel at ease through out the whole process. Thank you so much.
Mohammed Farid
18/11/2021
I've had such a great experience with excellent advice, care and attention and surgical treatment (gynaecomastia) - I can fully endorse the treatment I have received from Centre for Surgery with absolutely no qualms at all. Brilliant in every way - thank you all so much.
Caroline Thorpe
14/11/2021
Very pleased with my whole experience of having a procedure. Was so nervous about getting treatment and i was reassured and felt so comfortable throughout thanks to the amazing nurses. I definitely made the right decision to have breast augmentation at centre for surgery with dr erel.
Melissa Briggs
08/11/2021
So glad I went with centre for surgery, the whole process went very smoothly from the consultations down to the actual day of the procedure. I was so nervous on the day but the whole team put me at ease and I'm happy with my results as I feel a lot more comfortable wearing certain clothes now. My surgeon was Alberto Di Giuseppe who performed a breast Augmentation on me, and I would definitely recommend as he was very clear on what the outcome of the surgery would be and which size would look the best for my frame.
Couldn't be happier with Dr Tillo work,i had my breast surgery one week ago and so happy with the results so far,all the staff are extremely nice and very supportive,i would definitely recommend their services,thank so much
From start to the finish everything was perfect for tummy tuck surgery. All staff is very friendly and the aftercare has been good. The Doctor and the nurse team was fantastic. I'm so happy...result is amazing. Thank you!!!
This was overall a great experience, all the staff at Centre for Surgery were friendly and put me at ease. It is a nerve wracking thing to go through an op but the staff were so nice. Mr Ertan has got a great team around him. On the day of the operation everything went smoothly to plan, there was no delay or holdups, I had another consultation with Mr Ertan who confirmed what was going to be done and that I was still happy to proceed. I was prepped for the procedure, I met with the anaesthetist who again was really nice and put me at ease explaining his role. After the procedure I woke up with the nurse by my side making sure I was OK and checking on me, I was able to stay in the clinic until I was ready to leave and was not rushed at all. I was well looked after from the start to the point when I was discharged. Post operation I was staying at a local hotel it was so close there was no point in even getting a taxi and I was able to walk back where my partner was waiting for me. I was expecting a lot of bruising to both my eyes but there was very little if any by the time the cast came off after 7 days, I am now at the two week post operation point and it is healing well with no outwardly visible bruising or scaring. The next milestone is a checkup at the 6 week point with my surgeon. If you're thinking of having something like this done I would highly recommend getting in touch with Centre for Surgery.
The staff at Centre for Surgery were very kind and accommodating. They answered any questions I had about the procedure and were constantly checking up on me. A special thank you to Christina for all her support throughout.
I would just like to state the quality of care received from the nurses at Centre for Surgery was beyond the highest level. Sophie takes her patient care to another level beyond words. She always puts me at ease. She is there for me even at awkward hours just when I mostly needed reassurance and she is one of the most compassionate nurses I have come across and demonstrates her passion naturally for caring for others. She totally deserves recognition at its finest and thank you for always being there for me. 😍