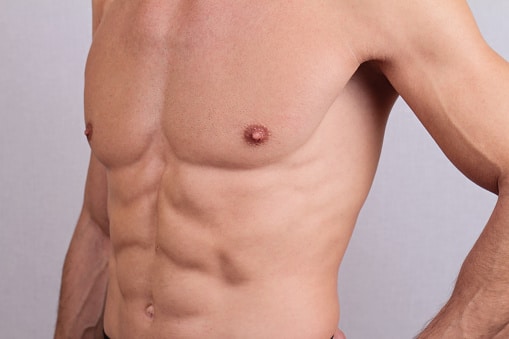 Gynecomastia surgery, also known as male breast reduction, can be a life-changing procedure for men unhappy with the appearance of their chest. As with any cosmetic surgery, it is important to keep the recovery process in mind, so in this piece, we will explain what the recovery process involves for gynecomastia surgery. 
What to expect during your gynecomastia recovery
Having showers
It is fine to get your stitches wet after Gynecomastia surgery, meaning you can wash and bathe right after. However, keep incisions and scars clean to avoid infection. Thorough aftercare instructions will be given and you can ask your surgeon questions before the surgery.
Discomfort
It is normal to feel some discomfort after male breast reduction, this comes from the swelling and soreness, which will go away after a few days. Your surgeon may prescribe medication to help with this.
Going back to work
Following your male breast reduction procedure, you need to rest for a maximum of 7 days, (depending on how invasive the surgery was), before going back to work. However, if your work requires heavy lifting or rigorous movement, you might need more time away from work to make sure you're ready. 
Exercise
You would normally need to avoid strenuous exercise like weight training for 6 weeks. However, light exercise may still be possible. We recommend low-impact cardio such as walking or using a stationary bike or any exercise that focuses on the lower body.
Driving
Centre for Surgery does not recommend that you drive for up to 72 hours after your gynecomastia surgery. This is because anaesthesia may still be in your body and can affect focus. Remember to have transport arranged to take you home after the cosmetic surgery. You should have a responsible adult escort to look after you for the first 24 hours. 
RELATED: How to get rid of Gynecomastia without surgery?
Male breast reduction surgery recovery timeline
It is in the first few days that you may experience the most post-surgery swelling and soreness. Your surgeon may prescribe painkiller medication to help with any discomfort that may be felt. Results can be seen right after the gynecomastia surgery, but they may be obscured by swelling. 
RELATED: How to Get Rid of Puffy Nipples in Men
You will be given a compression garment that you need to wear to keep the area secure and help the body heal. You should also sleep on your back during this period. Prop yourself up on pillows to make it easier to get up the following morning.
During the first week, you should now feel more comfortable, and the swelling will have reduced noticeably. Continue to wear your compression garment and avoid exercise that targets your chest muscles. However, you can resume most of your daily activities and engage in light, low-impact lower-body exercises. After the first 2 weeks you will feel well enough to do most of your daily tasks. You should still avoid vigorous exercise, though. If you get the go-ahead from your surgeon, you can now sleep on your side.
By week 6, you should have recovered fully. You will now be able to return to resuming any forms of exercise you enjoy. Also, you will no longer have to wear your compression garment, and you will notice that your scars will have faded considerably.
Top tips for Gynecomastia surgery recovery
Massage scar tissue
Massaging scar tissue around the breasts is an effective way to make sure the skin settles evenly. Post-op massages should only be done after 4 weeks, or when the scars have healed a lot. It is best to do when the tissue is still soft, doing so carefully with your hands and with a roller device.
Also, you can book in for a lymphatic drainage massage which helps the drainage of built-up fluid in the body. This is important after surgery because swelling on the body may be made worse by buildup in the lymphatic system.
Keep good posture
Make sure you maintain a good posture after your surgery. Sitting up straight keeps the skin on your chest tight. This will decrease the appearance of loose skin on your newly formed chest and reduce the appearance of scars.
Wear the prescribed compression vest
Compression vests are effective for keeping treated areas secure after surgery. The benefits of compression vests include:
reducing scarring
promoting healing
preventing bruising
reducing infections
The compression vest will enhance the contouring effects of gynecomastia surgery. You will be measured up for the compression garment by one of our preoperative nurses prior to your procedure.
Monitor fluid intake
Be sure to regulate your fluid intake after surgery to prevent the formation of seromas (which are build-ups of liquid under the skin). Seromas are typically harmless and will either go away by themselves or are treated with needle aspiration, either way, they can be irritating.
It can take up to three weeks after your surgery for seromas to become noticeable, it's because of this it is important to monitor your fluid intake before you notice seromas. Aim to drink a maximum of 2 litres of fluid a day, to lower the risk of seromas developing.
Get plenty of rest
When we sleep our body produces protective white blood cells, which:
Strengthen our immune systems
Release hormones that regenerate and repair our tissue
Give our body the energy to heal
Without efficient rest, you can slow your healing and cause yourself injury. For the best results, take it easy and follow recovery guidelines.
What to expect from gynecomastia surgery
Your surgeon will assess your surgical and aspirational needs. At this point, you will be told if you need both liposuction and glands removal and how the surgery will be carried out. At this consultation, you can ask any question you may have.
Remember that cosmetic surgery is individualised and is based on your needs. Male breast reduction surgery can involve different techniques and a combination of surgeries. This will be made clear during your consultation. The most common gynaecomastia techniques include liposuction, gland excision and skin reduction.
A typical procedure will mean the patient is placed under general anaesthesia. Once you have been anaesthetised, an incision is made around the nipples. This is known as a Websters incision. Glandular tissue and excess skin will be precisely removed, and the skin is closed with dissolvable stitches. After the surgery, it is normal to experience mild discomfort, bruising and swelling, but don't worry – this will normally go away after a few days. Any discomfort can be easily controlled with over-the-counter painkillers such as paracetamol. Full recovery after the procedure takes around 6 weeks. During this time, avoid strenuous activity to promote healing. You will be reviewed by your surgeon at six weeks to assess your gynaecomastia results.
Am I suitable for gynecomastia surgery?
If you have "man boobs" that aren't going away, no matter how much exercise you do, you could have gynecomastia – this can be effectively resolved with a straightforward surgical procedure. To be eligible for a gynecomastia procedure, you need to have no underlying medical health conditions. You also need a BMI (Body Mass Index) below 30. Being overweight or obese increases the risks of anaesthesia and surgery
Surgeons at Centre for Surgery recommend waiting until you are at least 18 years of age. This is in case the appearance of overdeveloped breasts is the result of puberty that will resolve itself. A consultation can confirm whether this is the case or not.
Schedule an appointment with Centre for Surgery
Contact us today if you have or believe you have gynecomastia and and speak to one of our experience patient coordinators to book a face-to-face consultation with an expert gynaecomastia surgeon. The easiest way is to either call us on 020 799 34849 or complete our contact form.
RELATED: Male Chest Reduction Surgery in London
Amazing from start to finish, the communication was the main thing was fully informed and looked after, on the day of my breast augmentation, the staff were fab and made me feel at ease through out the whole process. Thank you so much.
Mohammed Farid
18/11/2021
I've had such a great experience with excellent advice, care and attention and surgical treatment (gynaecomastia) - I can fully endorse the treatment I have received from Centre for Surgery with absolutely no qualms at all. Brilliant in every way - thank you all so much.
Caroline Thorpe
14/11/2021
Very pleased with my whole experience of having a procedure. Was so nervous about getting treatment and i was reassured and felt so comfortable throughout thanks to the amazing nurses. I definitely made the right decision to have breast augmentation at centre for surgery with dr erel.
Melissa Briggs
08/11/2021
So glad I went with centre for surgery, the whole process went very smoothly from the consultations down to the actual day of the procedure. I was so nervous on the day but the whole team put me at ease and I'm happy with my results as I feel a lot more comfortable wearing certain clothes now. My surgeon was Alberto Di Giuseppe who performed a breast Augmentation on me, and I would definitely recommend as he was very clear on what the outcome of the surgery would be and which size would look the best for my frame.
Couldn't be happier with Dr Tillo work,i had my breast surgery one week ago and so happy with the results so far,all the staff are extremely nice and very supportive,i would definitely recommend their services,thank so much
From start to the finish everything was perfect for tummy tuck surgery. All staff is very friendly and the aftercare has been good. The Doctor and the nurse team was fantastic. I'm so happy...result is amazing. Thank you!!!
This was overall a great experience, all the staff at Centre for Surgery were friendly and put me at ease. It is a nerve wracking thing to go through an op but the staff were so nice. Mr Ertan has got a great team around him. On the day of the operation everything went smoothly to plan, there was no delay or holdups, I had another consultation with Mr Ertan who confirmed what was going to be done and that I was still happy to proceed. I was prepped for the procedure, I met with the anaesthetist who again was really nice and put me at ease explaining his role. After the procedure I woke up with the nurse by my side making sure I was OK and checking on me, I was able to stay in the clinic until I was ready to leave and was not rushed at all. I was well looked after from the start to the point when I was discharged. Post operation I was staying at a local hotel it was so close there was no point in even getting a taxi and I was able to walk back where my partner was waiting for me. I was expecting a lot of bruising to both my eyes but there was very little if any by the time the cast came off after 7 days, I am now at the two week post operation point and it is healing well with no outwardly visible bruising or scaring. The next milestone is a checkup at the 6 week point with my surgeon. If you're thinking of having something like this done I would highly recommend getting in touch with Centre for Surgery.
The staff at Centre for Surgery were very kind and accommodating. They answered any questions I had about the procedure and were constantly checking up on me. A special thank you to Christina for all her support throughout.
I would just like to state the quality of care received from the nurses at Centre for Surgery was beyond the highest level. Sophie takes her patient care to another level beyond words. She always puts me at ease. She is there for me even at awkward hours just when I mostly needed reassurance and she is one of the most compassionate nurses I have come across and demonstrates her passion naturally for caring for others. She totally deserves recognition at its finest and thank you for always being there for me. 😍