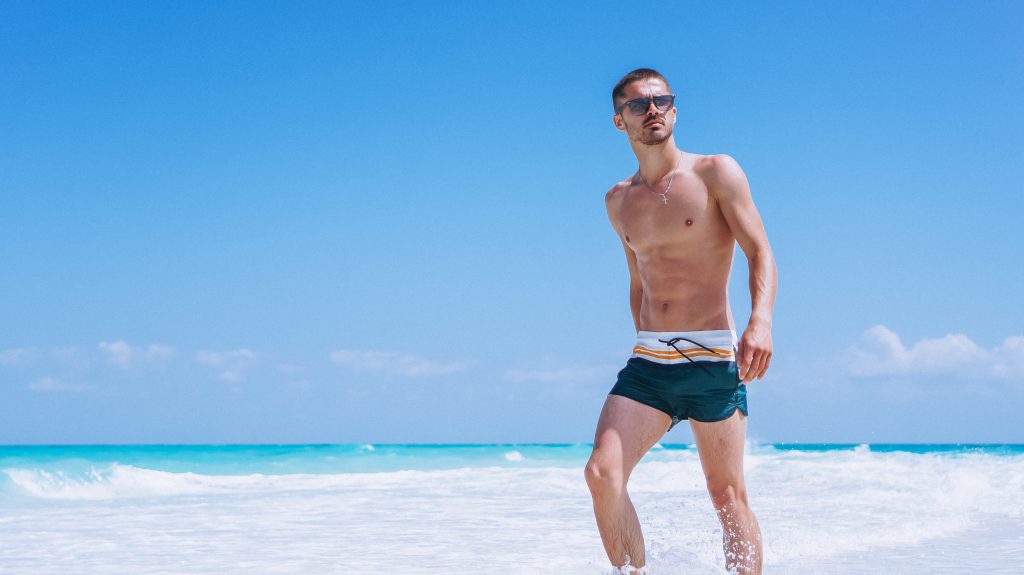 Male breast reduction is the best treatment for getting rid of 'man boobs' also known as gynecomastia. Up to 60 to 70% of adult men have some degree of gynaecomastia or 'man boobs'. There are a number of potential causes of enlarged breasts in men, including hormonal changes, excess alcohol and steroid usage. The most common presentation is breast tissue enlargement, and in some cases, the breasts may feel tender to the touch. The most common underlying cause responsible for causing gynecomastia is high circulating levels of oestrogen.

However, most men will simply have 'man boobs' due to a buildup of excess fatty tissue over the chest and pectoralis muscle and this is also known as pseudo-gynaecomastia. Men who keep to a healthy diet and exercise regularly can remove this fat effectively whilst simultaneously building chest muscle mass.
It is important to have a full medical assessment to identify potential underlying causes of 'man boobs' and if it is found that excessive oestrogen levels could be the cause, then it's best to speak to your GP in the first instance, who may then may refer you to an endocrine specialist for consideration of pharmacological therapy.
Centre for Surgery is renowned as a specialist centre for the treatment of all types of gynaecomastia using the most advanced male breast reduction techniques including liposuction, gland excision and surgical removal of skin excess.
Is it possible to get rid of man boobs?
In expert hands, it is perfectly achievable to get rid of man boobs with permanent results. In some cases, men who follow a program of eating sensibly and exercising regularly can reduce the appearance of man boobs especially if they are overweight or obese. Cardiovascular exercise such as running cycling or swimming helps with generalised weight loss whilst specific exercises such as bench presses or push-ups can help to reduce fat and build muscle at the same time in the chest area. For men who have tried natural methods to get rid of man boobs and failed then there is the more permanent option of male breast reduction which will reduce localised fat as well as remove excess glandular tissue to result in a more manly looking chest and sculpted look.
What is the best way to get rid of man boobs?
Our surgeons recommend male breast reduction surgery using a combination of liposuction and surgical excision for effective treatment of this common condition affecting many men. At Centre for Surgery in London, our surgeons specialise in power-assisted liposuction which uses a specialised reciprocating and piece to safely and effectively break down an extract fat without the use of thermal energy which is used in both SmartLipo and Vaser lipo. By avoiding the use of thermal energy, the risk of skin burns is eliminated. Liposuction using the power-assisted technique is much gentler compared with traditional liposuction with a much-reduced incidence of both bruising and swelling and therefore a quicker recovery. For patients who have minimal fatty tissue and have a predominance of glandular tissue then your surgeon may need to make an incision in the lower half of the areola to surgically remove this excess tissue and this is most commonly performed in combination with liposuction for more complete results. In rare cases where men have skin laxity, the surgeon may also remove excess skin to tighten the chest. Nowadays, our surgeons have access to BodyTite radio-frequency skin tightening which avoids the traditional scars of excess skin removal. Many men choose to combine gynaecomastia removal with high definition liposuction.
The male breast reduction procedure takes between 1 to 2 hours to carry out and is most commonly carried out under a general anaesthetic although, for more minor grades of gynaecomastia, having the treatment under local anaesthetic is an option. If the appearance of your scars is something that could potentially concern you, you can be assured that you have access to the very best scar revision techniques available at Centre for Surgery using a variety of methods including both erbium laser and Morpheus8.
Is it possible to get rid of man breasts in under one month?
One of the great advantages of male breast reduction surgery is that patients can expect to see significant results in the first week following surgery. Any bruising or swelling will begin to settle down by the end of week two with final results evident by the six-month stage. You should make sure to comply with the surgeon's post-operative instructions to make sure you get the best results following male gyno surgery.
Amazing from start to finish, the communication was the main thing was fully informed and looked after, on the day of my breast augmentation, the staff were fab and made me feel at ease through out the whole process. Thank you so much.
Mohammed Farid
18/11/2021
I've had such a great experience with excellent advice, care and attention and surgical treatment (gynaecomastia) - I can fully endorse the treatment I have received from Centre for Surgery with absolutely no qualms at all. Brilliant in every way - thank you all so much.
Caroline Thorpe
14/11/2021
Very pleased with my whole experience of having a procedure. Was so nervous about getting treatment and i was reassured and felt so comfortable throughout thanks to the amazing nurses. I definitely made the right decision to have breast augmentation at centre for surgery with dr erel.
Melissa Briggs
08/11/2021
So glad I went with centre for surgery, the whole process went very smoothly from the consultations down to the actual day of the procedure. I was so nervous on the day but the whole team put me at ease and I'm happy with my results as I feel a lot more comfortable wearing certain clothes now. My surgeon was Alberto Di Giuseppe who performed a breast Augmentation on me, and I would definitely recommend as he was very clear on what the outcome of the surgery would be and which size would look the best for my frame.
Couldn't be happier with Dr Tillo work,i had my breast surgery one week ago and so happy with the results so far,all the staff are extremely nice and very supportive,i would definitely recommend their services,thank so much
From start to the finish everything was perfect for tummy tuck surgery. All staff is very friendly and the aftercare has been good. The Doctor and the nurse team was fantastic. I'm so happy...result is amazing. Thank you!!!
This was overall a great experience, all the staff at Centre for Surgery were friendly and put me at ease. It is a nerve wracking thing to go through an op but the staff were so nice. Mr Ertan has got a great team around him. On the day of the operation everything went smoothly to plan, there was no delay or holdups, I had another consultation with Mr Ertan who confirmed what was going to be done and that I was still happy to proceed. I was prepped for the procedure, I met with the anaesthetist who again was really nice and put me at ease explaining his role. After the procedure I woke up with the nurse by my side making sure I was OK and checking on me, I was able to stay in the clinic until I was ready to leave and was not rushed at all. I was well looked after from the start to the point when I was discharged. Post operation I was staying at a local hotel it was so close there was no point in even getting a taxi and I was able to walk back where my partner was waiting for me. I was expecting a lot of bruising to both my eyes but there was very little if any by the time the cast came off after 7 days, I am now at the two week post operation point and it is healing well with no outwardly visible bruising or scaring. The next milestone is a checkup at the 6 week point with my surgeon. If you're thinking of having something like this done I would highly recommend getting in touch with Centre for Surgery.
The staff at Centre for Surgery were very kind and accommodating. They answered any questions I had about the procedure and were constantly checking up on me. A special thank you to Christina for all her support throughout.
I would just like to state the quality of care received from the nurses at Centre for Surgery was beyond the highest level. Sophie takes her patient care to another level beyond words. She always puts me at ease. She is there for me even at awkward hours just when I mostly needed reassurance and she is one of the most compassionate nurses I have come across and demonstrates her passion naturally for caring for others. She totally deserves recognition at its finest and thank you for always being there for me. 😍