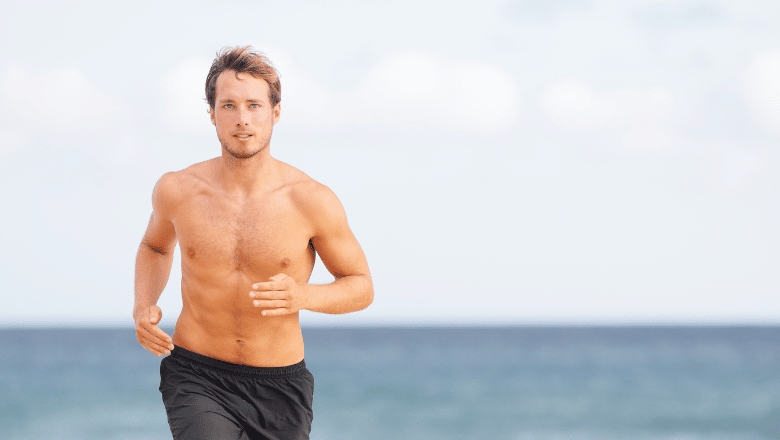 Men commonly complain of man boobs or puffy nipples. Both conditions are exceedingly common in the general population and are most commonly due to the enlargement of male breast tissue, which could be due to several potential causes. Common causes include steroid usage, gynaecomastia, low testosterone levels or excess fat. Chest puffiness can, in some cases, be treated with diet and exercise, although this may be ineffective for other causes of gynecomastia. Diet and exercise can help to reduce overall body fat levels and improve the contour of the male chest without the need for surgery. In many cases, puffy nipples cannot be improved with diet and exercise alone, and gyno surgery will be needed to get rid of man boobs.
RELATED: How to get rid of puffy nipples in men
Which exercises are effective to reduce man boobs?
Chest wall puffiness can be improved by carrying out regular chest exercises. Certain types of exercise can help to tune the pectoral muscles. Recommended exercises include bench presses, push-ups, incline and decline cable flies, bent forward cable crossovers and bodyweight flies. You can either carry out these exercises on your own or in conjunction with a dedicated personal trainer. The key to achieving a successful reduction of man boobs is to target all parts of your chest on a consistent basis. You may find you prefer to carry out more repetitions or fewer sets with increased resistance. You will gradually find out what works best for you. Try to carry out exercises at least three times a week for half an hour. As your strength increases, you can gradually increase the frequency and duration of workouts. You should make sure to take at least one or two days off each week to get adequate rest and allow your body to recover.
Workouts should be varied to prevent boredom. Cardiovascular exercise can also be added to reduce overall body fat levels, and the most effective forms of exercise include running, rowing or swimming for at least 20 minutes each day.
What are the best foods to eat to get rid of man boobs?
Man boobs can often be due to excess fat or oestrogen. This can be corrected by making several dietary modifications to ensure healthy eating habits that can be maintained for the long term. It would be best to increase your intake of vegetables and fruit and eliminate highly processed foods. A dietician can help to prepare healthy and well-balanced meal plans that you can easily follow. Certain foods should be added to your diet, including egg whites, nuts, beans, seeds, white fish, white chicken and ginger.
Soy products should be avoided as they can cause an increase in oestrogen levels. High levels of oestrogen are associated with gynecomastia. Certain medications may be prescribed to correct hormone levels, and this, in conjunction with a healthy lifestyle, may help to reduce man boobs or puffy nipples.
Can herbal supplements eliminate man boobs?
Recommended herbal supplements can help to reduce puffy nipples by stimulating an increase in the production of testosterone. You should avoid taking any herbal supplements without first consulting with a specialist. Although there is no clinical proof to support the effectiveness of herbal supplements in getting rid of man boobs, they have a recognised role in boosting testosterone levels which may help indirectly to cure the condition. Certain types of herbs are known to improve puffy nipples, including devil's claw, milk thistle and red clover. Many types of supplements may interact with existing medications you may be taking. This is why it is always important to check with your doctor before starting herbal supplements. Avoid buying supplements from overseas suppliers, as their reputation may not be verified. Your surgeon may help to recommend supplements from a reputable company, and always make sure to follow the dosage instructions on the product.
Gyno surgery can get rid of man boobs permanently
If you have failed to achieve long-lasting results with any of the abovementioned techniques, contact us to discuss surgical options. Gyno surgery may be the only way to reduce man boobs or treat puffy nipples.
Male breast liposuction
Male breast liposuction may, in many cases, help to get rid of excess chest fat. It cannot, however, get rid of excess breast tissue. Liposuction alone is not suitable for men with significantly loose skin from massive weight loss.
Gynecomastia gland removal
Surgical gland removal can help to get rid of man boobs and puffy nipples permanently. Gyno surgery involves making a small incision around the nipple followed by surgical removal of excess breast tissue to achieve a contoured chest. The same procedure can also be used to reduce the size of the areola, and this is also known as areola reduction surgery.
RELATED: Gynecomastia surgery recovery – what to expect
Laser fat reduction or skin tightening
Some men may not be keen on having an invasive surgical procedure. For men with mild enlargement of the breast tissue, laser fat reduction combined with laser skin tightening may achieve a modest reduction in man boobs and puffy nipples. Although they offer the advantage of a quick recovery, they cannot tackle moderate or severe grades of breast tissue enlargement. Your gyno surgeon will be able to advise you if you are suitable for non-surgical fat reduction techniques.
Gyno surgery and man boobs FAQs
Here we discuss the most commonly asked questions about man boobs, and puffy nipples and the best treatments to get rid of them.
What are puffy nipples?
Puffy nipples are most commonly due to an underlying hormonal imbalance resulting in testosterone deficiency or oestrogen excess. Steroid usage may also cause puffy nipples. Men with excess fat in the chest can also develop puffy nipples, although this can be effectively treated with a healthy diet and regular exercise. Liposuction can treat this condition if non-surgical options fail. The best treatment will be determined by the precise cause. Puffy nipples are generally harmless and are not usually linked to a serious underlying medical condition.
What causes puffy nipples?
Common causes of puffy nipples in men include steroid use, excess chest fat and hormonal disturbances.
Can I get rid of man boobs naturally without surgery?
In selected cases, diet and exercise alone may be able to reduce man boobs. Certain prescribed medications may also help to flatten the chest.
What foods should I eat to reduce puffy nipples?
Excess fat in the chest is a common cause of puffy nipples and can be treated by eating a healthy diet rich in fruit and vegetables. This can help to reduce the size of man boobs. Whole-grain foods, nuts, seeds and lean protein all help to reduce overall body fat. Low-fat milk and low-salt products are also beneficial.
What are the gyno surgery options?
There are two main surgical techniques to get rid of puffy nipples:
Male breast liposuction – liposuction is an effective, minimally invasive procedure to get rid of excess fat using a cannula connected to a negative pressure vacuum. Fat cells are broken down by the cannula before being sucked out. Once the desired amount of fat has been removed, small skinny decisions will be closed with a single stitch, followed by a sterile dressing.
Gynecomastia gland removal – most forms of gynaecomastia require surgical removal of the excess glandular tissue. A semi-circular incision is made around the nipple, followed by surgical removal of glandular breast tissue. This helps to eliminate puffy nipples and get rid of man boobs to achieve a more masculine-looking chest.
How do I choose the best gyno surgeon?
Achieving the best gynecomastia results means choosing a highly experienced plastic surgeon who regularly carries out gyno surgery. We would recommend avoiding inexperienced surgeons as well as 'cosmetic surgeons' as they may lack the necessary training and expertise, which may result in serious medical complications.
Gyno surgery at Centre for Surgery
Centre for Surgery is the leading plastic surgery clinic in the UK and is home to some of the leading gyno surgeons in London. We carry out hundreds of gynecomastia procedures each year at our state-of-the-art Baker Street clinic in Marylebone. To learn more about gyno surgery options, call us today on 020 7993 4849 or complete the contact form below to schedule an in-person consultation.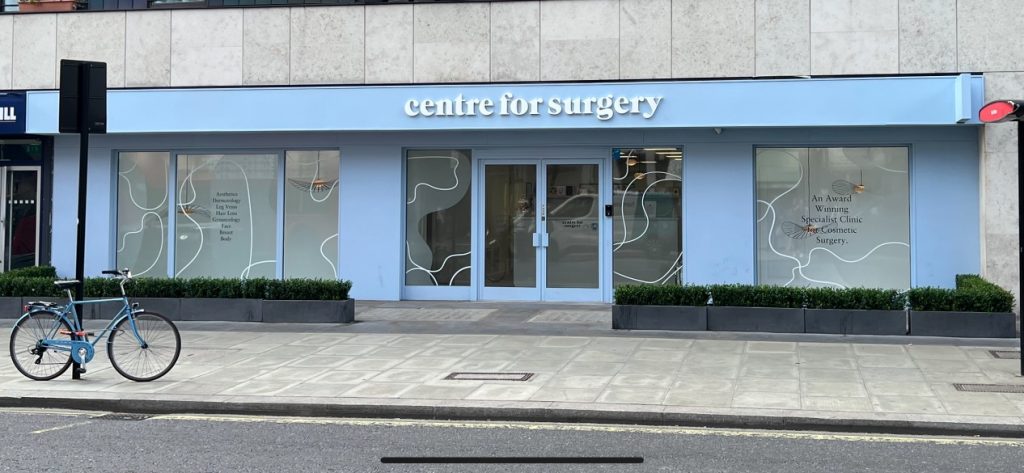 Amazing from start to finish, the communication was the main thing was fully informed and looked after, on the day of my breast augmentation, the staff were fab and made me feel at ease through out the whole process. Thank you so much.
Mohammed Farid
18/11/2021
I've had such a great experience with excellent advice, care and attention and surgical treatment (gynaecomastia) - I can fully endorse the treatment I have received from Centre for Surgery with absolutely no qualms at all. Brilliant in every way - thank you all so much.
Caroline Thorpe
14/11/2021
Very pleased with my whole experience of having a procedure. Was so nervous about getting treatment and i was reassured and felt so comfortable throughout thanks to the amazing nurses. I definitely made the right decision to have breast augmentation at centre for surgery with dr erel.
Melissa Briggs
08/11/2021
So glad I went with centre for surgery, the whole process went very smoothly from the consultations down to the actual day of the procedure. I was so nervous on the day but the whole team put me at ease and I'm happy with my results as I feel a lot more comfortable wearing certain clothes now. My surgeon was Alberto Di Giuseppe who performed a breast Augmentation on me, and I would definitely recommend as he was very clear on what the outcome of the surgery would be and which size would look the best for my frame.
Couldn't be happier with Dr Tillo work,i had my breast surgery one week ago and so happy with the results so far,all the staff are extremely nice and very supportive,i would definitely recommend their services,thank so much
From start to the finish everything was perfect for tummy tuck surgery. All staff is very friendly and the aftercare has been good. The Doctor and the nurse team was fantastic. I'm so happy...result is amazing. Thank you!!!
This was overall a great experience, all the staff at Centre for Surgery were friendly and put me at ease. It is a nerve wracking thing to go through an op but the staff were so nice. Mr Ertan has got a great team around him. On the day of the operation everything went smoothly to plan, there was no delay or holdups, I had another consultation with Mr Ertan who confirmed what was going to be done and that I was still happy to proceed. I was prepped for the procedure, I met with the anaesthetist who again was really nice and put me at ease explaining his role. After the procedure I woke up with the nurse by my side making sure I was OK and checking on me, I was able to stay in the clinic until I was ready to leave and was not rushed at all. I was well looked after from the start to the point when I was discharged. Post operation I was staying at a local hotel it was so close there was no point in even getting a taxi and I was able to walk back where my partner was waiting for me. I was expecting a lot of bruising to both my eyes but there was very little if any by the time the cast came off after 7 days, I am now at the two week post operation point and it is healing well with no outwardly visible bruising or scaring. The next milestone is a checkup at the 6 week point with my surgeon. If you're thinking of having something like this done I would highly recommend getting in touch with Centre for Surgery.
The staff at Centre for Surgery were very kind and accommodating. They answered any questions I had about the procedure and were constantly checking up on me. A special thank you to Christina for all her support throughout.
I would just like to state the quality of care received from the nurses at Centre for Surgery was beyond the highest level. Sophie takes her patient care to another level beyond words. She always puts me at ease. She is there for me even at awkward hours just when I mostly needed reassurance and she is one of the most compassionate nurses I have come across and demonstrates her passion naturally for caring for others. She totally deserves recognition at its finest and thank you for always being there for me. 😍