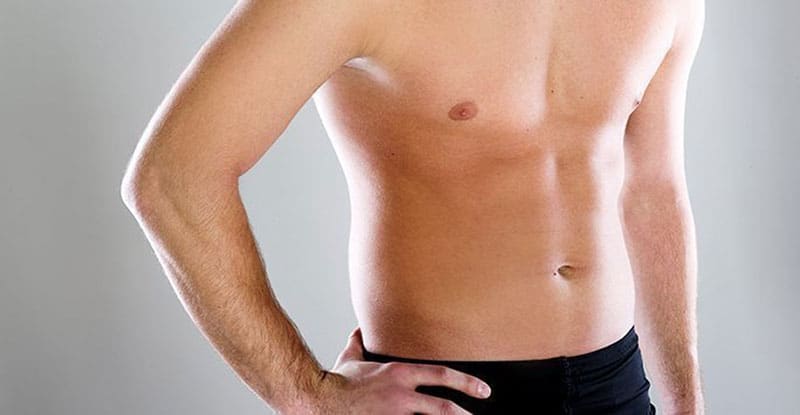 Gynecomastia, also known as 'man boobs' or 'moobs' is a condition that results in the formation of excessive male breast tissue, which can give rise to a number of symptoms, including swelling and localised discomfort. Gynaecomastia can resemble the appearance of female breasts in more severe cases. The condition is surprisingly common, affecting up to 70% of all men in the UK.
RELATED: What you need to know about male chest reduction
The underlying abnormality giving rise to the formation of excessive male breast tissue is a disruption in hormonal levels often associated with an increase in the production of oestrogen. Gynecomastia can be unilateral or bilateral, although in many cases, men may notice one side to be affected more than the other. There is a range of severity in the different types of gynaecomastia, from a very mild enlargement which is localised to the nipple and areola area to breasts that are significantly enlarged and appear very similar in size and shape to large female breasts. Many men may develop localised pain or discomfort and may develop tenderness when the chest is touched. Gynecomastia can be a source of significant distress, with many men eventually developing a loss of self-confidence. As a result, men may actively avoid certain activities, such as going on the beach or swimming and may avoid wearing certain types of clothes, such as tight-fitting T-shirts. In severe cases, it can affect the ability to form close relationships. The condition can present at any stage of life, from newborns to adolescence, middle-aged men and older men. There are a number of recognised causes of gynecomastia, and one or more causes may act in combination as a possible cause.
What causes gynecomastia?
Newborn babies – gynecomastia of a mild type is very common in newborn babies and is related to the high circulating levels of oestrogen, which are able to be transmitted to the baby by the placenta. Fortunately, this is a temporary phenomenon and settles completely over the first few weeks following birth.
Puberty – teenage boys experiencing puberty will often develop significant hormonal imbalances, and this can result in a number of changes, including the development of gynecomastia. The severity of gynecomastia differs between boys, although, as with newborns, the condition settles down once hormone levels have stabilised. Although short-lived, the condition can take up to 2 to 3 years to settle down completely.
Obesity – men who are overweight or obese very commonly develop gynecomastia. Overweight men often have high levels of oestrogen, and excessive fat can contribute to an enlargement of the male breast.
Older men – with the passage of time, men's testosterone levels begin to decrease, which increases the likelihood of developing gynecomastia. Men who are older often tend to be larger, and this also contributes to an increase in oestrogen production that further increases the risk of developing gynecomastia.
Certain medicines – there are a number of medicines, both prescribed and over-the-counter, which could contribute to the formation of gynecomastia, including drugs used to treat depression, heart conditions, antibiotics, anti-cancer drugs and drugs for reducing acid reflux.
Recreational drugs – common causes of gynaecomastia include men who take regular cannabis or heroin. Anabolic steroids commonly taken by weightlifters can also cause gynecomastia.
Medical conditions – there are a number of medical conditions, including liver disease, kidney disease or certain tumours which secrete hormones such as oestrogen, lung cancer or tumours of the endocrine glands, including both the adrenal gland and the pituitary gland.
Hereditary factors – Klinefelter syndrome is a genetic condition involving the formation of a second X chromosome (XXY), although it's important to bear in mind that the prevalence of this condition is extremely rare.
Conditions of the male testicle – cancer of the testes or chronic infection affecting the testicles is a recognised cause of gynecomastia.
Although the vast majority of cases of gynaecomastia are harmless, it's important to undertake a full medical assessment by your GP to rule out more serious conditions. After taking a medical history and performing a physical examination, your doctor may wish to undertake blood tests or an x-ray of the breast. In some cases, a biopsy may be required to rule out malignant change. The vast majority of gynaecomastia cases can be confidently diagnosed without the requirement for further diagnostic tests.
It is commonly misunderstood that gynecomastia is linked with breast cancer however, this is not correct. It is important that all men seek urgent medical attention if they do discover a palpable mass in their breasts. The optimum treatment of gynaecomastia is dependent on the age at which it presents itself. For newborn babies and teenage boys, the vast majority of cases should resolve without any active treatment. Men who are significantly overweight or obese can benefit from eating a healthy diet and exercising regularly to improve the appearance of gynecomastia. One of the best interventions for a healthy diet involves reducing sugary and fatty foods. Excess fat deposits often develop in the male chest area in men who have a sedentary lifestyle. In some cases, especially in cases of fatty gynecomastia, intense and regular physical exercise can help contour the chest wall to build muscle mass with simultaneous reduction of fat. Men who are serious weightlifters may find that excessive lifting of weights may actually worsen the appearance of the condition as the enlarged chest muscle acts to push the extra male breast tissue outwards and accentuate the deformity.
RELATED: How much does male breast reduction surgery cost?
Diet and exercise, in many cases, are highly beneficial, and we would always recommend all men to follow a healthy lifestyle however, no amount of exercise will remove enlarged glandular tissue. Excess fat can be removed with regular exercise and healthy eating. The only effective treatment for the removal of enlarged glandular tissue is surgical treatment. Some men may take prescription medication for the treatment of a medical condition, and if this is thought to be the cause of the gynecomastia then you should book to see your GP to determine if any alternative medicines can be prescribed. In all cases, you should not stop taking your medication unless you have been instructed to do so by your doctor.
RELATED: Does exercise prevent gynecomastia?
Can you get rid of gynecomastia on your own?
Whether gynecomastia goes away on its own depends on the underlying cause of the condition. For young teenage boys who may be experiencing gynecomastia, we would recommend waiting to see if gynecomastia goes away on its own. It may be useful to increase exercise levels to help remove adolescent-related body fat to help you feel more comfortable in how you look. Physical exercise, including weight training, can help to reduce the appearance of gynecomastia. We would advise against any drastic measures for young growing men who may be experiencing gynecomastia.
Adult men may be able to get rid of gynecomastia on their own, but this will depend on whether they have pseudogynecomastia or true gynecomastia. For men who have excess chest fat, it may be possible to get rid of this stubborn fat with an increase in physical exercise levels and maintaining a healthy diet, although this will not work for everyone. For men who may have an underlying hormonal imbalance or medical condition that could be affecting levels of oestrogen and testosterone, we would recommend consulting with your GP for further investigation. They may refer you for further testing, including an ultrasound scan to determine the underlying cause of your gynecomastia.
What should I do if gynecomastia does not go away on its own?
In some cases of gynecomastia, the condition may not go away on its own, and you may require gynecomastia surgery. Here at Centre for Surgery, our surgeons are highly skilled in carrying out gynecomastia surgery. We carry out hundreds of gynecomastia removal cases each year at our Baker Street clinic using advanced surgical techniques. Gynaecomastia surgery is designed to reduce the excess of breast tissue, fat, and skin to achieve a more masculine-looking chest. For men who are in good physical and mental health and have excess breast tissue, gynecomastia treatment can be highly effective if the condition has not gone away on its own.
What is the best treatment for gynecomastia?
There are no recognised non-invasive or non-surgical treatments for gynecomastia that are known to be effective, and these include both herbal remedies and topical creams or gels. For men who have confirmed hormonal imbalance, prescription medication can be prescribed to treat gynaecomastia, and this is best done under the supervision of a specialist endocrinologist. In most cases, the only effective permanent treatment for gynecomastia is male breast reduction surgery. Centre for Surgery is a recognised centre of excellence for the treatment of all types of gynaecomastia, from mild to severe.
RELATED: What is gynecomastia surgery?
The procedure generally consists of two parts. The first part involves liposuction to remove excess fat and contour the chest. The second stage involves surgical removal of any residual glandular tissue by making a semi-circular incision around the lower part of the areola, also known as Webster's incision. In the vast majority of cases, there is no requirement for wound drains to be placed. Any incisions after male breast reduction surgery are both small and well concealed. A tight-fitting compression garment will be placed at the end of the procedure. Male gyno surgery is a highly effective permanent treatment for gynecomastia. Our plastic surgeons have many years of experience in the treatment of gynecomastia at Centre for Surgery in London. Speak to one of our friendly and knowledgeable patient coordinators today to book a face-to-face consultation at our state-of-the-art Baker Street clinic.
RELATED: How much does Gynecomastia surgery cost?
Amazing from start to finish, the communication was the main thing was fully informed and looked after, on the day of my breast augmentation, the staff were fab and made me feel at ease through out the whole process. Thank you so much.
Mohammed Farid
18/11/2021
I've had such a great experience with excellent advice, care and attention and surgical treatment (gynaecomastia) - I can fully endorse the treatment I have received from Centre for Surgery with absolutely no qualms at all. Brilliant in every way - thank you all so much.
Caroline Thorpe
14/11/2021
Very pleased with my whole experience of having a procedure. Was so nervous about getting treatment and i was reassured and felt so comfortable throughout thanks to the amazing nurses. I definitely made the right decision to have breast augmentation at centre for surgery with dr erel.
Melissa Briggs
08/11/2021
So glad I went with centre for surgery, the whole process went very smoothly from the consultations down to the actual day of the procedure. I was so nervous on the day but the whole team put me at ease and I'm happy with my results as I feel a lot more comfortable wearing certain clothes now. My surgeon was Alberto Di Giuseppe who performed a breast Augmentation on me, and I would definitely recommend as he was very clear on what the outcome of the surgery would be and which size would look the best for my frame.
Couldn't be happier with Dr Tillo work,i had my breast surgery one week ago and so happy with the results so far,all the staff are extremely nice and very supportive,i would definitely recommend their services,thank so much
From start to the finish everything was perfect for tummy tuck surgery. All staff is very friendly and the aftercare has been good. The Doctor and the nurse team was fantastic. I'm so happy...result is amazing. Thank you!!!
This was overall a great experience, all the staff at Centre for Surgery were friendly and put me at ease. It is a nerve wracking thing to go through an op but the staff were so nice. Mr Ertan has got a great team around him. On the day of the operation everything went smoothly to plan, there was no delay or holdups, I had another consultation with Mr Ertan who confirmed what was going to be done and that I was still happy to proceed. I was prepped for the procedure, I met with the anaesthetist who again was really nice and put me at ease explaining his role. After the procedure I woke up with the nurse by my side making sure I was OK and checking on me, I was able to stay in the clinic until I was ready to leave and was not rushed at all. I was well looked after from the start to the point when I was discharged. Post operation I was staying at a local hotel it was so close there was no point in even getting a taxi and I was able to walk back where my partner was waiting for me. I was expecting a lot of bruising to both my eyes but there was very little if any by the time the cast came off after 7 days, I am now at the two week post operation point and it is healing well with no outwardly visible bruising or scaring. The next milestone is a checkup at the 6 week point with my surgeon. If you're thinking of having something like this done I would highly recommend getting in touch with Centre for Surgery.
The staff at Centre for Surgery were very kind and accommodating. They answered any questions I had about the procedure and were constantly checking up on me. A special thank you to Christina for all her support throughout.
I would just like to state the quality of care received from the nurses at Centre for Surgery was beyond the highest level. Sophie takes her patient care to another level beyond words. She always puts me at ease. She is there for me even at awkward hours just when I mostly needed reassurance and she is one of the most compassionate nurses I have come across and demonstrates her passion naturally for caring for others. She totally deserves recognition at its finest and thank you for always being there for me. 😍