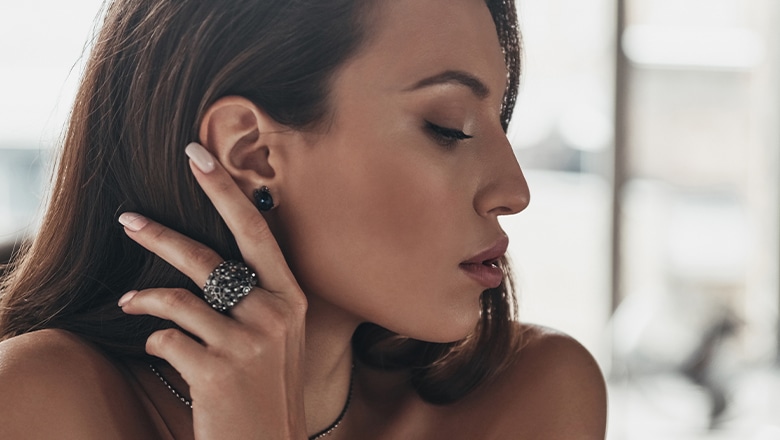 The nasal septum provides structural support for the nose and facilitates airway patency to allow unrestricted passage of warmed and humidified air through the nose. A deviated septum or septal deviation may present in several ways including S-shaped or C-shaped deviation, localised outpouching from the septum and septal perforation (hole in the septum). When a septal deviation occurs it can result in nasal airflow obstruction with the impaired flow of air through the nose leading to a blocked nose, snoring and sleep apnoea and recurrent nosebleeds.
If you think you may have septal deviation, we would recommend an expert assessment by a rhinoplasty specialist to diagnose your deviated septum. There are a number of clinical features associated with septal deviation. Many partners report sufferers have noisy breathing during their sleep or they may have a preference for sleeping on one particular side.
RELATED: Key Facts And Myths About Rhinoplasty Surgery
How to fix a deviated septum?
Having a deviated septum can cause many issues and is the most common reason for carrying out a septoplasty or nose septum surgery which is often combined with a cosmetic rhinoplasty this procedure is known as a septorhinoplasty. Some of these issues may involve sleeping, general breathing and more. The septum is the piece of bone positioned in the centre of your nose which separates your nostrils.
What is a septoplasty?
Septoplasty is a surgical procedure involving the reconstruction of the nasal airway for functional benefit. Septoplasty aims to provide improved nasal airflow in patients who suffer from nasal airway obstruction.
Is a deviated septum always the cause of nasal airflow obstruction?
There are a number of recognised medical conditions which can give rise to the feeling of a 'blocked nasal passage' including turbinate bone enlargement, septal deviation, external nasal valve collapse, previous surgery resulting in scar tissue and conditions which affect the internal lining of the nose also known as the mucosa. All of the above can result in the development of disordered airflow also known as turbulent airflow or resistance to adequate airflow which can give rise to symptoms and signs of nasal obstruction. Our rhinoplasty surgeons are trained in aesthetic and functional correction of the nose and septum to correct all types of septal deviation.
What are the causes of a deviated septum?
Many different conditions can cause the nasal septum to become deformed. Some people naturally have a deviated septum although this is uncommon. A deviated septum can occur during birth. This is due to how the birth took place. Also, injury to the face or nose may cause a deviated septum or a broken nose.
What are the benefits of deviated septum surgery?
Septum correction Surgery has the ability to improve your breathing and effectively treat any symptoms associated with septal deviation. The procedure can effectively eradicate sinus pain, headaches, recurrent nosebleeds or difficulty in breathing that may have a significant impact on your quality of life. Choosing to have septoplasty at Centre for Surgery could be the ideal treatment option to improve your breathing.
Is nose septum surgery covered by private medical insurance?
In a number of cases, septoplasty may qualify for insurance coverage. Your surgeon will be able to advise you at consultation on whether septoplasty can be covered by your insurance policy.
Can septoplasty be combined with a cosmetic rhinoplasty?
Rhinoplasty surgery is very commonly combined with septoplasty and this procedure is known as septorhinoplasty. Combining a rhinoplasty and septoplasty together means you can have one combined procedure with one single recovery period. In many cases, cartilage grafts are removed from the septum and are often needed during a cosmetic rhinoplasty surgery as a structural graft. Choosing to have a cosmetic rhinoplasty after your septoplasty procedure may then mean that this valuable cartilage from the septum is then not available for use as a structural graft during rhinoplasty and your surgeon may then need to remove cartilage from either your ear or ribs. Combining the two procedures also means a single recovery period rather than having to undergo two separate recovery periods.
RELATED: Common questions about Rhinoplasty
How is a septoplasty performed?
Septoplasty or nose septum surgery can be performed under both local and general anaesthetic. In most septoplasty surgery, the procedure is carried out as a closed procedure which means all incisions are made within the nose to expose the underlying cartilage and bone with no visible incisions on the nasal skin. In complex septoplasty cases, an open procedure is often required to fully visualise the septum making it easier to see where the septum deviates. The surgeon will next remove the part of the septum which is causing the issue and reattach it in the correct position using fine stitches. After the bone is securely anchored to reinforce the cartilaginous part of the septum, the nose will be closed with dissolvable stitches. The procedure takes approximately 60 to 90 minutes to perform. Once the septoplasty procedure is complete, your surgeon may insert internal splints to maintain the shape of the septum during the recovery period. Many patients ask us if they can get a nose job with a deviated septum. This will depend on the severity of your breathing difficulty symptoms as well as the extent of correction required. The surgeon will need to assess you to determine if rhinoplasty can be performed without compromising your breathing difficulty even further. In most cases, septorhinoplasty is the ideal procedure to address a deviated septum with septal correction and to improve the cosmetic appearance of the news with a rhinoplasty.
How does a septoplasty differ from a rhinoplasty?
A rhinoplasty is a cosmetic procedure which alters the size and shape of someone's nose most commonly for aesthetic purposes but also as part of a nasal reconstruction procedure. Rhinoplasty surgery is more for changing the appearance of the nose. However, a septoplasty is more for addressing functional issues. Having a deviated septum hinders your breathing and ability to sleep comfortably.
RELATED: How to make your nose smaller
When is the right time to fix my deviated septum?
Patients who have significant breathing difficulties with an impact on the quality of life may be suitable candidates for a septoplasty. There may be a number of causes of breathing difficulty but if a septal deviation is diagnosed as the cause of your problem, this can be effectively treated with nasal septum surgery. A deviated septum does not improve on its own over time and should not be left alone. Deviated septum most commonly gets worse with time without treatment as the ageing process results in structural changes to the nose throughout your lifetime. Our rhinoplasty specialists at Centre for Surgery are experienced in septum correction surgery and will assess you with a view to creating a customised treatment plan that will eliminate your breathing difficulty. We would recommend booking a consultation at our Baker Street clinic by calling us on 020 7993 4849 or by filling in the contact form below.
RELATED: Can you get a nose job on the NHS?
Amazing from start to finish, the communication was the main thing was fully informed and looked after, on the day of my breast augmentation, the staff were fab and made me feel at ease through out the whole process. Thank you so much.
Mohammed Farid
18/11/2021
I've had such a great experience with excellent advice, care and attention and surgical treatment (gynaecomastia) - I can fully endorse the treatment I have received from Centre for Surgery with absolutely no qualms at all. Brilliant in every way - thank you all so much.
Caroline Thorpe
14/11/2021
Very pleased with my whole experience of having a procedure. Was so nervous about getting treatment and i was reassured and felt so comfortable throughout thanks to the amazing nurses. I definitely made the right decision to have breast augmentation at centre for surgery with dr erel.
Melissa Briggs
08/11/2021
So glad I went with centre for surgery, the whole process went very smoothly from the consultations down to the actual day of the procedure. I was so nervous on the day but the whole team put me at ease and I'm happy with my results as I feel a lot more comfortable wearing certain clothes now. My surgeon was Alberto Di Giuseppe who performed a breast Augmentation on me, and I would definitely recommend as he was very clear on what the outcome of the surgery would be and which size would look the best for my frame.
Couldn't be happier with Dr Tillo work,i had my breast surgery one week ago and so happy with the results so far,all the staff are extremely nice and very supportive,i would definitely recommend their services,thank so much
From start to the finish everything was perfect for tummy tuck surgery. All staff is very friendly and the aftercare has been good. The Doctor and the nurse team was fantastic. I'm so happy...result is amazing. Thank you!!!
This was overall a great experience, all the staff at Centre for Surgery were friendly and put me at ease. It is a nerve wracking thing to go through an op but the staff were so nice. Mr Ertan has got a great team around him. On the day of the operation everything went smoothly to plan, there was no delay or holdups, I had another consultation with Mr Ertan who confirmed what was going to be done and that I was still happy to proceed. I was prepped for the procedure, I met with the anaesthetist who again was really nice and put me at ease explaining his role. After the procedure I woke up with the nurse by my side making sure I was OK and checking on me, I was able to stay in the clinic until I was ready to leave and was not rushed at all. I was well looked after from the start to the point when I was discharged. Post operation I was staying at a local hotel it was so close there was no point in even getting a taxi and I was able to walk back where my partner was waiting for me. I was expecting a lot of bruising to both my eyes but there was very little if any by the time the cast came off after 7 days, I am now at the two week post operation point and it is healing well with no outwardly visible bruising or scaring. The next milestone is a checkup at the 6 week point with my surgeon. If you're thinking of having something like this done I would highly recommend getting in touch with Centre for Surgery.
The staff at Centre for Surgery were very kind and accommodating. They answered any questions I had about the procedure and were constantly checking up on me. A special thank you to Christina for all her support throughout.
I would just like to state the quality of care received from the nurses at Centre for Surgery was beyond the highest level. Sophie takes her patient care to another level beyond words. She always puts me at ease. She is there for me even at awkward hours just when I mostly needed reassurance and she is one of the most compassionate nurses I have come across and demonstrates her passion naturally for caring for others. She totally deserves recognition at its finest and thank you for always being there for me. 😍