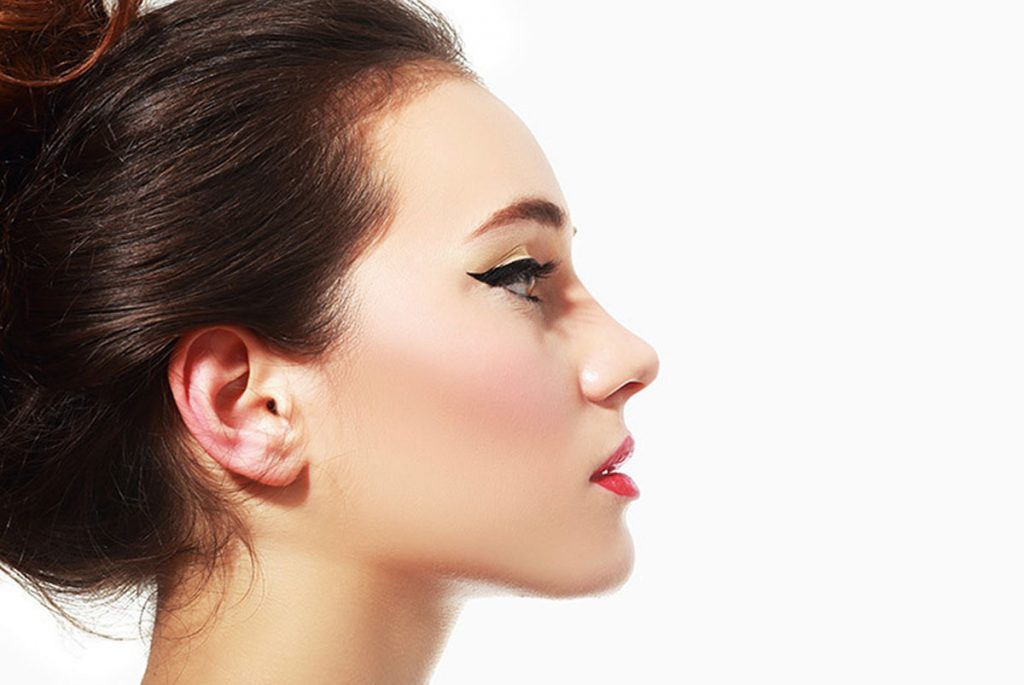 Our rhinoplasty specialists commonly get asked about the most effective way to make your nose smaller. Rhinoplasty or nose job surgery is the best way to achieve this. There is a broad spectrum of normality when it comes to nose shapes, and patients can be assured that there is no one particular normal shape of the nose. Many patients may seek rhinoplasty surgery to correct functional disturbances of the nose, including difficulty in breathing or congenital abnormalities present from birth, such as cleft lip and palate.
RELATED: Key Facts And Myths About Rhinoplasty Surgery
Many people will have no medical issue affecting the nose but often develop a loss of self-confidence by the perception they have a larger nose compared with others around them. This can result in many people developing anxiety in social situations, leading to depression in the most severe cases. If you are concerned about the size or shape of your nose and are increasingly self-conscious about it, then a nose job or rhinoplasty is the most effective method to permanently reduce the nose's size.
What is the best way to reduce the size of my nose?
The only recognised and effective technique for making your nose smaller is a cosmetic surgery procedure known as rhinoplasty.
Some patients may be unkeen to undergo an invasive surgical procedure, and they can often have a non-surgical rhinoplasty involving the injection of dermal fillers. However, this type of procedure is most effective for filling in irregularities of the nose and is not designed to make the nose smaller.
RELATED: Surgical versus non-surgical rhinoplasty
Is there a natural way to make my nose smaller?
Many people often seek non-invasive methods of making the nose smaller; however, there is no recognised natural treatment to reduce the size of your nose. Any treatment that claims to do this should be viewed with great suspicion. There are many treatments advertised online that claim to reduce the size of your nose. We would advise steering clear of all such treatments due to their bogus nature.
A skilled make-up artist may be able to give the impression of a smaller nose, but this is only an illusion and has a short-term temporary effect only.
Can I get a smaller nose without rhinoplasty surgery?
Many people often head to the Internet to find potential treatments which may help to make their nose smaller without surgery. Common examples of treatments found online include ginger powder, toothpaste, garlic paste, ice cubes or other herbal remedies. There is no scientific basis to support the efficacy of any of these treatments for reducing the size of your nose. It is also possible to find examples of nose exercises on social media channels which many people swear by their effectiveness. Similarly, there is no evidence to support the efficacy of nose exercises in reducing nose size.
If you are not keen to undergo a surgical nose reshaping procedure, an alternative to surgery would be a non-surgical rhinoplasty, also known as a 'liquid nose job'. This procedure involves the injection of a hyaluronic acid-based soft tissue filler to correct irregularities, asymmetry or excessive prominence of the nose. The most common type of dermal filler used is either Restylane or Juvederm.
RELATED: What is non-surgical rhinoplasty?
Injection of nose filler is highly effective for smoothing out irregularities or localised areas of nasal prominence such as a dorsal hump. The advantage of this procedure is its entirely non-surgical nature, with no need for incisions or scars of traditional rhinoplasty surgery. Unlike surgical rhinoplasty, the results of a liquid nose job can be seen straight away. However, this treatment should only be viewed as a temporary solution, with results typically lasting between six and 12 months. Top-up injections will be needed to maintain the results.
What is Rhinoplasty?
Rhinoplasty is a surgery which involves reshaping or resizing the nose. As the nose is a central feature of the face, even minor changes can make a big impact. Rhinoplasty surgery is one of our most commonly performed facial plastic surgery procedures.
Our top London surgeons are fully trained in the Preservation Rhinoplasty technique which we are able to use for selected patients for extremely precise correction with minimal bruising and swelling and reduced downtime.
All rhino surgeons have special expertise in all aspects of nose-related surgery including open rhinoplasty, closed rhinoplasty, primary and revision rhinoplasty, ethnic rhinoplasty & rhinoplasty for men which can help men with any breathing problems, improve their aesthetics and attain balance in the face. You can rest assured in having one of the very best rhinoplasty surgeons in London to manage your care from start to finish.
What is alar base reduction?
The alar base reduction or alarplasty procedure is a type of rhinoplasty and involves the surgical removal of a wedge-shaped area of soft tissue from the part of the nose where the cheek joins with the nostril at a lower base. Once the tissue is removed, the skin is then meticulously sutured and doing so leads to a narrowing at the base of the nose. Fortunately, any scars are usually well concealed within the natural folds of the nose. Nostril reduction surgery is effective for reducing the size of excessively wide nostrils.
What does nose reshaping involve?
Nose reshaping surgery is a type of rhinoplasty procedure for nose contouring. The shape and size of the nose can be surgically altered, which helps to improve the nose's profile and reduce the nose's size. A rhinoplasty is also known as a 'nose job'.
Here at Centre for Surgery, we carry out many hundreds of nose reshaping and nose contouring procedures each year at our state-of-the-art Baker Street clinic in central London. Our anaesthetists specialise in total intravenous anaesthesia or TIVA, which is known to be a particularly gentle form of a general anaesthetic with a quick recovery profile and minimal risk of sickness. Each procedure is customised to the individual patient, but most types of nose contouring involve the precise removal of bone and cartilage to reduce the size of the nose. In some procedures, your surgeon may use a cartilage graft to augment or structurally support other areas of the nose, which is designed to alter the nose shape.
Many people think rhinoplasty is a painful procedure. Rhinoplasty does not hurt, with most patients experiencing only very mild discomfort, and this can be easily controlled with simple over-the-counter painkillers such as paracetamol. Most common symptoms after a nose job are related to rhinoplasty swelling, including nasal congestion or a blocked nose.
RELATED: How long does it take to recover from nose job surgery?
We recommend that patients who have had a surgical nose contouring procedure be off work for at least one week. You will have a nasal splint applied after your procedure, which will be removed seven to ten days after surgery by one of our post-operative nurses. It is normal to experience localised swelling and bruising, which is most evident in the area of the lower eyelids, particularly if you have had your nasal bones fractured to reduce the nose size. Although the bruising can appear dramatic, fortunately, this rapidly settles down and will be no longer visible after approximately ten days. For best rhinoplasty results, we recommend avoiding all forms of strenuous activity for a minimum of 4 to 6 weeks after the procedure. Rhinoplasty recovery is smooth and comfortable when patients follow all the post-operative instructions given to them by their surgeon.
Amazing from start to finish, the communication was the main thing was fully informed and looked after, on the day of my breast augmentation, the staff were fab and made me feel at ease through out the whole process. Thank you so much.
Mohammed Farid
18/11/2021
I've had such a great experience with excellent advice, care and attention and surgical treatment (gynaecomastia) - I can fully endorse the treatment I have received from Centre for Surgery with absolutely no qualms at all. Brilliant in every way - thank you all so much.
Caroline Thorpe
14/11/2021
Very pleased with my whole experience of having a procedure. Was so nervous about getting treatment and i was reassured and felt so comfortable throughout thanks to the amazing nurses. I definitely made the right decision to have breast augmentation at centre for surgery with dr erel.
Melissa Briggs
08/11/2021
So glad I went with centre for surgery, the whole process went very smoothly from the consultations down to the actual day of the procedure. I was so nervous on the day but the whole team put me at ease and I'm happy with my results as I feel a lot more comfortable wearing certain clothes now. My surgeon was Alberto Di Giuseppe who performed a breast Augmentation on me, and I would definitely recommend as he was very clear on what the outcome of the surgery would be and which size would look the best for my frame.
Couldn't be happier with Dr Tillo work,i had my breast surgery one week ago and so happy with the results so far,all the staff are extremely nice and very supportive,i would definitely recommend their services,thank so much
From start to the finish everything was perfect for tummy tuck surgery. All staff is very friendly and the aftercare has been good. The Doctor and the nurse team was fantastic. I'm so happy...result is amazing. Thank you!!!
This was overall a great experience, all the staff at Centre for Surgery were friendly and put me at ease. It is a nerve wracking thing to go through an op but the staff were so nice. Mr Ertan has got a great team around him. On the day of the operation everything went smoothly to plan, there was no delay or holdups, I had another consultation with Mr Ertan who confirmed what was going to be done and that I was still happy to proceed. I was prepped for the procedure, I met with the anaesthetist who again was really nice and put me at ease explaining his role. After the procedure I woke up with the nurse by my side making sure I was OK and checking on me, I was able to stay in the clinic until I was ready to leave and was not rushed at all. I was well looked after from the start to the point when I was discharged. Post operation I was staying at a local hotel it was so close there was no point in even getting a taxi and I was able to walk back where my partner was waiting for me. I was expecting a lot of bruising to both my eyes but there was very little if any by the time the cast came off after 7 days, I am now at the two week post operation point and it is healing well with no outwardly visible bruising or scaring. The next milestone is a checkup at the 6 week point with my surgeon. If you're thinking of having something like this done I would highly recommend getting in touch with Centre for Surgery.
The staff at Centre for Surgery were very kind and accommodating. They answered any questions I had about the procedure and were constantly checking up on me. A special thank you to Christina for all her support throughout.
I would just like to state the quality of care received from the nurses at Centre for Surgery was beyond the highest level. Sophie takes her patient care to another level beyond words. She always puts me at ease. She is there for me even at awkward hours just when I mostly needed reassurance and she is one of the most compassionate nurses I have come across and demonstrates her passion naturally for caring for others. She totally deserves recognition at its finest and thank you for always being there for me. 😍