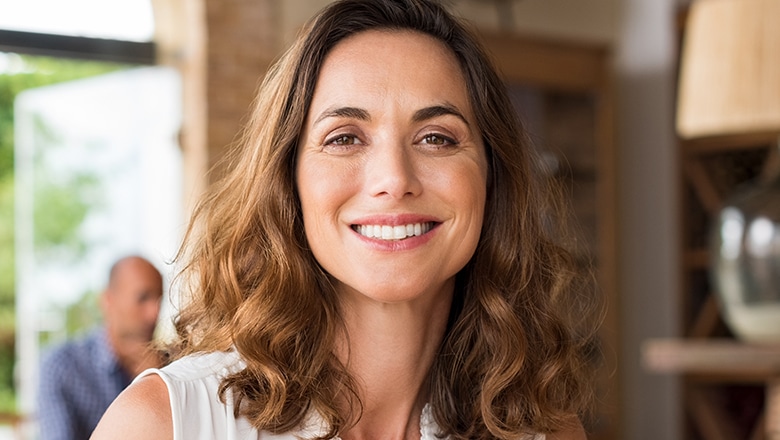 Blepharoplasty also known as eyelid surgery, eyelid reduction and eye lift is a cosmetic surgery procedure designed to get rid of excess skin and fat and improve the appearance of the eyelids. This procedure is commonly requested at Centre for Surgery and is an effective technique for reducing signs of ageing affecting the upper and lower eyelids and to get rid of drooping eyelids and bags under the eyes.
Many people are increasingly aware of the benefits of blepharoplasty surgery and it is no surprise that the procedure ranks behind only breast enlargement and breast reduction surgery as the third most commonly requested cosmetic surgery procedure in the UK.
As with any type of invasive surgical procedure, blepharoplasty surgery involves certain risks and complications. In expert hands, eyelid reduction surgery is a very safe and effective procedure. A well-recognised side-effect of eyelid surgery is the development of dry eyes postoperatively. This can affect up to 25% of all people who have eyelid reduction in the UK. For people who already experience dry eyes, there is a small risk of the condition becoming increasingly symptomatic after cosmetic eyelid surgery.
What is dry eye syndrome?
Dry eye syndrome is a well-recognised medical condition that affects the eyes leading to the development of certain symptoms such as grittiness, itchiness, blurry vision discomfort or photosensitivity.  Also known as dry eye disease, the condition develops when the lacrimal glands under secrete tears which leads to a dry surface on the cornea. The condition may also develop when tears prematurely evaporate from the surface of the eye. In a small number of cases, people who have blepharoplasty Surgery may lead to an exacerbation in the symptoms of dry eye syndrome. In very rare cases, symptoms of dry eye syndrome may become permanent after eyelid reduction surgery. Eyelid surgery is designed to surgically remove excess fat and skin with simultaneous tightening of the underlying muscles surrounding the eye to combat the signs of ageing. These normal anatomical structures play an important part in the normal functioning of the eyelids. Excessive removal of skin and fat may impair a person's ability to blink normally. This may result in a failure of the tears secreted from the lacrimal glands to adequately lubricate the surface of the cornea.
Any type of eyelid reduction surgery may result in the development of dry eye syndrome even in those people who have never experienced symptoms of the condition before. We would recommend asking your surgeon about the potential risks of dry eye syndrome at your consultation before making an informed decision on proceeding with eyelid surgery.
Who is at risk of developing dry eyes after eyelid reduction surgery?
Having both upper and lower eyelid surgery carried out in the same procedure results in an increased risk of dry eye syndrome. Dry eye disease or dry eye syndrome is most commonly found in those aged over 50. Contact lens wearers and those who perform visually intensive tasks such as computer work, and those who smoke and drink alcohol may be at higher risk of developing dry eyes after blepharoplasty. There are several chronic medical conditions such as Sjögren syndrome, blepharitis or lupus which may result in dry eyes. Some medications place people at increased risk of developing dry eye syndrome including antihypertensives, and drugs used to treat depression.
The oral contraceptive pill may result in hormonal imbalance and this could result in an increased risk of developing dry eyes after a Blepharoplasty. Menopause may also be a causative factor and is similarly related to hormonal fluctuations.
A person's medical history may also be a contributing factor in developing dry eyes after eyelid surgery. Recognised conditions include autoimmune thyroid disease and congenital or acquired defects of the lachrymal gland or tear ducts. Eyelids come in a variety of different shapes and those that have a more bulging shape may result in a higher risk of experiencing dry eyes as a side effect of blepharoplasty.
What are the best treatments for dry eye syndrome after blepharoplasty?
In the vast majority of cases, symptoms of dry eyes after blepharoplasty are temporary and mild in nature. Most people who have dry eye syndrome after surgery will notice symptoms disappear after 2 to 3 weeks. There are certain treatments that can be taken to manage any symptoms including the use of topical ointments such as chloramphenicol or lubricant eyedrops. The risk of developing dry eye syndrome after a blepharoplasty can be minimised by following your surgeon's post-operative care instructions in full.
Topical ointment applied after surgery often results in mild blurry vision. We would advise you against driving and to remain at home whilst you are actively applying topical ointment after eyelid surgery. This will help ensure your recovery is smooth and free of complications. In rare cases, symptoms of dry eyes may persist for more than 12 weeks which requires a medical assessment to investigate further. Occasionally, patients may need to use disposable contact lenses to maintain the hydration of the ice and a corrective surgical procedure may be required to improve tear production. Dry eye syndrome may be a permanent complication after eyelid surgery in very rare cases.
Your surgeon will carefully assess you at your consultation to determine your risk of developing dry eye syndrome after blepharoplasty surgery. If you have several risk factors for developing dry eyes after eyelid surgery, other treatment options may be recommended including anti-wrinkle injections and dermal fillers including tear trough filler. Although these are temporary treatments which need to be repeated regularly to maintain the results, they can be an ideal solution for patients who would otherwise be at risk of developing dry eye syndrome after eyelid reduction.
When you have your consultation at Centre for Surgery in London, our surgeons will discuss the potential risks and complications of eyelid reduction surgery to help you determine the most appropriate treatment option. In most cases, blepharoplasty is an excellent treatment to address the signs of ageing affecting the upper eyelids and lower eyelids. Centre for Surgery is home to some of the most skilled consultant plastic surgeons in the UK with expertise in both upper blepharoplasty and lower blepharoplasty. You can be assured of receiving very high standards of medical care at our state-of-the-art surgical facility located on Baker Street in central London.
If you would like to book a consultation to learn more about blepharoplasty, please get in touch with us today on 020 7993 4849 or fill out the contact form below and speak to one of our friendly and knowledgeable patient coordinators today.
Amazing from start to finish, the communication was the main thing was fully informed and looked after, on the day of my breast augmentation, the staff were fab and made me feel at ease through out the whole process. Thank you so much.
Mohammed Farid
18/11/2021
I've had such a great experience with excellent advice, care and attention and surgical treatment (gynaecomastia) - I can fully endorse the treatment I have received from Centre for Surgery with absolutely no qualms at all. Brilliant in every way - thank you all so much.
Caroline Thorpe
14/11/2021
Very pleased with my whole experience of having a procedure. Was so nervous about getting treatment and i was reassured and felt so comfortable throughout thanks to the amazing nurses. I definitely made the right decision to have breast augmentation at centre for surgery with dr erel.
Melissa Briggs
08/11/2021
So glad I went with centre for surgery, the whole process went very smoothly from the consultations down to the actual day of the procedure. I was so nervous on the day but the whole team put me at ease and I'm happy with my results as I feel a lot more comfortable wearing certain clothes now. My surgeon was Alberto Di Giuseppe who performed a breast Augmentation on me, and I would definitely recommend as he was very clear on what the outcome of the surgery would be and which size would look the best for my frame.
Couldn't be happier with Dr Tillo work,i had my breast surgery one week ago and so happy with the results so far,all the staff are extremely nice and very supportive,i would definitely recommend their services,thank so much
From start to the finish everything was perfect for tummy tuck surgery. All staff is very friendly and the aftercare has been good. The Doctor and the nurse team was fantastic. I'm so happy...result is amazing. Thank you!!!
This was overall a great experience, all the staff at Centre for Surgery were friendly and put me at ease. It is a nerve wracking thing to go through an op but the staff were so nice. Mr Ertan has got a great team around him. On the day of the operation everything went smoothly to plan, there was no delay or holdups, I had another consultation with Mr Ertan who confirmed what was going to be done and that I was still happy to proceed. I was prepped for the procedure, I met with the anaesthetist who again was really nice and put me at ease explaining his role. After the procedure I woke up with the nurse by my side making sure I was OK and checking on me, I was able to stay in the clinic until I was ready to leave and was not rushed at all. I was well looked after from the start to the point when I was discharged. Post operation I was staying at a local hotel it was so close there was no point in even getting a taxi and I was able to walk back where my partner was waiting for me. I was expecting a lot of bruising to both my eyes but there was very little if any by the time the cast came off after 7 days, I am now at the two week post operation point and it is healing well with no outwardly visible bruising or scaring. The next milestone is a checkup at the 6 week point with my surgeon. If you're thinking of having something like this done I would highly recommend getting in touch with Centre for Surgery.
The staff at Centre for Surgery were very kind and accommodating. They answered any questions I had about the procedure and were constantly checking up on me. A special thank you to Christina for all her support throughout.
I would just like to state the quality of care received from the nurses at Centre for Surgery was beyond the highest level. Sophie takes her patient care to another level beyond words. She always puts me at ease. She is there for me even at awkward hours just when I mostly needed reassurance and she is one of the most compassionate nurses I have come across and demonstrates her passion naturally for caring for others. She totally deserves recognition at its finest and thank you for always being there for me. 😍