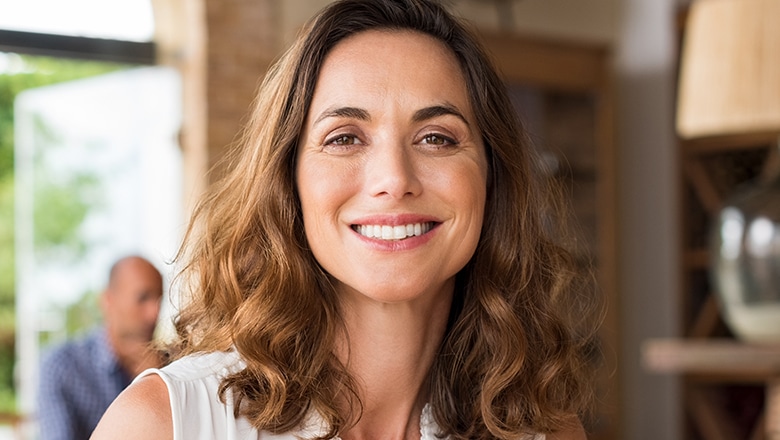 Blepharoplasty also known as eyelid surgery, eyelid reduction and eye lift is a cosmetic surgery procedure designed to get rid of excess skin and fat and improve the appearance of the eyelids. This procedure is commonly requested at Centre for Surgery and is an effective technique for reducing signs of ageing affecting the upper and lower eyelids and to get rid of drooping eyelids and bags under the eyes.
Many people are increasingly aware of the benefits of blepharoplasty surgery and it is no surprise that the procedure ranks behind only breast enlargement and breast reduction surgery as the third most commonly requested cosmetic surgery procedure in the UK.
As with any type of invasive surgical procedure, blepharoplasty surgery involves certain risks and complications. In expert hands, eyelid reduction surgery is a very safe and effective procedure. A well-recognised side-effect of eyelid surgery is the development of dry eyes postoperatively. This can affect up to 25% of all people who have eyelid reduction in the UK. For people who already experience dry eyes, there is a small risk of the condition becoming increasingly symptomatic after cosmetic eyelid surgery.
What is dry eye syndrome?
Dry eye syndrome is a well-recognised medical condition that affects the eyes leading to the development of certain symptoms such as grittiness, itchiness, blurry vision discomfort or photosensitivity. Also known as dry eye disease, the condition develops when the lacrimal glands under secrete tears which leads to a dry surface on the cornea. The condition may also develop when tears prematurely evaporate from the surface of the eye. In a small number of cases, people who have blepharoplasty Surgery may lead to an exacerbation in the symptoms of dry eye syndrome. In very rare cases, symptoms of dry eye syndrome may become permanent after eyelid reduction surgery. Eyelid surgery is designed to surgically remove excess fat and skin with simultaneous tightening of the underlying muscles surrounding the eye to combat the signs of ageing. These normal anatomical structures play an important part in the normal functioning of the eyelids. Excessive removal of skin and fat may impair a person's ability to blink normally. This may result in a failure of the tears secreted from the lacrimal glands to adequately lubricate the surface of the cornea.
Any type of eyelid reduction surgery may result in the development of dry eye syndrome even in those people who have never experienced symptoms of the condition before. We would recommend asking your surgeon about the potential risks of dry eye syndrome at your consultation before making an informed decision on proceeding with eyelid surgery.
Who is at risk of developing dry eyes after eyelid reduction surgery?
Having both upper and lower eyelid surgery carried out in the same procedure results in an increased risk of dry eye syndrome. Dry eye disease or dry eye syndrome is most commonly found in those aged over 50. Contact lens wearers and those who perform visually intensive tasks such as computer work, and those who smoke and drink alcohol may be at higher risk of developing dry eyes after blepharoplasty. There are several chronic medical conditions such as Sjögren syndrome, blepharitis or lupus which may result in dry eyes. Some medications place people at increased risk of developing dry eye syndrome including antihypertensives, and drugs used to treat depression.
The oral contraceptive pill may result in hormonal imbalance and this could result in an increased risk of developing dry eyes after a Blepharoplasty. Menopause may also be a causative factor and is similarly related to hormonal fluctuations.
A person's medical history may also be a contributing factor in developing dry eyes after eyelid surgery. Recognised conditions include autoimmune thyroid disease and congenital or acquired defects of the lachrymal gland or tear ducts. Eyelids come in a variety of different shapes and those that have a more bulging shape may result in a higher risk of experiencing dry eyes as a side effect of blepharoplasty.
What are the best treatments for dry eye syndrome after blepharoplasty?
In the vast majority of cases, symptoms of dry eyes after blepharoplasty are temporary and mild in nature. Most people who have dry eye syndrome after surgery will notice symptoms disappear after 2 to 3 weeks. There are certain treatments that can be taken to manage any symptoms including the use of topical ointments such as chloramphenicol or lubricant eyedrops. The risk of developing dry eye syndrome after a blepharoplasty can be minimised by following your surgeon's post-operative care instructions in full.
Topical ointment applied after surgery often results in mild blurry vision. We would advise you against driving and to remain at home whilst you are actively applying topical ointment after eyelid surgery. This will help ensure your recovery is smooth and free of complications. In rare cases, symptoms of dry eyes may persist for more than 12 weeks which requires a medical assessment to investigate further. Occasionally, patients may need to use disposable contact lenses to maintain the hydration of the ice and a corrective surgical procedure may be required to improve tear production. Dry eye syndrome may be a permanent complication after eyelid surgery in very rare cases.
Your surgeon will carefully assess you at your consultation to determine your risk of developing dry eye syndrome after blepharoplasty surgery. If you have several risk factors for developing dry eyes after eyelid surgery, other treatment options may be recommended including anti-wrinkle injections and dermal fillers including tear trough filler. Although these are temporary treatments which need to be repeated regularly to maintain the results, they can be an ideal solution for patients who would otherwise be at risk of developing dry eye syndrome after eyelid reduction.
When you have your consultation at Centre for Surgery in London, our surgeons will discuss the potential risks and complications of eyelid reduction surgery to help you determine the most appropriate treatment option. In most cases, blepharoplasty is an excellent treatment to address the signs of ageing affecting the upper eyelids and lower eyelids. Centre for Surgery is home to some of the most skilled consultant plastic surgeons in the UK with expertise in both upper blepharoplasty and lower blepharoplasty. You can be assured of receiving very high standards of medical care at our state-of-the-art surgical facility located on Baker Street in central London.
[wpseo_map id="9814″ width="750″ height="300″ zoom="15″ map_style="roadmap" scrollable="1″ draggable="1″ show_route="0″ show_state="0″ show_url="1″ show_email="1″ default_show_infowindow="1″ show_phone="1″ show_phone_2="0″ show_fax="0″]
If you would like to book a consultation to learn more about blepharoplasty, please get in touch with us today on 020 7993 4849 or fill out the contact form below and speak to one of our friendly and knowledgeable patient coordinators today.
[trustindex no-registration=google]